TapNova doesn't recommend this version of the app.
New in version 2.3.5
– Lots of under-the-hood improvements and bug fixes.
Description
Say something. AutoRap turns your speech into rap. Choose from 100+ beats from artists like Drake, Eminem, Nicki Minaj, Snoop Dogg and let AutoRap transform your words into a lyrical masterpiece! You may share your rap song and even go viral!

"You simply speak into your phone, and the app chops your voice and buries it in a whole mess of autotuney goodness" —Engadget
"I tried it…and this is just pure fun" —Queen Latifah

Features:
- Talk mode: instantly turn your words in to a rap song
- Rap mode: Auto-tune your freestyle verses (corrects bad rapping)
- Remix - recreate the rap in different beats
- Rap Battles - show off your rapping.
- Discover Top rappers. Get followers

The current catalog includes songs and beats by:
- Drake
- Lil Wayne
- Nicki Minaj
- Eminem feat. Rihanna
- BOB
- T-Pain
- Snoop Dogg
- Ludacris
- Tupac feat. Dr. Dre
- Outkast
- Nelly
- Beastie Boys
- Kelis
- Chamillionaire
...and many more.

NEW BEATS AND SONGS ADDED EVERY WEEK.

TALK MODE:
Talk into the app, and AutoRap magically morphs your speech into a legit rap. Create your own original rap songs with Freestyle Beats and Premium Songs from artists like Snoop Dogg and Nicki Minaj to AutoRap. The Rappification™ feature will turn you into a rap star!

RAP MODE:
It's all you! Dish a fresh rhyme in your own time and style. AutoRap autotunes your verses to match the tempo of the beat you chose. (Headphones recommended for Rap Mode)

REMIX - FUN, FUN, FUN:
Change the beat for the rap you've just created. Try different beats and watch how your rap gets recreated in different styles. Pick the one that works best for you.

SHARE, GO VIRAL: CONNECTING THE WORLD THROUGH MUSIC™
Rap about something that matters to you and go viral. Share your rap recordings with your friends via text message, email, Facebook or Twitter. Sing them a happy birthday they'll never forget, or give 'em the lowdown on the sandwich you ate for lunch.

RAP BATTLE:
You don't have to rap alone. Challenge your friends to an epic three-round, turn-by-turn rap-off and let AutoRap seamlessly weave verses from you and your opponent into a single track of rapperly rapport.


We add new beats to the songbook 3 times per week. Check back to see what's new!


ALWAYS FREE:
We offer one song that is ALWAYS FREE: "Turkey Burgers" - so you can use the app anytime you want completely free, without spending any money, ever.

UNLIMITED VIP SUBSCRIPTION:
- You can subscribe for $7.99*
- Subscribers have unlimited access to ALL songs and beats, the remix table, and much more!
- Payment will be charged to iTunes Account at confirmation of purchase
- Subscription automatically renews unless auto-renew is turned off at least 24-hours before the end of the current period
- Account will be charged for renewal within 24-hours prior to the end of the current period at the cost of the chosen package
- Subscriptions may be managed by the user and auto-renewal may be turned off by going to the user's Account Settings after purchase
- No cancellation of the current subscription is allowed during active subscription period
- You can read our privacy policy at https://www.smule.com/privacy
- You can read our terms of use at
https://www.smule.com/termsofservice
- Any unused portion of a free trial period, if offered, will be forfeited when the user purchases a subscription to that publication

*All subscription prices are equal to the value "Apple's App Store Matrix" determines to be the equivalent of $7.99 USD
iPad Screenshots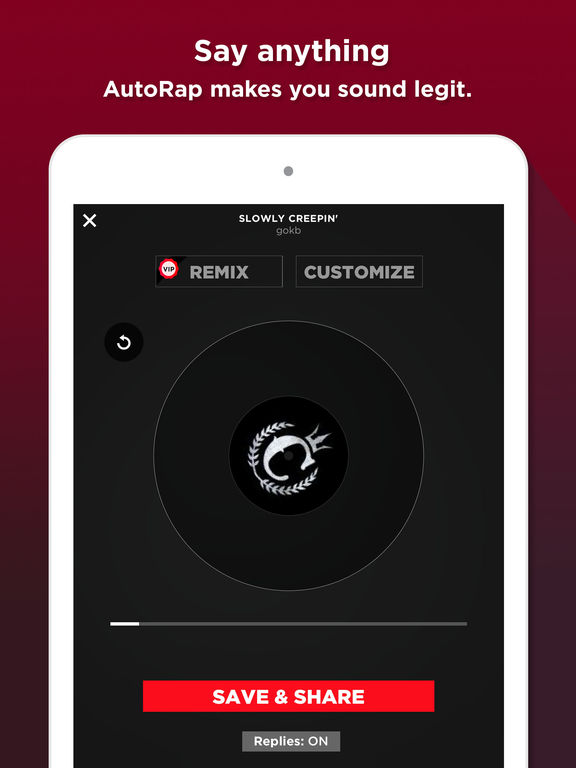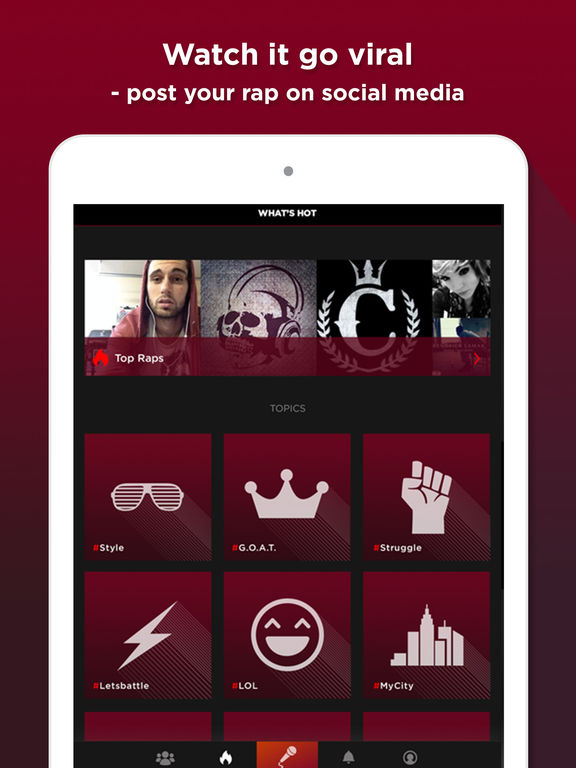 Reviews
Meh
It was good for a while but the only 2 tracks get boring after like a week. The monthly subscription horrible. I can't get a seven day free trial without having to add money to my account
Absolutely terrible.
Stars come 2 life
on
7/17/2017
Unless you are willing to pay, there is nothing you can do. For a game that is supposedly "free" you have only two tracks you can rap to without having to pay, which is really frustrating if you are a adolescent with no money to waste on this trash. My advise is to just stick with the singing app, at least you get more options there. Don't waste your time with this.
Memphis Montana
Memphis Montana
on
7/15/2017
The best
Garbage
Mastergamer786
on
7/15/2017
I can't use any of the songs because there are no free ones and I'm too broke to be going to the store to buy a $100 iTunes card for an app that should have never have been thought of.
Fun app
Really actually is a fun app to play around with
Awesome!
DarkSilverMoon
on
7/15/2017
It's so much fun to rap with other rappers and have rap battles! I love how you get to name your rap you put a picture buy it if you want! It's really fun and I love it!!!
The emphasis of this app is not Rap
For me, The Rap feature turned on once then you get lost in a social environment we are making a rap is not the most important part part. If you want to do more listening to other people who paid for a membership then this is a great app. For me it lost its fizzle right away.
It's a lotta fun be happy family
Go for it you'll be happier ya did
Absolutely Retarded.
The music selection is decent, but there could be more. The "raps" always sound terrible. Let's just not encourage kids into thinking they are good rappers.
Y money the game is not worth it
This is why I deleted the other smile game I wish I could rate it a 0 but it won't let me
Raps
Boo it's Halloween
on
7/10/2017
Love It! So much fun! Have to try this app!
Think it need improvements like
More Free beats there's only two👍
Hate it
Eggs eggshells
on
7/7/2017
I hate this app because all the songs cost money it is really dumb and I do enjoy it at all🙅🏼‍♂️
Weird
DrowndedSponge
on
7/7/2017
Doesn't let me use my emails. I checked password and still doesn't work.
Have to sign up... no thanks!!
cynthiatracya
on
7/6/2017
I initially thought this would be a fun app to use, immediately after downloading the app I was required to sign up. Uh yeah no thanks!
So fun
This game is so funny and the fact it raps about whatever you want is so cool
Few
ghostrider20xx
on
7/6/2017
Lol
Scam
I'm not paying just to do this I'll download another app this one is trash
I hate this game
I hate the it I don't have I email I just wanted to make silly raps);
😥
Ariana gronde 👯
on
7/2/2017
I did not like it you shud add more stuff please
Good
It's ok you have to pay for the beats some are free 😌😌😌
👎
Was disappointed when using the app. Thought i would be able to record using various cong tracks, but it requires a subscription.
I ❤️ AutoRap!
Cambonetbone
on
6/30/2017
I like to rap and say anything I want!
Make it fair for me 🖕
XxScarShipxX
on
6/29/2017
I got this. I thought I could do every rap on there, but NOPE. Please to get better ratings make everything free. That's how I would make this if I did make this 😒😡.
SMULE Are Crooks, Here's Why
I simply want to unsubscribe from the $2.99 that I've been paying for MONTHS. It was fun and now I'm done. They make it impossible to unsubscribe from the monthly billing.
Plz give the adds for freee play
Good but I had this for years and their hasnt been a play in years. Maybe give some free plays for Christmas or other national holidays. Also maybe make more songs able to be used by other people who like the app. So please take this under consideration.
A
Nayeli Cathey
on
6/29/2017
i hate this i deleted the app and it makes me pay for it
2 FREE SONGS!?!?
Why, 2! we need all the songs except the VIP songs, is their a VIP tier 2 or something, if you need VIP to play the songs, what do you need to play VIP... ILL JUST GET A BETTER RIPOFF OF THIS
Ehh it might be okay if you do your own raps
I've used a few of Smule's apps and the song always has sounded like the song they give you as your free starter song. Even the piano one with my extremely subpar playing you could tell what it was but this app it sounded like just some weird back beat not the song at all. It also doesn't provide lyrics like their song app, so it's pretty useless for rapping popular music unless you know it by heart and don't need the matching music. But if you are getting this to create your own raps it may work a lot better for you.
This is stupid
Joyce the emoji queen😜😜💩
on
6/27/2017
It makes you pay for every thing and all the free songs were stupid
How do I rap
LukasTheCoolKid
on
6/27/2017
I tried rapping along but I had no idea what to say can I make my own songs cuz it only lets me rap along when it does not tell me the words
Best app ever
This is the most coolest app ever!!!!
Meh
I like it but I wish it wouldn't make u buy new and good songs. I really don't want to pay the money for it.
Gods little girl
girlz tust wanna have fun
on
6/25/2017
Love it
Monthly Fee?
Cookie Jammy
on
6/23/2017
Without VIP, you only have 2 songs to pick from, and if you do buy VIP, it's like $7.99 a month! My friend told me she got VIP from this and it charged her $7.99 DAILY. Is this a glitch?? I think this whole app is ruined because of this fee.
Not free, monthly charges.
A week free trial and then $7.99 a month. Booooo. Can't even do the free trial without putting in a CC number.
Love this app!!!!
VitoSaucedUpWitSwagg
on
6/22/2017
It's just as Challenging as it is rewarding!!!🔥🔥
Fun but one problem
over confused girl🌸
on
6/20/2017
There's not a problem like too many ads or anything my problem is people who don't want to buy the VIP pass only have two songs to pick from.
Never got the app to actually do anything
I kept getting an error to talk longer. My microphone was definitely on. It's just not worth the effort to continue trying to get it to work.
A Good App, But.....
Catloversgide101
on
6/20/2017
This app is awesome! The only bad part about it is that it cost you. The app makes you pay monthly after a free trail. Then you have to pay for VIP to get more beats for your raps. It looks like a free app. But I wouldn't download it 😒
What
WILLPOWERFALLEN
on
6/20/2017
Yesterday's news
YOU HAVE TO PAY FOR EVERYTHING
This is nothing what the ad shows I thought it would be MLG but it wasn't because to make the song you have to pay $8.00/week 🤦‍♂️🤦‍♂️🤦‍♂️
Crap App!
This app sinks!! It charges you 2.99 each month for a 7 day free subscription.
Good
sah ma dude bruh
on
6/18/2017
Nice app
Lame attempt at a cash grab
Kahrurjdbd689
on
6/17/2017
Don't bother
Lamest app ever
Like seriously it's so stupid
5 STARS
DRU_stoneclouds
on
6/16/2017
AWSOME app love using it always
Fact Sheet
Publisher: Smule
Category: Music
Released: Jul 17, 2012
Current Version Released: Feb 16, 2017
Version: 2.3.5
Size: 71.3 MB
Compatibility: Requires iOS 8.0 or later.
Recommended Age: 12+
Game Center Certified: No
Supported Devices: iPad2Wifi-iPad2Wifi, iPad23G-iPad23G, iPhone4S-iPhone4S, iPadThirdGen-iPadThirdGen, iPadThirdGen4G-iPadThirdGen4G, iPhone5-iPhone5, iPodTouchFifthGen-iPodTouchFifthGen, iPadFourthGen-iPadFourthGen, iPadFourthGen4G-iPadFourthGen4G, iPadMini-iPadMini, iPadMini4G-iPadMini4G, iPhone5c-iPhone5c, iPhone5s-iPhone5s, iPadAir-iPadAir, iPadAirCellular-iPadAirCellular, iPadMiniRetina-iPadMiniRetina, iPadMiniRetinaCellular-iPadMiniRetinaCellular, iPhone6-iPhone6, iPhone6Plus-iPhone6Plus, iPadAir2-iPadAir2, iPadAir2Cellular-iPadAir2Cellular, iPadMini3-iPadMini3, iPadMini3Cellular-iPadMini3Cellular, iPodTouchSixthGen-iPodTouchSixthGen, iPhone6s-iPhone6s, iPhone6sPlus-iPhone6sPlus, iPadMini4-iPadMini4, iPadMini4Cellular-iPadMini4Cellular, iPadPro-iPadPro, iPadProCellular-iPadProCellular, iPadPro97-iPadPro97, iPadPro97Cellular-iPadPro97Cellular, iPhoneSE-iPhoneSE, iPhone7-iPhone7, iPhone7Plus-iPhone7Plus, iPad611-iPad611, iPad612-iPad612, iPad71-iPad71, iPad72-iPad72, iPad73-iPad73, iPad74-iPad74,
Supported Languages: English; French; German; Indonesian; Japanese; Korean; Malay; Portuguese; Russian; Chinese; Spanish; Castilian; Thai;
Parental Advisory: Mild Profanity or Crude Humor; Mild Alcohol, Tobacco, or Drug Use or References; Suggestive Themes;