Screenshots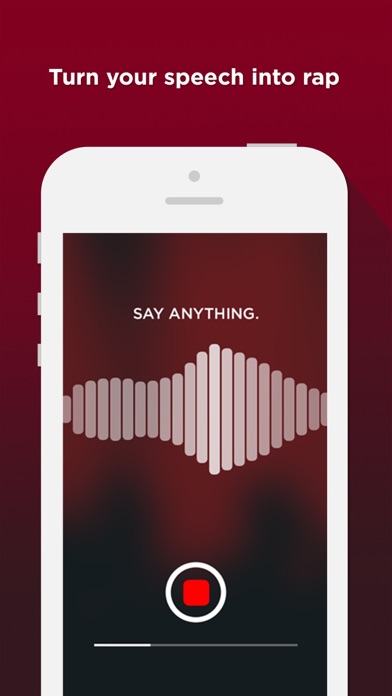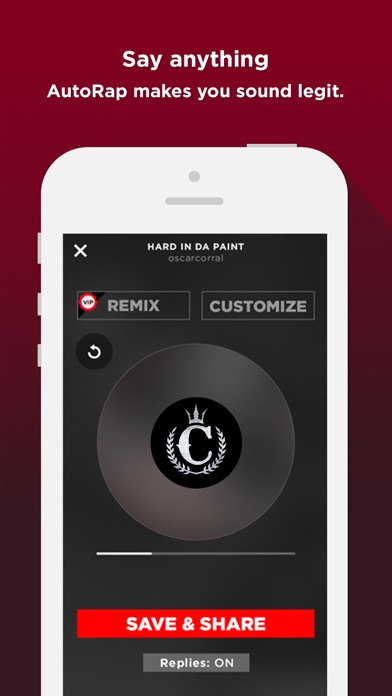 New in version 2.3.5
– Lots of under-the-hood improvements and bug fixes.
Description
Say something. AutoRap turns your speech into rap. Choose from 100+ beats from artists like Drake, Eminem, Nicki Minaj, Snoop Dogg and let AutoRap transform your words into a lyrical masterpiece! You may share your rap song and even go viral!

"You simply speak into your phone, and the app chops your voice and buries it in a whole mess of autotuney goodness" —Engadget
"I tried it…and this is just pure fun" —Queen Latifah

Features:
- Talk mode: instantly turn your words in to a rap song
- Rap mode: Auto-tune your freestyle verses (corrects bad rapping)
- Remix - recreate the rap in different beats
- Rap Battles - show off your rapping.
- Discover Top rappers. Get followers

The current catalog includes songs and beats by:
- Drake
- Lil Wayne
- Nicki Minaj
- Eminem feat. Rihanna
- BOB
- T-Pain
- Snoop Dogg
- Ludacris
- Tupac feat. Dr. Dre
- Outkast
- Nelly
- Beastie Boys
- Kelis
- Chamillionaire
...and many more.

NEW BEATS AND SONGS ADDED EVERY WEEK.

TALK MODE:
Talk into the app, and AutoRap magically morphs your speech into a legit rap. Create your own original rap songs with Freestyle Beats and Premium Songs from artists like Snoop Dogg and Nicki Minaj to AutoRap. The Rappification™ feature will turn you into a rap star!

RAP MODE:
It's all you! Dish a fresh rhyme in your own time and style. AutoRap autotunes your verses to match the tempo of the beat you chose. (Headphones recommended for Rap Mode)

REMIX - FUN, FUN, FUN:
Change the beat for the rap you've just created. Try different beats and watch how your rap gets recreated in different styles. Pick the one that works best for you.

SHARE, GO VIRAL: CONNECTING THE WORLD THROUGH MUSIC™
Rap about something that matters to you and go viral. Share your rap recordings with your friends via text message, email, Facebook or Twitter. Sing them a happy birthday they'll never forget, or give 'em the lowdown on the sandwich you ate for lunch.

RAP BATTLE:
You don't have to rap alone. Challenge your friends to an epic three-round, turn-by-turn rap-off and let AutoRap seamlessly weave verses from you and your opponent into a single track of rapperly rapport.


We add new beats to the songbook 3 times per week. Check back to see what's new!


ALWAYS FREE:
We offer one song that is ALWAYS FREE: "Turkey Burgers" - so you can use the app anytime you want completely free, without spending any money, ever.

UNLIMITED VIP SUBSCRIPTION:
- You can subscribe for $7.99*
- Subscribers have unlimited access to ALL songs and beats, the remix table, and much more!
- Payment will be charged to iTunes Account at confirmation of purchase
- Subscription automatically renews unless auto-renew is turned off at least 24-hours before the end of the current period
- Account will be charged for renewal within 24-hours prior to the end of the current period at the cost of the chosen package
- Subscriptions may be managed by the user and auto-renewal may be turned off by going to the user's Account Settings after purchase
- No cancellation of the current subscription is allowed during active subscription period
- You can read our privacy policy at https://www.smule.com/privacy
- You can read our terms of use at
https://www.smule.com/termsofservice
- Any unused portion of a free trial period, if offered, will be forfeited when the user purchases a subscription to that publication

*All subscription prices are equal to the value "Apple's App Store Matrix" determines to be the equivalent of $7.99 USD
iPad Screenshots
Reviews
Not good game
Hdbscabsbs svsbbsvsvvssnbs
on
9/24/2017
I just got this app and idk how to make a speech into a rap all give it 1🌠
App is just novelty
It seems cool at first but after a while you realize it's just a money hungry app. Some people have been scammed out of money. Others have lost precious memories with this app. Any spoken work can be put to a beat but most beats cost money. Greedy much?
Lame scam app
Can't do anything without paying. Delete or don't download to begin with!!!
Perfect
Only problem is it cost too match for full pass but everything else is awesome
I hate it
Jalynn the beast
on
9/21/2017
It keeps charching me for no reason
To much
WORSHIP MUSIC FOR CHRIST
on
9/18/2017
Like it a lot but TO Much COST...
DON'T Do the Trial
Vampiress2130
on
9/18/2017
I cancelled the trial long ago... and it even expired about two weeks ago. But today, this app, which IS NOT even on my phone anymore, took out 10$. I'm enraged.
Seems good, but is terrible
Good but 1 thing
on
9/17/2017
I downloaded this for a couple of days, then deleted it. However, it told me that I was still being charged, so I don't know what to do. It is okay as an app, but it really doesn't even sound like you're rapping. But since it charges you over $2 a week, it's terrible.
Wow! 😫
SwaggyMerimads
on
9/16/2017
My teen daughter bought this, She thought that it was free. But when I looked on my credit card some of my money was gone. I think she bought the membership for more music. Please don't make it payment for songs etc. it's making my money go without me knowing! 😷
Do NoT Purchase
King Telfare
on
9/16/2017
This app says it's free but they have the highest price subscriptions I have ever seen for something like this. $99 a year or $7.99 a month? Are you serious? $7.99 a month ? They give you two free beats to work with and they are horrible!! Get the ...... out of here with this stuff!
Terrible
Why would I pay just to make a dumb song that I'm probably going to listen to once
Love it
I love this app only bad thing is they need to add more beats and more options with battles
Not impessed
It is not excepting MY password i cant even use it
I've had a lot of problems
Private-peyton0602
on
9/14/2017
Charged me 16 DOLLARS
Literally the dumbest app ever
Well, where do I begin? First of all, auto rap isn't a "real" thing. I say this because you either need to know the lyrics to whatever song OR you actually need to know how to rap. Secondly the advertisements cringe worthy, awkward advertisements and I'm guessing cause the person displaying the advertisement using a line that is not rap. I'm not even including the fact that it's always over the beat for 50 Cents "In da Club." It's almost feels like it's on the border line of false advertisement. I have used other apps by this company, and wouldn't ever give in to applying for a subscription. Side note for anyone reading, if you do end up with a subscription it's not difficult at all to cancel it and a 30 second google search could tell you how to do so.
False advertising
Saw an add on Facebook for this saying that you can talk and it makes a rap. It lets you do it once after you download it and then you have to pay for a subscription and can't do anything else. If i could give this ap zero stars i would.
No
TessaBrook91
on
9/10/2017
I don't really like it because u only get to free backround music and the other u have to pay real money 👎👎👎👎
Not free app
It's not free
???
1272727373$598284848
on
9/6/2017
Doesn't accept my email password when I know it's right
GIVE US MORE TRACKS!!!
Emojigirlygirl
on
9/6/2017
I can't afford the other tracks (ik I'm broke) so now I only have 2 to work with!!!!
TERRIBLE!
I got the app to sing and make a cool rap song or something. The app downloaded, and once I clicked on it.... NOTHING! A box popped up saying that I had an account and I did so I clicked "Yes". Next thing I knew I was waiting. I'm a very impatient person so when I need to wait for something. It took like at least 3-4 minutes I was waiting. So I'm like F this.
NO❌❌❌❌❌❌❎
ejdgdkgdjdbdjd
on
9/3/2017
Don't ever get this game
HOW TO CANCEL SUBSCRIPTION(iPhone)
I didn't know you were going to have to pay for it either I thought it was free but all you have to do is go to your settings click on your Apple ID and press ciew Apple ID then sign in with your password....go to subscriptions click on AutoRap and then your blue monthly payment and press cancel subsection.
One star
#*€£¥GABE¥£€*#
on
9/2/2017
Ok I saw the ads for this app and it looked fun so I made some but then I was getting charged like 3.99 a week for it so don't recommend it unless u want to pay
AutoRrap
I'm original aka Buckster187 aka WARTEAM504 Self proclaim King of auto wrap
DON'T GET IT
Hate THIS APP!!!!!!!!!!!!!!!!
Vip?
StopUPDATINGcoc
on
8/26/2017
The songs that DONT say VIP I still can't get! Bs app...
THIS IS GARBAGE
Anonymous7719
on
8/25/2017
I DONT LIKE HORRIBLE DOSENT DOES WHAT I WANT
Garbage...not free ... sketchy scam
Fox Is the only news
on
8/25/2017
Don't use or you will be charged and can't stop it.
Not recommended
This requires you to pay to play almost. Nothing is free. I can't even use the app without it saying pay for full access it's just really confusing.
Needs
Wronged2by2CAO
on
8/22/2017
Needs more free play commercials. I'm forced to only do replies. Which prevents app freedom, would've given 5 but that's a big factor.
Plz
Random things2.0
on
8/21/2017
Just add more beats for free
Fake!
You can always spot fake 5 star reviews if you read thru some of other reviews. In none of the 5 star reviews do reviewers mention the outrageous fees and difficulty getting customer service. Nor the apparent baiting process. I made 2 20-sec tapes. They're all locked. No idea why. So installing and using "free" app, reading reviews afterwards, do I find it's not what they claim. Will call Apple Support and have it discontinued. Avoid this app
Read it
This app is great!! The only thing I think you should add is no subscription and you can sing to the songs you have on iTunes without paying!
Hip Hop
Devotiondude
on
8/16/2017
Hip hop and you don't stop! Yes yes y'all!
Rip off. You have to pay before you can use
Gtr555x97fr32a9
on
8/16/2017
Have to subscribe before you can use it
$7.99 a week!!! LOL!!!!
This is one of those fun, but ultimately useless, apps. Wanted to have some fun with the kid, until I saw they wanted $7.99 A WEEK for the service!!! LOL!!!! What kind of crack are these guys on????
INCREDIBLE
44_MR.ToOHaTz_66
on
8/16/2017
Awesome frogging app if your into rap.
It's pay to play
Dish_suave1826
on
8/13/2017
The only reason I'm giving it one star is because it lets you listen to other people auto raps
WHAT HAPPENED TO FREE!
Barbnotimpressed
on
8/13/2017
If you have seen the adds, DON'T GET TRICKED! It says free witch is why I got it, and it is free at first and then once you get in to it, you have to pay!👎
Sick DJ now
I am an MC after this
Ok👍🏻
This app is ok but it only lets you use two songs unless you pay for other ones
Just read the review
Hoodedleaf26
on
8/11/2017
This is probably the worst app I have ever gotten. First just don't get ANY subscriptions because it's almost impossible to cancel it. They don't even tell you how to cancel them so I deleted the app and after a few weeks I got a new iTunes card and it took all my money without me even having the application installed!!!! And it says auto rap but all it does is take your voice and make you talk into your mic and then take your sentence and make you listen to an auto tuned stuttering version of you with a terrible instrumental remake of crappy songs.
Don't download taking $2.99 out my account weekly
I just realized this app has been taking $2.99 out of my bank account every week. The app doesn't have an option to stop. I didn't even have the app downloaded anymore until I looked closer and my purchases then I pulled it up again so I could see how to contact them. I'm going through apple to see how I can stop this immediately. Do not download unless you are ok with paying that weekly.
Forgets your password
I was entering in my password to the my account when it kept saying it was incorrect, it wouldn't let me pass so I deleted the app, dont download this app it is annoying.
H
Fugfkjhxvkmvglfsfhaeg
on
8/9/2017
I can't do anything because I have to pay if I want to write a song it's so stupid I did it I just want to do something and not pay for God
Fact Sheet
Publisher:

Smule

Category:

Music

Released:

Jul 17, 2012

Current Version Released:

Feb 16, 2017

Version:

2.3.5

Size:

71.3 MB

Compatibility:

Requires iOS 8.0 or later.

Recommended Age:

12+

Game Center Certified:

No

Supported Devices:

iPad2Wifi-iPad2Wifi, iPad23G-iPad23G, iPhone4S-iPhone4S, iPadThirdGen-iPadThirdGen, iPadThirdGen4G-iPadThirdGen4G, iPhone5-iPhone5, iPodTouchFifthGen-iPodTouchFifthGen, iPadFourthGen-iPadFourthGen, iPadFourthGen4G-iPadFourthGen4G, iPadMini-iPadMini, iPadMini4G-iPadMini4G, iPhone5c-iPhone5c, iPhone5s-iPhone5s, iPadAir-iPadAir, iPadAirCellular-iPadAirCellular, iPadMiniRetina-iPadMiniRetina, iPadMiniRetinaCellular-iPadMiniRetinaCellular, iPhone6-iPhone6, iPhone6Plus-iPhone6Plus, iPadAir2-iPadAir2, iPadAir2Cellular-iPadAir2Cellular, iPadMini3-iPadMini3, iPadMini3Cellular-iPadMini3Cellular, iPodTouchSixthGen-iPodTouchSixthGen, iPhone6s-iPhone6s, iPhone6sPlus-iPhone6sPlus, iPadMini4-iPadMini4, iPadMini4Cellular-iPadMini4Cellular, iPadPro-iPadPro, iPadProCellular-iPadProCellular, iPadPro97-iPadPro97, iPadPro97Cellular-iPadPro97Cellular, iPhoneSE-iPhoneSE, iPhone7-iPhone7, iPhone7Plus-iPhone7Plus, iPad611-iPad611, iPad612-iPad612, iPad71-iPad71, iPad72-iPad72, iPad73-iPad73, iPad74-iPad74,

Supported Languages:

English; French; German; Indonesian; Japanese; Korean; Malay; Portuguese; Russian; Chinese; Spanish; Castilian; Thai;

Parental Advisory:

Mild Profanity or Crude Humor; Mild Alcohol, Tobacco, or Drug Use or References; Suggestive Themes;