This version of the app is not recommended
App last updated
Feb 16, 2017
Screenshots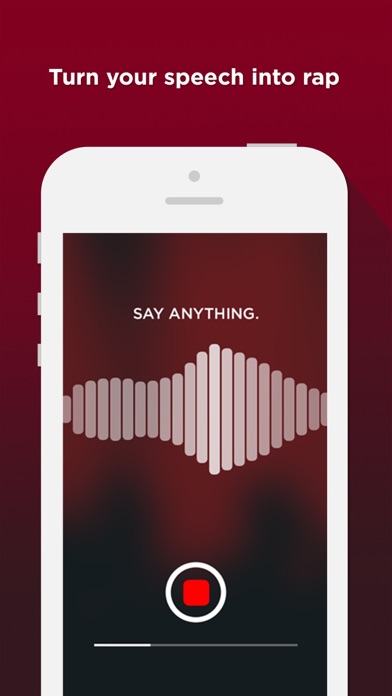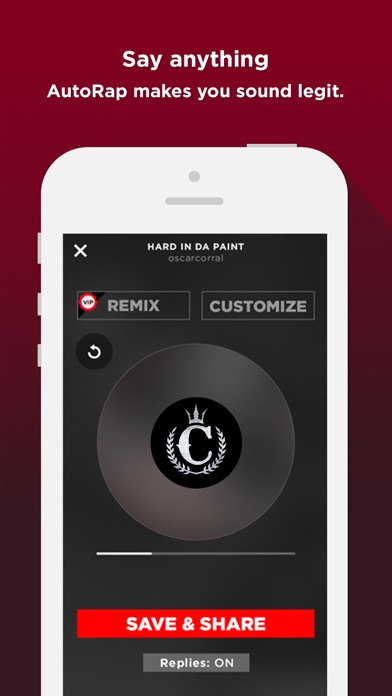 New in version 2.3.5
– Lots of under-the-hood improvements and bug fixes.
Description
Say something. AutoRap turns your speech into rap. Choose from 100+ beats from artists like Drake, Eminem, Nicki Minaj, Snoop Dogg and let AutoRap transform your words into a lyrical masterpiece! You may share your rap song and even go viral!

"You simply speak into your phone, and the app chops your voice and buries it in a whole mess of autotuney goodness" —Engadget
"I tried it…and this is just pure fun" —Queen Latifah

Features:
- Talk mode: instantly turn your words in to a rap song
- Rap mode: Auto-tune your freestyle verses (corrects bad rapping)
- Remix - recreate the rap in different beats
- Rap Battles - show off your rapping.
- Discover Top rappers. Get followers

The current catalog includes songs and beats by:
- Drake
- Lil Wayne
- Nicki Minaj
- Eminem feat. Rihanna
- BOB
- T-Pain
- Snoop Dogg
- Ludacris
- Tupac feat. Dr. Dre
- Outkast
- Nelly
- Beastie Boys
- Kelis
- Chamillionaire
...and many more.

NEW BEATS AND SONGS ADDED EVERY WEEK.

TALK MODE:
Talk into the app, and AutoRap magically morphs your speech into a legit rap. Create your own original rap songs with Freestyle Beats and Premium Songs from artists like Snoop Dogg and Nicki Minaj to AutoRap. The Rappification™ feature will turn you into a rap star!

RAP MODE:
It's all you! Dish a fresh rhyme in your own time and style. AutoRap autotunes your verses to match the tempo of the beat you chose. (Headphones recommended for Rap Mode)

REMIX - FUN, FUN, FUN:
Change the beat for the rap you've just created. Try different beats and watch how your rap gets recreated in different styles. Pick the one that works best for you.

SHARE, GO VIRAL: CONNECTING THE WORLD THROUGH MUSIC™
Rap about something that matters to you and go viral. Share your rap recordings with your friends via text message, email, Facebook or Twitter. Sing them a happy birthday they'll never forget, or give 'em the lowdown on the sandwich you ate for lunch.

RAP BATTLE:
You don't have to rap alone. Challenge your friends to an epic three-round, turn-by-turn rap-off and let AutoRap seamlessly weave verses from you and your opponent into a single track of rapperly rapport.


We add new beats to the songbook 3 times per week. Check back to see what's new!


ALWAYS FREE:
We offer one song that is ALWAYS FREE: "Turkey Burgers" - so you can use the app anytime you want completely free, without spending any money, ever.

UNLIMITED VIP SUBSCRIPTION:
- You can subscribe for $7.99*
- Subscribers have unlimited access to ALL songs and beats, the remix table, and much more!
- Payment will be charged to iTunes Account at confirmation of purchase
- Subscription automatically renews unless auto-renew is turned off at least 24-hours before the end of the current period
- Account will be charged for renewal within 24-hours prior to the end of the current period at the cost of the chosen package
- Subscriptions may be managed by the user and auto-renewal may be turned off by going to the user's Account Settings after purchase
- No cancellation of the current subscription is allowed during active subscription period
- You can read our privacy policy at https://www.smule.com/privacy
- You can read our terms of use at
https://www.smule.com/termsofservice
- Any unused portion of a free trial period, if offered, will be forfeited when the user purchases a subscription to that publication

*All subscription prices are equal to the value "Apple's App Store Matrix" determines to be the equivalent of $7.99 USD
iPad Screenshots
Reviews
Waste of money
It takes 3 bucks A WEEK and won't let me cancel the subscription
Literally the worst excuse of an app
This app is one of the most disgraceful things on the App Store. When they say "Auto rap" do they mean taking your voice and replay in different and awful patterns, don't forget I just wanted to see what this app is. And the last thing I have to say is why the hell do I have to sign up I already have a lot of emails I don't need more especially from this app. 😬🤢😡😒
🤢
This dumb f**king app took my money after I renewed that sh*t ☹️ trash app don't ever get it buy
Facebook
joebobsteve17
on
1/20/2018
The ads looked cool but judging by the reviews and the fact that I need to sign up for this... yeah I deleted it
Your Trash
I deleted the app and still made me pay your apps are trash so just stop making apps your trash too so stop and cancel my purchase!
Horrible
37775666899997654433
on
1/19/2018
I hate this app auto rap isn't a real thing
Cancel subscription
How do you cancel a subscription !!!!!!!!!
It's The Best App Ever
Alex The Rapper
on
1/18/2018
I love this app so much keep up the good work on this rap simulator
HORRIBLE GAME
Absolutely terrible,I should not have to pay money just to say words to a cellular device. I gave it a one star rating because it is PLANE OUT TERRIBLE.I DO NOT AND WILL NOT GIVE MONEY TO SOMETHING THIS DUMB.On the AD it was very appealing but when u download it u have to pay for everything EVERY SINGLE THING! I was excited about this at first but this might as well be called 'Money taker' But in my opinion over all THIS IS TERRIBLE
Why make the app free if
TommyThorpe6666
on
1/18/2018
Why make the app free to install if you going to force us to Subscribe to "auto rap"
So stupid
its so dumb if u have this app get a freaking life
worst app ever
Thanhtoai112
on
1/15/2018
this app shouldn't exist on appstore
How can i unsubscribe this apps?
It keep taking money on my Apple account id without giving me a notice and i want to stop this....im disappointed
👎🏼👎🏼
Brandon requizo
on
1/11/2018
This app is useless don't buy it!!
How do I get rid of paying for this?
My sons friend decided to steal my daughters iPhone which has my iTunes and I can't even get this to download on my own phone to stop paying for this crap and it was deleted off of the iPhone it was on before the kid gave it back.
Rip-off!!
ScarletRaidFever
on
1/8/2018
My brother signed up for a free trial, ended up charging his iTunes wallet $7.99. Even though he has not received the service that is pending, right now in his iTunes. Can't update any of his applications until he updates his iTunes wallet (iTunes offered no help when I contacted them) and pay for a service I didn't want or even receive, I don't even have the application installed anymore!!!
Pretty cool, but...
I love this app and it's fun, but I hate the fact that there's "VIP" and how there is only three songs you can rap to. Also, I wish there was more variety to 2017 music.
Word app ever
So stupid. Just don't buy it. Trust me.
It won't send to YouTube
great&badproblems
on
1/7/2018
Ok so i was just doing raps and I realized... this would be cool for my YouTube channel. So I go share...but no Youtube! But you know what I see? Facebook, Twitter, and more...but no Youtube. I would love this app if it added two more apps for us to send to. iMovie, and YouTube. Please don't got this if your wanting to send to YouTube. And for the creator...put Youtube!!!!!!!
The Stupidest app Ever
XxNutellaHoneyxX
on
1/7/2018
So I Had This App Before But U HAD TO SIGN UP OVER TRYING TO SAY WHATEVER U WANT!?! plus I don't wanna sign Up For That If You Would Change It please Read This And Also This is a singing app for 12+ But It's Not cool to Have signing up stuff it's stressful if they ask u what's ur Facebook or something and address it makes me wanna burst out of anger So I Hope u Understand And Make Signing up easier
The dumbest app EVER
False advertisement.Thanks for wasting my time.😑
Nope
First thing it did was demand me to input my email so I could get unlimited spam. Nope. Deleted. Bye.
Seriously!!!
I think you should make more free songs, the people who are downloading this app and thinking ,"oh wow I have so many songs to choose from but I better choose wisely because I only have one free play and then I have to pay to do something that an app should've already let me do!!! If you're going to make it out for me because people will buy this app and sync it but no you don't get to do you know why, please make this app better and , lose the ads, SERIOUSLY, this app is the worst app I have ever downloaded!! FIX IT!
The dumbest of all
What is this garbage I can't sing my own song, this is the worst app ever
This is literally the worst app ever!
cutiecutie111
on
12/31/2017
This is the worst app ever.First of all,u can't even do anything by u have to pay and I ain't buying nothin.Second...it's even cringer that music.ally!
Coolest app ever 😉😉😉😉😉
Madyay👩🏻‍💼200
on
12/31/2017
I ❤️ that game it is the best!
It's bad
musical.ly gurl
on
12/31/2017
It's bad
Problems
Jcsaves John 3:16
on
12/30/2017
When you go in it says say anything but after when you do it you have to pay money. I don't kind now why they want to make you get them money
Too Much Money
Dancer_dave15
on
12/29/2017
This app is 32 DOLLARS a MONTH, I could spend my money on a lot more things than this, why can't this app be more like MUSICAL.LY where everything is free, like seriously on this app it's recording auto tune which is cool but it's not like it make you famous and it allows to only have like 4 songs to do for free. This app is a money guzzler.
Crud level 900000
When I got this app, I was at least satisfied was free. Honestly, after I saw the app itself, I would rather it cost some. A free month trial, then you pay 8 bucks per month? Really. Then it asks you to sign up, which means a lotta junk in your inbox. If you are a rich person who can throw your money away, be my guest.
I can't make one! DANG IT APP!
First of all, I've been seeing that you can't get out of paying for it. Second, it doesn't let you make a password at the beginning and you probably won't have a password. Third, IT NEVER TELLS YOU WHERE TO STINKING MAKE YOUR OWN RAP!!!!!!!! I just wanted to make one rap and then get rid of this app. BUT NO!!!
AutoCrap
Garbage, the app and "music" it creates
Do Not Recommend
I used this app ONCE. I didn't like it at all, but what's even more annoying is the fact that I got a week "free" trial and even canceled it 2 days early yet I'm STILL getting billed $8 for it. I can't download any new apps or even update my current ones. Not very happy.
Cringe
ZeyMinecraft
on
12/23/2017
Cringe
Stupid trial is stupid
It is just going to charge me at the end like they all do 😭 pretty 💩 app plus naughty words 😫😫😫😫😫😫😫😫🙏💀
autorap
Fancynancy0421
on
12/23/2017
this is the dumbest app, u have to pay for every beat, the autotune sounds like crap, and in the ads, they all look like they want to die i dont recommend this app at all
It's just good fun
Pugs love 2
on
12/22/2017
I like to do funny and silly things and I don't care what people say about it!
The worst ever
It is literally the dumbest thing ever
Okay but not so great
AnimatedAphYT
on
12/21/2017
It's okay but wth would we rap I mean like, you know those monthly free charges why don't you just watch an ad to get a free trial, you should just make the trial free so everyone can enjoy it.
I love it!
poop head5648
on
12/20/2017
I just love it because I do?🖕🏿
Crashes
Crashes when you select your photo. It freezes every time.
Need help ASAP
Meggydoodle23
on
12/19/2017
I didn't mean to click on the $7.99 vip what so ever and it charge me even when I tried to back out of it so I would like my money back I didn't want the vip or anything . So if you could cancel the vip give my money back that would mean a lot thanku (:
Not unique
Waste of money
Well I'm getting a $17.00 payment from smule for nothing
SDskate legend xD
on
12/17/2017
I am only 11 years old and I'm getting billed for auto rap and I didn't do crap
Dumb Game
I First thought this could be so cool cause I wanted to make my Brother laugh! But, instead they only let you pick between three songs! In my opening this game is total trash and needs lots of work! Developer if you are reading this I consider you fix this. Thankyou
Waste of your time. Micro transactions and subs
You think this app will let you at least try a few things. NOPE. They after the free download straight to the subscription box and they won't let you experience anything else. Nice one developers. Way to go. If I was your CEO I would fire everyone one of you. PEACE
Horrible. Don't try it.
Immapotato lady
on
12/15/2017
I can't stand it. There is literally no point to use this game. Nothing sounds good at all no matter what your doing. I only imagine snotty two year olds using this game.
Fact Sheet
Publisher:

Smule

Category:

Music

Released:

Jul 17, 2012

Current Version Released:

Feb 16, 2017

Version:

2.3.5

Size:

71.3 MB

Compatibility:

Requires iOS 8.0 or later.

Recommended Age:

12+

Game Center Certified:

No

Supported Languages:

English; French; German; Indonesian; Japanese; Korean; Malay; Portuguese; Russian; Chinese; Spanish; Castilian; Thai;

Parental Advisory:

Mild Profanity or Crude Humor; Mild Alcohol, Tobacco, or Drug Use or References; Suggestive Themes;