Games
Strategy
Simulation
Recommended app!
App last updated
Jan 10, 2018
Screenshots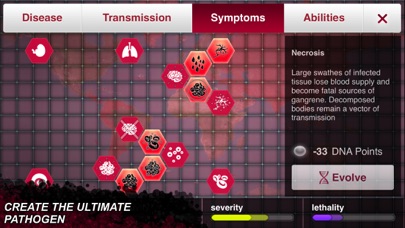 New in version 1.15.3
Plague Inc. Mutation 15 Discovered - The Mad Cow Disease Update

WARNING - Meat, dairy, fruit or vegetable - no food is safe as a new variant of Mad Cow Disease breaks out in the latest Plague Inc. update!

Three new official scenarios have landed and each one offers exciting new challenges for Plague Inc. players:

Mad Cow Disease
Evolve an entirely new variant of the infamous prion and infiltrate the world's food supply! Is now the time to go vegetarian?

Where Is Everyone?
Almost everybody in the world has mysteriously vanished and nobody knows why. How will your outbreak spread when there are so few people left to infect?

Flight Club
Does the idea of Greenland getting a major airport excite you? If so this is the scenario for you!

Also included
We've implemented a few new achievements, a Featured Scenarios menu and some minor bug fixes.

***
Hotfix 1.15.2 - Adjustments to difficulty and events in new scenarios
Hotfix 1.15.3 - Fixed issue where Government Actions were not firing correctly in Mad Cow Disease Scenario
Description
Can you infect the world? Plague Inc. is a unique mix of high strategy and terrifyingly realistic simulation.

Your pathogen has just infected 'Patient Zero'. Now you must bring about the end of human history by evolving a deadly, global Plague whilst adapting against everything humanity can do to defend itself.

Brilliantly executed with innovative gameplay and built from the ground up for iPhone & iPad, Plague Inc. evolves the strategy genre and pushes mobile gaming (and you) to new levels. It's You vs. the world - only the strongest can survive!

◈◈◈ #1 top game globally with well over a billion games played ◈◈◈

Plague Inc. is a global hit with almost a million 5 star ratings and features in newspapers such as The Economist, New York Post, Boston Herald, The Guardian and London Metro!

The developer of Plague Inc. was invited to speak at the CDC in Atlanta about the disease models inside the game!

▶ "The game creates a compelling world that engages the public on serious public health topics" – The Centers for Disease Control and Prevention
▶ "Best Tablet Game" - New York Daily News
▶ "Plague Inc. will snag your attention in all the right ways and keep it there" - Touch Arcade
▶ "No denying Plague Inc.'s high-level of quality" - Modojo
▶ "Plague Inc. should not be as much fun as it is" – London Metro
▶ "Will leave you hoping to destroy the world, all in the name of a bit of fun" – Pocket Lint
▶ "Plague Inc.'s gameplay is infectious" - Slide to Play
▶ Winner – "Overall Game of the Year" – Pocket Gamer
▶ "Killing billions has never been so fun" – IGN

◈◈◈

Features:
● Stunning retina graphics with a highly polished interface (Contagion guaranteed)
● Highly detailed, hyper-realistic world with advanced AI (Outbreak management)
● Comprehensive in-game help and tutorial system (I am Legendarily helpful)
● 12 different disease types with radically different strategies to master (12 Monkeys?)
● Full Save/Load functionality (28 Saves Later!)
● 50+ countries to infect, hundreds of traits to evolve and thousands of world events to adapt to (Pandemic evolved)
● Full game support for scoreboards and achievements
● Expansion updates add the mind controlling Neurax Worm, the zombie producing Necroa Virus, Speed Runs and real life Scenarios!

Localised in English, German, Spanish, Brazilian Portuguese, Italian, French, Japanese, Korean, Simplified Chinese, Traditional Chinese and Russian. (more coming soon)

P.S. Give yourself a pat on the back if you got all the themed literature references!

Special sale price to celebrate being one of the most popular paid iPhone games ever!

◈◈◈

Like Plague Inc. on Facebook:
http://www.facebook.com/PlagueInc

Follow me on Twitter:
www.twitter.com/NdemicCreations
iPad Screenshots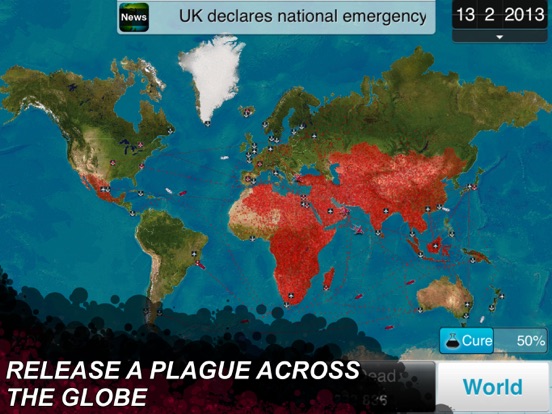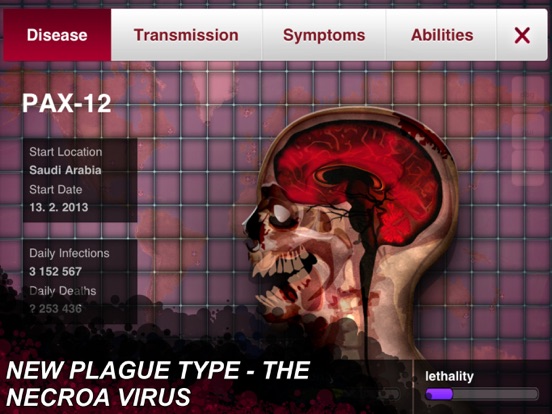 Reviews
I even have it on Xbox one
survival express
on
3/22/2018
Oh my god this is my most number one most favorite creative plague game 🤮🤢☣️🆚☢️🆘
Plz
Fitnesswithlindsay
on
3/22/2018
So the game is great in all 5 star. So here's the story I bought the full game with all the scenarios and I got a new device and tried to restore my purchase and it won't give me it back
Soooo cool
Techsavvy999
on
3/20/2018
Soooo cool
kill them all...
let God sort them out.
I got a idea
CollinMathew
on
3/20/2018
I got a idea for a new mode. You should make a mode where instead of trying to spread the disease and kill the whole population you make a mode where you have to try to cure the disease. So basically a opposite version of the game.
Needs improvement
Petertheawesome4
on
3/20/2018
I think the game is very fun addictive and strategic. But could be improved to be more realistic. Perhaps making a certain update making it so people can give birth, people can die of natural causes, boats and planes can crash or sink (potentially killing some people at random amounts) and make it an ability that should be upgraded quickly that allows the pathogen to transfer from women to their children that they give birth to. Also add more airports and seaports because I find it highly unlikely that America has only one airport and one seaport. Make it so that countries with less money are harder to spread the cure to. Because it's highly unlikely that Saudi Arabia is leading the global cure effort. Anyway like I said before I love the game just that it can be more realistic.
Love It!
This game is really cool! It's a pretty messed up concept, but it's fun to play either way
Awesome game!
It makes you think more than most games. It's a good strategy game and the expansion packs really open it up!
One of my top 10
SuperStar4795
on
3/16/2018
I rate this game five stars because it is fun and because it is overall amazing Best $.99 I ever spent
GAME BREAKING BUG!!!
There is a bug with the cure research, causing it to not be affected by anything. High deaths won't slow it, research won't slow it. NOTHING WILL SLOW IT! This makes it impossible to play at brutal level. This bug needs to be fixed IMMEDIATELY!
Fun but...
Fun game, fun to try different combinations. But the expansion packs nickel & dime you. These should be included in the purchase of the game.
Pretty sweet
Yeah there is some "lack of realism" to bicker about - on the one hand, they cure diseases very quickly. On the other hand, no one has natural immunity - which isn't the case with many real world diseases! Also I think if you get the population down from 7 billion to like 5,000 you should get some recognition for being "close enough" :) The zombie pack is so awesome! But the apes and vampires are getting a bit too unwieldy to wrap one's mind around. Overall - well with the money!
Needs a complete unlock purchase
This is a great and imaginative game. Difficult but not so much as to take away the fun. I actually bought it near when it was first released and the updates are regular and impressive, but the thing that bothers me about any game with in-app purchases is that it there are so many individual in app unlocks, etc. that it's completely unreasonable to expect a customer to purchase them all and on top of the original app purchase. Yes, you can unlock them through gameplay but it is very difficult and/or time consuming to do so. I would consider a full 5-star review if there was a single in app purchase that unlocks all additional content for a single REASONABLE price, or better yet, eliminate in apps altogether and just charge up front when you buy the game and offer the player the ability to cheat and unlock expansions at will. I understand that the devs need to eat and should be paid for their content, but as a mobile app all the added content available is too unreasonably priced when you can buy an HD console game for about the same price once you've purchased everything currently available at the time of this review. In short, great game, great developers, but limited in replay value unless you spend even more money for all of the expansions and unlocks. Please offer a better option and I'll absolutely give this 5-stars.
Just needs iPhoneX support.
Overall a great game.
Morbid and fun all at the same time !!!!
Lumberjack8541
on
3/13/2018
This game actually is a ton of fun while boosting one's understanding regarding the spread of disease and infection.
This game is so addictive
I've had it for year never gets old
DNA problems
undertalefan91
on
3/12/2018
I have really loved the game and I always will but it's come to my concert that it's weird that from your 4th devolve and on you lose DNA this makes it so hard to save up my DNA and I hope you can remove this weird feature
Wow. Be careful you might be up until 3 a.m. paying this game, just like me.
Jonny Three Piece
on
3/12/2018
Well thought out game. It causes you to think about the world around you in such a way that really makes you want to wash your hands after meeting new people. I really used to like animals, especially birds. Now I will never feed the ducks again. Could you please cover your mouth? Okay so the game makes you want to become an infectious disease just to see if you can do it! You know, wipe out the human race. And, not to toot my own horn, buttadid. Worth all 99 pennies.
WOULD be fun IF....
Would be fun if.....the DNA rewards didn't dry up. Even in "easy" mode, it stops giving you DNA and finds a cure in well under a minute. I've tried multiple strategies and same outcome. Seems to me like it's just trying to force you into spending extra $$ to gain an upper hand.
Nickle and diming
I purchased this gam almost three years ago and got the zombie and nurax worm update for free. I got an iPhone and decided to buy the game bc the value was so good previously. I'm guessing the devs sold out. It's sad to see a 5 dollar game that you use to get for two dollars trying to be sold for 12. I'm sure the bit of extra cash helps you live with it. Bummer
Awesome game.
So much, so addictive.
This is supper fun
Sergey in Chicago
on
3/11/2018
The game is great and I am sure that it will get better
Fun game, too many alerts
The game is interesting and changes to give different challenges. The alerts that pop up make it difficult to continue playing.
Update please
Will there be an update to take full advantage of the iPhone X screen? Really like the game so far.
The game is a pay to win.
YouNeedToFixThis.com
on
3/10/2018
Literally to get far you need to pay for a lot of packs it annoys me
Good game but i'am a major issue
I can no longer custom plagues.
I love this game
Club penguin girl
on
3/9/2018
This game is fun and great I hope we can see more in the future!
Amazing!
Played one round and I was hooked and immediately bought most of the downloadable content! Worth getting!
BEST EVER
SamCatAndTheCrew
on
3/9/2018
This game is so fun and you can play it on the go with no WiFi! This game is one of the if not the best strategy game iv ever played! Of course it is not realistic, but how cares? It's still a fun game and is soooooo worth that dollar I paid for it! XD
Great game
Sidthekid2112
on
3/9/2018
I am having the best time playing this game
Amazing app
Thomas_Allbee
on
3/8/2018
The only downside is that there is no iPhone X/10 optimization, if there were it would defiantly be 5 stars
Only 4 Survivors???
Alalacndnjdjxjjdjxkksks
on
3/6/2018
I love the game BUT it's not fun when you spend an hour playing just to have only 4 people somehow not get infected.
Unlimited DNA!
Haven't played this in a few years but I used to have a perk on here that gave me unlimited DNA for sandbox fun. What happened to it?
fun but chalenging
i like this game but its, i am kind of a noob thought. But we all get better right?
Meh
Meh, if you want to fully enjoy the game be ready to spend money. Been stuck on 3rd lvl, fungus and lose every time, not sure how when there are zero healthy people and they create a cure?
Plague
A perfect way to pass time when you have nothing better to do!
??????????????????!!!!!!!!!!!!!!!!!!!!!!!!!!
I love this game. Needs more realism, but despite that, it's awesome. But once, there were zero healthy people and I still lost. I think that you should make it so that when there are zero healthy people, you win. Thanks for making this game!
I can't restore my purchase for everything it won't let me and I'm so frustrated right now!
Longhorn c======3
on
3/2/2018
I need a refund then
There is a typo
I just beat Simian Flu, and there is a typo in the message displayed when you win. It says "Human civilisation has been shattered by. . ." Civilization is misspelled. Everything else about the game is perfect, it just bothered me, so I had to point it out
Nice
Everyone who is complaining about game being too hard, you aren't playing the game right, and if you really struggle with it so much, then go look up some guides. Games pretty easy tbh. And everyone is saying that it's unrealistic and I think that's what makes it more fun and challenging. I've beaten mega brutal on every single disease without much trouble, and I think the unlimited resource and funding made the game strategy harder and more playable. Because think about this, if you could mutate a disease however you want, to the point where it can be immune to antibiotics, develop dozens of symptoms, and infect in almost all known ways, then why can't the world have unlimited resource, fund, and knowledge to cure against you? Honestly, this is not a hard game and if you were to play some more and figure out patterns, you would actually beat mega brutal on all disease with ease, the only one I struggled bit with was Prion Virus, cause it didn't have exceptional specialties as others.
Incredible and Challenging
Firestorm363475326863378
on
3/1/2018
There are lots of people complaining about the difficulty of the game. Yea, the Megabrutal difficulty is unrealistically hard, but it's far from impossible to beat with practice and skill. Besides, Brutal mode is there for people who want realism. Overall a great game that doesn't deserve the complaints it's seeing.
Great game
I'm always having fun playing this game.its worth getting.
Good but..
I love this game and the strategy that comes with it, but the resources that countries have and the speed at which cures are developed are very unrealistic. That aside I love the challenge they bring to the game. However, and many of my brutal play throughs I have noticed that there is sometimes a bug where if you fast forward while your disease is infecting one last country, and had lethality (all of which were virus runs) then it can stop all infections completely. I went from 60,000 infections a day to 0 just because I fast forwarded
Make it more realistic
such a great game but keep it up to date, also I infected like 3 billion of the world while they were finding cure and I didn't get DNA points, and I played this game with cheats and upgraded all my types of my disease to the strongest and still got 1 start out of 5 and low points!! how do I win this game even with cheats I can't get high score, just make it more realistic as possible.
Need to Update for IPhone X
Helpful hero
on
2/28/2018
Great game! Don't listen to the people online and their opinions of the game. It's just that, and opinion if you like the concept of the game get it. If not don't. What can say is once updated for iPhone X I will play it again.
Plague inc
Very fun game for all ages it gets really hard when you're trying to get to new levels though.
It very good
Very good need better stuff though
#1
king platano
on
2/27/2018
This game is very fun and is a good game for when you feel that urge to just kill everyone you know. Or just me?😂👌🏽
Fact Sheet
Publisher:

Ndemic Creations LTD

Category:

Games

Released:

May 25, 2012

Current Version Released:

Jan 10, 2018

Version:

1.15.3

Size:

103.7 MB

Compatibility:

Requires iOS 8.0 or later.

Recommended Age:

12+

Game Center Certified:

No

Supported Languages:

English; French; German; Italian; Japanese; Korean; Bokmål, Norwegian; Norwegian Bokmål; Polish; Portuguese; Russian; Chinese; Spanish; Castilian; Chinese; Turkish;

Parental Advisory:

Fear Themes; Mild Realistic Violence;