Games
Strategy
Simulation
Recommended app!
App last updated
Jan 10, 2018
Screenshots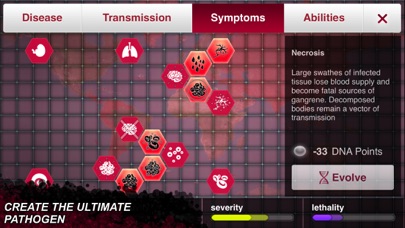 New in version 1.15.3
Plague Inc. Mutation 15 Discovered - The Mad Cow Disease Update

WARNING - Meat, dairy, fruit or vegetable - no food is safe as a new variant of Mad Cow Disease breaks out in the latest Plague Inc. update!

Three new official scenarios have landed and each one offers exciting new challenges for Plague Inc. players:

Mad Cow Disease
Evolve an entirely new variant of the infamous prion and infiltrate the world's food supply! Is now the time to go vegetarian?

Where Is Everyone?
Almost everybody in the world has mysteriously vanished and nobody knows why. How will your outbreak spread when there are so few people left to infect?

Flight Club
Does the idea of Greenland getting a major airport excite you? If so this is the scenario for you!

Also included
We've implemented a few new achievements, a Featured Scenarios menu and some minor bug fixes.

***
Hotfix 1.15.2 - Adjustments to difficulty and events in new scenarios
Hotfix 1.15.3 - Fixed issue where Government Actions were not firing correctly in Mad Cow Disease Scenario
Description
Can you infect the world? Plague Inc. is a unique mix of high strategy and terrifyingly realistic simulation.

Your pathogen has just infected 'Patient Zero'. Now you must bring about the end of human history by evolving a deadly, global Plague whilst adapting against everything humanity can do to defend itself.

Brilliantly executed with innovative gameplay and built from the ground up for iPhone & iPad, Plague Inc. evolves the strategy genre and pushes mobile gaming (and you) to new levels. It's You vs. the world - only the strongest can survive!

◈◈◈ #1 top game globally with well over a billion games played ◈◈◈

Plague Inc. is a global hit with almost a million 5 star ratings and features in newspapers such as The Economist, New York Post, Boston Herald, The Guardian and London Metro!

The developer of Plague Inc. was invited to speak at the CDC in Atlanta about the disease models inside the game!

▶ "The game creates a compelling world that engages the public on serious public health topics" – The Centers for Disease Control and Prevention
▶ "Best Tablet Game" - New York Daily News
▶ "Plague Inc. will snag your attention in all the right ways and keep it there" - Touch Arcade
▶ "No denying Plague Inc.'s high-level of quality" - Modojo
▶ "Plague Inc. should not be as much fun as it is" – London Metro
▶ "Will leave you hoping to destroy the world, all in the name of a bit of fun" – Pocket Lint
▶ "Plague Inc.'s gameplay is infectious" - Slide to Play
▶ Winner – "Overall Game of the Year" – Pocket Gamer
▶ "Killing billions has never been so fun" – IGN

◈◈◈

Features:
● Stunning retina graphics with a highly polished interface (Contagion guaranteed)
● Highly detailed, hyper-realistic world with advanced AI (Outbreak management)
● Comprehensive in-game help and tutorial system (I am Legendarily helpful)
● 12 different disease types with radically different strategies to master (12 Monkeys?)
● Full Save/Load functionality (28 Saves Later!)
● 50+ countries to infect, hundreds of traits to evolve and thousands of world events to adapt to (Pandemic evolved)
● Full game support for scoreboards and achievements
● Expansion updates add the mind controlling Neurax Worm, the zombie producing Necroa Virus, Speed Runs and real life Scenarios!

Localised in English, German, Spanish, Brazilian Portuguese, Italian, French, Japanese, Korean, Simplified Chinese, Traditional Chinese and Russian. (more coming soon)

P.S. Give yourself a pat on the back if you got all the themed literature references!

Special sale price to celebrate being one of the most popular paid iPhone games ever!

◈◈◈

Like Plague Inc. on Facebook:
http://www.facebook.com/PlagueInc

Follow me on Twitter:
www.twitter.com/NdemicCreations
iPad Screenshots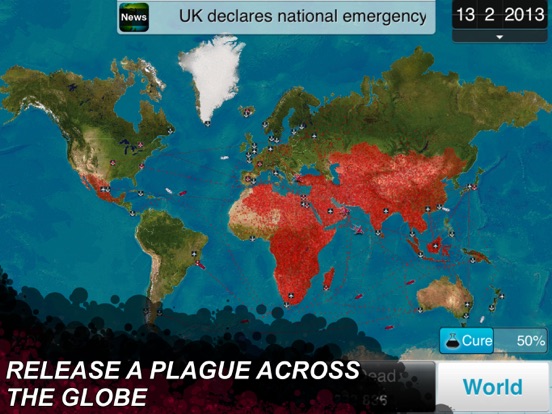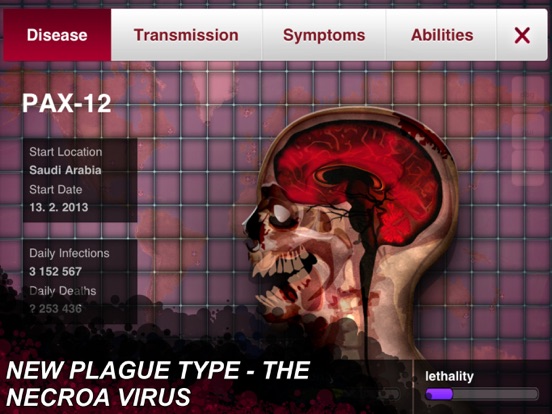 Reviews
Wow people are bad at this game.
Easy is easy but I beat Mega brutal on my first try but couldn't do on brutal which makes no sense.
Amazing game
JoeyBones621
on
1/20/2018
I'm addicted. I had it on my Samsung tablet that was taken, so I put it on my iPad. Unfortunately I'm starting from scratch but that actually makes it more fun to redo the game again! The support team seem to only reply with form emails tho. Hopefully my custom scenario gets fixed! I just purchased it and it is saying that it does not recognize my purchase, please refresh my purchase which I have no clue how to do that other than restarting the app. Hopefully they won't give me issues!
iPhone X update?
Come on Plague! Your a great game that keeps on giving! Why no iPhone X update??! Fill my screen and I'll take you back to 4 stars.
Can't start over
Nightwing 9019
on
1/17/2018
This game is fun and all but I wish that you could delete the app and your progress would reset.
Best Offline App!
Title says it all; this is easily the most entertaining offline iOS game I've played.
Co-op
Great game, but it needs a co op mode
Awesome game
This game is great when you're mad at the world! Just open your app and destroy it! 😂
THEY FORGOT HAWAII...
ALSO ALASKA IS LABELED AS PART OF CANADA
Plague vs Cure new game
Squishy_the_JF
on
1/15/2018
super fun, i think that you should create a two player game (called something like "Plague vs Cure" where one person plays as the plague like normal and the other person plays as the cure trying to cure it against the other person
Awesome
Just a awesome game
Update the app
such a great game
Very Fun!!!
This game is so good because you can get so many different infections. But I wish they had an update so you can zoom in on the map and start your infection on a more specific place. It is fun because I can just watch everything happen all at once! It is also good that you can edit your infection simply by evolving (in fact much more simple than that). Normally I lose and I still like it though because I just love trying out new infections. This version has very high quality and is actually very popular now around the world. I appreciate this app because of how much detail there is. Anyway, YOU MUST BUY THIS GAME!!!!
Free user made scnerios
It's a good game but I feel like lots of content is locked behind paying like the scenarios
Very fun
Gdsevshgeehidjensnw
on
1/12/2018
Lots of insomniac nights. perfect for entertaining those.
This game is fun when it actually works.
Iphone_Dude9977
on
1/12/2018
Game has come a long way but it's broken and has been for a while. If you unlock cheats some cheats are enabled no matter what you do. You cannot disable them or even enable some cheats you try and select. The bottom 3 cheats are always selected. For a game that's become as big as this one it's surprising that the app has been broken for so long. Until the cheats
Good game but
Avery McCombs
on
1/12/2018
I have played this game for years it's awesome but recently I got an iPhone X and would like it if the app were updated to support the resolution
Love this game
A fun game with great support and updates. Have enjoyed this game for a few years - and i keep coming back for more.
TOO HARD 👎
Booooooooyah
on
1/11/2018
This game is apparently really good and very realistic and so I was exited to get this but when I played it was way to hard. Video games should be a pleasure and you should enjoy it but this is to stressful. It's a waste of money. Don't buy it.
Hi
dhhxhchfjcjx
on
1/11/2018
Rudy chi
Still no iPhone X support shame on you
Updates after updates and the devs are just lazy now. No iPhone X support what so ever!
Please add iPhone X resolution support.
This has always been one of my favorite games, but it still doesn't have iPhone X resolution even though it's still topping the sales charts. I know it can be a lot of work and potentially some redesign but it just doesn't look great as is.
All good until I bought iPhone X
Optimize!!!
iPhone X support?
Google Reviews
on
1/11/2018
Please... feel free to add that any time.
iPhone X
recoveryday101
on
1/11/2018
All this game needs is to fit my screen, the phones been out now for a few months...cmon 😂 all I want is to be able to play the game without two huge blacked out sides
What about the X?
A Bag Of Weed
on
1/10/2018
Still no iPhone X support, really?
Support for iPhone X please!
-->Arcade<--
on
1/10/2018
The game is pretty fun for the most part, but it's been quite a while for this game to be updated to support the iPhone X screen. I see maybe weekly or so updated for this game, but none for the iPhone X. The game deserves 5 stars, but until it is updated, 3 is sufficient.
Decent game, still no iPhone X optimization
Appjnicknamehzbsvsj
on
1/10/2018
Game is okay, however it still isn't fixed to fit properly on iPhone X screens even after multiple updates since release.
Optimize for iPhone X
Mac addict 42
on
1/10/2018
I love the game, but I feel like it's been long enough wait for iPhone X optimization.
This game is awesome!
I wish the special plagues were free but it's ok I can only beat bio weapon and fungus😠 but it's fun I wish they would come up with new infection types though.
X
not yet optimized for iPhone x!
Bought the full version
7_Incognito_7
on
1/10/2018
Worth it! The amount of scenarios and disease types are amazing. Hours upon hours of enjoyment.
Cool and great time killer but needs some edits
Hawaii I mean it's a state but it's a island so and the news you need need to make more real like real events and Greenland when a dna point pops up you can't see it
Wonderfully addictive
Scootylooploop
on
1/8/2018
Weeks of fun!
Awesome
It's really fun but I'm having extreme difficulty beating fungus on normal. But otherwise AWESOME GAME
Fun game
There's something satisfying about murdering the world.
Shouldn't cost 12 bucks
Other than that it's fine
IPhone X
I wish the developer would give it iPhone X support. It's to small to play :(
Best game Ever. Played it for years
Love it!!! BEST GAME EVER!!!!!!!!!!!!!
Patience!
Haboobachooba
on
1/1/2018
Don't listen to everyone saying this game is impossible. I've passed every plague type on mega brutal, gotten 5 biohazards on every speed run, achieved all of the achievements, and passed scenarios 98% on mega brutal (only have mad cow left). This game is the only game I have on my phone because it's just amazing. There's so many options and plagues to play as, you don't get bored. I wish I could give this app 10 stars, or more. Apart from a couple bugs, this game is perfect.
One Of The Best App Games!
This is a good and fun, strategic game on the App Store. I know everyone had their opinions on which App game is better, but this game, along with all of its scenarios and difficulties for the base game and scenarios, is just plain fun and can keep you going once you start getting the hang of it. I hope the developers keep rolling those updates on improvements and other gameplay!
Everything it's "cracked up to be".
GreyWolf99999999999
on
12/31/2017
As others have pointed out, some tweaks would be appreciated (map locking on current zoom, requiring restart / MB being "insanely impossible") - however: In a world where ignorance and stupidity seem the rule, and the masses are entertained by "apps" and "games" that are mind numbing and require one to be using narcotics believe worthy of "play", Plague Inc, has stepped out of the mold, and entered the realm of true strategy! Play though unlocking of genes/infection types, battling research masses, intent on stopping what I've created, learning the differing nuances of countries/environments/economic development and the impact these variables will have on the transmission rates of various infective vectors... Truly enjoyable! Thank you for designing/producing something that actually requires thought processes to master, and not dumbing it down to the level of idiocy shared by the masses. If you want "more" out of your "game", give Plague Inc a whirl!
The best
You know you found the perfect game when it says " ButtSecks has wiped out humanity"
Hooked
Hollywood535
on
12/30/2017
On this craaaaaap Im seriously insane I can't stop playing it y'all
It is great,i love i
Incredible
Not optimized for iPhone X
I used to have this game on my iPhone 8+ and phones before that and I loved it. Now it's pretty much unplayable due to it not being optimized for iPhone X. Please fix.
Review
chantelle_nelson
on
12/28/2017
My favorite game for my phone
Great game
Minecrafthead101
on
12/28/2017
I love this game I just wish the add ons were free
Great, but the diseases need more differences from one another.
It's a very unique game that requires a surprisingly amount of strategy. Unfortunately, while all the diseases are somewhat different from one another, I find I use the same strategy for all of them to beat each game. Still a good time.
Fact Sheet
Publisher:

Ndemic Creations LTD

Category:

Games

Released:

May 25, 2012

Current Version Released:

Jan 10, 2018

Version:

1.15.3

Size:

103.7 MB

Compatibility:

Requires iOS 8.0 or later.

Recommended Age:

12+

Game Center Certified:

No

Supported Languages:

English; French; German; Italian; Japanese; Korean; Bokmål, Norwegian; Norwegian Bokmål; Polish; Portuguese; Russian; Chinese; Spanish; Castilian; Chinese; Turkish;

Parental Advisory:

Fear Themes; Mild Realistic Violence;