Lifestyle
Social Networking
Recommended app!
App last updated
Feb 03, 2018
Screenshots
New in version 7.0.1
General feature improvements and bug fixes.
Description
Save all of your special family moments in a beautiful online journal. This free family photo album that allows parents to collect photos, videos and stories of their child's precious moments, and privately share them with family and close friends.

23snaps makes it easy for parents to save and privately share photos, videos, measurements and stories of their children with loved ones around the world.

Don't worry if your family members don't have iPhones or iPads – they can follow your updates on other smartphones, online and by email!

**About 23snaps**
Becoming a parent is an amazing journey. As your child grows and develops, you'll want to save those special moments and share them with the ones you love, be they just around the corner or on the other side of the world.

With the 23snaps app you can create a living online journal for your child that grows into a wonderful record not just of those precious 'firsts', but of their day to day life too. Invite close friends and family to watch with you as your child learns about the world around them, and they'll be able to share each incredible moment as it happens, adding their own comments and thoughts to your updates.

Children grow up so quickly, but now with 23snaps you can cherish every precious moment forever.

**Rave reviews**
"Try a Facebook alternative. 23snaps is designed to help you share photos, videos and updates of your kids exclusively with family and close friends. It's a free app that doesn't expose private content to the wider online community." – Mother & Baby Magazine

"If you are looking for an Instagram replacement, I would steer parents toward iPhone app 23snaps." – C NET

"I love the idea of being able to create a "digital journal" of my son's life. This would be a great keepsake for him as well as a cool way to keep in touch with loved ones who live far enough away that they don't see him on a regular basis." – Modern Baby

"I wholeheartedly love this app and will continue to use it. I actually can't believe that it is a free app!" – Mom Blogger, White Lily Green

23snaps has been featured in Mother & Baby Magazine, Baby London Magazine, Baby & Pregnancy Magazine, Baby World, Baby Buzz Magazine, Mashable, CNET, CTV, and is winner of the Silver award for Best Family App in the Loved by Parents Awards.

**23snaps Features**

- Upload photos, videos, height and weight measurements, and status updates.
- Connect with a partner and you both can add your own updates for your children.
- Invite your loved ones to receive real time mobile or email notifications
- Family can follow on iPhone, iPad, other smartphones, online or by email only.
- Family and friends content can leave smiles, hearts and comments.
- Completely private and secure, only the people you approve can see your photos.
- Organize your memories into collections.
- View photos in a timeline, gallery or calendar view.
- Add photo filters, frames and vignettes.

23snaps is free to use forever! For people wanting to get the full power of the app, we also offer premium features such as longer high quality videos and more.

About our Family Premium Subscription
• Subscriptions are on a monthly basis
• Payment will be charged to iTunes Account at confirmation of purchase
• Subscription automatically renews unless auto-renew is turned off at least 24-hours before the end of the current period
• Account will be charged for renewal within 24-hours prior to the end of the current period, and identify the cost of the renewal
• Subscriptions may be managed by the user and auto-renewal may be turned off by going to the user's Account Settings after purchase
• Any unused portion of a free trial period, if offered, will be forfeited when the user purchases a subscription to that publication, where applicable

Terms and conditions:: http://23snaps.com/home/terms
Privacy Policy: http://23snaps.com/home/privacy
iPad Screenshots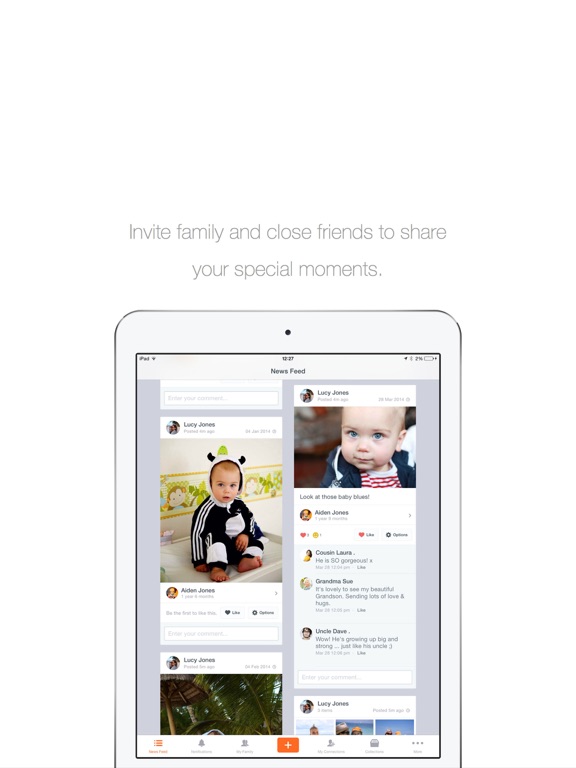 Reviews
Best Child Sharing Private App
I've been using this app for almost 4 years now, since my child was born and don't know what we would do without it! I love that only close family and friends who wanna be bombarded with my kid's photos are able to see them. It is easy to use, grandparents can order their own prints and organized timeline makes it a breeze to see old photos by age(make collections) and date. We love looking through it at the end of our day and reminiscing like they say, "the days are long but the years are short". I can't wait to use this app for our next child. All my nieces and nephews are also on here and it's wonderful to be able to go to one site and see them all...for the aunties and uncles as well as the grandparents. We share statistics like weight and height which is also helpful when it comes to gifting for their birthdays and holidays.
Almost There
The UI is excellent, but my gifs don't animate and the most you can hope for is 3 short minutes of video. If they can give me unlimited storage (which I'd even pay for), animated gifs, and videos of a much, much longer length, then this will be the best out there!
Amazing to share w close family
Easy to use and closed to public. Perfect for folks who want to share with extended family and friends but not the whole world. Easy to use, even for grandparents
Love, love, love 23!!
This app keeps my family connected! I love keeping all of our memories in one place. Amazing app. I would highly recommend giving it a try— you're going to love it!
I won't use Facebook
And you shouldn't either! The privacy isn't legit. When you start seeing ads related to your kid then you'll realize facebooks privacy policy is paper thin. This is better.
Keeps crashing
Ever since the update on my iPhone the app keeps crashing I can't look through anything.
Great for sharing privately
I love that I can pick and choose who is invited to our album. We don't use social media so it's great to share pictures and videos of our life via 23Snaps!
Great App!
Claddaghgirl55
on
11/19/2017
My son invited me to join after the birth of his first child. I like that it's by invitation only and he has complete control over it. Not living close to them lets me keep up with everything without all the extraneous fuss. Would highly recommend this site.
Perfect for long distance family
Myself, my husband and kids live in NY, my husbands family lives in FL and my family lives in England. This app has made everyone feel like they haven't missed a single thing while my boys are growing up. I can not recommend this enough. It has really allowed us to remain close and feel a part of each other's every day lives.
Cannot recommend enough!
Alicia - Boy mom of 3
on
11/6/2017
I have been using 23snaps since the very beginning and 4+ years later, I still use it every single day! I love knowing that my content is private and is only going to friends and family members that I've personally invited. As a mom of three little boys, their safety is my top priority, and 23snaps makes me feel secure - PLUS it's so well organized! I enjoy being able to scroll through the past with ease and being able to look up our kids individually. I also love that it shows how old your child is on the day the entry was made! I am constantly telling people about this app and cannot recommend it enough!
Fantastic! Keeps getting better!
We've been using this for almost five years and they keep improving it!
The BEST!
I want to say thank you for such an amazing app, I was looking for something not Facebook that is a little more private and doesn't have a ton of annoying ads and suggestions! This app truly is the best for such introverts,(forced into social media via parenthood😂😆), as myself! It's also excellent at hindering individuals from just spamming reposts of political nonsense that I read about in the news already and I believe shouldn't be used to ruin a place meant to connect people. The privacy I get is the best! No more random scammers or people I don't know trying to add me to boost their friend numbers or see pictures of my family for who knows what reasons. This app is awesome!
Great for anyone
Fun and challenger
on
10/18/2017
So easy to share pictures, videos, what's going on to anyone with a computer or smartphone.
Exactly what I was looking for
Shfgobrgobpkugedst
on
10/12/2017
I wanted a photo sharing app where I could share pictures with my family and only my family. I also wanted something with online albums for easy sorting and some way to write down notes. I wasn't interested in something that I would constantly have to update privacy settings or pick and choose which groups could see which pictures. This app has everything I wanted and it doesn't have anything I didn't want (hope that makes sense). I love that it is by invite only. I love that everything is well organized. I have consistently used this app for many years and it is still relevant and useful to me.
Amazing!
Update: My daughter is now 4 and we've been using this app daily since she was first born. We love it! I have been using this app for 15 months on a daily basis. I love it and so do my family and friends. It really couldn't be easier! I recently ordered a book of all of the pictures from my daughter's first year. It was pricey, but I had a code that they sent for her bday so I figured, why not. The book came very quickly and it is beautiful!! It will really be a treasure for my daughter as she gets older. Thank you!
no other platform compares
rabe fam cape town
on
9/23/2017
The best is that you get to add stories and sayings and weight and height in addition to the pics and vids and it's just all there in one amazing space! Thank you!! Amazing way to store memories of our growing little loves!
Pictures
Awesome keeps in touch with my grand babies!
Superior app
Amazing tool to share photos. Kept good control of who saw photos. It also gives you access to photos via online site in case you lose ur phone (or password)!
Great so far!
It's fun to be able to share photos with family and friends! I call it my private social club!
Great app!!
Love this app. It's a great way to keep up with our grandson. I just wish they would post more pictures!
Great app!
SweetnWitty1
on
8/15/2017
We're able to view photos and videos of my boyfriend's grandson from newborn to 6 months!
Great app for sharing family photos!
atlantaallday
on
8/10/2017
Perfect to share photos with family of our newborn !
Average photo sharing app
Shidubdjisbqvdggs
on
8/5/2017
A little confusing regarding "family members" and who can see what. Otherwise the app seems okay.
FAMTASTIC I LOVE THIS APP
Ronrico_Slapz
on
8/2/2017
I love this app because its family friendly and family private this app reminds me of instagram Minus the garbage a family media app where u keep track of ur family tree and preserve the memories with out filth or distractions I add family and close family friends who I want to enjoy and follow my family growth and bid versa my wife and I are with are kids at different times our profiles have different pics from both views of our family with different perspectives and it's AWESOME there is and you can access your profile and have everything there in order with dates and times u cn nudge family that may b out of the loop for a while and via versa LOVE IT LOVE LOVE IT
Great app
Spirit Searcher
on
7/31/2017
I am loving it so far. Thanks!
Agree, almost perfect
This has been great, much easier than sending individual texts or emails. I would love it if you could categorize each picture individually in the upload. Alternatively, it would be great if you could categorize the pictures after you've uploaded to help with organization. This would make it much more user-friendly in terms of creating photo books.
Never works
So many bugs. My pictures never load...a waste of time and enthusiasm.
Love it!!
Culinarydiva
on
7/25/2017
I love that I can share photos and videos of my children with close family and friends privately. I don't share pictures and videos with other site because they own whatever I post and anyone can see them. Great job 23snaps!!
Almost perfect
Great for sharing pics of our new baby with the family without having to send individual texts daily. Only wish you could reply to comments directly instead of just adding snitched comment to the pic.
Great for baby
Love that I can privately share photos. It is also great that it is geared towards babies.
Love it!
summergrlshs
on
7/15/2017
Love that I can safely and securely share photos with friends and family without worrying about anyone else seeing them!
Love it!
Great way to share photos and videos with family.
Great grandparent tool
We love 23 Snaps. It is so easy for us to see daily family pictures and comment. It is so intuitive that even I, as a non-techie was able to download pictures and share.
Girl of the year
This little girl, Ali, is rated at TOP of CHART!! She is enjoying life already!! We are excited about watching her grow! She is TEN!!!!!!!!!!
Awesome!!
Love it!! Great way to share pictures of my little guy with my family without having to post them to a more public social media platform!
Perfect on all counts
This works great with keeping your family and friends up-to-date with your little one's photos, while keeping them safe and secure from the outside world!
A great option for sharing family photos/videos
I was looking for a new place to host all of my family photos and videos. 23snaps emerged the ultimate victor because of how easy the the app makes it to upload photos - I can upload up to 20 at one time while easily tagging my kids and adding captions. I can also upload videos, status updates, measurements and stories. They are presented in a Facebook-style news feed, which has grown on me. However there is a calendar view as well. The online support seems very suspect since they don't filter out comments, and bots have taken them over. However the articles are helpful, and the email response is prompt. The graphical user interface could use a bit of modernization - the design reminds me of older apps. But it gets the job done. In conclusion, I believe anyone who uses this app will be happy with the outcome. It also serves as a good compliment to their website. I'm one happy parent who doesn't have to worry about all of my kids' photos being viewed outside of family.
Exactly what we were looking for.
23 Snaps is easy to use, easy to upload to, and easy to manage posts. Even my non-tech savvy in-laws find it easy to use! Wish there was a way for people to look at/search photos by date as opposed to the timeline style, then it would be closer to perfect.
Private Social
Sturgis in Rincon
on
4/30/2017
Can't say enough good things about this app. My family and I have been on it for a couple of years now and love it. FB is fine if you don't mind what you post being available to all, but we keep 23snaps to family only and can post all of our private goofiness. The app works exactly as described. I've never had a tech issue that wasn't resolved super fast. Being able to order prints or books right from the app is very convenient. Love it.
Great app
Really enjoy the organization of the app and simplicity. Fantastic alternative to other platforms.
Hard for people to connect
Laurenaspen777
on
4/14/2017
Others can't connect to see the photos very easily. If you have non tech savvy relatives who want to see your kids pics this is an issue. It's also a little buggy. I'm hoping that this gets resolved otherwise I'll have to switch to another app which is a shame.
Exactly what I was looking for!
I was very worried about putting my child on social media but wanted a way to share pictures with close family and friends of all generations. 23snaps Is the answer!! This app is super easy to use and even available via email for people who don't use smart phones. So grateful that someone created a safe space for pictures of my kiddo!
View Options
HuntmanProd.
on
3/28/2017
I wish there was a calendar view instead of "blog style" scrolling
Daily use
Great for sharing photos and videos with a close circle of friends and family. Easy to post within the app or from the Photos app. Photos are posted at full resolution so my mom can download them and add them to her printed photo albums. Simple photo editing doesn't consume my time trying to find the perfect filter and I can load up multiple pictures at once. Love the tagging so I can view pictures of one kid by timeline or gallery.
Everyday usable
Want to post memories to be only shared by those I love- this is the perfect site
Love it!
Perfect for keeping in touch with family!
Private social media!
Great way to keep in contact with family so they can see our baby grow up without posting it to the web for just anyone to see.
Best family sharing app out there!
DearCreatures
on
1/29/2017
I've been using 23snaps since I was pregnant, documenting my journey for my family and friends to see. My baby is now 15 months and my family loves seeing pictures and videos of her milestones! The app is extremely user friendly, even my grandmother can use it. I love that you are able to organize and categorize your photos. I highly recommend 23snaps to anyone looking for a social app dedicated to family sharing!
Update Suggestion
If 23snaps has an update, I think that the update should allow people to share YouTube videos, camera videos and documents and I think that family members should be able to text their family inside the app. The update should also include emojis which would be totally awesome.
Nifty
joelmachiela
on
1/16/2017
We've been using it for a couple of years, great way to get photos and videos to the family, especially those who don't use other social media.
Fact Sheet
Publisher:

23 SNAPS LIMITED

Category:

Lifestyle

Released:

May 17, 2012

Current Version Released:

Feb 03, 2018

Version:

7.0.1

Size:

90.5 MB

Compatibility:

Requires iOS 8.0 or later.

Recommended Age:

4+

Game Center Certified:

No

Supported Languages:

English; Portuguese;