Games
Word
Entertainment
Board
Recommended app!
App last updated
Mar 01, 2018
Screenshots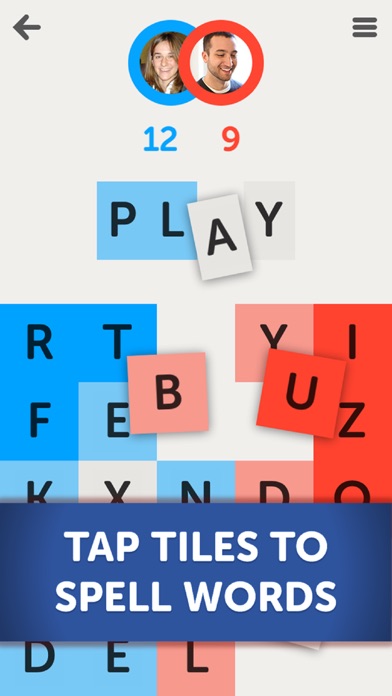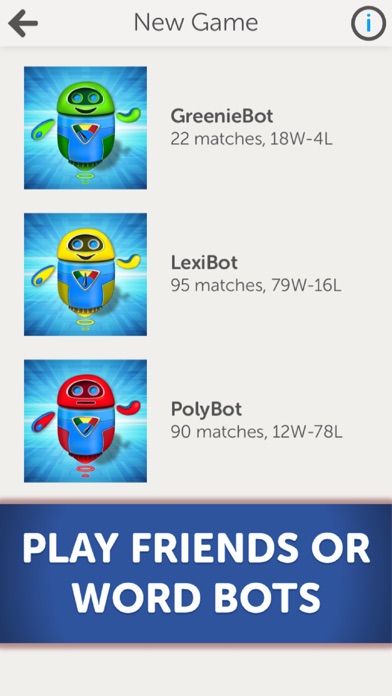 New in version 4.5
- Dictionary updates.
- Performance improvements.
Description
If you enjoy word games then you will love Letterpress. This Apple award winner is loved for its intuitive play and beautiful design. Two players take turns spelling words to capture the board. Player with the most points wins!

o PLAY words at your own pace. Notifications signal your turn.

o ALWAYS FREE and full-featured games.

o COMPETE against friends, let Letterpress find you an opponent or challenge one of our Bot players.

o CHAT in real-time with other players.

o TRACK your performance with Statistics and Leaderboards.

o DICTIONARIES power real-time word definitions.

o Many more game features and customizations available.

For free support and answers to frequently asked questions, head over to http://www.letterpressapp.com/support.html. Follow us on Twitter @LetterpressApp. Like us on Facebook http://www.facebook.com/Letterpress. Play everywhere!

Letterpress is built in the USA by the team at Solebon LLC (http://www.solebon.com) where
we are dedicated to Sharpening Minds at Play.
iPad Screenshots
Reviews
Just beautiful
This is one of the games you can play for years, and Letterpress is so polished and works great that it just never gets boring.
Ruined it
"play suspended"... ouch. New dictionary is missing many words.
Just need dictionary update
Terrific game, but many words that should be accepted are not. If that were fixed, it would be fabulous.
Help!
Allowing words with no definitions is deplorable!
Ad are dirty
I get that the app needs its advertising. But do the need to be suggestive of sex and cheating? The latest version seems to have new ads focused on other games that lack moral values. That is why I dropped the stars to 3 of 5.
Boo to the ads between turns,
Letterpress has been my FAVORITE game since I purchased the app years ago. I had deleted it (needed space on phone to take pics), and today reinstalled it. I've been updating the app whenever they are available, but for the first time ever, I am being subjected to ads for violent, distasteful apps/games. WHY????? Usually when one pays for an app, there are no ads!!!! I don't expect to be subjected to apps in a game that I've purchased. Either the ads go, or the app goes!
So much fun!
I love this game. It's challenging and entertaining, makes me appreciate my large vocabulary.
Positive Addiction
NM Music lover
on
2/20/2018
I love this game and have been hooked on it from the start. The lexicon is amusingly puzzling at times in what it does and doesn't include but it's always turn-by-turn fun.
Go Back To Merriam-Webster!
Greenwalkingcat
on
2/19/2018
I just thought I'd update my review to once again plead with the developers to go back to Mercian-Webster and more importantly a better means of verifying words. The number of non-words and misspellings accepted by this game is growing exponentially. Otherwise this is a fantastic game. Update after receiving developers response: Thank you to the developers who responded to my recent review with the following: "Oxford is vastly superior to Merriam-Webster. Don't let a few random words ruin the experience for you." I appreciate that the developers thought enough to respond but took away another star of what had previously been a five-star game because they are either totally unaware or uncaring that the number of words that are "valid" yet no definition in the Oxford Living dictionary (or any other legitimate dictionary for that matter) is increasing at an alarming rate. I play this game a lot — probably too much as it is so addictive and fun (when I'm learning interesting new legitimate words) — and have a lot of games going on. Last night the number of these bogus "words" were more than "a few" but more like eight or nine. And, yes, some were used by me. Tonight I've only played a brief amount of time and there were already three or four of these abominations that were accepted by the game. In addition to the couple I encountered this afternoon. This is what wrecked Words With Friends for me. Although I've explored the Oxford dictionary, I still prefer M-W. However it seems to me that the real issue is not the dictionary but whatever means the game is using to verify words. Please (please, please, please!) fix this before this game is totally ruined. I have discussed this with several of my opponents and I am not alone in this point of view. Original review: I adore this game. Some games are quick, others go many rounds. But the one thing that drew me to this game — and won me over from Words With Friends — is that you had to use actual words found in a reputable dictionary. Since the last upgrade and the switch to the Oxford Living Dictionary, the number of bogus words that are accepted as valid by the game but have no definition available — in the dictionary used by the game or any other reputable source — seems to be growing exponentially. For that reason, I can only give this game three stars rather than the five I would have given prior to this new development. Please go back to the old method and dictionary used for acceptable words! Flawed as it was it was vastly better than the current method.
Upgrades are Worth It
I bought this games ages ago. I played it very frequently with friends and co-workers until it kind of feel out of sight for awhile. I recently picked it back up, got my wife to download it, and we've been playing for awhile. The new features are spot on while maintaining the older ones that were implemented fantastically. Keep the good work!
Completely wiped my account.
msnyder.info
on
1/14/2018
My account, which I've had since Letterpress first launched, is now apparently completely gone. I can't enter my old username, and sending safeguard keys to any of my email addresses does nothing. Why doesn't this just work with Game Center?
Aruba
Fun and engaging. Wish there was a 24 hr limit in turns.
My go-to first game
Palomino Virginia Beach
on
12/30/2017
Fast paced. Usually have 40+ games going. Love it.
Throughtful, fun game for word ♥️ers!!
Estrellitazul
on
12/28/2017
Three years later I still absolutely adore this game. It's like scrabble and chess had a baby. It's simple, yet challenging and just super fun. I love the minimalist, clean lines and layout. Try it!
Great phone word game
mdwittenberg
on
12/26/2017
Unlike other spelling games in this category, Letter Press feels great on the phone. No pinching in and out to zoom, no crazy power ups... Just one clean, responsive game board. Also, you can pay to remove the ads – hooray!
Great game
I can search and find my user ID, but can't access it now that Game Center is defunct. I've provided my game center email without luck. Now I've also lost access to my user ID, and the games in progress, on my old device!
The Most Ingenious Innovation in Word Games Since UpWords and Scrabble!
MakeGrandmaHappy
on
12/14/2017
A friend introduced me to Letterpress. I was reluctant to try another word game because I hadn't found anything truly challenging or even new in the profusion of "new" word-game apps. I'm a die-hard UpWords player and I like real mental challenges that are also fun. Initially, Letterpress looked preposterously easy to me. But then ..... I learned how to play it! I read all the material the developers included in "How To Play" and "Tips and Tricks" — where I even watched a highly competitive match in action, from beginning to end, narrated throughout. That was enormously helpful for understanding the game's strategic complexities. Believe me, this is no Boggle or Word Find. It's the most brilliant innovation in word game I've seen since .............well since UpWords and Scrabble (aka Words With Friends.) I was astonished! Any word-game aficionado would miss a terrific challenge and a wonderful game if they passed on a chance to learn Letterpress. I had initially berated the developers for being inaccessible but Wow has that changed! They now happily accept recommendations and requests for help and answer users promptly. And bless them for adding a chat screen! I don't like playing against a computer, I like playing against a person! And the way I get to know who I'm playing against is to talk to them. And I've made several good friends that way. And now that games, Letterpress included, signal you when a word is acceptable, it's even more useful than studying words from a lists to try to improve one's vocabulary. You can try dozens of unfamiliar letter combinations and suddenly voilà – you've got a word! I learn hundreds of new words from my games, though admittedly most of this vocabulary serves no purpose beyond surprising opponents and scoring points – but it pleases me nonetheless to acquire words and know their meanings. Letterpress facilitates this by including access to definitions by holding your finger on a word that's been played. Bravo Atebits, Well Done!
iPhone X update is great.
The developer fixed an annoying bug very quickly. Good app support!
Best App in the App Store
JimmyPorker
on
12/12/2017
It never gets old because it's never the same game.
Needs dictionary updated
This is a challenging but rewarding game however the dictionary is in dire need of expanding/updating!
The best?
Yep! Highly challenging, well designed and respectably maintained by its new owners.
Best word game
Part Scrabble, part chess!
Preview Page
Justin Hrer
on
12/11/2017
This game would be much better if you could see a preview of what the board would look like if you played a certain word.
Love the game
I have been playing the game for several years and am totally addicted. My only suggestion would be that words that are legitimate would be in the letterpress dictionary
iPhone X improvements
Well done
Still the best iOS game EVER!!
Update 4.4.1 Back on track!! Thanks! Update 4.4 This latest update has a few glaring graphical glitches. On the iPhone X, everything is stretched a bit vertically and the chosen letter tiles at the top overlap with very few in place. On the iPad the top letter tiles overlap the letter counts. Please fix. Update 2.0 Excellent update. LP is finally consistent with push notifications etc. Lots of other nice details added as well. Reinstall the app if you are having server issues. Cleared up all issues for me. Thank You!! Update!! Thanks so much for working to perfect my favorite iOS game!! This is a beautiful game with a wonderful concept, but the Game Center integration is killing the experience. I have always avoided game center up until now. This awesome game by a wonderful author made me fire it up and try it without question. Unfortunately, the game constantly hangs, fails to send moves etc. Annoying as it is in it's current state, I would normally not even review it or give 1 star. Although it truly is a great game. I hope that these issues can be fixed. I actually have it on my first screen. I have never done that for any game. Please fix it! Thanks for all of your hard work!
Great game
Nothing quite like this game. It's very fun!
Inventive, simple wi a few flaws
I rated Letterpress 5-Stars because it's in the top echelon of app games. I don't mean that it is without its design shortcomings, however. I will make the following 3 observations: (1) it's fun, and as you play more you figure out alternative strategies to the initial attack & burrow-in approach which can be equally effective. I like the minimalism of its rules, format and operations. (2) the lexicon continues to baffle me. I still play words which are valid but disallowed. And the abundance of foreign words that are allowed are disconcerting ("zapateros" was a recent example and there are numerous Russian and Arab transliterations which are allowed). (3) I lose 10% of my games. Half of those are the result of a failure to foresee the favorable board I leave my opponent after submitting. A "preview" key would be nice but it detracts from the minimalism of the design and fosters laziness. Of the remaining 5%, half of those are bonafide words that I know and had not considered. The other half are walk-off winners which I have never heard of. Everyone has vastly different backgrounds and expertise so you can never be sure how they know these words. But archaisms and obsolete technical terms are a give away. And I bet there are a large number of players who are expert Scrabble players who routinely study word lists and unusual letter combinations. Thank you, Atebits.
Word variations are a problem
SuperShoeDiva
on
11/25/2017
The rules are terrible along with the dictionary. They are not standard of other word games and I have no idea what dictionary is used but it doesn't allow words that it should. Complaints are met with snotty replies.
Get rid of Amazon Prime ad
Pepper Jack King
on
11/10/2017
There are a couple of ads, one of them the Amazon Prime ad, that won't go away when I click the X. It just stays there, and will not go away until I close the whole game and then reopen it. They won't get a better rating than a three star from me until they fix those things. FIX IT!! Update I'm somewhat enjoy the app but I'm getting a recurring ad that won't go away after several clicks. Who screens the ads? Whoever he/she is, they are on my sht list. Why does the chat version constantly crash? It crashed yesterday after only 11 messages between my opp and I.
Fun and Challenging
hopefullskywatcher
on
10/20/2017
——————- Old Review: New Features are a Treat The simplicity of the word checking makes a great game even greater. It makes the game even more fun. Also, I've upped my speed.
Good Game!
Thanks for the updates
Thanks a lot!
Just received an answer to my complaint (see below). You are correct that app ads do not appear when you are playing the bot, but I am still getting a popup after every online turn. If this is not supposed to happen, please tell me how to fix it. Thanks. The latest update brings me to a possible app download after every turn. So annoying! At least Spider, and other games only do that after you have won. Please consider removing this annoying "feature." I am guessing there is a pay version that does not do that, but that's kind of a mean turn after providing a very nice free version for so long. My four rating will be downgraded to two stars if this is not changed.
Better than ever!
Snow*******
on
10/11/2017
I love the bots to play games with. It's good practice and faster than waiting for people to take their turns. :D
Now with bots!
[insert username here]
on
10/11/2017
Adding bots were a great idea! No more waiting for people to move, and you can choose the difficulty you want to play against.
Addicted!
Can't stop playing after years. Great way to challenge and relax my mind!
Fun game with great playing action
I've liked this game for a long while, and now that they've added bots to play (so you don't have to wait for people to take their turn) it's moving back into my top playlist.
Fun game, but doesn't update
Rick from L'pool
on
10/2/2017
I've enjoyed this for a while. It's very different from other word games, and requires a new strategy. My one problem is that it doesn't update correctly. I get a notification (from the app) that my opponent has moved and it's now my move, but when I open the app, it still shows the game before my opponent's move. I have for close the app completely and reopen to get it to show properly. Mildly annoying. Update: the problem has (mostly) been resolved. Excellent customer support!
Excellent idea, excellent programming and code, poor dictionary
Any word game can have good graphics. The critical thing is a well integrated dictionary. Letterpress checks the box completely in regards to the application end of the spectrum. On the dictionary side of the house, it is lacking. The app links directly to Merriam-Webster for definitions, but sometimes the game will accept words that aren't even in the dictionary, yet at the same time, won't recognize or accept words that Merriam-Webster does list. TL;DR Fun game that occasionally will make you want to chuck your phone and/or delete the app. Nothing like getting beaten in a word game by word that doesn't exist.
Favorite phone game
Cultivating Light
on
9/14/2017
Yay!
Great game
33 ladies in red
on
9/13/2017
Lots of fun!
Letterpress impresses
Thanks so much for the improvements. Love the bots as it's a quick play til finish. You enable chat and asking people to play. Finding out whether you have a playable word is way simpler. The responsiveness is much faster. Have been enjoying this game for years. Kudos to the redesign team!
Fun, addictive and just challenging enough
the.extrapencil
on
9/8/2017
Best when I find an evenly matched player, and I've found quite a few. Then this is a fun brain teaser, just hard enough to be interesting but not so hard that it's frustrating. I love it.
Love this game
I've been playing it for at least three years now and haven't gotten bored yet.
This Word Game is a Keeper!
TonyM_Atlanta
on
9/3/2017
Word games come and go. Letterpress, though, is like Boggle + Risk. Challenging rivals, riveting matches, and deceptively simple rules make this an instant classic. I've been playing daily since it was first released. Play me: LetsPlayASpell
Fact Sheet
Publisher:

Solebon LLC

Category:

Games

Released:

Oct 24, 2012

Current Version Released:

Mar 01, 2018

Version:

4.5

Size:

29.2 MB

Compatibility:

Requires iOS 8.0 or later.

Recommended Age:

4+

Game Center Certified:

No

Supported Languages:

English; Spanish; Castilian;