TapNova recommends this app!
New in version 4.0.5
We've updated GuitarTuna with a brand new look and feel. We hope you like it!

If you have any questions or feedback, don't hesitate to send us an email at support@guitartuna.com
Description
GuitarTuna is the easiest, fastest and most accurate tuner app in the world!
The ultimate tuner for guitar, bass, ukulele and all popular string instruments. GuitarTuna has been downloaded over 20 million times and is used by beginners and experts!

Why is it the world's most popular tuner ever built?
• Simple and easy to use. Works with both electric and acoustic guitars and string instruments using the built-in microphone. No cables needed.
• Perfect for complete beginners. Recommended by guitar teachers.
• Simple and intuitive. Clear visual feedback with signal history.

Award winning audio technology:
• Built on the world's most advanced audio recognition algorithm - the same technology powering Yousician
• Professional accuracy for advanced players
• Auto mode tuner (for super fast tuning, hands-free, string by string)

Advanced tools for all musicians:
• Metronome: set at any tempo, change the beat manually or by tapping at the desired speed
• 6 Ultimate Chord Learning Games: learn, practice and master chords, and develop the ability to recognize them by ear
• Chord library: find any chord diagram easily and hear how it should sound
• Learn Guitar Songs: 4 songs with guitar notation (tabs) to play along and test your skills
• Alternative tuning sets

(we are working on the chromatic tuner feature, thanks for the suggestions!)

Works with:
• Electric and acoustic guitars
• Bass
• Mandolin
• Ukulele
• Viola
• Violin
• Cello
• Fiddle
• Balalaika
• Banjo
• Many other string instruments

Over 100 tunings available, including:
• Standard
• Drop-D
• Other drop tunings
• Open tunings
• Half step down
• 7-string tunings including drop-A
• 12-string


Additional features:
• Works in noisy areas, with background noise cancellation technology
• Designed by guitarists for guitarists and developed by the world's leading audio engineers
• Improve your skills in chords, riffs, tabs, and ear training, and increase your picking speed, just like you would with guitar lessons / classes
• make the app look like your instrument by choosing different headstock visuals

Please be careful:
If it is your first time tuning the guitar or instrument, please be careful. We recommend watching a YouTube tutorial or asking a guitar player how it's done. Beginners risk snapping strings with improper tuning techniques.

Send us feedback:
Got ideas to make GuitarTuna even better? Send your ideas and suggestions to: support@guitartuna.com

Download our other free music learning app:
Yousician - the best way to learn, practice and master the guitar, piano and ukulele

*** Ranked the #1 Education app in 119 countries ****
*** Selected twice as Editor's choice by Apple in 2015 ***
*** Over 25 million users ***

https://itunes.apple.com/us/app/guitar-tuna-ultimate-free/id527588389?mt=8

Learn more about Yousician on Youtube and Facebook
• https://youtu.be/xFnB0uK7PcQ
• https://www.facebook.com/yousician
iPad Screenshots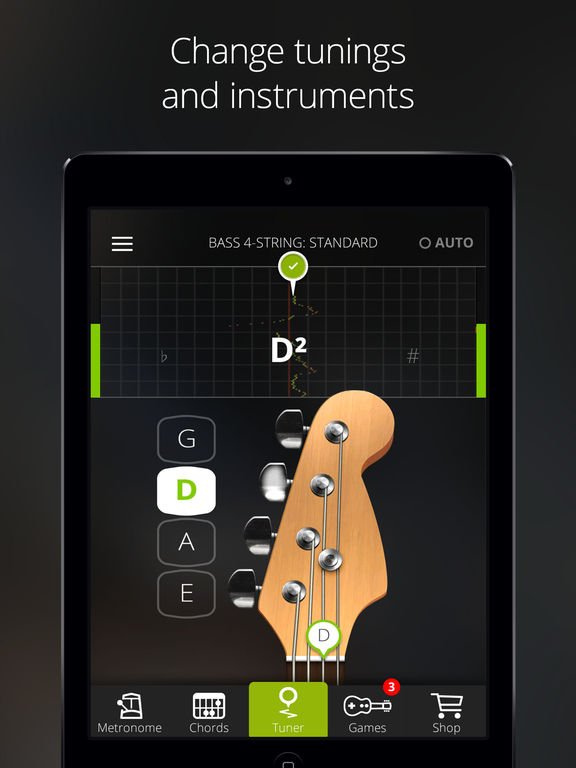 Reviews
Beginner
I love how quick, easy, and accurate this app is
Works great!!!!!
A solid app for tuning my acoustic guitar.
Awesome!!
I use this daily! Helps train your ear to not need a tuner after a while.
Great and accurate app
Love it. Easy and accurate.
It's great
Does what it should.
Great product
Frazzle.dazzle
on
7/20/2017
As a beginner guitarist this app makes tuning my electric or acoustic guitar simple and fast.
Worth it.
Great app. Helped me learn how to tune by ear much better. Highly recommend.
Tuning
Spirit-Lucky
on
7/20/2017
Great tuner and for a beginner helps a lot!!!
Great tuner!
Hawaiianbryan
on
7/20/2017
So nice to have this app in my phone. I can use it anywhere!! Accurate and quick. Easy to use. Thanks!
Easy to use - my favorite tuning app!
This is a well designed, clean, easy to use app. I've tried a handful of other tuning apps and this is the best by far.
Great app
Easy to use and does the job well.
Too good to be true... but it is!
It's free, accurate, and convenient. This app is the be all end all for guitar tuning. It's simple enough for beginners and straightforward for experienced players.
Simple to use, love it
Simple to use. Great basic chord skills coaching and games.
Actually useful, accurate
Not taken, ok?
on
7/20/2017
And kinda fun too. This is one app that genuinely and reliably delivers. All players would do well to try it. My guess is that most would keep and use it as much as I.
Amazing!!
I love this app I am so happy I found out I used to use it to tune my guitar but now I use it for I used to go to guitar lessons but they didn't teach us any chords so I am very happy I found this app because if I didn't I would've gave up . 100% would recommend 😊😊🎸
Best tuning app
I have installed so many tuner app but this became my favorite one ☝️
Works great
MaddyPaddyPancakes
on
7/19/2017
Really easy and simple, it shows you the strings and let's you choose them too. SUPER useful app.
So helpful
My daughter is learning guitar and before we found this app we had to wait the week before we saw he teacher to tune it. Sometimes it would get so out of tune she wouldn't even want to practice. Now she's learning to tune with this app. Love it.
Great tuner!
Easy to use, accurate
GREAT
I was struggling with tuning until I heard about this app, and it is so amazing!
Awesome
Helps when my guitar needs a tune up
Amazing
I purchased this for my guitar and 4 years flash forward to today, I discovered I can use it for my brand new ukulele!! By far the best tuner I've seen in the apple App Store!
Very good
The app is great and definitely helps with tuning. I'm a beginner and it makes it a lot easier.
Super easy
Theballer.com
on
7/19/2017
This app helps fund the guitar so easily and accurately. Love it.
Great tuner
Responsive, accurate, and easy tuner. But I haven't found much other use for it
Yes
Beepboipotato
on
7/18/2017
So gOOd
Very good
kiwi awesome
on
7/18/2017
It is very easy to tune my guitar now!all I need is my guitar and GuitarTuna!advice:buy it now!!!!!!
Easy and fun
I have been able to tune my Ukulele and guitar quickly and easily as can be.
It works well
I really like this app, it works well for standard tuning, and I have it whenever I need it. However I would like to point out that it does not tune in anything except standard. I play a lot of songs in drop d and drop c and drop d flat. I would love it if I could tune my guitar to those so that I could play those songs whenever.
Tuna
Perfect app to tune when practicing at home. Quite accurate!
Great tuning app!
Really easy to use and versatile.
Very good
jackrileystudio43
on
7/17/2017
👍👍
Precise
So great. It's much more precise than our electric tuners for our guitars and ukelele.
P good app
I just recently decided to try and learn how to play a ukulele and this app works great. My favorite part is that I can either let it try and detect the string I'm adjusting or I can select a specific one. 👍🏻
Top notch
Biggie Kibbs
on
7/17/2017
reliable and easy to use
Tuna
Tunes my guitar like
Really helpful
It works great
Wonderful
a very sad guy
on
7/17/2017
Works great!!
Awesome
Very Good App. Easy to use.
Fantastic
Great tuner. Very accurate and hassle free. What more would you want from it?
Best guitar tuner app out there
Works every time
Guitar Tuna
Best, out of the case tuning app there is, compared to many other expensive tuners. Hands down, 10+...
When you have kids
This thing is a headache and stress reliever.
This is the best!
This is the greatest thing to ever happen to mankind. I love it and I wish I could marry it.
Works great
Easy to use. Good for my guitar and ukulele
Fact Sheet
Publisher: Yousician Ltd
Category: Music
Released: Nov 01, 2012
Current Version Released: Jan 16, 2017
Version: 4.0.5
Size: 107.1 MB
Compatibility: Requires iOS 8.0 or later.
Recommended Age: 4+
Game Center Certified: No
Supported Devices: iPad2Wifi-iPad2Wifi, iPad23G-iPad23G, iPhone4S-iPhone4S, iPadThirdGen-iPadThirdGen, iPadThirdGen4G-iPadThirdGen4G, iPhone5-iPhone5, iPodTouchFifthGen-iPodTouchFifthGen, iPadFourthGen-iPadFourthGen, iPadFourthGen4G-iPadFourthGen4G, iPadMini-iPadMini, iPadMini4G-iPadMini4G, iPhone5c-iPhone5c, iPhone5s-iPhone5s, iPadAir-iPadAir, iPadAirCellular-iPadAirCellular, iPadMiniRetina-iPadMiniRetina, iPadMiniRetinaCellular-iPadMiniRetinaCellular, iPhone6-iPhone6, iPhone6Plus-iPhone6Plus, iPadAir2-iPadAir2, iPadAir2Cellular-iPadAir2Cellular, iPadMini3-iPadMini3, iPadMini3Cellular-iPadMini3Cellular, iPodTouchSixthGen-iPodTouchSixthGen, iPhone6s-iPhone6s, iPhone6sPlus-iPhone6sPlus, iPadMini4-iPadMini4, iPadMini4Cellular-iPadMini4Cellular, iPadPro-iPadPro, iPadProCellular-iPadProCellular, iPadPro97-iPadPro97, iPadPro97Cellular-iPadPro97Cellular, iPhoneSE-iPhoneSE, iPhone7-iPhone7, iPhone7Plus-iPhone7Plus, iPad611-iPad611, iPad612-iPad612, iPad71-iPad71, iPad72-iPad72, iPad73-iPad73, iPad74-iPad74,
Supported Languages: English; French; German; Italian; Japanese; Korean; Portuguese; Russian; Chinese; Spanish; Castilian; Chinese;