Screenshots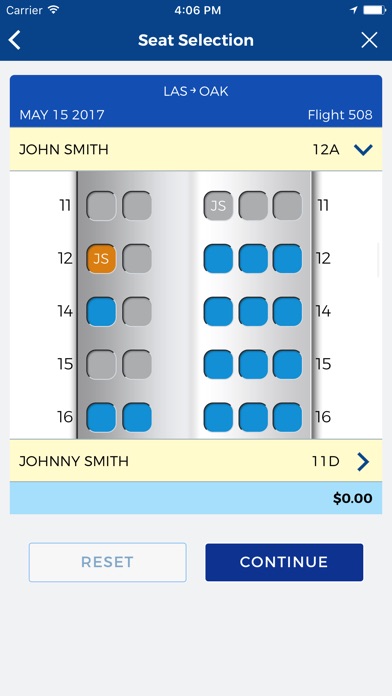 New in version 5.11.1
This release will refine the way the app displays information in certain flight scenarios. Additionally, it includes minor bug fixes and other improvements.
Description
The official app of Allegiant Travel & Allegiant Airlines. Book your vacation online at www.allegiantair.com, then use this app to make the most of your trip.

Passengers can follow their trip on a card-by-card basis in the app. Each phase in the trip is represented as a card in a timeline of the whole journey. Just tap on the cards and follow the instructions to manage the trip, check in for the flight, display the boarding pass and get departure and arrival information. You can also book your flights via the app.

Passengers can also:
• Access and review upcoming trips.
• Automatically download trips onto their mobile phone if logged into their My Allegiant account.
• View and add seats, purchase bags and upgrade to Priority Boarding.
• Receive important flight status notifications
• Take advantage of a variety of self-service functions
• Provide feedback about their Allegiant experience

Using the Allegiant mobile app can save passengers money and will allow them to zip through the airport without ever printing a single piece of paper.
Reviews
No apple wallet
This app does not support apple wallet
Good flight
Just give them good feedback
Works for me
I fly allegiant a lot to the Midwest and I really really like this app!
Just raise the airfare and lower the fees
the man called horse
on
9/29/2017
No Apple wallet, got a notification the flight was an hour delayed the day before we left (for no apparent reason), 50 dollars for a carryon if you don't buy it online, just be fact that a carryon costs money is annoying
Annoying
All of these stupid Carry on bag fees doubled the price of my flight to the point where I might as well fly Delta because at least then I'll get good service and a snack!
Good
Very easy app to follow
No Apple Watch Capability?
It doesn't appear I can add my boarding passes to my Apple wallet to allow use of my Apple Watch for boarding passes. Disappointing.
Battery drain
Only had installed for 3 hours before uninstalling. Used app for 10 min or so and then backgrounded app. Used 16% of my battery while being backgrounded.
Love the app and Allegiant
I fly Allegiant every other weekend from Ohio to Florida. The app works every time. I've only been delayed once and they handled it very smoothly. For the price, you can't beat it!! I recommend Allegiant to everyone.
Easy as pie
This trip was smooth and the app made it even smoother. 10/10 would use Allegiant again
Information not exchanged with website
If you check in on the app, the website does not acknowledge it. Making it very difficult to get a boarding pass Customer service is exactly what you would expect with budget airlines- 45min on hold, no results Awful company
I can't check in
muffin top mama
on
8/30/2017
Everytime I try to check in an "unexpected error" occurs. What a waste.
Worst airline I have ever flown
STAY AWAY!!! $100 carry on fee, app cannot check at the $50 rate after check in is completed.
Too many upgrades
TannerMorkie
on
8/24/2017
Too much maintenance to keep the app upgraded. Just when you start to check-in , an upgrade is required. Its annoying
No iOS Wallet Support
Terrible. Can't import boarding pass into the wallet. Absolutely terrible design.
Ruined vacation
Cancelled flight because the pilots couldn't legally fly. Totally understandable but they told us at 12:20AM when we were boarding. I hope your company fails. I will never fly your joke of an airline again.
Zero stars
This shouldn't get one star but there was no option for zero. The app is useless, won't open after several attempts. Have to get my boarding pass at check in. Never had to do that with SW! Call center wait was 30 min and didn't resolve anything. Cheap air,, you get what you pay for. Will not be flying with them again!!
Garbage
Can't even describe how terrible this airline is. They cancelled our flight and we had to cancel out car rental reservation, airbnb and Disneyworld which we lost about $600. Try it if you want to lose couple hundreds dollar. Good luck!
Never Flying Allegiance Again
Allegiance Airlines is garbage. Not only do they nickel and dime you for everything ($5 to print out my boating pass?) but they also offer ZERO compensation for delayed flights under 4 hours. Customer service is rude and unhelpful. I'm a car salesman. I live, breathe, and eat customer service. At the time of this writing, the flight is more than 30 minutes delayed. If I show up to work 30 minutes late, I get fired. This is not how you treat people. Allegiance will not be earning my business again, nor the business of my family, friends, or my own customers. Fly any other airline, Allegiance does not care to retain your business.
Functional.....
The app is missing some key features: 1. Add boarding pass to wallet for easy access 2. On three different phones, once a flight was added the ability to check in and refresh flight data would not work. Had to install another app to get updates. 3. TouchID Login is not supported. The app is lacking so much. I know allegiant is a budget airline where nothing but your personal item is free, but the app should be functionally comparable to others. Disappointing.
Malfunctions
Gravityfalls#1fan
on
8/1/2017
You are given two options of booking a flight, checking in and adding a trip. But the checking in button does work because it takes you to add a trip page. There is some technical glitch thus the app was useless to us.
Pleasantly surprised!
Many people are reviewing the airline instead of the app so keep that in mind when you read bad reviews. I was a little worried about using the app after reading some reviews, but it worked just fine and I had no issues. Overall very happy with the app and the flight that I took to St. Pete Florida from Springfield Mo.
Doesn't update the departing gate
The app isn't updated as details change for the flight. The electronic boarding pass works at least. But ya this app is a lil dmgy
Pure and utter crap
I would upload the 2 pictures I just took. 1 is from the app that says the 4:25 flight is on time. 1 is at the airport at the same time stating it's been delayed over 2 hours. Don't fly this company. Don't waste your time. I will be paying whatever the cost to not take allegiant. At least a notification to say it was going to be delayed would be appreciated!
A 3 yr old could do better!!
What good is this app?? You can't book a flight. You can't get a boarding pass. Basically the only thing this app is good for is leaving a review for the ridiculous service, start to finish!
Worst experience ever
Ballobalbalabon
on
7/23/2017
stay away from that airline. It is really terrible you have to pay for everything that you didn't even think you would be paying. You have to pay $50 for carry on luggage can you believe that? You even have to pay for your boarding pass drinka on the flight plan and snacks and the list goes on and on. At the end of the day their price will end the same price with other airlines. It was my first and last time l guess l had to experience it. l am out for good
Fake prices
It was announced that allegiant was going to start flights from Raleigh/Durham to San Juan, Puerto Rico with the radio station saying that one way flights were $45 and media saying flights would start at $67. So I download the app immediately because I fly to San Juan a few times per year and come to find out a one way flight is $371!!!!! Plus you have to pay for bags. Haha! What a joke. I went to my regular airline that I use (Southwest) and bought my ticket for $250.. round trip. Allegiant might want to stop false advertising because there are going to be some empty flights from Raleigh to Puerto Rico.
Great!!
The app worked great for me. Easy to navigate, check-in, and pull up my tickets. The ride itself was great and quick with no trouble or hassle. I haven't had any trouble with allegiant. Will be flying with them again!!
it's cheap for a reason
cancelled my flight, next one was full, wasn't another option to fly for another 3 days. seems worth it but it's really not. provided me with no alternative other than to take a taxi to another airport with another airline. not to mention, the app didn't notify me about the cancellation until i was at the airport. shame on you, allegiant.
Malfunction Endangers Flights
On a recent return leg, my family and I went to check in and were told by the app that we "weren't eligible for online check in" and that we would have to stand in line. The line was 90 minutes long, and moving slowly as Allegiant had understaffed. We knew we would miss our check-in time. In desperation, my wife bypassed the app and did it on her mobile web browser and checked right in. When I refreshed and even relaunched the app, it *still* said we were ineligible, even though it was already done and we had boarding passes. On a whim, I deleted and reinstalled the same version (clearing the cache) and it recognized our check-in. If we would have listened to the app, we would have missed our flight, bottom line.
Not a bad airline
Allegiant is not a bad airline to me, more low prizes on tickets and free wifi would be great on the airplanes
App did everything as advertised
I only downloaded the app so I didn't have to pay $5 for my boarding pass at check in. The app allowed me to check in without waiting in line and I only had a carry on bag so the only wait I had was for security. The app worked great and I plan on using it again the next time I fly Allegiant.
LIED
NO INSTALAR!!!
on
6/29/2017
If you want to fly on a BAD and LIED airline fly over to ALLEGIANT!!!
It works
It totally works I don't know why so many people have given it 1 star?
Good app
The app works great just need to use it on Wi-Fi. Have no complaints. Happy I can now purchase tickets through the app instead of having to go to the website or airport. Loving the new updates. Don't know why people are complaining so much. Read before you use people.
Forced update
I have flown Allegiant for years and it's no surprise that it's the worst airline in the US (absurd and endless fees, user-hostile customer service, always late, frequently surly flight attendants, a questionable safety record, among many other things), but I put up with it for direct flights. However, today I just wanted to check the status of a flight only to be greeted with a dialog informing me a new version was available; it had an OK button, nothing else. Impossible to cancel out of it. Close the app, reopen, same dialog. No upgrade, no app. Few thing will anger users more than being forced to make a significant change without being given an option to not do it, or at least to do it later. I'm not surprised. Allegiant is not only the worst airline in the US, it's also the most arrogant. Their customers mean nothing to them beyond being wallets to drain. If I had another option, I would never fly them again, nor would I use their poorly designed and even more poorly coded app. Avoid it if at all possible.
Mobile app closed
Horrible horrible, we already bought ticket online so we have the ticket on the app but we got there 1 hour before the flight, and the mobile app check in was closed, we end up didn't make it and there was no assistant in the front desk, we even called customer service nobody answer for hours!! Ridiculous and horrible service
Ew
Hate this airline
on
6/18/2017
Do not fly with this airline. I am so mad, I am writing this at 3 in the morning. I am awake at this moment because I just arrived home from my 5 hour delayed flight with this airline. On top of the delay they lost our suitcases. I am very unhappy with this airline. Take your business elsewhere!!
Why no tx flights
Just downloaded to find flights. No where near me do they have an airport not even DFW THats 5 hours from us. Ridiculous
Doesn't work
Tells me I have no internet connectivity when I check flight statuses and gives me an error when I try to load boarding passes. If it doesn't work on my return flight and I don't have access to a printer, I will lose it if they charge me to get my boarding passes at the counter!
Missing features
App works great, but it doesn't tell you which gate you are at. That should be updated instantly.
Love
I Always fly with them, cheap and never had a problem You get what you pay for though
Very friendly staff!!!
Excellent experience, love Allegiant!
Good deal!!
Second time in last 6mo flying with them and it has been smoooooooth!! The app is great !! Our flights were non stop and had the extra leg room which was worth the extra money. Will def book again soon!
No star at all would be more accurate
Our 6:41 pm flight out didn't actually leave until 11:30 pm. Had to wait for a plane to show up. Those de-boarding warned us... just be prepared! Your return flight will be late too! Unacceptable! Employees at the airport said these late flights have been going on for about 5 days. It was the first time we have experienced it. And we've flown them several times. Flight attendants very nice... pilot expressed frustration as well. They all work for the airline. It's the company that needs to get their act together! Several small children and babies on the flight... having to hang out at the airport that long! They were all troopers. Everyone exhausted. We were given an $8 food voucher to be spent at the airport. Not much open that late st night... and $8 doesn't buy much. 2 small bags of chips? One bag of nuts? A smoothie... ok. Cup of fruit... Anyway... if it wasn't the only airline that has a direct flight to our destination.... however, last night/early morning.... we would have arrived much sooner paying a bit more and taking a different airline. We lose a day due to lack of sleep and exhaustion. Nuf said.
Trip from Elp to San Diego
Good service, little delay but not bad, the crew great service and the prices was good
Can't get the app to work for me
Hike I wander
on
6/5/2017
Loaded hoping to see if I can get some good deals. ( perhaps I don't want to do this). But the app doesn't work. I can't change the date Good luck Allegiant.
Bad first experience
So I'm in the military and on my way home for our 4 day I went to go visit home and got notified that my flight was going to be delayed for an hr but it actually showed up on time (thank god) so I had a good time with my family but then when I went to the airport early on Monday so I can fly back to post, my flight literally got CANCELLED until the next day 30mins before it was supposed to fly out.... they offered 100$ in airfare for their airline and 250$for hotel but when you're in the military there is no excuses you have to report to work on time which means I had to buy a ticket last minute for 271$ with Southwest Airlines (I recommend them) and didn't go home until 12am that night. Original plan for suppose to be home by 3pm. Don't use this airline unless you have no plans for getting in trouble for not returning home on time. BAD EXPERIENCE. Please I just want my money back. I ended up spending over 700$ that trip. I barley had enough to buy that southwest ticket that came out of my pocket!!! And I'm only 19 years old. Seriously cried.
Terrible airlines
Love this game64
on
5/31/2017
I know this is suppose to be an app rating, but DO NOT FLY WITH THIS AIRLINE COMPANY! Absolutely terrible, I flown with them 4 times, and all four times, THERE HAVE BEEN DELAYS DO TO PROBLEMS. I am outraged, my flight was cancelled and I have to wait 6 hours, DO NOT FLY WITH THEM.
Minor
Sleepymama157
on
5/25/2017
They don't tell you beforehand that the app won't work for check in because you're traveling with a minor. So you download the app thinking that you can check in and have your boarding passes just to find out that you have to check in at the counter. Another way for them to get you to have to pay a fee. I called (and waited for 20 mins)them and told them that it wouldn't let me check in and they were so "gracious" to make a note so I don't get charged a fee. Thanks a lot. They need to have a feature online that says if you are traveling with a minor you should opt to print your boarding passes because the app won't work.
Fact Sheet
Publisher:

Allegiant Travel Company

Category:

Travel

Released:

Jun 06, 2012

Current Version Released:

Sep 21, 2017

Version:

5.11.1

Size:

44.6 MB

Compatibility:

Requires iOS 9.0 or later.

Recommended Age:

4+

Game Center Certified:

No

Supported Devices:

iPad2Wifi-iPad2Wifi, iPad23G-iPad23G, iPhone4S-iPhone4S, iPadThirdGen-iPadThirdGen, iPadThirdGen4G-iPadThirdGen4G, iPhone5-iPhone5, iPodTouchFifthGen-iPodTouchFifthGen, iPadFourthGen-iPadFourthGen, iPadFourthGen4G-iPadFourthGen4G, iPadMini-iPadMini, iPadMini4G-iPadMini4G, iPhone5c-iPhone5c, iPhone5s-iPhone5s, iPadAir-iPadAir, iPadAirCellular-iPadAirCellular, iPadMiniRetina-iPadMiniRetina, iPadMiniRetinaCellular-iPadMiniRetinaCellular, iPhone6-iPhone6, iPhone6Plus-iPhone6Plus, iPadAir2-iPadAir2, iPadAir2Cellular-iPadAir2Cellular, iPadMini3-iPadMini3, iPadMini3Cellular-iPadMini3Cellular, iPodTouchSixthGen-iPodTouchSixthGen, iPhone6s-iPhone6s, iPhone6sPlus-iPhone6sPlus, iPadMini4-iPadMini4, iPadMini4Cellular-iPadMini4Cellular, iPadPro-iPadPro, iPadProCellular-iPadProCellular, iPadPro97-iPadPro97, iPadPro97Cellular-iPadPro97Cellular, iPhoneSE-iPhoneSE, iPhone7-iPhone7, iPhone7Plus-iPhone7Plus, iPad611-iPad611, iPad612-iPad612, iPad71-iPad71, iPad72-iPad72, iPad73-iPad73, iPad74-iPad74, iPhone8-iPhone8, iPhone8Plus-iPhone8Plus, iPhoneX-iPhoneX,

Supported Languages:

English;