Screenshots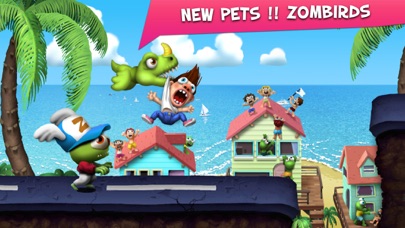 New in version 3.6.8
- Bug fix
- Blast Processing
Description
The zombies are revolting ! Attack the city with a horde of zombies, change pedestrians into zombies and create the largest horde.
Eat your friends, and challenge them to a crazy race by destroying everything in your path.

Zombie Tsunami has proudly exceeded 200 million players around the world.

FEATURES
- "One touch" gameplay to control the entire hord
- 10 delirious bonuses, ninjas, dragons, UFOs, and many more
- Many upgrades to unlock
- Raise zombie birds and use their powers
- More than 300 missions to devour
- 11 sets to travel in
- Optimized for all models of iPhone, iPod touch and iPad.

REVIEWS
4.5/5 TouchArcade - "Zombie Tsunami is a game you really need to own"
5/5 AppSmile - "Featuring Pixar-like graphics, simple controls, and plenty of content"
5/5 TouchGen.net - "If you're looking for a fantastic game, look no further!"
4.5/5 148Apps - "It's fun madness, emphasis on fun."
5/5 iReviewT.com - "Revolutionary endless runner formula!"
5/5 AppSpy.com - "Zombie Tsunami carves its own path with a great claymation style and roaming hordes of the walking, and jumping dead"

Why not try our other games: EDGE, Cross Fingers, Perfect Cell, Truckers Delight.
Follow us on twitter.com/Mobigame
Visit us at http://www.mobigame.net
iPad Screenshots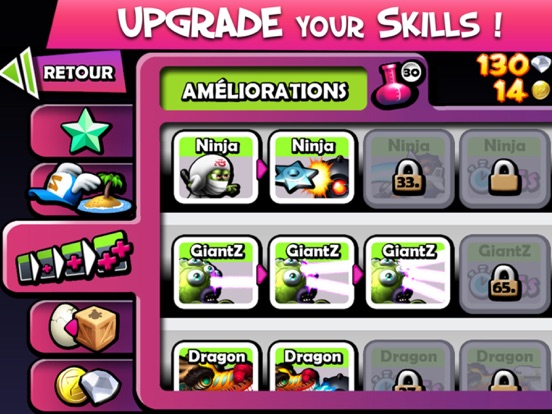 Reviews
Zombirds
Skynner McGee
on
11/22/2017
If we're spending 30 gems a pop for 1 stupid zombie bird that only works half the time, then we should get to choose the stupid, malfunctioning bird instead of being given a random one. Yes, I know they do things every 25 seconds or so. But, after 2.5 minutes of them doing absolutely nothing, that's what I mean by malfunctioning. So, either let us choose our purchases, or cram your impending reply where the zombies don't shine.
Iss strate
Oggscarface
on
11/22/2017
It's aii
Awesome game
Daylen Flanagan
on
11/22/2017
Awesome game for the most amazing games game and the
I love this game but
Dario burri
on
11/21/2017
I happen to love it this game I have been playing it for about 2 years off and on the only one thing is I wish I could buy a really rare egg for like ten bucks or the rarer the more I feel I am stuck in this classic egg patch where that's all I get you should make the percentage of getting better eggs higher
Zombie Tsunami
Steven Zinga
on
11/18/2017
Awesome Zombie game!
😡
I need to tell you I stratch something and WELL IT WILL ONLY LET ME GET STRATCH THE...no😂🤣
Won't start
Great game, but after a couple days of playing it won't ket me start the game anymore.
Great game
This is a great game!
READ THIS.
CheeseDeveloper.
on
11/2/2017
Ok so I have been playing this game for a while now, and ZERO LAGS. UNTIL. I spent two dollars on the starter pack of this game. While it was downloading, and after I had already sent the money, it CRASHED. Now, FOUR DAYS LATER I try every day and it refuses to let me in. It crashes before the loading screen even finishes! So yeah. Fun. Very addictive. BUT DO NOT BUY ANYTHING ON THIS. Also READ THIS: if you do buy something, and it starts crashing you out like it did for me, then deleting the app and getting it back won't work. It still crashes. I WILL RATE ZERO STARS IF YOU BUTTS DON'T CHANGE THIS.
Nice game
This game is so good & I like it
Good
cyclicalrhyme
on
10/31/2017
Good
Best game ever
So it is soooooo good but when I try to jump it doesn't always work but a really good game I highly recommend it!
Fun game
A great tim buster but It will be cool if their was an end other then death
Best Zombie game ever
Elizabeth Johnson and Jay
on
10/18/2017
It's nice for the perfect when you collect all coins in groups!
Made to lose.
This game doesn't even try to hide the fact that you will die. It's just a mindless grind for gold to buy more crap so you die again. So if you like meaningless gameplay with no real returns on your playtime go for it. I feel that many of these so called five stars are really paid for reviews.
My childhood
golden bear yt
on
10/6/2017
I LOVE THE GAME keep it up I have played this sense I was 6 years old
Great game
Fun to play lots f extras, rewards and goals.
Zombie tsunami
Fun game and entertaining
This game is fun
It's fun to play, even though it can make you mad sometime. I love to play it
Fun
It makes no since but very fun
1st time player
Played it for the first time today-pretty fun! My 5 year old grandson was playing and he loves it,so thought I'd give it a try. Good time passer!
Awesome
Fun for hours just PLAY
Awesome game
Love this game and always will!
T
my legs are pear aliysed
on
9/1/2017
I only made this review so it's over 200 😎😎
AMAZING GAME!! 😜😜
THIS GAME IS THE BEST BRO
on
8/27/2017
I played this 4 years ago it was amazing like it is now, but never had some of theses things it has today's this, THIS IS AMAZING AND I WANT YOU TO PLAY IT AND INJOY THE GAME BY HAVING FUN. This was the only way when I was bored, to not get bored so I say yes play it
My children for me addicted.
Clints_Girl85
on
8/25/2017
Very fun and is a game where I can relax and enjoy playing against my children.
Great game, 1 flaw though
Pretty good 😊 Yes that is it
Great! 😎
WatermelonFlameGamer
on
8/23/2017
THE GAME IS AWESOME!! I LOVE THE BONUS PARTS AND THE ONE I LOVE THE MOST ARE THE balloons....JK I LOVE THE MECHA!! It's LIT!
Awesome😍🤗
Amir and pari
on
8/19/2017
Very very cool game with cute zombies ! I love that sooooo much😆😆😆 it was interesting for me and my family. But I can't play in some places. It's a hard game too!👻👻 Thanks, MoBI GaMEs👍👍😍😍👽👌✨
❤️ IT!!!
Jordan chenoweth
on
8/19/2017
It's really an addicting game and I think it is amazing 😉
Good and funny game
Playing it almost everyday But it should be easier, not to become too challenging Making it too hard just kills the fun sometime
Love it! 😃
Mixedgame 😁🕹🎮🎧
on
8/16/2017
This is very fun and addicting 😉
Great game
Coolest game ever
Fun game
Fun to play, gets addicting, but please too many bombs
👌
Bahamas babyyyy yay
on
8/10/2017
Great fun
Zombie Tsunami
Great animation and creativity-plus really fun!!!
Addictive!
Great game. No complaints so far. On level 49 and haven't had to buy anything!
Love this game😀😀😀😀😀😀😻😻😻
sicktomkid1611!
on
8/2/2017
Zombie tsunami is the best game I ever played in the whole wide world!!! Super fun and my kids love the game and it's got so many fun things and missions to complete Zombie games rock but this one is even better
Zombie park
fishing vinie
on
7/30/2017
Only started playing today fun so far not impossible from the start like some games.
Awesome
This is a challenging game. It gets really hard but I seem to do fine.
Mocha
Mocha_fyc_305
on
7/27/2017
Addictive lotz of fun
Loving zombie Tsunami
Buddha_hotei_boy
on
7/26/2017
Love this game, however I have spent real life cash on this game several times and when I update my phones or buy new ones and have to reinstall the game it NEVER restores my purchases. I am not too entirely upset about it, it's just kind of crappy that I have had to purchase the double coins boost 5 times and have purchased the 15-20$ diamond package three separate times and it doesn't restore any of it. Also what is the redeem your promo code option for? I can't find anyone who knows anything about that nonsense.
Fun game but...
This is a really fun game but I don't like how when your getting really fat they add a ton of bombs which kills you, you have no chance of getting by them
AWESOME GAME! but....
PinappleUnderpantz
on
7/18/2017
I noticed a little bug or glitch in the game. There are maybe about 1 or 2 of those bugs. Number 1 is when I hold the screen to jump it automatically kills me. 2 is that when I get gold zombies they don't turn (GARBAGE BINS) into gold and also they don't turn (HELICOPTERS) into gold....BUT THE GAME ROCKS!
Fact Sheet
Publisher:

Mobigame

Category:

Games

Released:

May 31, 2012

Current Version Released:

Sep 11, 2017

Version:

3.6.8

Size:

116.1 MB

Compatibility:

Requires iOS 7.0 or later.

Recommended Age:

4+

Game Center Certified:

No

Supported Devices:

iPhone4-iPhone4, iPad2Wifi-iPad2Wifi, iPad23G-iPad23G, iPhone4S-iPhone4S, iPadThirdGen-iPadThirdGen, iPadThirdGen4G-iPadThirdGen4G, iPhone5-iPhone5, iPodTouchFifthGen-iPodTouchFifthGen, iPadFourthGen-iPadFourthGen, iPadFourthGen4G-iPadFourthGen4G, iPadMini-iPadMini, iPadMini4G-iPadMini4G, iPhone5c-iPhone5c, iPhone5s-iPhone5s, iPadAir-iPadAir, iPadAirCellular-iPadAirCellular, iPadMiniRetina-iPadMiniRetina, iPadMiniRetinaCellular-iPadMiniRetinaCellular, iPhone6-iPhone6, iPhone6Plus-iPhone6Plus, iPadAir2-iPadAir2, iPadAir2Cellular-iPadAir2Cellular, iPadMini3-iPadMini3, iPadMini3Cellular-iPadMini3Cellular, iPodTouchSixthGen-iPodTouchSixthGen, iPhone6s-iPhone6s, iPhone6sPlus-iPhone6sPlus, iPadMini4-iPadMini4, iPadMini4Cellular-iPadMini4Cellular, iPadPro-iPadPro, iPadProCellular-iPadProCellular, iPadPro97-iPadPro97, iPadPro97Cellular-iPadPro97Cellular, iPhoneSE-iPhoneSE, iPhone7-iPhone7, iPhone7Plus-iPhone7Plus, iPad611-iPad611, iPad612-iPad612, iPad71-iPad71, iPad72-iPad72, iPad73-iPad73, iPad74-iPad74, iPhone8-iPhone8, iPhone8Plus-iPhone8Plus, iPhoneX-iPhoneX,

Supported Languages:

Arabic; Chinese; English; French; German; Indonesian; Italian; Japanese; Korean; Portuguese; Russian; Spanish; Castilian; Turkish; Vietnamese;