Screenshots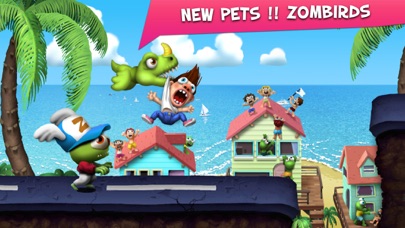 New in version 3.6.8
- Bug fix
- Blast Processing
Description
The zombies are revolting ! Attack the city with a horde of zombies, change pedestrians into zombies and create the largest horde.
Eat your friends, and challenge them to a crazy race by destroying everything in your path.

Zombie Tsunami has proudly exceeded 200 million players around the world.

FEATURES
- "One touch" gameplay to control the entire hord
- 10 delirious bonuses, ninjas, dragons, UFOs, and many more
- Many upgrades to unlock
- Raise zombie birds and use their powers
- More than 300 missions to devour
- 11 sets to travel in
- Optimized for all models of iPhone, iPod touch and iPad.

REVIEWS
4.5/5 TouchArcade - "Zombie Tsunami is a game you really need to own"
5/5 AppSmile - "Featuring Pixar-like graphics, simple controls, and plenty of content"
5/5 TouchGen.net - "If you're looking for a fantastic game, look no further!"
4.5/5 148Apps - "It's fun madness, emphasis on fun."
5/5 iReviewT.com - "Revolutionary endless runner formula!"
5/5 AppSpy.com - "Zombie Tsunami carves its own path with a great claymation style and roaming hordes of the walking, and jumping dead"

Why not try our other games: EDGE, Cross Fingers, Perfect Cell, Truckers Delight.
Follow us on twitter.com/Mobigame
Visit us at http://www.mobigame.net
iPad Screenshots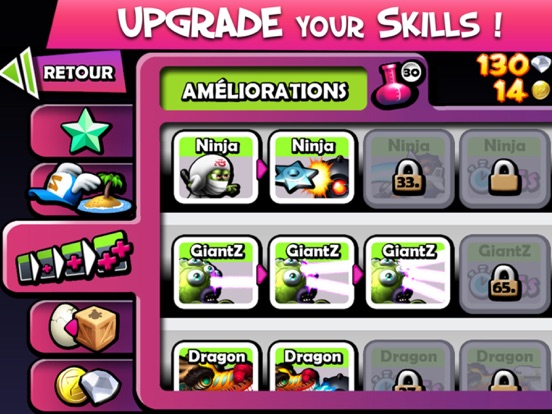 Reviews
Zombie tsunami
Fun game and entertaining
This game is fun
It's fun to play, even though it can make you mad sometime. I love to play it
Fun
It makes no since but very fun
1st time player
Played it for the first time today-pretty fun! My 5 year old grandson was playing and he loves it,so thought I'd give it a try. Good time passer!
Zombie Tsunami
Very fun game. I don't know why this game is not on Apple TV 4. That's a major minus. It's the most popular game from Mobigame and I don't understand why developers are not making this game for Apple TV. With Siri remote will be a great experience (like Rayman just touch not press the Siri touchpad)
Awesome
Fun for hours just PLAY
Awesome game
Love this game and always will!
T
my legs are pear aliysed
on
9/1/2017
I only made this review so it's over 200 😎😎
AMAZING GAME!! 😜😜
THIS GAME IS THE BEST BRO
on
8/27/2017
I played this 4 years ago it was amazing like it is now, but never had some of theses things it has today's this, THIS IS AMAZING AND I WANT YOU TO PLAY IT AND INJOY THE GAME BY HAVING FUN. This was the only way when I was bored, to not get bored so I say yes play it
My children for me addicted.
Clints_Girl85
on
8/25/2017
Very fun and is a game where I can relax and enjoy playing against my children.
Great game, 1 flaw though
Pretty good 😊 Yes that is it
Great! 😎
WatermelonFlameGamer
on
8/23/2017
THE GAME IS AWESOME!! I LOVE THE BONUS PARTS AND THE ONE I LOVE THE MOST ARE THE balloons....JK I LOVE THE MECHA!! It's LIT!
Awesome😍🤗
Amir and pari
on
8/19/2017
Very very cool game with cute zombies ! I love that sooooo much😆😆😆 it was interesting for me and my family. But I can't play in some places. It's a hard game too!👻👻 Thanks, MoBI GaMEs👍👍😍😍👽👌✨
❤️ IT!!!
Jordan chenoweth
on
8/19/2017
It's really an addicting game and I think it is amazing 😉
Good and funny game
Playing it almost everyday But it should be easier, not to become too challenging Making it too hard just kills the fun sometime
Love it! 😃
Mixedgame 😁🕹🎮🎧
on
8/16/2017
This is very fun and addicting 😉
Great game
Coolest game ever
Fun game
Fun to play, gets addicting, but please too many bombs
👌
Bahamas babyyyy yay
on
8/10/2017
Great fun
Zombie Tsunami
Great animation and creativity-plus really fun!!!
Addictive!
Great game. No complaints so far. On level 49 and haven't had to buy anything!
Love this game😀😀😀😀😀😀😻😻😻
sicktomkid1611!
on
8/2/2017
Zombie tsunami is the best game I ever played in the whole wide world!!! Super fun and my kids love the game and it's got so many fun things and missions to complete Zombie games rock but this one is even better
Zombie park
fishing vinie
on
7/30/2017
Only started playing today fun so far not impossible from the start like some games.
Awesome
This is a challenging game. It gets really hard but I seem to do fine.
Mocha
Mocha_fyc_305
on
7/27/2017
Addictive lotz of fun
Loving zombie Tsunami
Buddha_hotei_boy
on
7/26/2017
Love this game, however I have spent real life cash on this game several times and when I update my phones or buy new ones and have to reinstall the game it NEVER restores my purchases. I am not too entirely upset about it, it's just kind of crappy that I have had to purchase the double coins boost 5 times and have purchased the 15-20$ diamond package three separate times and it doesn't restore any of it. Also what is the redeem your promo code option for? I can't find anyone who knows anything about that nonsense.
Fun game but...
This is a really fun game but I don't like how when your getting really fat they add a ton of bombs which kills you, you have no chance of getting by them
AWESOME GAME! but....
PinappleUnderpantz
on
7/18/2017
I noticed a little bug or glitch in the game. There are maybe about 1 or 2 of those bugs. Number 1 is when I hold the screen to jump it automatically kills me. 2 is that when I get gold zombies they don't turn (GARBAGE BINS) into gold and also they don't turn (HELICOPTERS) into gold....BUT THE GAME ROCKS!
Got worse/better but still shouldn't have gotten Worse.
Game I used to play years ago, redownloaded it expecting the same like last time or better but seems the game makes automatically harder the longer you are so many bombs to take out your zombie horde. Plus I noticed the upgrades are only unlocked now by doing the potions wasn't like that before I think idk. But, for sure notice that if you get a scratch ticket or buy one and close the app you lose what ever it was doesn't count as selling it for more coins or even an automatic scratch. That blows. Making it a 2 star.
Zombie Tsunami
Oh Hey it's Z
on
7/15/2017
I enjoy this game. I've read some complaints about the newest version and while I do agree that some things are ridiculous (have you seen the "upgraded" Giant Z laser?), I still think this is a great game and I thoroughly enjoy playing it. I'd recommend it to al of my friends. :)
Fun
Great way to spend some time.
Very good game
The best addictive game!!
Absolutely fabulous
ZazuPittsLovesBobo
on
7/9/2017
Been playing this for a long time and it is great. Funny, challenging. I haven't upgraded to the newest version which many complain about, I'll stick to the older version and completely enjoy it. Graphics and sounds are superb! Gimpy Smith loves it too.
Fun, Fun, and Fun
I love this game it is really fun!! You can upgrade things and try to keep the most zombies alive! I think you should download this very fun and addictive game!❤️💜💝
Great game
It's a great game
Tons of fun
Love this game!
Ehh.....
Its good but it's
Bra this game is slick
It's so fun man bra
Ads
I have been playing this game since it first came out. I love the game, but in the last few months the ads are over the top. Way to many. It's definitely distracting from the game. If I want ads I'll get the 3 bonus ads every few hours. Please make this the game the way it used to be.
Super fun
It's a lo of fun to play
Waste of Time
Zombie tsunami is a fun as hell game! It's very addictive. But my problem is the game mechanics are horrible, and you sometimes die in the most retarded ways.
Fun asf
Subercdsxvjyd
on
6/28/2017
Fun asf but doesn't store bonuses after you win them on a lottery ticket and close the game. Please fix!
I like it!
Great zombie game from a 4 yr old. It's great because you get to eat people. Easy to understand and play. You should download it!!
Its a ok game.
Little Cam DAB
on
6/25/2017
Its ok but when ever i play them dumb bombs are always in a row and i lose its annoying and when ever i hold in to jump far i always lose all my people its fun but i just started like a couple minutes ago ago and im mad 😡😡😡😡😡😡😡
Awsome
Z.Tsunami is a great game you can play everywhere you want without internet 💯❤️
Awesome
The candy crush
on
6/23/2017
This game is awesome. There arent many ads and it is a very hard game to do but that makes it more fun. I think everyone should give this app a 5 star rating. 😀😁👍💩
Fact Sheet
Publisher:

Mobigame

Category:

Games

Released:

May 31, 2012

Current Version Released:

Sep 11, 2017

Version:

3.6.8

Size:

116.1 MB

Compatibility:

Requires iOS 7.0 or later.

Recommended Age:

4+

Game Center Certified:

No

Supported Devices:

iPhone4-iPhone4, iPad2Wifi-iPad2Wifi, iPad23G-iPad23G, iPhone4S-iPhone4S, iPadThirdGen-iPadThirdGen, iPadThirdGen4G-iPadThirdGen4G, iPhone5-iPhone5, iPodTouchFifthGen-iPodTouchFifthGen, iPadFourthGen-iPadFourthGen, iPadFourthGen4G-iPadFourthGen4G, iPadMini-iPadMini, iPadMini4G-iPadMini4G, iPhone5c-iPhone5c, iPhone5s-iPhone5s, iPadAir-iPadAir, iPadAirCellular-iPadAirCellular, iPadMiniRetina-iPadMiniRetina, iPadMiniRetinaCellular-iPadMiniRetinaCellular, iPhone6-iPhone6, iPhone6Plus-iPhone6Plus, iPadAir2-iPadAir2, iPadAir2Cellular-iPadAir2Cellular, iPadMini3-iPadMini3, iPadMini3Cellular-iPadMini3Cellular, iPodTouchSixthGen-iPodTouchSixthGen, iPhone6s-iPhone6s, iPhone6sPlus-iPhone6sPlus, iPadMini4-iPadMini4, iPadMini4Cellular-iPadMini4Cellular, iPadPro-iPadPro, iPadProCellular-iPadProCellular, iPadPro97-iPadPro97, iPadPro97Cellular-iPadPro97Cellular, iPhoneSE-iPhoneSE, iPhone7-iPhone7, iPhone7Plus-iPhone7Plus, iPad611-iPad611, iPad612-iPad612, iPad71-iPad71, iPad72-iPad72, iPad73-iPad73, iPad74-iPad74,

Supported Languages:

Arabic; Chinese; English; French; German; Indonesian; Italian; Japanese; Korean; Portuguese; Russian; Spanish; Castilian; Turkish; Vietnamese;