TapNova recommends this app!
New in version 3.6.7
- Bug fix
- Blast Processing
Description
The zombies are revolting ! Attack the city with a horde of zombies, change pedestrians into zombies and create the largest horde.
Eat your friends, and challenge them to a crazy race by destroying everything in your path.

Zombie Tsunami has proudly exceeded 200 million players around the world.

FEATURES
- "One touch" gameplay to control the entire hord
- 10 delirious bonuses, ninjas, dragons, UFOs, and many more
- Many upgrades to unlock
- Raise zombie birds and use their powers
- More than 300 missions to devour
- 11 sets to travel in
- Optimized for all models of iPhone, iPod touch and iPad.

REVIEWS
4.5/5 TouchArcade - "Zombie Tsunami is a game you really need to own"
5/5 AppSmile - "Featuring Pixar-like graphics, simple controls, and plenty of content"
5/5 TouchGen.net - "If you're looking for a fantastic game, look no further!"
4.5/5 148Apps - "It's fun madness, emphasis on fun."
5/5 iReviewT.com - "Revolutionary endless runner formula!"
5/5 AppSpy.com - "Zombie Tsunami carves its own path with a great claymation style and roaming hordes of the walking, and jumping dead"

Why not try our other games: EDGE, Cross Fingers, Perfect Cell, Truckers Delight.
Follow us on twitter.com/Mobigame
Visit us at http://www.mobigame.net
iPad Screenshots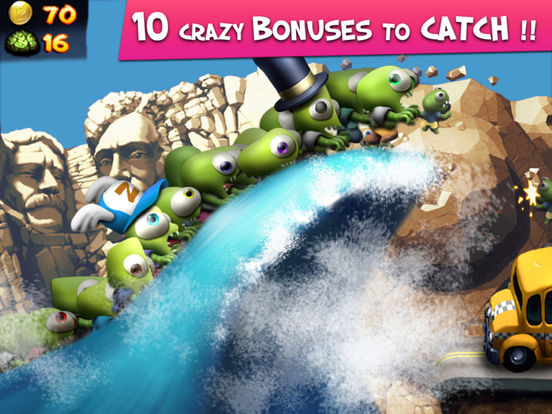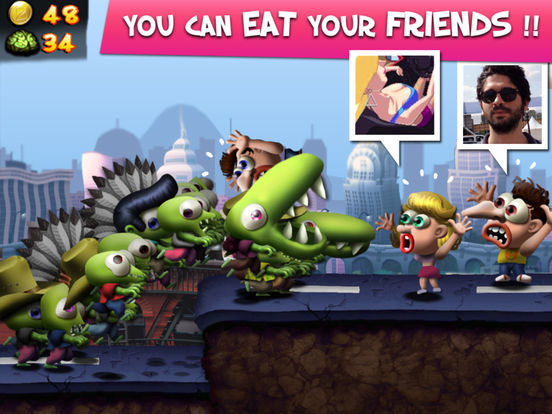 Reviews
AWESOME GAME! but....
PinappleUnderpantz
on
7/18/2017
I noticed a little bug or glitch in the game. There are maybe about 1 or 2 of those bugs. Number 1 is when I hold the screen to jump it automatically kills me. 2 is that when I get gold zombies they don't turn (GARBAGE BINS) into gold and also they don't turn (HELICOPTERS) into gold....BUT THE GAME ROCKS!
Got worse/better but still shouldn't have gotten Worse.
Game I used to play years ago, redownloaded it expecting the same like last time or better but seems the game makes automatically harder the longer you are so many bombs to take out your zombie horde. Plus I noticed the upgrades are only unlocked now by doing the potions wasn't like that before I think idk. But, for sure notice that if you get a scratch ticket or buy one and close the app you lose what ever it was doesn't count as selling it for more coins or even an automatic scratch. That blows. Making it a 2 star.
Zombie Tsunami
Oh Hey it's Z
on
7/15/2017
I enjoy this game. I've read some complaints about the newest version and while I do agree that some things are ridiculous (have you seen the "upgraded" Giant Z laser?), I still think this is a great game and I thoroughly enjoy playing it. I'd recommend it to al of my friends. :)
Fun
Great way to spend some time.
Very good game
The best addictive game!!
Absolutely fabulous
ZazuPittsLovesBobo
on
7/9/2017
Been playing this for a long time and it is great. Funny, challenging. I haven't upgraded to the newest version which many complain about, I'll stick to the older version and completely enjoy it. Graphics and sounds are superb! Gimpy Smith loves it too.
Fun, Fun, and Fun
I love this game it is really fun!! You can upgrade things and try to keep the most zombies alive! I think you should download this very fun and addictive game!❤️💜💝
Great game
It's a great game
Tons of fun
Love this game!
Ehh.....
Its good but it's
Bra this game is slick
It's so fun man bra
Ads
I have been playing this game since it first came out. I love the game, but in the last few months the ads are over the top. Way to many. It's definitely distracting from the game. If I want ads I'll get the 3 bonus ads every few hours. Please make this the game the way it used to be.
Super fun
It's a lo of fun to play
Waste of Time
Zombie tsunami is a fun as hell game! It's very addictive. But my problem is the game mechanics are horrible, and you sometimes die in the most retarded ways.
Fun asf
Subercdsxvjyd
on
6/28/2017
Fun asf but doesn't store bonuses after you win them on a lottery ticket and close the game. Please fix!
I like it!
Great zombie game from a 4 yr old. It's great because you get to eat people. Easy to understand and play. You should download it!!
Its a ok game.
Little Cam DAB
on
6/25/2017
Its ok but when ever i play them dumb bombs are always in a row and i lose its annoying and when ever i hold in to jump far i always lose all my people its fun but i just started like a couple minutes ago ago and im mad 😡😡😡😡😡😡😡
Awsome
Z.Tsunami is a great game you can play everywhere you want without internet 💯❤️
Awesome
The candy crush
on
6/23/2017
This game is awesome. There arent many ads and it is a very hard game to do but that makes it more fun. I think everyone should give this app a 5 star rating. 😀😁👍💩
This game is so much fun
It is a great and easy game to play! I love it. So far it doesn't seem to require you to buy coins or a log of ads but just fun to play!
Good Game
It is a very good game
L♥️VE this game
Marwa aldooori
on
6/22/2017
The best game ever
Love it!
This game is so fun and so funny, it's soooo addicting!
Fun for kids @ adults
Love it...been playing over two years and I still enjoy it!!
AWESOME!!!!!!!!!
Didhcuueufdjcjjdjjdjjdn
on
6/13/2017
THE COOLEST!!!!!!!! YAY!!!!!!!!
Ahhhhhhhhhhh!!!!!!!!!
WHAT DOES THE FREAKING BIRD DO AHHHHHHHHHHHHHH!!!!!!!
Best game ever!
Pulverizing power
on
6/9/2017
I've played this game for years and it hasn't gotten old. This game is a must play!
Game too addicting
Its too addicting its very fun i just started playing 5 minutes ago and this is the best skill game this is very fun and i mean it this game needs our support
Awesome!!!😁
I love it, except for it almost has no power ups while you go. And multiple times, when cars go by, it kills about 15 of my zombies.
So much fun
godless_gamer79
on
6/1/2017
What else is there to say about this it's fun go get it
Never thought I would like it this much
Saw an ad on instagram and decided to download it. Looks like a kid's game but it's actually difficult and thrilling. I'll addicted! Definitely worth a download.
I got 1,000,000,000 zombies
HellbentACE 13
on
5/28/2017
I got a lot of zombies
Zombie tsunami
Legend in games
😍😁😂😂🔥🤘😜🌺
Kayla_is_beast
on
5/24/2017
σмg тнιѕ gαмє ιѕ нιℓαяισυѕ αи∂ ʝυѕт fυи. му вяσтнєя тαкєѕ му ρнσиє ʝυѕт тσ ρℓαу тнσѕ σиє gαмє συт σf ℓιкє 50 σтнєяѕ ι нανє αи∂ ι ωαит тσ вє αвℓє тσ gινє мσяє тнαт σиℓу 5 ѕтαяѕ👌👌👌
Bravo
👏🏻👏🏻👏🏻👏🏻👏🏻👏🏻👏🏻👏🏻👏🏻👏🏻👏🏻👏🏻👏🏻👏🏻👏🏻👏🏻👏🏻👏🏻👏🏻👏🏻👏🏻👏🏻👏🏻👏🏻👏🏻👏🏻👏🏻👍🏻👍🏻👍🏻👍🏻👍🏻👍🏻👍🏻👍🏻👍🏻👍🏻👍🏻
Amazing
Bonnie needs a lawyer.
on
5/14/2017
You should get it it's really fun and I love the new pets
Love This Game!
Lina The Gamer
on
5/13/2017
This game is so fun to play. I remember when I was a bit younger I would play, and now I came back to it. I think more people should play. I see its not that popular but still.
One touch amazement!
Most fun you'll ever have with one button!
This game is hilarious why am I 1st review?
Chiefnwityoboo
on
5/11/2017
This game has it all zombies death laughs and fun my nieces love it and so do i
Like it
Really good game you should buy it
Fun
MCPESuperstar1
on
5/6/2017
Very addicting never ends! Plays for hours!
PLEASE FIX
TheGamingAddict17
on
5/5/2017
So I got this game about a month ago and it was working fine until I got to level 10. I got the same problem most of the other reviewers had: it would become completely unresponsive. I couldn't even use the control center or notifications bars! I really like this game, but I need this bug dealt with, PLEASE!
Fun game! Worth trying
Anonymous6666677889
on
5/3/2017
Every now and then I try out new games that seems fun and has good reviews. This is fun! Try it you won't regret it. I like when you can use the coins you continually earn and shop for different things to make the game more fun.
I guess I'm fine
Curtis Ekberg
on
4/28/2017
I spent 9.99 on 300 gems and didn't get anything. Fortunately, I got a refund. Anyone reading this, I don't recommend spending money on this
Freezing
It keeps freezing when I try to see my lottery card
I love this game.....but
This is an awesome game, I love to play it and collect diamonds to buy eggs, I had fun playing, highly recommended game. The only thing I didn't like is that the moment I had two birds at maximum level, the game practically made me fuse them, I didn't have the option to choose not to make that fusion and I lost one of my best birds. I don't like this part of the game where I can't decide whether to make the fusion or not. I hope this could be something the developers can consider. Again, I love this game.
App Crashes (UPDATE: PROBLEM SOLVED!)
themakpacker
on
4/21/2017
March 18, 2017 App crashes after loading at 100%. Can't play the game anymore. Don't want to delete the app for the fear of losing everything. Please have an update. Thank you ----- April 21, 2017 UPDATE!! I was able to open the app after loading at 100%. After playing one game, I noticed that my friends on the left corner of the screen does not show – my Facebook account was disconnected. So I decided to reconnect. After reconnecting, the app crashed. When I tried to open the app again, it won't and I got the same problem: crashing after loading at 100%. So I tried to remove the app from being connected to my Facebook account, and voila! It worked! I am able to play the game again. The app no longer crashes. Whew! Here is the fix: Go to your Facebook account > Settings > Apps > click the Show All dropdown > Click the Remove icon on the right side of the Zombie Tsunami app > then confirm by clicking Remove (ticking or not ticking the small box will not affect when opening the game after removing the app from being connected to your Facebook account) Then you're good to go! Hope this helped. Thanks! I'd give this game a 5 star review but a functionality is not working so I'm giving it a 4. :)
Fact Sheet
Publisher: Mobigame
Category: Games
Released: May 31, 2012
Current Version Released: Jul 17, 2017
Version: 3.6.7
Size: 116 MB
Compatibility: Requires iOS 7.0 or later.
Recommended Age: 4+
Game Center Certified: No
Supported Devices: iPhone4-iPhone4, iPad2Wifi-iPad2Wifi, iPad23G-iPad23G, iPhone4S-iPhone4S, iPadThirdGen-iPadThirdGen, iPadThirdGen4G-iPadThirdGen4G, iPhone5-iPhone5, iPodTouchFifthGen-iPodTouchFifthGen, iPadFourthGen-iPadFourthGen, iPadFourthGen4G-iPadFourthGen4G, iPadMini-iPadMini, iPadMini4G-iPadMini4G, iPhone5c-iPhone5c, iPhone5s-iPhone5s, iPadAir-iPadAir, iPadAirCellular-iPadAirCellular, iPadMiniRetina-iPadMiniRetina, iPadMiniRetinaCellular-iPadMiniRetinaCellular, iPhone6-iPhone6, iPhone6Plus-iPhone6Plus, iPadAir2-iPadAir2, iPadAir2Cellular-iPadAir2Cellular, iPadMini3-iPadMini3, iPadMini3Cellular-iPadMini3Cellular, iPodTouchSixthGen-iPodTouchSixthGen, iPhone6s-iPhone6s, iPhone6sPlus-iPhone6sPlus, iPadMini4-iPadMini4, iPadMini4Cellular-iPadMini4Cellular, iPadPro-iPadPro, iPadProCellular-iPadProCellular, iPadPro97-iPadPro97, iPadPro97Cellular-iPadPro97Cellular, iPhoneSE-iPhoneSE, iPhone7-iPhone7, iPhone7Plus-iPhone7Plus, iPad611-iPad611, iPad612-iPad612, iPad71-iPad71, iPad72-iPad72, iPad73-iPad73, iPad74-iPad74,
Supported Languages: Arabic; Chinese; English; French; German; Indonesian; Italian; Japanese; Korean; Portuguese; Russian; Spanish; Castilian; Turkish; Vietnamese;