Screenshots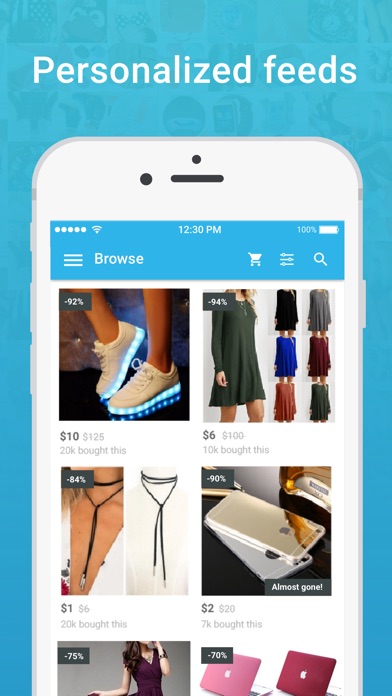 New in version 4.1.2
Get fashion, shoes, electronics, kitchen gadgets & more at 50-90% off!
Description
Wanna save big? Over 300 million smart & thrifty shoppers have discovered Wish! Our mobile mall app connects you to thousands of merchants, making it easy to shop fashion, shoes, electronics, kitchen gadgets & more directly from the makers! You pay 60-90% less what you'd pay for in a store!

Wish also uses cool, new AI technology to find products just for you and to filter out the bad stuff. The more you use Wish, the better we get at showing you things you'll love! Discover incredible new items and deals on Wish!

Browse Through Millions of
Classic men's clothes
Sizzling hot women's fashion
Chic shoes
Affordable electronics
Lifehacking kitchen gadgets
Coveted kids toys
Pinterest-worthy home decor
Indie & unbranded makeup
And much, much more!

Save Big
Wish items are 60-90% off from retail prices! We're not into markups.
Catch our daily sales
Play Deal Dash to win additional savings
Earn reward points & redeem for coupons
Purchase with others to get an additional discount

Buy with 100% Confidence
Read trusted reviews & see customer photos to discover our best items!
Pay securely with a credit card, Google Wallet, Apple Pay or PayPal.
Not perfect? Easily return items and you'll get a full refund.

Shop around the World
Wish ships worldwide!
We offer customer support in English, Spanish, Portuguese, Japanese, French, Italian, German, Thai, Vietnamese, Turkish, Russian, Danish, Indonesian, Swedish, Norwegian, Dutch, Finnish, Greek, Polish, Romanian, Hungarian, Belarusian, Czech, Slovak, Slovenian, Lithuanian, Estonian, Latvian, Arabic, and Croatian.

Your mobile mall is waiting for you! Download Wish to start shopping today!
iPad Screenshots
Reviews
Awesome
Awesome offers!!!
Wish rocks!
I've now ordered several things from wish and they've begun arriving very quickly!
Almost better than Amazon
paincovenant
on
11/19/2017
Love this site. All the products I have purchased have been of great quality, shipping sometimes takes a little bit of time. But it's worth it for the bargain
Excellent app
Mommamoser 4
on
11/19/2017
Just ordered merchandise from the app. Hope they are here by Christmas!!! Excellent prices!!
• Wish •
>> tHE_dON_jUAN <<
on
11/19/2017
Only rating 4* since I haven't received my orders yet (also hasn't been scheduled time either) ...but prices and selection is awesome so far!
Wish came true!!
Sinnamon Styx
on
11/19/2017
Omg I absolutely love this website!! They have drones at half the price if not more and even the DJI brand which is awesome!!! I will always buy from here, it's so worth it!!!
👎
MissChrissyCatty
on
11/18/2017
Item aren't really good quality. Most of the stores falsely describe their items. The aren't what they say they are
Abundant supply
Almost everything you want you can get.
Love my Wish App
MissMERdera
on
11/18/2017
I love my wish app. It keeps me up to date with the best offers and deals. They have everything you can think of.
Slow shipping
Really cute things at great prices but shipping takes forever
So far so good
Corpse Killir
on
11/18/2017
Haven't had any real issues yet will update my rating as time goes on
Love this site
Alwayslategal
on
11/18/2017
I have gotten many bargains here. You have to read reviews and description thoroughly. Sizing is often and you need to order larger ones. Often a reviewer will say what they usually wear and how many sizes they went up for perfect fit. I have several pairs of shoes and boots that I am thrilled with. Look to see if item sizes are listed in "cm" rather than "in", they often are and so things are smaller than you think. Sometimes the pictures show two or three items, but the description will tell you how many you are actually getting. The Description is now listed underneath the Item Specification. If you read carefully you should be happy with your order, if you're not happy, they are Very Good about returns.
Me myself I
PNC customerAl
on
11/18/2017
Stuff they sell is junk and staff with wish don't give a crap. Save your money and don't order anything from Wish
I love this app
My name is ATL
on
11/18/2017
Everything and anything I want the best app wish :) love it
So far so good
Qweavytupgrexytgj
on
11/18/2017
So far everything has went well with this application for me
Ummm
❤️Courtney❤️
on
11/18/2017
I've heard good and bad things about this app. That's it's cheap, but bad quality and takes forever. So I took a chance and got some stuff. Later that day I checked my orders and it doubled my order. So instead of $12, I spent $24! I'm very upset about my order. I tried to ask for a refund, but I don't know how that will go. Unless I get a refund, I will not buy from Wish again. I hope you are reading this Wish, for I'm upset about this. At least I didn't order that much.
10/10 recommend
EKaterinaisawesome
on
11/18/2017
Great app! I love it so much!!
I spent like a good 30 mins looking at weird stuff on here 5/10
😂😂😂🤣😂🤣😂🤣😂🤣😂😂😂😂
The best shopping app ever!
princesspie27
on
11/18/2017
Wish can do a lot of things like sometimes you can get low prices and maybe get free stuff but besides that they can ship very fast and I recommend getting the app 👍
Must have!
The app is great! Yes take a minute to get product but for the price it's worth the wait.
Nice app
The app is very easy to use and pricing is good too. The only thing is everything comes with shipping.
Great Shopping app!
Fliaixkireflix
on
11/18/2017
It's a great app for browsing for ideas for Christmas, the items are reasonably priced and there are a range of options to buy. From clothes to clarinets and Phone chargers to slime kits, its just a good shopping app.
Got to do better
Cheycheyy18
on
11/18/2017
I actually like the items online😍 it's just the delivery that's takes forever 😩
Good prices
It's a good app cause its cheap but the items are not that much good,some of them are good but most of them are not and it takes for ever to deliver,cloths are not like what you see on app it's so different what you see in pic on app
First order on its way.
Will post when it gets here. Hopefully as promised .... before Christmas
Love!
Love it. Easy, fast and cheap perfect for Christmas secret santa!!
Wish
ljfflstkkgyukaat
on
11/18/2017
Great stuff for cheap comically cheap prices. Although it takes absolutely forever to ship.😁
LOVE IT!
Chrissy7856
on
11/18/2017
Love this app! Fast shipping and great customer service
Great prices and quality as well
Ohhhhkayyyyy
on
11/18/2017
I love how affordable and long lasting the products are . Makes my life so much easier as a single mom.
Good, but be a smart shopper!!!
DebbieLovesRats
on
11/18/2017
Pros: A lot of variety, probably a million products to choose from. I've found great inexpensive things on here. Cons: Shipping literally takes forever. Although there is a variety, there are many cheap knockoffs of things that aren't anything like you expected. Many products come from China. The app is confusing because there are double sizes and colors when you're selecting the details of your item.
So far so good
Montoemango
on
11/18/2017
Friend told me takes months to get in mail. As long as it arrives then I'm alright with that at these prices!
Great app
Theemrsneptune
on
11/18/2017
Great app but it will be trial and error with clothing because the items are Asian sizes. My daughter where's a 12P and she fit a 2X.
Not Good
I'll just stick with Amazon
Great app but...
Andrewsky94
on
11/18/2017
.... let me filter out the adult toys. They even show up on my Facebook feed!
VERY NICE!!!
It takes a long time to deliver but that's to be expected it's coming from China. I like the things some stuff I wouldn't be able to afford if it wasn't for the app. Thanks WISH!
Good for shopping
PinkMarmaladePrincess
on
11/18/2017
I like to window shop using the wish app :)
"Wish" they were good
First of all, the delivery dates are very long.The products may not have your size in certain looks or have your size at all. It may be cheap but the shipping tax evens it out since you pay it for every item. I can't say much about the product quality because I never got my product. I ordered 2 hoodies, for my friend and I to match with our favorite band, and I never got it. It took 3 days to process the order. Then, 2 days into the shipping process, I went in the app to see the process,(knowing it would take more than a month to deliver), and I was notified that my request for a refund was approved. I hadn't asked for one so I contacted them and all they would answer was "we are sorry... We hope to serve better next time..." Apparently because of unknown reasons they couldn't deliver so they decided to refund without asking my opinion. Now I won't get my hoodies and if I did want to buy it again the cost is double of what I originally bought.
Love it
I love wish they prices are reasonable n affordable,The only problem is they take too long to delivery the items
This is a great fun app. shipping does take time do beware of that
Krisiteangel
on
11/18/2017
Great support staff. Fun products
Good app!
Takes a little to deliver, but other then that everything came intact!
Great customer service
Sparky zoo keeper
on
11/18/2017
I love this app and admit I'm a bit addicted! As long as you look at the reviews, you know exactly what you're getting and if there are ANY issues with your items you can request a refund with no questions asked while not needing to worry about returning most items. It's like Christmas in my mailbox on a weekly bases but doesn't cost me my life savings! Absolutely love it!
Amazing!
Random Person You Won't Know
on
11/18/2017
This app is just beautiful! I absolutely love it! You can buy things much cheaper than the original price! I just LOVE IT!!!!
Good but update the app
ShaySnail413
on
11/18/2017
Excellent stuff, delivery wait times are worth the lower price, but the app is really hard to navigate as there are no filter options or ability to see other people's profiles.
Good app
So far enjoying the app and finding great things. Glad I decided to download it!
Easy and fun.
It's easy to use and I find everything I want cheap, fast, and it all ships faster than it says! I was skeptical at first too cause an 8 pc brush set shouldn't be free with $1 shipping. BUT IT IS! 😍 I'm heavily addicted to Wish and you should be too! And the quality of everything is amazing! It's not cheaply made.
Won't load
For several months I've been wanting to use this app but it will not load.
Some problems
CliftonRoberts
on
11/18/2017
I love wish and it's where I get everything I have, not everything but a lot of things, and everything there is really cool things but just a note is to ALWAYS look at the reviews cause sometimes it could be a scam because I got scammed twice:/ but if you look at reviews it is great lol
Fact Sheet
Publisher:

ContextLogic Inc.

Category:

Shopping

Released:

Jun 14, 2012

Current Version Released:

Nov 18, 2017

Version:

4.1.2

Size:

54.2 MB

Compatibility:

Requires iOS 9.0 or later.

Recommended Age:

12+

Game Center Certified:

No

Supported Devices:

iPad2Wifi-iPad2Wifi, iPad23G-iPad23G, iPhone4S-iPhone4S, iPadThirdGen-iPadThirdGen, iPadThirdGen4G-iPadThirdGen4G, iPhone5-iPhone5, iPodTouchFifthGen-iPodTouchFifthGen, iPadFourthGen-iPadFourthGen, iPadFourthGen4G-iPadFourthGen4G, iPadMini-iPadMini, iPadMini4G-iPadMini4G, iPhone5c-iPhone5c, iPhone5s-iPhone5s, iPadAir-iPadAir, iPadAirCellular-iPadAirCellular, iPadMiniRetina-iPadMiniRetina, iPadMiniRetinaCellular-iPadMiniRetinaCellular, iPhone6-iPhone6, iPhone6Plus-iPhone6Plus, iPadAir2-iPadAir2, iPadAir2Cellular-iPadAir2Cellular, iPadMini3-iPadMini3, iPadMini3Cellular-iPadMini3Cellular, iPodTouchSixthGen-iPodTouchSixthGen, iPhone6s-iPhone6s, iPhone6sPlus-iPhone6sPlus, iPadMini4-iPadMini4, iPadMini4Cellular-iPadMini4Cellular, iPadPro-iPadPro, iPadProCellular-iPadProCellular, iPadPro97-iPadPro97, iPadPro97Cellular-iPadPro97Cellular, iPhoneSE-iPhoneSE, iPhone7-iPhone7, iPhone7Plus-iPhone7Plus, iPad611-iPad611, iPad612-iPad612, iPad71-iPad71, iPad72-iPad72, iPad73-iPad73, iPad74-iPad74, iPhone8-iPhone8, iPhone8Plus-iPhone8Plus, iPhoneX-iPhoneX,

Supported Languages:

Arabic; Belarusian; Chinese; Croatian; Czech; Danish; Dutch; Flemish; English; Estonian; Finnish; French; German; Greek; Hungarian; Indonesian; Italian; Japanese; Korean; Latvian; Lithuanian; Bokmål, Norwegian; Norwegian Bokmål; Polish; Portuguese; Romanian; Moldavian; Russian; Slovak; Slovenian; Spanish; Castilian; Swedish; Thai; Turkish; Vietnamese;

Parental Advisory:

Mild Profanity or Crude Humor; Mild Sexual Content and Nudity;