TapNova recommends this app!
New in version 3.20.7
Tons of fixes and improvements
Description
Wanna save big? Over 300 million smart & thrifty shoppers have discovered Wish! Our mobile mall app connects you to thousands of merchants, making it easy to shop fashion, shoes, electronics, kitchen gadgets & more directly from the makers! You pay 60-90% less what you'd pay for in a store!

Wish also uses cool, new AI technology to find products just for you and to filter out the bad stuff. The more you use Wish, the better we get at showing you things you'll love! Discover incredible new items and deals on Wish!

Browse Through Millions of
Classic men's clothes
Sizzling hot women's fashion
Chic shoes
Affordable electronics
Lifehacking kitchen gadgets
Coveted kids toys
Pinterest-worthy home decor
Indie & unbranded makeup
And much, much more!

Save Big
Wish items are 60-90% off from retail prices! We're not into markups.
Catch our daily sales
Play Deal Dash to win additional savings
Earn reward points & redeem for coupons
Purchase with others to get an additional discount

Buy with 100% Confidence
Read trusted reviews & see customer photos to discover our best items!
Pay securely with a credit card, Google Wallet, Apple Pay or PayPal.
Not perfect? Easily return items and you'll get a full refund.

Shop around the World
Wish ships worldwide!
We offer customer support in English, Spanish, Portuguese, Japanese, French, Italian, German, Thai, Vietnamese, Turkish, Russian, Danish, Indonesian, Swedish, Norwegian, Dutch, Finnish, Greek, Polish, Romanian, Hungarian, Belarusian, Czech, Slovak, Slovenian, Lithuanian, Estonian, Latvian, Arabic, and Croatian.

Your mobile mall is waiting for you! Download Wish to start shopping today!
iPad Screenshots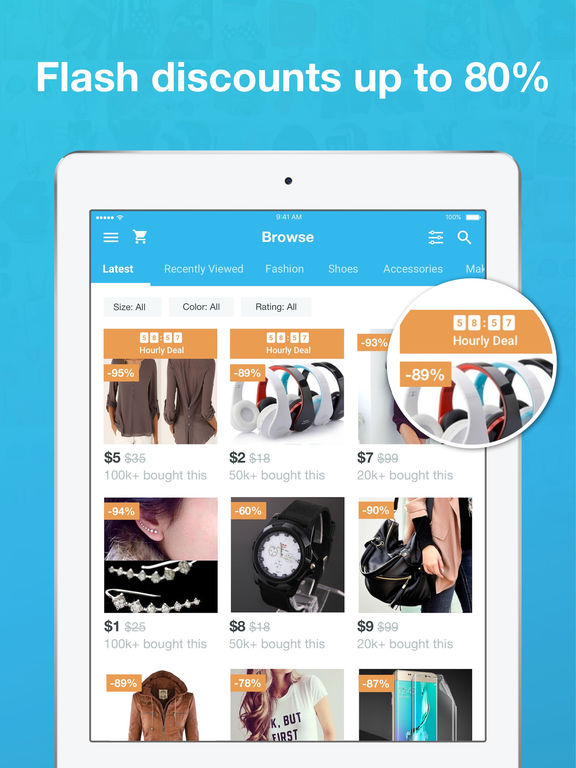 Reviews
Not bad stuff on it, but layout is annoying
With the exception of the layout this app helps find good items to use and wear. The options in the layout are limited when it comes to size and other things. Something can be done about it, but until then it gets 3 stars.
Good
Monkey101235
on
6/22/2017
This app is good. You pay what you get.
Astounding
I'm appalled by how great this app is, you get about 20% off of everything and you only pay about 1-5 dollars shipping.
Love it!
I love this app! I find so many thing here for lower prices than anywhere else! Shipping is super reasonable! Only 1 thing I ordered didn't come and when I sent them a message it was after their 30 policy so there was nothing they could do for me.
love it
olive n morgan
on
6/22/2017
it's so addicting
Awesome deals
Itachimachiggamachigga
on
6/22/2017
Yep awesome
STOP!!! SCAM!!! THEY REMOVED CUSTOMER SUPPORT.
Scam... They say they will give 20% off and when you go to check out only 5% is given. Going to report to Apple. I WILL NOT BUY ANYTHING INTIL I GET MY PROBLEM RESOLVED. They must have made a change since the last app upgrade. I had a problem once before with a discount and I was able to contact Wish very easily through the app and I got my issues resolved. NOW!!! I am having another problem with a promo code. Suppose to be 20% off and it's only deducting 5%. I have been trying a way to contact them and whether I'm using the app or their web site it just lists things to do but NO WAY of getting in touch with them. POOR CUSTOMER SERVICE. I WILL NOT BUY ONE MORE THING UNTIL I CAN GET IN CONTACT WITH CUSTOMER SERVICE.
Love this app!
Super cheap prices! Make sure to check reviews on items before buying, sizing is different and items do take a while to come
Easy set up
So far so good
Fun and safe
This app is great !
Awesome!!!!
It's very cheap😁 and it works
Amazing app!
I had it for years and the deal have only gotten better. I love that you can choose when it ships. Great products, all you have to watch is clothing size but that's all internet sites :)
Wish
Yaominggymsocks
on
6/22/2017
Very good prices
Huge Selections
I am loving all of the different selections of everything. I ordered a pair of shoes and I am waiting for them to come in. My daughter has me hooked on this app. She has bought several things and has not been disappointed. Thank you Wish!!
Everything I want but with such a low price!!!
Flower•Child
on
6/22/2017
I like things cheap and easy and that's exactly what this app is.
Wish
Great app u all need to get it 😊
Pretty awesome
Gotta read all reviews
Love it!
Pay attention to all of the reviews before you buy a item. As you noticed people are usually very honest. I have bought tons of things so far and everything is super nice. I'm having tons of fun saving. I love that even in the reviews people can post a photo of the item when they receive it and that I look for to make sure of the quality I'm getting. I have gotten a few items way ahead of time. One of them was actually coming from New York. So I now know not to expect and assume things to be two weeks from China because not all of the stores are from China apparently
😒
This app is useless it doesn't let Buy nothing when I'm trying to check out It won't let me 😒
Love it
Ale_xand_rea
on
6/22/2017
They're pretty good with the sizing just takes about a month to get the stuff
Wish came true
Kaicujjxjcjcjskskcjcjxndnkxjc
on
6/22/2017
With this app all my wishes came true! Absolutely amazing! I would recommend this for everyone!
Easy to use
Would like for some items to have a better description, but overall a good app!
Amazing app all I want in an app
Dooby dog 13
on
6/22/2017
I can't stop shooing now 😂
Great
I grab so many things from this app! Everything is great just shipping can take long so do t expect it quickly. Love this !!!
Shipping charges
I really like the prices of the items but the shipping charges are ridiculous. There were some items shipping was more than item it self. Most places if you spend a certain amount shipping is free. I will not be ordering and deleting app.
Really enjoy
Great app and way easier to use than safari or browsing programs!
Awesome
Evelyn grace chittum
on
6/22/2017
This is an awesome app all the stuff is cheap and ships really fast
I like wish
Library love
on
6/22/2017
I like wish but am hating having to use PayPal. I can't buy anything I want because paypal will not accept my password and will not let me change it. Instead I get locked out. I am so done and deleting this and PayPal app both
good shipping
delivered safe products work very well
Wish
Wish is so wonderful it gives u things for free and all u have to do is pay shipping that is great
Great!
So easy to order and shop can't wait for my items to arrive!
Happy!
I order from here often, and I love it! If your are not satisfied with you order you'll easily get your full refund back! :)
Great app
Wish has some really great deals. I highly recommend this to any and all that love saving money.
Rate
Amandawilson1222
on
6/22/2017
Love it so addicted
Excited
Just placed my first order! Can't wait to get it in and see all my stuff! Great app
Good for a big family
Pictoword master #1
on
6/22/2017
It is good for a big family things are cheap but name brand it's not a scam it is awesome I love this app
I like it
TygaChrisIsBaee
on
6/22/2017
So far my experience with their products are really good
Once
Only once my article didi't arrive but they sent my money back. I love wish!!!
YOU GET WHAT YOU PAY FOR !
John J. Hampilos
on
6/22/2017
Products look too good to be true. Everything I ordered looked amazing . Till they come in the mail. Takes a long time for shipping. They sent me a watch with the wrong directions on how to set the time ,date, month and year. You get what you pay for.
Interesante <3
Andree Magaña
on
6/22/2017
Bastantes artículos por mirar y adquirir, sorprendente cada vez que se abre la aplicación :)
Only problem is shipping
Shipping is the worst most of the time it's more than my actual order! And there little to no promo..
😍
Really cheap and simple!! Love it :)
Great
Lulu2345678910
on
6/22/2017
It's good
Great app
Adelalnassar
on
6/22/2017
I recommend it
Love
kristyfarmerakaMaMa
on
6/22/2017
This app
Nice!
Good simple interface and good products!
Fact Sheet
Publisher: ContextLogic Inc.
Category: Shopping
Released: Jun 14, 2012
Current Version Released: Jun 14, 2017
Version: 3.20.7
Size: 48.4 MB
Compatibility: Requires iOS 8.0 or later.
Recommended Age: 12+
Game Center Certified: No
Supported Devices: iPad2Wifi-iPad2Wifi, iPad23G-iPad23G, iPhone4S-iPhone4S, iPadThirdGen-iPadThirdGen, iPadThirdGen4G-iPadThirdGen4G, iPhone5-iPhone5, iPodTouchFifthGen-iPodTouchFifthGen, iPadFourthGen-iPadFourthGen, iPadFourthGen4G-iPadFourthGen4G, iPadMini-iPadMini, iPadMini4G-iPadMini4G, iPhone5c-iPhone5c, iPhone5s-iPhone5s, iPadAir-iPadAir, iPadAirCellular-iPadAirCellular, iPadMiniRetina-iPadMiniRetina, iPadMiniRetinaCellular-iPadMiniRetinaCellular, iPhone6-iPhone6, iPhone6Plus-iPhone6Plus, iPadAir2-iPadAir2, iPadAir2Cellular-iPadAir2Cellular, iPadMini3-iPadMini3, iPadMini3Cellular-iPadMini3Cellular, iPodTouchSixthGen-iPodTouchSixthGen, iPhone6s-iPhone6s, iPhone6sPlus-iPhone6sPlus, iPadMini4-iPadMini4, iPadMini4Cellular-iPadMini4Cellular, iPadPro-iPadPro, iPadProCellular-iPadProCellular, iPadPro97-iPadPro97, iPadPro97Cellular-iPadPro97Cellular, iPhoneSE-iPhoneSE, iPhone7-iPhone7, iPhone7Plus-iPhone7Plus, iPad611-iPad611, iPad612-iPad612, iPad71-iPad71, iPad72-iPad72, iPad73-iPad73, iPad74-iPad74,
Supported Languages: Arabic; Belarusian; Chinese; Croatian; Czech; Danish; Dutch; Flemish; English; Estonian; Finnish; French; German; Greek; Hungarian; Indonesian; Italian; Japanese; Lithuanian; Bokmål, Norwegian; Norwegian Bokmål; Polish; Portuguese; Romanian; Moldavian; Russian; Slovak; Slovenian; Spanish; Castilian; Swedish; Thai; Turkish; Vietnamese;
Parental Advisory: Mild Sexual Content and Nudity; Mild Profanity or Crude Humor;