Not Recommended
App last updated
Feb 27, 2018
Screenshots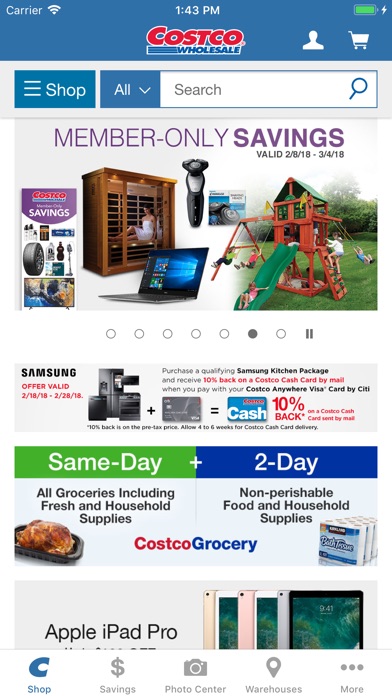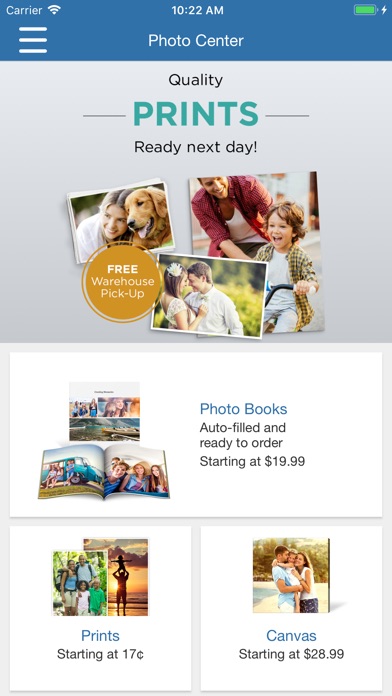 New in version 3.9.1
- Bug fixes and performance enhancements

We hope you like the new features and designs! If you love using the Costco app, please take a minute to leave a nice review.
Description
It's easy to save time and money while on the go, with the Costco Mobile App! We've improved our mobile app, to make it easier for members to access the incredible values found only at Costco.

SHOP: Browse Costco.com's unique and expanded selection, which offers thousands of items not found at your local warehouse. Enjoy having items delivered straight to your door!

SAVINGS: Conveniently receive the latest Warehouse Savings right on your own device.

PHOTOS: Upload and print photos anywhere, anytime. Prints start at 17¢, Photo Books start at $19.99 and Canvas Prints start at $28.99.

TRAVEL: Shop Costco Travel for great deals on vacation packages, hotels, cruises, rental cars, theme parks and more!

BUSINESS CENTER: Stock up on everything from Restaurant Supplies to Office Essentials, and keep your business running smoothly and efficiently.

SHOPPING LIST: Keep track of the items you want to pick up on your next trip to Costco.

WAREHOUSE INFO: See details about your nearest Costco warehouse, including regular and holiday hours, services provided, and driving directions.

FEEDBACK: Visit our Opinion Lab page and help provide important feedback for Costco, because your opinion matters!
iPad Screenshots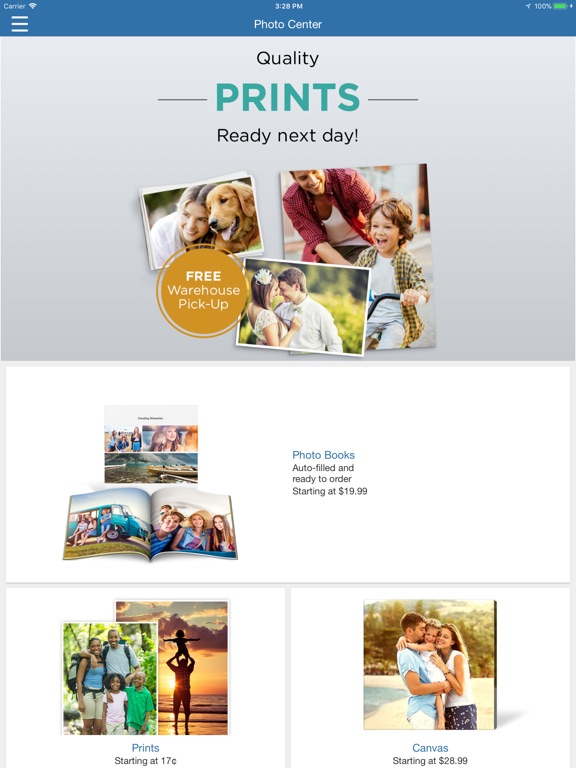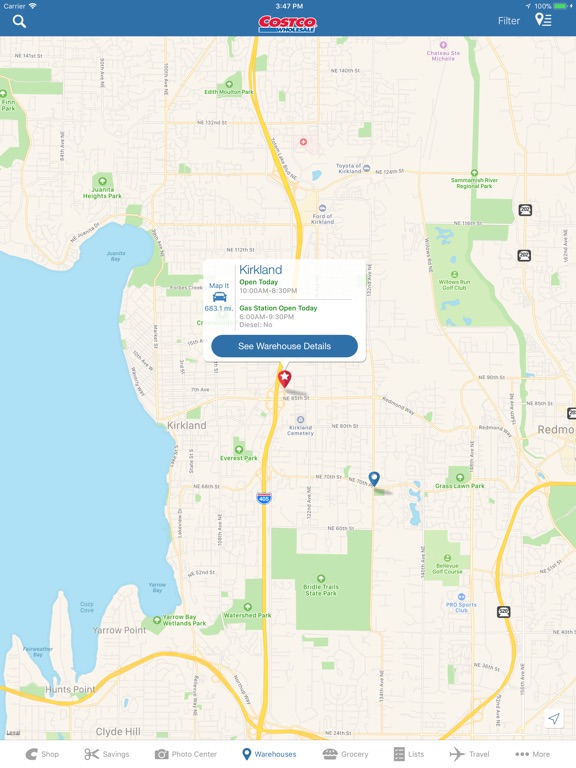 Reviews
Not support Face ID
Pj mask cat boy
on
3/21/2018
Great app for quick view of coupon. Check out is quick, hassle free. However, it's required member to sign in for price. That's not necessary. Sign in is tedious now when it doesn't support Face ID 100%. Before Face ID will scan my face 1 time out of 9x I tried to sign in. Now, it seems like Face ID function is removed or sth. Remember me box never really " remember " my email. I have type in E-v-e-r-y-t-h-I-n-g all over again. The app need many improvements
This isn't even an app
It's a bad joke. Costco continues to be the least technologically-relevant national. Unbelievable.
Decent enough
App works decent enough. Would be nice to have the app keep you logged in. And the search feature can be better.
App needs to be tweaked
Failed search
on
3/14/2018
- App does not actually "remember me" when you log in. Requires that you log in every time you use the app. - App saves your preferred warehouse (my warehouse), but it always asks you to choose a warehouse. What's the point of saving a preferred warehouse if you have to select a location every time?
The app is slow
Suresh Bollina
on
3/12/2018
Although most of features are great I noticed that this app is too slow if I have to click back button it takes forever. Hope they improve the performance issues.
Love Costco, but not so much this App
I use the app for many of my online purchases. This version needs an update badly. The biggest problem is that the app times you out, so all the work you've done to save things to your cart is futile. It has happened numerous times, so I find this rather irritating. I also do not like that the app now makes me sign in even if I have checked the remember me box. My devices already have pass codes so this gets ridiculous. The new "grocery" option is a joke. It doesn't save any time and is so much more expensive now than just before they included the feature. But other than that, it's a pleasure doing business with you. Costco, please step it up. Help us love you & this app at Christmastime and all throughout the year.
Another useless update
Another useless so-called app update.. the developers cannot be this insensitive to the reviews posted here... — In a nutshell: Useless app updates... no Apple Wallet support for membership Card, no support for Wallet payments and no scan and go feature... the competitors offer these already and are making steady incremental updates to keep the customers intact.. Costco is still in its own world, far behind the line... pathetic.. Needed improvements: -Need Apple Wallet support at warehouses for payments -Need Scan and Go feature in the warehouse for fast n effective checkout, like in Sam's club -Need to be able to use the digital membership card at warehouse (right now, you require members to carry the physical membership card...but that's outdated)... Overall, need serious upgrades in this age of mobile wallet and payments...
Lost finger print login
Crazy frustrated 12
on
3/8/2018
The app keeps forgetting who I am, and lost Touch ID login 🤷🏻‍♂️
Warehouse coupons always shows coming soon
I used the app mainly for checking coupons. It hasn't worked for a month now and I simply use their website instead.
Costco Card For Apple Wallett
I should be able to add my Costco card to the Apple Wallet with this app.
No longer able to add "exclusive member" items to cart
Used to be able to log into app with my stored member info. But as of a few days ago all member only items force me to add a member number, which it then proceeds to tell me is invalid! Can't buy any of the stuff I want now!!!
Me. Customer
Really? An update then app stops working in shopping mode? Come on Costco 😴
Many bugs
It works for most things but it's lacking in a few important features. There's no way to add your card to Apple Wallet. It errors out when displaying your account details and when locating warehouses. I love Costco but his app needs work.
Good job but please add
Works great for comparing prices against the other guys who will never be how awesome Costco is. But it be nice for it to know what Costco you are at & tell you where exact products you are at
Please sync the in store purchase history in the app
Please sync the in store purchase history with the app and the online account so that it'll be easy to track on the purchase items by signing into the online membership account.
Buggy
I need to enter log in information every time. Easier to just use a windows browser to order.
Waste
After wasting thirty minutes of my time, this app would not accept my email address. Pathetic!!!
Did they eat what they cooked??
Terrible app!! Possibly no end user testing. Loses password during update!! Need to change password after every update! Clunky and hard to navigate!! If you need irritation, download this app! NOT at all recommended. You are better off staying away.
Great App
Chord of Death
on
3/1/2018
I am not sure why people rate so low. Easy to use and great App
Good but could be much better
As others have noted the app which largely is just encapsulating the mobile website does not appear to handle.state very well (eg going back taking you back to the main menu, etc). Plus as many others have mentioned why can't the app display my membership card (apple wallet would be great too but at least the app should display my card).
Not up to par - electronic membership card PLEASE
I have other rewards cards on my iPhone, I can buy a coffee, and I can even board a plane all electronically. Yet with Costco I still have to carry that plastic membership card around. I like Costco, but the app is terrible. Frustrating.
Let me use this App as my membership card!
Until this app lets me ditch the plastic club card it's useless. Do yourself a favor cost co and let this app replace the membership card
User name and password cannot be saved
Monica Zhangmo
on
2/28/2018
I love Costco and bought lots of stuff on this app, for user friendly, they might want to let user save the username and password on phone. It is annoying every time need to log in. Also, some time for checking the order history, the app will not save there u check, will came back to the top of the order after you quite a detail.
Can't keep your login
One of the most annoying thing about this app is the fact that you need to log in every single time that you open the app. And even infuriating they put the check box for remembering me but it never works. They need to work in that asap.
Membership Card not available on app
Can we move into the 21st-century and have our membership cards available in Apple wallet or at least in the app itself?
Use the app to buy in-store
Call me Gideon
on
2/28/2018
Would be nice if I could use the app to buy things inside the store and skip the long checkout lines. Sam's Club allows their customers to do this and I wish Costco would as well. The Costco by us is extremely busy and lines can take 20-30 minutes to get through which makes me not want to shop. Being able to use my Costco phone app to buy what I need while inside their store would be a tremendous help.
ID
Please let me get my Costco id on my phone and let me add it to my apple wallet.
Scan & Pay on the horizon?
I would love to see this app (or companion Costco app) get the 'Scan & Pay' capability ..like your blue competitor. This is a huge time savings, eliminating the checkout lines. Let's get that on the books.
Great App!
Keep up the great work guys!
Sams club app is much better
The Costco app seems dated.. I like one of the features with the Sam's Club app of having your membership card engraved with the app
Love Costco shopping!
We do most of our grocery shopping here as well as buying clothing staples. I love the app categories, what's new, this weeks treasures and the limited items. The information on items available in the warehouse is very helpful too. I shop both and it's easy to know I can pick things up vs having them shipped. One improvement I would like to see is the pages button listed on top as well as the bottom and the ability to type in a page vs having to scroll through when there are 3-4 sets of pages. Overall I love the app, love Costco pricing and am looking forward to more shopping!
The only shopping for a business needs work
made about this app
on
2/27/2018
Although I love Costco this app for shopping is the worst. The app errors out often, you can highlight a field to type in and the text appears in a completely different field, freezes up and doesn't appear to be linked to list. Should be able to store a custom list to shop from and for each item selected the app should allow businesses with a tax ID to select if the item is tax exempt.
Love Costco. Hate the app.
Creative Guy
on
2/26/2018
Costco is great but the app needs help. Drives me nuts that it's basically a portal to the mobile site. Never remembers my login info which is obnoxious. Touch ID would be so nice. I wish I could download and/or view my in store purchase history as well.
Easy to browse but constantly logging in
Tweezergeezer
on
2/25/2018
The app makes it easier to browse the Costco site than their website at least for mobile but the navigation between products is terrible and it never remembers my login credentials which you need to see the "member" price or do anything with the shopping cart. Every time I try to navigate back to a product or close and reopen the app, it has totally forgotten that I was ever there. Most other apps out there have mastered this major technological breakthrough so I have faith you guys can figure this one out too and soon!
Update fixed my issue
Yay they fixed the upload issue! Way better.
Waste of memory
Worst grocery app ever
Scan & Go
Need to add Scan & Go on the app Would save time for store and customers!!! Sams club has it why not Costco?
Compared to Sam's app an epic fail
Where is the shop scan pay bypassing your long check out lines..... Sam's did it why not you. Your app is essentially one big add which equals worthless space hog app.
I LOVE COSTCO!!!!!
aryn (biggest fan!!)
on
2/21/2018
So much!!!!!!
Get with the times..
Why haven't you integrated a service like Sam's Clubs Scan and Go? Your checkout lines are always ridiculous and then it's still another 10 min wait to get you receipt marked. You have to do something.
Login doesn't work
Tried to login through the app and it tells me my credentials aren't valid. Tried on the website and they worked. Tried on a different computer where I've never logged in prior. Login worked. Tried various times on the app, no luck. That means the app is bugging out.
Too frustrating
Chiefannie10
on
2/18/2018
Every time I search for something I'm getting an error! Don't need this app, too frustrating going to delete it.
Keeps getting internal errors
I can't even sign on. Keeps getting internal errors 500 and others. Very frustrating.
Fix your app
Oh so very frustrated
on
2/18/2018
Won't let me sign in or view my account. I just get an "Internal Error Message." Please fix. I have the most updated version.
REMEMBER ME!
Mexi McMexiface
on
2/17/2018
It is so inconvenient to have to repeatedly log in every time the app is reopened.
Limited usefulness
Costco really needs to rethink this app if it wants to provide a customer friendly experience. I echo most reviews about important missing pieces: membership card, store inventory, Face ID log in. How about listing the price of gasoline at the selected warehouse??
Terrible app
Nola_Girl 504
on
2/15/2018
The app is terrible! It's constantly crashing every time I try to place an order, especially for photos. Very disappointing.
Sam's Club apps are better
The Sam's Club and Sam's Club Scan And Go apps are far superior. I would shop more often at Costco if they had similar apps, with similar features--primarily the ability to cut down on the lines with something similar to scan and go. Costco has a serious issue when shopping in store with the lengths of the unnecessarily long lines. Also, the app looks like it was developed 5 years ago. It barely does anything, other than allow online shopping. This app needs a serious upgrade and overhaul.
Millennials will either save or doom warehouses
EddieCollazo
on
2/12/2018
Warehouses like Costco need to catch up to emerging trends. The app needs to be able to work across devices, allow for electronic payment and serve as a members membership card. Company's like Amazon are keeping pace with how new consumers shop. Costco shouldn't be waiting to learn but should be at the forefront of innovation.
It's 2008 technology in 2018
Great bricks and mortar store..... frustrating app to use on iPad. I've read many ratings from October '17 to date. I'm not alone in my assessment. Won't use again unless app gets an overhaul.
Fact Sheet
Publisher:

Costco Wholesale Corporation

Category:

Shopping

Released:

Jul 06, 2012

Current Version Released:

Feb 27, 2018

Version:

3.9.1

Size:

130.4 MB

Compatibility:

Requires iOS 10.0 or later.

Recommended Age:

4+

Game Center Certified:

No

Supported Languages:

English; French; Spanish; Castilian;