Not Recommended
App last updated
Mar 14, 2018
Screenshots
New in version 4.1.1
+ Bug fixes for an improved performance
Description
Fitbit Coach makes it easy to get and stay in shape with dynamic workouts that continually adjust to your feedback, goals, and capabilities -- just like a personal trainer!

ADAPTIVE WORKOUTS
Stick to your fitness goals with bodyweight, run, and walk workouts made just for you.

WORKOUT ANYTIME, ANYWHERE
Whether you're home, on the road, or can't make it to the gym, we ensure you get a great workout, in 7 to 60 minutes, that can be done right from your phone or computer.

PERSONALIZED WORKOUT RECOMMENDATIONS
Fitbit Coach will recommend exercises based on your daily activity tracked with a Fitbit device, providing personalized fitness guidance to better help you reach your goals.

CUSTOMIZED COACHING
Personalized video workouts show you the moves and provide step-by-step coaching, motivation, and tips.

BETTER WORKOUT VARIETY
Never do the same routine twice with hundreds of exercises dedicated to your core, butt, legs, arms, back, plus running and walking. New workouts are added constantly to keep things fun, fresh, and fit -- all you need to do is commit to working out.

MORE MOTIVATION
Customize your fitness soundtrack with Fitbit Radio, which offers a variety of music stations from Pop to Hip Hop to motivate you while you exercise.

GET EVEN MORE WITH PREMIUM
Upgrade to Premium for less than the cost of a single personal training session. Access an entire year of exclusive, customized programs to help you get lean and toned, lose weight, bulk-up, or gain strength.

FITBIT FOR YOU
Fitbit Coach is available in English, French, German, Portuguese, and Spanish!


Integrated with Health app to track your calories burned and workouts, contributing to your overall Health dashboard.

Please note, you must have an active Internet connection to use Fitbit Coach.

Fitbit Coach is free to download and use. Upgrading to Fitbit Coach Premium adds the above features and is available through an auto-renewing subscription. Subscription is for the Fitbit Coach app only.

Subscription automatically renews unless auto-renew is turned off at least 24-hours before the end of the current period. Account will be charged for renewal within 24-hours prior to the end of the current period, and identify the cost of the renewal. Subscriptions may be managed by the user and auto-renewal may be turned off by going to the user's Account Settings after purchase. No cancellation of the current subscription is allowed during active subscription period.

Learn more at fitbit.com/fitbit-premium

Fitbit's Privacy Policy can be found at https://www.fitbit.com/privacy-policy/

Fitstar's Terms of Use can be found at https://www.fitbit.com/legal/terms-of-service
iPad Screenshots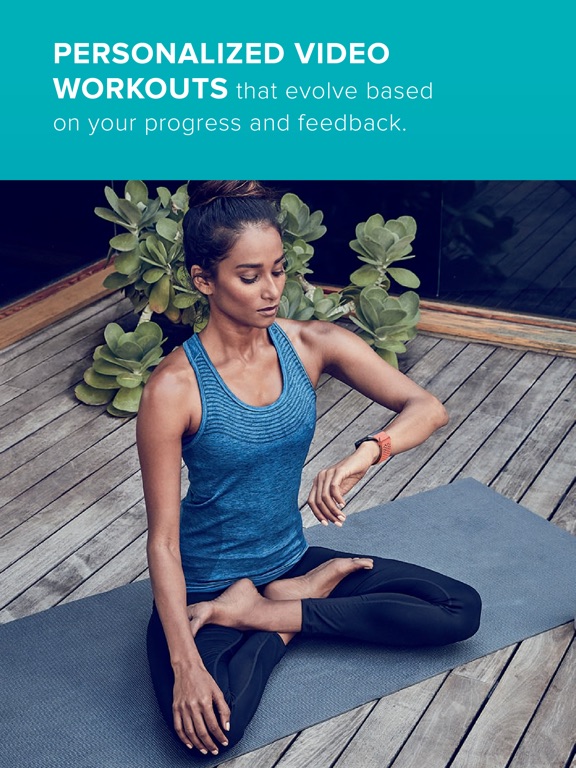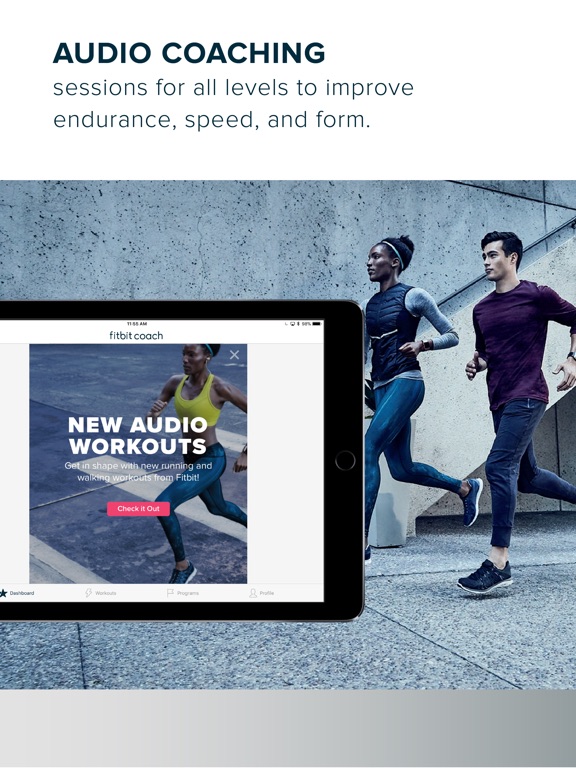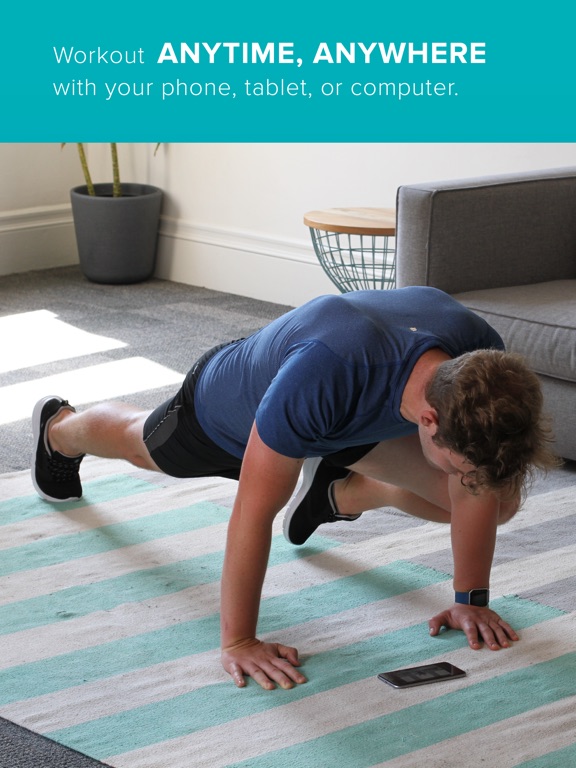 Reviews
Too much premium
I love the free exercises! But I want to do stairs and practice running for an upcoming event, or even just walking. NOPE! The app is too overloaded with premium workouts.
Great but 1 thing missing...
I love this app but it's missing lifting exercises. I see that it has body weight moves but I would love it if they added workouts for lifting with light or heavy weights. Please add!
No stretches?
HollywoodHunt
on
3/21/2018
The app is great so far! A lot of different exercises so you don't get board doing the same old thing over and over. But so far I haven't been able to find and stretches or yoga work outs. Is this something that could be added? Or maybe I'm just not seeing them? Other than that the app is great for motivation and tracking your progress along with the Fitbit app.
What happened to the music volume?
I wasn't crazy about the redesigned app, but after the latest update today, the music volume is ridiculously low. If I turn the volume all the way up to hear the music, the trainer's voice is too loud. Please fix!!
I LOVE the workouts but...
I started this app over a year ago and instantly signed up for premium so I could do one of the programs. I was consistent for about 6 months and was probably in the best shape I've been in since having my 3 kiddos. I love the moves - the mix of strength and cardio and I love being able to rate each movement so it would tailor each workout to your fitness level. I never felt like I reached a plateau because the app was constantly making the moves harder or having you go longer in each exercise. BUT now here I am about 6 months later after...well...slacking off! I decided to sign up again for premium membership, excited to start a program. The first workout I went to do had me starting at the fitness level I left off on- 2 minutes of tuck jumps followed by 2 minutes of burpees followed by 2 minutes of pushups, etc ...you get the idea. Way too hard after a 6 month break. Long story short- I researched and wrote customer service and found that there's no way to "restart" a program. It just keeps where you last left off no matter how long it's been. Total bummer! I really love this app but shouldn't you be able to restart a program or update your fitness level or something???
Version 4.1 sluggish
I love this app but since the last update, to version 4.1, the performance is horrible. The app takes forever to open a session, with the screen locking up or being totally unresponsive. A new version (or a roll back!) is needed.
Why the upgrade?
Love the app and the workouts but don't understand why the most recent update/upgrade was even necessary. On my iPad I can only scroll to the list of workouts in the middle of the screen and the layout brings nothing new or improved to the table. Hey, change is necessary at times I get that but this one seems like a change only for the sake of making the change and that I do not appreciate. You can do better than that, Fitbit!
Went backwards
Misspiggyfan2
on
3/10/2018
I can't search for workouts. I can't replay from history anymore. It is not longer intuitive to add a favorite seems like less functions and less exercises in this last update.
Great news
This is the best app if you want to get a six pack or loose weight it is the best
Meh
I thought for almost 50$ for a subscription it would send notifications to keep you motivated .. Nope it sure doesn't .. Not really worth it..😥
Disappointed
Been using this app for years with no problems. Suddenly with the last update it locked everything and said I need to go premium. I already paid for a year of premium which was supposed to last until may. When I click restore purchases it says successful but nothing unlocks and it keeps telling me to become premium. This app was much better when it was fitstar, Fitbit has ruined it.
Fitbit Coach > Gym Membership
I decided to try this over getting a gym membership. I've had a gym membership before and I liked it alright, but with my current schedule it's too difficult for me to make time to go. I figured that with the Fitbit app, I could stay home, and I've got no excuse not to work out, rain or shine. After two workouts, I can say that I love this and I feel much more motivated to work out now that I can do it anytime! I definitely need someone to tell me what to do and I like being able to see the person on the screen so I can gauge my pace and form. $8 a month is way better than $30. <3
Starting Once Again
Just started using but I have to say I love the short workouts I can do with no equipment. Great way to get back into it after a year away from the gym.
Okay but needs improvement
I love my Fitbit and just joined a gym. I thought this app looked great. I loved the different workouts (body weight, treadmill, walking, stair master and more) and I really loved how it automatically synced with your Fitbit. I cancelled my membership after a month however for a few reasons. One, there is not enough variety to charge $8 per month for this. For example, the treadmill workouts have about only 3 "easy" workouts. If you're just starting out, you need the easy workouts. Two, you can't use your own music in the coached workouts. While the music selection is actually not horrible, I need my own music to enjoy my workout. Three, some of the coaching is too annoying and cheesy for me. Visually, I think this app is great but if you want to charge $8/mo you need to add more variety and make the music capability better.
❤️ Fitbit
I ❤️ fitbit. I wish there was a way that it would record my bike rides accurately without me having to use another app. Other than that it's an amazing tool to help you to get healthy.
Love the new redesign!!!
Clean!
Irritating. Premium Bought but won't recognize
Stingrayboots
on
3/3/2018
I have purchased this app to go with my normal routine. Why not it fits with my Fitbit. The first time I purchased premium, my purchase couldn't be restored so it just kept asking me to buy premium every time. But the settings said I already had. I cancelled it out of sheer frustration. Waited a few months and tried again. Same thing. So they've now gotten 16 bucks off of me for a platform that says I haven't paid for. Purchase made, restore purchases won't work. Irritated! I have to give it 1 star and I'm disappointed as I haven't been able to use any of it
Meh
I prefer the older addition (and the trainers). Would love to have the paid version but it's pricey :0 I traded this for a better rated app.
Most of it is locked
It would be great if you didn't have to get premium to unlock 95% of the workouts
Workouts are decent but...
dawnabelle21
on
2/28/2018
I haven't been using this app for very long, but so far I like the customized workouts that are provided. One important aspect missing from the workouts (at least the ones I've tried so far) is there isn't any kind of warm up or cool down. You just jump right into it and abruptly stop. Please consider adding warm up and cool down to each session. Something else I would love to see added is a nutrition/meal plan app. My husband has a subscription to another fitness app (8Fit) that not only has a ton of great workout programs but also provides amazing meal plans to help him with his fitness/weight loss goals - he has lost 20 pounds since he began about 2-3 months ago. I recently purchased a Fitbit so I decided to give Fitbit Coach a try since it was suggested when I downloaded the Fitbit app - figuring that Fitbit Coach would make a nice workout companion app. For the cost of the annual subscription, it's a decent workout app, but I'd be willing to pay a little bit more for a guided meal plan. I may jump this ship and join 8Fit for that very reason.
WOW!
Grown-Up Kid
on
2/27/2018
Now that's a workout!!! I wish there were more FREE workouts.. I don't know about everyone else, but after spending a pretty penny on my Fitbit, I really don't have extra money to pay for workout sessions. If I had extra money, I'd head to the gym.
Just started and loving all of it
Lukas12121212
on
2/27/2018
Very excited to be working out, outdoors, with trainer led sessions. What an awesome experience - and at a far more affordable rate than the standard gym membership + personal trainer sessions. Very happy customer!
Bad service
Nestor1212345678
on
2/25/2018
I renewed the service and since them my old password do not work. I try everything to reset the password and nothing works. I contacted service with great difficulty to receive an email with the same instructions I have been following. I wrote this complaint three times and when finish it tells you that the nickname has been taking and erases everything. I'm now trying to get my money back.
amazing app!!!!!
why all the ads tho
on
2/24/2018
I have used other fitness apps/programs before, but the Fitbit Coach app is my absolute favorite. It's got so much positive encouragement throughout the workouts, with so many customizable and personal options for everyone's goals. The workouts are amazing and the format is beautiful! I can't wait to see what goals I achieve with this app and my Fitbit :) (ps @developers I'm available for commercials and sponsorships if u wanna HMU *wink wink*)
Fun!
Molly loves God
on
2/24/2018
Fun to have a personal trainer at home! Wish it was a little harder though!
Out of shape
Lady of Nokomis
on
2/24/2018
Boy am I out of shape. Stay honest when doing this and you will reap the benefits.
Please add to ionic watch
Golf man USA
on
2/23/2018
I'm loving this app and the programs with in the app. The workouts appeal to all fitness levels. The only thing I wish this app could do is to transfer to my ionic watch. The watch comes with a coach but would like to be able to add all these workouts to it, so I don't need to take my phone with me all the time.
The Best Fitness App Ever. Period.
TennisTeenFuturePro
on
2/21/2018
As a teenage competitive tennis player aspiring to go pro, having an app as simple and convenient, yet still intuitive and motivational truly helps me achieve my off court goals. Thank you Fitstar!
Fitbit is awesome
Love the app it's like having your own personal trainer!for low cost so yeaaaaa love it!
Not free!!!
I just hate absolutely hate the stupid apps That don't tell you upfront that you have to pay for them piece of crap waste my time
Amazing
Chooses the workouts for you depending what shape you're in!!!
Like it but needs more workouts
For the price it would be nice to have more audio workouts. And to include elliptical, stairs, rowing, and sit down cycling.
I am now fit
PoNyGiRl 9876543210
on
2/14/2018
I learned that I am not a strong as I thought so I practiced and now I am stronger than I have been. Even though I am just a teenager I can still be fit
Needs serious improvement
I've been using it since the summer, and growing more and more frustrated. For one, it takes FOREVER to load workouts. No matter if I'm on WiFi or cellular - wait times are at best 10-15 minutes. Today, I had 90 minutes in the gym planning to use the app. I tried to load a 44-minute workout, and it was loading the entire time. It only finished loading when I got home. Ugh! Functionality-wise, I find the range of workouts to be limited, and customization is severely lacking. For instance, I was recovering from a foot injury, but did not have an option to filter by workouts without cardio or footwork. Also, cannot get a work out to fit your specific duration - have to pick from what's preprogrammed. Well, when it takes 15 mins to load a session, loading 2 of them to make it a longer session is a ridiculous waste of time. I won't be renewing my subscription.
Loving it so far
I have not used Fitbit Coach very long only about three or four workouts, but so far I am loving it! I love that it mixes up new workouts and it customizes them to me for the things that I struggle with. I love that's it different each day!
Needs casting
I had high hopes for this app. But it's basically a gym membership. You have to pay monthly. But what I don't like about the most is you can only use the video on the phone. I didn't see anyway to cast or stream to a device that has a larger screen. It's not easy to work out while having to stair at your phone.
Can't use the app
cApitan_hottIam
on
2/11/2018
This app isn't connecting to my Fitbit app & when I log in on Coach I have to use the email log in and once I do that it prompts me to download the app. I have the app!! It's very frustrating.
Pretty great, but...
Up until a few months ago, I was doing Daily Burn workouts. Their monthly payments were far cheaper than a gym membership and their workouts are expansive. Imagine my surprise when I found this app and decided to give it a whirl. What I like: -the subscription is inexpensive -the workout variety is pretty expansive -the app obviously syncs very well with the base Fitbit app -you can save your favorite workouts for later -you can track your progress on specific exercises -decent music selection during your workout -the workouts don't require a ton of equipment What I wish they had: -warm ups and cool downs in the workouts; nothing too long, maybe a minute or two? -more options for the duration of the workouts This app was a better option for me than Daily Burn, so I cancelled that subscription and got this. Down 25 pounds in two months and counting! TL;DR - get this app if you like working out and want to save money
Balanced Workout - Fabulous Coaching!
Gardengirl1729
on
2/11/2018
Excellent, balanced workout tailored to your abilities - and that's the free version! Love it so far!!
Lame
I literally redownloaded this app so I could rate it. It's no good for free workouts. Honestly I'd probably check out YouTube for some great workouts. I mostly wanted yoga ones or maybe a good ab workout for recovery days. Can't recommend this.
Great for getting back into shape!
I belong to a gym, but have a long commute and lots of work and extracurricular responsibilities, so I can't always get there. I was feeling bad about my lack of workouts, but then I started this app and it's fantastic for working out at home. All I need is my rubber mat and workout clothes and I'm ready to go. You really can't go wrong with this one for a quick workout.
Ugh🙄😡
This is a good app, however, it is ridiculously that after EVERY SINGLE set, you have to stop to rate it. I'm having to stop way to much just to push continue. I do not like that. There isn't even a way to turn it off!! 🙄🙄
Lost weight
Combined with the Fitbit this helped me lose weight that I had so much trouble losing for the last 10 years. Easy to use and love that it automatically syncs with Fitbit.
Upgrading to Premium
There are some days that I need to mix it up beyond my normal workout routine. Fitbit Coach has filled the need for me. I have done several of the free workouts and the workouts have been challenging. I work up a sweat and the next day I can feel it! I am really considering the premium upgrade.
Love Fitbit Coach!!! ⭐️⭐️⭐️⭐️⭐️
TotalGirlyGirl❤️💛💚💙💜💖💘💋
on
2/7/2018
Absolutely amazing app. The only thing is to do most things you need the premium version, which costs money. But other than that, awesome job, Fitstar!
Just started it and already love it
I started off on the 7 minute workout and I went over a few of the moves 2. I can definitely feel the burn. I suggested this app to a few people already!
Why do I need a login and password for this?
RevUsRANoyIng
on
2/3/2018
It's a coaching app for gods sakes. It's not a banking app. I don't know if this app is good or not. I'm not bothering to set up another username and password. Get real people. Are people really interested in stealing my workout regimen? Sheesh.
Why Premium?!
Why would you have a premium service?? It doesn't make sense. You shouldn't charge people to have a work out plan with you because they already have your product!!!!
Be Aware
I just purchased this and find that much of what you se advertised in the App is actually Premium content. So be aware and prepared to be milked one again. Then again $40 bucks for a year is sooooo much cheaper than any gym membership anywhere on the planet that it's probably well worth it - if you use it.
Gettin back in it
Tryin2hablaEspañol
on
1/29/2018
I am 6mo postpartum and these workouts are awesome for getting back in shape.
Fact Sheet
Publisher:

FitStar, Inc.

Category:

Health & Fitness

Released:

Jun 05, 2013

Current Version Released:

Mar 14, 2018

Version:

4.1.1

Size:

135.3 MB

Compatibility:

Requires iOS 10.0 or later.

Recommended Age:

4+

Game Center Certified:

No

Supported Languages:

English; French; German; Portuguese; Spanish; Castilian;