TapNova doesn't recommend this version of the app.
New in version 59.0.3071.102
• Fixed a crash involving dialogs presented while switching tabs
• Stability improvements and bug fixes
Description
Browse fast on your iPhone and iPad with the Google Chrome browser you love on desktop. Pick up where you left off on your other devices, search by voice, and easily read webpages in any language.

• SYNC ACROSS DEVICES - seamlessly access and open tabs and bookmarks from your laptop, phone or tablet
• FASTER BROWSING - choose from search results that instantly appear as you type and quickly access previously visited pages
• VOICE SEARCH - use the magic of Google voice search to find answers on-the-go without typing
• TRANSLATE - easily read webpages in any language
• UNLIMITED TABS - open as many tabs as your heart desires and quickly flip through them like a deck of cards
• PRIVACY - use Incognito mode to browse without saving your history (learn more at http://goo.gl/WUx02)
iPad Screenshots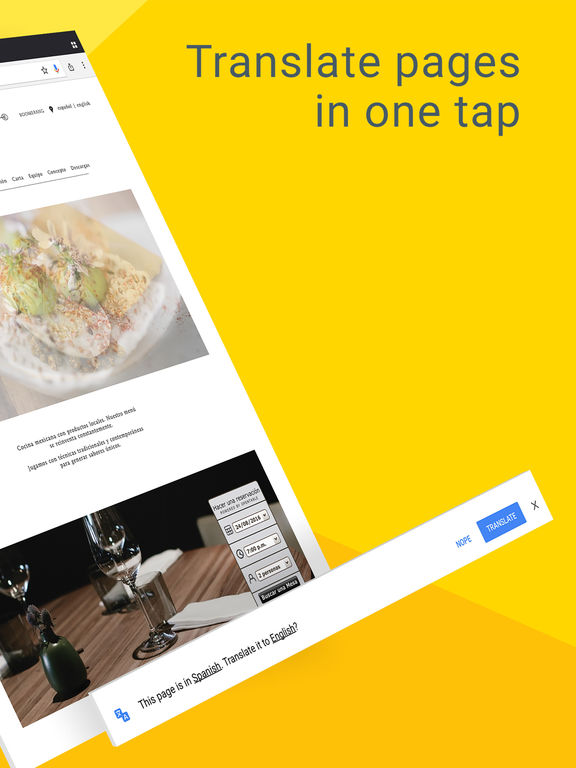 Reviews
Awesome app!
themuffinboyy
on
6/22/2017
Love using Chrome :)
Fast and Reliable
Great browser from Google so it keeps all your google apps together.
Great browser
Been using Chrome on the phone for a few years now. It's great and fast and handles tabs well.
Chrome: The best browser regardless of platform!
Google Chrome's malleability and reliability is what makes it so superb. I wish there was a way Chrome could be programmed as my default browser on my iPhone, but that's probably wishful thinking. My hope is that the browser becomes more user-friendly for those of whom are less savvy than others. Otherwise, a excellent iOS version of the best internet browser!
=)
Only browser I use. It's fast. It works. No issues.
GREAT APP!
Happy Web Surfer
on
6/22/2017
Just wish Chrome worked on more sites that are setup with I.E. That's a war I can not stop. Chrome is so much easier to use than other apps.
works fine for me
Mad grape seed
on
6/22/2017
Used it for many years, good sync feature.
Easy to use
This is a helpful app, easy to use and very quick service!!!
Cannot use with the following web site
On both my iPhone and iPad I cannot use the following website since the last update. Before that I was able to access the site: http://tass.brookhouse.ac.ke. It is the school management system we use and I was using just fine before. Now I get a message that says I have an incompatible software version.
Love
Favorite browser app by far.
Excellent
Michelle Camp
on
6/22/2017
Best browser ever!
Unreliable, never preserves the tabs you have opened
Jeffrey and Xiaoming
on
6/21/2017
This version of Google Chrome is so buggy it is totally unreliable. Every once in a while you try and open the app, and then nothing happens for about 30 seconds and then it just closes by itself. It gets into the state and the only way you can get it to run again is by rebooting your phone. And at that point it forgets every single tab you had opened. I have lost all my tabs so many times I am irate with the monster that is Google. We need to boycott them until they get this right. Never let your app lock up. Never forget all tabs. Indian history, always remember the last tab state. This is the worst app I have ever seen because it is so unreliable.
OMGoogle...!!!
johnnycat242
on
6/21/2017
If this phone had more storage space, then I'd have kept this app. Even when I had this app, I still used Safari more often. That being stated, Google on...!!!
Improvements
I think the app should also contain the image search. That will be easy to find a item name that the individual might not know. Hope i can find this feature soon.
Unexpected display error
I am faced with unexpected error that causes the page to display an empty gray screen while playing an online video, so I have to refresh the page to fix the problem, temporarily. This problem has happened frequently. Please fix it.
Its google
Its google... what do you expect? 5 stars bud
Broken
Meandean123456
on
6/19/2017
I use drive to play music files that I am working on. It auto skips to the next song in the folder and is not working AT ALL. Majorly upset. Also it's not syncing. And it doesn't show the up to date file date
Awesome Quality
Got this chair for my kid and it is everything they could want in a gaming chair. Very comfortable and nicely made. Would buy again! Love it!!
Make browsing terrible again, again
*Update* What can I say about Google Chrome on iOS. It is the greatest mobile browser that consistently crashes no matter what. It exceeds at constantly showing the oh snap crash bug, and now had started to completely shut down and kicks me back to my home screen. Uninstall reinstall doesn't work, clearing the cache doesn't work. Keeping only one tab open doesn't work. I use chrome on other devices my Mac pro, Mac book, and Windows 10 machines all work great. However the Google engineers for iOS must be the drunken red headed step children of Google. They couldn't understand how to properly program an iOS app if they were paid to do it. These engineers must be the programming rejects. My guess is if you can't cut it at other departments in Google you are sent to iOS development team knowing that producing the browsing equivalent of a steaming pile of donkey crap doesn't matter in the world of Google. Idk what Google did on the update but now chrome just crashes randomly on my 7 plus. It doesn't matter how many tabs I have open 1 or 10 it just crashes. Chrome has become the dumpster fire of mobile browsing. Maybe it has a preexisting condition that's no longer covered under Googlecare but this app is just terrible now.
videos
videos dont play but when they do it glitches do much they paise for no reason pls fix asap
No better than safari
I've downloaded the google app before and loved it, so when I got a new phone, I downloaded google chrome assuming it'd be even better. But no. I don't like the way safari format is set up and this app is set up almost exactly like it, load up times are slow. I downloaded the other google app to compare performance and the original "non-chrome version" of the google app is superior. Still love Google, hate the google chrome app. Needs many modifications to it.
Period by the space bar...?
Jefferino1234567890
on
6/18/2017
Why do you have 2 different periods within the keyboard??? When typing I probably hit that dumb period between the space bar and back space about 1,000 times a day. Horrible.
"Find in page" will not work anymore
iPod user Inc.
on
6/18/2017
Chrome has always been my favorite browser, however this update has caused the "find in page" to not work.
Great but removed a key feature
In one of the recent updates they removed the option to open YouTube links in the YouTube app, and that is a really important feature.
No more YOUTUBE in the BACKGROUND
Used to be able to play youtube in the background!!!!! now you CAN'T. only updated the app because it was giving me an error every time i searched something, now the app is USELESS!
Chrome keeps freezing on my iPhone
When using chrome on my iPhone 7 the chrome app freezes completely, not even allowing me to close the tab. My only options are restart the phone or delete and reinstall the chrome app.
Aw Snap!
strawberrie pie
on
6/18/2017
After latest update, constantly getting Aw Snap message...making the app totally useless. Google needs testing/quality control.
Results are all suggestions !!!
Gg.219.moreno
on
6/18/2017
Please fix ASAP!! All I use is chrome and it's driving me crazy !!! Everything I search for gets returned with suggestions rather then websites !
I really need this to be an option.....
Can we please stop with the back button on top? I need the buttons on the bottom. At least give us an option to optimize it to our own preference. I mean doesn't Google specialize in customization?! It's just a bad way of doing things on bigger iPhones. And a read option like safari would be great!
Bring back the old search result format
All of the sudden, when I search within the Chrome app, the format of the search results has changed. It's more difficult to read with the softer shades and only two colors rather than three. I guess I'm going to have to use Safari when I want to do a Google search. It's more readable over there since the display format hasn't changed. Shame. Up until now, I've always liked Chrome better than Safari. Google - Have you heard of the adage "If it ain't broke, don't fix it."? Well, now you've broken it.
Unstable
Latest version doesn't work
Chrome should be called CRASH on iPhone
Chrome should be called CRASH on iPhone. I live in Google at work and in my personal life. I use Windows, iPad, iPhone, Android, and a Great ASUS Chromebook. But I live on my iPhone and Chrome is CRAP on the iPhone--crashing, crashing, crashing--"Chrome closed unexpectedly, would you like to restore?" NO ID LIKE YOU TO JUST STAY OPEN AND NOT CRASH EVERY TIME I OPEN CHROME AND EVEN WHEN I CLICK TO RESTORE CHROME AFTER EACH CRASH. Google, you make more money than governments, churches, casinos, banks and insurance companies and you're acting like Bull Gates giving your users the finger. Don't you see the reason we use you is because Microsoft lost touch , and you're repeating it too! I uninstalled Chrome, restarted my iPhone and reinstalled Chrome. Maybe it will be Chrome now...?
How to fix sign-in error
If you have a non-gmail address for your sign-in. You need to change your Name in your account settings to a normal name instead of an email address. This only happens on iOS for some reason. Issue has been around for a year. Should have been fixed by now, or they should pop up a message to let people know about this when the error pops up.
Pop up spam
Emmanuel Garles
on
6/17/2017
I've encountered different spam pop-ups, and since I'm on mobile, there is no way to close them. I have my settings set to disallow pop-ups, but pop-ups still appear.
Nice app, could one feature
Google Chrome browser is useful; I like ability to voice search. The main problem is that the ability to clear browser history, cookies etc in this browser is buried under several layers. Given the need for cyber and personal security, a user's ability to clear out personal data easily is crucial. A button that is easily accessible in the address area would be very helpful. The user would push the button, a small dialog box would quickly appear asking for confirmation that you want to clear checked items, you confirm and it would be done. I hope the developers will provide this feature for us soon.
Aliiiiiiiiiiiii
This is more like a toy than a tool
Ads
I love chrome. I just wish I could block ads.
Aw Snap
Getting a crash randomly whilst scrolling. Only has ever happened after the last update. App also feels a lot slower/unresponsive in general. 500 billion dollar company.
Only suggestions no results when searching
As of June 17, 2017, nothing comes up except for suggestions. A few videos pop up but I'm not getting anything. It's like I'm searching for what other people are searching for or something. There's no websites, no articles, nothing except a handful of videos which when opening the YouTube app, it crashes YouTube. What happened?
Can't control search settings
Ufhirefuggrgbj
on
6/17/2017
On an old version of this app you could turn off search history so it could never save, now that I have updated the app this is no longer an option, I don't want to have to delete my history every time I use the app or always browse in incognito mode, I just want to be able to use the app the way I could for the past year before updating. If this issue doesn't fix I'll probably delete the app, its so incredibly annoying, especially because there's no way to contact google to ask about this besides writing a f*cking app review.
SLAYYY
Slime Person
on
6/16/2017
I love it so so so much! Chrome is exellent!
Crashes whenever you highlight something
OGHoboKiller
on
6/16/2017
iPhone SE with most current iOS
Search results are garbage
The search results for google no longer return the same results as safari or even the regular desktop. I'm switching to Safari until this is resolved.
June 15, 2017 fixed hanging and crashing.
June 15 update resolved crashing and hanging issues, thank you for the quick update! I am happy Chrome sync is working too which stopped working on my iPad.
Why
john-red kiwiz
on
6/16/2017
This app is way to good
Aw Snap!
Yep, see that lovely phrase "Aw snap" constantly. Crashes all the time. Honestly not sure if the issue is Chrome or the latest iOS. They don't appear to be playing well together.
Fail
Latest update caused it to not even open. Nice qc work google.
Better Browser
It's better.
It won't even open after the new update
TechFreakGame
on
6/16/2017
I keep pressing on the app but it doesn't open????????
Fact Sheet
Publisher: Google, Inc.
Category: Utilities
Released: Jun 28, 2012
Current Version Released: Jun 15, 2017
Version: 59.0.3071.102
Size: 96.3 MB
Compatibility: Requires iOS 9.0 or later.
Recommended Age: 17+
Game Center Certified: No
Supported Devices: iPad2Wifi-iPad2Wifi, iPad23G-iPad23G, iPhone4S-iPhone4S, iPadThirdGen-iPadThirdGen, iPadThirdGen4G-iPadThirdGen4G, iPhone5-iPhone5, iPodTouchFifthGen-iPodTouchFifthGen, iPadFourthGen-iPadFourthGen, iPadFourthGen4G-iPadFourthGen4G, iPadMini-iPadMini, iPadMini4G-iPadMini4G, iPhone5c-iPhone5c, iPhone5s-iPhone5s, iPadAir-iPadAir, iPadAirCellular-iPadAirCellular, iPadMiniRetina-iPadMiniRetina, iPadMiniRetinaCellular-iPadMiniRetinaCellular, iPhone6-iPhone6, iPhone6Plus-iPhone6Plus, iPadAir2-iPadAir2, iPadAir2Cellular-iPadAir2Cellular, iPadMini3-iPadMini3, iPadMini3Cellular-iPadMini3Cellular, iPodTouchSixthGen-iPodTouchSixthGen, iPhone6s-iPhone6s, iPhone6sPlus-iPhone6sPlus, iPadMini4-iPadMini4, iPadMini4Cellular-iPadMini4Cellular, iPadPro-iPadPro, iPadProCellular-iPadProCellular, iPadPro97-iPadPro97, iPadPro97Cellular-iPadPro97Cellular, iPhoneSE-iPhoneSE, iPhone7-iPhone7, iPhone7Plus-iPhone7Plus, iPad611-iPad611, iPad612-iPad612, iPad71-iPad71, iPad72-iPad72, iPad73-iPad73, iPad74-iPad74,
Supported Languages: Arabic; Bulgarian; Catalan; Valencian; Croatian; Czech; Danish; Dutch; Flemish; English; Finnish; French; German; Greek; Hebrew; Hindi; Hungarian; Indonesian; Italian; Japanese; Korean; Lithuanian; Malay; Bokmål, Norwegian; Norwegian Bokmål; Persian; Polish; Portuguese; Romanian; Moldavian; Russian; Serbian; Chinese; Slovak; Spanish; Castilian; Swedish; Thai; Chinese; Turkish; Ukrainian; Vietnamese;
Parental Advisory: Unrestricted Web Access;