TapNova doesn't recommend this version of the app.
New in version 59.0.3071.102
• Fixed a crash involving dialogs presented while switching tabs
• Stability improvements and bug fixes
Description
Browse fast on your iPhone and iPad with the Google Chrome browser you love on desktop. Pick up where you left off on your other devices, search by voice, and easily read webpages in any language.

• SYNC ACROSS DEVICES - seamlessly access and open tabs and bookmarks from your laptop, phone or tablet
• FASTER BROWSING - choose from search results that instantly appear as you type and quickly access previously visited pages
• VOICE SEARCH - use the magic of Google voice search to find answers on-the-go without typing
• TRANSLATE - easily read webpages in any language
• UNLIMITED TABS - open as many tabs as your heart desires and quickly flip through them like a deck of cards
• PRIVACY - use Incognito mode to browse without saving your history (learn more at http://goo.gl/WUx02)
iPad Screenshots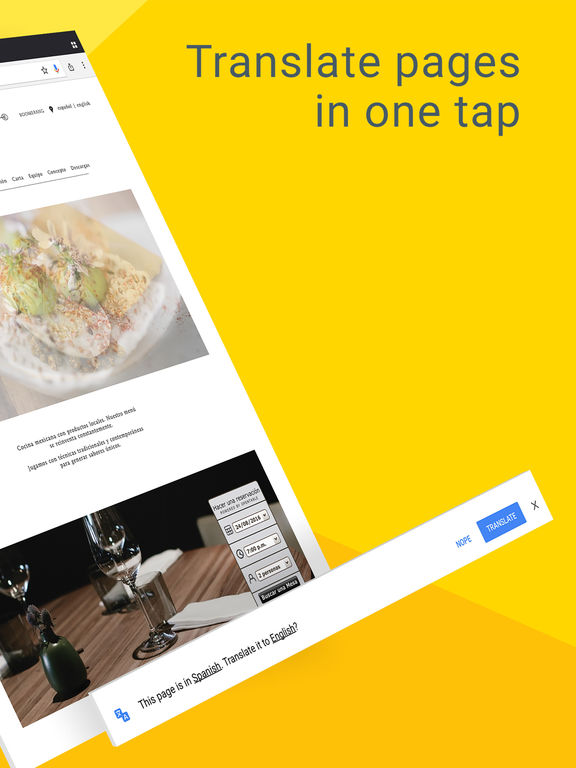 Reviews
Google website doesn't work!
Every website loads and works fine. Google anything doesn't work on this app. What's up with that? This only started recently. I can no longer google stuff using this app.
Latest update broke Desktop Reddit
I prefer using the desktop version of Reddit on my phone. This latest update made it so that pressing certain buttons on Reddit don't work. Can't upvote or downvote, can't reply to comments. It's all kinds of jacked up. Going back to Safari until it's fixed.
Crashes
beachedinbingo
on
7/23/2017
It constantly crashes even after trying all their suggestions to fix it. It's simply not reliable as is.
Avoid! - Google coders, please read!
Critical Reader
on
7/22/2017
Avoid! App Freeze When Selecting Text. When you highlight text, QP freezes. So crazy that it can't handle this simple task. Why even have text highlight if it freezes the app? Go to website> begin to select text... frozen... crash app... start again. Have to do this 3-5 times just to select a section so I can "Speak" the text. We're not talking about highlighting War and Peace; I'm talking about selecting a phone number. New update, zero change. :/ Google coders, please help! (Or maybe management is pushing a product out that's half baked.) Using 6s and newest IOS.
Aw, Snap!
Aw, Snap! Another workflow disrupted. Aw, Snap! Another video restarted. Aw, Snap! Another page failed to load. Aw, Snap! I guess I'll have to go back to Safari. Your desktop product is pretty good, but the disruptive errors in the iOS app have grown more frequently with every update, now almost any page I try to browse I have to reload multiple times. Goodbye, Chrome. You used to be a solid app. Aw, Snap!
Completion doesn't always work
Seems to be intermittent, but every now and then, possibly after updates not sure (always update all at the same time), completion starts working only for the first word. Kind of frustrating since I've become so used to using it. Otherwise a very good app.
Going into Fullscreen for image!
Hellsinger222
on
7/22/2017
I would like to be able to go into full screen when viewing an image!
Doesn't work
Freezes then crashes after opening after last update
Need extensions and a home button
Ikrit-cat-Jedi
on
7/21/2017
Needs extensions and home button... despite what chrome and Google have done to avoid ads they are still way too invasive on every site to patiently use this browser .I love Chrome on the desktop because of its extensions! I don't see any reason other than maybe Apple restricting it to have good extensions also,please make a home button I know it can't be that hard thank you.
Good APP
Katherine Randall
on
7/21/2017
GREAT FOR SEARCHING
Stupid app
Wearablewave228
on
7/21/2017
It says this site can not be reached when I look something up
Meh...
It's good enough, I'm sure with he ungodly amounts of money you all make, you could do better. 😇
It keeps crashing
The app is unusable after the most recent update.
Scrolling lag
I like Google's apps but the Chrome browser on iPhone has an odd "scrolling lag" that doesn't quite follow my finger accurately. It's very off-putting. This scrolling lag combined with the lack of ad blocking makes Safari the far superior browser choice.
Aw Snap!
rufovillosum
on
7/19/2017
I like chrome in general, and I like the way I can organize bookmarks. But the thing keeps choking on web pages with the Aw Snap error. Really frustrating.
Start blocking invasive ads that take over the browser
Art and Grace
on
7/19/2017
I want to use Chrome and in some cases I need to use Chrome because so much of my data 'belongs' in the Google ecosystem. However, when browsing I will occasionally run into the 'you have won a special Google contest' full app takeover or 'your phone has a virus'. There seems to be no way out of this. And this happens on normal regular websites while trying to access stories and news. There is no way to back out. The only option I've run into is to uninstall Chrome and start over from scratch. Google you can't stop this? A less reputable advertiser or scammer has the ability to render your browser unusable? This happened as an Android user and now an iPhone user. Not acceptable.
Nice
NATI&Dea4EVa
on
7/18/2017
This is a really useful browser and it works perfectly when using it! I love it. 5 stars Though I have some suggestions: Maybe when your on a page you can save it on to your home screen like on Safari. And I know it's already a restriction but it would be nice to make Google Chrome your default browser. Chrome is a lot easier to use if your transferred from an app to a page on the internet to enter some sign up stuff or to enter an email. Anyway, overall it's a great app to use. Keep up the good work.
Worst spyware ever
I'd rather stick my finger in a toaster than use this browser in support of Google who supports illegally spying on U.S. citizens.
Don't respond to report issues
Issue of scrolling down, freezes and shuts down, not enough updates. Please try and work on it. Google chrome should be better than safari which is not unfortunately.
Needs fixing, keeps crashing
Normally I would give this app a higher rating but unfortunately it keeps crashing on me. At first I thought it was because I was trying to send a link to a wedding site, but then a link from an email kept crashing as I was trying to read a lengthy article enclosed. It crashed three times in 15 minutes. I am not happy with chrome right now, and unlike when this was happening with my Chrome browser on Windows last year I can't get Canary Chrome for this device to fix it myself.
Jp google
ThanhMatMa_1102
on
7/17/2017
Jp
Bookmarks
Can no longer save bookmarks .
Cant search through bookmarks
I cant search bookmarked pages because it doesn't have search box where I can just type in the title. I bookmarked a lot of pages and when I try to search one of the bookmarked page, I have to go through list of all the bookmarks to find it. It takes way too much time. Android chrome app had feature, allowing me to just type in title or phrase and filter bookmarks but apparently chrome app for iphone doesn't have that feature
Needs bookmark bar
There should be an option to show the bookmark bar on an iPad. The screen is big enough, and I'm sure I'm not the only one who would use it like crazy. Please consider!!
Crash? Okay thanks?
2nd time chrome crashed on me and deleted all my open tabs. Very annoying.
Why Costco's price is 30% higher than store?
Why Costco's price is 30% higher than store?
New version
The most recent update keeps crashing. What am I doing wrong?
Password autofill
The autofill password feature is not working.
Terrible
JakeCamaroZ28
on
7/13/2017
New update disabled everything, even options of choosing online when tapping on icons, won't work or even let's you choose, Fix this Bug.
So Stupid
I can't watch YouTube videos on the desktop version of Chrome. You own YouTube! I know what you're trying to do, to get me to download your very stupid Youtube app. However, I LIKE the Chrome desktop version. Now every time I click a video, the screen goes black and the video doesn't load. But Google probably already knew that. Well, guess I'll just go back to Safari. Oh, and if the developer responds with some garbage about a Red account, remember all the complaints here are from the same thing. Keep your red account as I watch my videos on Safari.
Google Search
Patty<3Jacob
on
7/12/2017
I really don't like the new version only because the search feature is very different than before.
hate new version
i would give 0 stars it was possible. I cannot scroll to the top of the page that the page reloading. Unbelievably annoying
Best Website!
Car Eating Car
on
7/12/2017
This is the best website for EditMyCookie. I can be Guest 666 on ROBLOX! Thanks Google Chrome!
Chrome and iPhone 6+ NGOs
You realize chrome is a mess on the iPhone 6+? Freezes from the opening screen
Pop Ups!
Never have I been plagued with pop ups on Chrime until the last month or so. Now, apparently my iPad is the lucky 1000th visitor to some site or another, and if I clock ok (no other option listed, by the way), I will qualify for a new iPhone 7s! I wonder if my digital footprint is somehow labeled "STUPID"??! I'd have to be to fall for that! Today is the third time in a month I've had to shut everything down to clear the screen. Since not even that worked today, I actually removed the app and am getting ready to reinstall. Please add some extra security so this stops happening!
Replaced Safari
Nobullshitreview100
on
7/11/2017
Used it to replace safari
Crashes often, no content blocking
brian.bowling
on
7/11/2017
Unfortunately this app crashes far too often for me. With ios9 now allowing content blocking the lack of the feature is a serious negative in a browser.
Maybe a 1-star review will get some action
For months, every time I try to bookmark a page from Chrome in my iPhone it supposedly sends it to a fictitious folder called "Want to take Better Pictures with your iPhone." I have yet to find this folder, and the bookmark cannot be found anywhere. I have no problems saving a bookmark on my iPad or any other computer (mac or Windows-based).
Broken New Toy
Can't load pages, particularly Google News. And Google. It just seems to work when it feels like it. Sad.
Counter intuitive design
Smooth rendering. But I think the design team tried too hard to make the browser feels different than safari, that makes everything wrong. Feels counter intuitive
I don't trust google/NSA
This game trash lag city
on
7/9/2017
They have tooking over 10000 dollars from me never able to access my accout again would never recommend google
Not as smooth as safari
When using gestures or the soft keys to go back to previous pages it has to reload the page. Safari keeps your previously loaded pages so when you hit back they're already there. No wait whatsoever. Plus the speed is the exact same as safari, no noticeable difference.
New update too buggy
I'm not sure but the new update might be the cause of my iPhone 6 almost dying. Once I removed it, phone is back. Installed again, crashed again. Finally got back in and deleted the app. I hope you are fixing this. I like the app.
Automatic passwords don't work
Danglingintheforest
on
7/9/2017
Fix the automatic password fill-in.
Great search engine
I don't have a problem except for 1 thing. I'm wondering when Chrome Web Store will be released for mobile? If it's taking a while I'm sure it's gonna be a big update and it'll be awesome.
Crashing All the Time
Ever since the new update chrome has been freezing and crashing frequently. At first it was mainly when I was on FB but now it's pretty much every site.
Once great not now
appleandoranges
on
7/8/2017
I've had to delete and re download several times and now I'm just done. App won't work, unreliable and a general nuisance now. Used to love it but now it's literally a buggy app
Virus!
Every time I try to use this app, a pop up comes up claiming to offer me a free iPhone and I do not know how to get rid of this.
Frozen- unresponsive
I love the app over Safari...when it's working. It crashes at times. And currently it's unresponsive. It froze up yesterday. I uninstalled and reinstalled but when I go through the initial set up it freezes on the page where it asks me to sign into my account.
Fact Sheet
Publisher: Google, Inc.
Category: Utilities
Released: Jun 28, 2012
Current Version Released: Jun 15, 2017
Version: 59.0.3071.102
Size: 96.3 MB
Compatibility: Requires iOS 9.0 or later.
Recommended Age: 17+
Game Center Certified: No
Supported Devices: iPad2Wifi-iPad2Wifi, iPad23G-iPad23G, iPhone4S-iPhone4S, iPadThirdGen-iPadThirdGen, iPadThirdGen4G-iPadThirdGen4G, iPhone5-iPhone5, iPodTouchFifthGen-iPodTouchFifthGen, iPadFourthGen-iPadFourthGen, iPadFourthGen4G-iPadFourthGen4G, iPadMini-iPadMini, iPadMini4G-iPadMini4G, iPhone5c-iPhone5c, iPhone5s-iPhone5s, iPadAir-iPadAir, iPadAirCellular-iPadAirCellular, iPadMiniRetina-iPadMiniRetina, iPadMiniRetinaCellular-iPadMiniRetinaCellular, iPhone6-iPhone6, iPhone6Plus-iPhone6Plus, iPadAir2-iPadAir2, iPadAir2Cellular-iPadAir2Cellular, iPadMini3-iPadMini3, iPadMini3Cellular-iPadMini3Cellular, iPodTouchSixthGen-iPodTouchSixthGen, iPhone6s-iPhone6s, iPhone6sPlus-iPhone6sPlus, iPadMini4-iPadMini4, iPadMini4Cellular-iPadMini4Cellular, iPadPro-iPadPro, iPadProCellular-iPadProCellular, iPadPro97-iPadPro97, iPadPro97Cellular-iPadPro97Cellular, iPhoneSE-iPhoneSE, iPhone7-iPhone7, iPhone7Plus-iPhone7Plus, iPad611-iPad611, iPad612-iPad612, iPad71-iPad71, iPad72-iPad72, iPad73-iPad73, iPad74-iPad74,
Supported Languages: Arabic; Bulgarian; Catalan; Valencian; Croatian; Czech; Danish; Dutch; Flemish; English; Finnish; French; German; Greek; Hebrew; Hindi; Hungarian; Indonesian; Italian; Japanese; Korean; Lithuanian; Malay; Bokmål, Norwegian; Norwegian Bokmål; Persian; Polish; Portuguese; Romanian; Moldavian; Russian; Serbian; Chinese; Slovak; Spanish; Castilian; Swedish; Thai; Chinese; Turkish; Ukrainian; Vietnamese;
Parental Advisory: Unrestricted Web Access;