Games
Action
Arcade
Entertainment
This version of the app is not recommended
App last updated
Mar 25, 2016
Screenshots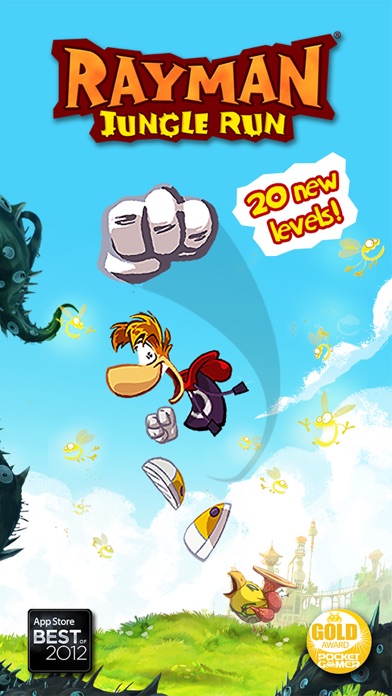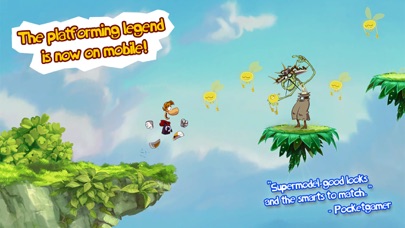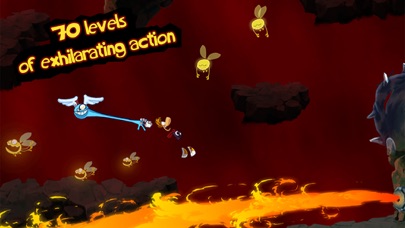 New in version 1.3.6
We regularly bring you updates and new features to improve your experience. Have fun!
Description
**APP STORE BEST OF 2012**

"A marvel to look at" – IGN
"One of the most gorgeous games I've seen on iOS" - Gamezbo
"Fast, tense, beautiful" 9/10 - Pocketgamer


- DOES NOT SUPPORT iPHONE 3G or any previous device. - 


The legendary platforming hero is making the jump to your favorite iOS device! Rayman Jungle Run is powered by the same UbiArt Framework engine that brought you Rayman Origins - Winner of numerous Game of the Year and Platformer of the Year awards.

- Beautiful graphics supported by Retina Display
- New worlds to discover
- New powers to unlock
- Captivating music
- Smooth touch-based controls
- Exclusive wallpapers to unlock for your device
- Multiple Cloud saves support
- GameCenter Leaderboards

Rayman Jungle Run is easy for all ages to pick up and play, but challenging for the longtime Rayman fans to master. Unlock the Land of the Livid Dead levels if you have the skills!


Stay on top of your game! Get the latest news, deals and more at....
FACEBOOK: http://facebook.com/UbisoftMobileGames
TWITTER: http://twitter.com/ubisoftmobile
YOUTUBE: http://youtube.com/user/UbisoftMobile

If you have any feedback, please email us at apple.support@ubisoft.com
iPad Screenshots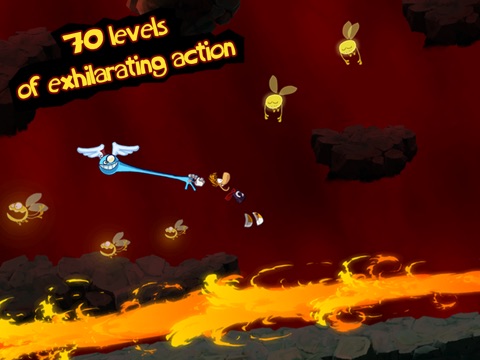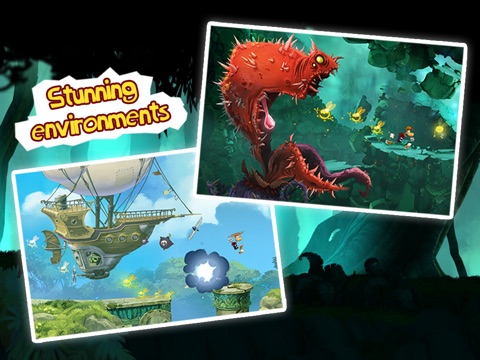 Reviews
Runs fast...
On my iPad mini 4, this game runs at about double speed, making it much more difficult to play. Please fix...
So let me get this straight
Hunthamonius95
on
3/6/2018
So you guys charge us for the standard game, then charge us for the rest of the levels? That's the biggest scam I've ever heard and you guys should refund everyone their money and take your game off the app store
UPDATE!!!!!!!
I can't click on any levels update please I love the game but I downloaded it on my phone and it's not working I hit play then it brings me to main levels then I try to click them and it won't work
Perfect level of challenge!
Larry Gengurch
on
12/19/2017
This is the first game in a long time that I didn't delete out of frustration or boredom. Rayman is so much fun and even though I beat the game I still play old levels again. The art and music is really well done as well.
Needs iPhone X Support
Update: Please add support for iPhone X. Without it this isn't a 5-star app. Other than that, Rayman Run is a fun, fast-paced game that'll keep you engaged for hours. Easy 5-star app.
Terrible
HORSE_GIRL120🐴
on
11/6/2017
I jump with tapping on the right side of my screen. The punch is on the right side of the screen. Every time I want to jump I hit the punch button and I can't change it. Also Rayman is running in the same direction and u can't turn him around.
Loving it
Got my all progress back love this game 5 stars 👍 and Please bring back Prince of Persia - Warrior Within iOS version 🙏🏼🙏🏼🙏🏼🙏🏼
PLEASE bring back RAYMAN 2
josephekamai
on
10/28/2016
rayman2 is one of my best childhood game. It was previously in the App Store. Please bring it back!!!
Content is not downloading
The new version is not working... Downloading gets stuck at 33% and then it reset it itself to 0...
Essential platformer.
It's Rayman. What else can I say? Colorful, cheerful, cute characters, wonderful music... and that's just on the outside. Inside it's a fast-paced platformer that's challenging without being frustrating. I can see myself collecting Lums for a long time.
Needs update
Have been unable to play in weeks saying so,etching is wrong with connection when I have tried to use on 3 different wifi connections.
Running is not fun
Shok.rah Dubstep
on
7/21/2016
Please update with original Rayman controls.
Fun Run
This was great running but I wish this can also update for Apple TV.
Plz add everplay support
life as a surplus
on
5/31/2016
Thank you!
2016 and still getting updates.
Soe productions
on
5/28/2016
Ubisoft as a whole may be a lost cause, but the Montpellier studio is always dependable. Two more Rayman Runners have been released since then.
I paid 3 bucks for this and this is what I get?!
I really like this game, plays like the other Rayman apps. But the thing is that when you close the app, It deletes your saved progress. Fix this bug Ubisoft. If you like Rayman that much, I suggest Rayman Fiesta Run or Rayman Adventures. Once Ubisoft fixes this bug, I will rate 5.
Lost my save game
pedrolsleite
on
3/25/2016
Be aware: after last update I lost all the progress I had made. The app itself deserves five stars, though. It's a great (casual) game that mixes runner and platform styles.
Fun!
Jordin2003😎😎😎
on
3/15/2016
Fun music, tricks and goals, plus I love the tricky bonus levels.
Rayman Jungle Run
syntheticvoid
on
3/5/2016
I reinstalled the game and now it just shows 4 downloadable worlds that won't download and won't let me replay any of the previous levels that I beat before I deleted it... So I guess I'm just locked out of playing a game that I paid for... Customer Service is horrid - completely non-responsive. I've tried their support e-mail, twitter, FB... nothing. No response. Way to go Ubisoft...
Boring
Boring not my thing
It is a great game, but...
I know Rayman Adventures exists. I was planning on downloading it. But now I'm not, for the sole reason that this game is bombarding me with advertisements for it. I payed for this game. I should not have to sit through the same unskippable 30 or so second advertisement multiple times whenever I want to play it. Until something's done about these ads, I really don't want to play this at all.
Iphone 6s plus
Miguelaso190
on
12/31/2015
Buen juego y funciona perfectamente
Very very good.
Ubisoft is definitely doing something right with the Rayman series. Although there are microtransactions, it never feels cheap and doesn't take away from the enjoyment of the game.
Pure unadulterated fun.
Soe productions
on
12/18/2015
It speaks for itself.
REMOVE RAYMAN ADVENTURES AD!
I can't play this game because the video ad is shown in middle game.
Ray Man great game.
Freddy Mac 46
on
12/8/2015
Luv this game. The different levels are great. Wish everyone could play this game.
Fantastic game
One of my favorite games on the iPhone. Great levels and controls. After getting frustrated with Rayman Adventures, I decided to just replay this instead.
Awesome
Pickle bean 235
on
11/29/2015
Cool get the game
Rayman great
Skvela hra,krasna grafika,tuto plosinovku doporucuji 😉
Awesome!😄😃😀
It's so good. I love it so much. I could play this for hours
Wonderful game
Sonicking3962
on
11/14/2015
It's pretty much having a mobile Rayman Origins
Can't tap on any menu items
Can't tap any menu items to open levels. Unplayable since iOS 9.
Great Buy, but Weird...
I love this game. It's very close to Rayman Origins in Mini Game mode. I don't ever really buy apps, but I just had to get this one. I've beaten this game twice, but for some reason, I occasionally open it and all my data is knocked and I have to start back at square one. This has happened MULTIPLE times, which is pretty annoying... But other than that, I loved it. Fun, tricky little game to master while you wait at the doctors office or at a bus stop.
Wall running
Pridemaster25
on
9/27/2015
I got all the way to the wall running levels of the game with 100% completion in all previous levels and exited the game for awhile and when I returned I found that all my progress had been erased.
I would like that Rayman moves when I want him to move
Dr. Goatastic
on
9/16/2015
Rayman is my favorite hero of all times, but this game isn't bad. I know that that the game is named Rayman run, but Rayman has to stop running some day, is very annoyng to try to get all the lums and the skull coins and have to restart the level to try again and again and again.
Fun
Plays more like a platformer (like Adventure Island, where you couldn't control your forward momentum) than a runner, though not much like a Rayman game. Lovely game, great sound, fun levels.
Needs Multiplayer Mode
Great game, but Needs Multiplayer Mode
Great game
Eagle Eye210
on
9/12/2015
Great game
So-so
Aron da Grate
on
9/10/2015
I'll start by saying that I adore Rayman. Classic Rayman was one of my favorite video games as a youngster. Also this game is designed beautifully. Colorful graphics, goofy characters, and quirky soundtrack are part of what made me fall in love with Rayman in the first place. That said, I found myself bored with this game too soon. I felt like I was constantly restarting the levels, inching my way a little further in the level each time as Rayman raced uncontrollably forward. Meh.
Please Restore Erased Progress
rjrutherford
on
8/27/2015
Yet another update that erases all of my saved progress!
Download issue Solved
ultimagicarus
on
8/26/2015
thank you for fixing the Downloadable stage. although my save file has gone im willing to replay this beautiful game.
Does not display properly on the 6th Generation iPod Touch
Shackleford-Rusty
on
8/26/2015
This game does not display properly on the 6th Generation iPod Touch. The graphics are letterboxed instead of using the entire screen. Please fix this issue.
Pretty exceptional
Probably the best way to put rayman on mobile. Excellent time killer
App does not work!! Do not buy!!
I try to select the level i want (fly, jump, etc) and nothing happens..I thought buying the levels would help but still nothing..im out 1.99 for a game that does not work. It does a great job at selling you other games and levels and characters though, that works just fine
Good
It's fun and stuff, but far away from being not repetitive or tiring sometimes.
Really?
Beautiful game; I love it. But two months since the last update and you still have fixed the costume and extra levels. Why don't remove the extra charters so no one wastes money on it..
Great game
It's a great game and I love all the levels, but I had the option to download the other four levels. But when I tried it said network unavailable, but I'm connected to wifi and have 3 bars so...
Live it
I love this game, my kids love it. It's got a good mix of fun a d challenging…… plus it's Rayman!!
Fact Sheet
Publisher:

Ubisoft

Category:

Games

Released:

Sep 18, 2012

Current Version Released:

Mar 25, 2016

Version:

1.3.6

Size:

79 MB

Compatibility:

Requires iOS 7.1 or later.

Recommended Age:

9+

Game Center Certified:

No

Supported Languages:

English; French; German; Italian; Japanese; Portuguese; Chinese; Spanish; Castilian;

Parental Advisory:

Mild Cartoon or Fantasy Violence;