Health & Fitness
Lifestyle
This version of the app is not recommended
App last updated
Oct 15, 2015
Screenshots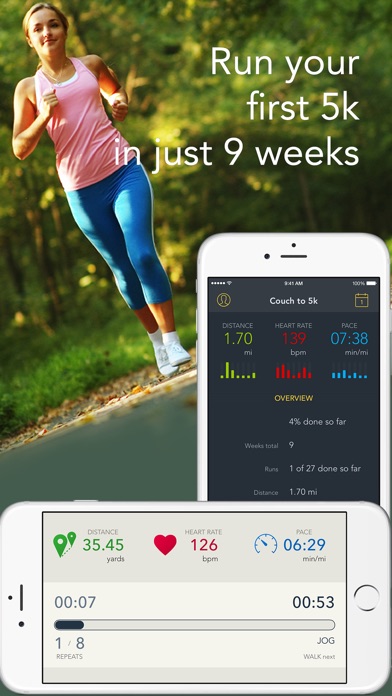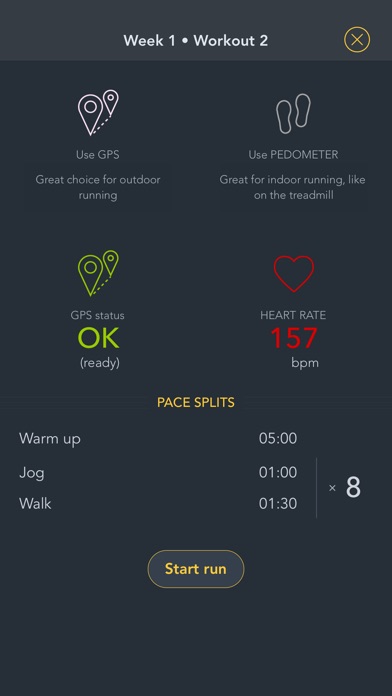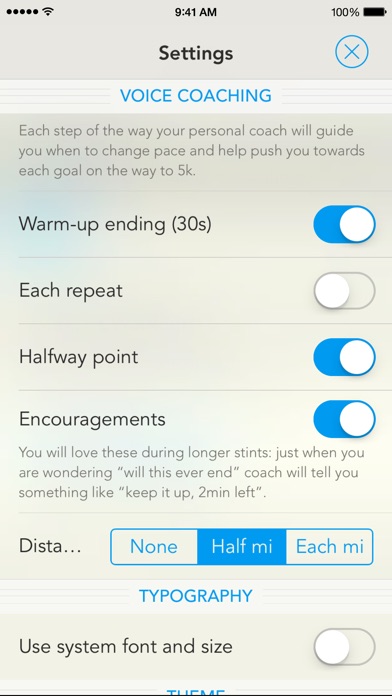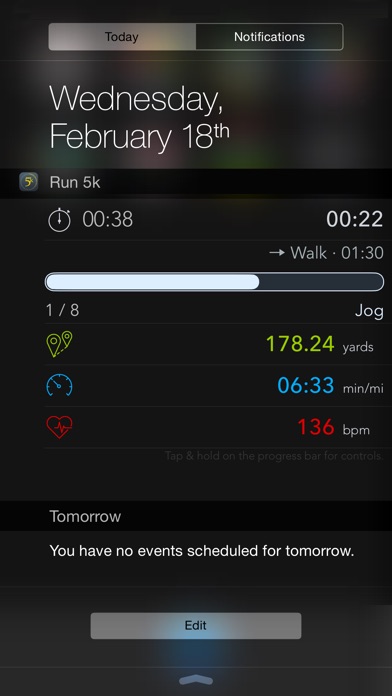 New in version 5.1.2
A small stability update for iOS 9 / watchOS 2 while I'm working on proper big update for the both of them.

## Changes

* Removed the option to use Google Maps due to outdated SDK (missing some key iOS 9 support)
Description
Improve your fitness with the best beginner 5k app. Demo videos:
* http://vimeo.com/radianttap/run5k
* http://vimeo.com/radianttap/run5k-watchapp

AWARDS

· Best new apps, December 2014
· Apps for Runners (2014/2015) editorial in Health & Fitness category
· Promoted app in Health & Fitness category
· New Year, New You (2015) editorial


FEATURES

• Works outdoors, using GPS found in any iPhone running iOS 8
• Works indoors, based on pedometer in iPhone 5s, 6 and 6 Plus
(perfect for treadmill use, during winter)

• Includes Apple Watch app
• Wonderful, detail-rich interface, with day and night theme and automatic switch between the two
• Personal voice coaching during each run
• Clear running view, perfectly optimized for quick side glances during the run
• Supports heart rate monitor devices based on Bluetooth Smart (LE, 4.0) to measure your heart rate during the run
• Full running history and progress with graphs and important numbers
• Extensive details view of each run, with speed changes over time, average and best pace and full map of the track
• Integrates with Apple Health - will write workout data and – if available – HR data into the Apple Health app

Note: this app allows you to test the waters for the first two weeks of the running plan. Afterwards you can unlock the full plan with one simple in-app purchase.


• Apple Watch •

Use it as both the remote control and remote view for your runs.

• VOICE COACHING - NO NEED FOR A STOP WATCH •

You only need to go out, start your preferred music app then switch here to enjoy the run. Run 5k will tell you when you need to change pace, in plain, easy to understand English.
It will also encourage you along the way to help you finish each run.

• VISUAL BLISS •

You can check your progress during the run with one glance to see current distance, heart rate, pace/speed + time left until the end of current pace unit.

You have a choice of light and dark theme, perfect for use at day or at night. You don't have to choose that beforehand - if you have automatic brightness enabled (which is default on iOS), app will automatically switch to dark theme when brightness is below 25%.

With our Today widget, you can check the run progress even when your phone is locked.

• RUN HISTORY & GLOBAL OVERVIEW •

Always challenge your self to beat the previous best pace. Review the entire run history at any time.

Share your speed (pace) and distance anywhere and/or export full GPX track then upload it your chosen running community

• MUSIC •

Use any other Music/Podcast app and play whatever you want, Run 5k will work great with it

When the voice guidance is played, music fades out and afterwards returns to original volume.

• NOTE • if you like Run 5k, make sure you review it here on the App Store - it helps others find the app and it gives me incentive to develop it further.
Thank you for your time.


Problems, suggestions, feedback?
Visit our site and leave us a message - we aim to respond to every email in 24h.


Note:
This app uses GPS tracking to measure speed and distance. While the run is in progress, it will continue to measure even with the app in background; for ex: if someone calls you during the workout.
Prolonged use of GPS can significantly impact battery life. Since some of the run sessions can go for 30-40 minutes, make sure you have good battery charge when you go out.
Reviews
Doesn't work when the screen is locked
_rachaelrachael
on
2/10/2018
Maybe it's an iOS 11 bug but it doesn't work when my screen is locked. I wondered why I kept running and running.
Heart rate constantly searches
I'm having the worst time getting heart rate to sync from my Apple Watch. It just keeps searching for heart rate monitor.
Breaks with iOS 11
Was a pretty solid app. Not the clearest navigation, but otherwise a solid 4 stars. Buggy performance at first I thought, on my first iOS 11 run, but actually it just doesn't work at all once the screen locks. Bummer. It's been a long while since this app was updated, so I'm not holding my breath for an update now. Sadness...
App works well
Wish there was a recent update though :) One issue I run into is that when using the Apple Watch as my pedometer - the iPhone app seems to forget to collect data until I switch out into another app and then back to this app, so I never feel my distances are right. Otherwise - this app got me to my first 5k and hopefully my next one after falling off the wagon.
Highly recommend
Great app that really helped me get in shape, literally from the couch to being able to do my first 5k!
Failed to announce interval changes
App failed to announce interval changes over music. Deleted.
Love it!
I just completed week 6 today and I couldn't be happier with this app. It is simple to use and a nice clean format. Before purchasing I read reviews on a runner's forum and this app was highly reviewed which is why I chose it. I haven't been disappointed thus far. Thinking back to week one when I struggled to run 60 seconds I am really excited to have just run 25 minutes in a row today. I couldn't have done it with out you!! I highly recommend.
Meh
This app doesn't have anything in it to make it worth purchasing.. usually I'm ok with paying for an app.. but for this I'll find a free one
Love it!
My favorite running program app I have tried to date. You have to pay to unlock the last like 6 weeks but it was worth the few bucks. It starts super easy so a great download for people who may have never run before!
Not Accurate
Not Accurate Stats
on
5/7/2017
There's no way I ran an avg pace of 1:30 min/mile.. that's not at all accurate Secondly, there's no way I ran and walked 45 yards. How bout explaining your stats a little better??
Pacing is Everything
I started my Jogs with a pace of 5.0 for the first 3 weeks. I stumbled in week 4. I found myself stopping the tread mill repeatedly to catch my breath. My friend suggested lowering my pace. I took it down to 4.5 and was able to finish week 4 I repeat mode and the rest of the program. I decided to start over from the beginning. This time I started with 6.0 pace. I hit the same stumbling block in week 4. This time I took it down to 5.5 and was able to finish the first workout. I believe running at the faster pace in weeks 1-3 better prepared me to take on the rest of the program. Thank You Couch to 5K. I'm down 25 pounds.
This app is incredible
mary grayson
on
3/26/2017
It's very user-friendly and intuitive. It has everything you'd want in a beginner's running app and nothing you don't want. The features are useful (the GPS tracking is scary accurate, etc). And it got me -- a twentysomething woman who has never been physically active in her life -- to regularly run outside and actually enjoy it. Well worth the couple bucks if you want to start running (even for the first time ever, like me).
Why doesn't heart rate work consistently with app
I have to go back and forth. Eternal this app, polar, and music. They do not interface despite being shown to work with this app. I also want my miles in miles (not yards). No matter how many times I reset it won't work together on a consistent basis. Once in a while all the stars aline. Not worth the extra $5.
Only First 2 Weeks are Free
Love the interface, but saying In-App purchases when what you really when is first two weeks free is very misleading. Will be switching to some one else.
Needs to update w latest OS
Love the app but it has stopped working properly for me. It no longer seems to work once my phone locks, so I do not get audio updates during my run, it does not track mileage correctly, etc. Once I unlock my phone and open the app, it starts back up but is not very helpful during a run.
Completely satisfied (almost)
I'm getting ready to run my first 5K in about five weeks. I tried a handful of couch to 5K apps and not one had everything I wanted. This one does. It's very basic - The interface is very user–friendly, The coaching voice just gives me what I need to and isn't condescending, the encouragement and prompts come just at the right time, plus it doesn't come with all the cutesy social media junk that just weighs an app down (although it does allow me to post my stats if I want.) Only thing I would like to see is the social posts to be a little more specific to my stats – right now it's just posting a link to the app. I have emailed one of the developers previously and he was very responsive. Thanks for making an app that does what it needs to, no more, and I'll never mind paying for that!
Great! Have a feature suggestion ...
I love the app so far, and paid to have the last six weeks. I love the simplicity of the app and the interval system. The prompts/motivation is subtle and unobtrusive and really helps me finish my run. I have one suggestion though that I think would make this app 5/5 for me. Once the 5k program is over, you should let people design their own interval runs. A drag and drop system where you input different legs and choose a number of repeats. I think this would make for a really stellar app!
Good, clean app, but...
This app is super simple and has a very clean layout. I'm already into week 4, and no complaints about the app itself. I went ahead and plunked down the $5 when the two free weeks were up because I was already used to it, and it already had my jogging data, but... I'm not sure if I missed it in the intro slides, but like others have said "in-app purchases" is not accurate if you can't use it after two weeks. And the only thing letting you know that (before the two weeks are up, on week two) is some small text at the bottom saying that this is your last free week. Feels a little bit like a bait and switch, but I'm willing to support the dev, so... shrug. That's why 4 instead of 5 stars. Thanks!
Buggy app, useless
Don't pay for this buggy app. If you put your iPhone in your pocket, or it falls asleep, the app shuts down, so If you're in the middle of a jog segment, it will never tell you to stop. If you're in the walk segment, it will never tell you to start jogging. The audio is glitchy when it wakes up -- the volume drops and never returns to normal. **delete**
Great way to get you going!
No matter if you are already active or are finally ready to commit to a new routine, this app helps you to feel successful right from the start!
It Just Works!
Judo McFadden
on
1/12/2017
Here's what I like: 1) Works with Spotify playing in the background. 2) It has simple, clear prompts with no unnecessary motivation. 3) It works with a simple swipe or click-- nothing to dissuade me from avoiding my run. I'm halfway through and I'm eager to run even though it's still tough for me!
The Best 5k Trainer on iOS I've Tried
I've tried a number of running apps on iOS and so far this has been the best experience for me. I was previously using the top rated C25K app - which I normally use at the beginning of every season - but it unexpectedly started crashing during Every. Single. Session. So I went app hunting. What immediately drew me to Run 5k was the use of an Apple HIG compliant UI, rather than the normal slew of non standard interfaces featuring offenses such as; faux digital watch LEDs, animated avatars on a path and in the case of the aforementioned crash fest, automobile style gauges. The Run interface is a breath of fresh air by comparison: it's clean, takes a minimal amount of effort to navigate and every single action or toggle is clearly explained. The inclusion of GPS is also very welcome. Most 5k trainers ignore this and leave this functionality in the hands of Runkeeper or similar applications, so I usually leave that part out till late in the season when I'm running full distances rather than increments. Not to mention, I have no love in my heart for the "social" functionality of all other GPS running apps; that this is stand alone is a major plus for me. For those that run indoors, you can toggle between GPS and pedometer modes which is a very thoughtful feature. I think the flexibility of the increment and encouragement reminders is better here than I've seen in most other apps, however my first negative comment would be that the synthetic voice that is used falls somewhere between not good and bad. Also, I don't see an option for lock screen notifications which can be nice if you're not using headphones and have too much background noise to notice every voice prompt. There are dozens - possibly hundreds - of running applications for iOS and most are passable. If however you're looking for an app that makes the best possible use of iOS's design, this would probably be it.
Only a free trial
"Offers in app purchases" in the description is misleading since it's a mandatory purchase if you actually want to finish the program. The app itself ran smoothly and accurately for me, but with so many options for 5k programs I will shop around for an actually free or less expensive option. $5 seems high.
Love this app!
Hadn't run more than 60 seconds before I used this app. Following the 9 week program, I was able to run my first 5k in only seven weeks.
Great app for couch potatoes intending to start running
I'm on Week 9 now & almost done with this program. Love how it motivates you while running. You can also redo a run. All in all, I'm grateful for this app. I wish they have a 5k-to-10k app.
Disappointing
After using this app for 4 runs I realized this is not for me. This app is not simple to navigate. No options to delete a workout or edit a workout. Running plans are not customizable. The time during the intervals would just stop. I was wondering why the walking/running portions were so long. Halfway through my run today it completely stopped recording. Time to delete this app.
Requires $5 Purchase
After two weeks this app requires a $5 purchase price. It's a solid and trim app for getting the job done based on my two weeks. But once I fired it up to start week three and was met with an alert I would need to buy I felt hoodwinked. I decided to purchase a completely different, cheaper, and highly rated app versus the one that tried to surprise me.
Simple and Effective
BilboBagbinns
on
8/25/2016
Really nice app that makes the C25k process really easy. I do wish that there were a couple more settings within it, though. Namely, I wish I could set it to pause my podcast/audiobook (in Overcast and Audible) when the audio cues come in. It's a minor gripe that doesn't affect too much, though!
Barely usable
Even with the volume turned all the way up, I could barely hear the prompts! Deleting this at once.
Great app!!!
It really got me ready for the 5k that I am running on Saturday. I feel very confident that there will not be any problems in finishing.
Great app
Easy to use, good training program. The voice is friendly and encouraging without being annoying. I love that it runs in the background and doesn't interfere with music. The free trial is great - by the time you've finished it you've advanced beyond the initial really painful part of training to run. It feel like a reward and honoring my commitment to pay for the upgrade.
Simple, helpful, attractive app
This app is great so far (I've done 41% of the runs). I like the interface and ease of use, and the ability to show improvement as I progress. It seems as customizable as I would like it to be.
Terrible Watch Functionality
LORD BLACKFIRE
on
7/16/2016
Every time I use this app on my watch it makes me enter my Apple Store password before it will work, claiming the free trial is over. I bought the app long ago! It is very annoying to have to take off my armband and enter a password in the middle of a workout. I like to walk for a bit before starting the app from my watch but I'm unable to. I've tried reinstalling the app to my watch but it didn't solve the issue. I will not buy from this app maker again.
Not impressed
I downloaded this app because it had an Apple Watch app. It has the same 5k program all the other ones had, but its biggest failure for me was that the app doesn't work when the screen is locked. The watch app also stops working once the screen goes black and syncs poorly with the app.
Exactly what I need!
MandyGirlMay
on
6/23/2016
This app is fantastic! Other apps like this that I've tried only allow me to play music from iTunes while using the app, but this one allows you to play music from other apps, (I use Amazon music) while using this app. When it comes time for the app to cue you, it automatically adjusts the volume on the music so you can hear the prompt. Love it!
Amazing
businessmjr24
on
6/10/2016
This app is amazing, I takes you through a workout and sets a great regiment for you...I don't normally rate apps but if your like me and trying to get back into shape, then this app is for you....
No GPS?
Read good things about this app and first time I used it, worked great. Since then I have done two runs and it will not find the GPS which is really frustrating and renders this app useless to me. I want to know how far I am going during the training. Worked fine the first day then nothing since. I am located in Italy, not sure if that is an issue but will not be using this app anymore.
Love this app!
I love this app so much! I've done it a few times now, and can say that it really has helped me become a good runner. I love the encouragements, the timing, and the pace. It's challenging, but not to the point where you feel like dreading the workouts. I only wish it would sync with my Fitbit, so I don't have to run mapmyfitness with it on my runs. Definitely recommend this app to my friends and family.
Great beginner app!
This app has a very easy to use user interface and a nice design!
Me encanta
Lo recomiendo porque lo puedes usa en el exterior con el GPS o con el conteo de paso en la trotadora... Me fascina ... 🏃🏼🙋🏻👏🏻
Terrible app broken
Spent $5 on this app, and used it for a while. Now it says I need to pay again. Support was useless.
Excellent!
MDamnjanovic
on
4/15/2016
The best app to get you off the couch and start running. Its very easy to use. I've tried a few others but this app works best for me. And it works perfectly with Health app. Keep up the good work.
The Best 5K app, period
I run outside and this app keeps me on track. It helps me build up my endurance and updates me on my progress, which is very encouraging. Also very motivating if I see that I've fallen behind. I like how I can play my FirRadio music app while also using this app. Very much appreciated
Great intro to running app
Love it! I also have the c25k app and definitely prefer this one. The intervals are the same for each, but this one has motivations along the way. For example, "halfway there, you're doing great" or "just 2 minutes left." Definitely has helped me push through when I wanted to stop.
Excellent app that helped me run my first 5K
After rifling through a glut of subpar apps, I'm so glad I discovered this one. It's well designed, easy to understand, and has excellent Apple Watch integration (considering the major limits Apple currently imposes). I used it last year start running for the first time in my life. Thanks to the habits it was able to motivate me into, I successfully reached my goal and ran my first half-marathon (and my second is already on the calendar). Try it for the first two weeks; afterward, I think you'll find that it's worth every penny.
Great and disappointed
Kaitlyn Bryant
on
1/18/2016
I loved the first two weeks with this app but after that it makes you pay for the rest of the weeks. As a college student I just paid for all my books and my tuition, room, and board so spending $5 on a program I can get for free online or though a different app did not make any since. But if you want to lay down the $5 I would say it's a great investment.
The 5k app that Apple would make
This app integrates beautifully with HealthKit, and it looks great doing it. Super nice that I don't have to enter that data manually. My regards to the developer.
Good
I love this app for outdoor jogs. I like the gps tracker and the voice coach. I don't like that it's only free for the first six jogs. I didn't realize that until I got to week three and boom, it told me I had to pay $5 to continue.
Easy to use & Works well, even with other apps running
The visuals are SO much better than other C2K5 apps! Works just like it should, even when I'm using it with the Fitbit GPS tracker app and/or my BPM music playlist app.
Good app, but needs work
I was expecting more from this app. I do most of my running inside due to not living in a very pedestrian friendly neighborhood. The pedometer data is not accurate at all and there is no way to calibrate it. I used my Apple Watch Workout app in tandem with this one and they were not even close to each other. The Apple Watch matched my treadmills readout, but the Run 5k app was severely under reporting my pace and distance. The app also supports a heart rate monitor, but not the one on the Apple Watch. Seems like a missed opportunity. I could not even get the app to work on the Apple Watch. Don't get me wrong. The app is great if you run outside, but for me it didn't work.
Fact Sheet
Publisher:

Aleksandar Vacic

Category:

Health & Fitness

Released:

Jul 03, 2012

Current Version Released:

Oct 15, 2015

Version:

5.1.2

Size:

19.9 MB

Compatibility:

Requires iOS 8.3 or later.

Recommended Age:

4+

Game Center Certified:

No

Supported Languages:

English;