Games
Entertainment
Sports
Simulation
This version of the app is not recommended
App last updated
Dec 18, 2017
Screenshots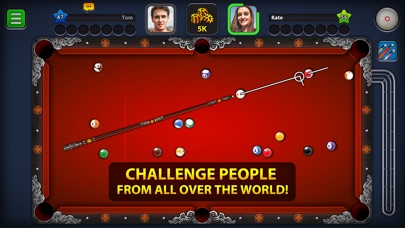 New in version 3.12.3
- Introducing New Victory Boxes: Unlock these Power Packed Rewards when you win a match.
- You asked, we heard… Now you can upgrade your Cues with More Force, Better Aim, Extra Spin & Increased Time. Update your game today and start winning.
- Sleigh this holiday season with an exciting new update! We've added holiday themed events & a fantastic new Lobby. Update now to join in all the fun!
- iPhone X support
- Performance improvements and bug fixing.
Description
•The World's #1 Pool game - now on iOS!•

Play with friends! Play with Legends. Play the hit Miniclip 8 Ball Pool game on your mobile and become the best!

COMPETE 1-ON-1 OR IN 8 PLAYER TOURNAMENTS

Refine your skills in the practice arena, take on the world in 1-vs-1 matches, or enter tournaments to win trophies and exclusive cues!

PLAY FOR POOL COINS AND EXCLUSIVE ITEMS

Customize your cue and table! In every competitive 1-vs-1 match you play, there'll be Pool Coins at stake – win the match and the Coins are yours. You can use these to enter higher ranked matches with bigger stakes, or to buy new items in the Pool Shop.

CHALLENGE YOUR FRIENDS

Playing friends is easy: sign in with your Miniclip or Facebook account and you'll be able to challenge your friends straight from the game. Challenge friends anytime, anywhere and show off your skills.

LEVEL UP

8 Ball Pool's level system means you're always facing a challenge. Play matches to increase your ranking and get access to more exclusive match locations, where you play against only the best Pool players.

iMessage PLAY

8 Ball Pool is now available for iMessage! Just add 8 Ball Pool to your iMessage app drawer to play with your friends.

--Download Pool by Miniclip NOW!--
*This game requires internet connection.

Play on the Web at miniclip.com/pool

Don't miss out on the latest news:

Like 8 Ball Pool: http://on.fb.me/Wx4f23
Like Miniclip: http://facebook.com/miniclip

Follow us on Twitter: http://twitter.com/miniclip

------------------------------------

Find out more about Miniclip: http://www.miniclip.com

TERMS AND CONDITIONS: http://www.miniclip.com/terms-and-conditions

PRIVACY POLICY: http://www.miniclip.com/privacy

This game requires internet connection
iPad Screenshots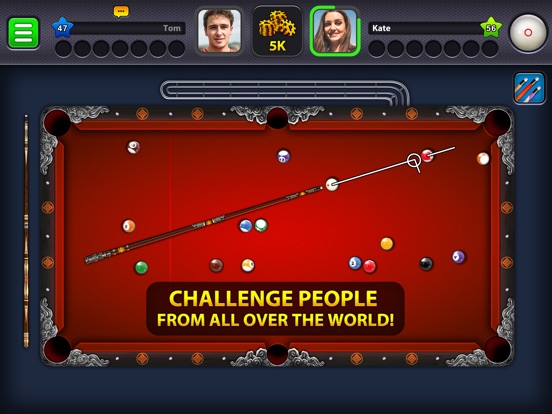 Reviews
Great game
A lot of fun but keep losing connection. Problem probably on my end.
Great but...
alyssa.90505
on
1/23/2018
WITHIN 2018 I'D SAY THIS GAME HAS BEEN DEPRIVING ME OF MY COINS RIGHTFULLY EARNED BY PLAYING AND WINNING. ALTHOUGH WITH MY LOSSES EITHER TOO MANY OR TOO LITTLE OF MY COINS ARE TAKEN FROM MY COINS. I don't like that at all but other then that I do love the game 😊
I can't play!!!!!!!!!!!!!!!!!!
Aribobarifatari
on
1/23/2018
I haaaaaaaaaaaaaate this!!!!!!!!!!!!!! I won't even let me play. It take 1000 years to load and so far I have not played it at allllll!!!!!!! I will delete this and find another app if this is not fixed immediately! Nothing has worked and I hate that I cannot play anything!!!!!!!!!!!!!!! Pleeeeeeeaaaaaaase help nooooooowwwwwwwwwwwww!!!!!!!!!!!!!!!!!!!!!!!!!!!!!!!!!!!
Mediocre
At first I thought this app was grrrreat, but the more I played I learned the luck to skill ratio was identical. It's not accurate and you basically just gotta use max power and something will fall in and now I'm dealing with glitches to where it won't stay on longer than 5 seconds. I have yet to even find another decent pool app so just save ur time and go to a bar like a normal human being...
Always Entertaining
I enjoy playing with competitors from around the globe. It's fast, fun, and always a challenge. I'd love it more if it had better communication between players - as with WWF, but for now (without the usual ads) it's a good game. Some players are taking it way too seriously. It's a fun game.
DO NOT DOWNLOAD!!!!
This game is a rip off. I've spent almost $20 in coins and every time the I win it takes my coins and counts it as a loss. The developers won't do anything because they're @ssholes! DO NOT DOWNLOAD! DO NOT DOWNLOAD! DO NOT DOWNLOAD! DO NOT DOWNLOAD! DO NOT DOWNLOAD! DO NOT DOWNLOAD! DO NOT DOWNLOAD!
⭐️⭐️⭐️⭐️⭐️I Really Enjoy This App⭐️⭐️⭐️⭐️⭐️
Livin' & Lovin' Life
on
1/22/2018
You know what's weird; I don't play 'real' pool, but I actually won my first two games!?!? Call it beginners luck; who cares, it was fun (after I finally figured out how to use the pool cue)! Mind you also, those 2 winning games were played on my iPhone 6S Plus, so consider the size of that screen, so now I just installed it on my iPad Air 2; you watch, larger screen and I'll probably lose. Oh well, I'll have fun doing it. Give it a try, IT'S FREE!! What've you got to lose, 15 min.? Go ahead, chance it, you might surprise yourself like I did.
Happy
saeedbakhtiary
on
1/22/2018
Good game.tanx
Best pool game
It doesn't matter if I've owned an iPhone or an android, I've for sure had this game on it! Best pool game app I've come across.
Too Easy to Lose all Your Coins
I'm going to be deleting this app because I have lost 95% of my pool coins simply by accidentally tapping the wrong game in app. There is no way to back out of an unwanted game. Not only that, when you open the play a game section it automatically selects the highest stake game you could possibly choose. So if you as much as tap the middle of the screen, you could be choosing a game that will cause you to lose the vast majority of your points without any recourse to confirm your intent to play that game. SO FRUSTRATING!!! Thank you for helping me realize I was wasting my time on this awful game.
These thugs
Bad connection, huh?
on
1/22/2018
Low-life thug pool. That's all this app it. Prison rules. I am uninstalling due to the fact that these thugs probably support terrorism.
Great game
Really like the graphics and challenges of this game.
At any age
Playing pool never gets OLD !
WORST GAME EVER
WORST GAME EVER
PacoJ
Not enough free coins,we used to get 1000,then down to 500,now 100 and it don't always give you that when it says you get it Why what happened to our amounts.??? That's why I only gave 3 stars...
Needs an update to the new suggestions!!!
Speedy-gonzalez
on
1/22/2018
The game is awesome!! I wish the Victory boxes would be able to stack up if the victory are the same room, so there is a way to get more then 4 boxes!!! & there should be a slot where all the elite boxes can stack up regardless of the room it is won in!!
Money hungry
pineridgefarmer
on
1/22/2018
I enjoy playing the game. BUT, if you don't make a purchase they "update" the game and then you play against a bot where you will never win. Glad I spent $0.00 on this game and you should too.
Cool game
Cool game that's very addicting. The only complaint I have had was the number of cheaters with cheat codes. For a while it was so bad it wasn't even worth playing anymore. It seems they have changed this and things have gotten a lot better. I play all the time. Update: Never mind. They found new ways to cheat. Love the game and did play all the time. I don't mind loosing to someone better than me, but man I hate cheaters. If they can't get rid of the cheaters it's not worth playing.
bugs
the app needs to be fixed. everytime i logg in i get kicked off!
👎
It's a total ripoff and pos game.
Break priority
Update: Decided to give this another shot. Still low number of breaks and now the Slow Connection issue is also annoying. 3/2017: 1 break every 5 or 6 games is getting old. I'll find some other mindless game to pass my time. Not fun anymore just sitting & watching others play.
Skatz2
This game is great. I just hit 25,000 on winning wheel and it froze it never paid! One day you win the next you lose with the same shots???? The game is still very addicting.
Don't download
This game is set up for you to lose. They constantly have "connection errors" although my WiFi is strong and dependable. It will rob you of boxes and make you lose games.
Awesome Game
I love this app. Quick game everyday when I get bored.
8 ball pool
spacylacy123
on
1/21/2018
Cool pol game
Glitch
When I spin the wheel it's slowing down I am getting big money and then it glitches to a low amount -.-
Nice game
Game plays like real pool tables, just starting to know how to hit cue ball for position, & other players seem to enjoy this game also. Very nice a lot like real pool
Love it but one thing.
When I get a call it kills the sound and I have to restart my phone to get back.
Love / hate
The world of pool mostly is in bars or "gentlemen's clubs" . It's not normally fare and this game is very realistic in that regard.
League use them
make leaue usefull again
on
1/21/2018
What is the point of league ranking and levels I'm level 23 and always play people for 100 coins And always PLAY level 100+
Pool
Worst game ever absolutely horrible should be ashamed
Great idea
Snappyship56
on
1/21/2018
Good game but I wish I could play pool and look at my cues and now I don't know if it is a bug or my internet but I'm sure it is a bug pls fix.
Game
Cj_badazz_13
on
1/21/2018
Awsome game
8 Ball pool
It is an awesome app
3d
Add 3D please then 5 stars
Cash every 24 hours.
Huge Jerection
on
1/21/2018
If you're gonna give me a video to watch with the promise of 1 cash, actually give me that 1 cash and not 75 coins. Annoying.
Good game
This is a much better game & requires more skill than I expected. I played lots of snooker when I was on high school and enjoy this app. I have won over 4000 points in about 4 hours online playing. All for free. You can't beat that deal.
Cheats but ok
It cheats via the algorithm bias,and is obvious about it. Simple test..Pick any game, say 2500 coins or higher..and play it 10 times back-to-back.You will always lose more than you win. Like I say, it cheats.😒
I have problem
I have playing today and after i play then leave game and i open game again it kick me off from game every 10 seconds can you please fix this problem? It really annoying in game,i like this game a lot if it not kick me off it will more fun
8 ball pool
Like the real life game, but demands you to pay to stay in the game unless your a shark from the start
You should fix your game
Right up and down
on
1/20/2018
There's a lot of things wrong with this game starting with that fact that all of my opponents seem to be from the Middle East or even from India now I got nothing wrong that but when you say you got 47,000 online player and you really don't that's a problem there no need to lie about little things like how many actual players you have online... 2 now I seen a few so called players online with a rank of 18 but with a total winning of 75,000 now here's my problem with that is that I'm a rank 18 with a total winning of 194,792 summarizing up how are you a rank 18 with a total winning of 75,000????????
Rigged!
Taylor&horses
on
1/20/2018
This game used to be my absolute favorite when I first downloaded it, as I would win almost every game and thought I was a professional despite being new, but that's just what Mini Clip wants you to believe. Once you begin to advance through the levels, the luck, yes luck, changes. You'll find yourself losing for reasons that make no physical sense whatsoever, such as having a ball 100% perfectly lined up only to have it somehow wiggle out of the pocket (it literally looks as if the pocket spits the ball back out). There are other times when you apply the lightest power, and yet somehow, the cue ball will fly around the table, eventually scratching. And don't even get me started on 9-ball: there have been so many times where people have sunken the 9 ball early on the most BS of shots that I would be filthy rich if I received a quarter every time it happened. It's also obvious that some of your opponents are bots: these bots will either help you to lose or win; it depends on what the game wants. Things really change if and when you decide to spend real money on this game. I'll admit that I've spent some money on this app for the special cues, but I now realize this was a terrible mistake. The game will do whatever it takes to rob you of your game coins so you HAVE to buy more, and I kid you not (I've tested this), once you finally purchase something after having lost multiple games in a row, things will immediately get better. I went from losing 13 in a row (after having just won a tournament) to winning 5, losing 1 and then winning another 6 or 7. It's absolutely ridiculous; it used to be fun to play, but now it's not even worth it.
Addictive!
Chris46367775322
on
1/20/2018
If you're a pool player this is almost too much fun! Want to see if it actually improves my game...by gaming! :)
Question
I was talking to my nephew the other day on chat on the 8 ball pool but since then I haven't been able to write and have a conversation with any other player. So is there a secret I need to know cause I would really like to have conversations with a few of the players. If anyone can help be greatly appreciated. Thanks
Playing 8 Ball Pool
I'm a Disabled American Veteran who enjoys passing time by playing 8 Ball Pool. After losing my left leg (AKA, trans-femoral), and now being Wheelchair-bound (from injuries sustained while active-duty in the Army overseas), my activities day-to-day are limited. In 2016, I participated in the 36th National Veterans Wheelchair Games. One of the events that I participated in was Wheelchair, Nine Ball Pool. It was my first time at the Games, but I managed to bring home a Gold Medal. I hadn't picked up a pool stick in nearly 30 years, but somehow won a Gold Medal. I attribute winning my GM to the many hours of practicing "8 Ball Pool" on my iPad. There's never a dull game... almost never. This game rocks! Sometimes the competition is a bit sensitive (especially the ones who trash-talk, talking the talk, but not walking the walk. They talk some good trash, at least until I drop the nine..."Snowflakes), but overall, there's great competition, good people from countries throughout the world. Once in a while, you'll play someone you played before. It could have been a hundred games ago but you don't forget how they schooled you, or how you ain't their lunch. Some payback, or letting them get a second go is all good. Good people, good fun, and great gaming. There's good sportsmanship, and a shared liking for "8 Ball Pool". It's a great game with plenty of competition, what could be better? The game is maintained well too. There's special competition during the holidays, and new features constantly being added. This game helps me cope with my PTSD, and some of the precarious elements associated with it (anxiety, depression, feelings of failure, stress, etc.). This July, I'm going to compete in the 2018 NVWG's in Orlando, FL. My many hours of playing this game will all be for the betterment of my play in Orlando... at least that's the plan. BTW... to all of my 11-Bravo brothers from the 1st Infantry Division, 4th/16th, Bravo Company... "What's up Brothas?" The Big Red One - "No mission too difficult, No sacrifice too great, Duty First". My duty in Orlando is to win the Gold! Maybe the producers of "8 Ball Pool" could help sponsor me, just food for thought. Great way to advertise. Win-Win scenario "8 Ball Pool"..... 5 Super-Massive Stars *****, A+++
Fact Sheet
Publisher:

Miniclip SA

Category:

Games

Released:

Feb 27, 2013

Current Version Released:

Dec 18, 2017

Version:

3.12.3

Size:

118.7 MB

Compatibility:

Requires iOS 7.0 or later.

Recommended Age:

4+

Game Center Certified:

No

Supported Languages:

English; French; German; Italian; Japanese; Korean; Portuguese; Russian; Spanish; Castilian; Turkish;