Screenshots
New in version 12.40
Bug fixes, stability improvements, repairs to time-space continuum, etc. etc.
Description
Get the official YouTube app for iPhone and iPad.
See what the world is watching in music, gaming, entertainment, news and more. Subscribe to channels, share with friends, edit and upload videos, and watch on any device.

You can also create playlists, check out what's trending, express yourself with comments, share videos with friends, cast a video to your TV, and more – all from inside the app.

FIND VIDEOS YOU LOVE FAST
- Browse personal recommendations on the home tab
- See the latest from the creators you follow on the subscriptions tab
- Discover the world's hottest videos on the trending tab
- Look up videos you watched or liked on the library tab

CONNECT AND SHARE
- Let people know how you feel with likes, comments, or shares
- Create, edit, add filters or music, and upload your own videos all inside the app

Get 1 month of YouTube Red for free. Existing YouTube Red or Google Play Music members and users of either service who have already received this 30 day trial are not eligible. Monthly charges apply for YouTube Red membership outside of trial periods.

If you subscribe via iTunes:

Payment will be charged to iTunes Account at confirmation of purchase. Subscription automatically renews unless auto-renew is turned off at least 24 hours before the end of the current period. Account will be charged for renewal within 24 hours prior to the end of the current period at the rate of the selected plan. Subscriptions and auto-renewal may be managed by going to Account Settings after purchase

Any unused portion of a free trial period will be forfeited when purchasing a subscription.

YouTube paid service terms: https://www.youtube.com/t/terms_paidservice
Privacy policy: https://www.google.com/policies/privacy
iPad Screenshots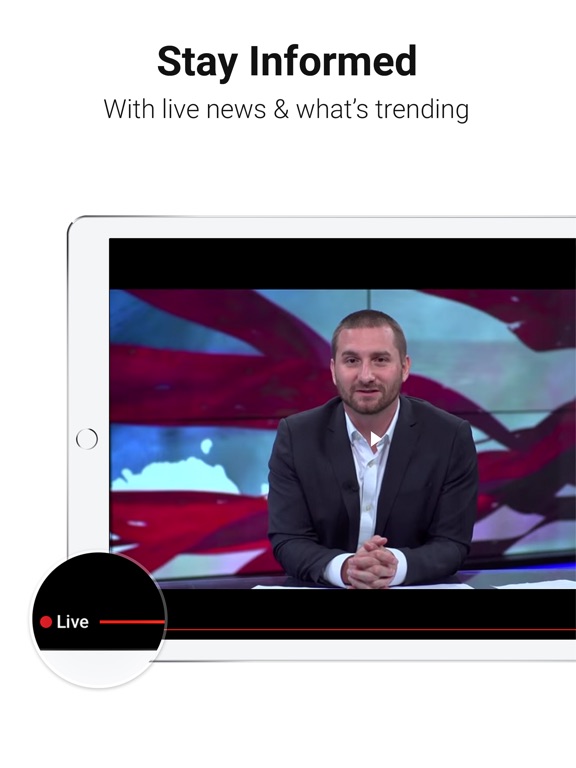 Reviews
My tube
You are much better then all others social medias!
Stop signing me out
So everything was fine until it started signing me out after I closed the app. Don't connect it to Google that's so much more complicated
Is YouTube awesome or not awesome?
Louis_808_Gamer
on
10/19/2017
YouTube is awesome. Why? It's because you get to watch amazing and cool videos. Another Reason Why? In YouTube you get to find your own videos you want to watch by searching what you want to watch. Or you can look at your recommended videos and watch them.
Wish it would work again
Heifaraferrari
on
10/19/2017
Keeps freezing and then shutting down
less ads.
allison roberts
on
10/19/2017
needs less ads
Freezes keyboard wont go away
Constantly freezes on my iPhone 8 plus and the keyboard pops up sometimes and I can't it it to leave without closing the app in the background.
It's not working
When I am watching a video the commercials would pop out but the video is still playing and I can't see the video because the commercials went in early than is it supposed to please fix it and thank you 🙏☺️😢
Messed up subscription tab
Youtube subscription tab never shows all newly uploaded videos from the channels I have subscribed to. I submitted feedback about it in the app but never got a reply back. So decided to rant about it here. Stop hiding newly uploaded videos on my subscription tab, please?
Screen freezes
The screen freezes even when I get out and refresh it stays the same but sound works is frustrating!! Please fix thanks
New update freezes phone
The video keeps freezing every couple of minutes. I have to turn off my phone to get it to unfreeze.
Crashing in the middle of every video i watch
I keep crashing in the middle of watching a video for no reason. The video stops and the audio keeps going and my home button doesnt work unless i double press it. And when i tap back into the app there is a white box and blue text that says Dismiss on it, then after that I can watch again for like 2 videos or less
Hi
He kissed my head
on
10/19/2017
You guys need to fix notifications cause I have not been getting any for the youtuber I watch. And when I do it's like an hour later.
Playlist
Virgo virgotti
on
10/19/2017
For my workout playlist that I create on YouTube, I would like to shuffle the songs because I have a new routine everyday. Please add shuffle playlist in the next update please. Thank you
My review
ChrisSoprych
on
10/19/2017
No bugs for me that much just one
I use YouTube everyday, would pay for Red with minor changes...
Seriously, I'm on it for hours a day. The only reason I'm holding out for Red is in hopes the company will add some new features and organization to better incentivize users. Specifically: 1) Please, please, please we need some organization to our subscriptions. Similar to how Subscriptions->All Channels is a playlist of all recent content added to all of our channels, we need an ability to tag channels and see the tag that same way. So, for example, under All Channels I would see Gaming Channels which would be a playlist of recent videos from Channels that I have tagged myself as "Gaming". It is VERY DIFFICULT navigating 100+ subscriptions and really would like to see some organization here. 2) I would pay for YouTube Red INSTANTLY if you would support iPad Picture-In-Picture Mode. Currently, YouTube Red only adds background music playback. It would be better if this was iPad Picture-In-Picture. I could view the video, and push it to the side to allow the audio to continue playing if I wanted. 3) There is no way to rewind/replay an advertisement. Sometimes I am away from the device and I would like to go back and see what was advertised... Otherwise, great job. Keep up the good work.
No 60fps option after update
60fps is dropped after update Why !!!!
Horrible
It wont let me upload a video or a profile pic or anything! Too many bugs.
Youtube update is terrible!
This recent youtube update in October 2017 for ios is terrible. i love youtube, i am a youtube red user as well.the update changed the little pip box in the lower right corner when you shrink the video down while your searching for another video. They changed it to where you can't even hardly see the current video playing anymore while you are searching for another. also the freezing after pausing the video being watched is awful as well. there is so many bugs. It's just Awful!! Come on youtube please fix this stuff.Im paying over 10$ a month for this...
Doesn't do picture-in-picture
It's a systemwide feature that is easy for Google to implement, yet they don't. And this is a video app. -3 stars.
Keep it going, but fix this.
I go on this app every day and watch my favorite YouTubers. I love YouTube. Although, I mainly watch gaming videos. A lot of people don't organize their playlists. For example, Stampy longhead's "Lovely World" playlist has 500+ episodes. It would take a while to organize that. That's when you come in and add a sorting menu for playlists. If an unorganized series has an order, the person watching the series has to select the previous video to see the next episode. Especially if they are only listening to the videos while completing other tasks. If there was a sorting menu, they wouldn't have to go forward and back to stop it from playing the previous episode when they have important tasks to take care of. A sorting menu will really save time. Thank you for this wonderful app.
Ipad user probem
Ever since I was upgraded to ios 10, my screen locks up in the middle of editing a comment. This has happened every day for two weeks. Never was Utube a problem prior to this. update to my comment: many months later and the screen STILL locks up a couple times a week when leaving a comment. (i am using the ipad air 2) this is my 3rd ipad i have never had this prob before and yes my ios is current. this app went from great to sucky. 10/18/17 Another update, its started locking up again only this time its just the keyboard. i will be commenting and the keyboard freezes and wont go away. i can still see and watch videos but the keyboard remains across the bottom of the screen. very annoying.
It's pretty good until I have to restart my phone
Avril 103847
on
10/19/2017
Often times I have to restart my phone due to the sound because THERE'S NOT ANY. Or it would keep making this weird buzzing sound. Super annoying!!
STOP THE ADS
jazzatron4567
on
10/19/2017
Ads are kinda annoying cause when watching something an ad just interrupts and some ads are long so you can skip or WAIT!!
No no no
MichelleeRuiz
on
10/19/2017
First, when I have it connected to my chromecast and my phone screen turns off or I get out of the app while its still casting, it loses the signal and when I try to go back into the app to pause/rewind/fast forward it wont work. No matter how far I skim the video or press play/pause it does nothing unless if I completely close the app and restart it and connect it to my chromecast again. Also Im having the comments problem everyone seems to have, you accidentally click to write a comment and when you try to get out of it by clicking the video the keyboard wont go away. Please fix this, this has been going on for almost a year.
Annoying bug
sashamuradian
on
10/19/2017
When I'm watching a video on YouTube and somebody calls me- i take a call but a video still playing during the call
It's great
I initially got this app just for google play music. When I discovered Youtube Red came along with it, I was thrilled. I HATE the ever increasing amount of ads when watching YouTube videos. Now I don't have to fret those. With added features like being able to play it in the background, and others, I feel like it's well worth the price.
Time Space Continuum...
Sssassssbbdbbsnnsbbsnns
on
10/19/2017
Im still having some problems with the time space continuum, pls fix
Need to fix video freeze
The screen freezes but the audio keeps going
Bug!
Wizard On Acid
on
10/19/2017
When I go to edit my responses to a person's comment, the screen freezes after I edit it and hit send. It sends but then freezes and have to get out of the app. Also, you could make navigation easier and the option to organize our playlists with numbers like you used to have back in 2009!
Can't even open the app anymore
I literally can't even open the app anymore since the new update. I even tried uninstalling it and it didn't work. I'm sad because I always watch youtube on my phone.
Political bs
Nate that's who
on
10/19/2017
Didn't come here for politics but apparently they did and I'm not putting up with it any more switching to twitch.
BUGS
iliketorunaroundandpickdaises
on
10/19/2017
This has been going on since iOS 11 came out, but there's this bug where I'm watching in a playlist, and the video doesn't automatically go on to the next video like it normally does. Normally the video will just go to the next video, but right now the video pauses one second after the end of the video and it's so annoying because I don't want to manually change it... FIX THIS PLEASE
Criticism
Almost everytime I switch to full screen, the playing video goes out focus and I have to unlock rotation then tilt my phone to portrait mode and again to landscape. Yes Yes Ive tried reinstalling the app 😂 Another thing I wanted to add: PLEASE add more control to subscription feed , like: Self-Reducing the number of a chanel's videos showing in feed. (Some chanels are hyperactive) Option to auto-hide watched videos Option to hide TRENDING tab. More control options in notification tab (clearing all And the most important one is to add quee-like capability to now-playing video (something like Windows Media Player)
Problem
Can you please go back to pinch zooms out. The button you click is way too small and I spend a good 15-25 seconds trying to escape
iOS 11
Make up!!!!!!
on
10/19/2017
Ever since iOS 11 update came, things have not been the same. If I'm watching a video on YouTube, when I get a phone call the video continues to play in the background and I hear both (phone call and the video)...please fix that it's annoying.
Data overage bug?
Bellagrits13
on
10/19/2017
This app has issues. It's tripled my data usage this month! I had to spend hours on the phone with Verizon and got nowhere! I have a huge bill from this month due to these issues. It's not really off when it says it it!
Freezes my phone and display
The app after the update has created many problem. it freezes and the display also doesn't work for about 3-4 second. I cannot go to home also in this time frame i need to relaunch the app and even after that the app responds very slowly
Yes I'm hooked
hunglikeseahorse
on
10/18/2017
YouTube with no commercials is like the only way YouTube should be watched it's 12 bucks, come on don't Forget that's the price of one drink in Scottsdale Arizona. YouTube red it's the best and I'm embarrassed when I watch YouTube on somebody else's device who doesn't have A red account.
Newest update 10/18/2017
YouTube will freeze the picture but the sound will keep going. Has happened several times now. Only issue that I haven't ever had before
Quality option [not working]
When i try to change the quality of a video it doesn't apply at all and just goes back to the video without anything changing. Its really annoying when I'm trying to enjoy a video but it starts of at unwatchable quality.
Not a fan
Adstokeepplayingourlamegame
on
10/18/2017
Not very user friendly. I prefer the normal website version. Stop this autoplay nonsense too. Autoplay is aids.
The buggiest app on my iPad
I have some real bad apps on my iPad but this one takes the trophy.
Problem uploading videos
ThatOneLatino
on
10/18/2017
When I upload a video, everything was running fine, but when It was processing it cropped my video and sets it to the left with bad graphics
IMPOSSIBLE TO WATCH ANYTHING
There is a bug where the video freezes if u exit and reenter the app, but the only way to unfreeze is to turn off ur phone, so u get stuck in a never ending paradoxical loop of frozen videos. Please fix, I might delete if it doesn't get fixed soon.
Bugs
thebreannaelai
on
10/18/2017
When I click to watch a video it doesn't play and the video just remains black. I would have given 5 stars if this hadn't been going for so long
What's wrong
Curlyhead.mera
on
10/18/2017
It's not letting me upload
Share button
AzureWolf729
on
10/18/2017
Update does not now allow me to share videos via copy link anymore
Piece of Crap
Can't stand YouTube right now. Every time I exit the app, I need to restart it because the video doesn't work. I can't chat on live streams anymore. Bugs everywhere. I wish I could downgrade my YouTube because this never happened to me before.
youtube has changed
g. hillmantel
on
10/18/2017
yes, youtube is supposed to be child friendly but these adult are getting demonetized for cursing or having some inappropriate content. they spend so much of the money they earn on youtube buying props for their videos and making sure it's great content and if you make it so they can't make any money off of it your app is going to die. i love youtube don't get me wrong but isn't their some other way to protect users from the videos that are inappropriate. please fix that youtube stars have been complaining for so long and you've done absolutely nothing to help.
Fact Sheet
Publisher:

Google, Inc.

Category:

Photo & Video

Released:

Sep 11, 2012

Current Version Released:

Oct 16, 2017

Version:

12.40

Size:

162.5 MB

Compatibility:

Requires iOS 9.0 or later.

Recommended Age:

17+

Game Center Certified:

No

Supported Devices:

iPad2Wifi-iPad2Wifi, iPad23G-iPad23G, iPhone4S-iPhone4S, iPadThirdGen-iPadThirdGen, iPadThirdGen4G-iPadThirdGen4G, iPhone5-iPhone5, iPodTouchFifthGen-iPodTouchFifthGen, iPadFourthGen-iPadFourthGen, iPadFourthGen4G-iPadFourthGen4G, iPadMini-iPadMini, iPadMini4G-iPadMini4G, iPhone5c-iPhone5c, iPhone5s-iPhone5s, iPadAir-iPadAir, iPadAirCellular-iPadAirCellular, iPadMiniRetina-iPadMiniRetina, iPadMiniRetinaCellular-iPadMiniRetinaCellular, iPhone6-iPhone6, iPhone6Plus-iPhone6Plus, iPadAir2-iPadAir2, iPadAir2Cellular-iPadAir2Cellular, iPadMini3-iPadMini3, iPadMini3Cellular-iPadMini3Cellular, iPodTouchSixthGen-iPodTouchSixthGen, iPhone6s-iPhone6s, iPhone6sPlus-iPhone6sPlus, iPadMini4-iPadMini4, iPadMini4Cellular-iPadMini4Cellular, iPadPro-iPadPro, iPadProCellular-iPadProCellular, iPadPro97-iPadPro97, iPadPro97Cellular-iPadPro97Cellular, iPhoneSE-iPhoneSE, iPhone7-iPhone7, iPhone7Plus-iPhone7Plus, iPad611-iPad611, iPad612-iPad612, iPad71-iPad71, iPad72-iPad72, iPad73-iPad73, iPad74-iPad74, iPhone8-iPhone8, iPhone8Plus-iPhone8Plus, iPhoneX-iPhoneX,

Supported Languages:

Afrikaans; Albanian; Amharic; Arabic; Armenian; Azerbaijani; Basque; Belarusian; Bengali; Bosnian; Bulgarian; Burmese; Central Khmer; Catalan; Valencian; Chinese; Croatian; Czech; Danish; Dutch; Flemish; English; Estonian; Finnish; French; Galician; Georgian; German; Greek; Gujarati; Hebrew; Hindi; Hungarian; Icelandic; Indonesian; Italian; Japanese; Kannada; Kazakh; Kirghiz; Kyrgyz; Korean; Lao; Latvian; Lithuanian; Macedonian; Malay; Malayalam; Marathi; Mongolian; Nepali; Bokmål, Norwegian; Norwegian Bokmål; Persian; Polish; Portuguese; Punjabi; Romanian; Moldavian; Russian; Serbian; Sinhala; Sinhalese; Slovak; Slovenian; Spanish; Castilian; Swahili; Swedish; Tamil; Telugu; Thai; Chinese; Turkish; Ukrainian; Urdu; Uzbek; Vietnamese; Zulu;

Parental Advisory:

Treatment Information; Mild Sexual Content and Nudity; Fear Themes; Mild Profanity or Crude Humor; Mild Cartoon or Fantasy Violence; Suggestive Themes; Mild Simulated Gambling; Mild Alcohol, Tobacco, or Drug Use or References; Mild Realistic Violence;