Screenshots
New in version 12.47.16
Fixed issue where videos could unexpectedly advance.
Description
Get the official YouTube app for iPhone and iPad.
See what the world is watching in music, gaming, entertainment, news and more. Subscribe to channels, share with friends, edit and upload videos, and watch on any device.

You can also create playlists, check out what's trending, express yourself with comments, share videos with friends, cast a video to your TV, and more – all from inside the app.

FIND VIDEOS YOU LOVE FAST
- Browse personal recommendations on the home tab
- See the latest from the creators you follow on the subscriptions tab
- Discover the world's hottest videos on the trending tab
- Look up videos you watched or liked on the library tab

CONNECT AND SHARE
- Let people know how you feel with likes, comments, or shares
- Create, edit, add filters or music, and upload your own videos all inside the app

Get 1 month of YouTube Red for free. Existing YouTube Red or Google Play Music members and users of either service who have already received this 30 day trial are not eligible. Monthly charges apply for YouTube Red membership outside of trial periods.

If you subscribe via iTunes:

Payment will be charged to iTunes Account at confirmation of purchase. Subscription automatically renews unless auto-renew is turned off at least 24 hours before the end of the current period. Account will be charged for renewal within 24 hours prior to the end of the current period at the rate of the selected plan. Subscriptions and auto-renewal may be managed by going to Account Settings after purchase

Any unused portion of a free trial period will be forfeited when purchasing a subscription.

YouTube paid service terms: https://www.youtube.com/t/terms_paidservice
Privacy policy: https://www.google.com/policies/privacy
iPad Screenshots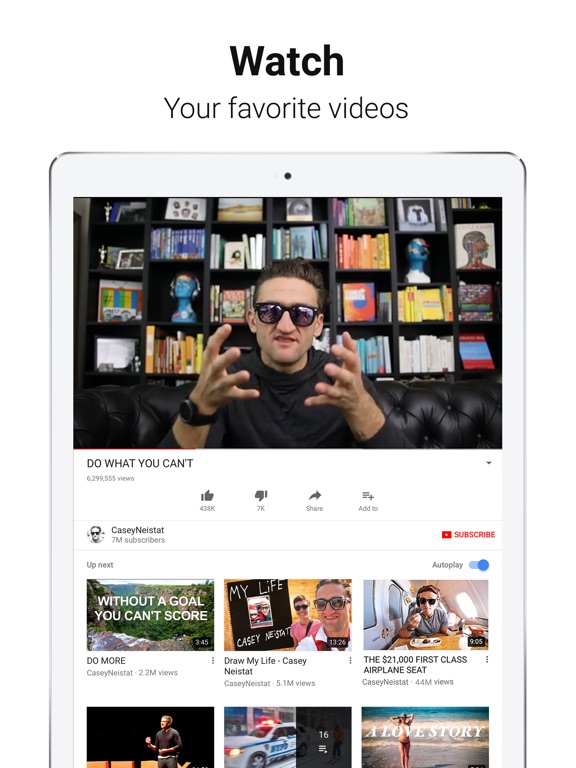 Reviews
Major Bug Needs Attention
JennyLeigh63
on
12/13/2017
I have an IPad (2017 version) and use YouTube frequently. I love it. Recently, however, I have been unable to watch videos from search results. There are two temporary fixes: 1) uninstall and reload the app, which gives me two views at most; or 2) watch from another account (then I can't save anything I like). PLEASE, Google, fix this bug!
Crashes
The app keeps crashing unexpectedly when watching a video.
😍😍😜😋😝😛
Kid Socialite
on
12/13/2017
AWESOME 👏🏾 APP
رائع ولكن
تطبيق رائع ولكن من عيوبه لايرفع فيديوهات اكثر من 15دقيقه نريده ان يكون يرفع مقاطع فوق 25دقيقه
Can't unmute
SkyRaiderNin
on
12/13/2017
I muted some schmuck and now I can't unmute them because it doesn't give me the option. What the actual heck???
Depends on where Youtube views your political stance
They may shut you down, they may support you. It depends on if you are left or right, politically.
Recent bugs
I've used YouTube app for many years now, never had this happen until the latest version of iOS as of this writing. I've only had it happen when watching whilst holding phone horizontally (in full screen). It does not happen every time, but sometimes I'll pause a video briefly, when I click play the audio picks up where it left off but the video is frozen, with the pause image still halfway visible on the screen. After this I usually hit the home button to close the app and try to reopen, but phone will be unresponsive for many seconds, even the power button will have no effect for a while. App will then crash, or finally a button press will take effect. Otherwise great app. I watch what I consider to be many videos daily, so it happens a couple of times per day.
App Malfunctioning:
DanZigadlo_1997
on
12/13/2017
1. It won't let me exit out of Fullscreen. 2. Not responding very well. 3. Won't sync more videos. 4. Quality kept changing back from 720p - 1080p into 144p - 240p for no reason. 5. When closing an ad, while you're playing/viewing current/other video/videos, the whole app froze & the video is still playing for an weird reason...
Love this app but battery hog on iOS 11.1
Hanis Bellamy
on
12/13/2017
I noticed this app drain my iOS 11.1 phone very fast. I love this this app and I hope this issue gets fixed, whether by Google or Apple on its non battery optimised OS. Youtube works okay (not battery hog) on pre iOS 11.. If I could go back to previous iOS I would do it roght away...
Audio video delay on iPhone X
One Life, One Love, One King
on
12/13/2017
Since purchasing an iPhone X, there has been a slight audio/video delay when using my wireless beats headphones. This used to happen in the past when I first purchased the headphones, but was fixed through an update on beats website. It has worked perfectly with every iPhone I have purchased until I bought the iPhone X. There isn't an firmware update on the beats page for this, so I assume it's because of the updates on the YouTube app. Can you fix this?
All around excellence! (With YouTube Red)
AlmigtyZlatan
on
12/13/2017
The app itself is good and used billions of times a day I'm sure of it, but YouTube Red is awesome! Endless videos and endless music from old hits to newly released music videos it's just great. I couldn't really say anything bad to be quite honest. Also you can look your phone or open other apps with YouTube in the back round still functioning. That's kind of the only reason why I have YouTube Red lol but it's totally worth it, that and skipping ads also is another big reason. Also you get exclusive content from short films to small shows that only subscribers can see. This app reaches new heights each year and can't wait to see what's next!
Still buggy
Stupid app shows 'no connection' even though I am holding my iphone 6s next to my router and the connection speeds are >>10 MBYTES/sec. Once again, I had to delete the app and reinstall it to connect again.
Fix All the Bugs Please
The Real Philly Phil
on
12/13/2017
I Love watching YouTube Livestream Gaming but for some reason when I want to comment in my friends video the comment doesn't read, it just disappears and it's really frustrating plus sometimes I watch the videos in landscape mode and the app would just crash and literally brick my iPhone 6s Plus for a good 10 seconds. Please fix all the bugginess soon and make YouTube great again. Thanks!
Not doing so good
I loved how it was at first but now it's been deleting most content or channels I really enjoyed watching
I can't cuss
KoalaBreeze05
on
12/12/2017
Remove the button for on screen tv play🙄. Or give us an option to disable it, it's freaking annoying when I click it by accident. 🖕🏻
Swipe to go back.
I love the feature to swipe from the top corner to go back to the list of videos you searched for, or to quickly go back to the home page. But what drives me crazy is not being able to quickly go back to the video I just watched. Many times I'm reading a description of a video after it has ended, then the auto next feature plays the next video before I finish reading, I then cannot go straight back to the video, but I can go back to the search results. A simple swipe (just like with safari) would remedy this issue. Please consider!
Its okay but....
Monster719222
on
12/12/2017
Okay, so when I click on a video or try to put it into full screen it does a weird thing where it is in "portrait" mode but turned sideways so I can only see half of the screen. I leave the app and go back but its in actual portrait mode, but you cant see the description or scroll down to the comments. Its just the video and you cant get out of it. You either have to (in my case, turn orientation lock off) and turn your phone or, close the app completely down and reopen it. Don't get me wrong I love youtube but this is a really bad bug and super annoying. Another Comment; I have Youtube Red and I have playlists downloaded but whenever I cant shuffle the video???
Audio Glitch
This has always been a good app for watching YouTube. However here lately, the audio seems to skip, it's not a download issue because I have plenty downloaded before I watch, and the video plays just fine. I'll be watching and the audio will skip and I can't understand what's being said. I have to rewind a few seconds to fix it until it happens again, then rewind again. I hope this issue can be fixed.
I love this app, but...
Kizoto ( from the game )
on
12/12/2017
One teeny little thing I hate about it. I've been a user of YouTube Red for a while now, and with that, I've been able to download the music I want to listen to all the time. The thing is, now for some reason, it's not letting me shuffle my music. Like, the shuffle button is there, but it doesn't really shuffle anymore. It just chooses a random song and keeps going down the list from there. It's irritating me.
BEST APP EVER!!
Jeanna_Ingram
on
12/12/2017
The videos load pretty quickly, you can watch them in 1080p and it doesn't lag or anything. You can like,dislike,comment,share, and if you have YouTube red you can download it! I use this app every day and I really recommend getting it!
#savesml
Cadenthegamer
on
12/12/2017
Please YouTube don't delete supermariologans YouTube channel it is my favorite youtube channel and I spend a lot of my time waiting every week for one of his videos to make me laugh and if it gets deleted that would be f***ing horrible to me and about 4 million other people please don't delete it
Good but...
Lightning Boy7
on
12/12/2017
I love YouTube but for some reason whenever I watch a video the video freezes while the audio keeps playing. Then if I exit the video the same frozen screen is stuck there. I really hope this problem is fixed.
App freezes
I enjoy the experience of being able to watch videos well on my new iPhone, however, there is one drawback that persists to agonize me. This happens to me only when I have the video in landscape. When I pause the video for some time, the app itself will freeze the phone, whereas I must click my power button to make it sleep. I have to press after a certain amount of time after turning off the screen in order for it to pop back up to the way it was. This especially happened when a video ended and autoplay is set to on. I don't know if it continues when it is off, but it is an annoying bug for me. Just earlier, my phone crashed entirely because of it. Please find a solution, thank you.
Why !!!!!
After the last update the app starts to lag A LOT !!!!!!! And the full screen button when I click it the video stay at the corner of the screen and I hate it after the update ☹️ I can't enjoy it again Please fix this
Feeds 👎
Just hate and not happy to keep seeing others Vlogers Video in my feeds!
AD BUG!!!
Triggerismycat
on
12/12/2017
Ok first off I love using YouTube it's great, but I'm having a problem. I dot know if it's just me but every time a Ad pops up I get logged out of YouTube. This is really getting on my nerves. I have even tried turning down the quality but that doesn't help. The bug is really making me not want to watch my favorite YouTuber's content. PLEASE FIX!! I still love YouTube though it's my favorite passing time. Also please anyone tell me if this happens to you too.
No. Just no.
This website is just going downhill
Always recommends videos I've already watched
JDogBlingBling
on
12/12/2017
I don't know what's going on at YouTube but I'm constantly getting videos I've already seen coming up in my recommended tab. They're probably too busy trying to demonetize videos for wrong think
Awesome
I like it but more design
Needs help
Jamessssssss7
on
12/12/2017
Sometimes when im watching a video it pauses and i have to exit the app and wait like 2 minutes then it works again but it happens way to much so please fix it
My notifications will NOT work😡🤬😤👿
ACawsomeness
on
12/12/2017
My notifications will NOT work. YouTube, I want this fixed! I have been waiting for this to be fixed for the past three updates, but I have waited, because I thought it would be fixed. I am saying something now because I want it done. I am SICK of not seeing Logan Paul in my notifications box. All I see in my notifications box are comments others people have left on my comments. PLEASE FIX THIS YOUTUBE!!!🔥😡🔥
Try to find better
There ain't none.
5 STARS BABY!!!!
Anime King 2680
on
12/12/2017
Fast loading? Good quality? Crappy 3 stars tho it deserve 5 if you said yes to all of them ur talking about YouTube
Comments
Sammyboy6789
on
12/12/2017
I can't see certain replies to comments , strange
Rate Youtube
rate youtube
on
12/12/2017
I love youtube I can watch whatever I want to.!
Fix the crashing please
HeatherEliseThomas
on
12/12/2017
Keeps crashing. Really annoying that I gotta keep watching ad after ad because the app crashes.
Lockup continues
Please please fix the constant lock up issues on iOS 11!
Buggy since 2017 12 05
Buggy.
Give me a break
The Big R Man
on
12/12/2017
December 2017 update: warm, rotten garbage. *May 2017 update: This app is still rotten garbage. "No Connection." "Error Loading. Tap to Retry." Get used to seeing these rotten garbage messages. This app is pathetic. It can hardly even play videos--the irony! On my wifi connection with a full signal it stops the video literally every five or six seconds to buffer. Awful.
The app use too work perfectly, but no longer doesn't.
I'm a YouTube red subscriber for well, almost a year and so obviously I do like my YouTube and have no problem supporting creators. Recently the app has straight up stopped working and has been crashing. The app crashes so fast I can't even report the problem. Tried restarting my phone completely and no affect. Fix ASAP please.
Audio Replay
LanaIsPretty
on
12/12/2017
No problems other than a recent issue with audio replay for example I click on a video and it plays but the audio will go back a few seconds while the video continues so I'm watching the people mouth not match what I'm hearing and I would have to go back ten seconds for it to play correctly but I shouldn't have to do this five to six times during a 30+ minute video or less.
My life
This is were I spend my life
A new low
Awesom12333291
on
12/12/2017
I pay 12.99 a month for no ads, and yet I just viewed an ad on my account (which was logged in and has an active subscription to Youtube Red). Completely Scummy thing to do, and is false advertising.
Holy ads
psicodiavolo
on
12/12/2017
How can a 10 min video be more than half ads?! It seems like every video is ramped up with even more ads. I get that you need advertising, tone it down though. Also find a way to limit the types of ads we get. I don't need to see 12 Michelob lite ads in one video, I'd also like to have the option to see no beer ads. Y'all made it work before, what changed?
Freezing after latest update! - EDIT: Fixed!
EDIT: Turns out all I needed was a software update, haha. Here's two stars back. :)
Videos
Jay.clayton
on
12/12/2017
All of a sudden every time I hit an ad the video starts from the beginning automatically
No point in deleting channels
Wow so disgusting
on
12/12/2017
Hello creators of YouTube, I wanted to tell you something that has been getting on my nerves. Why do you always delete channels? I was right in the middle of a series but you guys took down the channels with the show I was watching and I cannot watch it anymore. This is something that has been happening a lot for me so I just wanted to address this to you.
Good App But one problem
This app is amazing I can watch all of my favorite youtubers. But the problem is that it won't let me open YouTube for more than 5 seconds without crashing and it keeps doing it. So if you could fix than I will give five stars.
Why did you take down sml f you
Tfxafxgxgvfkgfc
on
12/12/2017
Why just why did you take down sml get a life
Fact Sheet
Publisher:

Google, Inc.

Category:

Photo & Video

Released:

Sep 11, 2012

Current Version Released:

Dec 06, 2017

Version:

12.47.16

Size:

202.7 MB

Compatibility:

Requires iOS 9.0 or later.

Recommended Age:

17+

Game Center Certified:

No

Supported Devices:

iPad2Wifi-iPad2Wifi, iPad23G-iPad23G, iPhone4S-iPhone4S, iPadThirdGen-iPadThirdGen, iPadThirdGen4G-iPadThirdGen4G, iPhone5-iPhone5, iPodTouchFifthGen-iPodTouchFifthGen, iPadFourthGen-iPadFourthGen, iPadFourthGen4G-iPadFourthGen4G, iPadMini-iPadMini, iPadMini4G-iPadMini4G, iPhone5c-iPhone5c, iPhone5s-iPhone5s, iPadAir-iPadAir, iPadAirCellular-iPadAirCellular, iPadMiniRetina-iPadMiniRetina, iPadMiniRetinaCellular-iPadMiniRetinaCellular, iPhone6-iPhone6, iPhone6Plus-iPhone6Plus, iPadAir2-iPadAir2, iPadAir2Cellular-iPadAir2Cellular, iPadMini3-iPadMini3, iPadMini3Cellular-iPadMini3Cellular, iPodTouchSixthGen-iPodTouchSixthGen, iPhone6s-iPhone6s, iPhone6sPlus-iPhone6sPlus, iPadMini4-iPadMini4, iPadMini4Cellular-iPadMini4Cellular, iPadPro-iPadPro, iPadProCellular-iPadProCellular, iPadPro97-iPadPro97, iPadPro97Cellular-iPadPro97Cellular, iPhoneSE-iPhoneSE, iPhone7-iPhone7, iPhone7Plus-iPhone7Plus, iPad611-iPad611, iPad612-iPad612, iPad71-iPad71, iPad72-iPad72, iPad73-iPad73, iPad74-iPad74, iPhone8-iPhone8, iPhone8Plus-iPhone8Plus, iPhoneX-iPhoneX,

Supported Languages:

Afrikaans; Albanian; Amharic; Arabic; Armenian; Azerbaijani; Basque; Belarusian; Bengali; Bosnian; Bulgarian; Burmese; Central Khmer; Catalan; Valencian; Chinese; Croatian; Czech; Danish; Dutch; Flemish; English; Estonian; Finnish; French; Galician; Georgian; German; Greek; Gujarati; Hebrew; Hindi; Hungarian; Icelandic; Indonesian; Italian; Japanese; Kannada; Kazakh; Kirghiz; Kyrgyz; Korean; Lao; Latvian; Lithuanian; Macedonian; Malay; Malayalam; Marathi; Mongolian; Nepali; Bokmål, Norwegian; Norwegian Bokmål; Persian; Polish; Portuguese; Punjabi; Romanian; Moldavian; Russian; Serbian; Sinhala; Sinhalese; Slovak; Slovenian; Spanish; Castilian; Swahili; Swedish; Tamil; Telugu; Thai; Chinese; Turkish; Ukrainian; Urdu; Uzbek; Vietnamese; Zulu;

Parental Advisory:

Mild Simulated Gambling; Treatment Information; Mild Cartoon or Fantasy Violence; Suggestive Themes; Mild Realistic Violence; Mild Sexual Content and Nudity; Mild Alcohol, Tobacco, or Drug Use or References; Fear Themes; Mild Profanity or Crude Humor;