Photo & Video
Entertainment
This version of the app is not recommended
App last updated
Jan 21, 2018
Screenshots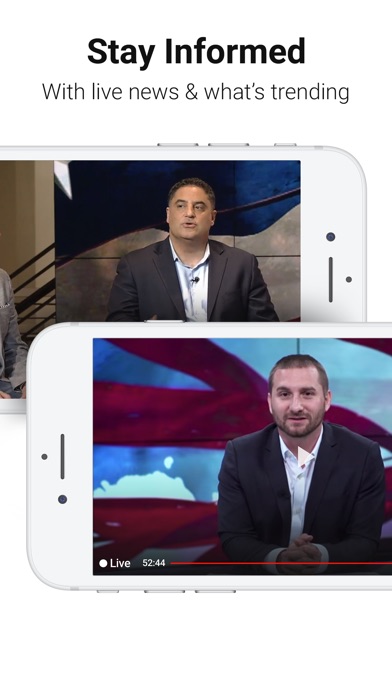 New in version 13.02.9
General fixes and stability improvements.
Description
Get the official YouTube app for iPhone and iPad.
See what the world is watching in music, gaming, entertainment, news and more. Subscribe to channels, share with friends, edit and upload videos, and watch on any device.

You can also create playlists, check out what's trending, express yourself with comments, share videos with friends, cast a video to your TV, and more – all from inside the app.

FIND VIDEOS YOU LOVE FAST
- Browse personal recommendations on the home tab
- See the latest from the creators you follow on the subscriptions tab
- Discover the world's hottest videos on the trending tab
- Look up videos you watched or liked on the library tab

CONNECT AND SHARE
- Let people know how you feel with likes, comments, or shares
- Create, edit, add filters or music, and upload your own videos all inside the app

Get 1 month of YouTube Red for free. Existing YouTube Red or Google Play Music members and users of either service who have already received this 30 day trial are not eligible. Monthly charges apply for YouTube Red membership outside of trial periods.

If you subscribe via iTunes:

Payment will be charged to iTunes Account at confirmation of purchase. Subscription automatically renews unless auto-renew is turned off at least 24 hours before the end of the current period. Account will be charged for renewal within 24 hours prior to the end of the current period at the rate of the selected plan. Subscriptions and auto-renewal may be managed by going to Account Settings after purchase

Any unused portion of a free trial period will be forfeited when purchasing a subscription.

YouTube paid service terms: https://www.youtube.com/t/terms_paidservice
Privacy policy: https://www.google.com/policies/privacy
iPad Screenshots
Reviews
Speeding up and slowing down voices
Speeding up and slowing down voices at times can't skip and make it catch up
Please fix the freeze!
Ramslo Quartet
on
1/23/2018
Please please please please please fix the screen freeze! The Screen freezes, but the audio keeps going, and it locks up the phone. It happens even more with the latest update. I would gladly give this app five stars except for the crashing! I reinstalled, didn't help. Please fix!
Fix please
When I watch a video the voices and the video goes fast and has a high pitch voice and slows down and sounds deep when I start a video and during it. Please fix this so I won't have to keep going in and out of the video so voice and speed can be normal. The speed is normal so this should not be happening.
I love YouTube but..
Vincentvalentine
on
1/23/2018
I love this app I really do, but when I go to my music playlist and it doesn't have a shuffle option that's kinda annoying I would really appreciate the shuffle being re-added
Meh
yall at youtube trying ig
One star
Love the ability to listen off screen, but my independent news feed subscriptions don't show in my feed automatically like propaganda news channels who have my least valued interests in mind the welfare of someone else's wallet...so I will cancel at the end of my 90day trial..but it was nice to have TOOL 🎶 available.
just bad
for the past 2 months ive been experiencing this bad quality that when watching a video, the persons voice slows down and becomes so much deeper. and when i try to speed it, it speeds up so much that when i try to pause it, and play again it speeds up on its own. so horrible. i use to love youtube. deleting app .
Buggy as all bugged out
FairbanksRhino
on
1/23/2018
Ever since last update, YouTube has quit working multiple times in the middle of videos...
Awesome app! However...
Awesome app! Lots of good stuff on it. However, I miss the simplicity of swiping the screen to switch to other screens. New updates 13.02.9 has removed this feature.
Hangs in the latest version
0 stars if I could
iWatch compatibles
Fitblonde518
on
1/23/2018
I wish the YouTube Red app was compatible with the iWatch! Would make workouts much easier!
Playback speed bug.
Video will randomly speed up without the control to revert it back to normal speed. Seems to happen when I switch tasks and go back to YouTube.
Squeaky voices
I keep getting random freezing and high-pitched squeaky voices.
Youtube red is worthless
ScreamingGoat43
on
1/23/2018
Youtube red is $12.99 per month for maybe 30-40 crappy videos that don't interest me. You're giving money to losers that never worked a hard day in their life. Not worth $12.99 per month, what a rip off.
Needs another update
Mk Washington
on
1/23/2018
Everytime I'm watching a YouTube video the video stops on its own. No matter what the video kept re-stopping when I'm playing the video
This app is laggy
ottomack '04
on
1/23/2018
1. When I'm watching a video the audio slows down at a certain moment, and when I try to put it back to the specific moment it sends me way farther into the video than I was before 2. The video itself stops for seconds and when it begins the video is shown super fast as if I was able to scan the screen with a cyborg eye 3. The previews when you scroll take forever to load and when they do you have to be connected to faster than average internet so that you can keep previewing the video
iphone 6 ios 11.2.2 issue
Leroy-Jekins
on
1/23/2018
nothing but grey blank icons i can't see a single video
Never loads
Its lil cisco
on
1/23/2018
App never loads
Speedy Audio Playback Still An Issue
Title says it all and after 2 updates :-/
Glitched speed watching
I hate it. Each time I'm watching a video it glitches out and speeds up. I'll rest the app and it'll be worse. I rest the phone it doesn't help !!
Mal sonido
Después de la última actualización los videos al cargarlo se le atrasa el sonido oh se le pones más rápido.. suelo estar viendo un video y de repente cambia de velocidad solo el sonido del video.. ya casi no puedo usar la aplicación por el mismo problema siempre..
Awesome 👌🏻
Great creativity🐠 very useful app 💐🌹💕
Good but some flaws
I love the app but why remove random playlists, lots of people use them. Please bring it back.
🔥🔥🔥
Everything I've dreamed of. I can close the YouTube app while the music still plays. Dreams do come true.
🤬
LivinGodLoud
on
1/23/2018
NO MORE ADS!!!!!!!!
Good job
I love the videos keep it up
crashes to often
i mean that bye youtube quits on me and says "sorry youtube something out of nowhere, continue watching" it is annoying
We need darkMode or loop the video
sallem almosallam
on
1/23/2018
This app is the most addictive app ever made but it's missing dark mode and loop
What is going on!
Popcorn00106
on
1/23/2018
Google you make billions, please start paying someone to test you're app on most phones my iPhone 7 Plus has so many issues with some of the most basic items in the app there are no bottom buttons anymore!!! Not all of the features work play back speed, quality, auto play, and notifications. The new dark them is very difficult to read and all of the extra text squeezed onto each tile makes it so small you hardly can read anything. Very unsatisfactory
autoplay feature can't be turned off when casting
i use this app w my xbox one all the time. for some reason you can't disable the autoplay feature. it always beings up the video queue and adds in more videos. i have this autoplay disabled on my phone and xbox app but it overrides and keeps auto playing. please fix this bs!
Good but needs improvement
the anillator
on
1/23/2018
I like the app for YouTube. However, it needs one small change. Whenever i go to make a livestream with the youtube app, it keeps freezing and it wont let me make a thumbnail and then it completely stops the app altogether. And just to let u know, i make my videos with this app. So YouTube, u better fix this or else
Aggravating lack of sorting purchases
Seriously? How hard is it to allow users to sort purchases alphabetically? I have hundreds and it is a PITA to find a particular movie
Amazing app
不好说什么,不能再好,要是功能在完善一些就好了,比如单曲循环什么的。
STOP AUTO PLAY
I don't know how many times I have turned off Auto Play in the past. On your websites, on the various apps. And not it's back on and I can't find the setting to turn it off ... again... I have a laundry list of why I don't want you to start another video. And I can appreciate that most of your users probably like the feature, but if I turn it off and am logged into your service, it should stay off.
Please fix if possible
HawaiianboyJohn
on
1/22/2018
Sometimes while I'm watching a video it will start playing fast like it's sped up or slow. Not sure if it's something wrong with my phone but it's getting frustrating.
Playback issues
For about 2 weeks now I've been experiencing weird playback issues Mainly the audio is sped Waaaaaay up and even the most manly man sounds like a squirrel 4 cups of coffee into his morning
⚠️PLEASE DON'T SKIP ME! YOUTUBE AND DO THIS FOR ME! IMMEDIATELY PLEASE! ITS A IMPORTANT! EMERGENCY⚠️
It's 2018 and youtube can make new features for this year on their YouTube mobile app I love YouTube and it's service but if Youtube made their uploads speed faster and have individual coloured filters and support 60 FPS on mobile with a deleted uploads by app mode that can recover only deleted uploads by the app from reinstal or app crash the feature button would be a Portal icon once clicked on the recovery portal icon it would show all deleted uploads by the app and continue uploading them from where left off and having a deleted uploads by the app re instal or app crash deleted uploads recovery feature would help so many people and would show up next to the record button once sighing in from any device to recover all of my 2,403 uploads back all of them and the added other ones too that the youtube app deleted or hidden on me when I re installed the app because the app was slow so when I re installed the youtube app all my uploads were gone or hidden. please attach a recover all deleted uploads / see all uploads mode to youtube account settings for mobile please and also add recovery of all uploads for re installing app and for recovering uploads that say error uploading or error preparing upload to continue uploads for users you and please hurry my best work on those uploads gone because of the app was slow and buggy had to do it and my uploads suffered possible from it maybe so still not sure Instagram has a recovery mode why can't YouTube have a all uploads recovery mode that would make the YouTube app so much better my life is YouTube so I don't know what to do until I see more of my hidden uploads try to come back for me for important use please make sure I get all my 2,403 plus other uploads back I won't stop contacting you if you don't do that for me I had important uploads on YouTube that had to suffer because of slowness and lagging on the YouTube app yesterday cries I'm sad YouTube is my job too I'd do anything to get all my uploads back to my channel please youtube my life is on the line in my job here please do this to improve YouTube and please YouTube don't skip me this is important to me if you have a heart please do this for me to make YouTube better for everyone on the YouTube community here add a feature that keeps the app faster no matter how many uploads you make on it please don't fail me youtube I can't make those 2,403 plus added videos of hard work again just because of the app finally crashing on me so please make this happen in the next update to make youtube better place for everyone my uploads I've worked so hard on can't be made again my heart is broken and I feel empty loosing all of my uploads now so please please please give a deleted recovery in the next update for youtube on mobile for youtube community if Instagram made a posts recovery youtube can make a deleted uploads recovery from youtube app reinstall or app crash and that was a lot of hard work I can't replace or do over again I would like all my uploads back with this deleted uploads from reinstall or app crash it would help millions of people with their uploads deleted by app crash please make this happen a deleted uploads by app reinstall or app crash recovery I need this please put a deleted uploads by the app from re instal or crash button by the record button please youtube hurry and do this for the YouTube community we can't redo those uploads again hard work put into them all so in summary make a recovery of dented uploads by user or app re instal or app crash please youtube please please make a recovery deleted uploads by app reinstall or app crash by the record button I've worked day and night on all those uploads and I want them all back to my channel to be uploading to my channel again just please bring them back my subscribers can't starve on my channel for much longer I can't quit making videos when it's my job
Very good
I love YouTube yet there is one thing I don't like it's that fact how you need 10,000 subscribers to have the community tab I really want to use it but I only have 28 subscribers pleas change this to like 5,000 subscribers pleas
Love this app
This is a very good app
Every video is playing the audio fast
Everything sounds like the chipmunks even though video is playing at normal speed so very annoying
YeazyNation
Subscribe to YeazyNation skits reactions music 🎶🎼 👍🔥💯👏and more
Best App You Guys Ever Creative😀😍💍
darkwolff386
on
1/22/2018
Because Of YouTube i guess to Learn things i never knew before and listen to old school music that i didn't guessed to hear back then But you know YouTube is the Best Don't ever let somebody say it's bad Because it's Not YOUTUBE for life and u maybe one when i become YouTubers i guess to know wht it feels like to help ppl and make them famous for who they are☺️😀😇💍❤️👌🎉
Glitch
Mrspotatoheadx
on
1/22/2018
Whenever I try to add a video to the watch later playlist it's heavy appear :( please fix this
👎
BigPapa69174929
on
1/22/2018
Buggy and unintuitive for years now
HELP!!
I honestly have no clue what's going on but for a couple days now, not all but some videos play like if they are speed up but aren't. I've tried everything but can't seem to do anything about it. Please help or fix if bug
Distracting more less later UI
Please remove
I think I have an addiction, but
Some bugs! 1. Sometimes the first two or three seconds of a video play twice and all the video and audio are desynced for the rest of the video. 2. This one is recent. If you seek back at the very start of a video (perhaps to cure bug 1), sometimes it skips forward to halfway into the video and then you go back to the beginning, everything is low-pitched and super slow. Fix these bugs to get a five-star rating!
Not to bad.....
animal lover4
on
1/22/2018
It's not that bad . BUT the problem is "restricted mode " blocks everything even when it really doesn't seem inappropriate though.Also it freezes sometimes but I'm happy it's not freezing all the time 😊😊Also I like how you can get notifications on your phone
Fix iPhone X interface
When casting, the Scrub bar is super close to the home bar. Really annoying
The best thing ever!!!
YouTube has never failed me, I watch YouTube whenever I have the chance, I can literally search anything I want to watch and there will always be some videos on everything, so YouTube is the best app ever!!!
Fact Sheet
Publisher:

Google, Inc.

Category:

Photo & Video

Released:

Sep 11, 2012

Current Version Released:

Jan 21, 2018

Version:

13.02.9

Size:

181.5 MB

Compatibility:

Requires iOS 9.0 or later.

Recommended Age:

17+

Game Center Certified:

No

Supported Languages:

Afrikaans; Albanian; Amharic; Arabic; Armenian; Azerbaijani; Basque; Belarusian; Bengali; Bosnian; Bulgarian; Burmese; Central Khmer; Catalan; Valencian; Chinese; Croatian; Czech; Danish; Dutch; Flemish; English; Estonian; Finnish; French; Galician; Georgian; German; Greek; Gujarati; Hebrew; Hindi; Hungarian; Icelandic; Indonesian; Italian; Japanese; Kannada; Kazakh; Kirghiz; Kyrgyz; Korean; Lao; Latvian; Lithuanian; Macedonian; Malay; Malayalam; Marathi; Mongolian; Nepali; Bokmål, Norwegian; Norwegian Bokmål; Persian; Polish; Portuguese; Punjabi; Romanian; Moldavian; Russian; Serbian; Sinhala; Sinhalese; Slovak; Slovenian; Spanish; Castilian; Swahili; Swedish; Tamil; Telugu; Thai; Chinese; Turkish; Ukrainian; Urdu; Uzbek; Vietnamese; Zulu;

Parental Advisory:

Mild Sexual Content and Nudity; Mild Alcohol, Tobacco, or Drug Use or References; Mild Cartoon or Fantasy Violence; Treatment Information; Mild Simulated Gambling; Mild Realistic Violence; Mild Profanity or Crude Humor; Suggestive Themes; Fear Themes;