Screenshots
New in version 12.47.16
Fixed issue where videos could unexpectedly advance.
Description
Get the official YouTube app for iPhone and iPad.
See what the world is watching in music, gaming, entertainment, news and more. Subscribe to channels, share with friends, edit and upload videos, and watch on any device.

You can also create playlists, check out what's trending, express yourself with comments, share videos with friends, cast a video to your TV, and more – all from inside the app.

FIND VIDEOS YOU LOVE FAST
- Browse personal recommendations on the home tab
- See the latest from the creators you follow on the subscriptions tab
- Discover the world's hottest videos on the trending tab
- Look up videos you watched or liked on the library tab

CONNECT AND SHARE
- Let people know how you feel with likes, comments, or shares
- Create, edit, add filters or music, and upload your own videos all inside the app

Get 1 month of YouTube Red for free. Existing YouTube Red or Google Play Music members and users of either service who have already received this 30 day trial are not eligible. Monthly charges apply for YouTube Red membership outside of trial periods.

If you subscribe via iTunes:

Payment will be charged to iTunes Account at confirmation of purchase. Subscription automatically renews unless auto-renew is turned off at least 24 hours before the end of the current period. Account will be charged for renewal within 24 hours prior to the end of the current period at the rate of the selected plan. Subscriptions and auto-renewal may be managed by going to Account Settings after purchase

Any unused portion of a free trial period will be forfeited when purchasing a subscription.

YouTube paid service terms: https://www.youtube.com/t/terms_paidservice
Privacy policy: https://www.google.com/policies/privacy
iPad Screenshots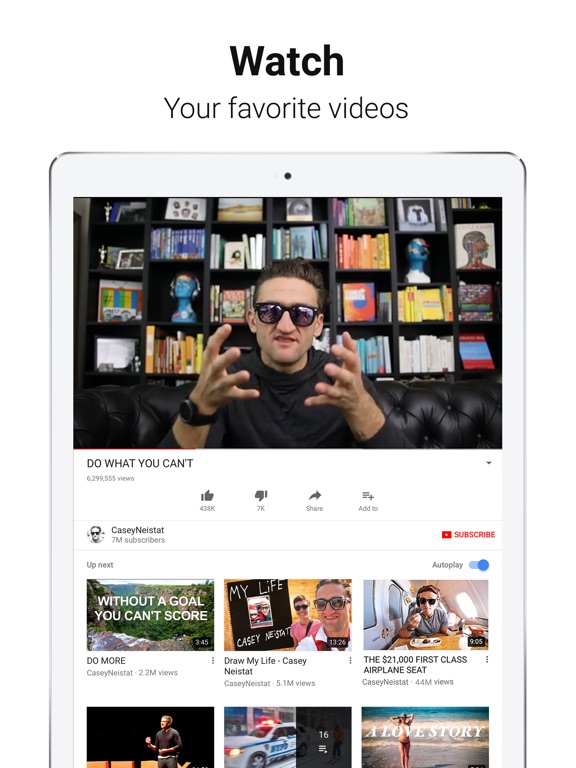 Reviews
Many problems
Dunsparce Guy
on
12/16/2017
This app has many problems, and I will list a few. 1. Frequent crashes 2. Still no video speed changing 3. May have been the inspiration to replace the highly useful and customizable annotations with the highly limited End-Cards 4. It has absolutely no competition 5. Bad recommendation system 6. The Demonetization crisis 7. Un-skippable 30 second ads 8. Trending Tab is made to be unfair, allowing videos with around 20k views to be featured above videos with millions of views. 9. Gives a notification every time somebody likes one of your comments (although there could be a way to disable that one) Honestly, even if just the first issue was fixed, this would at least be a 3 Star review.
NEEDS A NIGHT MODE ON MOBILE
i use the youtube app basically all day every day. while i don't have any significant problems, there is still an issue with notifications not going through. the main thing that i would really like from the app is dark mode. using dark mode on the desktop version is such a lifesaver and it would be nice to have that option on mobile as well
Don't Change A Good Feature
I've never written a YouTube review before but I absolutely hate the new way to minimize the video you where last playing so you can browse YouTube without a video in the way. Before it was a swipe to the left. Now you have to swipe down and swipe down again to remove the video, or tap the X. It's so tedious and unnatural. I don't like it. Hope you bring back the older version. Also, the thumbnail is so small there is no point to have the minimize video. Don't fix something that was never broken.
Getting better but still having issues
The gameviews
on
12/16/2017
I'll just start off by saying that this app is still improving, but the one problem that I've been having ever since iOS 11 came out was the app freezing up my entire phone for about 5-15secs at a time, it's mildly infuriating, but if you're careful with it it CAN be avoided. It only freezes whenever videos are in full screen and paused.
Bring Back Swipe Away
Dman_barber
on
12/16/2017
I like how I was able to swipe away the video when I'm done watching. Now I have to click and X to close a window. Please bring back swipe!!!!!
Please fix bug!
A bug that persists is that when videos load, the information doesn't. For example, I click on a video. It loads and plays, but the description, title, like button, comments, and share button don't load.
I do not like the new update
hamter1071997
on
12/16/2017
It's incredibly tough to get used to the pressing instead of swiping, just to close the current video.
Needs bug fixes soon
truongtho1603
on
12/16/2017
Video often goes later than sound. I think youtube should have this fixed soon. So annoying
Favorite app! Annoying bug..
Ralphwindman77
on
12/16/2017
I'm not going to go on some rant on how great the YouTube app is because we all know what YouTube is, I just want to bring up an annoying bug on IOS. when ever I get a notification or simply open something else while watching a video in full screen mode, the video freezes, the audio continues to play, only way to get out of it is to close the phone and spam the button to open it back up again until it opens, which usually means my phone is now locked for 5 seconds. Very annoying please fix!!
Finally
They fixed my issue thanks!
Playlists?!
I sure miss that random button on playlists.
Read this please.
Jonathan___
on
12/16/2017
I always loved YouTube and its content, but the adds are getting ridiculous. There's an add for every 15 minuets in every single video. I renember like 5 years ago, you whould get an add every 10 videos. YouTube is pushing you to pay for add-free.
Love it but...
Devsterroc1212
on
12/16/2017
100% Absolutely love this app but the only thing I don't like is how it unexpectedly crashes the app and brings me to my home screen out of nowhere. Then when I get in, it lets me go back into the video but that's still annoying and it'd be great if it was fixed
I'm mad at you
Mystical Kitties
on
12/16/2017
I would be better if you would let me live stream I will give it five stars if you let me live stream. I only made one small mistake and you just are like oh my gosh you just made one small mistake now I can't even live stream because it I only copyrighted one thing and now I'm really mad please I really want to live stream I want to be have a famous YouTube or I will give it five stars if you let me do it
Needs to get the "swipe" feature back
YouTube removed the feature where you swipe down and swipe towards the left of the screen when you stop wanting to watch a video and move on to something else in the app. Now you swipe down and then there is a big boxy rectangle where you have to "X" it out and it looks like an ad. You can barely see the video playing, it blocks visibility for the rest of the app, and when I'm driving I have to be precise in clicking the X to remove the video instead of just swiping near the bottom of the screen and it's removed. Since I use this app while driving to listen to music, I want that feature back or at least have the option to change it back. Please fix this new, ugly feature. Other than that the app works well for me.
YouTube Red adds
I've been a paying member of YouTube red for a pretty long time probably about a year, I would like a function to remove "polls" and the banners for YouTube show/series. They are extremely annoying and inconvenient and I would like a setting to turn them off.
Love it!
I love this app!
Closing Videos
HashOnTheBeat
on
12/16/2017
No! Please! Stop! Bring back the sliding way of closing videos!!! Please!! Way more convenient and cool!!! Please!! 😑😑
Minimized video update is terrible
Minimized video used to go to the bottom right corner, so you could still watch videos while browsing. The new minimized video along the bottom is too small to watch. Further- there should be a way to add things to up-next or a more active queue. Current video playlists like watch later and others are inconvenient to use
Bugs! Or hacked? Or YouTube subscribing to things for me?!
I fell asleep one night watching YouTube and woke up the next morning off of YouTube and found that I had "watched" a few videos on little kids and channels about little kid pranks and things I will never be interested in or watch. So I then use the hide/not interested feature to get rid of all these videos now filling my home tab. Weeks later now I'm constantly finding that I'm subscribed to more of these annoying channels with those little kid/toy/prank videos even though I'm not the one subscribing to them. No one has access to my account or my phone to do it. I don't know if my account could be hacked, I would assume YouTube would keep that from happening. I don't understand why or how this is happening. Can someone at YouTube plz fix this, it's extremely annoying.
Used to be awesome
I've had YouTube red since its inception. While they have improved the interface over time the experience is getting worse every time I leave the app it stops playing. I'm getting pretty irritated by this. The only reason I have YouTube red is to play videos to listen to while I work on my phone. And lately each and every time I leave the app the video and audio stop playing. Soon enough I will just stop paying for YouTube red and save my money.
WHY?!?
Egyptianvampire
on
12/16/2017
BRING BACK THE TEN SECOND SKIP
Why?!
KKB Awesome
on
12/16/2017
I thought I'd get used to it, but now it's really annoying. I don't understand the need to have updated the video format when searching or doing other things off the video while keeping it open. The way it was in the bottom corner where you could swipe to stop it anytime was PERFECT. Now we have this unnecessary bar covering the bottom part of the screen with the title of the video and yada yada USELESS INFORMATION WE COULD EASILY CHECK IF WE EXPAND THE WINDOW... with an x in the corner to quit the video. Why is it so complicated now? Even the video is much smaller when in windowed mode! What is this?!?! I'm incredibly disappointed. The more I have to use this feature, the more I want to just use YouTube from my browser instead of the app. But that's not all! How come with videos that aren't in landscape format, they're scaled up to cover 90% of the screen now? It's a pain to scroll through comments and have the (let's say portrait mode) video cropped off the top and the bottom when you scroll down? I'd rather have the black bars than this weird, annoying format. Youtube is a pain, at least for me, to use on mobile. Especially since I almost never have access to desktop! I'm outraged. At least give us an option in settings to switch back to the original format! This is atrocious. I'm not changing my review until some type of solution is formed.
MUST READ PARENTS
12335786868585
on
12/16/2017
BAD WORDS, SONE USE THE LORDS NAME IN VAIN ASWEL, INOPROPREIOT THINGS
Dec 2017 Update UI Change
Not a fan. Hard to see anything in minimized videos now because they've been made much smaller. Also can't swipe to close any more, you have to hit the tiny little "x" instead. Feels like a move backwards, could have probably lived without a pause button on the minimized videos if this was the price to pay.
Review
Butter Cream Crock Skin
on
12/16/2017
Videos freeze and I don't like how when the video is about to end all the recommended videos pop up, you can't finish watching the rest of the video.
Terrible
Jimbojones3030
on
12/16/2017
The app is not good if you have an iPhone X. Very very slow.
Age restriction
Hello YouTube you guy were great when you first started everyone who made content made money and made everyone happy or sad or mad but it's ok but when you guys added the age restriction everyone was kinda ok with it but when you had the ad apocalypse we're people can't say bad words it was unfair I seen people lose their channel or had every single one of there uploads age restriction or people being stressed out about there channel like Super Mario Logan being stressed you don't have to be like this parents can see what there child is doing or they can put age restriction mode for them. pls at the bottom of my hart stop putting age restriction because some people don't have account but still stop putting age restrictions for YouTube it's annoying and mean you guys have all these other YouTube apps stop being childish and wake up everyone swears. I hope you read this message YouTube or a reader thank you and have a wonderful day.
Please stop the preview while scrolling!
Aoithedreamer
on
12/16/2017
With the new update you can see a preview of the videos with hilariously incorrect subtitles. However, I don't want to see those so I went into the settings and turned them off. But every. Single. Time. I open the app the previews keep going! Please make it stop.
Hi there
5 star create me
on
12/16/2017
I'm 8 and I watch this! I can't believe this is 17 years or above to watch this!!!!!! I usually watch undertale stuff. Merry Christmas!!!!!!!
Too many ads/ latest update
I know YouTube is going through an adpocalypse but literally every single video I watch I get an ad. Some are just 5 second ones but others are 30 second ones that you can't skip. Look I know that means that I'm helping the creator or whatever but it is really inconvenient and honestly aggravating. I'm fine with ads every now and then but when it's the same ads non stop... well you get my drift. Also when you slide your video down to the bottom of the screen (I'm sorry I don't know what that means) the new design is... ugly and inconvenient. I understand what you guys were trying to do, but no just no.
You tube on iPhone= crap
Iphones gay
on
12/16/2017
The new update is stupid horrible. Why minimize the video font while searching for something else EVEN smaller? It's barely viewable, it freezes. Horrible simply horrible.
The best app
When you're bored, watch videos to pass time! When you're sad, watch music videos to make you feel better. This app is everything and I love it so much!🖤
Keeps Loosing Track Of Watched videos
I have been using YouTube for the last 2-3 years. Recently, the last several months, it has lost track of what I have watched. Worse it keeps recommending videos that I have already watch. It has become quite frustrating. In addition I subscribe to several channels. But videos are only time sequential on the Subscription page NOT the Home page. Finally the last two updates I get a lot of GRAY preview on the Home page.
YouTube is turning into YouTube kids
Gamersimthehood
on
12/16/2017
YouTube should of left YouTube alone because they have YouTube kids that they can monitor with no profanity and crude humor and so on and so forth I use YouTube every single day but I'm seeing my favorite YouTube channels getting targeted as Age restricted did blah blah blah and possibly their channel getting deleted just because they cuss and don't be family friendly so if YouTube want to be family friendly go do it on YouTube kids where it can be is family-friendly and wants so I am giving YouTube two stars because of their new policy which is horrible 👎🏻👎🏻
But why
New update wont allow me to connect to the TV says tv is not connected to the WiFi
Ipad app bugs.
Sevenminute
on
12/16/2017
WHEN SEARCHING, CAN'T CLICK ANY VIDEO PLZ FIX IT
Love your app
YouTube I really love your app maybe needs some small improvements but I think that those are so small I don't really care the only thing I care about is that I hope you don't follow the net neutrality that's the only I can hope for with this app
Go Back!
MobbinNoose
on
12/16/2017
This new format is horrific, I cant watch the video and read comments without the format of the video changing smaller and cuts off a portion of it! The new change of minimized video while scrolling to find more videos is cool but at least let us swipe to close it again!
Why did you take away the minimalizing video
I used to be able to minimalist the video screen but still scroll and look around the app. We still have that, but now the smaller screen is way too small! Why?! This new format as a bar is so awkward and weird.
Freezing
Boobear_-06094
on
12/16/2017
I would be watching a video and the video would freeze and the audio would still go on, this happens to me during every video sometimes even twice or three times.
Pausing
Not buying a rovio game again
on
12/16/2017
Been almost perfect until this recent update. If i get any notification my video will pause, and sometimes it will just randomly pause for no reason, quite annoying
Major bug not fixed for multiple versions for iPad.
I've sent several bug reports in, but still there seems to be a bug with the iPad version where when you search for something, you tap on your search result and nothing happens. This in addition to them still avoiding PiP mode is why I'm leaving a frustrated bad review.
Good for a Youtuber
AlishyErika
on
12/16/2017
You tubers can post a lot of videos
My account has been deleted for no reason
christian ech
on
12/16/2017
My account logged me out and wouldn't log me in, it said they detected unusual activity. Please help!
Needs Major Improveming
I enjoy the freezing up, and when I try to exit it acts. Needs major improvement, they need to try in fix the bugs for the loyal customers. Not even trying to fix the bugs anymore they happen more often!
Paused with every notification
How can I stop my video from pausing every time I get a notification? I think this just started with a recent update, other than that I like the app
Fact Sheet
Publisher:

Google, Inc.

Category:

Photo & Video

Released:

Sep 11, 2012

Current Version Released:

Dec 06, 2017

Version:

12.47.16

Size:

202.7 MB

Compatibility:

Requires iOS 9.0 or later.

Recommended Age:

17+

Game Center Certified:

No

Supported Devices:

iPad2Wifi-iPad2Wifi, iPad23G-iPad23G, iPhone4S-iPhone4S, iPadThirdGen-iPadThirdGen, iPadThirdGen4G-iPadThirdGen4G, iPhone5-iPhone5, iPodTouchFifthGen-iPodTouchFifthGen, iPadFourthGen-iPadFourthGen, iPadFourthGen4G-iPadFourthGen4G, iPadMini-iPadMini, iPadMini4G-iPadMini4G, iPhone5c-iPhone5c, iPhone5s-iPhone5s, iPadAir-iPadAir, iPadAirCellular-iPadAirCellular, iPadMiniRetina-iPadMiniRetina, iPadMiniRetinaCellular-iPadMiniRetinaCellular, iPhone6-iPhone6, iPhone6Plus-iPhone6Plus, iPadAir2-iPadAir2, iPadAir2Cellular-iPadAir2Cellular, iPadMini3-iPadMini3, iPadMini3Cellular-iPadMini3Cellular, iPodTouchSixthGen-iPodTouchSixthGen, iPhone6s-iPhone6s, iPhone6sPlus-iPhone6sPlus, iPadMini4-iPadMini4, iPadMini4Cellular-iPadMini4Cellular, iPadPro-iPadPro, iPadProCellular-iPadProCellular, iPadPro97-iPadPro97, iPadPro97Cellular-iPadPro97Cellular, iPhoneSE-iPhoneSE, iPhone7-iPhone7, iPhone7Plus-iPhone7Plus, iPad611-iPad611, iPad612-iPad612, iPad71-iPad71, iPad72-iPad72, iPad73-iPad73, iPad74-iPad74, iPhone8-iPhone8, iPhone8Plus-iPhone8Plus, iPhoneX-iPhoneX,

Supported Languages:

Afrikaans; Albanian; Amharic; Arabic; Armenian; Azerbaijani; Basque; Belarusian; Bengali; Bosnian; Bulgarian; Burmese; Central Khmer; Catalan; Valencian; Chinese; Croatian; Czech; Danish; Dutch; Flemish; English; Estonian; Finnish; French; Galician; Georgian; German; Greek; Gujarati; Hebrew; Hindi; Hungarian; Icelandic; Indonesian; Italian; Japanese; Kannada; Kazakh; Kirghiz; Kyrgyz; Korean; Lao; Latvian; Lithuanian; Macedonian; Malay; Malayalam; Marathi; Mongolian; Nepali; Bokmål, Norwegian; Norwegian Bokmål; Persian; Polish; Portuguese; Punjabi; Romanian; Moldavian; Russian; Serbian; Sinhala; Sinhalese; Slovak; Slovenian; Spanish; Castilian; Swahili; Swedish; Tamil; Telugu; Thai; Chinese; Turkish; Ukrainian; Urdu; Uzbek; Vietnamese; Zulu;

Parental Advisory:

Mild Simulated Gambling; Treatment Information; Mild Cartoon or Fantasy Violence; Suggestive Themes; Mild Realistic Violence; Mild Sexual Content and Nudity; Mild Alcohol, Tobacco, or Drug Use or References; Fear Themes; Mild Profanity or Crude Humor;