Photo & Video
Entertainment
This version of the app is not recommended
App last updated
Mar 18, 2018
Screenshots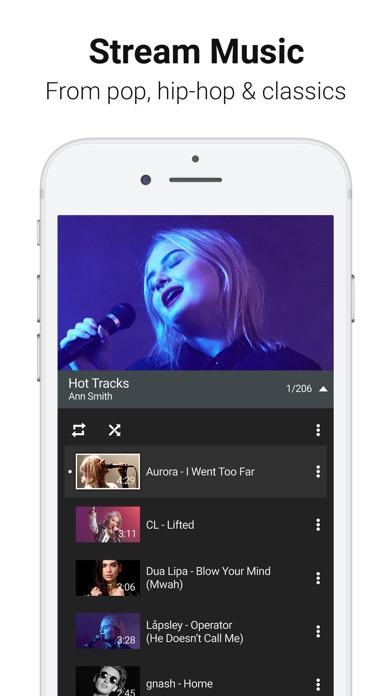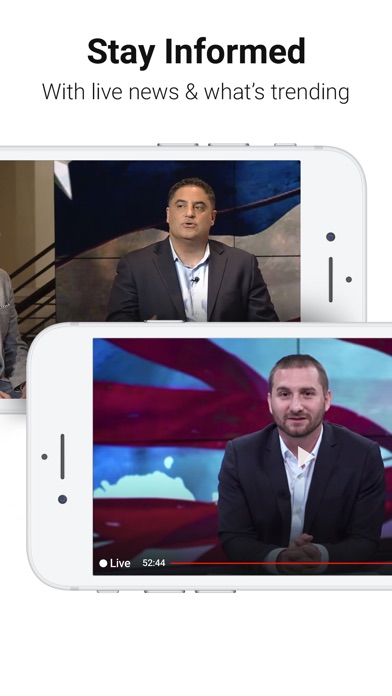 New in version 13.10
General fixes and stability improvements.
Description
Watch, stream and discover what the world is watching with YouTube. YouTube gives everyone a voice and a platform to discover the world. Explore brand new content, music, news and more with the official YouTube app for iPhone and iPad.

Discover even more with the official YouTube app. Subscribe to channels with your favorite content, share them with friends or upload your very own videos for everyone to see.

Get more out of your video streaming app and discover even more with YouTube.

YOUTUBE FEATURES:

DISCOVER BRAND NEW CONTENT
- Browse YouTube's personal recommendations on the home tab
- Watch the hottest videos, from music to viral sensations on the trending tab
- Like something? Tap like to save to your personal list or share with your friends!

STREAM MUSIC
- Find the videos of the latest hits!
- Watch fresh releases from popular and trending artists

LIVE STREAMS & MORE
- Get the latest news or watch your favorite popular live streams right on your device!

LEARN FROM THE BEST
- Practice and learn alongside the best online
- Watch videos and learn any skill you need
- Explore thousands of videos for makeup, DIY, tips and more!

CONNECT AND SHARE
- Let people know how you feel with likes, comments, or shares
- Directly share your friends favorite videos with your friends
- Make a playlist that saves your favorite videos
- See the latest from the creators you follow on the subscriptions tab

Download the official YouTube app and start watching your favorite videos today!

STREAM PREMIUM SHOWS WITH YOUTUBE RED:
- Get 1 month of YouTube Red for free
- Existing YouTube Red or Google Play Music members and users of either service who have already received this 30-day trial are not eligible
- Monthly charges apply for YouTube Red membership outside of trial periods

If you subscribe via iTunes:

Payment will be charged to iTunes Account at confirmation of purchase. Subscription automatically renews unless auto-renew is turned off at least 24 hours before the end of the current period. Account will be charged for renewal within 24 hours prior to the end of the current period at the rate of the selected plan. Subscriptions and auto-renewal may be managed by going to Account Settings after purchase

Any unused portion of a free trial period will be forfeited when purchasing a subscription.

YouTube paid service terms: https://www.youtube.com/t/terms_paidservice
Privacy policy: https://www.google.com/policies/privacy
iPad Screenshots
Reviews
Love
I personally love YouTube it's the only this I watch Everyday.
Cool
MalakaiSlaughter
on
3/23/2018
YouTube I like so much you could watch all sort of videos and create videos😃
Love it
I love YouTube except for those commercials
استعادة
اريد ان تصبح شاشة اليوتيوب خاصتي بيضاء
Reply button won't work
So sometimes when I'm in the comments section of a video and I click on the replies button, it does nothing. It lights up like it's about to pull up replies, but then it does nothing. I can't even write a reply myself. I figured out that I have to close out of the app and then get back on, but it still resurfaces later and doing that is super annoying. This has never happened before and just started a few weeks ago. I don't know if anyone else is having this problem, though, or if it's just my device.
Anti-gun anti-second Amendment Tube
Way 2 rob me!
on
3/23/2018
Dear YouTube, I'm sick & tired of your constant attack on the second amendment. You're discriminating against an entire class of law abiding citizens that have every right to firearms. Don't ram your political agenda down our throats while claiming to be a free speech platform, that couldn't be further from the truth. If this attack continues on the american people. We will no longer support this platform. Firearm related videos including but not limited to gunsmithing, shooting, firearm accessories, reloading ammunition as well as affiliate firearm links bring me to your site. If this content is further restricted. I will no longer use YouTube. Regards, John R.
They took that you out of tube
Cute Oniichan
on
3/23/2018
And made you pay for red
YouTube is helpful
YouTube is very time consuming it's can show you how to do anything and make anything it's also very handy if you have it on your phone youtube will always be with you if you ever need instructions on how to make or learn something youtube is here to help you I think that you should try it out give it a try come on I know you will like it this gives me things to do in my boring house so give it a try
Angry
The fact that you're sensoring and removing so many videos is disheartening. The videos were not racial there was no profanity involved nor were they offensive they were educational. The fact that you removed them send a clear message that your works are not for the people nor the betterment of them. You're attempt to keep their information hidden is no longer working and needs to stop.
Youtube app
Screen was pushed to one side
والله خطيرررررر
It's a legend
Untitled?!?!
Ok so i was making a shoutout vid to my cuz [broadsonic204] and when i was uploading the vid to my channel [slayer 272] i noticed my vid was called untitled and i tried to change it back but it kept going back to untitled plz update a bug fix or something i have 124 fans waiting for me!
My video is labeled "Untiltled"
shepherdkinz
on
3/23/2018
I'm so frustrated! I love YouTube and all, but some things just get me angry. First of all, I was uploading a video. It was called "when spring break is here" and once I uploaded it, it was automatically titled "untitled" I uploaded it four times already attempting to fix it, but it won't work!!!! Please fix it now!
Fishing with tungsten
Love psychic
on
3/23/2018
I love YouTube
Please make YouTube not have to use WiFi
goldenfoxymlgpra
on
3/23/2018
WiFi is hard to get when you're in the middle of nowhere in a car YouTube is hard to watch with no WiFi Thanks see you next review
WHAT THE HELL HAPPENED TO THE SHUFFLE BUTTON
WarriorWizard365
on
3/23/2018
GET THE SHUFFLE BUTTON BACK
Banning gun vids?
Better start banning any sort of video that portrays any polarizing topic; religion, politics, genders, etc. What about video game streamers making money from games that have guns in them? Ban them too? Want to ruin anyone else's livelihood? I won't use the app or the website anymore. I've already removed Google as my primary search engine and replaced it with Bing. No more GoogleMaps. I won't support a corporation that wants to silence its supporters with political bias based decisions.
يعني خلونا نشترك بالقنوات الي نبي بدون تسجيل بليوتيوبو وبس يعني عادي
وان شاء الله تسونها
Why does this keep happening?!?
Graduated Cylinder YT
on
3/23/2018
Ok I'm fine with Youtube right now but there is one issue that keeps happening. I keep getting random notifications from channels that I'm not even subbed to. And then I go into my subscriptions and I find out that Youtube just subbed to that channel without my permission . I don't know if this is intentional or not but I still don't like it. Please change this. 👍
Deactivating and deleting
Not only does it crash and buffer but also has a political agenda behind it. I do not agree with the changes made to YouTube and I refuse to use it any longer with the political agenda backing the platform. Thank you.
2nd amendment videos
Videos on the 2nd amendment as well as firearms videos have been demonetized yet I still waste my data plan on commercials. And shutting down channels through automated system is wrong.
Lol
Fetty nandi7373653
on
3/23/2018
Lol
Forcing users to signin with Google email is WRONG
Mil spouse 42
on
3/23/2018
I lost my entire save library (years and years) of videos from business' I support. I have lost all my playlists too. I use my gmail but always a separate password because I don't want to use my gmail password for YouTube. One more customer disappointed and gone forever until this is fixed. STOP SELLING MY INFORMATION GOOGLE.
You tube
You tube censors real news but loves left wing lying crap... you tube loves to portray good as evil and evil as good.. hopefully soon a class action lawsuit will cease their biased cleansing of conservative broadcasters .... until then I recommend d tube on Steemit ...
Crashes Daily
This app on my IPad crashes every time I make a comment or save a page. Write a comment in notes, then cut and paste so you don't lose your trying and time.
A Way of Life
Bleep Blop Kleep Klop
on
3/23/2018
YouTube is more than an app or website, yet like any website it makes poor choices.
Familly Sharing
Familly Sharing is not working properly
I don't like the new change
ItsChris3879
on
3/23/2018
Before they recently updated the app I was ok with just swiping away the video I was watching and moving on to another that I searched and I was also ok with wiping my screen every now and then to clean it off and not worrying about moving to the next video in que but now I just hate it. I sometimes accidentally swipe to the next video and I have to do the process of going back to it all over again and most of the times it doesn't save where the video was last on. I really hope you guys can make it to where everyone can enjoy using the YouTube app instead of people having to use the computer instead. No one uses the Xbox version because it takes too long to type in what you want to see in the search bar.
Too few tweaks to select desired content of home page.
I use Youtube for my daily news. The home page is severely lacking in controls to manually control my desired content. For example, in most cases I am only interested in content less than a day old. Subscriptions better deliver my desired content than the home page.
Censorship
YouTube deliberately censors a lot of videos for no good reason.
Missing Critical Features
I mean it works and plays YouTube videos in an app. However, it doesn't work any better than the mobile browser app and has the same cut-down feature set. No picture-in-picture support, namely, but you can't even copy a link to the current time!? That's super basic, why is it missing? I see no reason to download this app. There isn't even the option to open a link in the YouTube app from Safari or other apps. Add the fact that YouTube is doing the annoying "auto-start the video without sound" thing, and I am finding myself actively avoiding viewing videos on YouTube and looking for them on other platforms.
YouTube is dead
Time for a free market solution replacement. Put a bullet in YT.
Best Video Player Ever!
YouTube is awesome but it's more fun when you add microphone input in the comment section for the users to say something about a video. Thank you! 😄
. العراق .محافظة المثنى . دور السكك .
hussein alallak
on
3/23/2018
تحياتي لكم التوفيق الدائما
The only problem
Gagaladyrole
on
3/23/2018
It's really good but there's no button to go back.
Constantly freezes.
I though it was just an issue with one of my apple devices, but it happens to both of them. It happens randomly, but I'll be watching a video and looking through the recommended bar when it just decides to freeze. The video will still play, but nothing will work, and the audio continues to play for about 5 - 10 seconds after the app is closed. If it's minimized it will continue to play the video, but going back int the app will show the homepage without the video there. The audio will continue to play without the video being there, but it's still unresponsive. It's really annoying, and I can't get through a single video without the app freezing.
Dora gets grounded
Dora is trouble maker
Love it
Katinka947728
on
3/23/2018
I don't have the time or words to express how much I love YouTube it is amazing!!!
Entertained
I enjoy YouTube everyday so keep it up!
Useful. But could use something more
Needs updates and patches
on
3/23/2018
Ok so I guess there are a lot of things that you can do on YouTube. In addition if you have an email account, you can create your own channel and can be a youtuber. But there are somethings that could use improvements, streams they can get pretty laggy. Also, YouTube got rid of the upload button on consoles, unless you are able to upload again with the new update. However I see potential in this app and hope it lasts for a very long time.
Only rating one star because...
The adpocalypse And youtube is killing small creators especially with the new 2018 monetization requirements
Please return playlist shuffle option
Lollipop_kiss
on
3/22/2018
Constantly seeing the shuffle option taken away and put back. I like shuffle for my music as I have a large playlist and enjoy a mix of my songs. This isn't the first time this has happened either. Super annoying.
Bye!
Banning all firearms related content? Bye, bye; you lost another user.
:)
This is good because I get to do videoing and my own way of being out there
Censorship
Williams5710
on
3/22/2018
Due to YouTube's censorship policies I have deleted their app and will discontinue all use of their services.
Love YouTube
Love the app I have 2 channels. Love the way it loads my vlog fast. Love the live thing it's fun to do but when it's finish uploading the playback lags and glitches a lot please fix the problem, other then that the app is really great and enjoy YouTubing
Fact Sheet
Publisher:

Google, Inc.

Category:

Photo & Video

Released:

Sep 11, 2012

Current Version Released:

Mar 18, 2018

Version:

13.10

Size:

186 MB

Compatibility:

Requires iOS 9.0 or later.

Recommended Age:

17+

Game Center Certified:

No

Supported Languages:

Afrikaans; Albanian; Amharic; Arabic; Armenian; Azerbaijani; Basque; Belarusian; Bengali; Bosnian; Bulgarian; Burmese; Central Khmer; Catalan; Valencian; Chinese; Croatian; Czech; Danish; Dutch; Flemish; English; Estonian; Finnish; French; Galician; Georgian; German; Greek; Gujarati; Hebrew; Hindi; Hungarian; Icelandic; Indonesian; Italian; Japanese; Kannada; Kazakh; Kirghiz; Kyrgyz; Korean; Lao; Latvian; Lithuanian; Macedonian; Malay; Malayalam; Marathi; Mongolian; Nepali; Bokmål, Norwegian; Norwegian Bokmål; Persian; Polish; Portuguese; Punjabi; Romanian; Moldavian; Russian; Serbian; Sinhala; Sinhalese; Slovak; Slovenian; Spanish; Castilian; Swahili; Swedish; Tamil; Telugu; Thai; Chinese; Turkish; Ukrainian; Urdu; Uzbek; Vietnamese; Zulu;

Parental Advisory:

Mild Alcohol, Tobacco, or Drug Use or References; Mild Cartoon or Fantasy Violence; Mild Sexual Content and Nudity; Fear Themes; Suggestive Themes; Mild Realistic Violence; Mild Simulated Gambling; Treatment Information; Mild Profanity or Crude Humor;