New in version 1.6.1
Explore Your World: Book your perfect trip with the help of our new explorer tool. Find flights to great destinations by searching themes like: beach, outdoors, romantic, theme parks and more. Pick your dates, set your budget and go!

Improved User Experience. You spoke, and we listened. We took your feedback seriously, and used it to build the better, faster flight booking experience you've always wanted.
Description
For savvy travelers, the CheapOair app is a must-have. It's simply the best free travel app out there, packed with cheap flights from 450+ airlines - and you can book without leaving the app! Plus, armed with CheapOair's tools, you'll travel easier - 24X7 customer service, access itineraries, and more.

Download Our FREE App Now and:
- Search Flights - Fast
- Search and book flights seamlessly with our customizable filters - Filter by price, time, number of stops, or airport!
- Flexible? We display deals within 3 days of your chosen dates - giving you the option to save more! Plus, our price comparison feature will show you just how much you'll save when you book with CheapOair!
- Hit hotspots across the planet with our discounted domestic and international fares.

We've partnered with hundreds of airlines to bring you an extensive selection of cheap flights!
Take advantage of our Best Price Guarantee. With a name like CheapOair, you know you're getting the best in budget travel and the hottest last minute deals.
iPad Screenshots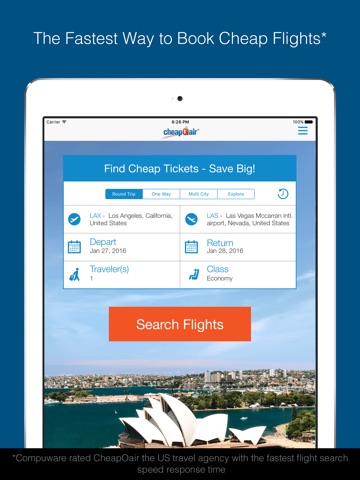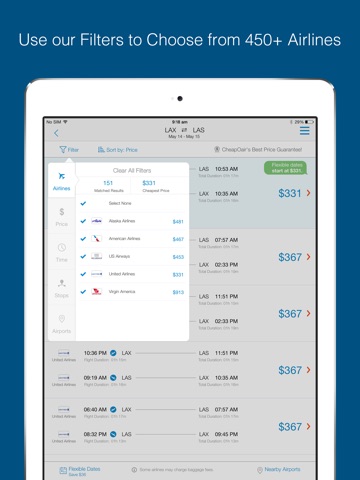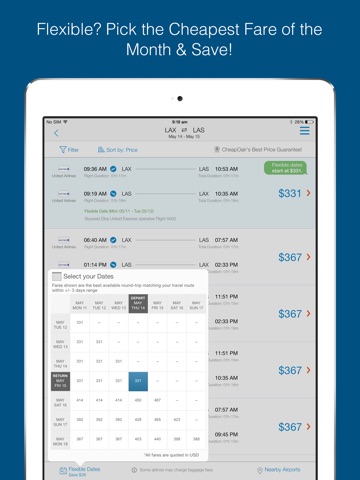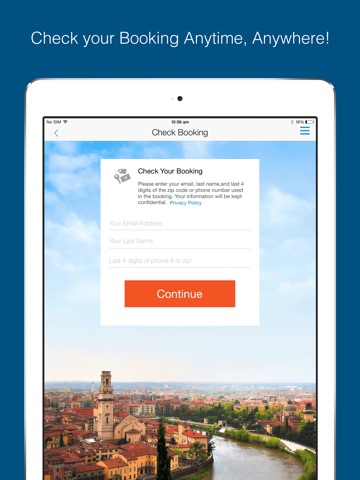 Reviews
Great app
Easy to book with great price, I used it for international & domestic flights frequently, happy with it.
Best prices ever!
I only book directly with airlines until I found this website and service. The app is great, too!
Very satisfied
Marites Camates (Ushra'Khan)
on
5/20/2017
I have used cheap air to book several difficult to book flights overseas. I am very satisfied
Fairly Easy
Brave soul coach
on
3/9/2017
I have used the Cheap-O website before. I used the iPad app reluctantly. Many of them are so bad. It was fairly easy to navigate; only complaint was it was only vertical and I use my iPad horizontally.
Easy to use
App was easy to use. Found an inexpensive option.
Cheap-O-Air great not so the app
I love Cheap-O-Air but the app lets much to be desired. In fact I could not use it for my last purchase. It would not even allow me to log on. It needs revision. PERIOD
Boarding passes?
Where are my e- boarding passes?
Easy to use
Booking process was easy with great flight options. I haven't traveled yet, so hopefully that will go as smoothly.
Quick and Easy
Love the discount codes
Good
Dashing file
on
12/26/2016
Thank God for a coupon code
The actual booking was ok but....
I needed a last minute flight to bring my daughter home from Florida. I paid to get texts about the flight and didn't get any. The site said that the baggage was free for the 1st bag but I has to pay $25 (while she was at the airport) I couldn't even find the booking but there were 500 reward points on my account. How could that be? This was the 1st time I used this site.... All I wanted was an easy way to book and most importantly honesty. No way to just send an email to get information. That made the experience mediocre at best.
Great Price
I was looking for a ticket for my son and they were the cheapest.
Terrible Experience with CheapOair
In August of 2016 my family booked a Turkish Air flight from Bodrum, Turkey, to Chicago online through Cheapo Air. The cost of flight for the three of us was about $4,000. When we arrived at the airport, the Turkish Air agent informed us that we had two identical reservations existed and that I needed to cancel one of the two. The Turkish agent was very helpful, saying that this sort of thing happens fairly frequently and that I should have no trouble canceling through the agent (CheapOair). I called Cheapo immediately right from the terminal. The agent said that they would agree to cancel one of the reservations only if I agreed to pay a $400 FEE! When I protested, the agent told me that my choice was to pay $4,000 or to pay the $400 fee. I had no choice but to agree to pay CheapOair's extortion art fee. The $400 fee appeared immediately on my credit card--along with $8000 charged for the two sets of tickets. Several weeks later the refund had still not appeared, so I called CheapOair. They told me that the refund would appear soon and that the delay was the fault of Turkish Air. I kept calling CheapOAir, and I was repeatedly told the same thing--that the refund might take up to two billing. In October, long after the two billing cycles had come and gone, I called CheapOAir again. This time I was told that there would be no refund, but that there would be a $4,000 credit with Turkish Air that I would need to use within a year. Again I was told that the fault was with Turkish Air and that it was the airline that declined the refund. I read--verbatim to the agent--the e-mails from CheapOair confirming that the $4,000 would be refunded to my credit card. Finally--after a promise to sue--the agent agreed to the refund (proving, of course, that the problem was never with the airline but with CheapO. And again it took weeks, but finally in November, three months after originally promised., the refund appeared on my credit card. The experience cost $400 and hours of effort, but that is probably a small price to pay for a valuable lesson--never buy travel services through CheapOair.
Great
Thiagreatest
on
10/16/2016
Very easy to use and also great easy to search flights a great way to travel.
Simple, fast and cheap
Simple, fast and cheap
Great app, but I hope we get a landscape mode in future updates
I love this app, and how easy it is to use, but I found it a little bit frustrating that the app does not support a landscape mode on iPad. This is especially bothersome when using the big iPad Pro 12.9" when plugged to the smart connector or any keyboard for that matter.
Outrageous prices!
Typhoon Tom DeMicke
on
6/28/2016
Singapore to Clark (DMIA) Philippines one-way 2 month advance purchase for just $650 ?????? Crazy!! Should cost no more than $80!!
Best
Cheap, easy to use I love it
Hidden costs
After booking, went to seat assign ,as i always do, BUT,a big "enhanced seat" Charge was added. Whats that about? SCAM. CAROL
Great!
Its easy to use, fast and really cheap :)
Great app!
Tanya Torello
on
4/16/2016
Been using this app for a couple years & I've never had a problem with it. It's convenient & very user friendly.
Mr
The world traveler of Africa
on
2/28/2016
Simplicity at its best. And efficiency at its maximum....this is how the 21st century booking should be...
Happy
Easy booking and great price!!
Cheapoir
Convenient, reliable, very friendly and intuitive!
Perfect
No problems... Simple and fast!
Fast and Easy
I have tried other site in the past but I always ending up using CheapOair. They have more choices, better prices and are always willing to help if needed. I can recommend this site.
IslandBoi
Curtis' IPOD
on
1/11/2016
I have booked on this site three times now each time it has been great.
Easy to use and great rates
I have used Cheapoair for numerous flights and have found great rates and helpful customer service when needed. I check their rates for all my trips.
Mrs.
Booking went smoothly. Hope this isn't too good to be true. We are frequent flyers.
CheapOair
Sleepless Hog
on
12/10/2015
Reasonable prices, easy booking.
Super easy process
Miro pink jewelry
on
12/2/2015
Love it
Ease of use
Easy to book my flight. Would use this again and recommend to all my friends & family.
Mr
Horrible! Just try Expedia. I tried to book a flight several times, but keep getting a message that says "sorry, something went wrong on our end."
Great job, they really care !
ziggyfreedom
on
11/15/2015
No problems. Plenty of emails explaining why they change airports, flights and seats for your trip. For an extra couple hundred dollars, we got better seats! How excellent is that
Easy
This site was great to use, very easy and quick! Prices awesome!
Go Cheap
Excellent site! I could compare and get best deal for me. Southwest was going to cost me double.
Very easy process!
Finds appropriate flights, sorts by price... Very easy!
I love cheapoair.
Devinguillory
on
10/4/2015
Can't beat CheapOAir.
Great website
The website was so easy to use. You can't beat the prices.
Great App
Have used a few time always works great!!
Only place I use for flights! Simply the best!!
It's all in the title the best place to book your flight!
No one is better than Cheap-O
Consistently the best! The only company I will use.
what Can I Say
I won't use any other company to book travel, I use this app all over the world to book my flights and I know I'm always getting the best last minute price, and booking is so quick and easy, I wish every app was this good, I Highly recommend this to all my friends !
Easy booking
The app makes it easy to book a flight.
Sweet App
This app works well and you can get discounts on top of low prices using their promo codes. I couldn't believe I could get a cheaper price then what was available through Priceline, Hotwire, etc but Cheapo had rock bottom deals!
Great Site!
App is very handy! Booking with CheapOair is easy and convenient.
Cheap and the best app to book flights
I had booked flight from NYC to SLC and the experience was really good. The booking flow is easy and has very minimum steps. I would recommend this app for booking flights.
Simple and cheap
Got cheap price and the process was very straight forward. Will use again.
Beautiful App!
Found the price I wanted for my trip. Will use again.
Fact Sheet
Publisher:

Fareportal, Inc.

Category:

Travel

Released:

Aug 02, 2012

Current Version Released:

Dec 18, 2015

Version:

1.6.1

Size:

62.3 MB

Compatibility:

Requires iOS 7.0 or later.

Recommended Age:

4+

Game Center Certified:

No

Supported Devices:

iPad2Wifi-iPad2Wifi, iPad23G-iPad23G, iPadThirdGen-iPadThirdGen, iPadThirdGen4G-iPadThirdGen4G, iPadFourthGen-iPadFourthGen, iPadFourthGen4G-iPadFourthGen4G, iPadMini-iPadMini, iPadMini4G-iPadMini4G, iPadAir-iPadAir, iPadAirCellular-iPadAirCellular, iPadMiniRetina-iPadMiniRetina, iPadMiniRetinaCellular-iPadMiniRetinaCellular, iPadAir2-iPadAir2, iPadAir2Cellular-iPadAir2Cellular, iPadMini3-iPadMini3, iPadMini3Cellular-iPadMini3Cellular, iPadMini4-iPadMini4, iPadMini4Cellular-iPadMini4Cellular, iPadPro-iPadPro, iPadProCellular-iPadProCellular, iPadPro97-iPadPro97, iPadPro97Cellular-iPadPro97Cellular, iPad611-iPad611, iPad612-iPad612, iPad71-iPad71, iPad72-iPad72, iPad73-iPad73, iPad74-iPad74,

Supported Languages:

English; French; Chinese; Spanish; Castilian;