Screenshots
New in version 4.6
Bug fixes and performance improvements
Description
Stream and download popular movies and TV shows including Amazon exclusives like The Grand Tour, The Man in the High Castle, and Emmy award winner Tumble Leaf.

Customers in the US can also use this app to watch videos purchased or rented on Amazon, and videos included with a subscription paid for on Amazon such as HBO, SHOWTIME and STARZ.

App features:
-Download movies and TV shows over Wi-Fi or cellular to watch anywhere, anytime.
-Prime members in India can enjoy hundreds of top Bollywood and regional Indian hits like Sultan, Baar Baar Dekho, Kabali, Dhoom series and more!
-View IMDB data about the actors, songs and trivia related to your videos during playback with X-Ray
-Stream the first episode of select TV shows for free. First Episode Free videos include advertising before and during your videos
-Watch on your Apple TV using AirPlay (requires Apple TV 2nd generation or later) (US only)
-Access hundreds of thousands of movies and TV episodes you bought or rented including new release movies or the latest TV programming, with the ability to download titles for offline viewing (US only)
-Watch on your TV using HDMI and your Apple Digital AV Adapter
-Stream the first episode of selected TV shows for free. First Episode Free videos include advertising before and during your videos (US only)
-Add videos to Your Watchlist from any Amazon Prime Video compatible device for later viewing
-Start watching the next episode of the show you are currently streaming automatically with Auto Play.

This app is designed for an unmodified version of iOS.
iPad Screenshots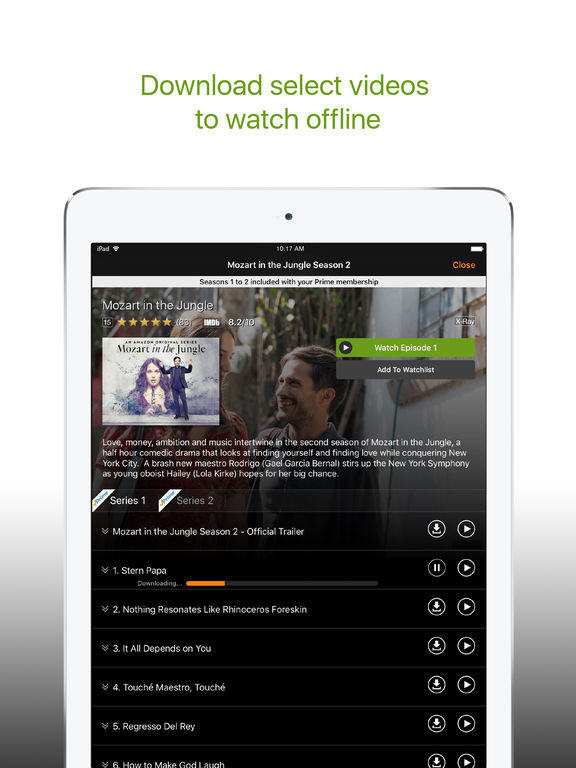 Reviews
Not bad
But needs improvement! I can watch 4 seasons of a movie and then have to pay separate for the 5th season. That's crap!!! Like Netflix some good movies some new some old. Not available on tv. I guess I need to buy a fire stick or something. Under titles move to fast. Otherwise I am satisfied with prime
Great app!
The app works real well! The format is user friendly, easy to navigate, and searches are relatively simple. Good job!
Good but loses HD signal.
Good but loses HD signal from time to time.
Better than cable!
Amazon video is the perfect addition to Netflix! A must have for anyone with Prime!
Need improvements on iPads
Need improvement on Appple iPads.
Great User Interface (UI)
In terms of UI they are light years ahead of steaming apps like Netflix. This app makes it simple to 10 sec forward as week and you can command that from anywhere in the screen, a big deal for iPad users and specially for the iPad 13" users. Great quality of image as well. We request adding this app for AppleTv too, it's time, Amazon!
Great on iPhone
This is a great app. I also like that I can download Videos so that I can have something to watch when I'm traveling with no Wi-Fi
Disappointed
I'm a prime member. When I search for a movie 98% of them are not available and it says to add to the watch list. Not Happy!!!
Great App!
I have had no problem at all with this app. I get a wide variety of movies and shows to watch, the streaming is fine, and the picture is clear. I also love that I can get older movies as well. I love this app. I have a 9.7 iPad Pro.
Prime Video
Probably one of the best tv/movie viewing apps that I've used... even without all of the other perks of the amazon prime membership, the video app would be worth the price of the subscription...
Okay but could be better
Okay but could be better
Everything I watch!
The streaming on Amazon is terrible. The picture is always going out of focus and getting blurry. I never have this problem watching Netflix.
Entertaining
AlyshaBorder
on
8/19/2017
I enjoy the variety of shows available on this app.
Poorly managed app
ThreeMaAwesome
on
8/19/2017
I used to like Amazon prime, so when I saw that Wynonna Earl was on it I bought the entire 2nd season before it aired. I expected to be able to see every episode the day after it aired but on the app it has the episodes' dates wrong some times so sometimes I have to wait days before it comes on Amazon. And that's really annoying by by that point I've already seen a lot of spoilers. So if you want to watch a season of a show that hasn't aired yet, don't get a season pass on amazon!
Best tv option
Better than Netflix or DIRECTV or any of the options to watch tv anywhere.
STOP
JustAnotherAppaholic
on
8/19/2017
You have messed up countless times
An App that fits Amazon's image: simple, reliable, and fast!
Our family has been avid users of many things Amazon, with this video App used regularly by all of us. Works very well; in fact, this 66 year old mom-techie uses it w/o help! Excellent App.
Solid App
This is a solid app, just wish I could purchase from the app or even the shopping app from my device. I am not always able to connect to a network with my computer. Only complaint.
Subtitles
I really like this app but sometime when I'm watching foreign videos with subtitles, the subtitles seem to speed up and it wouldn't match the voices. The videos would get hard to understand and I be playing a guessing game while watching the show/movie of who said what during conversations. I really wish they would fix this. It happens with many of the show I watch
Good app
I like this app but It would be much better if you could purchase the shows while in this app. Instead of having to go to my computer then going to website...purchasing the show... then getting back on the app and finding it in my library. Then watching it.
Love It!!
It's wonderful.
Good app...
Works well and consistently. Can't complain.
Almost Perfect
Would be great if I could use with my chromecast.
Great App ! Love it !
I love the content on Amazon video, especially the new Grand Tour show !!! YAY !!! Amazon has better movies and to shows that I have liked. Although I will watch House Of Cards if a new season come out on Netflix. Amazon video is totally awesome though and I highly recommend it to anybody.
HD video not working
For some reason HD video streaming is not working properly on the app. Seems like it's an issue that needs to be fixed. Otherwise seems like a great app
Sometimes very frustrating
They've got some good shows, not many. Again, some good movies, not many. One extremely frustrating thing they sometimes do is have one season ready to watch, but the next season you have to buy; they don't make it obvious, so I was fooled into getting invested in a show only to have them pull the rug out from under me after one season. If this didn't come with Amazon Prime, I would not pay any money for it.
App
Princessspammie
on
8/18/2017
I love this app. It's easy and lots of movies to watch
Amazon Prime Video
Love it but it would be nice if you had a section of those shows/movies not totally viewed by us and if you could say on the description if it has English subtitles. Those I would watch at certain times. Thanks!
I love this app
I use this app most every day. I'm often out of wifi range when traveling and love the download feature.
Good functionality
Fairyeprincess
on
8/17/2017
I really enjoy this app. It's user friendly and has both a 10 second rewind and fast forward option. I also like that the controls are in the middle of the screen instead of on the bottom near the scroll bar. The scroll bar has a preview screen making it easy to tell what part of the show/movie you're at when FF.
So Far, So Good!
Have had a great experience with this app so far! Very easy to navigate, streams very well and there are countless videos for every taste and interest. EXCELLENT!
Could be better
lonelywyoming
on
8/17/2017
Needs to be chrome cast compatible.
Like the content
Mosthated531
on
8/17/2017
So glad you have adam carolla documentary "the 24hr war" that is the reason I got amazon prime! Also the grande tour and covert affairs!
Great App!
Easy to use, lots of great programming, PLUS the free 2 day shipping - what's not too like? AAA+++
Needs Apple TV app
App works great. I use it on iPhone 7+ and iPad Pro. Usually mirror onto Apple TV. Why is there no Apple TV app? Would make things much simpler.
Decent video streaming app
I appreciate that you can rewind as well as fast forward. You can also skip the ads at the beginning, which is a plus. It's convenient to download for offline viewing.
Glitches after latest update!
Using an iPad, after the latest iOS update & Amazon Video app update, the app only opens about 1/3 of the time. When it does open, everything is delayed, the response time is ridiculous and videos freeze. What's up? Please fix this!!
It's not working
Morgan_be_ballin
on
8/16/2017
There is something wrong id kid it's bc I have an iPhone but it's not letting me watch
I like it!
Very user friendly. Love the selections.
NO chromecast button?!
Why isn't there a chromecast button for mobile devices? Kind of makes this app useless to me...
Why can't I rent or buy?
Can only access prime video. Why can't I rent or buy from app?
Easy no glitches
Love the easy interface and no glitches..
Good
Selvin christian
on
8/16/2017
Good but expensive
Playback is terrible!
I've played videos on Android, Roku, and my Samsung tv. None were this bad. Every episode was heavily pixelated. It needs fixed.
Amazon Prime
U guys are babies
on
8/15/2017
The app is overall great for watching old and new TV series (which i'll talk about in a minute)and movies it offers a wide variety of free TV series and movie(if you have prime membership)which is great since it saves money in the long run but in some of the TV series the episodes seem out of order most notably star trek next generation(i'm just now starting to watch it)but i've noticed that after every episode Captain Jean-Luc Picards(Patrick Stewart)log entry's have nothing to do with the previous episode so it seems he gives irrelevant information for instance in episode 8 a forengi vessel found the Stargazer and returned it to Captain Picard(not going to spoil it for anyone)Captain Picard mentions rendezvousing with another ship made for towing vessels but when i started episode 9 Captain Picard's log entry doesn't even mention the rendezvous or the stargazer he mentions dropping off a character at a planet i've not seen yet,im not sure if thats how the TV series went but if it is disregard this but if it isn't please fix it because its very confusing thank you
Can't buy using the app
Wefubedcnijedc
on
8/15/2017
Not sure why I can't buy videos to stream straight from the app? Have to go to amazon.com if the video in question isn't included in prime. Would also love to watch on my tv with chromecast (and would then buy more content so I could watch with the other people in my household) but the app isn't compatible (so I find myself combing through Netflix instead with the group just so we can watch together). Otherwise the video quality is good and the scroll for your progress in the episode works better than most other apps.
App & customer service FOREIGN COUNTRY CONTROLLED
If you are in the military, AVOID AT ALL COSTS. THEY CONTRACT OUT CUSTOMER SERVICE TO OTHER COUNTRIES. THEY SAY THEY ARE AMAZON EMPLOYEES BUT NOT ONCE HAS AN AMERICAN RESOLVED MY VIDEO APP ISSUES AND I HAVE EMAILED AND CHATTED TIL I AM BLUE. IT FORCES ADVERTISEMENTS AND THOUGH THEY CAN BE SKIPPED THAT DEFEATS THE PURPOSE OF PICKING A TRAILER TO WATCH WHEN YOU WANT TO. I AM A PRIME MEMBER AND REFUSE TO PAY FOR ADVERTISING. THEY HAVE COMMITTED DECEITFUL BUSINESS PRACTICE (lying is a criminal felony) OVER 100 TIMES DOCUMENTED. THE CONTENT IS VERY LACKING AND IT IS FOREIGN COUNTRY RATED SO DO NOT EXPECT ANYTHING CHILD SAFE! IT IS LABELED FOR CHILDREN BUT PERVERTED, ADULT TOPIC, INNOCENCE STEALING MATERIAL THAT IS NOT LEGAL FOR AMERICAN BROADCAST DIRECTED AT CHILDREN. I COULD CONTINUE BUT I AM TIRED OF WRITING AND THE LIST IS MILES LONG.... AVOID AT ALL COSTS, CHOOSE NETFLIX, CRACKLE OR YOUTUBE BEFORE SPENDING MONEY ON AMAZON.. THE LIES BUILD UP INTO A MOUNTAIN OF DUNG!
Why can't we rate what we've viewed?
The app works well. The layout is pretty user friendly. I have a 12.9 iPad Pro and the streaming is pixelated and I wish it wasn't. Since the suggestions are based on what I've watched or looked at, I wish it were possible to rate what I've viewed. That way if I start watching something I end up disliking I can prevent the app from suggesting more shows like the one I disliked by letting it know, yes I saw that but didn't like it. My review subtracts one star for no rating being available and would only subtract a half star for the pixelating but can't so one star is for pixelating.
Great!
I love with my Prime Membership that I get to view selected videos like the Star Trek series which I love and watch anytime on my time. Right now I am catching up on pass episodes that I missed when the series was running on tv.
Fact Sheet
Publisher:

AMZN Mobile LLC

Category:

Entertainment

Released:

Jul 31, 2012

Current Version Released:

Jul 31, 2017

Version:

4.6

Size:

73.7 MB

Compatibility:

Requires iOS 8.0 or later.

Recommended Age:

12+

Game Center Certified:

No

Supported Devices:

iPad2Wifi-iPad2Wifi, iPad23G-iPad23G, iPhone4S-iPhone4S, iPadThirdGen-iPadThirdGen, iPadThirdGen4G-iPadThirdGen4G, iPhone5-iPhone5, iPodTouchFifthGen-iPodTouchFifthGen, iPadFourthGen-iPadFourthGen, iPadFourthGen4G-iPadFourthGen4G, iPadMini-iPadMini, iPadMini4G-iPadMini4G, iPhone5c-iPhone5c, iPhone5s-iPhone5s, iPadAir-iPadAir, iPadAirCellular-iPadAirCellular, iPadMiniRetina-iPadMiniRetina, iPadMiniRetinaCellular-iPadMiniRetinaCellular, iPhone6-iPhone6, iPhone6Plus-iPhone6Plus, iPadAir2-iPadAir2, iPadAir2Cellular-iPadAir2Cellular, iPadMini3-iPadMini3, iPadMini3Cellular-iPadMini3Cellular, iPodTouchSixthGen-iPodTouchSixthGen, iPhone6s-iPhone6s, iPhone6sPlus-iPhone6sPlus, iPadMini4-iPadMini4, iPadMini4Cellular-iPadMini4Cellular, iPadPro-iPadPro, iPadProCellular-iPadProCellular, iPadPro97-iPadPro97, iPadPro97Cellular-iPadPro97Cellular, iPhoneSE-iPhoneSE, iPhone7-iPhone7, iPhone7Plus-iPhone7Plus, iPad611-iPad611, iPad612-iPad612, iPad71-iPad71, iPad72-iPad72, iPad73-iPad73, iPad74-iPad74,

Supported Languages:

English; German; Japanese;

Parental Advisory:

Mild Sexual Content and Nudity; Treatment Information; Mild Profanity or Crude Humor; Suggestive Themes; Mild Cartoon or Fantasy Violence; Fear Themes; Mild Alcohol, Tobacco, or Drug Use or References; Mild Realistic Violence;