This version of the app is not recommended
App last updated
Dec 19, 2017
Screenshots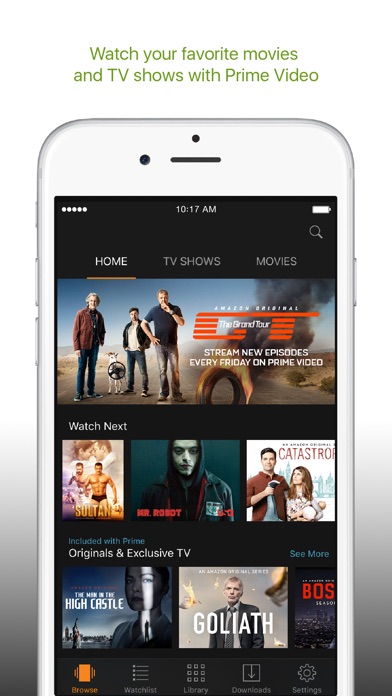 New in version 5.1.2
• Watch on your Apple TV directly by downloading the separate tvOS app (requires Apple TV 3rd generation or later).
• Universal Search now supported – search for Prime videos using iOS search (US, CA, AU, NO, & SE only).
• iPhone X support.
Description
Stream movies and TV shows recommended for you, including Prime Originals like The Grand Tour, The Man in the High Castle, and award-winning kids series Tumble Leaf.

• Customers with Prime can stream a vast library of movies and TV shows at no additional cost.
• Customers in the U.S., UK, Germany, Austria, and Japan can watch videos purchased or rented on Amazon.

App features:
• Download movies and TV shows over Wi-Fi or cellular to watch anywhere, anytime.
• Prime members in India can enjoy hundreds of top Bollywood and regional Indian hits like Sultan, Baar Baar Dekho, Kabali, Dhoom series and more!
• View IMDB data about the actors, songs and trivia related to your videos during playback with X-Ray.
• Watch on your Apple TV directly by downloading the separate tvOS app (requires Apple TV 3rd generation or later)
• Wirelessly stream from your phone to TV using AirPlay (requires Apple TV 2nd generation or later).
• Add videos to your Watchlist to watch later on any other Prime Video-compatible device.
• Access hundreds of thousands of movies and TV episodes you bought or rented including new release movies or the latest TV programming, with the ability to download titles for offline viewing.
• Start watching the next episode of the show you are currently streaming automatically with Auto Play.

If you subscribe to Amazon Prime Video via iTunes where available, payment will be charged to your iTunes Account at confirmation of purchase and your membership will automatically renew monthly unless auto-renewal is turned off at least 24-hours before the end of the then current membership period. Your account will be charged for renewal within 24-hours before the end of each membership period at the rate of your selected plan. You can manage your subscription and turn off auto-renewal anytime by going to My Account or through iTunes.

See https://www.primevideo.com/ww-av-legal-home for the Privacy Policy and other terms applicable to your use of Amazon Video.
iPad Screenshots
Reviews
Always bad quality video.
First of all.. I have an excellent internet connection, and every other streaming service that I use for watching videos (such as Netflix, Hulu, CuriosityStream, HBO Go, and more) they all have high-quality high definition video streaming that actually pairs with the high-speed Internet that I use. Amazon video won't remain high DEF quality (720p60+) for more than 10 minutes before returning to its 144p-360p video quality. There are many free services on the internet that play extremely beautiful quality videos; THIS service, however, is not worth $100/yr. All they told me was that it was my internet provider's fault. Um, sorry, no. FIX THE STREAMING.
I love the shows
I love all the PBS shows
No iPhone X Full Screen
Needs a fill screen option for iPhone X like Youtube does.
Crashes on my new Apple TV 4K
Will not load.
Excellent App
This app works all the time. Love to watch Acorn using this app.
Review about the Buffering issues and cost of Subscription
I would give this a five star but the Subscription is a "Little High" and there are buffering issues please fix the buffering issues and can you make the Subscription lower. Please.
Lame
How many commercials is a Normal customer expected to sit through? This app has about 70% more than this guy can take seeing as I already have directv, and can turn on Netflix and Hulu
I good but can be expensive
The shows on it are good but expensive
Lots of cool shows
I love this app because there are soo many shows I love just add magic the most tho you should buy it HANNAH MOTANA;JUSTADDMAGIXPC
Amazon prime
Fabulous Options Tv and movies. Always something to watch, better than going out!
Can't buy purchases in-app?
Appetite4destruction
on
1/22/2018
Seriously? I can't find a title in the app and purchase or rent it from the app? I have to go to the amazon website on a desktop or laptop to make my purchase?
Not worth it
Originally amazon video was suposswd to be a perk for Prime members. Being a Prime member I can never find anything I can watch without paying more.
So/So
This app would be better if I was able to connect with my chrome cast. I was only able to do so once, after that I have tried everything but the chrome cast symbol will not show up. I do like that it has some newer movies though. Could be improved.
Dark Shadows
Never as a kid did I see this show from its beginning! It is so awesome that I can watch it from start to finish! Enjoying it so!
Review
Very good awesome movies
"Resume" isn't obvious
And it should be!
Reveiw
justforgeaboutit
on
1/22/2018
This app barely got any movies the only thing I can really watch is psych
Seriously? In current year?
Does not support chromecast. 0/10 Even crackle, vrv, go90, funimation and tubi support it and you can tell those were developed by total amateurs. Not only would i not recommend but i would advise against this app.
If it's really "prime" viewing, it's probably not PRIME.
Too many of the offerings that I would consider to be of prime interest and quality, require either purchase, rental, or additional third-party paid subscription to be viewed.
Good but not enough Prime content
PodsWhileDishwashin
on
1/21/2018
I have Prime, and given that I mainly get 2-day shipping on a lot of stuff through that, this is a nice add-on. I really liked One Mississippi and The Big Sick. But there isn't a lot of content you don't have to shell out extra for, so it's not a perfect substitute for Netflix or Hulu or (gasp!) cable. But it is definitely a sweetener for Prime membership!
SIMPLY THE BEST
They have Every Movie and T.V. Show imaginable.i couldn't live without Amazon Prime.
Great selections!
I have just recently started watching Amazon video and absolutely love the choices!
Sad
Rebecca Sarabia
on
1/21/2018
Needs to connect to chromcast!!
1/20/2018 Apple Tv Update Broken
I had switched completely away from my Fire stick for Prime Video once it came out for the 4k Apple TV. The update of 1/20/2018 broke everything. No hardware has changed. No settings modified. All equipment power cycled (many times). All it does it hang; telling me that it can't stream the content even though it's all connected via gigabit Ethernet.
My favorite
I love it. You should watch this.
My amazon prime review
I love amazon it's a great way to watch movies with your family for free
😿🙀😺😻👍🏻so awesome!👏🏻👩🏻‍🎤👸🏼👩🏻‍🌾👩🏻‍🍳👩🏻‍⚕️💂🏻‍♀️👮🏻‍♀️👷🏻‍♀️🍭🥂 🐶🐱🐥🦄🦋🌈⛄️
happycat 25)951+
on
1/21/2018
I love ❤️ this app!!!!!It has everything,even my favorite show ever,Just Add Magic!3 seasons!Me+amazon prime +just add magic =🙀😻😣🤩🤪😛😝😜😍😘😋😂🤣😅
Ok but
Not very satisfied Syd
on
1/21/2018
So first this is a great app if you want to go on a plane and watch movies or tv but when I was watching a show it just randomly switched to non prime the next day and it's way too expensive to buy that's why I don't like it. Fix it please also why would you remove Nickelodeon it was all I watched and now I can't I hate it please please bring back Nickelodeon!
How did I live before Amazon Prime?
Love the new shows and movies they continually release, as well as the option to access the premium channels we'd normally pay an arm and a leg for with cable.
Amazing!!!
I LOVE all the choices that amazon has...for free! All of what I watch is either not available or costs a bunch of money and amazon has all of it for free! I was a Netflix and Hulu girl all the way and was skeptical to switch but now amazon is pretty much all I use! I should note that I have prime so that helps. Totally worth it!
Marimor1
I love the variety of shows and movies. I wish I had enrolled A long time ago.
Infuriating to use
I just had to log on to a computer to purchase the video I wanted to watch. WHY can't I purchase video straight from the app? And the crazy part is it's not a bug. That's how they intend us to use it. Terrible design. I would give it zero stars if I could.
Amazon On Phone
Chuck in Riverside
on
1/20/2018
Is a must have, very easy to use.
Worth the money
Love amazon video
Amazing! but can't do screenshots..
Blahhhhhhhdddssaafghjjjxsfgbb
on
1/20/2018
App is absolutely revolutionary, so Fast, amazing, user friendly, Informative. I love how it shows the actors information in each scene, etc. It really is a bummer that I can't do screenshots on the videos I watch on here though
One Mississippi
allie1536729
on
1/20/2018
I wish I could leave negative stars. How could you cancel One Mississippi?
Love Prime
Jfddtvufsgfcjpug
on
1/20/2018
Love Prime so much more than other movies options. Five stars in my book.
Great
Works well lots of tv shows and good video quality
Good but could be better
This app freezes more than any other of my video streaming apps. Still very watchable. But I know to expect at least one or two freezes to the point of having to close and kill the app every hour long episode.
Amazing amazon
orangely awsome!!
on
1/20/2018
I am having a great time with this!!!!!!!!!!!!!!!!!!!!
Everything You need
I have a disabled dad living with me an my husband. It's great to count on Amazon to bring everything to my door😁
Excellent Media!
Ruben A. Morin
on
1/20/2018
Amazon Prime Video is one of the most amazing app to watch movies on!
Love it!
Convenient, quality programming to keep my grandchildren occupied.
Prime videos
Lana kristy s
on
1/20/2018
I like prime videos but would love to have access to all videos bots just selected. the selection is not that great
Happy customer
I love amazon prime. I watch more movies on prime than cable television. I also enjoy 2 day shipping of products from amazon, reading free books and listening to free music. Awesome!
Best streaming video app out there
Love the handy features. Easy to hit forward and back and pause buttons. Audio adjustment on the screen. IMDB instant access. Love the extra channels like PBS Masterpiece.
Help
I can't get the app to show up on my screen when it is downloaded. 😡😡😡
Fact Sheet
Publisher:

AMZN Mobile LLC

Category:

Entertainment

Released:

Jul 31, 2012

Current Version Released:

Dec 19, 2017

Version:

5.1.2

Size:

77.7 MB

Compatibility:

Requires iOS 9.0 or later.

Recommended Age:

12+

Game Center Certified:

No

Supported Languages:

English; French; German; Italian; Japanese; Portuguese; Spanish; Castilian;

Parental Advisory:

Mild Alcohol, Tobacco, or Drug Use or References; Mild Cartoon or Fantasy Violence; Mild Profanity or Crude Humor; Treatment Information; Mild Realistic Violence; Suggestive Themes; Mild Sexual Content and Nudity; Fear Themes;