TapNova recommends this app!
New in version 4.4.1
- Parents can enjoy new and improved Parental Controls. Block mature-rated titles in Settings and unlock them before playback starts with Touch ID. Go to Settings > Parental Controls > Enable Touch ID
- Be the first to know about new content with improved push notifications. Enable push notifications now in Settings
- Thank you for all the feedback - please keep it coming, we read all of the great suggestions you send to keep improving our service!
Description
Stream and download popular movies and TV shows including Amazon exclusives like The Grand Tour, The Man in the High Castle, and Emmy award winner Tumble Leaf.

Customers in the US can also use this app to watch videos purchased or rented on Amazon, and videos included with a subscription paid for on Amazon such as HBO, SHOWTIME and STARZ.

App features:
-Download movies and TV shows over Wi-Fi or cellular to watch anywhere, anytime.
-Prime members in India can enjoy hundreds of top Bollywood and regional Indian hits like Sultan, Baar Baar Dekho, Kabali, Dhoom series and more!
-View IMDB data about the actors, songs and trivia related to your videos during playback with X-Ray
-Stream the first episode of select TV shows for free. First Episode Free videos include advertising before and during your videos
-Watch on your Apple TV using AirPlay (requires Apple TV 2nd generation or later) (US only)
-Access hundreds of thousands of movies and TV episodes you bought or rented including new release movies or the latest TV programming, with the ability to download titles for offline viewing (US only)
-Watch on your TV using HDMI and your Apple Digital AV Adapter
-Stream the first episode of selected TV shows for free. First Episode Free videos include advertising before and during your videos (US only)
-Add videos to Your Watchlist from any Amazon Prime Video compatible device for later viewing
-Start watching the next episode of the show you are currently streaming automatically with Auto Play.

This app is designed for an unmodified version of iOS.
iPad Screenshots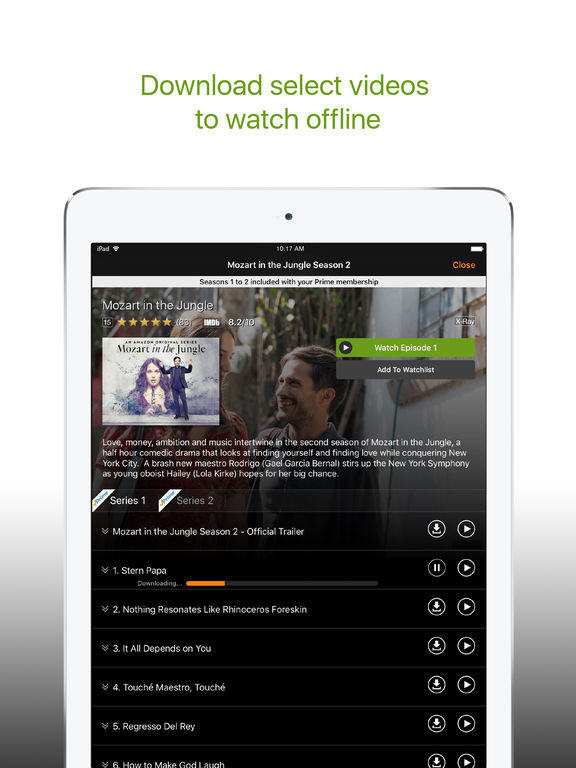 Reviews
Queue my movie
Great app, love the con channel! The only thing that would make me love this any better would be if the show I was just watching was in a certain place every time. I know the watch next category does an ok job keeping you place but I watch at work and frequently need to run off and do things and when I come back sometimes I have to search for what I was watching. If it was the first thing on the first line every time that would be super.
Great app
I love the prime video app! So much better than paying for cable.
Best Streaming App Out There
fotogirl1111
on
6/25/2017
If I could give this app 6 stars, I would. The content is amazing, both in their own endeavors as well as from other studios and channels. No ads or commercials to get in the way. It is super easy to move backwards or forwards, or to quickly get subtitles if you can't understand something. And then there is the additional info for each scene (remarkable!) showing the actors, music, and additional trivia. I've had Amazon Prime for several years, and am kicking myself for not having downloaded this app sooner. I absolutely LOVE it! Thank you, Amazon!!!
Awesomeness
Great app good selection of things to watch.
Always works
Hasn't crashed on me at all. Works fine.
Great App!
Chris Bigdog
on
6/25/2017
I have been about to see some good movies!
Fantastic app, use it all the time
I guess the nice thing about it, is that you can always find something to watch. While I have Netflix too, Amazon prime video service is coming up fast and usability is very good. Hopefully, the company will continue to invest in this app with even more selections available in the future. Given that it covers more than videos, shipping as well as music, I think it is a very good value!
Very Good
Very good video except there is no way to mark a video as "unwatched." I've purchased and watched a GoT 1-5 Season bundle on. I'm watching them again all again on a new device before season 7 starts and for some reason the last several episodes have a solid green bar making it seem as though I've watched them on this device before when I haven't. It will become very confusing about which episodes I've watched again unless I can rid myself of the green bar.
Great app, I'm addicted now. Never without something to watch
I would love a sleep timer mode and if the seasons tab that is selected was colored.
Keeps crashing.
Observer2010
on
6/25/2017
Tested on two different iPad 2's with the latest OS. Crashes every few minutes. Amazon developers, sigh ...
Eh
Not terrible but not the best. The streaming is pretty decent but the content needs work.
Amazon Video
Great movies, tv series and shows. I really do hope Good Girls Revolt will be renewed for a 2nd season. It's "far out"!
FROM ME TO YOU
Come on man,
on
6/24/2017
This app is well worth the money. Highly recommend by someone (me) who rarely recommends anything.
Spanish options please
Great content but doesn't think about spanish speaking people Netflix beat it years on it
Movies, shipping, and everything
I've always loved my amazonPrime account. It's so great to have everything I need in one account. I particularly like X-Ray.
Great PRIME benefit
Really like the 'Original' material. Wish there was more of it...
Love the anime and anime Strike channel
The anime is the only reason why I joined Amazon Prime plus the Anime Strike channel. After the lost of anime network the places to watch dubbed anime is limited very limited. I hope Anime Strike adds more dubbed anime in the future but so far I like the service for now 💯👍🏾
X ray feature
X-ray is awesome
Great app but..
Love this app, it's great and all but the only thing I'd complain about are the movies shown but aren't even available to users to watch. I tried making the purchase but it wouldn't give me the option to. No idea why.
Would LOVE to see this as an Apple TV app!
Great app - lets me use my Prime account in a way I'd never considered. However, my connection between my iPad and my Apple TV isn't always great, so an Apple TV app would be awesome! Please consider!
Best of the best!
I highly recommend using this app. It's easy to follow and use.
Prime video
Fromallaround
on
6/23/2017
App is very easy to use
Awesome app
Switched over to using my iPad Air when it became useless trying to watch Amazon on my Samsung smart tv..kept getting "not enuf broadband" messages despite having the fastest internet available thru Comcast (evidently others have same issues with Amazon on their TVs as well). I got hooked on Justified and have had no issues at all watching it on my tablet. Love this app!
Great app, never any issue
Debra Dulski
on
6/23/2017
I love the Amazon Video app. I've watch many hours of movies, only free Prime movies. The sound and picture is wonderful. Love that you can pause and resume, I love everything about it.
Love it!
I really enjoy this app. The options are awesome and the quality of their original shows is great. Didn't get the 5 stars because the audio gets a little sketchy sometimes and doesn't pair the video. Otherwise it's impressive. This is just an update... audio problem is fixed! Now it has five stars.
Nice app
AK13739373863838
on
6/23/2017
very usefull
Great app but not perfect
Great but can you make it where I can shop and watch at the same time? Cause that would be more perfect!
It would be better without commercials.
Great app. Been a prime member since it started. Just want the commercials to go away. I should think the annual memberships should be enough to fund the streaming services.
Totally worth its price
I love Amazon prime. It affords me so much listening pleasure it's sinful. So many more interesting and variety than Netflix. I'm bored with Netflix. I don't think I ever get bored of Amazon prime and keep finding new and interesting shows to watch.. And then there's all the free shipping you get if you order anything on Amazon. Totally worth the $12 it cost a month.
lovely app!
Coupons are good
on
6/22/2017
just enjoyed.
Amazon Prime Video
Love it. Watch more than Netflix.
Amazing App
I really love this app. It is so easy to use and so nice and convenient. I love that I can tap the middle of the screen and pause the video, rather than having to tap the screen and the tap the pause button, it just makes it that more convenient. I just really love this app!
Nice
Heavenzvoice1
on
6/22/2017
Easy to use and great APP!
Great app
Greesemonkey21
on
6/22/2017
Love the fact I can go and get channels like stars and hbo with out having to purchase a cable package to get them works amazing
Fantastic!
Easy to use, easy to navigate through. I love Amazon.
It doesn't cast yet?
All it just need is to be able to cast to other screens
Love these shows
I watch amazon the most of all my apps. They have the best shows and good movie selection as well. Never letting go of this app
Easy to use
This App is really stable and easy to use. Not to mention a great selection of shows and movies.
Excellent!
PuzzledAndHappy
on
6/20/2017
It works well, offers great content, and offline viewing. In other words, it is great!
Love It
This app keeps me entertained for hours, maybe too many hours. Love the choices of shows and movies. Thanks
Enjoy the app at night
I enjoy watching shows and movies before going to bed. I like the ability to download movies. It makes trips with my kids more peaceful. ;)
Awesome
I like everything Amazon does. This App is just one more of their fabulous services. Couldn't be happier.
FF 10 seconds
Don't ever change the FF 10 seconds. I mostly use this app on iPad and it works pretty much flawlessly. Please strike an Apple TV deal!
Annoyed!
I love that I spent all this money purchasing tv shows and can't even watch them anymore. Ever since the last update none of the things I've purchased can be streamed.
Love it
Sweetpinkroxi
on
6/20/2017
It works great for me! I watch all day while working so it has been tested thoroughly!
I love this app
You have a terrible game
on
6/20/2017
This app is so amazing I can watch all of my favorite shows on my iPad
Profiles
Application very good, only lack the function of creating profiles. At home, I have 3 users, with this function would be much better!
Love the app!
I'm currently stuck in a situation where my iPad is my only means of entertainment. Not a problem with Amazon prime. It just so happens that I love Forensic Files. Imagine my joy when I discovered that the Amazon app has all the seasons and almost every episode in each season! For free! Oh my goodness, they're all here! They come in loud and clear every time! I am one happy camper thanks to this app.
Fact Sheet
Publisher: AMZN Mobile LLC
Category: Entertainment
Released: Jul 31, 2012
Current Version Released: May 04, 2017
Version: 4.4.1
Size: 69.4 MB
Compatibility: Requires iOS 8.0 or later.
Recommended Age: 12+
Game Center Certified: No
Supported Devices: iPad2Wifi-iPad2Wifi, iPad23G-iPad23G, iPhone4S-iPhone4S, iPadThirdGen-iPadThirdGen, iPadThirdGen4G-iPadThirdGen4G, iPhone5-iPhone5, iPodTouchFifthGen-iPodTouchFifthGen, iPadFourthGen-iPadFourthGen, iPadFourthGen4G-iPadFourthGen4G, iPadMini-iPadMini, iPadMini4G-iPadMini4G, iPhone5c-iPhone5c, iPhone5s-iPhone5s, iPadAir-iPadAir, iPadAirCellular-iPadAirCellular, iPadMiniRetina-iPadMiniRetina, iPadMiniRetinaCellular-iPadMiniRetinaCellular, iPhone6-iPhone6, iPhone6Plus-iPhone6Plus, iPadAir2-iPadAir2, iPadAir2Cellular-iPadAir2Cellular, iPadMini3-iPadMini3, iPadMini3Cellular-iPadMini3Cellular, iPodTouchSixthGen-iPodTouchSixthGen, iPhone6s-iPhone6s, iPhone6sPlus-iPhone6sPlus, iPadMini4-iPadMini4, iPadMini4Cellular-iPadMini4Cellular, iPadPro-iPadPro, iPadProCellular-iPadProCellular, iPadPro97-iPadPro97, iPadPro97Cellular-iPadPro97Cellular, iPhoneSE-iPhoneSE, iPhone7-iPhone7, iPhone7Plus-iPhone7Plus, iPad611-iPad611, iPad612-iPad612, iPad71-iPad71, iPad72-iPad72, iPad73-iPad73, iPad74-iPad74,
Supported Languages: English; German; Japanese;
Parental Advisory: Mild Alcohol, Tobacco, or Drug Use or References; Suggestive Themes; Mild Cartoon or Fantasy Violence; Mild Profanity or Crude Humor; Mild Realistic Violence; Fear Themes; Treatment Information; Mild Sexual Content and Nudity;