Screenshots
New in version 4.8.1
Bug fixes and performance improvements
Description
Stream and download popular movies and TV shows including Amazon exclusives like The Grand Tour, The Man in the High Castle, and Emmy award winner Tumble Leaf.

Customers in the US can also use this app to watch videos purchased or rented on Amazon, and videos included with a subscription paid for on Amazon such as HBO, SHOWTIME and STARZ.

App features:
-Download movies and TV shows over Wi-Fi or cellular to watch anywhere, anytime.
-Prime members in India can enjoy hundreds of top Bollywood and regional Indian hits like Sultan, Baar Baar Dekho, Kabali, Dhoom series and more!
-View IMDB data about the actors, songs and trivia related to your videos during playback with X-Ray
-Stream the first episode of select TV shows for free. First Episode Free videos include advertising before and during your videos
-Watch on your Apple TV using AirPlay (requires Apple TV 2nd generation or later) (US only)
-Access hundreds of thousands of movies and TV episodes you bought or rented including new release movies or the latest TV programming, with the ability to download titles for offline viewing (US only)
-Watch on your TV using HDMI and your Apple Digital AV Adapter
-Stream the first episode of selected TV shows for free. First Episode Free videos include advertising before and during your videos (US only)
-Add videos to Your Watchlist from any Amazon Prime Video compatible device for later viewing
-Start watching the next episode of the show you are currently streaming automatically with Auto Play.

This app is designed for an unmodified version of iOS.
iPad Screenshots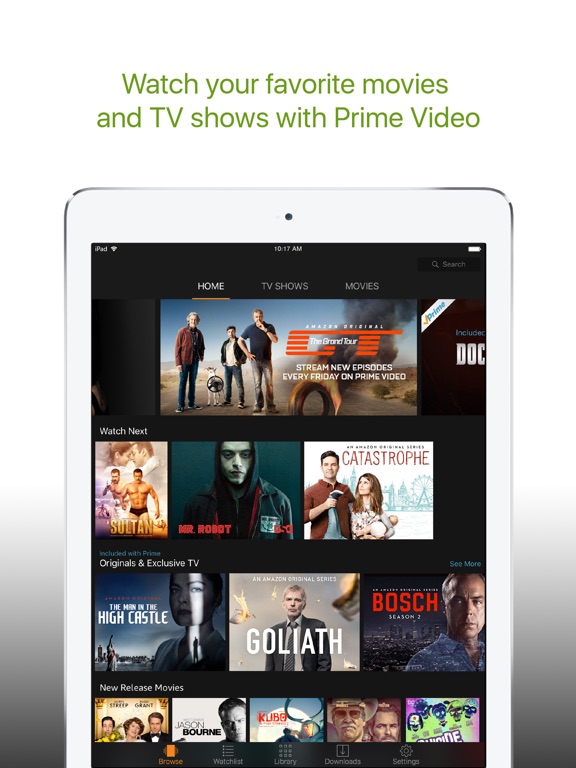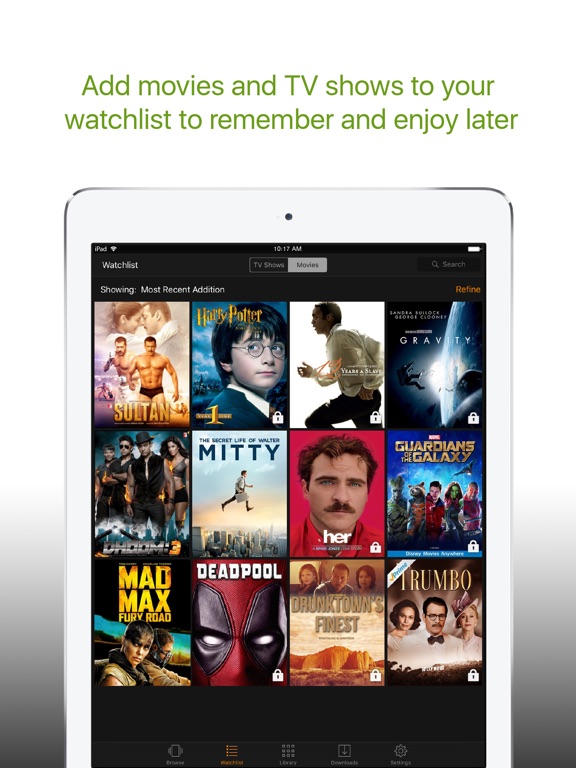 Reviews
Casting
Only video streaming app with no chromecast support.
Degraded video quality
The quality of the video regularly decays over time, such that I have to restart the video every few minutes. I have very good wifi connection. Nice app otherwise though!
Bull sh!t
This is garbage making people have to pay just to rent movies if I known this I would never have downloaded this and waste my time! Don't download this piece of crap!
Excellent
Crystalline fox
on
10/22/2017
Although I was a little upset about the ending, the movie was excellent in terms of plot, scenery, period clothing, photography, action & choice of landscapes used. It was a very sad ending knowing that the father & son decided to stay in the land of their last adventure & never returned to the wife & children that were left behind in England. The wife suffered greatly as her husband was always gone off to some grand adventure. She & her children had only bits of time with her husband. This was a great movie & I highly recommend it to everyone.
No chromecast support
The app is decent but no chromecast support? Seriously?
Fantastic 😄
JustiMarie1
on
10/21/2017
Never have had an issue with the app! Easy to find what Ive been currently watching since the video library is right at the top, I get fairly good recommendations (I'm picky), great price for Prime, love that other channels like Cinemax and HBO are available, app has never crashed for me (unless it's something wrong with my internet or cell service), all my devices--I have four devices I switch around from and have the app downloaded to but only use maybe three frequently, PS4, firestick on my TV, laptop, desktop, mobile, and it's an all around great experience.
Cannot turn off subtitles
The app freezes every time I try to turn off subtitles...I'm forever stuck with them on. Seriously!?! PLEASE fix this ASAP!
Portrait only for the iPad?
Wingman7447
on
10/21/2017
I hate any app that forces you to use portrait mode!
Must Have
mack.diesel
on
10/21/2017
If you have Prime..this app is an absolute must..movies galore shows up the wazoo..obey me
Mommy's best friend!
Jessmenmyboys
on
10/21/2017
My kids always have the TVs hogged up, I love my fire stick and recently downloaded this app so I could watch prime tv is amazing I'm hooked
This app is
Glamazon Dyme
on
10/21/2017
S H I T
Can't use while abroad
I'm a US citizen. Amazon should know this based on my billing address or credit card number, Yet, I am unable to use the service abroad. I can't use the VPN workaround because the app detects that I have VPN enabled and won't play videos. What a huge disappointment.
Mostly great
little red bug
on
10/21/2017
It's irritating that's there isn't a "continue watching" section.
White chapel
Great series
Pretty Worthless.
DabbleinApple
on
10/20/2017
I really don't understand the number of positive reviews. There is maybe 2% of the movies that I want to watch that are even available. Of those that are, the only thing that this app allows me to do is to either add the movie to my watchlist, watch a movie trailer, or pay yet ANOTHER subscription to be allowed to watch it on my iPad. Bate & switch. The only way to watch the video is from a computer. Ridiculous. If you want to watch any major name movies on an iPhone or iPad, get Netflix.
Amazon update broke landscape mode
Amazon update broke landscape mode
Doesn't work in landscape
I shop exclusively on my iPad. All of a sudden I can no longer view in landscape. My tablet has a keyboard and I use it only in landscape, so it makes using the app useless.
ADD A CASTING FEATURE TO THE APP
Heckheckman
on
10/20/2017
Why doesn't amazon support casting on their apps
Does Not Support Chromecast
Talon McClaw
on
10/20/2017
Personally, this app has very little value if I am unable to stream directly to my television - specially via Google's Chromecast.
From landscape to portrait / change it back!!
It's a pretty good app for my iPad, but this latest update is irritating in the extreme! Turn it back!!
No landscape mode support?
Is this just me, or did they remove landscape mode? Please advise.
Forces portrait orientation
I use my iPad almost all in landscape mode. Latest version of app doesn't seem to support that so using the web site instead. Don't see any other advantage to the app over website anyway.
Good but could be awesome
friscowatcher
on
10/20/2017
I love it except that I can't minimize screen so I can watch while also on internet or working on something else. I also wish I didn't have to sign up for so many other things just to watch bbc shows and things like that.
Real life response.
One eyed trouser snake
on
10/20/2017
Give me a job .
Buffering
I'm not happy with the poor quality of the videos. Constant buffering makes it almost impossible to watch movies or TV shows. For the price we're paying, it should be as good as Netflix. Will probably drop if doesn't improve.
I love it
The app works well. I wish you could purchase shows through the app too but for what it's meant to do, I have no problems with it.
Disappointed
Harpaldip12345
on
10/19/2017
Their is no support for Apple TV or chromcast
Can't watch NFL
What's the point of streaming Thursday night football if you can't air play it to your Apple TV . Boooooooo !!!!!!!!!!
Finally, a place to watch classic 90s family television!
Natural & Fit Diva
on
10/19/2017
With the way the television is headed, I find it hard to want to engage in current tv. It's nice to have a platform that offers good, clean, classic shows and even nicer to have a break from reality tv drama. The moment I found my favorite show, A Different World, I haven't taken a day off from this app. Thanks Amazon Video!
Good but....
Theodorious
on
10/19/2017
Why can't it link to smart tv? Netflix does it, I know Amazon is on most smart tv systems but the navigation is terrible.
Can't stream on chrome cast;(
Cori milwaukee
on
10/19/2017
If you pay for prime video you should be able to stream on any device YOU choose.
Why can't I get this on my appletv😕
I love the app and the original tv shows but why can't I get it directly on my Apple TV??
Pretty Good Yo
They call me Mr Eclectic
on
10/19/2017
The app runs smoothly for the most part. I have only had it crash one time, but that was before an update a while back. Picture quality is stellar. It is nice that there is the option to use subtitles as well. Sound is nice too! Download speed is a little slow, depending on how much you are downloading at once. All in all I think that this is a great way to watch Amazon Prime Video.
Awesome easy app
Super easy to use and I love the 10 second rewind/fast forward button
Great selection and original series
I love your Masterpiece Theater selections, the wide range of documentaries, Xive TV, The Tick and Catastrophe! I have recommended you to friends and family. Also ❤️ the free postage❣️
Where the hell is the Apple TV app?
Mike Brecheisen
on
10/18/2017
My only complaint is that there is no app for the Apple TV
Annoyed
Hahshshshusbe
on
10/18/2017
You can't rent or buy any movies on here, you have to go on your computer or tablet or tv to do that, like what if I want to rent or buy a movie to have on my phone? Just doesn't make sense to me and I would really appreciate it if they fixed this
More shows
I'd like to see more older tv and movies. But I am enjoying the app
All the Movies, TV Shows, Originals, NFL ... At No Cost!!
Sanjay-Writes
on
10/17/2017
It's quite possibly the best deal on the planet... I am sure Amazon can and will purchase more content, create more exciting original content, and then do more cool things... But let's not forget that we are getting to watch all this awesome stuff for nothing! Thank you Amazon for bringing this great benefit for the Prime members.
Not available on Apple TV
Don't get it why it is not available on Apple TV. It is on iPhone and iPad.
Love it!
The selection for prime members is broad, the quality pristine and the ease of access perfect. Love it!
Airplay of downloaded content works about 50% of the time
Airplay seems to only work reliably when streaming — trying to airplay downloaded content is so unreliable I have started renting movies from iTunes
Perfect for learning any languages.
Endless title"S" to select. Tones domestic and foreign titles from all over the world. Not enough life time to see them all.
Okay
Great, but at times the selection seems to be limited.
Love it!
All my faves in one spot! Love it!
Love it!
Cdn12345678901234567890
on
10/17/2017
It's getting better every day! I love that it comes with my favorite shopping machine!!!
Resolution goes to heck
Watching Inspector Morris @ 55Mbps download starts off fine, but in a little time the resolution is horrible! Back to Netflix. Cancel Prime.
Love it
The app works great on my iPad. Knows right where I left off watching a show. Easily downloaded TV and movies to watch while traveling where I wouldn't have wifi. I'm not a computer wiz, but this app works easily for me.
Fact Sheet
Publisher:

AMZN Mobile LLC

Category:

Entertainment

Released:

Jul 31, 2012

Current Version Released:

Oct 21, 2017

Version:

4.8.1

Size:

69.6 MB

Compatibility:

Requires iOS 9.0 or later.

Recommended Age:

12+

Game Center Certified:

No

Supported Devices:

iPad2Wifi-iPad2Wifi, iPad23G-iPad23G, iPhone4S-iPhone4S, iPadThirdGen-iPadThirdGen, iPadThirdGen4G-iPadThirdGen4G, iPhone5-iPhone5, iPodTouchFifthGen-iPodTouchFifthGen, iPadFourthGen-iPadFourthGen, iPadFourthGen4G-iPadFourthGen4G, iPadMini-iPadMini, iPadMini4G-iPadMini4G, iPhone5c-iPhone5c, iPhone5s-iPhone5s, iPadAir-iPadAir, iPadAirCellular-iPadAirCellular, iPadMiniRetina-iPadMiniRetina, iPadMiniRetinaCellular-iPadMiniRetinaCellular, iPhone6-iPhone6, iPhone6Plus-iPhone6Plus, iPadAir2-iPadAir2, iPadAir2Cellular-iPadAir2Cellular, iPadMini3-iPadMini3, iPadMini3Cellular-iPadMini3Cellular, iPodTouchSixthGen-iPodTouchSixthGen, iPhone6s-iPhone6s, iPhone6sPlus-iPhone6sPlus, iPadMini4-iPadMini4, iPadMini4Cellular-iPadMini4Cellular, iPadPro-iPadPro, iPadProCellular-iPadProCellular, iPadPro97-iPadPro97, iPadPro97Cellular-iPadPro97Cellular, iPhoneSE-iPhoneSE, iPhone7-iPhone7, iPhone7Plus-iPhone7Plus, iPad611-iPad611, iPad612-iPad612, iPad71-iPad71, iPad72-iPad72, iPad73-iPad73, iPad74-iPad74, iPhone8-iPhone8, iPhone8Plus-iPhone8Plus, iPhoneX-iPhoneX,

Supported Languages:

English; French; German; Italian; Japanese; Portuguese; Spanish; Castilian;

Parental Advisory:

Treatment Information; Suggestive Themes; Mild Alcohol, Tobacco, or Drug Use or References; Mild Cartoon or Fantasy Violence; Mild Realistic Violence; Mild Sexual Content and Nudity; Mild Profanity or Crude Humor; Fear Themes;