This version of the app is not recommended
App last updated
Jan 16, 2018
Screenshots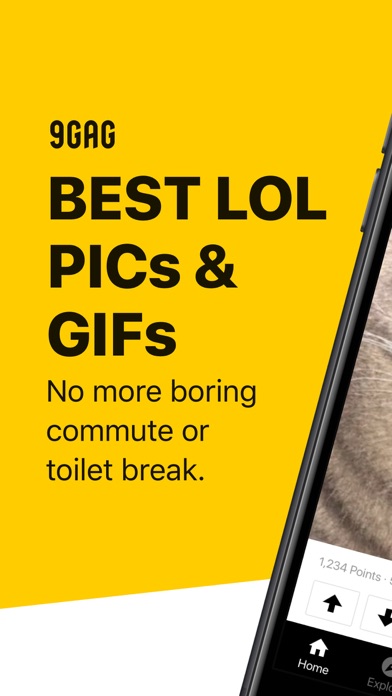 Description
---- The FUNNIEST APP ever! ----

9GAG is THE BEST APP for you to lol, kill time and make new friends all around the world. We are the leading platform for humor contents with millions of visitors.

▸ Keep yourself happy by discovering funny posts on 9GAG
▸ Make your friends laugh by sharing hilarious posts on 9GAG
▸ Have fun together with the funniest people all over the world

4 reasons that you'd need 9GAG:

1. Lol. Life is all about being happy right? 9GAG provides tons of joy that make you smile. You'll definitely fall in love with 9GAG.
2. Lol with your friends. You'll be happier when sharing happiness with them.
3. Life is easy. Take a break. Check out 9GAG.
4. Actually there are only 3 reasons. Don't read them. They're boring. You'll find more fun by downloading 9GAG! :)

We value your feedback A LOT. Please report bugs or give suggestions to us. Let's make 9GAG a better community together!
Email: support+ios@9gag.com

----Too long, don't read. Just download the app and laugh.----

It's not important but we received these honors:
▸ Best Apps of 2014 Half Year (Entertainment) - Google, 2014
▸ Best 10 Apps to Kill Time - Techweek Euro, 2015

What do we provide:
▸ Feature the best collections of funny, awesome, wtf, omg, fail, lel, cute, geeky, cosplay, GIFs, nsfw, memes, LMAO, rage comics, Vine and viral videos.
▸ Entertain you when you get bored. 9GAG is the best way to kill time!
▸ Join discussions in the community and make friends from all over the world.
▸ Happiness is only real when shared! Share your humor to Facebook, Twitter, Tumblr, Pinterest, Instagram, SnapChat, WhatsApp, Line, WeChat and Weibo.
▸ If you like watching prank videos on Youtube, Tumblr, iFunny, Digg, Reddit, Rage Comics or any other funny pics and videos, we guarantee you would fall in love with 9GAG!
Download it now! We are your best source of happiness and awesomeness.

Our users love us! (You will be one of them!):
▸ "OMG LMAO " - Emma
▸ "Can't get enough of this app. I'm addicted to the cats and girls here." - Tim
▸ "Best way to kill time. Kills boredom and makes me laugh. The comment sections are very entertaining and hilarious. Downloading pictures is easy. Pretty cool." - Zeinab
▸ "I love ninegag! For those who like reddit, 4chan, imgur, thechive or LOL pics, 9GAG is the best app among them." - Nico
▸ "Daily dose of happiness! Those meme, rage comics, fails made me laughed out so hard!" - Justin
▸ "Thanks for making my day! Used to browse cheezburger and 4chan until i found 9GAG. " - Nigel
▸ "This app is great for your everyday humor needs." - Banter
▸ "Got nothing to do? 9GAG's the best." - Alvin
▸ "Looking for reddit alternative, imgur alternative, iFunny alternative? This is it." - David
▸ "I used to browse imgur and iFunny… one day I found out 9GAG and never moved back!" - Mike
▸ "This app makes your day. It has become an integral part of my routine" - Aakash
▸ "It's a great app to post jokes and interesting posts! Better than theChive! Really enjoy this and LMAO everyday!" - Eric
▸ "Best place to come when you're tired, alone, not in the mood. Thanks for keeping me on the track" - Carmen

LOVE YOU! :3
Facebook: https://facebook.com/9gag
Instagram: https://instagram.com/9gag
Twitter: https://twitter.com/9gag
Pinterest: https://pinterest.com/9gag
iPad Screenshots
Reviews
Crap
I have wasted 2-6 hours a day on this app and it's too entertaining. Just got let go cause I spend too long on the bathroom and I send NSFW posts to all my coworkers. It's addicting and I think I'm gonna kill myself cause of it.
Fun
Just download it and have fun!
Let's say this app changed my life for the good.
ArtisticJESS21
on
1/21/2018
It's an entertaining app. What is a bathroom break without scrolling 9GAG on your phone? Download because it's worth having it on your phone. *banana for scale*
AWESOOOOOME!!!!!
Cowboys_girl
on
1/20/2018
30 stars!!!
Limited and isn't funny anymore
Cookingwithmemes
on
1/17/2018
Very repressive. Banned memes for stupid comments. The 9gag team thought of making a stupid rock for people to find in the future. Stupid, absolutely stupid idea. 9gag is loosing tough with it's real fans.
Has only one meme, isn't funny
The only meme this app shows is "Aw, Snap! Unknown error, please try again later." I lol'd at first but it got boring quickly. Would not recommend.
An aggregate of memes
NAUGHTIOUsMAXIMUS
on
1/15/2018
If it wasn't for Eurotards and CanadaTards bashing the US this would be empty. Pretty much just recycled memes and pet pics.
Eh
Good just not as good as it used too. Plus adds.... but hey great time pass time
Toxic community
Used to be good. Now it's just full of toxic teenager know-it-all's who think they're superior over others. Barely any funny content. Oh and it is also Anti-American.
Great app
If you like archaic and unfiltered fun. This app is for you.
Copy and paste app from top Reddit posts...with ads
Full of ads, racist community made up of 13 year old wanna be nazis...all the content is just reposts from reddit...just download the reddit app and not this trash!
Gif bug
When gifs are playing full screen they get cropped.
Worst possible app & site
Horrible website. Say or post the wrong thing or wrong image and you'll get banned instantly, no warning, no explanation. Worst Mods ever. This website supports suicide, Islamic terrorism, and North Korean terrorism.
Fun
Good way to pass the time
One tap to laughter
There should be more apps like this. This world needs more happiness.
Infected with redirecting virus
JacksonianEra
on
1/2/2018
I'm not sure if anyone else has this problem but since the last update, my app constantly pulls to another site when I'm in comments. Didn't click an ad, just quickly and repeatedly pulled away to another site. Can no longer read comments due to constant redirects. Edit: App is functioning normally now. Redirects have ended.
First!
mechwarriorlol
on
1/1/2018
Cool memes and quick gif!
Pretty good
Theres ur review
Warning: you'll get addicted
Great app, mediocre community.
Not for me
Yyxhibkofzs
on
12/31/2017
This is a great distraction if you don't mind falling down a rabbit hole. Most of the feed is flooded with memes that are a bit too sexist for me and geared to a very specific audience.
No NSFW
Needs NSFW section back
Such app
Legatus Glaber
on
12/30/2017
Much funny. Very memes. Wow.
Good time kill. Nsfw shud be brought back.
Good time kill. Nsfw shud be brought back.Good time kill. Nsfw shud be brought back.Good time kill. Nsfw shud be brought back.
Random pop ups
Been using this app over 2-3 years now every now on then they spam you with pop up add mostly when you try to comment, they will probably say they got virus but after several times over years i dont believe its true just another greedy app uses peoples comtent to profit.
Consistent AD redirects.
As soon as you click on a video or go to the comment section BOOM. an AD pops up without even clicking on anything. What a shady way to make AD revenue. Back to reddit!
SB.VOICEFIVE AD
Zombiehunter999
on
12/26/2017
Stupid ad keeps popping up
Love this, but what's with the pop ups?
DarthTaylorRose
on
12/25/2017
So confused. Had this app for years, but the last month when I'm watching a gif or just reading comments a blank pop up comes up trying to bring me to a new page. HELP.
Problem
GamerGirl7-27
on
12/25/2017
Sometimes when I open the comments, the ad opens up a pop up screen. Even after I close it, it pops up repeatedly.
Meme Machine
jimmybonesss
on
12/25/2017
If you could rate this app on a scale of one to potato, it would be 5/5 potatoes
Stress reliever
9GAG is one of the best ways to festers from a long stressful day at the office!
No
ShadowedLucario222
on
12/25/2017
I liked it until it signed me out and deleted my account
Pop up ads sb.voicefive
UntoldLegends
on
12/24/2017
Recently this has been happening. An ad called sb.voicefive keeps popping up over and over and over again. Is it the app creators doing or they have a breach in security?
Stop allowing "free instawatch" clickbait
Charlie Ray
on
12/24/2017
Too much spam/clickbait
Hate the auto open ads page in safari everytime you see a video or read comment sections
Many of the ads will intrusively open safari to their ads even without me clicking it. I have no problem with showing the ads on the top or between the post, but making the app to auto open safari to view the ads page? Seriously?
Meh
ArchonEbeon
on
12/22/2017
Literally every time I use 9GAG, it opens Safari to a random webpage. Content isn't original or funny half the time either.
Not fun to use
While scrolling through the app I am constantly forced to leave the app. Seems like they don't want you to use the app.
Slow gif and videos download
This is the official app of 9gag, but gifs and videos downloading is really slow. And if you think it's about my connection, then No it isn't, I open the 9gag website in Safari, the downloading speed is really fast, this is the app problem, please fix it guys!!! 2 stars for bad UX!
Sb.voice pop up?
Anyone get an sb.voice pop up on their mobile app? It constantly happens when I tap a pic or video to read comments. It'll pop up in safari so I close it then it pops up again in 5 seconds. Makes reading comments impossible.
Unusable
Dammit 9gag
on
12/20/2017
I used to love being on this app. Now I cannot open a video or image without a pop-up. You need to fix this, because I am deleting until you do.
For euros
Trigg3r Happy 3
on
12/20/2017
This app is full of hatred of euros hating Americans. It should be about funny stuff, not hatred.
Pop ups bug
A college guy
on
12/20/2017
Whenever I go to read comments, the app will deliver me to a random pop up site related to the advertisements shown at the top of the screen. Even if i am in the middle of scrolling, it will take me out of the app. Rating 1 star until fixed.
Ad Redirects
Emilyleebee
on
12/19/2017
Please get rid of the ad redirects. It's a very frustrating feature that was added and makes 9Gag not enjoyable to scroll through anymore. It will pop up about four consecutive times before I can finally get out of it and move on. I understand 9Gag needs profits somehow, but this was not the right decision.
Pop ups
Random pop ups while in comment section.
Popup
Constantly get a popup ad that opens an in-app web browser and loads an empty page when I tap on posts to view them or open comment sections. Close it and it just spam reopens repeatedly and still loads a blank page. Super annoying. Fix your comment section ads.
Loyal 9gagger for 5years but...
thtOneUberDriver
on
12/19/2017
Please fix your bugs. The App has been freezing and showing black screens. Why you NO fix? What am I suppose to view on the toilet? I love the app. Never had issues before. Please I say to the holy 9GAG master. Fix. Thanks. Overall, would highly recommend.
Update the ad spam
Every time I load the ungodly comments I'm redirected to an ad page.
Pop up ads
Every time I open a video post, it redirects to a pop up ad. It redirects again after closing the ad for about a second and it just go on and on and on and on................ until I exit the post.
Fact Sheet
Publisher:

9GAG Limited

Category:

Entertainment

Released:

Jul 26, 2012

Current Version Released:

Jan 16, 2018

Version:

6.12.00

Size:

92.5 MB

Compatibility:

Requires iOS 9.0 or later.

Recommended Age:

12+

Game Center Certified:

No

Supported Languages:

English; French; German;

Parental Advisory:

Mild Cartoon or Fantasy Violence; Mild Alcohol, Tobacco, or Drug Use or References; Suggestive Themes; Mild Realistic Violence; Fear Themes; Mild Profanity or Crude Humor; Mild Sexual Content and Nudity; Mild Simulated Gambling;