This version of the app is not recommended
App last updated
Jan 11, 2018
Screenshots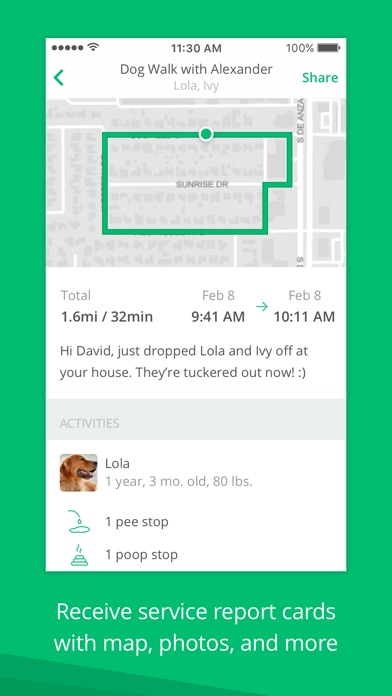 New in version 3.66.0
My parents keep putting fireplaces on their TVs. It happens every year. I don't get it. If they can't roast marshmallows over it, honestly, what's the point.
+ Performance improvements
+ Bug fixes (nobody likes fleas)
Description
Rover is the #1 pet sitting and dog walking app. Get trusted pet care in your neighborhood.

The Rover app was created for dog people by The Dog PeopleTM. Through the app, get adorable photo updates, GPS tracking of your dog's walk, an easy way to message sitters or manage your business, and a secure way to book and pay.

With over 100,000 pet sitters and dog walkers in the U.S. and Canada, Rover makes it easy to book pet care you can trust.

PEACE OF MIND
95% of reviewed services receive a perfect 5-star rating.
Rover accepts less than 20% of potential sitters, because your dog deserves the best.
Every service booked on Rover is backed by premium insurance, 24/7 support, a reservation guarantee.

FAST & EASY
Contact and message sitters and dog walkers, right from the app. Receive messages from sitters when you're on the go.
Hassle-free and secure payments, every time.
Get a map of your dog's walk, pee/poo and food/water alerts, and a personalized note from your sitter or dog walker.

FOR PET SITTERS AND DOG WALKERS, TOO
Send photos, videos, and messages to pet owners with just a few taps.
Get paid on the go—it's simple and secure with the Rover app.
Seamlessly manage your business, even if you're at the dog park.
Enable push notifications to respond faster than ever to booking requests.
Create Rover Cards to seamlessly share information with your clients.

IN THE PRESS
Rover has appeared in:
The New York Times
The Today Show
The Wall Street Journal
USA Today
ABC News
And many more!

Note: Rover uses location information in the background for tracking active services. Continued use of GPS running in the background can dramatically decrease battery life.
Reviews
Franco's day care
Andrea & William
on
1/21/2018
We are really happy, Mr. Douglas is really nice with our dog and all the dogs there. My dog loves to go there. The app is really easy to use and is nice you always get a picture of your dog :)
Pay the app?
The biggest backdrop to this app is that they're getting paid for your hard work you get offered $80 they take like $15 you already have to pay taxes! Someone can literally duplicate this app and take that part of the app out and sell it on the App Store for $0.99 and boom instant comp.
Katie is amazing!
Katie is spectacular. She's represents everything I value about a animal lover. She appreciates looking after my Rusty and he is thrilled spending time with Katie. Thank you!
Need better Networking
I like the app, user friendly. But for someone who is trying to offer services, I don't get a lot business unfortunately. So maybe the need to do a little more marketing for the app.
Best service ever!
My go to for finding a dog sitter. Highly recommend!
Please do background checks. And actually check.
Next time someone comes to my door to take my dog to their house for the night with HEROIN MARKS AND SCABS ON THEIR FOREARMS AND YELLOW BLOODSHOT EYES I WILL BE CALLING THE COPS AND I WILL BE CONTACTING MY LAWYER if this EVER happens to anyone else i know. Service CANCELLED!!!!!
Love it
Palermo110969
on
1/17/2018
I love dogggggggggg
Not too bad
I enjoy Rover, but I feel like I don't get a lot of responds due to too many competitors.
App glitches
I like the ease of searching dog sitters through this app, but I have had repeated issues with messaging on here. The messages will always get sent to someone else which causes confusion for everyone. One occurrence event caused a long argument between a sitter and another person that doesn't even use this app. How does that happen? This has been going on for several years, even after updated versions. Very frustrating & a poor first impression to my new, potential sitters.
Wonderful!
Melon's Best Friend
on
1/16/2018
This service has allowed me to hang out with pups and get paid for it - heaven! I'm so glad this service is out there, it's really great! The app works wonderful, it is user-friendly and easy to book, chat, and keep up with upcoming dog requests. Highly recommend it!
Great solution for pet boarding
Rover gives my kids an opportunity to play with dogs and us an opportunity to see how different breeds interact with our family. And compared to normal boarding companies, these dogs become part of our family for the time they are here. They get much more attention and exercise than any boarding facility could possibly provide.
Could Be a Tad Better, But It's Good
Michael A. Mullin
on
1/16/2018
It's good for finding walkers, sitters, and be like. And if you want to walk or sit, it's not a bad way to do so. The layout could probably be a little better. As a sitter, I had to use the 'click everything approach to find out what's where and what's not' if you know what I'm saying. There are some features that I'd think would be there, but aren't. Like if a book as a sitter, it doesn't populate into my rover calendar. I just have to look at my inbox for the details. Not really a problem, but you'd think it's go to the calendar upon accepting the offer. Overall good experience with the app. Rover has emergency hotlines and there's an insurance policy that all walkers, sitters, etc have to buy as well, which provides some additional peace of mind in case something goes horrible wrong as well as some opportunity for redressing the wrong.
Good could be better
I am a sitter on Rover and I use the app quite often. I enjoy the ease of use but here could definitely be more features. It would be nice if sitters could set guidelines for their services that are obvious to dog owners. Currently you just put your preferences in your profile. It's obvious that many owners don't read through the profiles. For example I often get last minute requests from owners that I've never met when one of the requirements in my profile is a meet and greet before sitting or day care. Looking forward to improvements.
dissapointed
sighNiallsigh
on
1/14/2018
rover was overly advertised so there are hundreds or thousands of other people on the app, i have yet to book an appointment even after having the app for over 2 months and changing my rates to almost nothing and i have experience, the app only shows the people with the most reviews first and the new people they've scammed into the app way in the back, not to mention the entire process of signing up took almost a week
No longer use
Rhonda breuker
on
1/14/2018
Used a sitter in grand haven mi multiple times. I gave great reviews 13 to be exact)until I had a horrible experience upon my dog coming home. His behavior changed tremendously. He is scared to death of thunderstorms now. NEVER was before. Could have been left outside while everyone was gone. Very upsetting. I have tried everything to calm my Sheltie. Now I lay with him as he shakes and trembles during storms.
Awesome service
4 Paws Solutions
on
1/13/2018
Rover has been great at helping grow the client base for my business! I love Rover!
Rover
Ddddddddaaaaaa$&@
on
1/12/2018
Your website could be more user friendly, and it's hard to read. But love the idea of this site and so far great response from sitter!
Simple and fast
Jhbuyvyjfcuyfcyufcugfc
on
1/12/2018
Im a dog sitter on rover and I love it, I set up my profile and now people who need a dog sitter send me a quick message if they're interested in me and then I'm ready to work! Rover has been a great opportunity for me since I don't have the time for a normal work schedule due to being a full time student. 10/10 would recommend
Unreliable - DO NOT USE
I booked services one week in advance; the sitter even came to my house to meet the dogs and everything. 13 hours before she was supposed to arrive, she sends me a text message saying she forgot she had somethings to do. Do not use this app! You will be left hanging like I was!!! DO NOT USE THIS APP !!!
Pretty good app
Really have to dig deep into the comment section of rover sitters because everyone pretty much gives 5 stars. Not always easy to find the best sitter to cost ratio but we have had much success.
Love it.
MJEROMEJACKSON
on
1/11/2018
I've built some good relationships with sitters and love how the app is set up. Only one critique: I wish I could save videos. When the sitters send photos of my dogs, I can save them but not videos!
Reliable
I am so happy there is a secure place to find pet sitters and walkers. I have used rover for about 2 years and I am happy with it, only problem ive had is that they dont protect you when your sitter gives your dog fleas...
Cats, too.
Little Arcadia Pet Care
on
1/9/2018
The app is not user friendly in adding cats. I need assistance, please!
Very well organized
I'm a dog walker and pet sitter and this app makes it so easy to get requests and messages and let the pet owner track what I'm doing with their animals.
We love Rover
Best app for pet owners and sitter! Rover enables your pet to never have any stressful boarding experiences and to be able to stay with families and folks that will love your pet and offer them a home setting so they can enjoy a vacation while you are on a work or vacation trip. Whenever your schedule is busy and you could use great doggy daycare or a walk - look no further than Rover
Rover is Fantastic
Favorite band ever
on
1/6/2018
Rover is a fantastic service. It's so reassuring to see the visit details, maps, and photos and know that our pups are being cared for and loved on. We LOVE Nicole who is wonderful to our dogs and so dependable for us!
There are some features you can only access through the full website.
Ricchan la Jefe
on
1/5/2018
Notifications are accurate, timely, and easy to understand. The chat system is pretty cool, too. Something that they don't allow you to toggle through the app, only through the desktop site, is the text and email notifications. I was getting up to 3 notifications per individual chat bubble per client. It doesn't make sense to me that you shouldn't be able to change that from within the app, and the desktop site can be a pain to navigate from mobile. It would be better if all the features and settings accessible from the website were also changeable through the app.
Too expensive
Speck-Tacular, Inc.
on
1/5/2018
So now people want to get paid $20 to drive less than a mile, and walk 1 dog for 10 minuets. Meanwhile I make $60k per year, bill $20 an hour, and get reimbursed $13 for driving 25 miles to a client. I should mention that I work for one of the largest and most prestigious firms in the country. Then they want another $20 if you have 2 dogs. So $40 for driving less than a mile and walking 2 dogs simultaneously, for 10 minutes. So people want to be paid the same amount to walk a dog, as I get paid for auditing people with a masters degree and a cpa license. Also, you have no guarantee that they will actually walk the dog. This app is kinda a rip off. Thanks for inflating the market price of a simple service rover. Keep up the good work.
Rover Sitter
instant.ramen
on
1/4/2018
I do love Rover. And I completely understand the stances that people who give Rover a 1 star, are coming from. Not every platform is perfect, ya know? But i've been a sitter/walker for a couple of months now and personally I think what makes Rover great are the people who take their job seriously. I always make sure that the pets I take care of are safe and happy. Thanks to Rover, I have a job that I actually enjoy! I do wish there were more options on Rover and that there were ways where people who need someone for a couple hours could do so. But in the end, I love Rover!
Excellent customer service and care
Rover actually has a phone number which is such a relief nowadays. I've had to call them twice to make changes and they were so accommodating and had me ready to go in less than 5 minutes. Very easy to talk to and they take the time to listen. The young lady we found on Rover to care for our dog when we're out of town is amazing as well. All in all, we have had such a great experience with Rover and are so grateful it's here!
Terrible service, and horrific customer support
We are wary of trying services where you have to entrust a complete stranger with your property or pets. We avoid it at all costs, but sometimes it's necessary. We decided to give this a try for one night so we could have a great party overnight for a wedding out of town. We found one of the VERY few ppl in our metro area that had either positive ratings (or ANY ratings at all!). There was one person that had 25 all positive reviews. This person was listed as a non-smoker, and the person watching the dog was what we found out was the "mom". We talked back and forth and confirmed a pickup time of 11am. The person was responsive to communications, so we were comfortable enough. Now something to note, I'm not an overly cautious person, my other half is. I am willing to forgive some things, he is not one to do so. We pulled up to the "condo" in our car (that was really an apartment complex that was labeled as a "condo"). The complex was a low income dump. *I* didn't want our dog to stay at this place, but my SO smiled and acted like it was OK, so we went and knocked. We sat outside for what felt like an eternity, but she finally opened the door. The smell of smoke was immediate, but not overpowering. Somebody definitely smoked, but again I couldn't get my SO to say anything bad! I wanted to turn tail with our dog and run like the wind! She introduced me to her kids (the ad did NOT say anything about children, which our dog doesn't dislike, but DEFINITELY doesn't care for!). The one kid was ~10-12, the other 4-5. This doesn't bother me as much bc our dog won't do anything to anybody, but this is kiiiind of important. We left the dog there and it was a very quiet ride home. I was completely uneasy, but we went to the wedding and had a good time. We woke up the next morning and started out to retrieve the dog. We knocked, rang the doorbell, texted, knocked some more, etc for a good 10-20 minutes. We could hear our dog barking (good girl!), but it was apparent that our knocks & calls were going to go unanswered. We called a Rover support person and were told this a**ho*e has been on the site long enough to not require an emergency backup number. This means THEY couldn't get ahold of this freaking dognapper, either!! What ended up happening in the end is we had to break into this lady's house after two hours of waiting. The lady was "sleeping" in the house and having her children watch our animal! This was NOT the agreement!! She came tearing down the steps from upstairs SCREAMING at us for being in her house, and screaming at her son for letting us inside AFTER AGREEING to let us pick her up at 11! After explaining all of this to Rover, they were not going to remove her account until we threatened to report the incident to national news. They recanted and she was removed about a week later. I realize this is a one off story, but the runaround, inaction, and lack of helpfulness of Rover's staff is unacceptable. Apparently all new Rover dog watchers are required to have two phone numbers, but this wasn't retroactive to older dog sitters. The long story short is take your dog to a friend, or spend the money for a kennel. Well never use these ppl again.
Genuine loving fur baby sitter
I l❤️ve disney channel:)
on
1/3/2018
My family and I are so thankful for the fur sitters we have come know through Rover. Shaun and Christina, to name a few, are amazing! We love the care and love the impart on our 7yr old Pitbull and 1yr old Jack Russell
Fantastic
Only been using this app for a few days but I love the information available and there were so many pet sitters to choose from. The rover card I receive each day from our walker is so thorough!
Great
Ahshshsnsisjdvsjsbhs
on
1/2/2018
Such a easy app to use I love it.
Love Rover!
Rover has changed my life! Not only can you cuddle cute pups all day, you get paid for it! The app is easy for use one you get use to it and simple to navigate. The team is fast and efficient and also great! Hope to be with Rover for many years to come!
Company is good, app is horrible
Rover is a good company that offers a great product. Connecting customers and sitters. But the app can change settings without your consent, such as status or notification settings. Sometimes messages come through as 4 texts, sometimes only in the app. Sharing videos must be done in the app, which negates having a text message open. They consistently ask "Do you love Rover?", if you press Yes, they assume this means you want to write a grand review. If you select No, they assume this means you need to open a trouble ticket to their support team, who are clueless as to why the ticket was opened to begin with. Very unorganized, and mainly focused on getting their % of fees. UPDATE: App still prompting me to leave reviews. Customer support is no help. UPDATE: App still prompts me to love Rover and leave a review. Customer support cannot fix it.
they have great costumer service
i just booked a stay with a dog walker, and when i took my dog there his dog growled at mine but he said they would be fine. well later on he messaged me and said he had to lock my dog in his bathroom! i was furious because my dog is super sweet and it was his dog growling. my dog just kept trying to get his mean dog to play which wasn't happening. so i told him i wanted to come and get my dog and get a refund, which he said no he'd give me 50%. well i called rover and they were happy to give me the full refund since the stay was only an hour long when it was supposed to be all night and the next day. my point is: if you are wronged, they will make it right. they even offered to set me up with another sitter. they are great. i would fully recommend this app. thank you rover team!!
Great way to make extra cash if you love dogs
Love this app and I've had great luck with a lot of wonderful dogs! It takes some time to build up enough reviews where you're getting regular customers, so don't expect tons of business immediately. But with time and good reviews you'll have regular clients and make a little extra side cash. Plus the dogs have been wonderful!
Perfect
Disgruntled Xavier
on
12/30/2017
Such a simple and clean app with great functionality and ease-of-use. Never had a single glitch or problem with the entire app, and have done several walks, boardings, and settings. Such a great idea and way to get extra cash if you need a flexible schedule that you can work and choose yourself! Highly recommend it.
So convenient
Great product and convenient! So wonderful to get access to dog sitters locally and see reviews.
Elle was awesome!
Superv24nyc
on
12/29/2017
We LOVED Elle! She was amazing! Totally helped us out for the day when my client needed me in their store all day. Tess has a blast.
Horrible
No protection for sitters. Cheap average joe clients who can't afford to board their dogs trying to lowball you. Also you cannot set your own prices for dog walking as they have adopted the WAG! Model with instant dog sitters only paying you $15. What a total waste of life. You can't even get me out of bed for $50 let alone $15. Rover used to be something you could make a good bit of money out of, now it's pretty much an app for teenagers to make extra chump change for spring break. So sad.
Awful App, Terrible Company
Intergalacticallyinclined
on
12/29/2017
This is an awful, slow app. They'll send you run of the mill push notifications, emails, and texts all day everyday. The customer service is some of the worst I've ever experienced in my life. And the company takes 20% of your profits. Greedy, unsafe, and a terrible, buggy as hell App. Stay far away.
Rover takes 15%
The only qualms I have with Rover is the 15% fee deducted from all earnings to cover insurance and ... whatever else is covered. Work isn't very consistent but I do get repeat clients which I appreciate. Not good for a full time job but definitely helps during the holidays for some extra income
Rover Cards
lakegenesis
on
12/28/2017
There is no easy link, or any link that allows me to send a Rover card. I will have to call in and find out how that works. I thought it would be an easy link for current stay options.
Complete Peace of Mind
I LOVE Rover. It is a much better alternative to kenneling when we have to be separated from our precious pup because she gets to stay in a home environment with dog lovers who take good care of her and give her the human attention all dogs need. I have used it twice thus far in two different locations and have been very happy with it. Every care giver has background checks and other qualifications. Also, they can send photo updates and messages directly to my phone. It gives me such peace of mind and I don't even worry about my dog when she's with a Rover caregiver. 5 stars!!!
Such a great app!!
I have never written a review on an app before that I feel like this one really deserves all the accolades it can get. What a lifesaver for pet owners. Connecting them with sitters and walkers. I have used this service over 10 times and my dogs and I don't know how we lived without it.
I love being a pet and house sitter!
the hoebagger
on
12/27/2017
All great experiences and I make pretty good money. 5/5!
Great app for dog owners and sitters alike!
I think this app is a great way to connect those who love animals, especially dogs :)
Fact Sheet
Publisher:

A Place for Rover, Inc.

Category:

Travel

Released:

Aug 08, 2012

Current Version Released:

Jan 11, 2018

Version:

3.66.0

Size:

108 MB

Compatibility:

Requires iOS 8.0 or later.

Recommended Age:

4+

Game Center Certified:

No

Supported Languages:

English;