Screenshots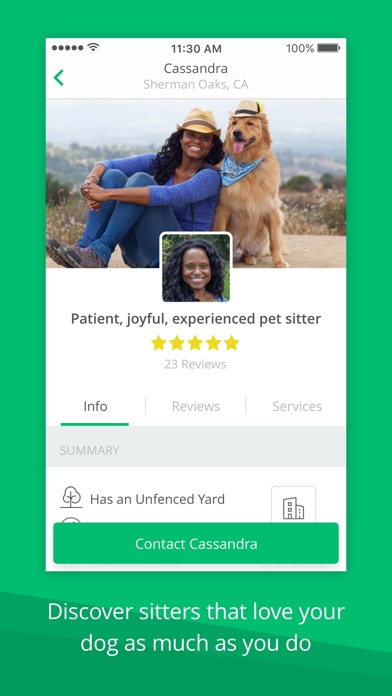 New in version 3.40.0
Ground peanuts, honey, salt. A bit of oil. Voila! Peanut butter. The best thing ever created! No wonder my parents at Rover get so much work done. They get to eat peanut butter whenever they want...
+ Improved sending & receiving of Rover Cards
+ Performance improvements
+ Bug fixes (nobody likes fleas)
Description
Rover is the #1 pet sitting and dog walking app. Get trusted pet care in your neighborhood.

The Rover app was created for dog people by The Dog PeopleTM. Through the app, get adorable photo updates, GPS tracking of your dog's walk, an easy way to message sitters or manage your business, and a secure way to book and pay.

With over 100,000 pet sitters and dog walkers in the U.S. and Canada, Rover makes it easy to book pet care you can trust.

PEACE OF MIND
95% of reviewed services receive a perfect 5-star rating.
Rover accepts less than 20% of potential sitters, because your dog deserves the best.
Every service booked on Rover is backed by premium insurance, 24/7 support, a reservation guarantee.

FAST & EASY
Contact and message sitters and dog walkers, right from the app. Receive messages from sitters when you're on the go.
Hassle-free and secure payments, every time.
Get a map of your dog's walk, pee/poo and food/water alerts, and a personalized note from your sitter or dog walker.

FOR PET SITTERS AND DOG WALKERS, TOO
Send photos, videos, and messages to pet owners with just a few taps.
Get paid on the go—it's simple and secure with the Rover app.
Seamlessly manage your business, even if you're at the dog park.
Enable push notifications to respond faster than ever to booking requests.
Create Rover Cards to seamlessly share information with your clients.

IN THE PRESS
Rover has appeared in:
The New York Times
The Today Show
The Wall Street Journal
USA Today
ABC News
And many more!
Note: Rover uses location information in the background for tracking active services. Continued use of GPS running in the background can dramatically decrease battery life.
Reviews
Love it
Rover has helped my client base greatly. Easy to use, great opportunity for growth too.
Terrific App
Great service and wonderful sitters!
Rover has made making money fun!
Thandialnwick
on
9/25/2017
I love Rover. After I decided to quit my office job to find a job that truly makes me happy, Rover filled the void! Now I'm studying to be a dog trainer and veterinary assistant and taking care of dogs in my spare time. I love this gig and I'm so happy that I'm a dog sitter with Rover. They offer support when needed and the customer service is great!
Rover is awesome!
Meat the balls
on
9/25/2017
I love animals and working with Rover has been delightful. I have met so many wonderful people and made many new furry friends. I love that they offer 24 hour support and insurance for dogs in case of an emergency. Looking forward to many more boarders and daycare with new and repeat doggies.
Great app!
Easy and friendly Rover. Great pet sitters!
Overall very pleased
Rover has enhanced my Pet Sitting! I have been with Rover for 4 months now and have regular client weekly. With new clients each and every month. Couldn't be more pleased. Very easy to use and manage all of your business needs over this app.
Perfect Fit
I've been doing this for almost a year; started with DogVacay that recently merged with Rover. I found the former site so easy to use. The Rover mobile app needs to be improved. It's not easy to maneuver around. I don't like that if you reach out for help I either didn't get a response or did from a seasoned sitter and not Rover staff personnel. But the experience has been good and a great way to make extra money. I love the meet and greet concept and have enjoyed most dogs that Ive had. On the flip side, I like that there are only two dogs I wouldn't care for again because they peed (a lot) in my house and this makes it easy and not uncomfortable to turn down a request and not have them again. No strings attached. While my clients like me, I know not to become friends with the customers. I only had one strange experience where I was asked to come to the house to let a dog out a few times a day. The dog lived in a crate in a garage. It was disturbing and wondered if I should have reported it to someone. I've learned some tricks, like covering my couches with plastic tablecloths and then sheets so future guests won't smell a former guest. I learned not to take in puppies and won't have anyone under 3 years old. I made an exception once because the client said the dog was wee wee pad trained, which he was not. I like the payment process that eliminates any awkwardness and ensures you will get paid. I wonder, though, I had steady jobs for about 6 months and had to turn down a number of bookings because I only watch one dog at a time. Now I'm hardly getting any requests. Does turning down bookings effect your status somehow! Another thing, i think tips should be encouraged, especially in the winter when it's a little extra work walking a dog in snow storms and on iced covered streets and slushy sidewalks. I've thought about not doing this in the winter anymore.
Easy way to earn extra side $$
Excellent way to make side money if you love dogs as much as I do ! You will meet some great dog loving animals on here ! Great way to earn extra income !
So easy!
I love Rover! It took seconds of installing the app to find a list of dog sitters near me. Within 2 minutes I had messaged with one and set up a meet and greet. Meet and greet went great! And my dog just had his first sleepover. The sitter sent tons of cute pics and kept in touch with no problems. We've already booked our next stay! I highly recommend this app. So easy and a great resource.
Love it!
Soroosh Ghafaripanah
on
9/23/2017
Love this app/website/service. Great user experience!
Notifications?
Eileen perez m
on
9/23/2017
I just got the iPhone 7 a couple days ago. I've never had an issue when I had the iPhone 6s. I am not receiving any notifications at all, I have my notifications set. I am missing out on writing clients as soon as possible. It is upsetting. Please fix!!!
Wonderful Service
Rover is a great service and the app is well designed. The app works well and takes care of all of my messaging and scheduling. They continue to update their app and it works well!
Great!
Jamie squirrel
on
9/22/2017
I use Rover to make some extra money as a stay at home mom. Its perfect.
best job ever!
rover has opened the door for me to pursue my favorite side job, pet sitting! thank you rover for this opportunity.
Awesome, easy, helpful with great customer care!
Great for dog owners and sitters!
Rover is fantastic! ~from 10mos exp. as a sitter
I have been working for the Rover app for almost a year and I have to say, if you are truly knowledgable about caring for dogs - you will love this app. They are very helpful in getting your ball rolling and getting clients - and extremely responsive if there is any issues or emergency during a stay. If you ask clients the right questions before taking on their animals, Rover is a great medium for you and your client base. It's safe for financial transactions and offers a great insurance policy which they fully enforce. From my experience as a sitter, most of my clients say they have had a positive experience from using the app--or-- they are first time users and you're their first impression! Nice job y'all.
Easy to Use
At first, most of my clientele had some questions about the functions of the app, but I love that the caretakers can rebook and schedule as needed. This makes it easier on the pet owner, as it gives them one less thing to worry about. I also appreciate the option to set my own prices, some apps have set prices. The app is easy to use and I love the rover cards. One thing I would change is allowing a rover card after petsitting. I think it would help reassure the owners their pets had an enjoyable experience with lots of attention.
Good
I have received some of my business through Rover and I like that they cover the sitter and the owner and offer the owner additional insurance if they choose to purchase it. I do suggest that you add a pet transportation section in the Rover app, so I do not have to go in and adjust the pricing before I accept a request from a pet owner.
Fantastic app
The app is very easy to use! I highly recommend it!
Bad customer service
Albertguillen
on
9/21/2017
These people have very bad customer service
Love !!
Amazing app and very organized
Smooth
Annoyed#10283
on
9/20/2017
Easy as a sitter , no problems so far !
Rover made living alone in a big city possible
Rover has made my life so much easier when it comes to taking care of my dog. I live alone in the NYC area and finding someone to walk my dog while I'm at work was pretty challenging. I also travel a lot, so Rover made it easy to reach out to multiple boarders and find someone with availability. Thanks to Rover, I've hired 3 different walkers (I kept moving apartments) and several boarders for when I go out of town. I like that the app tracks everything so it's easy for me to see that my dog is well taken care of. I also like the feature requiring a photo of my dog and the GPS tracking that help me know they walker actually took her outside. I also was a dog walker / boarder through Rover. I only had a few clients due to my work schedule, but it was a pretty easy process to get set up and establish my rates.
Crashes all the time.
App still crashes for no reason on 6S. Upon starting the app again, I have to log in again. Then it always defaults my location to Seattle. The latest version also lost the ability to favorite sitters as I'm researching them.
🐶
Rover is a great app for me, I can make money from home and I meet great dogs
Love it
I love this app! When I was on summer break from college, I did dog walking and sitting to get some extra money. Rover has connected me to many dogs and owners and every experience I've had was great. I never had any problems with getting paid, the money is easy and quick to withdraw to PayPal (in one day) I plan to continue to use rover on my off days from school!
Rover rocks
Christina6998
on
9/19/2017
Love this app so much!
Absolutely Love Rover
Lucky locky awesome
on
9/18/2017
Rover is great I have had some people care for my dog. She is happy!
Fantastic experience
Hansskillrud
on
9/18/2017
Great work rover!
Love it
So far I love Rover.
Sunny n clyde
Love the ease of all the modifications ect! This service is cheaper than building a site and we like the fact we are able to change our availability quickly !
Doggie Talk 🐾🐾
Wag n Tail lover
on
9/18/2017
I love Rover app. I think it is easy to navigate and I appreciate the tips they give as a sitter, walker, and dog lover! Thanks "Rover" for making my part time love a success! Ever grateful, Marla
Great company, but app is a little glitchy
I've been with Rover for about a year and I love everything about the company and the system, but the app causes my phone to become unresponsive to touch and I have to put it on sleep mode and then go back into the app to finish what I'm doing.
Excellent care!
allierichardson128
on
9/18/2017
Rover is an awesome service for overprotective pet parents.y husband and I are obsessed with our pup maggie and went through an extremely long vetting process trying to find a walker that was prompt, sweet and connected with our dog. Once we met our walker we instantly knew she was the right fit. The service is excellent and they take extremely good care of Maggie on every visit!
Love it!
As a dog sitter, this app makes it easy and fun, and the guardians love getting the report cards!
Great app for side gig.
Love the app... great side gig for us. Helpful service (only needed it once). It's awesome.
Best App for Dog Sitting
This app has helped me SO much to get out there and get more jobs. I have only been a sitter and walker on Rover for about 2 months and have been getting job enquirers from people nearly every day to every other day! If you are serious about sitting and walking dogs and even want this to be your main or part time job, this is DEFINITELY the best route!!
Love this!
Noodle Bopper mom
on
9/18/2017
Easy to use, detailed information about the sitters and their children (human and animal) which is very helpful. It's easy to use and I love it!
Love being a sitter on Rover!
Amber the dog lover
on
9/18/2017
Love it!
Great!
Nerdsrgood1358
on
9/18/2017
I have been on rover for about a month and booked my first client. Love the ability to send photos of the dog to the owner. Very easy to use the app and look forward to booking more!
Like Big Brother
TheBestInMetrowest
on
9/18/2017
This company monitors and reads all email & text exchanges between clients and the walker. They charge the walker 7% + in fees on every booking. Your client payment are immediate, the walker can wait up to 19 days to get paid. Walker only has choice of a check ( adds 5 days to processing) or PayPal. Rover has scared off two clients with their monitoring of text messages and email reading. I've never seen anything like this. I am still not paid for walks I did over 2 weeks ago. I also paid for my background check, which is now money in the wind since they claim I violated a policy of theirs. As a walker/trainer I spent hours trying to maneuver the website to find out how to get paid and what all of their daily text messages to me meant. HORRIBLE EXPERIENCE...I lost time, money and clients.
Awesome - from both sides of the fence
I've used Rover as a client needing a sitter for number of years and had great success finding a suitable match for my dog Sophie. Now as a sitter I am on the "other side of the fence" and feel well supported by Rover when I have dogs in my care.
Slow start, but picked up quick!
Obrochta_family
on
9/18/2017
It took me several weeks after starting my account before getting booked, even though I had reviews and a background check, but once my first booking happened, I got requests like crazy! Now I'm getting almost more bookings than I can keep up with!
Easy to use, great messaging tools
Liking this service so far! The messaging section with photos is the best part.
Love
Deborahjuiceplus
on
9/17/2017
I cannot tell you enough about rover.com all the people are so loyal all the people are so wonderful all the people or so real. Its truly a real business I said to my friends if I can do anything I would just love to walk a dog that dream is coming true!!! Amazing
So many cute dogs to watch, so little time
RollerDiscoQuadGirl
on
9/17/2017
I like the app as it gives me enough information to see if a dog might be a good fit.
Very great sitters!!!
I got the best care for my pup thru this app. Simple and effective.
Background check
As a dog sitter, I don't mind getting a background check done, but I'm not going to pay for it. Thanks for wasting my time.
For the love of Dogs!!
Doggy Dakota.
on
9/17/2017
I love this service. I'm a paramedic and my husband is a Fire fights. We are gone every third day. Rover makes it easy for me to find a sitter and for my dog to enjoy friends for 24 hours!!
Fact Sheet
Publisher:

A Place for Rover, Inc.

Category:

Travel

Released:

Aug 08, 2012

Current Version Released:

Sep 14, 2017

Version:

3.40.0

Size:

104.9 MB

Compatibility:

Requires iOS 8.0 or later.

Recommended Age:

4+

Game Center Certified:

No

Supported Devices:

iPad2Wifi-iPad2Wifi, iPad23G-iPad23G, iPhone4S-iPhone4S, iPadThirdGen-iPadThirdGen, iPadThirdGen4G-iPadThirdGen4G, iPhone5-iPhone5, iPodTouchFifthGen-iPodTouchFifthGen, iPadFourthGen-iPadFourthGen, iPadFourthGen4G-iPadFourthGen4G, iPadMini-iPadMini, iPadMini4G-iPadMini4G, iPhone5c-iPhone5c, iPhone5s-iPhone5s, iPadAir-iPadAir, iPadAirCellular-iPadAirCellular, iPadMiniRetina-iPadMiniRetina, iPadMiniRetinaCellular-iPadMiniRetinaCellular, iPhone6-iPhone6, iPhone6Plus-iPhone6Plus, iPadAir2-iPadAir2, iPadAir2Cellular-iPadAir2Cellular, iPadMini3-iPadMini3, iPadMini3Cellular-iPadMini3Cellular, iPodTouchSixthGen-iPodTouchSixthGen, iPhone6s-iPhone6s, iPhone6sPlus-iPhone6sPlus, iPadMini4-iPadMini4, iPadMini4Cellular-iPadMini4Cellular, iPadPro-iPadPro, iPadProCellular-iPadProCellular, iPadPro97-iPadPro97, iPadPro97Cellular-iPadPro97Cellular, iPhoneSE-iPhoneSE, iPhone7-iPhone7, iPhone7Plus-iPhone7Plus, iPad611-iPad611, iPad612-iPad612, iPad71-iPad71, iPad72-iPad72, iPad73-iPad73, iPad74-iPad74,

Supported Languages:

English;