This version of the app is not recommended
App last updated
Mar 01, 2018
Screenshots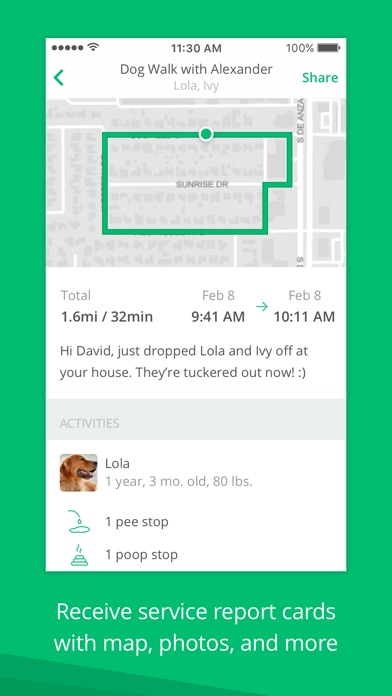 New in version 3.70.3
+ Bug fixes (nobody likes fleas)
+ Performance improvements (just keep swimming)

My humans found a bug on the Rover app today, and they fixed it! They also talked about performance improvements, but I don't know what that means because I'm just a puppy. An adorable puppy who writes release notes.
Description
Rover is the #1 pet sitting and dog walking app. Get trusted pet care in your neighborhood.

The Rover app was created for dog people by The Dog PeopleTM. Through the app, get adorable photo updates, GPS tracking of your dog's walk, an easy way to message sitters or manage your business, and a secure way to book and pay.

With over 100,000 pet sitters and dog walkers in the U.S. and Canada, Rover makes it easy to book pet care you can trust.

PEACE OF MIND
95% of reviewed services receive a perfect 5-star rating.
Rover accepts less than 20% of potential sitters, because your dog deserves the best.
Every service booked on Rover is backed by premium insurance, 24/7 support, a reservation guarantee.

FAST & EASY
Contact and message sitters and dog walkers, right from the app. Receive messages from sitters when you're on the go.
Hassle-free and secure payments, every time.
Get a map of your dog's walk, pee/poo and food/water alerts, and a personalized note from your sitter or dog walker.

FOR PET SITTERS AND DOG WALKERS, TOO
Send photos, videos, and messages to pet owners with just a few taps.
Get paid on the go—it's simple and secure with the Rover app.
Seamlessly manage your business, even if you're at the dog park.
Enable push notifications to respond faster than ever to booking requests.
Create Rover Cards to seamlessly share information with your clients.

IN THE PRESS
Rover has appeared in:
The New York Times
The Today Show
The Wall Street Journal
USA Today
ABC News
And many more!

Note: Rover uses location information in the background for tracking active services. Continued use of GPS running in the background can dramatically decrease battery life.
Reviews
Greg and Michael are great Dog sitters!
So much fun to get daily update on our puppy, especially since we've been away almost 3 weeks. And the photos they send are so CUTE!
Great app, a few bugs tho
Love the app but there are flaws. I love being able to communicate so easily with dog parents and I love the detailed information given back to parents when I'm done. However I find the app crashes my phone constantly and drains my battery excessively. Not sure if this is just my phone or if other people are having this problem as well..
Bringing together dog lovers and cute fur babies
I had a bit of a hard time getting certified, but once I did I am just so happy I get to hang out and care for all different kinds of fur babies. Makes me happy to be able to give my love to these cuties that are already so loved 💗 makes my heart happy.
Makes my dogs and my life so much easier!
I have two dogs who prefer to be at home when I leave. They have gotten to know Kaitlyn, Ian and Sarah very well and always look forward to their visits whether it's overnight, walks, or drop-ins. Wonderful service.
Yes yes and yes!
haleyrussell
on
3/14/2018
I absolutely love Rover! It's such a simple and easy way to find a trustworthy person to watch all your pets - totally takes away my stress of traveling and what to do with my animals while they're gone! Plus they love getting to stay home and not have to go to doggie or kitty boarding and be locked up for days away from their surroundings!
Helpful for side income
I have loved using Rover. Being able to build up my client base and make money outside of my job is essential, and Rover has made this very easy. In addition, my partner and I are looking to get our own dog, and being able to understand how to take care of different size and breeds of dogs will only make us better owners.
Madelene is outstanding
I am so thankful for Rover. I was able to get my puppy without any worries. I found Madelene on Rover.com to check on my new puppy daily. Thor loves her! She plays with him, feeds him and takes care of his needs each afternoon. I have no worries that he will be loved while I am at work! If this business was not available to me, it would not have been possible to add my new dog to my home. I'm so thankful to have Madelene live a couple blocks away and be so dependable.
Rover is Amazing
Rover is one of the best dog walking apps I have ever used. I have been using this app since the end of January for dog walking, house sitting, and drop in visits. It is a great opportunity to make extra cash while in college. My only suggestion would be to add the option for owners to tip good services, as well as allow walkers to rate the owners as well. Yesterday I got bit by one of the dogs I was walking and wasn't sure how to document this incident or date the owner. Other than these small hiccups, the app is outstanding and I will continue using this to gain service experience and enjoy what I love while getting paid!
Doesn't allow 13 and up
Look I get it that adults are more responsible but come on you let down my 13 year old and is so mad at your Company that it should allowed 13 and up they can be responsible for other dogs when they took care of their own dog and mostly just have teenagers to take care of dogs please
ADD Time of day - start time - to in-house bookings
Great app. But arranging house sitting is a huge pain without being able to specify the start time of day.
Love working for Rover
It's been a huge success!
Really? It's 2018
Sloppyface311
on
3/9/2018
You can ONLY get paid as a sitter via PayPal or check. There is a $2 fee for a check. So if I charge $20/dog to board, minus the four dollars rover takes, minus the two dollars for a check because I don't have paypal, I'm getting paid $14. It's ridiculous. I babysit and have a profile on urban sitter. I can get paid with a credit card and the funds go straight to my checking account. Edit: I set up a PayPal and it was really easy. The app development team took the time to respond and that's awesome. I've been getting a lot of business with this app.
Deactivating account is near impossible
This is a dog sitting site. Why on earth am I having to "open a ticket" to request to delete my account? So frustrating. On top of that it's buggy. Definitely do not recommend this app. At all.
Best dog service finder!!
We moved to a new city and didn't have our family to watch our dogs. This has been a very successful service to us for finding loving and safe people to take care of our babies. Our dogs were our first kids and they need the same attention and love. The people we have used have been wonderful and so attentive.
Terrible app
I got this app to find a sitter for my friend's dog. Turns out the app took $25 from my card for a background check I didn't want. Asked me to be sitter but I said no multiple times but still took my money and got no refund
GO TO WAG DOG WALKING COMPANY
Horrible customer service. Wag is a much better, safer and friendlier dog walking company.
This is a scam!
I booked a sitter who then claimed an injury and didn't show up the day I needed them. Now they have my key and won't return it. I will have to change my locks.
Easy to use, convenient, great database!
LindseyMNovakovic
on
3/5/2018
I love River. While I've been working with the same dog sitter for two years, this app makes it easy to schedule, pay, and get updates from my sitter. It's so easy to use, and has a great database for other dog sitters, too!
Waiting...waiting
I paid $30 for the best background check which they say attracts customers. Well it's been two weeks and I've not earned a penny. I'm pretty sure I wasted $30.
My dogs vacation
Milo has the best time. He plays the entire time he's at Wendi's house, and he comes back to us exhausted and happy. He has the best time and we feel such peace about sending him on his little vacation. Wendi is the best!
Idk if I like this
This is definitely not an a immediate form of income and definitely not steady either I got my first booking like a week into having my profile live
Super great
Great app and great service, most easy to use and lowest cost route to friendly pet care
Great For My Pet Sitting Business, But..
2nd year mom
on
2/28/2018
I love the Rover app. I use it exclusively because it is quicker than going onto the website. I have used Rover for four years now and I love it. There is just one feature that I've asked them to add to the app several times now, for at least a year, and they still haven't added it, so I'm hoping this review might push it along? They need to have a "Search" feature in rebooking customers, looking up past reservations, looking up archived reservations and maybe even looking up pending reservations. It takes me 10 minutes to find a past client to make a new reservation for them, many times. They are not even in alphabetical order. I am trying to find a picture of a dog that I've had before, looking in the past reservations, and it's taking forever to find! Also, if a pet parent wants to search sitters by a name or a certain feature they may have in their profile, they should be able to do that. Thank you! I'll be happy to change my rating to five stars once the Search feature is added to all five areas addressed.
Lifesaver
I work for an airline and travel a LOT. Rover has been a Godsend for me and my furry family. My sitter is awesome, the pups are happy when we pull up, and I can't imagine a better experience.
Repeat Visit 😊👍🏻
Reverett1915
on
2/25/2018
Repeat Visit!!! Emma was so excited and knew were she was when we drove up...Never worry for one minute while we are out of town because we know she's in good hands and having fun with the kids. Thanks again Desiray
My dog was attacked
My poor pup was attacked while being sitted by Rover and they are refusing to cover the vet bill. I will NEVER use this service again. Take accountability for the sitters your company approves. My poor dog's were bleeding from the inside.
Best Job ever!
Truly loving Rover
Great app for sitters too
Meeeeeeeeeeeeeeeeeep53798317
on
2/24/2018
I just joined and have been sitting for great people and I get to spend so much time with some amazing pups
Awesome App
This is an awesome way to make some extra money and love on everyone's furbabies! I booked business within my first week.
Great flexibility!
I do love using Rover for dog walking, especially since I'm a full time college student and such. The only downside to the app is I wish you were able to communicate with the owners of dogs first before accepting a walk just in case they weren't flexible or it doesn't work out on your end. Other than that, all the owners that I've met have been awesome!
Sitter; couldn't get better!!!
Daryanikolayeva
on
2/22/2018
I have been a sitter for about half a year now and it's amazing. The support team was quick to get back to me when I had an issue with a customer and were able to figure everything out. Sometimes I wish the map tracker would work better cause there were times where I did a long walk around an apartment complex and the app only registered it as 0.2 miles while another app I used recorded 1.4 miles. Big difference. I ended up taking a screenshot of the other app and sent it to my customer. But other than that there is a great team working with Rover and you can trust that your dog is in good hands.
Excellent experience
Flocka_Flame
on
2/22/2018
I've got to say, I was a little nervous at first leaving my puppy with somebody I'm not familiar with. However it turned out to be a great experience and has helped me out a lot with my busy schedule. I feel more relaxed now that I know my puppy is getting attention and taken into good care.
Why do you not have Apple Pay?
This would be so much easier with Apple Pay!!
THE APP CRASHES EVERY TIME I OPEN IT.
The app was great until I updated it. The app opens, but then it crashes after 5 seconds. PLEASE FIX IMMEDIATELY. I'd also be able to leave the today screen back to the main part of the app (I'm a walker - I need this app to work).
Carolina
Croqueta's mom
on
2/21/2018
Carolina is the best pet sitter ever! Responsible, caring, sweet, honest, AWESOME! So lucky to have found her.
Walking
Nate12345678910
on
2/20/2018
Being a walker and babysitter of dogs has been one of my favorite experiences so far, can't wait to see who else I babysit
Great App
Last minute watch.. what a perfect app for on the go... been a great experience using this app
It's alright..but
It's creepy, I always feel like they are reading through my texts...
How is rover better than Wag?
Lawrence Biscontini
on
2/18/2018
Convince me to switch...
Awesome app and service
We are so grateful for this service to allow us to find care for our dogs when we travel. Reliable and caring hosts for our pups allow us to relax and enjoy our trips.
Love Rover.com!!
I've used Rover.com many times in many places over the last few years when we travel in our RV. Many National and State Parks do not allow dogs, so Rover.com is really great for these visits. I've never had a problem, except once the dogsitter had many foxtails (or was it cheat grass?) growing in her fenced backyard. But we worked out the stay, in that she just walked my dog on leash through her neighborhood an extra few times a day, never allowing him in the backyard. I love the way you only have to once write out description of your dog, his wants and needs and that lives in the Rover.com site for sitters to read. I also love that you get text numbers of the sitters immediately upon just an inquiry, not booking, and you can "chat" through text for awhile before booking. And this number is not their personal cell number so no privacy issue for them. Thank you Rover.com (so much better than wag.com by the way). Please add your service to Canada. Our 2017 2-month trip there...I had to find doggie daycare/sitters the hard way, just google searches.
Sofia's Petsitting
We love how Sofia's Petsitting in Merced, CA treat our boy. Our worries went away though we miss him, we feel that he's in good hands. Thanks to Sofia and Paul.
Dog walker Alex
Alex is awesome
Great service, terrible app
This company has a great service but they're app is a hot mess! Dog vacay was a beautiful app and everything was so intuitive and user friendly. The rover app makes every little task impossible. The main thing people want to do on the app is browse and find pet sitters, his should be front and center but it's not. It's hidden in your profile and then a little line that says find sitters. Also you should be able to send a quick message or question to any pet sitter your considering but Rover doesn't allow that. The ONLY way to connect with a prospective pet sitter is to attach your question to a actual reservation for pet boarding or day care with actual dates. Worst of all nothing ever improves, it's been the same worthless, confusing non functional app for the last year. Hire someone that understands what people want from this app and fix it!
Trusting app
Rover is a handful service that help me several times when I needed leave my beloved furry son in trusting hands. I highly recommend this application for your pet. Reina Watt
Great
I love this service , it's truly convenient and easy to find great people to look after my fur baby
Love Rover but a calendar is needed
Snapdragon60
on
2/14/2018
We love Rover, but gave it four stars because it would be that much better if there was a calendar for people who use it. We use more than one sitter, and at different times, so I calendar would help us remember correct agreed on days and times.
yay
Rover is great- I have been able to meet my neighbors and expand my community. I don't have a dog of my own and Rover has ket me have some dogs to love on in my life.
Rover
Great app and easy to use!
untrue ratings
rover deletes bad reviews to make their sitters/walkers look better!!! this can be harmful to your pet. they removed a negative review I had written about a sitter that placed my puppy in a dangerous situation because my previous reviews had all been positive.. basically if a sitter doesn't like a review they've gotten, they can have it removed!!
Fact Sheet
Publisher:

A Place for Rover, Inc.

Category:

Travel

Released:

Aug 08, 2012

Current Version Released:

Mar 01, 2018

Version:

3.70.3

Size:

115.4 MB

Compatibility:

Requires iOS 8.0 or later.

Recommended Age:

4+

Game Center Certified:

No

Supported Languages:

English;