Screenshots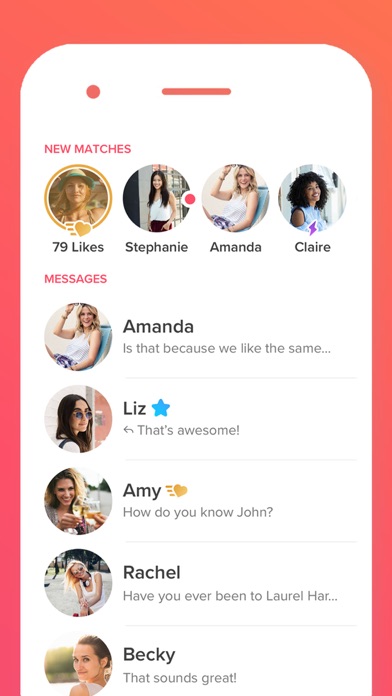 New in version 8.1.0
Introducing Tinder Reactions - because reactions speak louder than words.

Now you can have an animated conversation. Literally. If she's brilliant, give her a round of applause. If he's rude, throw a drink in his face. Send hearts, send laughs, or if he's taking forever to ask you out, throw the ball in his court. Whatever you do, don't keep your feelings to yourself—we've got Tinder Reactions for all occasions.
Description
With 20 billion matches to date, Tinder is the world's most popular app for meeting new people. Think of us as your most dependable wingman—wherever you go, we'll be there. If you're here to meet new people, expand your social network, meet locals when you're traveling, or just live in the now, you've come to the right place. We're called "the world's hottest app" for a reason: we spark more than 26 million matches per day. How many dating apps do that?

Swipe. Match. Chat. Date. Tindering is easy and fun—Swipe Right to Like someone, Swipe Left to pass. If someone likes you back, It's a Match! We invented the double opt-in so that two people will only match when there's a mutual interest. No stress. No rejection. Just swipe, match, and chat online with your matches, then step away from your phone, meet up in the real world and spark something new.

Now, start swiping. And remember, when in doubt, Swipe Right. Trust us, the more options you have, the better-looking life becomes.

Welcome to Tinder—the largest, hottest community of singles in the world. Don't be shy, swipe on over.

MORE FEATURES? THAT'S A PLUS
Upgrade to Tinder Plus for premium features, including: Unlimited Likes so you can Swipe Right to your heart's content, Passport to chat with singles anywhere around the world, Rewind to give someone a second chance, one free Boost per month to be the top profile in your area for 30 minutes, and additional Super Likes to stand out from the crowd.

GET THE GOLD TREATMENT
Upgrade to Tinder Gold for a first-class swipe experience: Passport, Rewind, Unlimited Likes, five Super Likes per day, one Boost per month, and more profile controls. But wait, it gets better. Save time and aimless swiping with our Likes You feature, which lets you see who likes you before you swipe. Think of it as your personal Swipe Right concierge—available 24/7—bringing all of your pending matches to you. Now you can sit back, enjoy a fine cocktail, and browse through profiles at your leisure. Goodbye swipe fatigue. Hello #GoldLife

-----------------------------------

If you choose to purchase Tinder Plus or Tinder Gold, payment will be charged to your iTunes account, and your account will be charged for renewal within 24-hours prior to the end of the current period. Auto-renewal may be turned off at any time by going to your settings in the iTunes Store after purchase. Current Tinder Plus subscription price starts at $9.99 USD/month. Current Tinder Gold subscription price starts at $14.99 USD/month. Prices are in U.S. dollars, may vary in countries other than the U.S. and are subject to change without notice. No cancellation of the current subscription is allowed during the active subscription period. If you don't choose to purchase Tinder Plus or Tinder Gold, you can simply continue using Tinder for free.

Privacy: https://www.gotinder.com/privacy
Terms: https://www.gotinder.com/terms
Reviews
Breaks phone
Sith Stalker
on
10/19/2017
This app not only crashes and freezes when I use it, it makes every other app on my phone stop working and eventually it will turn my phone completely off. I have an IPhone SE. please fix.
Great app
Used this app got my heart broken again, thanks tinder!
Does the job
I've had my ups and downs on Tinder, but it does what it's suppose to.
White Wall Willis approves
Whitewallwillis
on
10/19/2017
This app is incredible.
Super Buggy!
This app has made my iPhone 7 Plus running the latest iOS crash multiple time to the point where I had to do a hard reset. Also, it makes other apps hang at their start up screens.
I like it
adorkwrotethis
on
10/19/2017
I really like using this app I've met some great people and had a lot of fun. Keep swiping
Great to meet people
I usually not in dating sites , but the people I have me have become some of my closest friends and I love them. This app is legit other than some people on there for salacious reasons, it's overall good. I give it 5 stars.🙌🏾🙌🏾🙌🏾🙌🏾
Reviews
App asks for feedback way too often so I am giving it a 1 star
It's good
MunchlaxHero
on
10/19/2017
Good
Begs for ratings
One star
You Get What You Expect... But The Phone Bugs?
Dubbledee10
on
10/19/2017
Okay, basically all in the title. If you get matches, you get matches. I've developed some friendships through the app and gotten what I've given. Recently, I deleted the app because I got bored but during the time I'd had the app, my less than 6 month old phone would just freeze up, whether I had the app open, in the background, or not even open at all. After deleting it, everything was right as rain; no freezing, crashes, nothing. Downloaded it again today, and I've already restarted my phone twice in less than a hour's passing. I don't know if this issue is just isolated specifically to my phone, but it's getting old... fix the app
Got laid 4 times in 3 days
Fellas, if you want some 😼 in a short time... Install this app
Algorithm change is a ripoff
So, the old algorithm would give you a lot of your matches right up front so while you're swiping you're getting matches all the time. Now, you only get a match one every like 10 right swipes, forcing you to swipe more, so you end up running out of swipes, and so you get much fewer matches a day if you don't buy one of the premium paid options. Like I'm so disappointed with tinder for doing this. They could have still monetized enough with just limiting swipes but this is so underhanded and sneaky. Like it's one thing to pay for extra features which is completely fine, but breaking your own algorithm to force ppl to pay for the premium to get any matches at all is really unethical.
Good app
JWiLL 4ReaL
on
10/19/2017
It freezes your iPhone. It's annoying. I have iPhone 6S plus. Also sometimes it makes you not able to hear who is calling you. It's all the Tinder app. This is my situation with it. Reason for 1 star. Get this fixed. Right now it's off my phone. Will not install until issue fixed.
Let's give a round of applause to Tinder!
Tinder is amazing. Tinder allows you to meet different people from around the world. Many people of different cultures that allow you to connect and get to know each other. Allows me to set up amazing dates. We may not have ended up together we turned out to be beautiful friends. Fist pump for Tinder lol.
Tinder is cool
Gamerbabygirl123x
on
10/19/2017
I enjoy the opportunities that come from the app. I want to get better at using it but the app itself is a great way to meet people, network, have fun, etc. advice: don't come on the app so guarded.
Tinder gave my phone AIDS
just downloaded this for the first time(against my better judgement but oh well). It only gives me notifications in Spanish (even though every default on my phone is English), my phone constantly crashes if app is running, phone restarts by itself, and the touch screen becomes unresponsive. Using iOS 11. Not sure what's going on but I'm happy to delete the app.
Cool
Circusfreak32
on
10/19/2017
I like tinder but I'm only writing this to get that stupid pop-up to go away
Nice Try
Pro tip: Making your app lag on discovery mode doesn't make me want to upgrade to Tinder Plus. It just makes me think the app is glitchy and makes me want to delete it.
Great experience
Da Whole FN Sho
on
10/19/2017
Met someone and we clicked instantly!
Tinder
Lord BrookZen (HF)
on
10/19/2017
Great app works exactly as advertised
Tinder Boost is a crash machine
Tinder boost is causing my iPhone to constantly crash and freeze. I've paid for Tinder Gold and will not continue to pay if it continues to mess up my phone.
It's making my phone freeze
cikencikenciken
on
10/19/2017
I thought it was the latest iOS i downloaded but nope. My phone freezes up everytime i have tinder open. I'm using iphone 7 running on iOS 11.0.3
I came here to stop collection calls
yenahnahyenah
on
10/19/2017
man, I'm so glad I won't get that prompt anymore
10/19/17 bad bad worse
I1234566798
on
10/19/2017
1. Bots. 2. No last online feature. 3. Spam ads. 4. Pay to use most features now. 1 star, used to be good until they got greedy and aren't able to remove fake profiles.
Best app for the money
Im on three apps. Raya, tinder and bumble. For the money tinder is by far the best. For the money. Bumble and raya have the most attractive users but least likely to respond. Ive used tinder all over the world to meet women. Highly recommend. A+
Geographically challenged
barefoot_princess
on
10/19/2017
A large percentage of my feed are people well outside my mileage parameters. When asked, Tinder said they're likely traveling... No. Not that many; not that far... bs.
Tinder is cool
Selena Laborin
on
10/19/2017
I think Tinder is chill, I like it! I meet tons of cool people. There should be a filter of some sort-- like there's the option of picking age and distance of a person. There should be something like that for ethnic/race, or height idk like filters to fish out the people you'd never match with
Buggy on iOS 11
It causes my phone to lock up and crash! Total garbage
Nice app, as long as you pay
This app is ridden with micro transactions! Save yourself the trouble and go out to meet people!
Great app. Crashes phone.
The app is great. I love it. But it crashes my phone since iOS 11. I have to reset the phone after every time I open the app.
Loved it
Ricardo aka cardo
on
10/19/2017
Yeah best app ever
iOS 11 - Unstable. "Frequently Crashing App"
Since iOS 11 (through 11.0.3), my iPhone has been unstable. I restored from DFU mode multiple times to no avail and I took it to Apple and the diagnostics showed that Tinder was the only frequently crashing app. He told me I should not use this app until either iOS or the app is updated and alluded to the fact that it's causing systemwide instability upon its crashing. Fix this.
Causes your phone to freeze
Hadhodwarax
on
10/19/2017
Any time you, don't close out of the app on your iPhone and try to go to another app it will definitely freeze your iPhone and I have a brand new iPhone 7 Plus, also don't waste your money on paying for tinder unless your in a populated city, it's really just not worth it more of just a time passer, no body wants to actually be in a lifetime committed relationship and tell people they met on tinder.
Just not the same anymore...
For an app that is devoted to matchmaking, Tinder has added a new feature that tells you about 25+ people that are matches.... but they're hiding them until you purchase the upgrade. It makes you wonder if care more about their customers or about the money they make. Users are now getting far less matches than previously, and are exploring other apps whose main motive is helping their users and the community at large.
Good not great
Hopefully they stop asking me to review the app now
Garbage
Crashes my phone so many different ways.
It's cool
Just play your cards right.
Tinder
Es muy bueno y funciona excelente !
A++++
DavidGilmour1977
on
10/18/2017
Somebody once told me the world is gonna roll me I ain't the sharpest tool in the shed She was looking kind of dumb with her finger and her thumb In the shape of an "L" on her forehead Well the years start coming and they don't stop coming Fed to the rules and I hit the ground running Didn't make sense not to live for fun Your brain gets smart but your head gets dumb So much to do, so much to see So what's wrong with taking the back streets? You'll never know if you don't go You'll never shine if you don't glow Hey now, you're an all-star, get your game on, go play Hey now, you're a rock star, get the show on, get paid And all that glitters is gold Only shooting stars break the mold It's a cool place and they say it gets colder You're bundled up now, wait till you get older But the meteor men beg to differ Judging by the hole in the satellite picture The ice we skate is getting pretty thin The water's getting warm so you might as well swim My world's on fire, how about yours? That's the way I like it and I never get bored Hey now, you're an all-star, get your game on, go play Hey now, you're a rock star, get the show on, get paid All that glitters is gold Only shooting stars break the mold Hey now, you're an all-star, get your game on, go play Hey now, you're a rock star, get the show, on get paid And all that glitters is gold Only shooting stars Somebody once asked could I spare some change for gas? I need to get myself away from this place I said yep what a concept I could use a little fuel myself And we could all use a little change Well, the years start coming and they don't stop coming Fed to the rules and I hit the ground running Didn't make sense not to live for fun Your brain gets smart but your head gets dumb So much to do, so much to see So what's wrong with taking the back streets? You'll never know if you don't go (go!) You'll never shine if you don't glow Hey now, you're an all-star, get your game on, go play Hey now, you're a rock star, get the show on, get paid And all that glitters is gold Only shooting stars break the mold And all that glitters is gold Shrek is Dreck Only shooting stars break the mold.
CheAt
This application takes your money. Anytime you logout you can't login and when you have not violated their rules and they will just kick you off because the person you don't want to talk to reported you for no reason.
Its 💦💦
B00ty L1ck3r
on
10/18/2017
It's Gucci
Sexist as hell
If you like rabid feminism, sexists attitudes towards males and a slow, glitchy app designed by morons who barley made it through college then this is the app for you!
Good app
This here is a good app
Meh
Causing issues with iOS 11. When the app is open, the phone is prone to freeze or skip and force close itself and other apps. The app itself is alright. Too many spam accounts and I dislike the the pic swipe feature.
Major bug
For iOS 11 users it glitches and freezes your phone when you click to see someone's Instagram profile through the app. PLEASE FIX.
Not too bad, but very interesting 😉👌🏽
Interesting people to meet and talk with
Fact Sheet
Publisher:

Tinder Inc.

Category:

Lifestyle

Released:

Aug 02, 2012

Current Version Released:

Oct 17, 2017

Version:

8.1.0

Size:

126.4 MB

Compatibility:

Requires iOS 9.0 or later.

Recommended Age:

17+

Game Center Certified:

No

Supported Devices:

iPad2Wifi-iPad2Wifi, iPad23G-iPad23G, iPhone4S-iPhone4S, iPadThirdGen-iPadThirdGen, iPadThirdGen4G-iPadThirdGen4G, iPhone5-iPhone5, iPodTouchFifthGen-iPodTouchFifthGen, iPadFourthGen-iPadFourthGen, iPadFourthGen4G-iPadFourthGen4G, iPadMini-iPadMini, iPadMini4G-iPadMini4G, iPhone5c-iPhone5c, iPhone5s-iPhone5s, iPadAir-iPadAir, iPadAirCellular-iPadAirCellular, iPadMiniRetina-iPadMiniRetina, iPadMiniRetinaCellular-iPadMiniRetinaCellular, iPhone6-iPhone6, iPhone6Plus-iPhone6Plus, iPadAir2-iPadAir2, iPadAir2Cellular-iPadAir2Cellular, iPadMini3-iPadMini3, iPadMini3Cellular-iPadMini3Cellular, iPodTouchSixthGen-iPodTouchSixthGen, iPhone6s-iPhone6s, iPhone6sPlus-iPhone6sPlus, iPadMini4-iPadMini4, iPadMini4Cellular-iPadMini4Cellular, iPadPro-iPadPro, iPadProCellular-iPadProCellular, iPadPro97-iPadPro97, iPadPro97Cellular-iPadPro97Cellular, iPhoneSE-iPhoneSE, iPhone7-iPhone7, iPhone7Plus-iPhone7Plus, iPad611-iPad611, iPad612-iPad612, iPad71-iPad71, iPad72-iPad72, iPad73-iPad73, iPad74-iPad74, iPhone8-iPhone8, iPhone8Plus-iPhone8Plus, iPhoneX-iPhoneX,

Supported Languages:

Afrikaans; Arabic; Bengali; Bulgarian; Catalan; Valencian; Croatian; Czech; Danish; Dutch; Flemish; English; Finnish; French; German; Greek; Hebrew; Hindi; Hungarian; Indonesian; Italian; Japanese; Korean; Latvian; Lithuanian; Malay; Bokmål, Norwegian; Norwegian Bokmål; Polish; Portuguese; Romanian; Moldavian; Russian; Serbian; Chinese; Slovak; Slovenian; Spanish; Castilian; Swedish; Tamil; Telugu; Thai; Chinese; Turkish; Ukrainian; Vietnamese;

Parental Advisory:

Suggestive Themes; Mild Profanity or Crude Humor; Mild Sexual Content and Nudity;