Lifestyle
Social Networking
This version of the app is not recommended
App last updated
Feb 15, 2018
Screenshots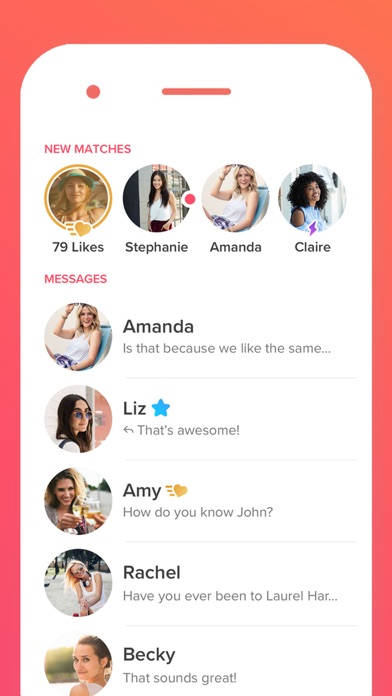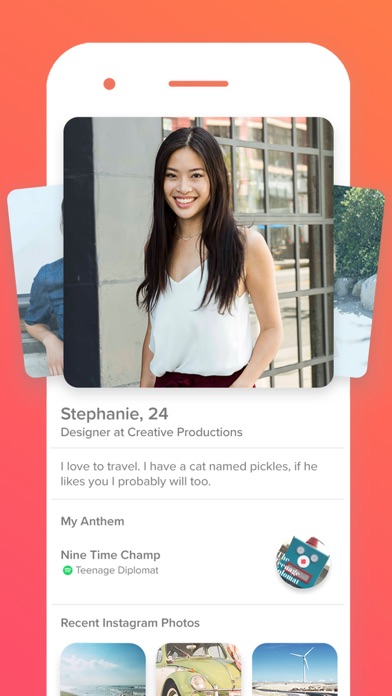 New in version 8.7.0
Bug fixes and improvements.
Description
With 20 billion matches to date, Tinder is the world's most popular app for meeting new people. Think of us as your most dependable wingman—wherever you go, we'll be there. If you're here to meet new people, expand your social network, meet locals when you're traveling, or just live in the now, you've come to the right place. We're called "the world's hottest app" for a reason: we spark more than 26 million matches per day. How many dating apps do that?

Swipe. Match. Chat. Date. Tindering is easy and fun—Swipe Right to Like someone, Swipe Left to pass. If someone likes you back, It's a Match! We invented the double opt-in so that two people will only match when there's a mutual interest. No stress. No rejection. Just swipe, match, and chat online with your matches, then step away from your phone, meet up in the real world and spark something new.

Now, start swiping. And remember, when in doubt, Swipe Right. Trust us, the more options you have, the better-looking life becomes.

Welcome to Tinder—the largest, hottest community of singles in the world. Don't be shy, swipe on over.

MORE FEATURES? THAT'S A PLUS
Upgrade to Tinder Plus for premium features, including: Unlimited Likes so you can Swipe Right to your heart's content, Passport to chat with singles anywhere around the world, Rewind to give someone a second chance, one free Boost per month to be the top profile in your area for 30 minutes, and additional Super Likes to stand out from the crowd.

GET THE GOLD TREATMENT
Upgrade to Tinder Gold for a first-class swipe experience: Passport, Rewind, Unlimited Likes, five Super Likes per day, one Boost per month, and more profile controls. But wait, it gets better. Save time and aimless swiping with our Likes You feature, which lets you see who likes you before you swipe. Think of it as your personal Swipe Right concierge—available 24/7—bringing all of your pending matches to you. Now you can sit back, enjoy a fine cocktail, and browse through profiles at your leisure. Goodbye swipe fatigue. Hello #GoldLife

-----------------------------------

If you choose to purchase Tinder Plus or Tinder Gold, payment will be charged to your iTunes account, and your account will be charged for renewal within 24-hours prior to the end of the current period. Auto-renewal may be turned off at any time by going to your settings in the iTunes Store after purchase. Current Tinder Plus subscription price starts at $9.99 USD/month. Current Tinder Gold subscription price starts at $14.99 USD/month. Prices are in U.S. dollars, may vary in countries other than the U.S. and are subject to change without notice. No cancellation of the current subscription is allowed during the active subscription period. If you don't choose to purchase Tinder Plus or Tinder Gold, you can simply continue using Tinder for free.

Privacy: https://www.gotinder.com/privacy
Terms: https://www.gotinder.com/terms
Reviews
Login with Facebook? Screw you
So this tinder wants you to sign up with Facebook login so they can see if you are real or fake! No thank you.
Please add Race Option
I'm white and I'm only into white guys. Not racist, just what I like. You should add the ability to add your race, the races your into. I flip threw all these black and Mexican guys and it seems like a waste of time. Many white guys are only into black guys. Please add your race and races your into! I'm guarantee you I'm not the only one thinking this. Might be the only one to say it. Flipping throw all the black and Mexican guys is a waste of my time which makes me not want to use this app. Please add the race option ASAP. Why it's not already included blows my mind.
Fix the bug fixes
Updated the app and now all my matches have disappeared and even after changing my settings no profiles pop up.
Read this review
Think that there is a mr/mrs right in the world for you ... but he/she is in the other side of the galaxy and to find that right person you keep on searching and in your limited life time you may not see him/her and in the way you'll meet a lot of other people that your not sure to be your right person ... but with tinder your speed and chance to find that RIGHT person is increased way too much and at least you've tried hard 😃☝🏻🤓😎😊 and might find that right person afterall if your lucky
Banned from Tinder
The same thing happened to me. I was on tinder for a few days; went to check a message and the app was no longer available to me. I have tried to re-download it but to no avail. This is bizarre. I didn't do anything To warrant this. Does anybody have any suggestions For a resolution?
Very good
Но девку снять не удаётся( girl no(((
Great App
AnthJoriTurch052213
on
2/20/2018
This app really helps you meet people! Now not everyone swipes right on you however it's still fun to see whose looking for love!
Tinder is a fun lil time
Tinder keeps my view of the world very real
Can't Count The Number of Crashes on 1 Hand
BringMeTheBass
on
2/20/2018
Ever since the new update, I haven't been able to open it at all. Before it would crash AT LEAST 3 times when opening it then eventually it would work. Now, however, it doesn't open at all. Hopefully uninstalling then reinstalling will fix the problem and keep my matches. Also, god forbid you minimize the app, otherwise it won't save anything you do (save messages/save matches) and you'll have to do the whole opening/crashing fiasco all over again.
Terrible app
currymonst3r
on
2/20/2018
Everything is geared towards getting you to purchase one of their premium services, which aren't exactly cheap. Interface is horrible as well. I can't tell you how many times I have accidentally super liked someone and wasted it since you only get one per day. Your regular likes are limited too. Can't even see who I matched with without paying either. Terrible app.
Dating for dummies
Nuff said!
Satisfied
For what it's for. I'm satisfied.
Keeps shutting down
Whoah I <3 Coop-a-Loop!!
on
2/20/2018
Every time I try to open the app it just immediately exits the app and this has been happening for over a day now.
Buggy
My matches don't show up What's wrong!?
Bugs and glitches
It's giving me a notification that I have a match/message but when I go to it there's nothing there.I tried refreshing it but the notification won't go away.
Discovery
Everytime I get on it tells me there is no one in my area. It says to change my discovery settings so I changed it to 100+ miles and 18-55+ and still no people. Fix your app.
Easy way to connect
Makes it quick and easy to connect. It's really good for those that have very busy lives and short time to go out. I really enjoy that you don't need to write a complete easy about yourself. The getting to know one and other is conversation based.
Wish there was unlimited likes
I wish there were unlimited likes for us like that ya feel me
This app is terrible. Don't pay for its services
Ive paid for all of its services and it was a waist. Theres to many bots on this app. I should be able to see who has liked me since i paid for everything but i don't. Ill be swiping and randomly get a match that had never showed up in my liked section. Im an actual model with a good profile yet i rarely get matches because my profile never shows up for anyone to see. This app is a waist of time and money. Definitely don't buy the boost because it doesn't work.
Love it
Super potential app
So Done
doneeithitall
on
2/19/2018
I am a female who has had my account under review a few times. Why? I have NO idea. But I have my theory: I talk to me to see how they act. Once I start to see their personality, I turn them down. Then they have the audacity to cuss me out and put me down. I am a women with small breasts from all the years of running. There have been numerous times that I have been called a transvestite because of my small breasts and I'm not as pretty as other women. All the men I have talked to on tinder are abusive. If I could, I would give 0 stars based on how many guys treat me. This app makes me cry my eyes out at night.
Slowly
App is very slow work (iphone 5S)
Getting married thanks to Tinder!
Thanks tinder. Using tinder was great! Fortunately I don't use it anymore because I'm getting married! :)
Shouldn't have to pay!!!!!
kakapoo hu ng
on
2/19/2018
No
No bueno
I consider myself an average looking guy. No success with this app after years of on and off attempts. Better luck in real life. ✌🏼
Tf
app aint working
on
2/19/2018
App ain't working
Completely Satisfied
honorarybananaguard
on
2/19/2018
I've waited far too long to give thanks for all this app has done for me in the past. I've had so many great matches and I've learned immensely from most experiences. I have messed up and deleted a seasoned account and have been locked out of a couple more. Patience is a virtue. I'm grateful for having the opportunity to come back whenever I want. Hopefully, I'll find some favorites again and meet some new ones.
nice app
its a very good app xD even if u dont pay u get matches xD but maybe i ll try tinder plus later 9/10
depressed
after using this app i want to curl up and die. no matches.
Not bad
Infamous Grant
on
2/19/2018
It's ok
Horrible
Most profiles are either fake users, escorts, scammers, or links to porn sites. Loses matches all the time. New message indicator is always "off." Junk. How do such crappy apps become so popuiar?
Tinder
Dinglberry delight
on
2/19/2018
Great app.
The entire app crashed
This app just completely glitched and asked to connect to my facebook shortly after signing back in I realized that all my matches were erased. I'm over this app I will delete it as soon as possible
Matches
All of my matches are gone and when I try to respond to a notification of a new message, there aren't any.
Randomly stopped working
I was in the middle of messaging someone and out of no where it didn't work. I got a notification that I had a message from her, and went to open it, and there was nothing. I realized that while in the app. It says my messages are sending, but when I back out to the screen to see all my matches, the message was not there.
Too many bugs
Not receiving the messages after showing a notification. So then I deleted the app and reinstalled it then all my matches disappeared.
Bug fixes
I had been having trouble with sending messages so I logged out and when I logged back in...ALL MY MATCHES WERE GONE AND MY CONVOS. Smh
HORRIBLE
Roflmaodoodoodoodoodoo
on
2/19/2018
Messages started not getting received. When I refreshed the app, all my matches were gone. Such a waste of time
Unwarranted ban
Tinder has been "reviewing" my account for quite some time now. I've been making many matches and all of a sudden tinder tells me that I've been warned too many times? Except I've never been warned even once. When I emailed support, they said to wait a few days and when I emailed asking another question they just never got back to me!
Tinder Will Swipe Your Money Away!
Tinder had a chance to be a solid dating app. However, their desire to make the most money as possible disallows it to achieve that. Tinder is simple. Swipe right on people you like and hope they swipe right on you as well so that you match which allows you to have a conversation with that person. But, if you are having trouble getting matches you are encouraged to spend money in order to get more matches. If you pay $10 for Tinder plus you can allow you account to be able to rewind on swipes (helpful if you mess up), get a boost in page views, and super like someone and more. However it's pretty much gambling, because if it doesn't pay off your money is wasted. Don't do it. Meanwhile, there is also Tinder Gold which allows you to get instant matches. If you don't have Tinder Gold you can see the number of instant "matches" which are likely spam. Which brings me to my next point. There are too many spam accounts which can be annoying because not only are you finding people you like but you are also fishing out who's fake and who's not. Pretty annoying. Don't spend your money on this app. If free doesn't work for you, it just doesn't. It's not worth the gamble.
It's okay
I'm new to the app and enjoying it so far. Except I am seeing people I DO NOT want to see and there is no option to block them. To unmatch you would have to be matched first. PLEASE PLEASE add a block button.
Hel Yeah
Bubu_Licious
on
2/19/2018
Awsomenes
Unmatch
There needs to be a notification of when someone unmatches you and why they did it. Instead they just disappear from the list and you don't know what you did wrong.
Found that Special Someone
I've used Tinder on and off in the past. Last year, I decided to give it another go and have fun with it. At first, I wasn't looking for anything serious. Then came along one guy whom super liked me and stood out. After messaging for a week we decided to take it offline and meet in person. Turns out we were so compatible in every way and not too long afterward, we started dating exclusively. Till this day, we're still in a committed relationship. You never know when that person you meet will become your lover. Sure, Tinder is known for causal encounters but I started out that way until I met someone special. You just never know.
The App Is Okay!
Blankname12345
on
2/19/2018
Great app for meeting new people!
90% spam bots
You only get so many "likes" in a day, and you're gonna waste 90% of them accidentally liking spam bot accounts that look like real people. And then when you match, the bot tries to redirect you to an adult dating site.
Fact Sheet
Publisher:

Tinder Inc.

Category:

Lifestyle

Released:

Aug 02, 2012

Current Version Released:

Feb 15, 2018

Version:

8.7.0

Size:

138.6 MB

Compatibility:

Requires iOS 9.0 or later.

Recommended Age:

17+

Game Center Certified:

No

Supported Languages:

Afrikaans; Arabic; Bengali; Bulgarian; Catalan; Valencian; Croatian; Czech; Danish; Dutch; Flemish; English; Finnish; French; German; Greek; Hebrew; Hindi; Hungarian; Indonesian; Italian; Japanese; Korean; Latvian; Lithuanian; Malay; Bokmål, Norwegian; Norwegian Bokmål; Polish; Portuguese; Romanian; Moldavian; Russian; Serbian; Chinese; Slovak; Slovenian; Spanish; Castilian; Swedish; Tamil; Telugu; Thai; Chinese; Turkish; Ukrainian; Vietnamese;

Parental Advisory:

Mild Sexual Content and Nudity; Mild Profanity or Crude Humor; Suggestive Themes;