Recommended app!
App last updated
Sep 05, 2017
Screenshots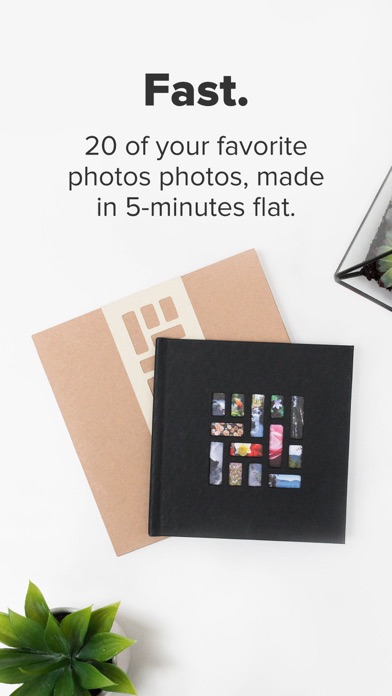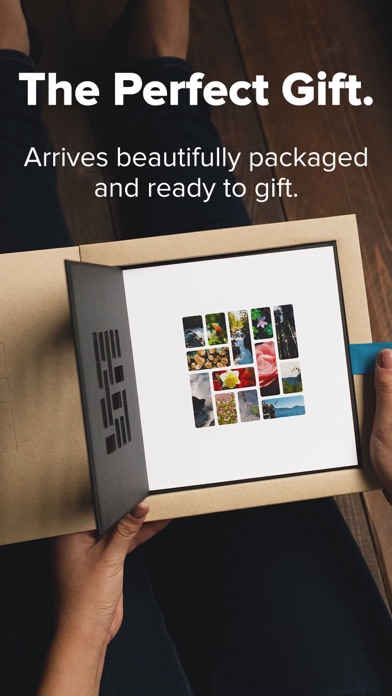 New in version 2.4.0
New background colors, several bug fixes and minor tweaks. Mosaic now requires iOS 9 or later.
Description
Featured on The Today Show as 'One of our favorite gifts' and Good Morning America's 'Deals and Steals'.
The gift of the season. Create a photo book from your phone in a snap.

The perfect, personal gift, made in minutes, delivered to your doorstep in 4 days.
Featured by Apple in "What's Hot in Photography", "New and Noteworthy", " Plan Your Wedding", "Craft the Perfect Gift", "Find the Perfect Present" and "Father's Day Gift Guide."

Use your iPhone, iPad, Facebook, Instagram, Afterlight and Pic Stitch photos to create and order a photobook in minutes, right from your phone. You can now use Amazon, Dropbox, Flickr, Picasa, and SmugMug photos too! Mosaic is beautifully packaged, has a unique photo collage cover, high quality photo prints, and makes a unique and personal gift.

--Creating a Mosaic is Fast and Easy--
• Choose 20 pics – Quickly tap those great wedding, holiday, birthday, baby, or BBQ photos, flip through the stunning photobook preview, and order with lightning fast photo upload -- all from your iPhone or iPad. No need to crop, frame, edit or add an effect to your photos. Mosaic is an easy way to capture memories in a simple photo album.

• 7" square printed memory book - Mosaic photo books are just the right size at 7-inches square for anyone in the family to enjoy. A better way to preserve photo memories and share your photo prints in a modern day album!

• Quality you feel - Showcase your photos in our unique collage maker photo book with a durable linen cover that feels great. With Mosaic, all your digital photos are printed with superb quality on silky smooth paper, engineered specifically for our printing presses to ensure colors are vivid and blacks are inky.

• Arrives in 4 days - Mosaics are printed within 48 hours and shipped fast, making a great last minute gift.
If you don't have time to create a lengthy scrapbook, photo album, photo prints or edit photos in Photoshop, then Mosaic photobooks are for you. There is no need to crop, frame or add an effect to your photos.

--Give the Perfect Gift—
Mosaic is the perfect way to bring your baby, travel, family, friends and holiday pics to life, in a beautiful printed photo book. Mosaic makes a great, unique baby gift or present for Father's Day, Mother's Day, Christmas, a birthday or wedding gift.

-Personalized baby gift for new parents
-Unique wedding gift to the newlyweds
-Travel photos from the family trip or couple's getaway
-Vacation photos gift for family and friends
-Graduation and graduate gift ideas
-Unique Father's Day gift that is simple
-Mother's Day gift to share kid's photos
-Valentine's Day gift for the one you love
-Birthday gift for family or friends
-Unique baby gift idea and personalized baby gifts
-Christmas gift for the family
-Holiday photo album gift for a friend
-Engagement gift or proposal gift for your boyfriend or girlfriend

--Create Photo Memories--

Share your photo album with friends and family on Facebook and Twitter. Add your Pic Stitch photos to Mosaic to include photo filters, borders, a photo collage, and custom layouts. People who use Pinterest, Snapfish, Simple Prints, Shutterfly, and PicCollage enjoy Mosaic for its simplicity.

--Editors Choice in the press and media--
Reviewed by Good Morning America, USA Today, Today Show, Forbes Travel Guide, MacRumors, Uncrate, The Verge, Daily Candy, Maxim, and many more.

"Beautiful packaging that would make Apple blush." - ReadWriteWeb
"Quickly turn a collection of photos on your device into a very nice, high-quality printed book." - GeekBeat
• Appolicious App of the Week, GeekBeat Editor's Choice Award
• Our Partner apps: Facebook, Afterlight, Pic Stitch, Capsule, Baby Art, Perfect365

For general questions get in touch at app@heymosaic.com
"Mosaic Photo Books", "Mosaic", and "Mixbook" are trademarks of Mixbook, Inc.
iPad Screenshots
Reviews
Fun format for my first grade classroom
My first graders love to see themselves in books. I love that the app is easy to use and my students love to open up the packages.
Impressive
I have now made 6 albums using the Mosaic app. While it does not take me only minutes to select and customize my photos, the extra time I spend is worth it. Each book is beautiful. The photos are crisp & clear. The colors are true. I enjoy the quality hard bound book and at such a reasonable price. I am so impressed with the simplicity of this app and the high quality product produced.
Order one, I DARE YOU!!!😜
My wife and I love these books!! Very simple to create. We love the design of the book and a lot of attention is payed to packaging if you are giving it as a gift!!! We won't stop ordering them!!!
Impossible to use
It asks you to select photos you want to use but then won't let you hit "next" to go to the next step.
Perfect gift and collectables
.Lady Danger.
on
2/10/2018
I had no trouble loading any pictures and they came out beautifully in the book. I made one for my BF for Valentines Day. It's a beautiful hard cover album full of pictures of us over the years and a few words in the front. I like it so much I plan on buying more with pictures of the family to keep on the coffee table like old fashioned photo albums.
So simple and great quality!
I love these little books. They are a breeze to make. They come beautifully packaged. They are a little pricey at $25 + $5 shipping, but the quality of the product is worth it. The only con is that there are limited background colors and you can't choose a different color for the cover of the book. This hasn't stopped me though! I have ordered three so far and have plans to order several more.
My "go to" photo book app!!
I've been using the Mosaic for several years now (since the very beginning) & am extremely pleased with the exceptional quality, ease of time & effort it takes me to create a custom photo book, & the joy it brings to me when I purchase for myself but also for friends & family who are absolutely THRILLED when they receive their Mosaic book!!!! ❤️❤️
Quick & easy!
MorningStarAK
on
1/17/2018
If you don't want to spend hours rearranging, placing headings & choosing backgrounds...and you want to get it quickly, then this is the app for you!
Easy and Quick
This is incredibly easy and quick. The photos come out beautifully. My only complaint is there is no way to title or dedicate or make notes.
Uploading is a Nightmare
RealEstateJunkieMBG
on
1/5/2018
What seemed like an easy way to create great memories turned into a nightmare when uploaded photos were not received by Mosaic. I can see the photos on the pro forma booklet displayed on my app, but I keep getting emails from Mosaic staff telling me the uploads were not complete. Worse than that, if you order more than one book at a time, there's no way to figure out which book has the upload problem!!! The pro forma displayed on your app doesn't show an order number!! UGH!!! The third and fourth time (now it's becoming really, really time consuming!!!) that I tried to re-create the books, I took great care to be sure that I clicked on each photo separately before ordering the book. If I found that the individual photo wasn't immediately uploading (ie, the rotating uploading circle appeared and rotated incessantly) I deleted the photo and tried again until the photo displayed as having uploaded. Problem solved, right?? Wrong! 11 out of 20 photos in 2 of the 4 books I ordered had this problem. So you have to ask yourself, how is it that I got 2 books right without a problem, and the other 2 are still having problems after a total of 4 attempts? Can't be operator error!
User friendly...even for non-techies
This app is great. I received a Mosaic for my birthday and was so impressed I had to ask the gift giver about it. I couldn't believe it was an app that provided such great quality and sentimentally. Would recommend to EVERYONE!
Love love love
Easy. Fast. Fun. Great gift.
Awesome!
User friendly, intuitive, quick, quality and fun! What more could one ask for! This is my "go-to" Photobook app.
Easy to use, needs updates
Mosaic is very easy to use. Created a book within minutes after hooking up an external photo app account. Mosaic devs need to update "picasa" to google photos. Google sunsetted picasa a while ago.
Great Quick Memories
I love these 7x7 photo albums. Great for short walks down memory lane without dragging out heave photo albums. They make a great gift of special moments. Fantastic quality!
High quality photo book and easy to use app
The photo album was easy to make. (It took about 10 minutes). And it was delivered before the estimated time!! Customer service was very helpful when there was a question of image quality. I made a suggestion that it would be nice to include a personal message with the book. Hopefully they will add that feature. But regardless, it's fantastic.
Nice useful app, but locks up
Using this on an iPhone 8+ with latest update and it locks up when I go to my address book. Then I have to start all over. Please fix. Also, make other photo sources available, such as Google photo, cloud, or Dropbox.
Great idea but...
I love this idea, and I believe the reviews that the product is great. What drives me crazy trying to use it — and what keeps me from ordering every time — is that you have to choose your pics from minuscule thumbnails of the photos, and there's no way I can find to enlarge the options to see better what's what. If you have several pic variations to choose from it's often impossible to see the best version of a shot (eg, the one where everyone is smiling, not the take where two people have their eyes closed). I can't imagine why they haven't improved this by now and really hope they will! I'd order regularly if so.
False Advertising
Highly disappointed in my first interaction with this app/company. They are running an ad on Facebook advertising 35% off if you download the app, create a book, and place an order. I followed their steps but did not see a discount being removed from my total. There were no codes or even an empty space to type in a discount code. I contacted Mixbook (their partner company) and used their live chat support. They offered to refund me but I refuse to place an order and wait on a refund. He proceeded to send me a link that did not work. After I informed him of the link not working he went back to telling me to just place the order and he would refund me the 35%. What kind of company runs an ad with false advertising and tries to fix the problem by forcing a first time customer to order the books and wait for a refund?
Love this app!
This app is really easy to use. The photo books are really beautiful, and they're the perfect size to slip into my fiancé's suitcase when he leaves for a business trip. What I can't quite figure out, because there don't seem to be any instructions or FAQs, is if it's possible to order more than one different book at a time (it's clear that you can order multiple copies of the same book). I also couldn't find a place that would allow me to enter text, a feature mentioned by some other reviewers. The books arrive quickly and the packaging is first-rate.
It couldn't be easier: Mosaic Photo Book - 20 Pics/20 Minutes
RJS_Solitaire
on
12/11/2017
Try it today...This is a quick way to put together exactly 20 pictures for a sure-to-be-a-hit gift for the folks. Or the kids. What can they say except "Wow! This is nice." I wrote the above for a FaceBook Share, and I mean it. I struggled with another app, and just could not get the pics arranged. Is there a trick? For Mosaic there are no tricks required, it works the way you expect. One limitation is it only does 20 pics, no more and no less. This is fine for me. I like the unique cover, with its mosaic arrangement of snippets from my selected photos. 'Shuffle' let me find a best combination. Mom will love it, too.
Use it every year
chinchillahats
on
12/10/2017
I send one to my grandma every year. They are very good quality books. The packaging is amazing. They make and ship the books very fast. I love the new setting where you can type text into the book. I love writing my grandma a little message in there or even just the date. The few things I don't like is it is VERY easy to reorder the book. I have to delete the app after using it because my kids have reordered the book before. Luckily costumer service was very nice and stopped my order and refunded it. I wish they had more customizations for the photos you put in the books. Like a photo editor. Other than that they are a fast, easy, priced well, and a beautiful gift for friends or family. Would always recommend.
Wonderful app
I have had the Mosaic app on my iPhone for several years without using it, and several weeks ago I decided to try using the app to make a photo book for an Xmas gift. The photo book I received fully met my expectations. Both the hard cover and the pages of the book are of high quality and the photos are as sharp as when I edited them. The app is fantastically easy to use; you check the photos in your album that you want to use, drag them into the order in which you want them to appear in the book, then upload the photos to Mosaic. You will have your photo book within days. This is an outstanding app; I would give it six stars if I could.
Quick and Easy
Texasskipper
on
12/9/2017
Great end product...simple and easy. More background colors recently added. I've used it several times!
OMG - Perfect and quick
This app is amazing! I make photo books of my glass art mosaics and this completely ties into my work! LOVE IT! Just spent hours on my Mac to build a photo book with not much luck, only to find this app in 2 minutes, get the app and make a perfect photo book in another 3 minutes! BAM!
Fast Fun Fantastic
CindySmiles
on
11/30/2017
Here is a quick present answer! Love the simplicity!
A great gift!
The War Department
on
11/27/2017
I've made 5 Mosaics in the last few weeks. Usually easy, but tonight the app kept locking up as I'd added nearly every picture. It took 5 try's on 2 devices before I succeeded. I would have given up if I didn't like the product so much.
Too limited
I understand the idea of a quick book w 20 photos. But I should have the option to create larger books/ to include more photos.
Fabulous!
I just love Mosaic! It is unique, it has a wonderful hardcover, you get to choose background color and even add text to personalize the book, and most of all you choose and arrange the pictures. And the price is right!
Beautifully done
This is the best memories book and so easy. What a great gift to give for special occasions.
Always dependable!
Mosaic has been an annual gift for my kids for the past 3 years. It's so dependable, and the result is a user friendly way to easily grab photos from my phone to create a solid memory that is packaged in style. Only wish they'd have a 40-print option!
Perfect
Carolinagirldv
on
11/5/2017
Quick, quality and unique.. ordered before and getting my second for a Christmas gift
Couldn't be simpler
Purchased a Mosaic a few years ago and it was easy then and it is improved now with the updated App. Bravo!
Perfect!!
Kelsey hutcherson
on
10/10/2017
My best friend's birthday is this weekend. And I already had this app on my phone I just never used it or had any reason to. So I decided to grab my favorite pictures and memory's of us. It just arrived and it's absolutely perfect! It came a day early too so that's even better! My only concern is that the over page pictures get cut off. If there could be an update to crop and fix the cover page to where some picture won't be cut off it would make the app 110% more amazing. Great app over all and I'll be definitely using again!
Easy peasy
The app is incredibly easy to use. I love giving the photo books as a gift after a visit. It's fast, reasonably priced and has a nice wow factor for recipients. Love it!
Easy, fast, economical.
You will actually use this app. While adding text isn't an option, I found that I actually make the books and preserve my memories instead of leaving photos "collecting dust" on my phone. I add handwritten notes in the books in lieu of printed text, which seems to make them more meaningful especially when I give these as gifts.
Mosaic is brilliant
I have ordered several albums from Mosaic. So nice to commemorate an event, a vacation or simply a collection of my iPhone favorite pictures.
A Great Gift
This makes such a special gift that's easy to create. It's well made and comes beautifully packaged.
A great way to save and share memories
The application works very well and without glitches. If I had a wish granted, it would be the ability to add more pages or put multiple photos on a single page.
Best gift for all occasions
I really have loved this app since I tried it out as a gift for my dad. He loved it! It comes shipped so nicely you can give it in the package it comes in. These really are an affordable gift for any occasion. I just finished one as a wedding gift. If you haven't made one or sent one as a gift you really should try it. It is a gift that will last forever.
Great service
A little too easy! Lol. Just placed and order and didn't see any options for the new page colors. Next time!
Great simple photo book
I like how simple this is to use. The book comes quickly and is a nice little book with 20 photos.
Easy
Easy way to remember a terrific summer
Better than most- easiest to use
Easy to use, user friendly and a great quality of product. Only thing I'd like to see is the ability to have a few more custom options but really it's a great service
Easy and pretty
I've ordered a few books through Mosaic. They're great. Keep in mind though that your selfies use the front facing camera on your phone which is a lower resolution camera. It's good practice to zoom in on your photos to be sure they are sharp enough to print. Also I would recommend using an app like VSCO to give your pictures a little extra pop beforehand.
GREAT APP
App easy to navigate, excellent quality book, great packaging, fair price.
Screams quality!
The app is super easy to use, and I had the book together in no time. The cover with the mosaic cutout screams quality, and it feels good in your hands. The cutout gives the holder a hint of what's inside - it's impossible to put this book down without opening it! The paper is thick, and I assume, durable. The colors are maybe a little bit over saturated, but the photo pages still look great! It's a great way to save your memories! Only two wishes: (1) lay flat binding, and (2) options for more pages. Overall a great book, and I'll definitely be ordering more of them!
Love this app!
Quick and easy to produce a thoughtful and personal gift! Quality of final product is excellent and shipped in high quality packaging that makes opening it fun.
Great for gifts, easy to create!
Great app! Great product for a great price that I can do quickly on my phone....but in return I get a keepsake for years to come. I most often use it for gifts for family members and they love it. It has become a tradition for our family.
Vacation Memories
Frankie W0709
on
7/23/2017
We love Mosaic! Our vacation photos used to sit in boxes in the basement. Now as soon as we get home we make our Mosaics and have a beautiful collection of memories. So simple!!
Fact Sheet
Publisher:

Interactive Memories, Inc.

Category:

Shopping

Released:

Nov 01, 2012

Current Version Released:

Sep 05, 2017

Version:

2.4.0

Size:

55.8 MB

Compatibility:

Requires iOS 9.0 or later.

Recommended Age:

4+

Game Center Certified:

No

Supported Languages:

English;