Screenshots
New in version 4.0.5
- Fixed search issue
- Bug fix and performance improvements.
Description
The largest Wi-Fi community in the World!

Hotspots, passwords & comments from Wifi Map users!

*** Featured by Apple in 95 countries
*** Top 1 in 25 countries
*** Top 1 in Travel category in 40 countries
*** The most popular WiFi app on the App Store
*** 1st Connectivity App for Barcelona Mobile World Congress 2017

Features of WiFi Map:
- Access Internet for Free
- Millions of WiFi hotspots worldwide
- WiFi passwords and tips
- Smart search
- Map navigation
- Search by the nearest spot
- Share hotspots on facebook, instagram, twitter for your friends

=====================
Follow us on Facebook
https://www.facebook.com/wifimap.io/
Website: https://www.wifimap.io/
iPad Screenshots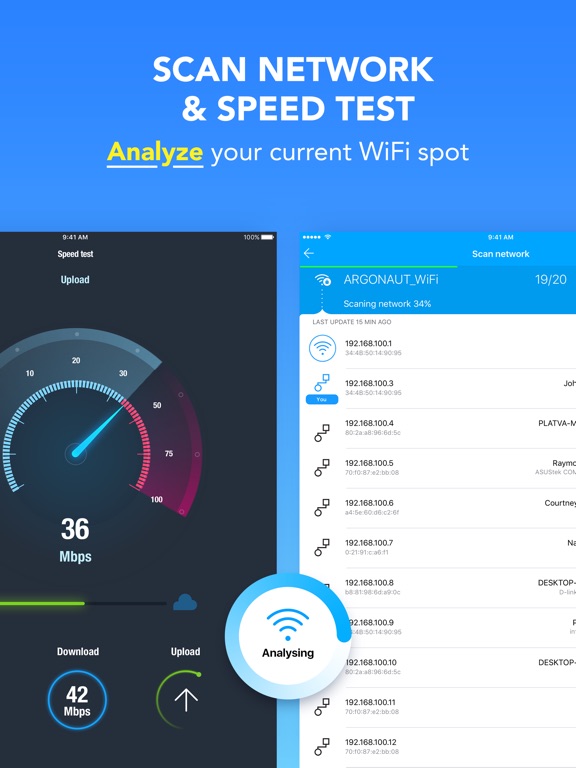 Reviews
Best app ever😄
legit_warroir
on
10/16/2017
Best way to get to free wifi anywhere near you
Thanks a lot, plenty of fun and awesome to have.
I will recommend to my friends.
Fun app
Loads of fun to search and see what comes up when at different locations
Great app !
always helpful
OK
monster lazer
on
10/8/2017
It's not perfect but it works
Don't get it
Bubblez412826
on
10/8/2017
Doesn't give you any of the wifi passwords, but instead it gives you old passwords that have been previously used
Very good aap
Good good good 👍🏻👍🏻👍🏻
Good
1064596arnulfo
on
10/5/2017
It's not that bad. Some other apps are really bad
Fabulous Wifi
Excellent service
It won't use my location
Clashaddict2
on
10/3/2017
I can't enable location services for this app, and therefore I can't use it
Pretty neat app.
Not perfect but a very neat concept and idea for SHARING the LOVE and HELPING peeps whom may be broke and just need internet access without ALL the MEGA normal restrictions!!!
Awesome
flameflame109
on
9/30/2017
Awesome
Not a bad idea
Chessmaster One
on
9/30/2017
But the implementation is pretty poor. Most passwords are outdated, most access points are not listed, and the amount of ads is insane. And why can't I search by the access point name? Use case: you see a network in your list - you want to know the password to it. Obvious, no?
Not updated and the free not free anymore makes me get this app for 5$
Gottahavit935
on
9/29/2017
I used the free app and liked it, wrote to them to update wifi's in my area but no response so they say there is open wifi when it is not or the business is no longer in that location any more
Good almost great resource for free wifi worldwide
Wayne Brozac
on
9/29/2017
See subject line. Additionally, I need to further test out the effectiveness of this app which has great potential...
Love it
Works awesome love this app
Great
Nice app ever wanted
Amazing
Wesley Kennedy
on
9/25/2017
good hack
Goood
™عاشــ§الخطررر§ــق™
on
9/24/2017
Very goood
Unsure about it
Seems very useful, but still a bit confused as to how it actually works. A lot of the "passwords" provided either don't seem to be accurate or don't actually work at all. Also, a lot of the listings aren't actually available for me to connect to, at the location in which I'm pulling the app up at. Idk, maybe I just haven't actually figured out the full function of this app yet; after all, I've only had it for about two days now. So, I don't really know if I can actually say whether or not I, personally, like this app or find it useful yet. Seems worth the download for others to check out for themselves though.
Junk
sadfjklsadfjklsadfkl;
on
9/24/2017
Horrible lap because you absolutely no good. It will tell you about WiFi that are three for five years old letter thousand feet away 1500 feet away you can't get onto them you can't find passwords for him nothing works. It doesn't even show you the stuff up close and I still haven't figured out how to find the passwords on the ones it does show just a really poor app
Wifi map
The sotuation123
on
9/24/2017
It works really really Good
Wifi map
It's great i love it
Good
This is a good app, very useful for times when you need wifi.
Won't stay open
Daytonafreeman
on
9/23/2017
After install the app crashes every 10 seconds. I can't get the area set up as the app won't stay open. Us less.
Nice
This a Nice app IT help is in internet
Amazing
I recommend getting this
Okay don't understand
Interesting
Wow!
I didn't think that this would work and btw it's not a bot
Not sure yet
Just installed on iPhone hopefully works!
The best game ever!!!!!
Like I said the best game ever
Keep online
zlatko.cherep
on
9/18/2017
Great source of passwds to keep oneself most of the time on public wifi!
You get what you were promise...
Great app, it helps a lot, now do not blame them if there is not any free wifi nearby.
Good app
App man 2013
on
9/17/2017
Nice
Wicked awesome
When you're stuck in a public place with a ton of password protected wifi and crap phone signal... this is what you need! Wish I could get rid of the ads, though. I would pay for that.
Good but..
XxdabwithtrinXx
on
9/16/2017
Good app but can we create a hotspot on here?
Good app
Used this on my android phone also and comparing between the two they have been fairly accurate even though I know a few that are not showing yet. Maybe on future updates they will.
Cool app
Very cool to stay up to date especially abroad.
Great product
Just what I needed!
It's 👌👌👌
Use to be better
Fact Sheet
Publisher:

WIFI MAP LLC

Category:

Travel

Released:

Sep 20, 2012

Current Version Released:

Sep 28, 2017

Version:

4.0.5

Size:

105.7 MB

Compatibility:

Requires iOS 10.0 or later.

Recommended Age:

4+

Game Center Certified:

No

Supported Devices:

iPhone5-iPhone5, iPadFourthGen-iPadFourthGen, iPadFourthGen4G-iPadFourthGen4G, iPhone5c-iPhone5c, iPhone5s-iPhone5s, iPadAir-iPadAir, iPadAirCellular-iPadAirCellular, iPadMiniRetina-iPadMiniRetina, iPadMiniRetinaCellular-iPadMiniRetinaCellular, iPhone6-iPhone6, iPhone6Plus-iPhone6Plus, iPadAir2-iPadAir2, iPadAir2Cellular-iPadAir2Cellular, iPadMini3-iPadMini3, iPadMini3Cellular-iPadMini3Cellular, iPodTouchSixthGen-iPodTouchSixthGen, iPhone6s-iPhone6s, iPhone6sPlus-iPhone6sPlus, iPadMini4-iPadMini4, iPadMini4Cellular-iPadMini4Cellular, iPadPro-iPadPro, iPadProCellular-iPadProCellular, iPadPro97-iPadPro97, iPadPro97Cellular-iPadPro97Cellular, iPhoneSE-iPhoneSE, iPhone7-iPhone7, iPhone7Plus-iPhone7Plus, iPad611-iPad611, iPad612-iPad612, iPad71-iPad71, iPad72-iPad72, iPad73-iPad73, iPad74-iPad74, iPhone8-iPhone8, iPhone8Plus-iPhone8Plus, iPhoneX-iPhoneX,

Supported Languages:

English; Russian; Chinese; Chinese;