Screenshots
New in version 4.0.8
• Added support of iPhone X.
• Added support of Captive Portals. Now you can add a WiFi with username and password.
• Fixed Leaderboard ranking order.
• Bug fixes and performance improvements.
Description
The largest Wi-Fi community in the World!

Hotspots, passwords & comments from Wifi Map users!

*** Featured by Apple in 95 countries
*** Top 1 in 25 countries
*** Top 1 in Travel category in 40 countries
*** The most popular WiFi app on the App Store
*** 1st Connectivity App for Barcelona Mobile World Congress 2017

Features of WiFi Map:
- Access Internet for Free
- Millions of WiFi hotspots worldwide
- WiFi passwords and tips
- Smart search
- Map navigation
- Search by the nearest spot
- Share hotspots on facebook, instagram, twitter for your friends

=====================
Follow us on Facebook
https://www.facebook.com/wifimap.io/
Website: https://www.wifimap.io/
iPad Screenshots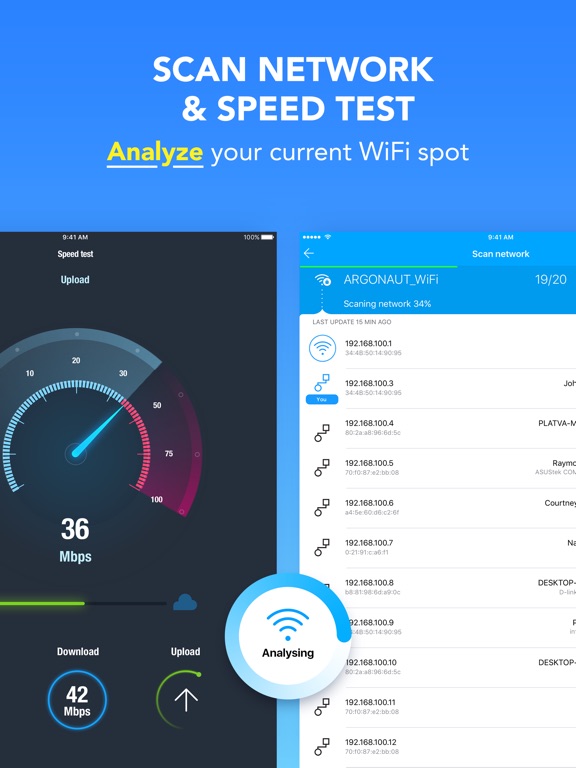 Reviews
Amazing
biger beter
on
12/12/2017
Fun
Great database useless when you don't have wifi
PlatinumMedallion
on
12/9/2017
You need wifi or connectivity to use to app to find a wifi hot spot nearby. I travelled to an international airport. Wanted to connect to wifi to get access. I open and app and it still shows me in the us. I try to search for the airport. It says I need to be "connected" to search for wifi hotspots. Really? I need wifi to search for wifi hotspots? Great idea poorly implemented. Have an offline database and allow one to search it while NOT connected.
Título en español
Necesitamos versión en español
Ads, ads, ads
Not very useful because there is mo tutorial on how to use it. Lots of updates and passwords in numeric form but how do you access them? Tons of ads blocking the screens that cannot be closed and if you do manage to close one it brings you to a game screen aimed for 4 year olds. Really think this is a waste of time.
Now that I am doing this I hope they quite asking!
Kind of works...
Best App EVER!!!
Darius Orviss
on
11/27/2017
I can't use wifi whenever I want to!!
Wooohoo
Very very amazing game
on
11/26/2017
It's pretty neat.
Wifi boss
It's a wifi boss my teacher never lemme get our middle school password well guess wat this is my favorite wifi hack to get everyone's password keep on with the gud work😄💚💚
ده‌ستخۆشی
ده‌ستان خۆش بێت به‌ ڕاستی پڕۆگرامێكی زۆر باشه‌
AMAZING
Gtadeadpool💜
on
11/16/2017
Now I can get wifi anywhere and not have to use my data YAY hehe
Love it
LiquidBoxer
on
11/14/2017
This app helps ecpeccailly since I forgot my wifi password
WIFI
Fred Cainoy Magdalera
on
11/12/2017
Have not used it so can't comment now.
Not for me
Harold Vince
on
11/11/2017
I'm sure it works but none of the networks that are near me come up..... so it does not help me
Don't down load
It doesn't work...$
This is great
I am only 9 and I don't have a phone with data yet but now when I go to school I'm like the 6th graders☺️☺️☺️☺️☺️😜😜😜 Now I just need to download Snapchat 😁
Dg
It doesn't pick up WiFi that my phone does and the passwords don't work
Hacking ?10/25/17
I read while using this app hacking can occur. Nope not using! No hacking involved I just got an email from developer IT SEEMS LIKE AN OK APP GIVE ME TIME TO TEST AT GATEWAY CENTER 11239 where WiFi is not found from my internet provider. Crazy that optimum WiFi have no dam HOTSPOTS NO WHERE FOR THAT AREA FOR SHOPPING! FOR DEVELOPERS EMAIL I GIVE ⭐️⭐️⭐️⭐️⭐️ for curtesy.
Interferes with public networks
If you're connecting to a public network that does t have a password but does ha e a security page this app will interfere with the security page showing and you'll never connect. I think a work around is turn of the location services but then you lose the automatic password entry function. Also has numerous redundant entries that clutter the lists Reply to dev reply: You need to do more field work with this app because that's simply not true. I have an iPad 4 and an iPhone 5s both running 10.3.1 and they both never show the security page with your app enabled. As soon as I delete it I have zero problems.
Nice utility to have while traveling
We have had a lot of hotels with terrible wifi this app is great for when you need internet and don't have cell data left or to save your cell data. WiFi map is a community if people don't share current passwords then there will be no current password.
Great app
Great app for its use and more and I jus downloaded it and I already love it I really recommend it as long as it keeps running like this it's perfect
Useful but not that much
Qweryyioojjffjhgfkhf
on
11/1/2017
This app lists nearby wifi connections and their passwords, but eighty percent of the listed connections are outdated and therefore useless. I have been using this app for a few months now and was able to actually connect to some wifi for the first time ever. On top of everything it tends to show ads at the most annoying times (ads with full sound volume).
very good
soheil fathi
on
10/30/2017
tanks
Doesn't work
Whenever I'm desperate for Wi-Fi I go on this app but it says that I need to have Wi-Fi in order to see the passwords. 😭
Awsome
It works so well thank goodness I have wifi everywhere
Best app ever😄
legit_warroir
on
10/16/2017
Best way to get to free wifi anywhere near you
Thanks a lot, plenty of fun and awesome to have.
I will recommend to my friends.
Fun app
Loads of fun to search and see what comes up when at different locations
Great app !
always helpful
OK
monster lazer
on
10/8/2017
It's not perfect but it works
Don't get it
Bubblez412826
on
10/8/2017
Doesn't give you any of the wifi passwords, but instead it gives you old passwords that have been previously used
Very good aap
Good good good 👍🏻👍🏻👍🏻
Good
1064596arnulfo
on
10/5/2017
It's not that bad. Some other apps are really bad
Fabulous Wifi
Excellent service
It won't use my location
Clashaddict2
on
10/3/2017
I can't enable location services for this app, and therefore I can't use it
Pretty neat app.
Not perfect but a very neat concept and idea for SHARING the LOVE and HELPING peeps whom may be broke and just need internet access without ALL the MEGA normal restrictions!!!
Awesome
flameflame109
on
9/30/2017
Awesome
Not a bad idea
Chessmaster One
on
9/30/2017
But the implementation is pretty poor. Most passwords are outdated, most access points are not listed, and the amount of ads is insane. And why can't I search by the access point name? Use case: you see a network in your list - you want to know the password to it. Obvious, no?
Not updated and the free not free anymore makes me get this app for 5$
Gottahavit935
on
9/29/2017
I used the free app and liked it, wrote to them to update wifi's in my area but no response so they say there is open wifi when it is not or the business is no longer in that location any more
Good almost great resource for free wifi worldwide
Wayne Brozac
on
9/29/2017
See subject line. Additionally, I need to further test out the effectiveness of this app which has great potential...
Love it
Works awesome love this app
Fact Sheet
Publisher:

WIFI MAP LLC

Category:

Travel

Released:

Sep 20, 2012

Current Version Released:

Nov 17, 2017

Version:

4.0.8

Size:

107.6 MB

Compatibility:

Requires iOS 10.0 or later.

Recommended Age:

4+

Game Center Certified:

No

Supported Devices:

iPhone5-iPhone5, iPadFourthGen-iPadFourthGen, iPadFourthGen4G-iPadFourthGen4G, iPhone5c-iPhone5c, iPhone5s-iPhone5s, iPadAir-iPadAir, iPadAirCellular-iPadAirCellular, iPadMiniRetina-iPadMiniRetina, iPadMiniRetinaCellular-iPadMiniRetinaCellular, iPhone6-iPhone6, iPhone6Plus-iPhone6Plus, iPadAir2-iPadAir2, iPadAir2Cellular-iPadAir2Cellular, iPadMini3-iPadMini3, iPadMini3Cellular-iPadMini3Cellular, iPodTouchSixthGen-iPodTouchSixthGen, iPhone6s-iPhone6s, iPhone6sPlus-iPhone6sPlus, iPadMini4-iPadMini4, iPadMini4Cellular-iPadMini4Cellular, iPadPro-iPadPro, iPadProCellular-iPadProCellular, iPadPro97-iPadPro97, iPadPro97Cellular-iPadPro97Cellular, iPhoneSE-iPhoneSE, iPhone7-iPhone7, iPhone7Plus-iPhone7Plus, iPad611-iPad611, iPad612-iPad612, iPad71-iPad71, iPad72-iPad72, iPad73-iPad73, iPad74-iPad74, iPhone8-iPhone8, iPhone8Plus-iPhone8Plus, iPhoneX-iPhoneX,

Supported Languages:

English; Russian;