TapNova recommends this app!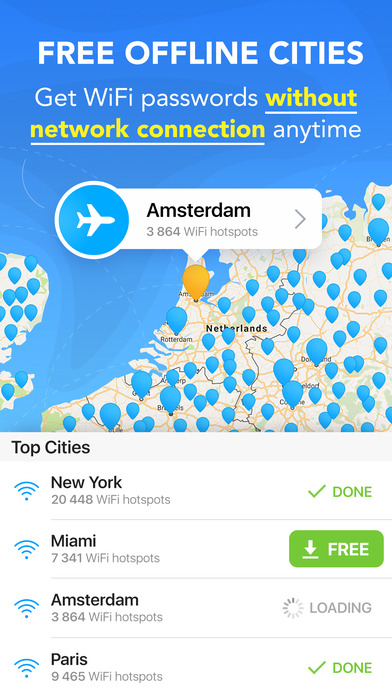 New in version 4.0
• Offline City Downloads - Most large cities can now be downloaded for future offline use. Great for travelers, just remember to download them ahead of time. You can also delete them once you don't need them anymore.
• Speed Test - Members can now measure the speed of a WiFi connection and share their results with others. You have to be connected to that WiFi in order to run the test.
• Network Scan - Identify all the devices that are connected to your WiFi network.
• WiFi Info - Indicate when WiFi connection requires registration. Users now have an option to delete WiFi hotspot.
• WiFi Clustering - Multiple WiFi's on a map are now assembled into neat clouds. You can click on the cloud to see all the individual WiFi's in that particular area. Very convenient in areas with a lot of WiFi's.
• Performance - Instant startup time!!

We have fixed absolutely everything that has been brought to our attention by our friends!
If you appreciate all our hard work and enjoy WiFi Map please take few seconds to leave us a review. It's very important to us!

Together we can connect the world!
Description
The largest Wi-Fi community in the World!

Hotspots, passwords & comments from Wifi Map users for free!

*** Featured by Apple in 95 countries
*** Top 1 in 25 countries
*** Top 1 in Travel category in 40 countries
*** The most popular WiFi app on the App Store
*** 1st Connectivity App for Barcelona Mobile World Congress 2017

Features of WiFi Map:
- Access Internet for Free
- Millions of WiFi hotspots worldwide
- WiFi passwords and tips
- Smart search
- Map navigation
- Search by the nearest spot
- Share hotspots on facebook, instagram, twitter for your friends

=====================
Follow us on Facebook
https://www.facebook.com/wifimap.io/
Website: https://www.wifimap.io/
iPad Screenshots
Reviews
Not really sure...
Not sure I really know what to do with this app... I would hope it's more proactive to find wifi but all it ever asks me to do is update and then it doesn't connect to anything... probably gonna dump it soon if it doesn't do something! My wifi search does the same thing on my phone. This just seems like an extra step.
Very good app
Very good guy keep it up. Thank you
Wifi map
Awesome just awesome
عالي
Xaniar.DeeJay
on
6/23/2017
واقعا خوبه
Still working with it
Still working with the App!
GREAT APP
Very good app helps find wifi when you need it, sometimes passwords are incorrect but otherwise good app!
I'm in DFW. And ...
Reports no live wifi
عالي
alizarei____
on
6/21/2017
عالي
Yea
Aidan Kapczynski
on
6/20/2017
Lit
Never work
Cmte Figueiredo
on
6/20/2017
Doesn't work password neither show wifi network at your place
Wifi
Tuh chamakitah
on
6/20/2017
Thank you
Free wi fi
At least one can see available wi fi's, but the passwords are no accurate!
Ahh
It's OK but it isn't great when I got it it gave me passwords but they weren't the right ones I say if you want it get if you don't don't
Super easy
Tony from Houston
on
6/18/2017
Thank a bunch. When I'm out I use it all the time.
👌🏾😊👌🏾👌🏾
It's ok So far I have had all the correct passwords 👌🏾👌🏾👌🏾
Works for me!
So far, works for me!
Wifi Map
Good app shows you hotspots TYVM Wifi map people
Great app
This app is a 10+
No funciona
Lástima de tan buenos comentarios!!!!
Worthless
Incognito eye
on
6/16/2017
Worthless
Absolutely love it!! But...
Absolutely love it!! But I just wish we can have wifi accuracy on residential.
Nice
Awesome app recommend
Thank you wifi map
Best app ever it allow you to know all password of wifi beside his location
Incorrect password
The password you put was incorrect please fix it.
Oz
Hollywood 1768
on
6/15/2017
Good game
Good
JakePaulFan102
on
6/13/2017
Works most of the time
Not sure yet😶
Nickname280!
on
6/12/2017
I just opened app, so far I've only tested my wi-if speed. I like that part so far. I'll write more when I have used the App more.
Acceptable App
Havoc 9994367812
on
6/12/2017
It works but I am older and have a hard time remembering the wifi name and password. It would be very helpful if one could just tap the wanted wifi and have it automatically join. But iPhone probably won't let the developers do that and I have a hard time using the copy and paste option.
It's slowly getting there
The Big Georgia Dawg
on
6/11/2017
It's getting somewhat better but still has an abundance of potential to do much more.
Need wifi to use
Tensleeplake
on
6/10/2017
It is ok, but you need wifi to use it. So if I am searching for wifi with no wifi........
When is it correct?
About ready to delete this app. Traveling across country, if it isn't right once soon - bye bye
Great app
Very convenient
Nice pass
Nicw passwords all around world
toss up
i mean for not having squat to go on in the first place it's not bad there is unfortunately a lot to be desired it should pick up more than it does but in well that the heavens for unlimited data
من دون
يحتاج لدقه اغلب الواي فاي جنب منزلي لا اجدها😉
Splendid
You're awesome! Keep going...
Pretty good, illegal
This app relies on its users. The app provides a network of wifis and a map. The map tracks your location, you click or type the wifi you want to expose for public use, you type in the password and sometimes (depending) other things such as if it doesn't require a password if it needs other thing (ex. McDonalds sign-in) then if it requires a payment you'd type the amount. You hit submit and that would add to the network/map of Wi-Fi's which is available to others. I suggest this app but do not rely completely on. Note that this is illegal and you can not join, connect, or use an IEEE 893.11b Direct Sequence or more commonly known as "Wi-Fi" without the owner or another of authority to give consent, permission. But if you don't care, then risk it for the biscuit and if you are going someone, check this handy app and see if someone else was kind enough to get you that free Wi-Fi connection.
Much Obliged for All Your Hard Work
Michael L. Watson Jr.
on
6/6/2017
But how to upgrade to a paid, ad-free version is not thus far obvious to me.
Very good utility
Don't do without if you travel.
❌❌Has never been correct❌❌
It gives me lots of wifi password but never once had it been correct. So I say this app does not work and most of the reviews are ❌shill reviews❌ AKA FAKE 🛑🛑They responded by saying 99% accuracy in major cities. Well I use it in a major city. I've tried it at over 50 different sights that showed passwords and they have never worked🛑🛑 and I'm not complaining. I'm giving a review to an app that does not work. If they really have 99% accuracy the next 5000 should be correct. I doubt that is the case. I will keep trying it and will update my review if it does start to work
This app is garbage!!
It doesn't even see my neighbors wifi and my phone does! Worthless!!
Wifi
Fenderfenchurch
on
6/4/2017
Free wifi app works when you're out of data. Just a great app to grab some free wifi.
Fact Sheet
Publisher: WIFI MAP LLC
Category: Travel
Released: Sep 20, 2012
Current Version Released: May 31, 2017
Version: 4.0
Size: 87.6 MB
Compatibility: Requires iOS 9.0 or later.
Recommended Age: 4+
Game Center Certified: No
Supported Devices: iPad2Wifi-iPad2Wifi, iPad23G-iPad23G, iPhone4S-iPhone4S, iPadThirdGen-iPadThirdGen, iPadThirdGen4G-iPadThirdGen4G, iPhone5-iPhone5, iPodTouchFifthGen-iPodTouchFifthGen, iPadFourthGen-iPadFourthGen, iPadFourthGen4G-iPadFourthGen4G, iPadMini-iPadMini, iPadMini4G-iPadMini4G, iPhone5c-iPhone5c, iPhone5s-iPhone5s, iPadAir-iPadAir, iPadAirCellular-iPadAirCellular, iPadMiniRetina-iPadMiniRetina, iPadMiniRetinaCellular-iPadMiniRetinaCellular, iPhone6-iPhone6, iPhone6Plus-iPhone6Plus, iPadAir2-iPadAir2, iPadAir2Cellular-iPadAir2Cellular, iPadMini3-iPadMini3, iPadMini3Cellular-iPadMini3Cellular, iPodTouchSixthGen-iPodTouchSixthGen, iPhone6s-iPhone6s, iPhone6sPlus-iPhone6sPlus, iPadMini4-iPadMini4, iPadMini4Cellular-iPadMini4Cellular, iPadPro-iPadPro, iPadProCellular-iPadProCellular, iPadPro97-iPadPro97, iPadPro97Cellular-iPadPro97Cellular, iPhoneSE-iPhoneSE, iPhone7-iPhone7, iPhone7Plus-iPhone7Plus, iPad611-iPad611, iPad612-iPad612, iPad71-iPad71, iPad72-iPad72, iPad73-iPad73, iPad74-iPad74,
Supported Languages: English; Russian; Chinese; Chinese;