Screenshots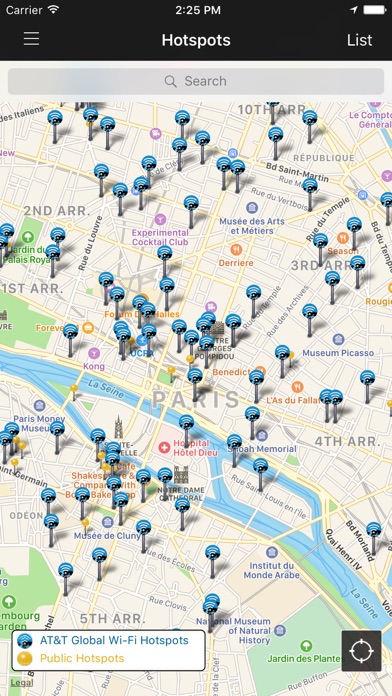 New in version 5.2.35
Main features added in this release:
Set minimum support for iOS 9.3
Additional features/fixes:
Fix typo on List View
Description
The AT&T Global Wi-Fi app is designed for AT&T customers with an AT&T qualifying international travel package that includes international Wi-Fi. Details on packages may be found at att.com/global.

The App enables AT&T customers to access participating AT&T international Wi-Fi hotspots from their iPhone or iPad.* These hotspots on the app are limited to:
• international AT&T Global Wi-Fi hotspots that do not require a user name, password or acceptance of terms; as well as,
• select international Public hotspots that may require acceptance of terms or other authentication steps.

The App includes the ability to:
• Display available AT&T Global Wi-Fi and Public hotspots within Wi-Fi signal range
• Authenticate on participating international AT&T Global Wi-Fi hotspots
• Search capability by City & Country with a Map view and a List view of hotspots

GPS is needed to search for hotspots within range; continued use of GPS running in the background can dramatically decrease battery life.

*Requires iOS 8 or higher and an AT&T international travel package that includes Wi-Fi (for details visit att.com/intlwifi).
iPad Screenshots
Reviews
No point
ChinaKatSunflwr
on
11/20/2017
Unclear what the point of this app is, I thought it would connect me to a reliable AT&T Wi-Fi while I'm trying to check for updates at an airport that has horrible "free" Wi-Fi. but it just lists the available networks, which you can already see if your Wi-Fi settings. Don't waste your time.
Awful app, awful service!
This has got to be the most useless app in the universe. It never works. I recently traveled abroad and couldn't access hot spots because I wasn't connected to Wi-Fi!!! What sense does that make?! The stupid app doesn't even recognize nearby hot spots like in the airport, for example. And I paid for a global plan. I fell ill on my trip, requiring hospitalization. I couldn't get service to contact the airline or my family without enabling data roaming. $$$$$$$$. I cannot discourage enough you from downloading this app. Buy a SIM card abroad or rent a local phone. This "global" app is garbage. Pure garbage!
Worse than worthless
Such a waste. Always has been but att clearly doesn't care about its customers. Always asks me to find wifi to LOCATE WIFI. Really?? I'm using this to find wifi in the first place. Scam.
I can't open up the app.
Even though the app is on my phone I don't appear to be able to open it. What good is it?
Useless
I would give it zero stars if I could
Disappointing
I tried to use this app and also signed up for International Plan. I needed to contact my doctor for an emergency several times. Before i was halfway through my trip i used 80% and I had the $60 dollar international plan. I think AT&T should have more reliable access since the charge so much. I was told after the fact i should use airplane mode for some areas. I think tips on how to use should be better explained.
worthless, don't bother
we tried this in several european airports and it never found any available hotspots. also, it needed cell service to download the map. useless app.
How do I delete this app?
MooRedSoxDaveBox
on
10/30/2017
They steal all of your location & viewing/browsing activities. No way to delete through app or App Store. FRUSTRATED. WHY CANT I DELETE THIS APPLICATION?!?😡
Disable unencrypted hotspots?
How can I disallow unencrypted hotspots? These connections are insecure and make my data vulnerable!
This is totally useless
Kouske the peter fan
on
10/19/2017
This app does not help at all. If you want to scan and look for hotspots, the map can't be shown and says 'needs connection'... lol. That is why I am trying to use this app! I need connections that is why I look for hot spots!! Even when you find a hotspot and it shows green check mark, the connection can't be established... you end up enabling roaming. AT&T needs to work here very hard ... even they just think about making money and not think about customers convenience. This app is worthless.
Not worth it
Unhappy 4156
on
10/19/2017
I've tried so many times and so many places. Just doesn't work and not worth the bother. Seem like they just want to 'look' like the actually offer a service.
Horrible
Penny Jooh Jooh
on
10/14/2017
Hasn't connected to anything in the 24 hours I've been in London. Not sure why I'm paying $10 a day for this international plan.
Nice to Have
Yes you're not going to have global coverage, but when you are in a spot with AT&T WiFi it's very convenient and fast. No problems with installation.
Garbage app
ATT_Eats_4Ss
on
10/11/2017
This should be illegal. I paid $40.00 for 200mb of international data, and this sad excuse for an app which "Keeps you connected while abroad". This app proved useless in the most way, all over most of Europe. Not once could I connect to any open WiFi. AT&T neglected to even test this app. Absolutely Zero WiFi connectivity equals 200mb of data used in one day with google maps. Thanks AT&T. You might as well purchase a cheap unlocked phone and put a European SIM in. Don't buy these international scam-plans.
How I got it to work...
Jessica_WeHo
on
10/10/2017
18 days in Paris...two days in London. Still not working. Delete, download, load profile, load hotspots, trouble shoot, repeat. Still no connections. :/ Finally figured out how to make it work: 1) Delete the app over Wifi 2) Reinstall app 3) Turn off iMessage 4) Activate App and send text message to ATT 5) Install profile 6) Search for International hotspots 7) Turn on iMessage 8) Leave app open to connect
How can AT&T keep pushing this?
It is beyond staggering that a company with the technical resources of AT&T are able to produce an app that is this bad. It is almost impossible to describe how worthless it is. Most companies start with two basic requirements: 1) make sure the functionality works 2) make it easy to use AT&T fail spectacularly on both counts. The fact that every review for over two years says the same thing, AND they have done nothing to fix it, tells you everything you need to know.
Terrible
Terrible in England & Ireland. Mobile was roaming continuously except when in hotels and a few pubs/restaurants. Very few hot spots shown on the app.
No stars if I could.
5th Aveune Hippie
on
10/6/2017
If this app did even a 1%. Output of what it promise or suggests can be done I would give it 1.2 stars. It's a gimmick. ATT has no technology in place to connect to "any global wi-if network. It just wastes you Data while searching for WiFi that doesn't exist
Why cannot you just have data?
I have no idea why you set hotspot in the world wiled. It is super inconvenient!!!!!!!!!!!!!!!!!! I want to travel and enjoy my trip in a street or in a bus, but not stay in one place to access WiFi. Please see T-mobile. They just do some cooperate with foreign communication company and let local company share data to help their customers to even access unlimited LTE data in a foreign country. We always need to use map in a foreign country. Now you want to me stay in one place and load map and then let me know "hi buddy, go and find out next available hotspot to have your charged WiFi". Come on!!!!!!!!!!!! Are you kidding me? Please let me know why you can charge us so much on an international plan and then even do not allow us to use data. You are the largest communication company in America. I am sorry that I cannot see that large part.......
Can't zoom in maps
App shows all the Wi-Fi locations that have a partnership with AT&T Wireless allowing you to connect using your AT&T account credentials. It also lists a limited number of public Wi-Fi hotspots. The main problem however is that while many locations are shown on a large-scale map, they all disappear as you zoom in to try to locate one near you. That makes the app pretty much useless in practice. Fix this, AT&T!
Not worth the bother
In a panic while stuck at the airport I tried to use att international plan and this app. Nothing worked!!! Not a Wi-Fi location in an international airport? Att is as bad as the airline, United that cancelled our flight. Hot spot locations show up on a map without any locations just flags. That is not useful. It was easier and more reliable to just go buy a meal at a restaurant and a better value. This just wastes your time with the false hope of getting Wi-Fi. Additionally, the international plan gives you access to you own data for $10/day. Well that is nice to pay to use your own data plan. :(
What's the point?
I was in two counties (Iceland & France) that at&t has service in through this system. It auto connected to the allowed hotspots but it never authenticated. The only way to surf was to use my data. By turning off Wi-Fi.
Farting app for $1 is more useful
If I could get a 2 year old to come up with functions for an app, it would be more useful than this app. Great show me a map. I can't even verify if the hotspots identified are legitimate, since the app doesn't let you make the connection.
There are NO AT&T hotspots!
There are absolutely NO AT&T Wi-Fi hotspots in Mumbai, Bopal, or Dehradun India. THERE ARE MANY FREE PUBLIC HOTSPOTS in all three of those cities however! So why would I want to use this app?? I would advise you to FIX it!
This app is worse than worthless
It will give you a false sense of security that you will actually have wifi somewhere along your travels. For example, you will not actually be able to find wifi in three cities in South Africa outside of your hotel, and in that case you may end up paying for it or constantly requesting access from the front desk because it expires after 500mb. I contacted at&t hoping they would reduce the fees I paid for my international plan. Nope.
Doesn't work at all.
Same as everyone else. I've tried it for about six months. I tried loading it but it would always fail because I didn't delete the old profile. Never figured out how to delete any profile. I'm not even tech stupid. It is a very poorly designed app.
Terrible App, will disrupt your phone hardware and software
Terrible app. Do not use! It will hose your phone and make it unusable and then you have to revert and delete the app. Just terrible.
Wi fi app
spain traveler
on
9/12/2017
Why does ATT continue to offer this if it is useless? Both the international day pass and the passport plans require thus app be on your phone - any suggestions readers?
App does not work
The instructions do not work. You try and load a profile and it says you must delete the old profile first. There is no option in the app to delete the old profile. Also tried to use it in Australia and it never worked for any of the local hotspots there.
Fail
Richard in Washington
on
9/10/2017
Finding things on a map shouldn't be made impossible, yet at$t found a way to do just that.
Do not use
After I installed this app, there were very long wifi-related delays where the entire UI was unresponsive. Removing this app fixed the problem. This is on an iPhone 5c.
Barely worked
I was able to use this app to connect to wifi ONCE on my 10 day trip to Ireland. Don't even bother downloading.
Worthless
Worthless app for a worthless service from a worthless company.
Worthless is an understatement
Traveled to Croatia, Australia, Estonia, Germany. Never ever found a single AT&T wi-fi. Haven't found any across the US either. Cannot even find a map showing where AT&T wi-if coverage exists. The conclusion is that there really is NO AT&T wi-if and they just want you to think you will get something for what you paid. Worthless - don't be fooled like we were.
Never worked.
Installed before visiting Lisbon and the Azores in Portugal. Never successfully connected to a single network. Found a couple it said worked but they all required some membership. Much more successful just searching for networks manually.
One-Star Because I Have To
Mama of 4 lil' birds
on
9/2/2017
Wow. This app (and AT&T's customer "support" system) is an absolute nightmare. Once I had it downloaded, the app usurped all of my other wifi connections AND wouldn't allow me to delete it with the iPhone's normal tap-and-hold (or, "no, you need to PRESS-and-hold it" — oh, okay, thanks so much, Janelle at support, because that is exactly what I was doing. Super helpful.) I'm on a bus trip with a sweet group of older folks who are napping. Instead of enjoying the scenery, I tried to save my phone from this tyrant application. After chatting online with "Steve" and "Gustavo" on ATT.com, watching a suggested video on deleting apps from an ANDROID device (not terribly helpful), and being told how wrong I was from Janelle over the phone, the app has been deleted and I didn't teach any of these elders new vocabulary, nor did I vent in a piratical tirade. DO NOT DOWNLOAD THIS APP. And think about choosing another carrier.
Worthless
On a trip to Paris, a city where you'd expect at least some hotspots, could not find any hotspots in app. Worse yet, I had to get a wifi connection first because app relies on internet to load map data and lists. Presumably. If there are actually hotspots somewhere in the world. I get the fact you need internet to get updated info on hotspot availability but an app like this should have a synced offline database of hotspots. In my common use case as a traveler avoiding cellular data that would be key. But so would having a hotspot in one of the most visited cities in the world....
Would give zero stars if I could
In the center of Copenhagen. In two days of travel, I have connected to one hotspot which was nearby my hotel where I didn't need it. Save yourself the money and frustration and figure out another option. This clearly isn't it. Called AT&T to remove it and they stated that there are "known issues with the app".
Useless
This app doesn't help you connect to wifi anywhere. The wifi's approved by att still require logins and passwords. It's a useless app.
Absolute Garbage
VirtualPanther
on
8/12/2017
In ten international trips in the last two years, the app NEVER connected to a single Wi-Fi hotspot. Even if one was found, it never allowed me to connect via app. I'm talking major cities and airports: London, Paris, Madrid, Barcelona, Rome...
Sad
I'm unable to get this to work. My wife and brother in law were able to eventually get it to work. - I confirmed I am on the correct plan by calling ATT to confirm. - ATT tech support said it should work when I arrived bed in Europe. It did not. - Uninstalled then re-installed. Got message to turn off iMessage off. Which I did. - Reinstalled again. Nada. AT&T should be ashamed of this product. I would suggest they remove it from the App Store until it works. I didn't intend to spend my vacation testing software for them.
Garbage, don't do it
Ticked Off ATT Custo
on
8/7/2017
You're better off leaving your phone in airplane mode and accessing local wifi like you normally would. Or, buy a local SIM card with data and bypass ATT. This app will force you to turn off airplane mode to connect to hotspots. Even if you have roaming and data turned off, it still finds a way to charge you even when your intent is to use wifi only. I can't explain how that could happen but it did. I called ATT to get the charges removed and they won't since some texts and calls went through. Yeah, that's because your crappy wifi app forces you to do that!! Thanks for nothing and wasting my time and money.
Awful!
Couldn't even setup the app without disabling iMessage, turning off wifi and rebooting the device! This experience gave me no confidence in the app working internationally.
Garbage. Get T-Mobile for Global
This app is nothing special. All it does is search for internet connections so you don't roam. In Europe wireless is typically free, everywhere. So you can get by without the Internet plan. Just turn roaming and cell data off and connect with wireless. For calling use FB, Skype, or unlock your phone. Or get the T-Mobile for international plans because the cost is much better. Will never do this again and will likely switch to T-Mobile after this disaster.
No Spots were Hot
Used for Western Europe. Texts wouldn't go through, calls either. Hot spots were unfindable. Believe the reviews. Don't waste your $$. Just use hotel wifi.
People want internet not just wifi
Although the app tells you where there's wifi it doesn't tell if that wifi connects to the internet. I rarely found this to work including at my hotel that offered free wifi. I could only connect if I chose the connection that wasn't part of the att global wifi.
Terrible
Madi and Morgan
on
7/16/2017
Traveling a couple different places in Europe and Egypt for two weeks and went with this option from AT&T. The wifi hotspots that they suggest NEVER work and the app is incredibly non-user friendly. The representative on the phone was not helpful in explaining at all.
Useless in the UK
I have traveled to the United Kingdom each of the last two summers, armed with this app on my iPhone. I was in London, Glasgow, Stirling, Edinburgh, Bath, and Oxford. The app never once guided me to a single Wi-Fi hotspot. I was able to find plenty of free Wi-Fi on my own, but the Global Wi-Fi app had nothing to do with it. Save your time and iPhone space. Stay away from this app.
Useless app
I tried using this app while traveling in Spain and it never worked. Even if I found an AT&T hotspot, which was very rare, it never worked. AT&T should remove this non-working trash from the AppStore, it's a ripoff.
Fact Sheet
Publisher:

AT&T Services, Inc.

Category:

Travel

Released:

Nov 15, 2012

Current Version Released:

Oct 30, 2017

Version:

5.2.35

Size:

10.4 MB

Compatibility:

Requires iOS 9.3 or later.

Recommended Age:

4+

Game Center Certified:

No

Supported Devices:

iPad2Wifi-iPad2Wifi, iPad23G-iPad23G, iPhone4S-iPhone4S, iPadThirdGen-iPadThirdGen, iPadThirdGen4G-iPadThirdGen4G, iPhone5-iPhone5, iPodTouchFifthGen-iPodTouchFifthGen, iPadFourthGen-iPadFourthGen, iPadFourthGen4G-iPadFourthGen4G, iPadMini-iPadMini, iPadMini4G-iPadMini4G, iPhone5c-iPhone5c, iPhone5s-iPhone5s, iPadAir-iPadAir, iPadAirCellular-iPadAirCellular, iPadMiniRetina-iPadMiniRetina, iPadMiniRetinaCellular-iPadMiniRetinaCellular, iPhone6-iPhone6, iPhone6Plus-iPhone6Plus, iPadAir2-iPadAir2, iPadAir2Cellular-iPadAir2Cellular, iPadMini3-iPadMini3, iPadMini3Cellular-iPadMini3Cellular, iPodTouchSixthGen-iPodTouchSixthGen, iPhone6s-iPhone6s, iPhone6sPlus-iPhone6sPlus, iPadMini4-iPadMini4, iPadMini4Cellular-iPadMini4Cellular, iPadPro-iPadPro, iPadProCellular-iPadProCellular, iPadPro97-iPadPro97, iPadPro97Cellular-iPadPro97Cellular, iPhoneSE-iPhoneSE, iPhone7-iPhone7, iPhone7Plus-iPhone7Plus, iPad611-iPad611, iPad612-iPad612, iPad71-iPad71, iPad72-iPad72, iPad73-iPad73, iPad74-iPad74, iPhone8-iPhone8, iPhone8Plus-iPhone8Plus, iPhoneX-iPhoneX,

Supported Languages:

English;