Games
Role Playing
Education
Family
Recommended app!
App last updated
Sep 23, 2015
New in version 1.4.4
Updates for 64 bit and iOS 9
Bug fixes and performance improvements
Description
Pencil your way into one of the most creative drawing puzzle games ever designed: Draw a Stickman: EPIC!

In this uniquely crafted cartoon RPG, you become the artist and create your very own stick man hero! Sketch and doodle your way through the cartoon obstacles the evil stick man Zarp throws at you!

As the artist behind the adventure, start the game by drawing an original cartoon hero. Your hero also needs a friend, so sketch his buddy and give him a name! But as you watch your cartoon creations hop right off the page, your stick man hero's friend heads straight into the dangers of the cartoon adventure book! Send your doodle dude into the book to save his cartoon friend!

As the artist, you'll guide your sketched hero through the dangerous drawing world to save his friend. You'll use various pencils and creativity to animate solutions to puzzles or obstacles!

Need to get past a pile of dynamite sticks? Use the flame pencil to doodle a fire and blow them up! Bees in your way? Use the cloud pencil to sketch some rain to grow a pollinated distraction! Ward off dragon enemies, draw a spider to fight attacking troll hordes, and supercharge a toaster with the lightning cloud! There is plenty to do in the world of Draw a Stickman: EPIC! Features:

- Customizable stick man feature that lets you animate your own hero
- Unlockable colors for drawing life into your character
- Plenty of cartoon levels to play through
- Multiple pencil types for creating and animating solutions to obstacles:

A fire pencil to burn down obstacles
A cloud pencil to create rain or lightning
A key pencil to help you unlock doors and other objects
An axe pencil to help you chop down trees
An armor pencil gives you added protection to in-game hazards
iPad Screenshots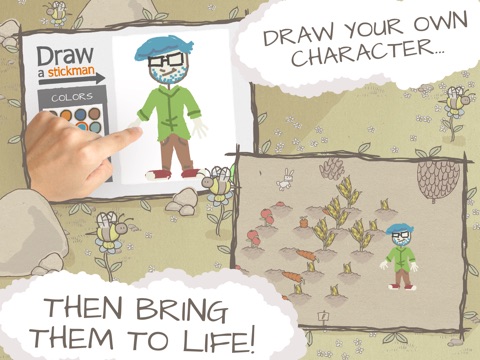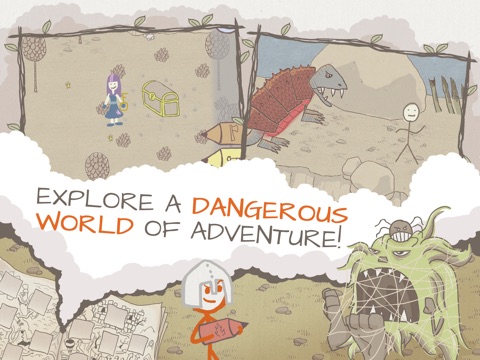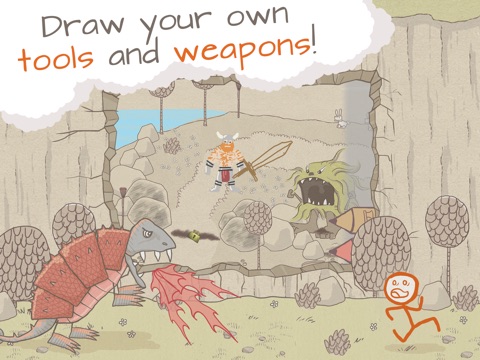 Reviews
😆 lol
I made a mistake I got this one but I was dumb I got the wrong one give me my money back srry but I have to delete this one but pls give me my money
Few bugs
When I first got this game I loved it but then it started to glitch the music and start to freeze up and I would have to constantly turn the game off and reopen every new level please fix!!!!!
COOL!
USABLEBARRES
on
12/24/2017
I has the EPIC 2 and i loved it so I decided to buy this one and its super cool
I did the secret level
Like_GravityFalls
on
11/26/2017
#2014
Should have listened 2 rest of reviews
I like the game, but DON'T BUY the BUNDLE!!! It's a Waste!!! It's literally a Preview of the other 2 games! I just feel Ripped off!!! Hitcents is deceitful!
Great
Ronthelawyer
on
4/17/2017
Great game I love it
Always GREAT!
Cloud Of Equestria
on
3/11/2017
I love this part at all!
Lots of fun
Lots of fun to play. Challenging with good animations.
AWESOME 😃
Spongebobx21
on
1/29/2017
This game is great. I wanted a few more levels, but it's an amazing game. Worth $2.99 plus the $0.99 all colors add on. 👍👍👍👍😀
Good game
Because its stick man
Love it!
I love this game a bunch, but not as much as the sequel!
Awesome!
Megagamer352
on
11/25/2016
Awesome!!! I loved the second game,so I decided to buy this. It was a lot like the first one,but a bit different. There are a few things I'm not sure about,but otherwise it's cool! Don't listen to the whiny critics who usually end up in game review sections!
Love it
Cocolocolovecookie
on
11/15/2016
Difficult, but awesome😉😘
It's taking forever to load😩
Audrey plays
on
5/16/2016
It's taking forever to load😩
Cute
My son and I love playing this game together.
Good game
DarwinGamer1
on
4/26/2016
I like it. I EVEN LIKE PART 2 :3 VERY GOOD GAME. ps I rated 5 stars :3
Not my thing...
Like "kitty cat❤️" said, just do at waist your money on this stuff...any of them... They are just a waist of time
BEST
Chelseas12345
on
2/20/2016
This app is awesome.
On Draw A Stickman:Epic 2 THERE SHOULD BE A FREE VERSION
ConsulerGnome
on
1/30/2016
First I couldn't reply this to DAS:E2 cause I don't actually have it on my Apple IPad Mini. Now time for the Review, if you make a FREE DAS:E2 it should (this is just my opinion if you make a FREE version) have half the stuff in DAS:E2/levels but it's not like it's my choice of it. PS- DAS:E2 & DAS:E2 = Draw A Stickman:Epic. + I love the game DAS:E! ❤️💛💚💙💜. :)
It's Okay😐
FanOfFrozen101😍
on
1/15/2016
It's not great,but it's not good...But it's kinda boring...
DONT WASTE YOUR MONEY
KittyCat ❤️
on
12/25/2015
When I first got this game, i was like, OMG this game rules! But after I completed it it kinda got pointless to play and there's only 12 levels. I expected more. Oh well, you may say, I'll buy it anyway! But please don't.2.99 Is not worth this app. It only takes 30 minutes to complete.
We you got a game like this...
This game is unbelievable,I love it so much,I bet you a quarter anyone who's played and then goes back and plays it a again will still love it.
Love it
This game was totally worth the 5.00 it has such great creativity and it isn't too short. please make moor of these
It deserves five
Sosticky05😜
on
10/24/2015
Creating your own story as always been my kinda thing, and with your own characters and a magical pen, I'm good to go. Reminds me of another app with a magical pen though...
Ok
Harry Potter wiz
on
8/12/2015
It's ok when you redraw you stick man it restarts the whole thing it kinda annoying but it's ok that's all it gotta say 😐😐😐😕😕😕 ~Wolfey
Stick an is awesome!
Grand Pa Len
on
7/16/2015
Even at 67 years young I enjoy the challenges and wonderful thought behind this game.
Good very aswome jame
My sun payed this an i looc he gabe me chanse to stick draw an i loav it very god game!!!!!!! u tart of with bank sheeet of paper and u draw it in pen any coler and u confirn it and is comp to life!! is very magik and cool too it teconolgony has goan berry far life it. u go thourhg parts of a book and u goto da part den magically go to very magic can tbob so cool and u can pik difarent pencils to make cool onw stuffff! how magicky so cool u burn stuff with cool pencil fire orange and grae for the amore and stuff!!! this game realt gome to the life!!! u can also have the bunnsies and c t thry acting like the reality bunsies if burn one will it burn one reality life??? hope cooll... i rate this 5 orut of 5 sarts! very long game life kie my sun stell lovering itt!
Great Time-waster! 👍
One of the best little "time-waster" games that I found. Definetly buy this game. Hours of fun!
It's awesome but-
The wolf princess909😜
on
4/15/2015
It's awesome but it said in 2014 there would be draw a stickman epic 2 I was disappointed when I didn't see it in the App Store I mean it's 2015 people!
THIS GAME IS AWSOME!!!!!!!!!!!
From Kaylee Macias
on
3/1/2015
I love it I love it I love it😃😃😃😃😃😃😃😃😃😃😃😃😃😃😃😃😃😃😃😃😃😃😃😃😃😃😃😃😃😃😃😃😃😃😃😃😃😃😃😃😃😃😃😃😃😃😃😃😃😃😃😃😃😃😃😃😃😃😃😃 - Kaylee EPIC stick girl
Not so sure
I'm not sure I really like it.I'v done a few levels but it didn't really keep my interest a little. It's really really a DUM game.If I was you I would not get this app. Love , Aurbrey Grace
I LOVE IT!!
This game is so neat! The fact that you watch your own drawing come to life is so cool! Anyone would love this! The only thing I wish you could do is save your stickman drawings ..... maybe they can make that happen. I can't wait for more to come out!! A+ for this game!! Try it ...Buy it ... I bet you"ll love it! :)
Pretty good
Animal gymnast48
on
2/20/2015
This game is pretty nice and fun. Yet if you can't handle a challenge, or don't have access to a tutorial on YouTube😂, this probably isn't the game for you. It certainly gets tough as you get on to further levels. I'd say if you like a challenge, buy this game!😐😕
Great innovative game!
This game isn't just for kids! It's an adventure game that requires thought to solve puzzles. The episodes are just the right length and can be replayed to find the puzzle pieces that are hidden on each level, if you missed the, the first time around. It's a very clever interface to draw and use things to complete the level. Very unique. Great job.
Love this game
Chatte_kokat
on
2/11/2015
I first bought this on Steam. I was thrilled when the app came out! It's a puzzle adventure game that lets you create your own hero. I can't wait for Epic 2 to be released. This is fun for kids but also fun for adults that enjoy creative puzzle games.
Love it!!!
Lovecatniss😸
on
1/29/2015
This game is awesome!! Can't wait for the second one to come out!!!
Stick man best game
I think it is very playful game for kids. My child loves this game. She plays the game all the time. It is great for kids who love challenging puzzles. Plus you get to make your own stick man or stick girl. The whole game is about making a stick friend and try to get your stick friend back .😃
Where is the sequel?!?
It promised us a sequel due out in 2014. Where is it???
Love it
I love playing this.You get to go to adventures to save your friend.You get to draw your friend, yourself, and your tools.
Love
My only complaint is the hints are too vague. But I enjoy playing.
Epic stick man
It is a fun and creative,game for kids. You get to draw your friend and write his name. It is a thinking game and you will,love it. Please buy it,today.
Best app
If you are looking for a stick man app this IS THE ONE!!!
Fun
Very cool and fun game. My daughter love it.
Love this game, but.......
Blahblahblah5737475
on
11/27/2014
This game is really great, but it can get so hard !!! You probably should not buy this game for children under the age or of 9.
love it
PreschoolTeach
on
11/26/2014
totally worth buying this app - we had played the free version so many times we decided to upgrade, and I rarely pay for an app. Love the creativity and awesome problem solving skills. my 6 year old has spent hours on this game. he is also practicing his reading comprehension skills. p.s. adults love it too.
:) :) :)
Jdhtxch1358
on
11/20/2014
I love this app you can make your own weapons and create your own avatar. What's better than that?
Love stickman
Fun, but only 80 levels...
on
11/15/2014
This game deserves even 10 stars!!!
It's a great game!
Tciccarelli
on
11/12/2014
It's hard but fun. I bet you'll like it too if you buy it.
AMAZING!!!AWESOME!!!
I love it and it was a great game!
totes
Squashmusic
on
10/19/2014
AWESOMEST GAME EVER!!!!!!!!!!!!!!!!!!!!!!
Fact Sheet
Publisher:

Hitcents.com, Inc

Category:

Games

Released:

Oct 25, 2012

Current Version Released:

Sep 23, 2015

Version:

1.4.4

Size:

113.6 MB

Compatibility:

Requires iOS 7.0 or later.

Recommended Age:

9+

Game Center Certified:

No

Supported Languages:

English;

Parental Advisory:

Mild Cartoon or Fantasy Violence;