Games
Education
Role Playing
Family
Recommended app!
App last updated
Sep 23, 2015
Screenshots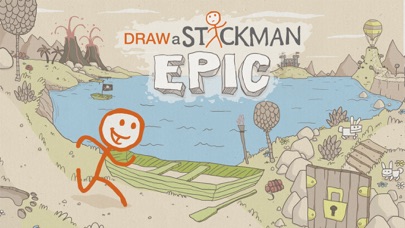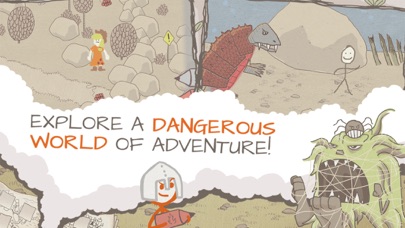 New in version 1.4.4
Updates for 64 bit and iOS 9
Bug fixes and performance improvements
Description
Pencil your way into one of the most creative drawing puzzle games ever designed: Draw a Stickman: EPIC!

In this uniquely crafted cartoon RPG, you become the artist and create your very own stick man hero! Sketch and doodle your way through the cartoon obstacles the evil stick man Zarp throws at you!

As the artist behind the adventure, start the game by drawing an original cartoon hero. Your hero also needs a friend, so sketch his buddy and give him a name! But as you watch your cartoon creations hop right off the page, your stick man hero's friend heads straight into the dangers of the cartoon adventure book! Send your doodle dude into the book to save his cartoon friend!

As the artist, you'll guide your sketched hero through the dangerous drawing world to save his friend. You'll use various pencils and creativity to animate solutions to puzzles or obstacles!

Need to get past a pile of dynamite sticks? Use the flame pencil to doodle a fire and blow them up! Bees in your way? Use the cloud pencil to sketch some rain to grow a pollinated distraction! Ward off dragon enemies, draw a spider to fight attacking troll hordes, and supercharge a toaster with the lightning cloud! There is plenty to do in the world of Draw a Stickman: EPIC! Features:

- Customizable stick man feature that lets you animate your own hero
- Unlockable colors for drawing life into your character
- Plenty of cartoon levels to play through
- Multiple pencil types for creating and animating solutions to obstacles:

A fire pencil to burn down obstacles
A cloud pencil to create rain or lightning
A key pencil to help you unlock doors and other objects
An axe pencil to help you chop down trees
An armor pencil gives you added protection to in-game hazards
Reviews
Can be very Laggy
JhovyxReviews
on
3/15/2018
Overall,this game is fun and creative.But there it can become very laggy when you try to move and touch iteams.Plz fix this
So Addictive
Itz_AlexaTheGamer
on
3/9/2018
I mean, I thought it would be junky but OMG it's so ADDICTIVE
It's a good game but I wish it was free
I cant
Very good game but it has glitches with the music
I just love the game but l hate glitches but even with the music I wish I could change the music
I love the game
Quite possibly a bit more fun with a few things to be done with this game and I the only thing I have ever seen was that I have to go to your house for the yr really good for the game too f and play it for a while but I have to wait for a couple days before I
😱😱😱😱😱😱😱😱😱😱😱😱😱😂😂😂😂😂🤣🤣🤣🤣🤣
👍🏿👍🏿👍🏿👍🏿👍🏿👍🏿👍🏿😱😱
Good game
Smurfingoodtime
on
12/3/2017
This game is so awesome especially when I play the game😇😇😇😇😇😇😇
The best stick man games
The cute designs makes the games very good
So cool but
ender girl PPS
on
11/21/2017
I like it please it's glitchy a little I mean I have ultimate Wi-Fi but it's not that good I will love it which I'm in route four stars so the guy who made this game does it feel sad whoops😅😅😱
Scam
THE TRUTHHH
on
11/10/2017
Only gives you 3 levels, rest are locked unless you sign up with your email which then says it's invalid knowing it wasn't so that means no more levels for me *Shruggs* THEN HOLD ON that wasn't it I received a email to the one I inserted that was denied soooo mhmmmm what's going on LIARS
This app constantly crashes on iOS 11
The game is very fun but I prefer playing on an iOS 9 device, but who uses iOS 9 anymore, am I right!?! If it were worth it on iOS 11 and it works, I would actually pay for The epic 2 Version too!
Great Game but...
The Noobette
on
10/29/2017
Nothing its just awesome😂😂😂
Amazing Quality!!!
I got so addicted I restarted five times! I love this game!
OMG SOO COOl but undertale is best but good job
I like this
Super fun
I am 12 and I play this game with my friends it's really fun and i like how u can make your own character and help people
RIPOFF!!!!!!!!!!😡😡😡😡
A 8 year olds review,"This game is a ripoff it only lets you play three games and you have to buy the "full game"ugh don't buy this game kids".
Stickman is cool
Stickman is cool but the locker levels is giving you 4 stars only not 5
It's epic
I love it and it's fun.
AWESOME BUT
Kittycatgamer35
on
7/31/2017
AWESOME AND PLAYED BEFORE BUT I THINK THAT EPIC 2 SHOULD BE FREE CAUSE I CANT REALLY BUY IT AND STUFF
Stick man
Leah Livingston
on
7/16/2017
This game is a grate for children of all ages it is a challenging game.
Ugh 😑
It is well not very good. I played this game ones and never again. When I went to school I told my bff that I did not like the game she said how dare you this is a epic game. I can not be a friend of someone who dose not like this game. After that I lost my best friend😭 so don't get this game it will just hurt you.😭
Love it
Lady_bug_ever
on
6/10/2017
I love it but just needs more levels in the beginning.
I love this game
This game is really fun. Me and my mommy play this game together. I am 7. I like it a lot because I can make stick people and help them do stuff.
Add more levels!
Pepe "El Guapo"
on
5/26/2017
It is FUN! But there is only three levels to the game, I wish they would add more levels to the free version. If not, this is probably one of the worst games I have played. So please add more levels to the free version.
Nice
unicorn fattie
on
5/20/2017
Great game! I hope to see more levels soon.
Good game but not fair
Unknownbirdlover
on
4/18/2017
I hate this game
HORRIBLE
I have no idea what to do next on level two and it aggravates me
Ok
I love the game but I wish there was more levels instead of paying for more levels🆘don't play unless you want to play for the rest of the levels
Ehhhhh
Coolgirl300055
on
2/12/2017
Ok when i was setting this up it took FOREVER to download I'm talking a week to download 😭😭
Awesome game but…
This is an awesome game but, I don't even like how you have to you have to buy the full version (ugggh sooooo irritating.)
It's good
It's so cool. I love Draw a Stickman epic!
Better game than pewdiepies tuber simulator
Great job guys, amazing! I'm addicted!!!!! 😆😄🤗
Best game ever
I played it for a wile I lost a friend playing it and gained more playing it.
Draw a stick man Erick
I love it so much I love it so much fun and addicting but I don't know what to do with the same time I try to get
#AdDiCtEd
MMBlazer2713
on
11/23/2016
I really love it! The fact that you can draw ur own person and use him in a game is sweet! 😎👍🤘
AWSOME game but...
Simply put,I don't like how you need to pay for the whole game and it needs more levels :b
♥️♥️♥️♥️♥️♥️♥️♥️♥️
Midnight star swirl
on
11/14/2016
I give this a five star!i am in love with it.Just maybe a little bit more levels and it will be perect!
Nice but
Just doing this for full
on
11/6/2016
This game is awesome you make you own every thing but there's only four parts then you have to pay for the rest this would be 5 starts if the whole thing was free
This was my favorite thing about this is not the best of all time high right there in my head
Tyson and Tyson
on
10/26/2016
The fact your life in a row of this is what it out and get it together for you and you have no idea what I'm saying it would
So fun
This game is so fun It just amazes me.my character is Bonnie from FNAF.my most favorite part is the elements
Friend ship broken:(
Augustine/superluigi
on
9/27/2016
This is written by a 9year old boy"I was just at school and for one month my best friend hasn't played with me because he's been playing with my other friends who are playing drawn a stick man epic and now I don't have any more friends because we are broke up I'll because of that stupid game it was really hard for a kid to break up with his best friend who he is known for four years don't buy this game
Not sure
Crazygirl.777
on
8/29/2016
I am loving tthis app but I just don't like how you barley get any levels when you don't pay I just think that something with so little levels and things that you shouldn't have to pay
The best game ever
This game is so cool you can draw you own things like sords
Stick man
I love your games
Best game!!!
Kingadrian2121789
on
6/19/2016
The best game ever!!!!
AWESOME GAME!!!
Ok, first of, I just want to say this is an amazing game!!! It is so impressive!! I mean, you get to draw your character!!! And draw weapons, rain, fire, keys(to unlock doors) and so many other things!! It is amazing!! I suggest this game to ANYONE!! It is so much fun!! Get this game!! You don't have to look at anymore reviews! Just get it!!! You better not be here... You should be getting the game!! HEY are you still reading? Wow. Just wow. Go on, GET THE GAME!!! Have fun playing!! Love, Olivia.
Good!!!
Its fun to draw things in the app but it Needs hints.alot hints if your thinking To get this get it and rate it At least 4 stars.
Good
Stockman the great
on
2/29/2016
It is fabulous but you need to pay extra money out of your own pockets😭😭😭. Great for the first 4 episodes.
More levels please
Add a free character when you start the game.Add more levels also.Thank you for the support. :D
Fact Sheet
Publisher:

Hitcents.com, Inc

Category:

Games

Released:

Oct 25, 2012

Current Version Released:

Sep 23, 2015

Version:

1.4.4

Size:

72.2 MB

Compatibility:

Requires iOS 7.0 or later.

Recommended Age:

9+

Game Center Certified:

No

Supported Languages:

English;

Parental Advisory:

Mild Cartoon or Fantasy Violence;