This version of the app is not recommended
App last updated
Nov 29, 2017
Screenshots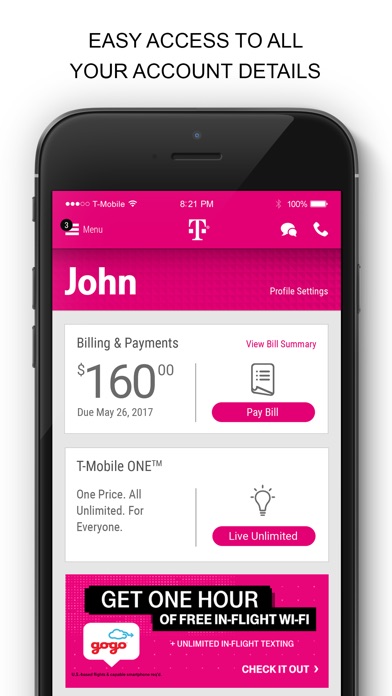 New in version 3.5.0
We are working to make your bill experience better every day. Now you can download your bill in PDF, right from your T-Mobile app.
Description
Manage your account without lifting a finger… just a thumb.

Download the T-Mobile app and simplify your life. We allow you to get answers to your questions in a way that is convenient for you, at a time that works for your schedule.

• Pay your bill in as little as two clicks
• Access our top-rated support in a way that is convenient for you
• Checking your data usage is as easy as opening the app

We value your feedback, email us at iphoneapp@t-mobile.com.

View the T-Mobile Privacy Policy at www.t-mobile.com/privacy.
iPad Screenshots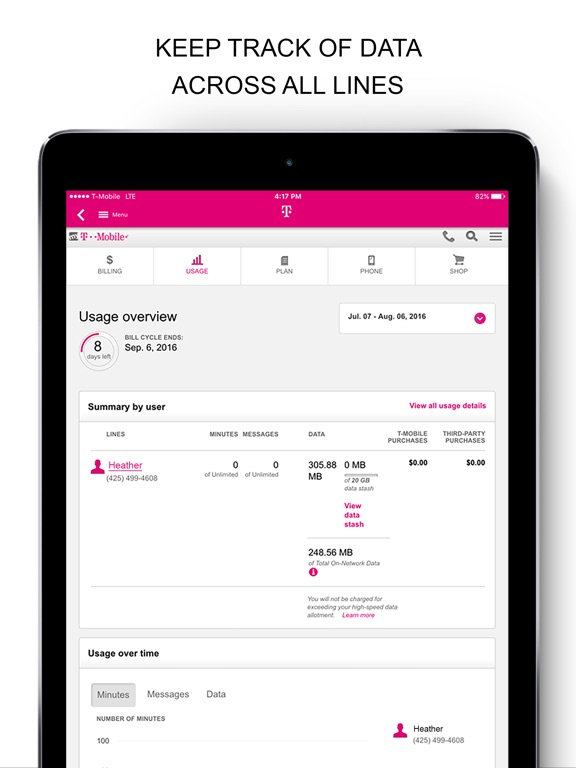 Reviews
Love my t Mobil service
So far so good
t-mobile very good service
Mohamed sauda
on
1/23/2018
everything is ok
Terrible app
I haven't seen a so poorly designed and instable app in a while. First: the UI is terrible - the application was clearly designed either by a person with no eyes or no experience in design Second: UX isn't any better - it often doesn't show me the balance or when it does, I can't pay for it, since it offers me to pay my last statement (which I have already paid for). In addition, despite it says "add new card" the app could never save any of my cards, which makes me always input them manually. If you can't manage to save the credentials in the app, don't say "add new card" and call it "pay with card" instead. I liked that there were some improvements on the homepage recently, therefore 2 stars, but overall I've seen the apps of small plumbing services that work much better than the one of your multi billion company.
Amen! Allelouiahhhhhh
JR-A Messenger Of The Gospel
on
1/23/2018
Jesus loves you all and He's soon to come back.
Service
You get what you pay for
Too slow
The app is so slow. I can't get usage details. It just spins like it's downloading but after 5 minutes what is it doing?! Att and Verizon apps work very quickly. They both give you nice bar graphs so that you can compare monthly stats. Why not T-Mobile?!
Switching it up
twotalentguy
on
1/22/2018
So I just switched to T-Mobile from AT&T and I'm amazed at how easy to use the T-Mobile app is! Not only is it user friendly (easy to navigate), it's also practical! Cool stuff like checking your device for issues, etc... It's a world of difference for me. In a GREAT way.
Awesome
Slacking on the job
on
1/22/2018
Awesome
T-Mobile has it together! Nice job.
Finally a cell phone company got it right with putting customers first and having hands down the best customer service around. All the apps function nicely also.
T-mobile
Good,good,very good.
Great service
I love T-Mobile
Tmobile is amazing
I really like tmobile as a carrier but their app needs lots of improvement.
So easy to use!
Duffy-Holland
on
1/22/2018
Everything is spelled out! First phone company I don't feel scammed by!
Review
I love T-Mobile it was an adjustment from Verizon but they work with you on payment arrangements should you need it and their customer service has improved by a long shot!! They are always there when you need them in addition they have free data which has lowered my bill.
Bad connection
Always experience drop call , a lot of issue to be resolve , I can't access my voice mail & I can't hardly hear the person in the other line or the incoming
Very glitchy
I can never pull up my bill. It always says I don't have a bill at this time. Even when a bill has been generated. Please fix this
Love and Hate...
BigGhost1201
on
1/21/2018
Sometimes you guys are great and sometimes you aren't...I wish you were more consistent...
Unhelpful.
Every time I log into the app it forces me to turn off my WiFi and use data to connect. What is the purpose of this other than to be ridiculously annoying? It also shows my balance for my latest bill, but when I open bill summary/details I get a notification that I have no bills available to view. So I'm supposed to pay whatever amount I'm seeing without being able to review what the charges are for? Step up T-Mobile and fix this garbage app and make it function.
What happened to complete functionality??
I'm not sure why we can't complete all functionality on the app anymore. Now anytime I want to see anything or make any changes, I'm sent to the website in the browser & can't complete the task in the app. Why?
Magenta For Life💕💕💕
I love T-Mobile! I have been a customer for over 20 years. I actually worked for the company when it was Airtouch Cellular then Voicestream! I'm not going anywhere! John Legere hands down the best and only magenta CEO!
Crap
tuesday flickinger
on
1/21/2018
Chat never works anymore , glitches now
Best value
Elsalover167❤️🌹
on
1/20/2018
T-mobile more value than any other wireless carrier.
App suuuuucks
It's impossible to pay my bill through this app. The page just stays blank. Can't see anything regarding billing. So really, no point of having it.
App crashes. I still love t mobile
The app keeps crashing :(
Great service
There's a reason T-Mobile keeps gaining millions of customers from rivals. This app is pretty good with built-in chat to support department, or the option to have company call you back instead of waiting. I just hope they they keep prices competitive.
Love t-mobile
Love the app and all the facilities that they have. Plans are confortable for your pocket and they many to choose.
Love it!!!
Createanamesuxk
on
1/20/2018
Awesome service
Dope
Best service I ever had, no funny false "late" payments or schemes. I can use the internet and text while making a call 🙏🏾👌🏾enough said 💯🤷🏾‍♂️
T-Mobile Needs Work
First off the app almost always requires me to turn off my WiFi so that the app can "talk to their network" why did my Verizon app never require that? Coverage should be better as I have recently learned from a cell phone tower installer that sadly T-Mobile has a lot of towers but their equipment is sub-par and cannot compete with the quality or service a Verizon tower provides. Invest in better equipment T-Mobile and give us the service we deserve rather than Netflix or T-Mobile Tuesday's. I think I can speak for the majority of us there. Just because you put up a lot of towers doesn't make your coverage good, you need quality and power on top of it. Within a 12 mile span of flat ground I shouldn't drop call and have full bars between a few miles, it's rediculous. Give us the equipment we deserve. There are a lot of bugs as well, whenever I try to go into managing one plus or international it has always said we are experiencing errors try again later... there is no later it has never worked for me.
❣️
keytreeblows
on
1/20/2018
I love it
LOVE T-MOBILE
Sparkle*Mommy
on
1/20/2018
I Have Had TMobile for Over 4yrs Now And I Absolutely Love it!! Way More then any other service Carriers I've had........ I highly recommend T-Mobile to all my Family and friends
Unique
Great and could be better!!!!
Best company
I've been with T-Mobile for the last 4-5 years. Vary ally ever since they announced their "unplan" that got the contract free revolution going. They are a great company and I love all the perks that come with having their service. Keep up the good work!!!!
Not a good update
The hunter#1
on
1/20/2018
Just updated and it keeps crashing once I tried to open the app. Come on fix it.
Bill
My bill is always what we agreed on
Crashing App
Worked great until the recent updates. I can't do anything on it except look at the opening home screen. I can't pay my bill now, can't shop for a new phone, can't turn on Touch ID. Whenever I want to do anything I have to log back in and it just ends up in a loop
Nice
Well Done T-Mobile Well Done
T-Mobile is great!
wblakewright
on
1/19/2018
This is not a reflection of T-Mobile as a carrier and service provider for which they would receive 5 stars! This is, however, a reflection of this app. The UI is so clean and intuitive! But it's so glitchy and buggy that is effectively useless!
Tmobile
Golfcartlover
on
1/19/2018
The tmobile app is great for checking my data usage and paying my bill. it's so nice to be able to have access to this at my finger tips. i love knowing that i'm in control. join the #uncarrier today
Dead zone Spot
Ok but update mishap
on
1/19/2018
I still have a lot of dead zone around my area! But when I have service is the best company in the market!! Love T-mobile!!!
The BEST!
BrooklynsChild
on
1/19/2018
T-Mobile is AWESOME!!
Please fix
I'm the account holder but can no longer view line details of all my lines. I can only view the line of the phone I'm using. Before I would hit usage and all my lines would show.... not anymore.
Excelente
Son muy buenos anfitriones cuando llegas a la tienda y te aclaran tus dudas y te ayudan a tomar buenas decisiones al escoger tus cell y otros aparatos !!! Excelente chicos Chula Vista Ca.
Love this company
After I switch from sprint to tmobile it's like night and day lte everywhere with good speeds and great costumer service
Keep up the good work
If it's broke, they fix it.
Good
But not great, there is always an issue while using the app. Wanted to see all the activity like before and since they updated it, I no longer can see the detailed information.
Fact Sheet
Publisher:

T-Mobile USA, Inc.

Category:

Productivity

Released:

Oct 05, 2012

Current Version Released:

Nov 29, 2017

Version:

3.5.0

Size:

78.3 MB

Compatibility:

Requires iOS 9.0 or later.

Recommended Age:

4+

Game Center Certified:

No

Supported Languages:

English;