Screenshots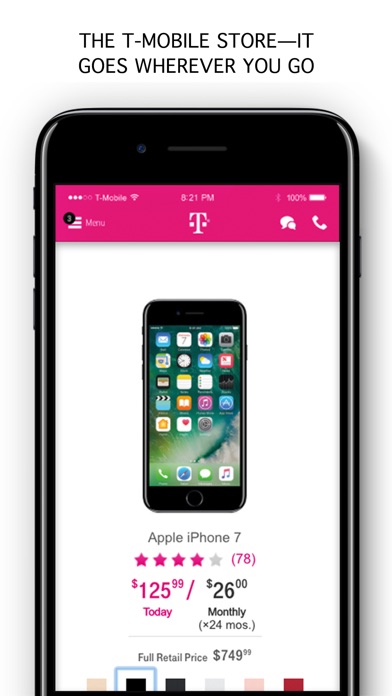 New in version 3.2.1
This version includes an update to the 3D touch menu. Now you can shop the latest devices and more by firmly pressing the app icon.
Description
Manage your account without lifting a finger… just a thumb.

Download the T-Mobile app and simplify your life. We allow you to get answers to your questions in a way that is convenient for you, at a time that works for your schedule.

• Pay your bill in as little as two clicks
• Access our top-rated support in a way that is convenient for you
• Checking your data usage is as easy as opening the app

We value your feedback, email us at iphoneapp@t-mobile.com.

View the T-Mobile Privacy Policy at www.t-mobile.com/privacy.
iPad Screenshots
Reviews
Best phone carrier by far
Let's just say that John ( CEO ) of t- mobile is the man with the plan , T- mobile will treat you like family and with that in mind you have piece of mind that what ever you want in a phone company; they will listen to you , If u want a company to treat you like family and more stick with t-mobile, the customer service is far more than any carrier I have experienced or remember, since I do have cognitive issues, but they treat you like family they listen to what you say and have to say and if you talk to him and not Adam their people to so again magenta means family and John the CEO is the smartest guy that I know and he will make this company number one practically overnight and again I highly recommend this company.
Doesn't work
I can never see updated information about my account using this app. I can't even refill my prepaid balance, I have to go to the website in a browser. What is the point of having the app if it won't even give an accurate view of my account and usage data?
Long time customer- I'll never use anyone else
T mobile has proven over and over that their coverage is better than Verizon and their customer service is unprecedented
Excellent AAAAAAAAAA +++++++++
Josefran2004
on
9/25/2017
Excellent AAAAAAAAAA +++++++++
Current update is poor
It doesn't go past processing screen.
Couldn't be happier!
We switched to T mobile almost 2 years ago, and don't regret a thing! Great service, great customer service, and great price!
Great Service
We have almost 2 years with T-Mobile and we like it, good service and good signal everywhere we go.
App won't work in any other phone that's not from Tmobile
I have 3 lines with Tmobile and 1 with ATT and I wanted to have the Tmobile App on my ATT phone so I can keep track of my other 3 accounts that I have with Tmobile, but some genius at Tmobile created the app to only be used from a Tmobile phone 😡.
Love TMobile App
snowblind west
on
9/25/2017
Much better than competing apps from other providers. This is the third carrier I've had for wireless and this app is much better than others.
Wendie Pitts
Soldiermama2468
on
9/25/2017
Love T Mobile always looking out for their customers and they have excellent customer service will not belong to another cell phone company
Excellent!
Love T-mobile! We have had it for a very long time. Also, customer service never fails! :)
Good good
Nice and easy access to my account. Good app
Long time customer.
Scubasteve3000
on
9/25/2017
I've been with T-Mobile for as long as I can remember... at least 15 years. Best service especially if you travel abroad. The app is OK but data usage stats could be improved. My data stash always shows zero in the app, whereas on the website it's displayed correctly.
Worst app ever
It requires cellular connectivity, TF WHY SO DUMB
T-MOBILE IS #1
Went fro Sprint (sorry about using the name but just couldn't help myself) a couple of months ago. HANDS DOWN, BEST MOVE I EVER MADE! My life is extremely stressful right now and due to your staff and customer service I'm still here. I could never say enough about the compassion and help I've received from ALL STAFF I'VE COME IN CONTACT WITH every issue has been worked out. So much more could be said but bottom line, THANK YOU AND I FORSEE A LONG TERM/LIFETIME RELATIONSHIP!!!
Love the app
Easy and convenient
Got better
T-Mobile Network is getting better but still need to improve more .
T-mobile
Great service! I'm a happy customer !!
T-Mobile
xXCHRIS760Xx
on
9/25/2017
Straight up the best for there price range
Los Duros en cobertura y servicio al cliente
Muy bueno T-Mobile number 1
Easy and Convenient
Rarely have problems with the app. Very easy to use.
The best carrier out there!
Big duckie John
on
9/24/2017
CEO wants not only what's right for the stock holders, but also for his customers!!
Notifications
I'm not getting notifications from the T-Mobile app. They are turned on in both the app and in my phone settings. Otherwise app does what it needs to do.
Very convenient check billing data change plans
I love app
App Review
Shop to ya drop
on
9/24/2017
This review is for the T-Mobile app, not T-Mobile as a carrier. For a phone company it boggles my mind how they cannot manage to create an app that works correctly. It drives me crazy that I need to turn off my wifi to access the app. I have 0 service at my house because I am in a T-Mobile dead spot. Therefore I rely on wifi to make calls and use the internet. When I have to turn off the wifi, I can't use the internet. Therefore it drives me to go to their website vs. using the app. When I am able to use the app, it is so slow and often times I hit error message after error message.
Never had a problem
justified_ 1988
on
9/24/2017
T-Mobile is definitely reliable when it comes to wireless service. The app is easily accessible. Most questions can be answered within the app itself. If not, customer service is right at your figure tips and they reply quickly.
Love the customer service
#1
I love T-mobile
It's the cheapest I've ever paid and the app is so simple to use :)
Awesomeness
T-Mobile has always been noted for their international freedom. Excellent!!! Keep up the good services and reliability.
Love
I love t mobile been with them for years
T-Mobile
Muhammadkhan94
on
9/23/2017
The only company that actually charges you price they say! #saynomore
Not Quite VZW, But Catching Up Fast
Ivan Yurkinoff
on
9/23/2017
Spotty coverage still in Eastern WV panhandle, but getting better.
Since voice streaming
RAE THE TRVP LXRD
on
9/23/2017
I love T-mobile 🖤
Love it
It's a great service you gotta have t-mobile!
Best cell provider I've worked with so far.
Best cell provider I've worked with so far.
Wonderful
Myladyluck13
on
9/23/2017
Years ago I had sprint then switch to T-Mobile and never looked back
Great customer service
I've been with T-mobile for over 3 years I have no complaints at all!
T-Mobile
FernandKarma
on
9/23/2017
They are the best services fast internet everything
Nice.
PhotoNegativeFeeak
on
9/23/2017
Love it, It may be complicated and your carrier loses a lot of signal in places and in most places you won't be able to even use it, eh.. it's okay. 5 stars for a good little area so you can test what your phone needs!
Great
Love it, easy to pay bills and if you aren't on T-mobile switch now!
Great customer experience
Great customer experience.
Highly Recommend
Been with T-Mobile for over 20yrs. Customer service is second to none and plans and prices are very flexible.
No complaints!!
Been with T-Mobile close to 10 years now and I can't really comment on customer service as I don't have any problems and need to call!!! I've only gone in a store a couple times for accessories and staff is always courteous and helpful. Highly recommend them!!
T-Mobile yeah!
I have used T-Mobile since back in the day when they were voice stream wireless. :-) awesome service!
The best out there!
Get out of the red and go Magenta!!!
More cell towers please!
I absolutely LOVE that I switched to TMobile! But I got gypped on The reimbursement process and I live kind of in the country and I don't get much cell service out here...so those would be the only things I would change is to have better cell service everywhere you go and the reimbursement process actually work...🤷🏽‍♀️
Fact Sheet
Publisher:

T-Mobile USA, Inc.

Category:

Productivity

Released:

Oct 05, 2012

Current Version Released:

Sep 25, 2017

Version:

3.2.1

Size:

70.5 MB

Compatibility:

Requires iOS 9.0 or later.

Recommended Age:

4+

Game Center Certified:

No

Supported Devices:

iPad2Wifi-iPad2Wifi, iPad23G-iPad23G, iPhone4S-iPhone4S, iPadThirdGen-iPadThirdGen, iPadThirdGen4G-iPadThirdGen4G, iPhone5-iPhone5, iPodTouchFifthGen-iPodTouchFifthGen, iPadFourthGen-iPadFourthGen, iPadFourthGen4G-iPadFourthGen4G, iPadMini-iPadMini, iPadMini4G-iPadMini4G, iPhone5c-iPhone5c, iPhone5s-iPhone5s, iPadAir-iPadAir, iPadAirCellular-iPadAirCellular, iPadMiniRetina-iPadMiniRetina, iPadMiniRetinaCellular-iPadMiniRetinaCellular, iPhone6-iPhone6, iPhone6Plus-iPhone6Plus, iPadAir2-iPadAir2, iPadAir2Cellular-iPadAir2Cellular, iPadMini3-iPadMini3, iPadMini3Cellular-iPadMini3Cellular, iPodTouchSixthGen-iPodTouchSixthGen, iPhone6s-iPhone6s, iPhone6sPlus-iPhone6sPlus, iPadMini4-iPadMini4, iPadMini4Cellular-iPadMini4Cellular, iPadPro-iPadPro, iPadProCellular-iPadProCellular, iPadPro97-iPadPro97, iPadPro97Cellular-iPadPro97Cellular, iPhoneSE-iPhoneSE, iPhone7-iPhone7, iPhone7Plus-iPhone7Plus, iPad611-iPad611, iPad612-iPad612, iPad71-iPad71, iPad72-iPad72, iPad73-iPad73, iPad74-iPad74,

Supported Languages:

English;