Screenshots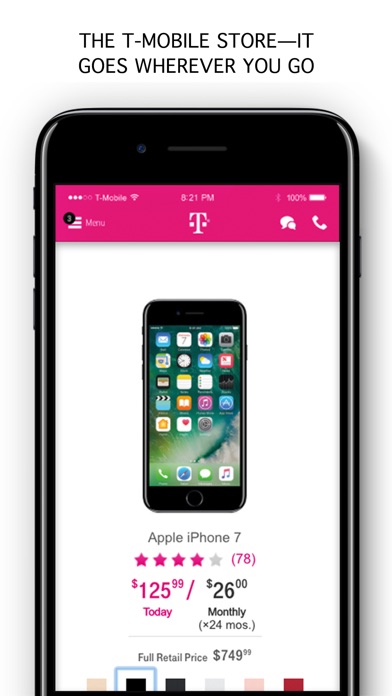 New in version 3.4.0
This version includes a number of bug fixes and performance enhancements.
Description
Manage your account without lifting a finger… just a thumb.

Download the T-Mobile app and simplify your life. We allow you to get answers to your questions in a way that is convenient for you, at a time that works for your schedule.

• Pay your bill in as little as two clicks
• Access our top-rated support in a way that is convenient for you
• Checking your data usage is as easy as opening the app

We value your feedback, email us at iphoneapp@t-mobile.com.

View the T-Mobile Privacy Policy at www.t-mobile.com/privacy.
iPad Screenshots
Reviews
Promotional offers
The Dirty Trucker
on
11/18/2017
Out of all things i like about t-mobile, i must say its rather upsetting to get great promotional offer texts, only to find out that you don't qualify. Why dupe someone into thinking theres this great offer only to switch bait them after they've waisted time and money going into the store?
Coverage could be better
Benefits are excellent, coverage could be better, dead spots inside office buildings
Great phone company
Nikki-Nekole17
on
11/18/2017
I've been with T-Mobile for 8 years and all is still going well!
Praises
T-Mobile is the best mobile service ever. Please don't change anything you are doing.
Love tmobile!
I love t-mobile! I love how everything is included in your price and your prices are so doable. My only complaint is the signal strength in our area-abysmal! pls improve on this. Thank you!
app online
it is kinda slow that is all
This app is always super slow
I've never accessed this app without running into issues with loading time. I always end up closing it and just calling 611.
T-Mobile Rocks
Cheri Peterson
on
11/18/2017
Best customer service by far EVER!!! Just wish the coverage was even better
Overall
I could give 5 starts but the only thing that annoys me about it is that doesn't catch internet every but everywhere.. overall is amazing and pricing? Good
In My Area
Need app help, sign in ok. but when checking message, minutes, Data, usages it can't load alway working not able to complete blank page with t mobile heading. Please fix issues. Other service with company is great
Phone
Castillonyaz
on
11/18/2017
Very good service on phone
T-Mobilelisious
Theresa Morgan
on
11/18/2017
She loves her some T-Mobile
Out Of ALL Wireless Phone Providers
JimmyHoff23
on
11/18/2017
T-Mobile Is Without A Doubt The Best!
I love tmobile
Allen Beaty
on
11/18/2017
I love tmobile because they have always done me right, although I may have had some misunderstandings the coworkers make everything nice and easy for me! Tmobile has a great thing going and i don't know why people aren't using tmobile! Fast internet for lower cost, quality phones, great deals, always hooking up the customer! Thank you tmobile for being the best! :)
Day one with T-Mobile
So far I love it. Great price and great service.
Piece of crap
First, I rarely write reviews. Second, if I could give this app zero or negative stars I would. It is such a frustrating piece of garbage that I'm struggling to use clean language. It refuses to work over WiFi, yet behaves like it's on dial up when my phone claims to have an LTE connection. I can almost NEVER see billing detail. The app will one minute show me a summary for a bill, and the next tell me I have no bill. This piece of code is SO BADLY WRITTEN that the programmer(s) should be fired. It was likely written by the same amateurs that designed their useless website. It's so bad I almost want to change carriers. Instead I'm going to uninstall this garbage, switch to paper billing and not look back.
Maya1707
Great service and knowledgeable staff.
La señal está mala
Volví con T-Mobile pensando que habían mejorado la señal, pero sigue igual de lenta y casi siempre en diferentes áreas está en 4G ojalá y la mejoren !!
This app is terrible!
Luvbuzz1979
on
11/17/2017
I have been attempting to pay my bill for weeks with the app and it keeps telling me to turn my WiFi off. So I turn my WiFi off and it continues to act like I did not turn it off and just keeps giving me the turn WiFi off message. So I'm being forced to pay over the phone and incur the extra fees on top of the ridiculous bill. Not a happy customer right now. FAIL
Worst of my apps by far
Mia Cupcake
on
11/17/2017
I can't use this app for anything. Not that it's ever been horribly reliable, but the latest "update for big fixes" sticks me in a giant loop of "sign in, sign out. Sign in, sign out" and is wholly non-functional. Finally just deleted it. Over it.
Previous att customer
T-mobile So far it has been great and has fulfilled my expectations Keep up the good work.
Awesome growing company
Phillyphillyphanatic
on
11/17/2017
Exceptional customer service they can be a bit overwhelmed at times but I can tell there hiring more people and striving to give what we want not what they want and tell us what we want to hear like at&t did to me.
27 years with Sprint NOW WITH T -Mobile
The Real Mark Baker
on
11/17/2017
I can't believe I struggled for so long with Sprint just staying with in my comfort zone thinking I'm getting the best. After making the switch to T-Mobile and the level of service and reception on the service is in comparable. Like they say Night and Day difference. I stream my kids hockey games and always struggled doing it with Sprint I used some other parents hotspots with Verizon and AT&T and struggled there as well. I borrowed a parents T-Mobile device and it was flawless. I then decided to look into it and found that not only I get way better service but I was able to lower my bill by 80 dollars a month and get 10x the service. I now am able to stream live hockey games at a full 1080hd with no disruption or drag. Thank you T-Mobile you are awesome!!
Logins are always difficult
perryplus78
on
11/17/2017
I appreciate the security. But Password, then logging off WiFi, then password.... I'm not sure if that's the normal process but it keeps me from the app.
Broken
KelCodesStuff
on
11/17/2017
I can no longer log into the app. Entering my password and using Touch ID doesn't work. When I am able to log in I get kicked out when trying to make a payment and view my account.
Price Range
It's hard to not need a iPhone at this point The payment system is ideal Ever since iPhones came out I would say 1900 you klow baseball basketball football hockey puck
Love T-Mobile...Hate this App.
This app isn't very useful or seamless. I can't quickly pay a bill, access account info or shop for items. Why? Because the app directs you to the mobile T-Mobile webpage. That webpage often is down or not available when accessing from the app. Why not seamlessly incorporate these actions within the app?
This is not an app
Maybe it's just me, but what is the point of an app, if it simply is going to open a safari window on your phone to sign in and use a web version? Have I missed something?
Great experience
#Mixvid (Pace Crudup on FB)
on
11/16/2017
In-store, as well as customer service over the phone were awesome!!! They treat you like people and we're most friendly. I dealt with other companies and this one by far is the best.
TMobil vs Att
TMobil low cost but use full Att high cost useless
Muy bueno la atención
Muy bueno la atención
No Face ID yet
Biancacortez
on
11/16/2017
This app used to be great. Up until the pre-order release for the iPhone X. Reaching two weeks with the x and still no Face ID update for this app. Annoying
Frustrated New Customer (Nest Secure)
Let me first say that I'm not a T-Mobile cell phone customer. My cellular service is with another provider. However, I just took advantage of their partnership with Nest last night in a T-Mobile store and purchased the Nest Secure (home alarm/home security system and indoor camera) and T-Mobile provides the cellular backup, in the event that I lose WiFi. Having said this, I was provided with a T-Mobile phone number and I set up my acct online so that I can monitor my billing and usage. Now all over the website it's suggesting that I download the app, for easier access; however, when I download and open the app, it says my phone doesn't have a T-Mobile SIM card, so I can't access the app at all! What kind of nonsense is this?!?! I still have an acct that's been registered on the T-Mobile site, which has a phone number assigned to it and password, yet I can't sign into the app to manage my T-Mobile acct b/c I don't have a T-Mobile SIM card in the phone I'm using! Simply put, this is stupid and extremely limiting. Rant done!
Excellent Service...
Kathmandu Nepal
on
11/16/2017
T-Mobile company I use 10 years ago never has a problem.. really I luv it.. just excellent..
Overall review
The question seemed general so I've decided to write instead. Good app, bad company. I have been a customer since 2008 or 2009. Fair billing and plans, when they invested in internet provider structure, there was great service. For 3 or 4 years now I've called them like 3 times in total to let them know about the bad service, no solution. 1 - 2 mbps down, 4 up, bad call quality like 30%of the time.
T-Mobile app review
I've had T-Mobile for a few years now. I'll leave that review for service itself at another time. In regards to this app, I give one star simply because it never works. It's constantly "processing" to the point where I can't even get past the login screen. WiFi is shutoff, I've exited from all apps, it just won't give. There is no reason why this app should be stuck "processing" for 7 minutes straight. Fix it already.
Never works
Never works always on technical difficulties for months now
Thank you
T-mobile always has great customer service and they continually provide me with offers for my family plan! Thanks!
Strong together
Lionel dante
on
11/16/2017
I've been with T-Mobile for 3 years now so far iam 90% satisfy with the service
Service oriented cellphone service.
Albert the Einstein
on
11/15/2017
Coverage is really good
Thanks Mike Tan for helping me switched.
Bye Verizon!! Excellent customer services at T-Mobile office in White Center Seattle. Highly recommended their business. $80 for 2 lines unlimited data, text & phone including free long distance to MX, Canada & others. I'm very pleased 👍😀
Love this app but one issue
Wirelessbiff
on
11/15/2017
The message customer service via the app no longer works it attempts to connect to server rapidly then fails. This occurs on WiFi or cellular Please fix this is a great feature
Ok app SUPER SLOW
Everything is pretty easy to find. But some parts especially the billing is super slow to load up. I literally watched a whole episode of friends in Netflix and it STILL didn't load.
T-Mobile
I love T-Mobile and their fast speeds and coverage. Was on Verizon and was tired of their slow network and their prices constantly going up and their coverage seemed spotty at times. For the app, it's definitely a well made app. Would like to see a widget to help keep track of my data usage. Other then that, I really like the app.
Needs help
Decent when it works, this app unfortunately either fails to quickly open or freezes more than half of the times I attempt to use it. Disappointing for a mobile phone company to be not able to get a phone app right.
Very simple and easy
It's very easy to navigate through the app also very easy to pay bills look anyway items check my data pretty simple app
Fact Sheet
Publisher:

T-Mobile USA, Inc.

Category:

Productivity

Released:

Oct 05, 2012

Current Version Released:

Nov 06, 2017

Version:

3.4.0

Size:

78.3 MB

Compatibility:

Requires iOS 9.0 or later.

Recommended Age:

4+

Game Center Certified:

No

Supported Devices:

iPad2Wifi-iPad2Wifi, iPad23G-iPad23G, iPhone4S-iPhone4S, iPadThirdGen-iPadThirdGen, iPadThirdGen4G-iPadThirdGen4G, iPhone5-iPhone5, iPodTouchFifthGen-iPodTouchFifthGen, iPadFourthGen-iPadFourthGen, iPadFourthGen4G-iPadFourthGen4G, iPadMini-iPadMini, iPadMini4G-iPadMini4G, iPhone5c-iPhone5c, iPhone5s-iPhone5s, iPadAir-iPadAir, iPadAirCellular-iPadAirCellular, iPadMiniRetina-iPadMiniRetina, iPadMiniRetinaCellular-iPadMiniRetinaCellular, iPhone6-iPhone6, iPhone6Plus-iPhone6Plus, iPadAir2-iPadAir2, iPadAir2Cellular-iPadAir2Cellular, iPadMini3-iPadMini3, iPadMini3Cellular-iPadMini3Cellular, iPodTouchSixthGen-iPodTouchSixthGen, iPhone6s-iPhone6s, iPhone6sPlus-iPhone6sPlus, iPadMini4-iPadMini4, iPadMini4Cellular-iPadMini4Cellular, iPadPro-iPadPro, iPadProCellular-iPadProCellular, iPadPro97-iPadPro97, iPadPro97Cellular-iPadPro97Cellular, iPhoneSE-iPhoneSE, iPhone7-iPhone7, iPhone7Plus-iPhone7Plus, iPad611-iPad611, iPad612-iPad612, iPad71-iPad71, iPad72-iPad72, iPad73-iPad73, iPad74-iPad74, iPhone8-iPhone8, iPhone8Plus-iPhone8Plus, iPhoneX-iPhoneX,

Supported Languages:

English;