TapNova doesn't recommend this version of the app.
New in version 3.0.0
Introducing a new way to shop the T-Mobile store—directly from the app. Now you can browse items from a store that fits right in the palm of your hand.
Description
Manage your account without lifting a finger… just a thumb.

Download the T-Mobile app and simplify your life. We allow you to get answers to your questions in a way that is convenient for you, at a time that works for your schedule.

• Pay your bill in as little as two clicks
• Access our top-rated support in a way that is convenient for you
• Checking your data usage is as easy as opening the app

We value your feedback, email us at iphoneapp@t-mobile.com.

View the T-Mobile Privacy Policy at www.t-mobile.com/privacy.
iPad Screenshots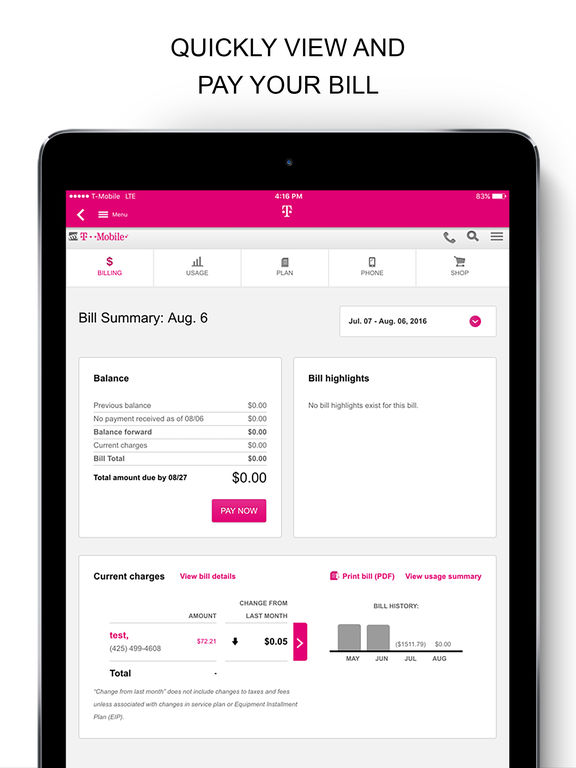 Reviews
👍🏽👍🏽👍🏽
Best phone company I done had.aint had no problems since I've been with them 1 year and 2 months
Won't lets you update password
Each time I try to update my password will always say to me that my new password doesn't meet format or strength when I know it does and even dough I just updated the app it still continues to say that my new password doesn't meet format or strength even though I know it does
Mr. Taylor
Warren Taylor
on
7/21/2017
Service is good. Better that the last cellphone company that I was with
Just switched from Verizon and I'm happy
adrianateamjojo
on
7/21/2017
Love the price and it works just as good as Verizon but I pay less than I did with Verizon!! And I don't have to pay extra if I use all my data cause it's unlimited!! Super happy with t-mobile!!
Very happy
I switched to T-Mobile because of their good customer service claims. I have been very happy with the customer service, the wifi calling and texting, and the cheap rates for international travel. I moved to China, had (slow) data, unlimited texts, and wifi calling home at no extra charge. The service has been fine, and is actually better than other companies in large buildings because of the wifi calling/texting.
Look
Brownboiwest
on
7/21/2017
This app is handy
Excellent App
Exceeded my expectations and is an integral part of my experience with T-Mobile.
Love the new look-update 7/21
Idk what everybody is hating about this app. I absolutely love the new look and feel to this upgrade. It shows me what i need to know, and I can pay my bill without having to go into a browser. Keep up the good work tmobile. U have my approval. 👍🏻 -7/21 this app worked great for what i needed it for. Then came the update and all went down the drain. I've been trying to open it the last two days and it won't go past the processing circle of dearh
Love T-Mobile
Great service
This app is full of crap
I just change my number and I can't get in my account cause my number been changed and I'm trying to reset my password but this app won't let me and it's pissing me off!!!! Like seriously I asking for help even though I mad but I'm sorry I just have a short temper and I really need help to fix this problem if you can help please just help me .. don't won't to hear negative stuff about my review just need the T-Mobile people to help me
Good stuff
evelynblush1
on
7/21/2017
Pretty good so far clear and to the point
Great
Love T-Mobile. Every time I'm at the store always have good deals. The app is pretty good don't use it that much. Also I love the T-mobile Tuesdays
Great support
Every time I walk in a T-Mobile store I receive a welcoming and the team is always ready to assist. Also, auto-pay is the best.
Just awesome
Islam is the truth
on
7/20/2017
The most understanding when it comes to any financial situation. and one of the best networks I've been with.
Try harder!
Yes the new update was needed, (a new login page update🙄) but it's simply not good enough. Introduce touch I.D. and make make changes to the user interface. That would be a great start. Update: Thank you for allowing Touch I.D. Now let's work on that app layout guys. (Think user friendly, interactive, simplified) Apple Pay would be nice as well.
Just as reliable
Was with att forever and switched over about 4 yrs ago. Have had no isues,even lost a phone once and with apple care insurance it was replaced immediately.
T-Mobile is amazing INTERNATIONALLY
Darylcaallen
on
7/20/2017
We have travelled to Europe, Mexico & Canada. We could access data, texts and calls seamlessly. We did not have to interrupt business even though we vacationed internationally. We did not have to pay outrageous fees for visiting for just a week or two. My bill is so much lower than it was on the other carrier.
Love T-Mobile
Best phone company ever best service all around great people to deal with
Opinion
Good application! I can see my billing payment and my data usage
Eh
Sneakymelieky
on
7/20/2017
The app needs work
Tmobile rocks
Been with Tmobile for four months and have received some of the friendliest help than any other cell company in 20 yrs. giv them a shot and I bet u to would agree.
SIMPLY DOES NOT WORK!
ssummers1978
on
7/20/2017
I open up the app and all I see is a pink screen with a "T" in the middle. It will sit like that for hours if I let it. This app simply does not work at all. Fix the bugs! The app in its current form is useless.
Doesn't work
Nothing works... always service unavailable wherever you click in...
Meh
Alan Garcia R
on
7/20/2017
The T-Mobile service is fantastic, but this rating is for the app, not the company or its service. I docked a star automatically for asking me to rate the app as soon as I opened it. How can one accurately rate an app that has yet to be used in any meaningful way? After using it for a while, I realized the app does a lot of things well but falls short in some areas. Most notably some links show http 400 and 500 errors, a new and different error each time you tap until you get lucky and the button works.
Amazing
Agent of God
on
7/20/2017
Very user friendly and makes things a lot easier.
Crashes, technical, cant open
Miss Love 21
on
7/20/2017
At first it was working about a week, then now its been crashing, cant sign in, says technical difficulties. Cant even chat on the website. It says call me. Doesnt show chat.
Love T-Mobile but
Bsbetesurebdbdbddbsbdbeb
on
7/20/2017
I would appreciate a easier to see data usage form and then it will be perfect for me
Better than AT&T & Verizon
Great app
"I'm loving it"
Love the service and prices, they're the best!!!😎💯👌🏾
I love it
Donatello Hamuto
on
7/19/2017
Hahah I do love T-MOBILE IS MY SENAPIIIII 😍😍😍😍😍
T-mobile
Lllloooovvvveeee!!!!
on
7/19/2017
T-mobile is awesome
Love T-Mobile
Love T-Mobile price fair
App is good!
Shina Danielson
on
7/19/2017
Good service, good app!
Love it
Raid3r_nation91
on
7/19/2017
Great app using on my iPhone don't have a problem with it would recommend to everyone
Happy Camper
Babesdaughter
on
7/19/2017
Great service and no problem using app.
Great helpful app
GameSux23296
on
7/19/2017
Love this app super easy and awesome
Missing features
GringitoDeAmerrrrrrica
on
7/19/2017
The new app doesn't allow the user to distinguish between normal data usage and hotspot data usage anymore. I contacted customer support and they advised me that neither the app nor the website has that information anymore; customers now have to contact support to get that information. I'm not a fan of the added inconvenience.
Wilsonsz
Cocowytechoc
on
7/19/2017
T-Mobile is well worth the switch! Great customer service in-store, by phone and on-line.
App is awesome!
Great Outlook mail app
on
7/19/2017
The app was not working for me at first but I work with customer service and now it is working like it should. I think it's a great app if it's working and now that my app is working I love it.
OK service. Its all about the unlimited and Tmobile Tuesday's.
I joined Tmobile simply because I was paying the same price for unlimited everything as opposed to the laughable ATT plans, but the service has been OK at best. I will say their customer support is far and away better than any other I've experienced. I got not one but two welcome calls and after I mentioned the service issue I was sent a free signal booster and I do mean free no hidden charges or anything. T-Mobile Tuesdays are very fun and you get cool freebies so that certainly evens out the occasional signal issue.
App logs me out after each update
Even though I have checked the box to "Stay logged in", the app logs me out after each update. This doesn't make much sense. What authentication method are you using?
Pretty Useful
Makes it easy to view my account information.
The App Does Not Work
This app is terrible. Every time I try to use it I get an error message pop up asking me if I want to be redirected to T-Mobiles website. I'm sick of it. What's the point in having an app if we can't use it. It almost makes me want to switch because I have had to go into the store to get stuff done. Ironically, that's the only place it seems to work. Do better T-Mobile.
Good app for any quick check
I use it just to quickly verify or review some details. Serves the purpose.
Very happy some times 😂
Brebreniko08
on
7/19/2017
Great deals. Family been with you guys since 1997👍🏽👍🏽👍🏽👍🏽👍🏽👍🏽👍🏽👍🏽👍🏽👍🏽👍🏽👍🏽👍🏽👍🏽👍🏽👍🏽👍🏽👍🏽👍🏽👍🏽👍🏽👍🏽👍🏽👍🏽👍🏽👍🏽👍🏽👍🏽👍🏽👍🏽👍🏽👍🏽👍🏽👍🏽👍🏽👍🏽👍🏽👍🏽👍🏽👍🏽👍🏽👍🏽👍🏽👍🏽👍🏽👍🏽👍🏽👍🏽👍🏽👍🏽👍🏽👍🏽👍🏽👍🏽👍🏽👍🏽👍🏽👍🏽👍🏽👍🏽👍🏽👍🏽👍🏽👍🏽👍🏽👍🏽👍🏽👍🏽👍🏽👍🏽👍🏽👍🏽👍🏽👍🏽👍🏽👍🏽👍🏽👍🏽👍🏽😘😘😘😘😘😘😘😘😘😘😘😘😘😘😘😘😘😘😘😘😘😘😘😘😘😘😘😘😘😘😘😘😘😘😘😘😘😘😘😘😘😘😘😘😘😘😘😘😘😘😘😘😘😘😘😘😘😘😘😘😘😘😘😘😘
Fast
Fastest most decent price around can't complain
Yasssssss
cllaarrissssa:)
on
7/19/2017
T mobile rocks 💯
Fact Sheet
Publisher: T-Mobile USA, Inc.
Category: Productivity
Released: Oct 05, 2012
Current Version Released: Jul 17, 2017
Version: 3.0.0
Size: 74.3 MB
Compatibility: Requires iOS 9.0 or later.
Recommended Age: 4+
Game Center Certified: No
Supported Devices: iPad2Wifi-iPad2Wifi, iPad23G-iPad23G, iPhone4S-iPhone4S, iPadThirdGen-iPadThirdGen, iPadThirdGen4G-iPadThirdGen4G, iPhone5-iPhone5, iPodTouchFifthGen-iPodTouchFifthGen, iPadFourthGen-iPadFourthGen, iPadFourthGen4G-iPadFourthGen4G, iPadMini-iPadMini, iPadMini4G-iPadMini4G, iPhone5c-iPhone5c, iPhone5s-iPhone5s, iPadAir-iPadAir, iPadAirCellular-iPadAirCellular, iPadMiniRetina-iPadMiniRetina, iPadMiniRetinaCellular-iPadMiniRetinaCellular, iPhone6-iPhone6, iPhone6Plus-iPhone6Plus, iPadAir2-iPadAir2, iPadAir2Cellular-iPadAir2Cellular, iPadMini3-iPadMini3, iPadMini3Cellular-iPadMini3Cellular, iPodTouchSixthGen-iPodTouchSixthGen, iPhone6s-iPhone6s, iPhone6sPlus-iPhone6sPlus, iPadMini4-iPadMini4, iPadMini4Cellular-iPadMini4Cellular, iPadPro-iPadPro, iPadProCellular-iPadProCellular, iPadPro97-iPadPro97, iPadPro97Cellular-iPadPro97Cellular, iPhoneSE-iPhoneSE, iPhone7-iPhone7, iPhone7Plus-iPhone7Plus, iPad611-iPad611, iPad612-iPad612, iPad71-iPad71, iPad72-iPad72, iPad73-iPad73, iPad74-iPad74,
Supported Languages: English;