Recommended app!
App last updated
Sep 14, 2017
Screenshots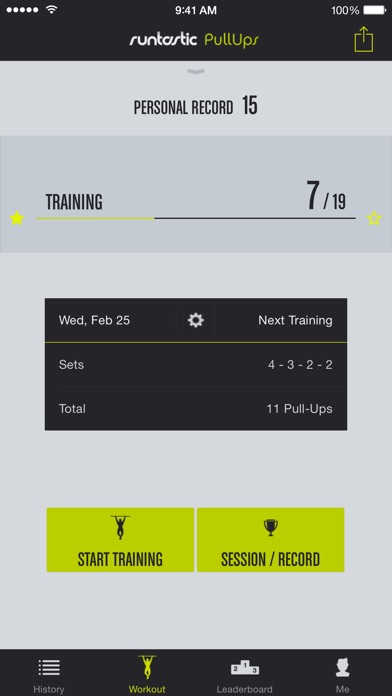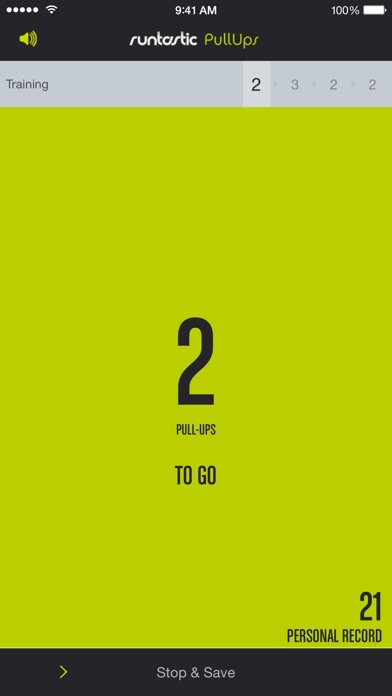 New in version 2.5
The reason for the update?

We've made a couple of improvements to make sure the app is fully functioning for you. Just install the update and continue with your usual activities :)

Love the Runtastic Pull-Ups PRO app? Rate us with 5 stars & tell others why Runtastic Pull-Ups PRO is your favourite training app in the App Store!

Got a question for us? We've got an answer at help.runtastic.com!
Description
When life gets complicated - pull yourself up to the challenge! Pull-ups are the best exercise for a strong back, arms and a toned upper body. Good thing you found Runtastic Pull-Ups! Download the app and voilà, you'll have a PERSONAL TRAINER on your iPhone/iPad.

Pull-ups are among the most famous bodyweight strength moves ever, plus they require minimal equipment. No bar at hand? You can do your pull-ups with rings, a tree branch or bars at a park, get creative! A scientifically developed training plan makes the most of your efforts while keeping you motivated on your way towards your goal. What else? You don't have to count every repetition - let the accelerometer of your iPhone/iPad take over. And now, there's one thing left to do: Try it out. You can do this!

APP FEATURES & BENEFITS:
- Counts completed pull-up repetitions using accelerometer
- Access to Level 1 of the scientifically developed training plan
- Voice Coach for constant feedback
- Personal records
- Upload workout activities to Runtastic.com
- Integrate Runtastic activities to your MyFitnessPal account
- Share your success on Facebook, Twitter or via email
- Collect motivating badges for your performance
- Automatic countdown timer for your rest between exercise sets

FEATURES & BENEFITS PRO VERSION:
- No ads!
- Three levels based on scientifically developed training plan to reach 30 pull-ups
- Set a reminder for your next workout
- Personal records & exercise statistics (i.e. monthly or yearly stats)
- Leaderboard for personal records and overall repetitions: compare to others and see how you rank with your Runtastic friends

FEEL THE THRILL
Stats about your completed pull-up repetitions are not only highly motivating, but offer you a great and useful overview of all your sessions. Make use of your personal records to boost your motivation even further and keep setting new PRs for this classic upper body strengthening move. Pull-ups are an ideal move to complement your push-up training.

UNIQUE
Your pull-ups are automatically counted using the accelerometer of your iPhone/iPad.

Practical, interesting, informative: You can upload your fitness data to Runtastic.com, if you want. There you can access all your stats anytime, as well as monitor your success thanks to your personal training log. Remember, you can also share your achievements with your friends on Runtastic.com, in social networks or via email!

It's hard to come up with an exercise that challenges your upper body as intensively as pull-ups: they're ideal for your back, arms and core. Let us help you keep motivated to reach your training goal of 30 reps. Can't wait to get started? Grab that bar and give it your all!

Runtastic Pull-Ups: Pull your fitness to the next level!

Runtastic Terms of Service: https://www.runtastic.com/in-app/iphone/appstore/terms
Runtastic Privacy Policy: http://www.runtastic.com/in-app/iphone/appstore/privacy-policy
iPad Screenshots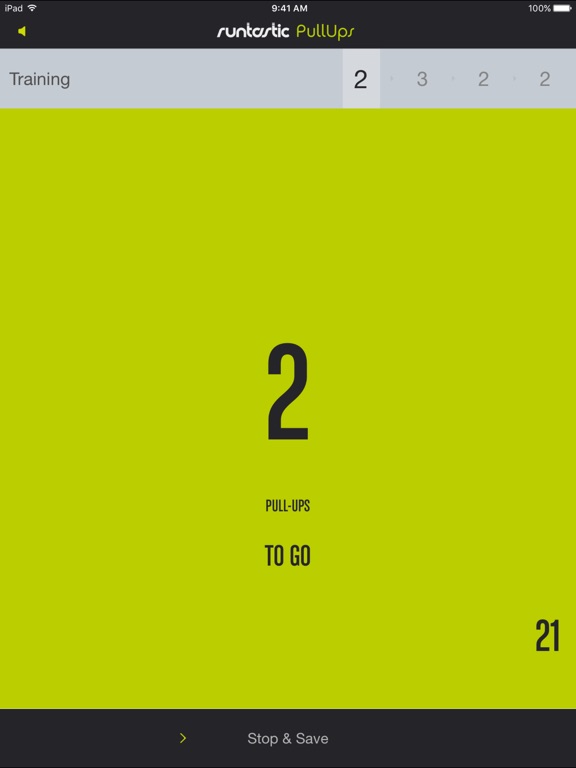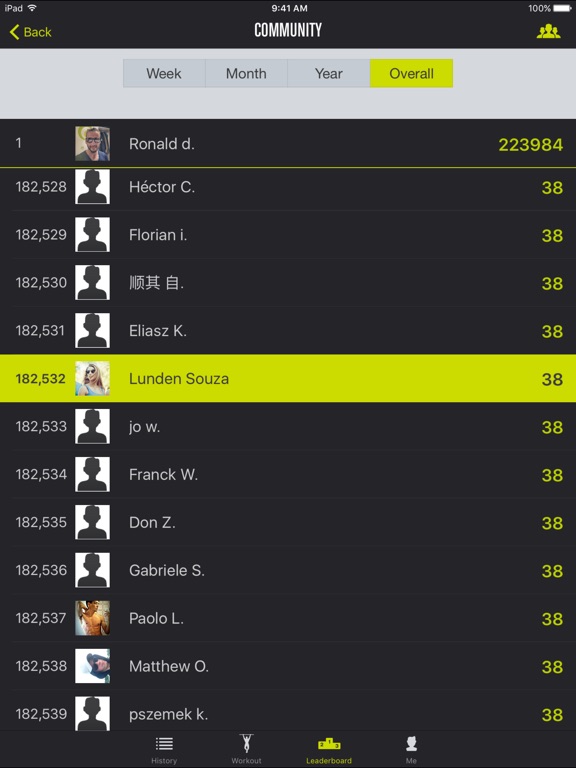 Reviews
Force log In
This app can't be used until you input you personal info .
Love it but...
App works great and I've used it for several years now. Only reason I give it 4 stars is I wish it would access apple health so it could track the exercises.
Over designed and under delivers
Bottom line: I'm a big fan of runtastic, this app is a big let down and I feel gypped out of $2. Poor: -the motion sensor doesn't always work -the rep progression is rigid--you can't manually edit what you actually did, or change what you want to do -the social media component is obligatory -the badge system is extraneous Good: -I love how the app is tied in with runtastic apps so that my pull-up workout shows up in my accomplishment list along with runs and body weight workouts. Cool! Not worth the hassle however. I'm going back to just six weeks to track my pull-ups.
Great. Auto counting needs to go though.
Great app. Great pacing and progression. I actually went through a few different progressions before I got decent strict pull-ups. I started with chin-ups, until I could do 10 unbroken. Then I reset back to day 1 and started neutral grip pull-ups. Finally, I reset back to day 1 again for pull ups. That worked really well for me. These types of pre-pull-up progressions should be added to the app. I also agree other commenters who say the counter need to go.
A Force to Login App
SoCalAnthony
on
12/11/2017
Ugh. I really dislike apps that MAKE you login to use. Another data/user collecting app that I'm not going to bother with.
Badge notification
I am leaving a miserable 1 star review and will not change it until the developers of this app enable the badge notification on this app and the pull up app. When I get a notification, I want the little badge show up next to the icon of the app on my iPhone. FIX THIS PLEASE!!!
Counter that doesn't!
Infiniti Pi
on
10/30/2017
Not only does the counter not work, there isn't an option to manually override. Give me one reason to go through the trouble on my next workout.
Turn Off Auto Counting?
This needs to be an option, because the accelerometer count does work very well (iPhone 7 Plus). It just counted two for me after five pull-ups. I'd prefer an option for manual data entry.
RuntasticPro
Hello all, this app helps me to stay technically incline to chart and share my progress with friends!
Just follow along and get stronger...
It makes it really simple and easy to follow along with the apps routine and increase your reps pretty quickly. It works, try it.
Great, but...
Da programmer1
on
7/17/2017
The counter sometimes misses a pull-up. Otherwise, fix that and it's 5 stars!
Great body weight exercise app!!
I downloaded this app as a bundle and it is by far the best app for upper body weight training. This app takes you through 4 sets of different repetitions and gets harder as you progress through the training plan. By far the best app!
Great Workout!
dcovington64
on
5/21/2017
This app makes you work, track and reach your goals. It does everything but the pull-ups for you.
Great
This app makes me keep workout
Pull-ups
Over 13,000 pull-ups to date! Really works and lats are flaring! Great app! It doesn't get easier you just get stronger!
Motivational
I could do this on paper but the App is a daily reminder that I have a workout pending. It motivates me to hit it everyday and the results are great!
Does the job
If you supply the effort.
Good app
This is a good app for you
Good app
Starts off slow, work your way up
Runtastic App Sensors Stink
Hyacinthiusup
on
1/19/2017
I own several of these apps and they are all good. But the forced use of the iPhone app sensor to count exercises is frustrating. I end up doing all the workouts and then have to fiddle with my phone later on to get the reps to "count." Isn't there some way you could make the use of the app sensor optional?
Good but needs work
Samythebull64
on
1/18/2017
Good app to have on your phone to help you keep up with exercising. But the interface needs some changes and would be nice to have it as a widget. Add option to touch screen to indicate the reps completed since sometimes it does not count correctly or you don't want to carry your phone while exercising.
Really good regimen
I like how it starts out slow. Not expecting you even be able to do one lol. But seriously it's really good training. I started out barely able to do 5 at proper form. Up to about 12 without cheating. And the proper form is really important. I talked to a trainer realized I wasn't using proper form and actually had go back a level lol.
Simple, Effective, Motivational
Loving FB in Portland
on
11/21/2016
Very nice program. Easy to use. I bought it to track my workouts found myself getting excited and motivated by the charts and achievement stats.
Power to the people!!
This is an awesome and motivating app. I just wish two things. One is they combine all of those four apps and make it a cycle workout. Like push-ups then switch to sit-ups then pull ups then squats then add dips. That way it's a full workout and they keep track of each all in one app. Other than that. It's def the best app collection :) thanks guys. Please consider my proposal :) :) :)
феноменална
феноменална апликација
Love these apps!
Doctrav1650
on
10/18/2016
I own the 4-pack, and each app has a very good progression which really push yourself. Also, good voice prompts, rest time and counter help you know exactly where you are in the program. I always look forward to completing the next level!
It's great
Dennisreynolds
on
7/28/2016
Actually doing pull ups now
At 23 pull-ups and counting...
Great app for increasing pull-ups. Gotta stick with it, it'll pay off
Almost there!
Really like this app - pretty darned good motion sensor and solid programs. Needs the "in-between" levels (e.g., 5, 15) for me to rate five stars as there is little chance for us mere mortals to go directly from the 10 to 20 program successfully. I have the other apps from Runtastic as well and they work together quite nicely.
Misses Reps
MajorChutney
on
6/24/2016
Nice interface. The auto record feature needs some work though. No one wants to train worried about if their reps will be counted.
Gets the job done
Has some issues with tracking but it depends on proper pull up technique
Workout app
Good app for keeping track of pull ups. The rep counter doesn't work.
Awesome app for pull-ups
This app will track you pullups with pretty great accuracy. Easy to use.
Not as good as other Runtastic apps
I like the other apps, but this one does a really poor job of counting reps. I usually have to count myself and then shake the phone to count fake reps to catch up. I'm sure I may not have prefect form but it should be close enough
Great app
Motivational and wonderfuyl app!
Great Workout App!
ChicanoPower5000
on
4/1/2016
Helps me keep track of my pull ups.
Love it
This is a great app, highly recommend it.
Genial
Tengo un iPhone 6, y las 4 aplicaciones funcionan geniales
Good app
Cratesthetrue
on
1/24/2016
It was fairly effective. I went from 2 pull ups to 15 in about 2.5 months.
Inaccurate and quirky
The app doesn't always register a rep which is its main function so that's disappointing. Another negative is if you don't reach that day's goal and have to repeat the day it's not at all easy where to change that in the settings.
5 estrellas
Excelente app.
Simple motivational app for dedicated people
punkdoutbass2max
on
1/15/2016
If you like goals and progress + you're disciplined this app is for you and so are the other runtastic specific muscle group apps. For example, pull ups, abs, 6 pack, push ups, and squats. If you commit to the schedule and follow the plan you see results. Stick to it! Can't speak for the other apps they make b/c I only have time to do these ones. Know thy self ;)
Great to Motivate
It's simple and so great to use.
Full of ads and nags
Brian2015Healthy
on
12/20/2015
This app is full of ads even though I have the paid version. Some if the ads are for exactly what I bought! If that wasn't bad enough, it keeps nagging me to write a review. So here it is: yuck.
Fact Sheet
Publisher:

runtastic

Category:

Health & Fitness

Released:

Oct 30, 2012

Current Version Released:

Sep 14, 2017

Version:

2.5

Size:

51.1 MB

Compatibility:

Requires iOS 9.0 or later.

Recommended Age:

4+

Game Center Certified:

No

Supported Languages:

Czech; Dutch; Flemish; English; French; German; Italian; Japanese; Korean; Polish; Portuguese; Russian; Chinese; Spanish; Castilian; Chinese; Turkish;