This version of the app is not recommended
App last updated
Sep 14, 2017
Screenshots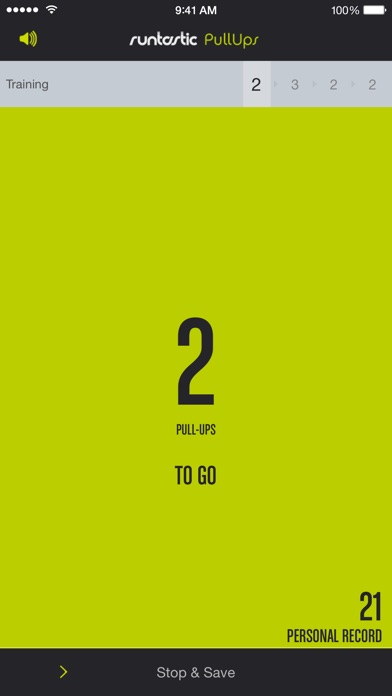 New in version 2.5
The reason for the update?

We've made a couple of improvements to make sure the app is fully functioning for you. Just install the update and continue with your usual activities :)

Love the Runtastic Pull-Ups app? Rate us with 5 stars & tell others why Runtastic Pull-Ups is your favourite training app in the App Store!

Got a question for us? We've got an answer at help.runtastic.com!
Description
Pull yourself up to the challenge - we believe in you! Pull-ups are the best exercise for a strong back, arms and a toned upper body. Good thing you found Runtastic Pull-Ups! Download the app and voilà, you'll have a PERSONAL TRAINER on your iPhone/iPad. Pull-ups are among the most famous bodyweight strength moves ever, plus they require minimal equipment. No bar at hand? You can do your pull-ups with rings, a tree branch or bars at a park, get creative! A scientifically developed training plan makes the most of your efforts while keeping you motivated on your way towards your goal. What else? You don't have to count every repetition - let the accelerometer of your iPhone/iPad take over. And now, there's one thing left to do: Try it out. You can do this!

APP FEATURES & BENEFITS:
- Counts completed pull-up repetitions using accelerometer
- Access to Level 1 of the scientifically developed training plan
- Voice Coach for constant feedback
- Personal records
- Upload workout activities to Runtastic.com
- Integration with Apple Health: Upon registration, your Apple Health data will be transferred to your Runtastic account
- Integrate Runtastic activities to your MyFitnessPal account
- Share your success on Facebook, Twitter or via email
- Collect motivating badges for your performance
- Automatic countdown timer for your rest between exercise sets

FEEL THE THRILL
Stats about your completed pull-up repetitions are not only highly motivating, but offer you a great and useful overview of all your sessions. Make use of your personal records to boost your motivation even further and keep setting new PRs for this classic upper body strengthening move. Pull-ups are an ideal move to complement your push-up training.

UNIQUE
Your pull-ups are automatically recognized using the accelerometer of your iPhone/iPad.

Practical, interesting, informative: You can upload your fitness data to Runtastic.com, if you want. There you can access all your stats anytime, as well as monitor your success thanks to your personal training log. Remember, you can also share your achievements with your friends on Runtastic.com, in social networks or via email!

Pull-ups mainly target your back, but are a great move to strengthen your arms and core as well. Not many exercises challenge your upper body as intensively as pull-ups. Can't wait to tone your muscles and watch them grow? Let's go!

Runtastic Pull-Ups: Pull your fitness to the next level!

Runtastic Terms of Service: https://www.runtastic.com/in-app/iphone/appstore/terms
Runtastic Privacy Policy: http://www.runtastic.com/in-app/iphone/appstore/privacy-policy
iPad Screenshots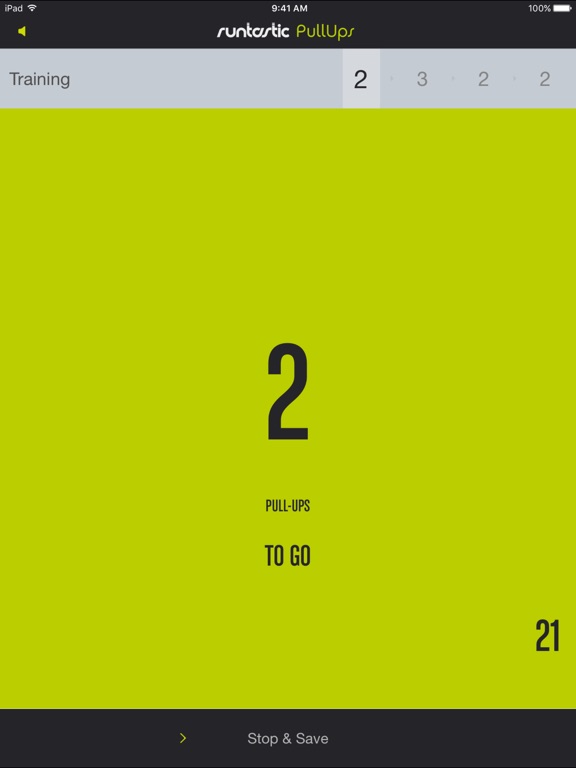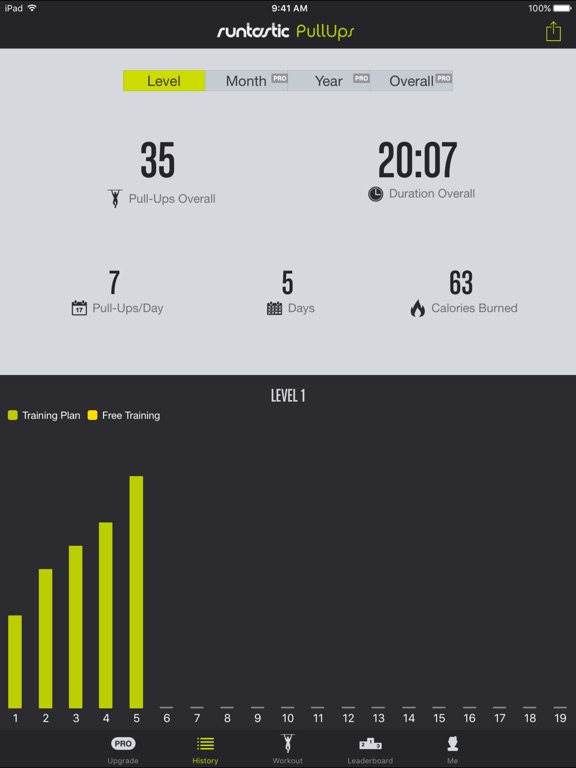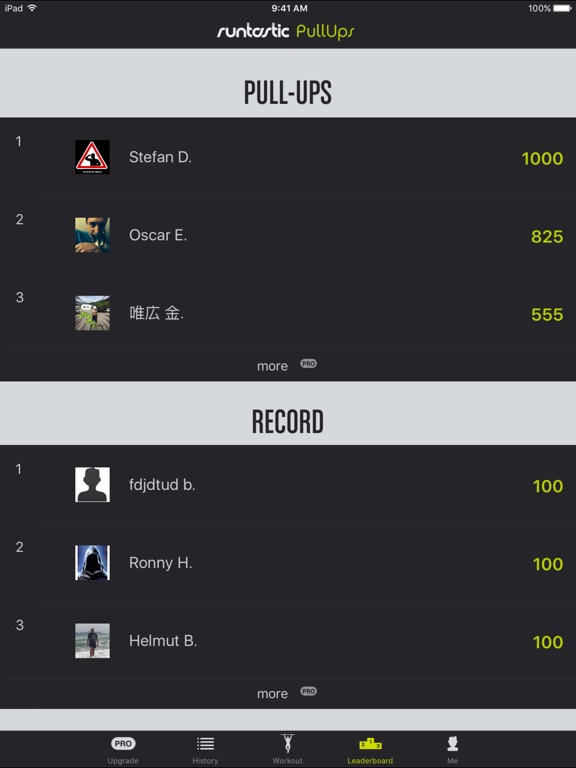 Reviews
Trash
The Bearded Goon
on
3/15/2018
Waste of time. You'll spend the workout trying to get the stupid all to actually log your workout.
Doesn't always work
Coach Merritt
on
2/4/2018
It's hit or miss on actually registering the pull up. I'll do the recommended number then have to raise and lower my phone by hand because it didn't pick up any of my reps.
Great workout
This is a great app. I finally found it again. Thank god.
Pull ups
Great for someone getting back to working out.
Horrible
im not tellin u
on
7/26/2017
It took my money
Great program!
Thank you!
Nice
Measuring is the only way to progress long term
Great app!
TomSssssssssssss
on
3/14/2017
Great app!
I like it
Good app I use it daily
Good app
Will be good if the developers make the integrations with apple health
Doesn't register pull-ups
Followed instructions; doesn't count pull-ups; hence, a pointless app. I did about 7, trying different pockets and whatnot; only registered 1. Tried hanging from neck too. Tried reinstalling, etc.
Not usable without strap or pockets
I would like this app if I had the option to manually put in how many pullups I did without having the phone on me. The way it is now, with the gyroscope or whatever it is called, it says I do more pullups than I dis.
Good for tracking in theory
But the tracking system doesn't work
Nagging
App constantly nags to 'rate us 5 stars' and gives pop up adds for other apps by the company you already own. No way to turn either of these off, even with the paid version.
Good
Matthew10251
on
9/10/2016
Kept my track of my workouts
Love it
It's really helped me set a routine
OK
Good concept. The sensing of a pull up doesn't usually work but shaking the phone after pull-ups seems to trigger the app to count. The "Integration with Apple Health" isn't true. There isn't any integration that I can find. That line needs to be removed from the app description.
Achieved my goal
831 saladbowl
on
5/28/2016
This app is awesome ! Great motivator an it actually helped me achieve 20 pull ups. Bad reviews to me sound like they didn't want to put in the time and effort. And to add I got my 20 with the lite app
Doesn't work for me. No customer support.
This app isn't working for me. Please download and thoroughly test the free versions of these apps BEFORE giving Runtastic your money. I had rotator cuff surgery a few years ago, and pull-ups scare the crap out of me. I can barely do 2 complete pull-ups. I bought the entire Runtastic bodyweight fitness pack without trying it out, because it came highly recommended online. I tried two of the apps; Sit-ups and Pull-ups. The Sit-up app works great. This Pull-up app isn't working at all! I wore my iPhone as the app instructed, no reps were shown. It was as though nothing happened. So I stopped and started 4 times and not a single pull-up was recorded. And this app doesn't even give me the ability to manually input my exercises. I have tried to use it every day just to see if I might have done something wrong before. Nothing changed at all. The Runtastic support pages are of no help and no one has answered my email. I'll be requesting a refund from Apple if I don't hear from Runtastic by the 27th.
So annoying
Decent app but constant reminders to login are so annoying
All that you need!
Perfect app for the perfect bodyweight exercise!
Love the scheduling but...
The pullup counter uses motion sensing only, and doesn't always work well. Devs : add a manual counter option. Seriously.
Simple to use
Simple to use
5star
Easy to use great overall app for beginner to intermediate users
Good workout... But
A great way to get your pull workout routine going, but it has it's faults that need to be fixed or added. Doesn't always count the pull up and you need to be able to add manually how many you did. This needs to happen to fix what the phone cannot detect.
Won't sense my pull ups
The subject says it all. I don't know if it's because I'm on the 2nd floor or that I'm a short guy. But only senses the first pull up. WTH
Cool!
Stanislav-Dnepr
on
9/29/2015
Very useful app!
thanks
mehran bakhshi
on
9/25/2015
thanks really nice
Okay. Doesn't always detect the pull up
I like the other Runtastic Apps. But for some reason, this one is iffy on the sensing of my pull ups. I placed my iPhone 5s in my pants pocket and it sensed 50% of the pull ups that I did. Tried it again on a different day with the phone in my shirt pocket and it read 1 out of 8 pull ups.
Easy Does It
Mandanambapam
on
6/10/2015
This app will start you out easy and work you to a strength you can only hope you have until it's revealed.
Espalda en barra
Muy contento con el sistema.
Absolutely motivating
Rocking chic
on
4/27/2015
I love all the Runtastic apps. This gives me something I can do with little time, space, and equipment. Definitely recommended.
Stupid, horrible sensor feature that is stupid
Is anyone listening to EVERYONE who hates the motion sensor feature of this app? It doesn't work, so let the user turn it off. This app has succeeded in making me angry instead of getting pullups done, because the design is so freakin stupid. Did I mention that it's stupid? Please...fix it!
Pauses
Jazz 'n' Bikes
on
2/8/2015
Pull ups are really hard to do. So if your app pauses randomly while you are in the middle of your set it ruins your workout.
Great for a free workout app!
This is definitely helping Meade progress!
Ads are immediate and obnoxious
Open the app, and you get a popover ad. Dismiss it, and you get a loud video ad that you can't skip. Pro tip: let people at least try your app before bombarding them with ads. If the app was good, I would have gladly paid to remove ads. I deleted it before I could even try it.
Doesn't recognize
This app doesn't recognize when I do pull-ups
Won't Recognize When I Pull Up
I use most of the runtastic apps, but this is the only one that gives me trouble. I do exactly as the instructions tell (put the phone upright in my pocket). Almost every time I use the app, it won't recognize when I pull up. I can't even get it to register when I wave the phone up and down in the same motion with my hand. It says I haven't done any pull ups even though I have done them all with proper form and full extension. If this app continues to not register, I'll have to go to another brand of pull up app that works properly.
Awesome App Idea and All
Perfect I've had no problems with it, since I learned to use it. To those that are new be at the bar, and hang from when the app says get ready to go. You'll have no problems. *By the way you can start as soon as it says go, you don't need to need wait until it tells you how many pull ups your doing.
Good, but too many adds
Huckle_buck
on
10/23/2014
It is a free version. I get the adds, but so many. Easy enough to click past them. I really do like the app.
Good, but doesn't register correctly
superfreak929
on
9/28/2014
All of the other apps in this series are better balanced to the movements needed to activate the counter of the exercise being done. This one, you need a significant downward motion followed by a hard stop. I have 2 solutions currently. First option: Do your pull ups during the break time and then wave the phone around to get it to register how many you did. Second option: Land hard on the ground after each pull ups. Once again, this is a great motivator to keep track of your exercise schedule but the accelerometer detection isn't quite right.
Doesn't always work.
Does not always count the pull-ups.
Could be improved
I would like that the runtastic app be able to transition to push-ups & pull-ups during my hike. But I like how I can manually input my numbers to track my improvement.
iPad version is trash unless you star the iPad to your chest
I don't understand why I had to wait for my friend to come fake pull up my device. That just doesn't make sense. Either give an option to manually input or remove the iPad version entirely and state that the app uses motion sensing in the store, description, and in the run page where moving is the next expected step. Until this is done, this app is trash and should not be available.
Good app
Needs tighter motion sensor control.
Irritating ads...
Pass on this download
Kool app, starts off slow
BOSS_HOG ✈️🚶
on
6/20/2014
👍👌👏
Fact Sheet
Publisher:

runtastic

Category:

Health & Fitness

Released:

Jan 24, 2013

Current Version Released:

Sep 14, 2017

Version:

2.5

Size:

54.4 MB

Compatibility:

Requires iOS 9.0 or later.

Recommended Age:

4+

Game Center Certified:

No

Supported Languages:

Czech; Dutch; Flemish; English; French; German; Italian; Japanese; Korean; Polish; Portuguese; Russian; Chinese; Spanish; Castilian; Chinese; Turkish;