Recommended app!
App last updated
Sep 14, 2017
Screenshots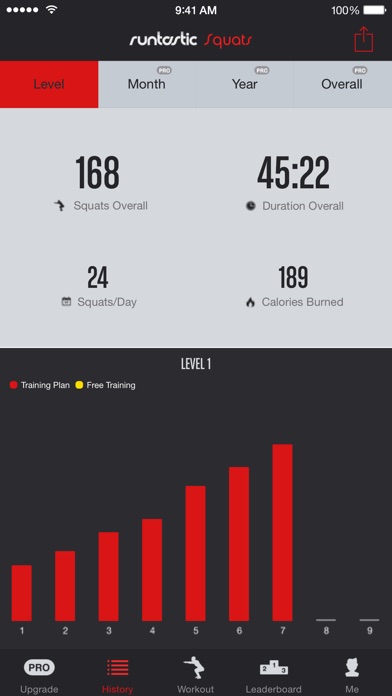 New in version 2.5
The reason for the update?

We've made a couple of improvements to make sure the app is fully functioning for you. Just install the update and continue with your usual activities :)

Love the Runtastic Squats app? Rate us with 5 stars & tell others why Runtastic Squats is your favourite training app in the App Store!

Got a question for us? We've got an answer at help.runtastic.com!
Description
Life has its ups and downs - we call them SQUATS! Want strong, defined thighs and a firm butt? Download the Runtastic Squats app and get started - no equipment needed, only yourself and a good attitude. Turn your iPhone/iPad into a PERSONAL TRAINER who accompanies you, step by step, towards your goal. Challenging? Yes. Too difficult? Not at all! Squats not only strengthen your legs, they also train your core. Let Runtastic help you show off that sexy backside you've always wanted!

APP FEATURES & BENEFITS:
- Counts completed squat repetitions using accelerometer
- Access to Level 1 of the scientifically developed training plan
- Voice Coach for constant feedback
- Beat your best and set personal records
- Upload workout activities to Runtastic.com
- Share your success on Facebook, Twitter or via email
- Integrate Runtastic activities to your MyFitnessPal account
- Collect motivating badges for your performance
- Automatic countdown timer for your rest between exercise sets

THE BEST OF THE BEST!
The Runtastic Squats app counts all your repetitions and provides you with interesting stats. Check out an overview of your fitness activities to see your progress. Plus, beat your own records and set new personal bests - you'll be surprised of how fast your performance improves. Squat baby, squat!

UNIQUE
Your squats are automatically recognized using the accelerometer of your iPhone/iPad.

There's more: You can upload your fitness data to Runtastic.com, if you want. There, you can access all your stats anytime, as well as monitor your success thanks to your personal training log. Remember, you can also share your achievements with your friends!

Proper form: When training your legs and glutes with squats, make sure your back is always straight, core activated and knees do not go beyond your toes. Use the Runtastic Squats app to up your motivation and reach your goal. We're convinced you'll get there soon and be proud of your achievement. Now, get going!

Runtastic Squats: Your start into a fitter life!

Runtastic Terms of Service: https://www.runtastic.com/in-app/iphone/appstore/terms
Runtastic Privacy Policy: http://www.runtastic.com/in-app/iphone/appstore/privacy-policy
iPad Screenshots
Reviews
Worth the download!
Great app!
Great Get Moving App
Reviewer247
on
10/26/2017
I like exercising in my home and these Runtastic apps are perfect for that. I feel myself getting stronger.
Needs to remember
I am also someone who bought all four before getting a new iPhone. Now it's asking to re purchase again
It wont restore my purchase
Ive updated my phone recently. It remembers my history on here but not that I bought the full version of this, crunches, and pushups.
Love this!!!!
Shane Swann
on
10/10/2017
I was looking for a new squat app since my old one was incompatible with the new iOS update! OMG. I so love this. It's interactive and keeps me motivated. Please don't discontinue!
Great for beginners
If you're just starting a workout regimen, this is an easy way to keep motivated doing simple exercise so you don't burn out too quickly. Great app! I also use their push up app which has really kept me motivated to work out
Amazing app
I have searched for many apps but nothing is as good as this one. The best app as of now.You can go for it.
It is stupid because it doesn't count my squats!!!
Mdiehcdainvstufhvetifh
Great motivator
SKirtonBear2
on
4/28/2017
Love that it keeps track for me, counts down each number of reps, and the "screen cracking" when I beat my last count of extra squats is even more motivating. It doesn't play your personal music playlists, or any music, but if you start your own music app first they don't interfere with each other. Then it syncs with Runtastic and Runtastic Me and I see my time and calories calculated there. The only strange thing is it has my bday wrong: I've deleted and reinstalled the app, restarted my iPhone and made sure my info was correct on the website-still wrong here only. Weird. Still recommend it!
Good app
MpossibleKim
on
4/22/2017
Even though I don't use it everyday like I should, it's a great app. I like that it keeps track of the extra squats that I do in each set and adds them to my history.👍🏾
Squat
It is very good app
Awesome
Great app for fitness enthusiasts! It counts your sit ups automatically, reminders, etc.
Love it!
Lost90lbs_SoFar
on
1/7/2017
Love this app!
Amazing
It's absolutely perfect! It's exactly what i needed!
Nice app
It's very nice Everytime so harder, easily
Good
Ahmeddotmorshidatgmail
on
12/20/2016
Just a good training companion
Great App... Amazing Accuracy
This app couldn't be any better and easier to use, very please with its performance.
OMG!!!
Sonya Murzikova
on
10/17/2016
Cool!)
Best one
It is the best app for sport i have ever used
Not as silly as you think
I've only been doing this for 3 weeks now but I can already feel a difference in muscle tone. It's starting to fight that middle age butt sag and I like it.
Awesome
Aizhan Minzhilkieva
on
6/28/2016
I'm usually super lazy when I have to do sports. So I really need someone who can force me to exercise. With this app I can do it without a coach at home, coz this app is so much fun. I even wish it could be harder. I kinda like sports now. Amazing
What now?
I just finished my 12 week program and am not ready for it to be over. Why are there only three levels? If you buy the app it's exactly the same, it ends after level three. It's completely useless to me now, I want to continue doing squats but why would I start over when I've been working so hard to get to where I am now? I like that it keeps track of my progress and I want it to keep doing that. I wish there was an "open squat" where it would still count my squats. It can't be hard to add more levels.
Great app
Easy to use and follow along with
Okay so far!
I like how it counts my squats and records it.
😄😄😄😄😄✌🏿️
It's so goooood💪👞
I didn't think I could
I mean usually I give up, but I don't know why, but when I used this I did way more than I can do in any of their apps such as the sit ups one. I don't usually Wright a review but the pop up annoyed me and this is interactive so it motivates me and idk how but this really really works. I'm going on vaycay so I used this and I'm loving myself and this yayayayay
Buenaaa
Ramonalmonte90
on
3/22/2016
Muy buena la recomiendo
Need for watch
I wish it was compatible with my Apple Watch:(
Like a PT
It is good app to achieve the goal of your body shape!!!
Works
Push-up master 22
on
1/6/2016
Works
As described
John Stocktunn
on
12/2/2015
As described.
Simple and Great
A no hassle app.. 5 stars
Love it
It's been pushing me for a month now. Gone from 4 squats to 45 in a row. And my butt never looked better.
Best workout app
PRAISE DA LORD
on
9/24/2015
If you want to get in shape, use all the runtsstic apps, you can use the free ones, they work great!
That's bomb!
Stanislav-Dnepr
on
9/24/2015
Awesome! Very good, useful and convenient application!
I recommend all runtastic apps!
Love all these apps. They start out easy and work you slightly harder each step!
Best
Best running app EVER!!!!!
Easy to Use
The apps are fun and easy to use. They add an extra bit of motivation. Only drawback is having to download a bunch of different apps for the various exercises. It would be more functional to have one integrated app.
Great squat instructor
Nicely designed interface with everything you need to start doing a great exercise in just a few minutes a day
Beginners
Great for Beginners!
Amazing App
Alex Versace
on
5/19/2015
This app acts like your personal trainer and makes you do more than u actually thought you couldn't 10/10 would recommend this app!
Absolutely love it!
Rocking chic
on
4/27/2015
I was kind of dreading doing my exercises but these Runtastic apps are making me excited to do them everyday! So precise and I love the interface. Going to show my friends today.
Sentad ollas
Muy bueno el seguimiento y la rutina.
Great apps
easy and simple interface. precise recognition and nice voice assistance. Fun to use this app. Just would like to have integrated app because many related app installations are annoying.
Fact Sheet
Publisher:

runtastic

Category:

Health & Fitness

Released:

Jan 24, 2013

Current Version Released:

Sep 14, 2017

Version:

2.5

Size:

54.7 MB

Compatibility:

Requires iOS 9.0 or later.

Recommended Age:

4+

Game Center Certified:

No

Supported Languages:

Czech; Dutch; Flemish; English; French; German; Italian; Japanese; Korean; Polish; Portuguese; Russian; Chinese; Spanish; Castilian; Chinese; Turkish;