Screenshots
New in version 4.7.3
*iOS 9 App Crashing has been fixed.

* Pre-Match lineups info now includes players doubtful for the match and players who have been ruled out.

*The app has been fully optimised for iPhone X.

*The way to your favourite League pages has become shorter than ever. Simply tap any league name on the score list under your home screen and it will take you straight thee. Easy.

*Some things haven't changed though. Content is fully personalized, Game Center keeps getting richer and the live updates are still the fastest around. Have fun!
Description
Live the Game with 365Scores, the complete sports experience!

Join over 30 million other fans and enjoy 24/7 live coverage of 9 different sports. Including the fastest scores updates on earth, Live Stats, Breaking News, In-Game Insights, Highlights, Lineups, Live Tables and much more for over 2,000 leagues of Football, Tennis, Basketball, Rugby and other sports.

Fully personalized content and notification services.

● Choose what teams and leagues you want to follow or pick your games in that moment.
● Warning! Our live match notifications may be faster than your game stream. It also allows you to select exactly which events to follow, get breaking news alerts and activate our night mode so you can have a life while doing so.
● Watch the best moments of the match (And the day) with the BUZZ stream right after they happen
● Own the transfer market with our special transfer feed.
● Follow the sports TV schedule so you can always catch your game on the bigger screen.
● Pre-game and live insights for all the major football & tennis competitions
● Live Match Tracker, the best way to be in the game when you can't see the game!

SUPPORTS 9 DIFFERENT SPORTS:
Football, Soccer, Tennis, Basketball, Rugby, Ice Hockey, Baseball, Volleyball and Handball.

AND MORE THAN 2,000 COMPETITIONS:
NFL, NBA, MLB, NHL, MLS, NCAA, Premier League, FA Cup, UEFA Champions League, The Football League, La Liga, Bundesliga, Serie A, French Ligue 1, Wide coverage of South American, african and Asian leagues. Wimbledon, Roland Garros, US Open, Davis Cup and much more!

We're always happy for any feedback! For any question or inquiry email us at: contact@365scores.com or visit us on:
Facebook: http://www.facebook.com/365scores
Twitter: http://www.twitter.com/365scores
Instagram: http://www.instagram.com/365scores
iPad Screenshots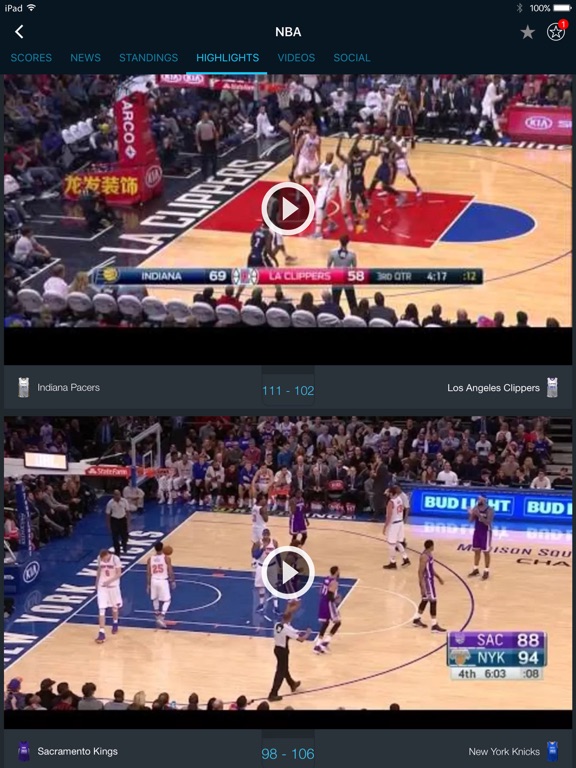 Reviews
بغداد
nwfal aljanabe
on
12/10/2017
الاعلانات مزعجة
Thankfully
Villagewolf17
on
12/7/2017
Love this app, when am at work this is how I check all the scores. This is how I get update for wherever is happing in soccer leagues. Thank you to the one that made this app.
365Scores
تطبيق رائع بس ياريت لو أكو بث مباشر
Top
Muataz mohammed
on
12/5/2017
Very good
Ads makes me delete it
Toooo much Ads get my nerves. Deleting it much better than watching Ads.
so slow
البرنامج بطيء جداً ويعلق كثير لا انصح به
Front page ad
Hey Your app is stuck on the advertisement when i open. I am unable to tap on the cross button to close the ad so i can run the app. I am using iphone x ios the latest 11.1.2
Iraq
The application is great but if you can add live streaming of the matches
Love it but?
bschwally09
on
11/26/2017
Love this app very much! Today, however, the app stopped sending notifications. Get it fixed and this review will go to five stars.
Not working
The app is not opening after the latest version in iPhone 7s+ 🤨🤨🤨 I have deleted the app 3 times and install it but still not working iOS 11 h
Hi
Salamasdewqsfgdf
on
11/21/2017
Good
Apps not open
Firoz Hassan
on
11/18/2017
The apps does not works or open after undated the latest version in IOS.
برنامج مجنون مبدع
حمد الجنيبي
on
11/18/2017
جميل اخبار اول ب اول 🔥🔥
Great app, however one annoying issue.
On iPhone X. The interstitial(maven ad) ad covers the entire screen and the quit button goes right under the status bar. It's imposible to dismiss the add. The ad won't go away not even when tapping on it. I have to force quit the app and hope the same interstitial ad don't show up again. I know this is not an app issue, but the ad itself should dismiss when user taps on it.
ADS
Once the ads appear in the application I can't press the X button in order to exit it. iPhone X
Me encnata
Sebastián betancur
on
11/5/2017
Me mantiene actualizado en los deportes
Best
Lord amirsina
on
11/5/2017
Best of the bests
جده
محمد اليزيدي
on
11/4/2017
لو تخلي مقاطع الفديو من داخل التطبيق اقيمكك ٥ نجوم
برنامج رائع وممتاز
عموري الجبوري
on
11/1/2017
برنامج روعه
Ideas on how to improve
Love the app just wish you would add motor sports to this. For example NASCAR, F1, X Games, Major Arena soccer League would be cool since I can get some of my minor league teams on here.
Superb
Ahmet Turannnnn
on
10/25/2017
An awesome app
Great App , But 10$ to remove ads?😳🤔
Ahmedcrow83
on
10/25/2017
I love this app , but i rated it 4 stars coz of its expensive pro version Why 10$ to remove ads ? Most of Apps request 2-4 $ to remove ads It's a sports news app . Make it cheaper plz to subscribe with you for an Example make an offer for a limited time : 2 $ to remove ads Then will rate it 5 stars Thank you
👍
Manolo Zapata
on
10/22/2017
Excelente!!!
برنامج رائع
اتمنى لكم التوفيق من العراق
The best
Best App for any sports
Confusing
The app is a little difficult and confusing to navigate. It didn't show the Oct. 19th USA Women's soccer friendly match. On the Widget, I'd like it if it would show games further in advance, rather than a day ahead. Sometimes, it won't show some upcoming games until the day before or day of when other games are shown. What I do like about the app is the amount of teams it has, unlike other apps.
Perfect program
U r amazing by transmit the newest news
Amazing app again! Thanks for fixing it!
Update: thanks for fixing the app. It works awesome again :) Hi, since yesterday (oct 11, 17) I have problems with the app, because it crashes after the update. Please fix it because I use it a lot. Thkx!
ios 10.3.3
BrotherJohnX
on
10/13/2017
I can't opened this app on ios 10.3.3. Please fix this issue. Thanks
Not good update
After latest update I can't access the program anymore. I already delete and install the app but without success. I'm using IPhone 5.
Good app
thereal34913
on
10/12/2017
The app is great and all and helps to know scores all around the world, it just keeps crashing now on ios 10.3.3 , it was working just fine until today don't know what's wrong with it hope it gets fixed
Wont open
The app had an update, now it doesnt do anything, it just starts and then it close by itself!!!!
Omerk750
تطبيق اكثر من رائع
365
PrayForSyria
on
10/10/2017
Best app ever, thank you who ever made it
أفضل تطبيق للمسابقات الرياضية جميعها
أفضل تطبيق للمسابقات الرياضية جميعها
If
I just don't know how much you want it me
365 Scores
Ótimo app parabens
Bekas Barwari
Bekas Barwari Kurdish
on
9/30/2017
It's a best app ❤️❤️❤️❤️ Thank you so much
Best football app
This is an awesome app because the matches are always updated and it tells u everything happening in a match .
.
I've using this app for 2 y , it's the best ever
Its nice
Mr buoshbuosh
on
9/28/2017
No more match in 1 October no more match
Would have gave it 5 stars
=wilsterman=
on
9/26/2017
It is great except for the fact that it gave me a virus when I tried to watch a video of a goal
When i open video to play it says virus found
Please fix, its scary
Nice but
There is some difficulties with the options & I hope that any choices is more easier
Fact Sheet
Publisher:

365Scores LTD

Category:

Sports

Released:

Nov 05, 2012

Current Version Released:

Nov 29, 2017

Version:

4.7.3

Size:

131.3 MB

Compatibility:

Requires iOS 9.0 or later.

Recommended Age:

4+

Game Center Certified:

No

Supported Devices:

iPad2Wifi-iPad2Wifi, iPad23G-iPad23G, iPhone4S-iPhone4S, iPadThirdGen-iPadThirdGen, iPadThirdGen4G-iPadThirdGen4G, iPhone5-iPhone5, iPodTouchFifthGen-iPodTouchFifthGen, iPadFourthGen-iPadFourthGen, iPadFourthGen4G-iPadFourthGen4G, iPadMini-iPadMini, iPadMini4G-iPadMini4G, iPhone5c-iPhone5c, iPhone5s-iPhone5s, iPadAir-iPadAir, iPadAirCellular-iPadAirCellular, iPadMiniRetina-iPadMiniRetina, iPadMiniRetinaCellular-iPadMiniRetinaCellular, iPhone6-iPhone6, iPhone6Plus-iPhone6Plus, iPadAir2-iPadAir2, iPadAir2Cellular-iPadAir2Cellular, iPadMini3-iPadMini3, iPadMini3Cellular-iPadMini3Cellular, iPodTouchSixthGen-iPodTouchSixthGen, iPhone6s-iPhone6s, iPhone6sPlus-iPhone6sPlus, iPadMini4-iPadMini4, iPadMini4Cellular-iPadMini4Cellular, iPadPro-iPadPro, iPadProCellular-iPadProCellular, iPadPro97-iPadPro97, iPadPro97Cellular-iPadPro97Cellular, iPhoneSE-iPhoneSE, iPhone7-iPhone7, iPhone7Plus-iPhone7Plus, iPad611-iPad611, iPad612-iPad612, iPad71-iPad71, iPad72-iPad72, iPad73-iPad73, iPad74-iPad74, iPhone8-iPhone8, iPhone8Plus-iPhone8Plus, iPhoneX-iPhoneX,

Supported Languages:

Arabic; Catalan; Valencian; Croatian; Czech; Danish; Dutch; Flemish; English; Finnish; French; German; Greek; Hebrew; Hungarian; Indonesian; Italian; Japanese; Korean; Bokmål, Norwegian; Norwegian Bokmål; Polish; Portuguese; Romanian; Moldavian; Russian; Serbian; Chinese; Slovak; Slovenian; Spanish; Castilian; Swedish; Thai; Chinese; Turkish; Ukrainian;