TapNova recommends this app!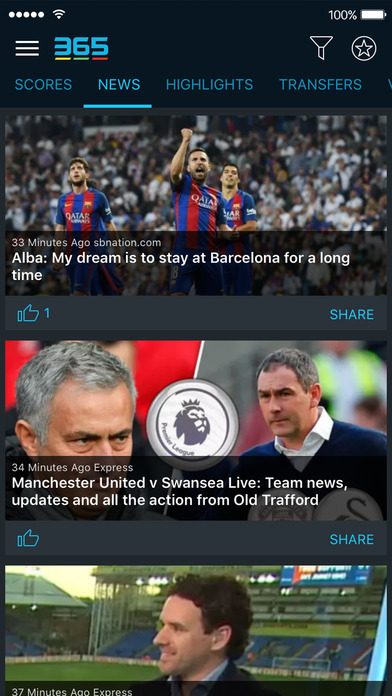 New in version 4.5.0
Follow 365scores for a summer of sport including events such as Wimbledon, World Cup qualifiers and the Confederations Cup.

The Summer transfer window 2017 is about to officially open! With us you can follow confirmed transfers and rumors that are updated in our feed 24/7, get notifications about transfers and even express your opinion about each transfer and rumor.
Description
365Scores - Livescore App with Football, Soccer, Basketball, Tennis and other Sports scores, standings, news, videos, live notifications and highlights. All in ONE PLACE with a unique experience.

FEATURES:
- Live Scores
- News from all your favorite sources
- Goals and Highlights videos
- Push notifications in real time
- Worldwide TV schedule
- Tables and Schedules
- Match and League Statistics

AND EVEN MORE:
- Transfer Market: Confirmed transfers and rumours
- Lineups and formations
- Live Match Tracker
- Players profiles
- Join the conversation in our stadium

SUPPORTS 9 DIFFERENT SPORTS:
Football, Basketball, Rugby, Tennis, Ice Hockey, Baseball, Volleyball, American football and Handball.

AND MORE THAN 1000 COMPETITIONS:
● NFL, NBA, MLB, NHL, MLS, NCAA, La Liga, Premier League, FA Cup. Bundesliga, Champions League, Serie A, US Open, Roland Garros, Wimbledon, Davis Cup and much more!

Keep updated on your sports and connect with us:
Facebook: http://www.facebook.com/365Scores
Twitter http://www.twitter.com/365Scores

We are here to help, please send us feedback from Settings in the app or at contact@365Scores.com
iPad Screenshots
Reviews
👍🏾👍🏾👍🏾👍🏾👍🏾👍🏾
خالد بن محمد بن سعيد
on
6/24/2017
Very very good
Better app
Keep up its amazing app
العراق -بغداد
مشتاق الجبوري
on
6/14/2017
برنامج راقي بس مرات يحدث بي تغييرات مو حلوه مثلا الان الشريط الجانب للتاريخ على اليمين انلغى هو كان كلش فايدني
برنامج راقي
Omar king 656
on
6/13/2017
من احسن البرامج الرياضية حيث يتمتع بالسلاسة وسرعة نقل الاخبار والدقة في النقل والشمولية بحيث يجعلك لا تحتاج الى اي برنامج رياضي اخر
More soccer info
Need soccer as a mean source of information. Please and thank you.
Not useful
I enjoy a number of sports. But I am only I am interested in select teams. After selecting my teams I was presented with every score c for every team EXCEPT the ones I had chosen. Not good.
برنامج رائع
ماهر الزهراني
on
6/3/2017
يعرض جميع الاندية جميع الالعاب الرياضة ليست مكتفية بالكورة ممتاز واكثر من رائع
La mejor aplicación de deportes
Simplemente excelente .!!!!
365SCORES 👍🏻
It is very good Nice program 👍🏻
T
برنامج قووي وسريع في النتائج ولاحظة ملاحظة ان الدوريات الاوربيه يرسلون لك الهدف قبل لا يتسجل يكون البرنامج اسرع من النقل التلفزيوني
Standing and fixture
Why is there no "standings and fixture" in the drop down menu for iPad users
Scores
Default SCORES tab now default to SOCCER. I have been wanting this for over a year. Thank you.
الجزائر
تطبيق رائع يستحق التحميل ويستحق 5نجوم ولكن نرجوا منكم ان تغير الارقام في اللغة العربية الى الارقام الفرنسية وشكرا
iraq
تطبيق ممتاز جدا ونشكر جهدكم ونتمنى لكن المزيد في تطوير التطبيق
Best
It's best app of sport for ever but please add broadcast live on app thanks
مال امكم دخل
الوليد سامي عيسى الحمد
on
5/10/2017
مدري شتقصد بس البرنامج حلو
Avaliação
Eufrasio Paulo
on
5/8/2017
Muito boa esta aplicação.
برنامج ممتاز بس
اريام إلى اطياف
on
5/8/2017
يعلق بعض المرات
Lo mejor de lo mejor
Lo mejor de lo mejor
Easy
Bakaar&moneer
on
5/7/2017
Nice
Really can't say
I got this app because I was looking for a new sports app due to the demise of team stream It received a number of good reviews and I was looking forward to being one of their satisfied followers However, every time I open it, I am forced to watch an ad which forces me to close it I understand the need to make money but I can't even look at a score ? So, no review, I never even look at this app
Rating v
Awesome app 👍🏻👍🏻👍🏻
برنامج رهيييييب والله
اجمل برنامج لمتابعه اخبار الكوره والمباريات انصحكم فيه 👌🏿
Excellent App
Best app to keep me update in all soccer games results
Excelente app
Excelente app, siempre actualizado con el fútbol que me interesa.. muy recomendable
The best
Faisal alkuwari
on
5/5/2017
10of10
Can't choose national teams?
Hi, how can i choose a national team? And a national tournament?
365Scores
Great application +++++++++
العراق
اتمنا لو كان تنقر على فريق و تطلع المباريات القادمه و شكرا
365 Scores
It's an amazing app ❤️❤️.
الاعلانات التي تظهر كلها خادشه للحياء
الاعلانات خادشه للحياء .
دولعي /الحريه
محمد ابو رضا
on
4/30/2017
جيدا
برنامج ممتاز جداً
بتوفيق 👏🏻❤️
برنامج ممتاز والله
جدا جميل
Arab snake
You are the best 😃😃
العراق اربيل
mohameed iraq
on
4/29/2017
شكرًا لكم برنامج ممتع
Fix hanging
A very good application but it's still have hanging issues
Player Name Notifications
Thank you for your response. I mean by adding the player name on the notification is adding a separate option to have the scorer name. Example: 1st notification is the goal. "As fast as it is now". 2nd notification is the player name.
Best app
Best app after facebook
.....
كثر من ذي الالعاب
on
4/26/2017
.................
التطبيق ثقيل على جهازي
تطبيق جميل ومتعوب عليه لكن يعيبه ثقله على أجهزة الجوال
برنامج اكتر من رائع
ممتاز
Fact Sheet
Publisher: 365Scores LTD
Category: Sports
Released: Nov 05, 2012
Current Version Released: Jun 14, 2017
Version: 4.5.0
Size: 128.8 MB
Compatibility: Requires iOS 8.0 or later.
Recommended Age: 4+
Game Center Certified: No
Supported Devices: iPad2Wifi-iPad2Wifi, iPad23G-iPad23G, iPhone4S-iPhone4S, iPadThirdGen-iPadThirdGen, iPadThirdGen4G-iPadThirdGen4G, iPhone5-iPhone5, iPodTouchFifthGen-iPodTouchFifthGen, iPadFourthGen-iPadFourthGen, iPadFourthGen4G-iPadFourthGen4G, iPadMini-iPadMini, iPadMini4G-iPadMini4G, iPhone5c-iPhone5c, iPhone5s-iPhone5s, iPadAir-iPadAir, iPadAirCellular-iPadAirCellular, iPadMiniRetina-iPadMiniRetina, iPadMiniRetinaCellular-iPadMiniRetinaCellular, iPhone6-iPhone6, iPhone6Plus-iPhone6Plus, iPadAir2-iPadAir2, iPadAir2Cellular-iPadAir2Cellular, iPadMini3-iPadMini3, iPadMini3Cellular-iPadMini3Cellular, iPodTouchSixthGen-iPodTouchSixthGen, iPhone6s-iPhone6s, iPhone6sPlus-iPhone6sPlus, iPadMini4-iPadMini4, iPadMini4Cellular-iPadMini4Cellular, iPadPro-iPadPro, iPadProCellular-iPadProCellular, iPadPro97-iPadPro97, iPadPro97Cellular-iPadPro97Cellular, iPhoneSE-iPhoneSE, iPhone7-iPhone7, iPhone7Plus-iPhone7Plus, iPad611-iPad611, iPad612-iPad612, iPad71-iPad71, iPad72-iPad72, iPad73-iPad73, iPad74-iPad74,
Supported Languages: Arabic; Catalan; Valencian; Croatian; Czech; Danish; Dutch; Flemish; English; Finnish; French; German; Greek; Hebrew; Hungarian; Indonesian; Italian; Japanese; Korean; Bokmål, Norwegian; Norwegian Bokmål; Polish; Portuguese; Romanian; Moldavian; Russian; Serbian; Chinese; Slovak; Slovenian; Spanish; Castilian; Swedish; Thai; Chinese; Turkish; Ukrainian;