Games
Adventure
Entertainment
Action
Recommended app!
App last updated
Nov 28, 2017
Screenshots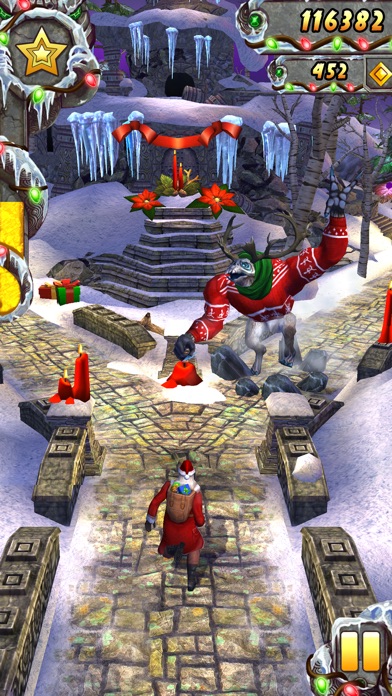 New in version 1.43
Welcome to the Frozen Festival!
- Lights, presents, snowmen and more
- New zones - Ice Caves and Frozen Cliffs
- Introducing two new costumes - Forester Freya and Lumberjack Sigur
- New cookie coin skin
Description
The sequel to the smash hit phenomenon that took the world by storm!

Temple Run redefined mobile gaming. Now get more of the exhilarating running, jumping, turning and sliding you love in Temple Run 2!

Navigate perilous cliffs, zip lines, mines and forests as you try to escape with the cursed idol. How far can you run?!

FEATURES

* Beautiful new graphics
* Gorgeous new organic environments
* New obstacles
* More powerups
* More achievements
* Special powers for each character
* Bigger monkey!!!

Become a fan of Temple Run on Facebook:
http://www.facebook.com/TempleRun

Follow Temple Run on Twitter:
https://twitter.com/TempleRun
iPad Screenshots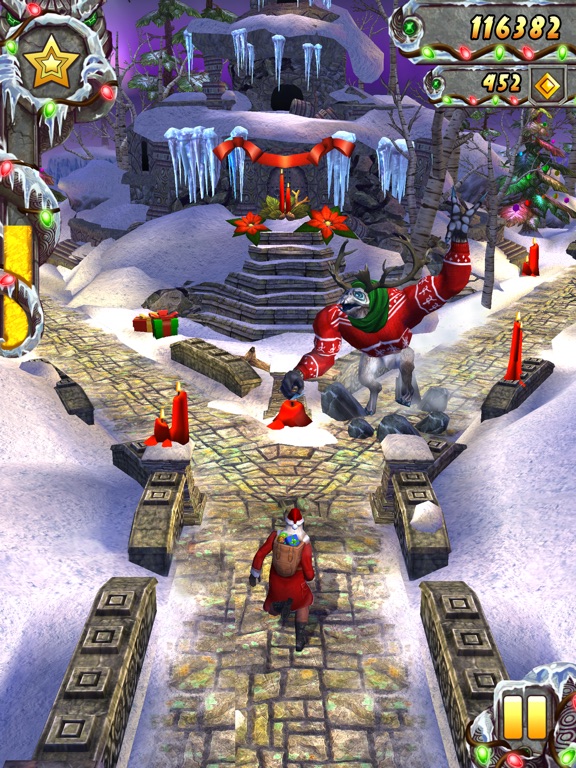 Reviews
Temple run two
Temple run tow
on
1/21/2018
This game is so much fun
To easy
mynameofjeff
on
1/21/2018
To easy not fast at all
Temple Run 2
Overall it's a great game. I like the image and the journey the game takes you in.
Temple run is awesome
Paisley the minion😜
on
1/21/2018
This game is so fun. It's a good way to pass time. It's kind of like minion rush but it's still fun
Love the game
This game is fun and never is boring. And the places you play in are fantastic.
Really Fun!
Shendricks 567&
on
1/21/2018
I just love this game 😍 and I think that the studio should make more games too which means more fun for other people!
Temple run 2
Love it my 4 year old cousin is always saying we neeeed to play it him and I LOVE the game it gets 5 stars
Temple run
I like this game because it teaches that if you take something for example the gold thing you will get punished like in the game your punishment is getting chased by a gorilla
AWESOME GAME BUT NEEDS WORK
This game is truly awesome but every time I die it glitches and plays an ad then doesn't let me save myself.
Eh
hey!!!!!!!!!!!!!!!!!!!?
on
1/20/2018
Could be a little more realistic
Zunayed star pig
Enayet.Mahmood
on
1/19/2018
Zunayed star pig
Best app
CountCoolCat10
on
1/19/2018
Best app
Good 👍🏾👍🏾👍🏾
Emily bortee
on
1/19/2018
Good👍🏾👍🏾👍🏾
Awesome! But...
tacofisher123🌮
on
1/19/2018
This is an amazing game, but, the girls voices are too pretty. And the men's voices are all manly. Don't you understand? These are people who are running from a giant demon monkey! Make it more tough! Still amazing though.👌🤷‍♀️
Is temple run worth installing?
I think temple run is definitely worth installing it passes the time like if your waiting in a long line or if your a kid and you have a long ways to go it really passes time! Trust me DONT PLAY THIS AT WORK!🤣 anyways I rate this five stars I highly suggest this app! #LoafThisGame -signed PuppyPlayz (aka youtube channal lol XD) ❤️❤️❤️
Good game
This is a great game for passing time. The only problem is that I have over 2million points and over 1110 diamonds and there's nothing to spend them on besides maps and they add those for each season so it's not worth spending diamonds 💎 on the maps and idk what people are saying about having to spend money on diamonds 💎 if u do challenges u get 20 just like that But this is the game i love the most 😄😄😄😄😄😄😄😄😄😄😄👍
Temple run review
Greenfooties
on
1/17/2018
I think temple run is a great game but it glitches out and doesn't do anything that I press sometimes but temple run is still one of my favorite games ever!!!!!!!💜❤️🧡🖤💛💚💙
I love this game!!!
Candylandgal
on
1/16/2018
It's so much fun if you get bored real easily then it's not for you because it's the same way over and over again but if you want to beat your level get chase by a monster running and deferent upgrades then this is the game for you!!😄😄👌😃😜
Ur soooo good at making games!!!!
I love when u make games make more!!!!! Love, Sophia schroeder!!!!❤️
Dear temple run workers:
I love ur game I play it all the time if I'm bored or not it's so fun I love all of the TEMPLE RUNS I love BRAVE 1,2,3 ALL OF THEM!!😘😜😄❤️
Temple run
I hate this game IHTG
Boo
Cleopatra runs too slow and bumps into everything. The monster is too big when running behind you, you can't see anything
Game is fun!
Games is fun but background music is annoying. Every time I turn it off it starts playing again. PLEASE FIX! I don't want to hear it. 🙄
Reese
I think this is a awesome game it's my favorite and animal jam
Great for when you poo
I take 30 minute dumps and it gets boring. Not anymore thanks to temple runner 2!!
AWEMAZE BALLS!
TIPIDRAGONLOVER
on
1/14/2018
It's amazing, the traffic is perfect, I ❤️ it! If there is a Temple Run 3, please tell me
5 Stars
KillBarney87
on
1/13/2018
The game is really fair and fun there is so much too do and so much to collect there's a variety of characters and maps to choose definitely one of if not my favorite infinite running games
Review
Cool game but pretty darn difficult though !!
Great
patriotmarley
on
1/13/2018
Nice
Thanks for the great game
I can't believe how great this app is 👍🏻👍🏻👍🏻👍🏼👍🏼👍🏼
I love this app
Heavenfell_lover
on
1/12/2018
This app is amazing I have played it so many times and each and every time it is just more fun. And it also teaches you about time skill so I would recommend to anybody
Not the same
Played the original and prefer it. Graphics and game play look cheap and rushed, and over complicated a game that was originally fine.
Hmmmmm
Hailstorm's blizzard
on
1/12/2018
Sooooo, good game, but, could make it that little bit easier
Temple run two
Jaleigh bean
on
1/12/2018
Great game you should be able to change the monster chasing you though
Good game like it
Ghost rider1022
on
1/12/2018
I hate that that this game lags here and there. I hope they fix this issue and I will change my rating to 5 stars! I would hope they come up with more maps and use them for daily quests not just the lost jungle and sky summit maps
It's addictive
It's very addictive to say the least. But it's really fun
Please update!
AsiaBonner1104
on
1/11/2018
I played this game a lot while I listened to music. Lately, when I click out of the app for even a second, it will freeze and start over.
Love your temple run games
Mrz_willis09
on
1/11/2018
I just want to say thank you for building this great game
So great
This game is so funnnn
Fun
googlemynoodle
on
1/10/2018
Really fun
Keith
Keithastronaut51
on
1/10/2018
Very nice
AWSOME
This game is so much fun. I love it so much.
temple run
I like this game because is has this twisted and terns
Frozen Festival is BEST
I've been playing this game since it debuted (2-3 years?). I love it and enjoyed the Frozen Festival map best of all. I hoped I could buy it at the end of its free period but found out it's gone today. Please make this map (like all the others including Halloween) available for gem purchase!
The good temple run
Hey. So I love temple run it is the best thing ever I probably think that your game is better than subway surfers do y'all think so 😃😃😃😃
Great game but
Master at real Monopoly
on
1/8/2018
Temple run 2 is like my favorite game. It is so fun and I love all the characters and the characters have good prices, but one thing is is that the different themes that you could run in are really expensive and it's just way to much jems. I think that it should be like 50 gems or if not gems like 15,000 coins. Also the costumes for the people are way to expensive, they should be like 20 gems. That's all I would change If I could but it's a great game otherwise!
Progress
I love this game. My only issue is losing progress. My game often restarts if I pause in the middle of a long run. Also I am unable to pick up where I left off on a new device without losing everything. I would like to be able to login in through Facebook or even my email, as opposed to Game Center that Apple got rid of awhile ago.
😤😍😘
This game is totally so much fun. I love all the characters and artifacts you can find. But it is bothering me how this game dose not have special skins for the coins on Christmas or Easter or thanksgiving and any other holiday ! So please make those changes to this app. But otherwise I love it.
Fun but to much adds
angle in disguise 😇
on
1/7/2018
This game is so fun but there are way to many adds so if you could cut down on the adds it will be the best game ever! Love the fun locations and characters. Great game but to many adds!
Fact Sheet
Publisher:

Imangi Studios, LLC

Category:

Games

Released:

Jan 17, 2013

Current Version Released:

Nov 28, 2017

Version:

1.43

Size:

167.6 MB

Compatibility:

Requires iOS 7.0 or later.

Recommended Age:

9+

Game Center Certified:

No

Supported Languages:

English;

Parental Advisory:

Mild Cartoon or Fantasy Violence;