Recommended app!
App last updated
Aug 26, 2015
Screenshots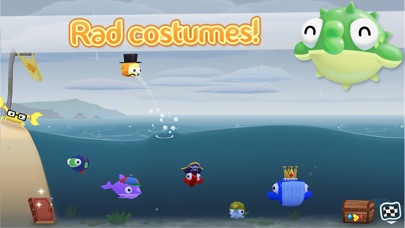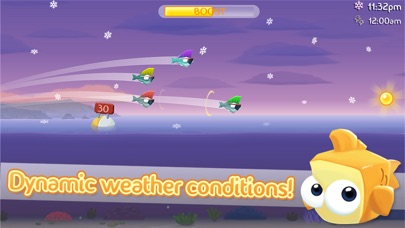 New in version 1.2.8
General bug fixes and minor improvements.
Description
Launch a daredevil group of fishy friends to the sky in Fish Out Of Water, an adventure across the sun, sand and surf!

This is a brand new mobile masterpiece from Halfbrick, creators of Fruit Ninja and Jetpack Joyride!

Fish Out Of Water is the story of six feisty fish longing to soar above the ocean. To help them get airborne, players simply throw their fish of choice right out of the water and watch as it flies through the clouds and skips merrily along the waves!

Battle the elements and choose your throw wisely as the weather changes every few minutes. Expect the unexpected with crazy tsunamis, icebergs and even an immense jellyfish swarm!

The Crab Crew will score your overall performance, and that's where the action really heats up. Compete in daily competitions with friends or a huge variety of individual challenges. As objectives are completed, players level up and unlock crystals that can be crafted to unleash awesome bonus powers!

Fish Out Of Water is an easy choice for instant fun – a seaworthy search for the perfect 10!

****

IMPORTANT NOTICE TO PARENTS

This game may contain:

- The ability to purchase optional content using real money. You can disable in-app purchases in the settings menu of your device.
- Promotional material for Halfbrick products and trusted business partners.
- Links to external social networking sites intended for users over the age of 13.
- Direct links to the internet which may open the default web browser on your device.
- The ability to see user-generated player names and social leagues. These features can be disabled from within the game.

Privacy Policy: http://www.halfbrick.com/pp
Terms of Service: http://www.halfbrick.com/tos
iPad Screenshots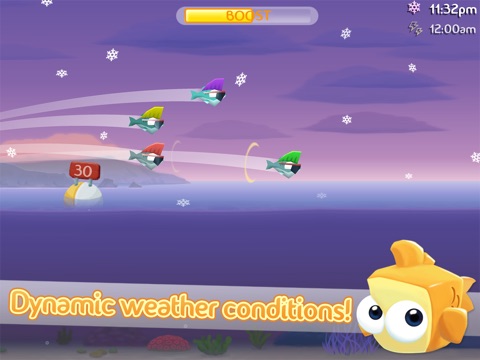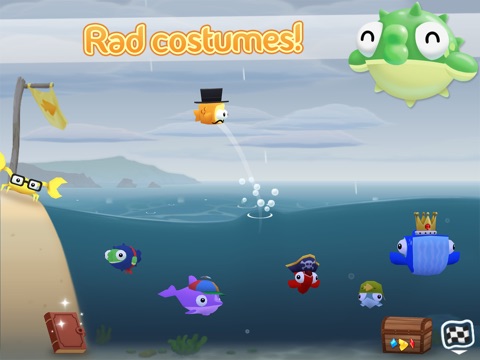 Reviews
Kind of boring at the end 😴
Fan Fiction Writer
on
1/21/2018
At first, going through the game is fun. But when you get to the end of the game, it makes you repeat levels 15 through the ending level over and over again. You wonder "why hasn't anything changed?" But you never know why. Until you look in the picture book. It shows the pictures of those levels disappearing and appearing once you recomplete the levels. Personally, I deleted this game on my iPad. Overall, it's a good game, but I was disappointed in that last part.
Neglected app and neglected customer
I reported a visual glitch months ago (iPad 5th gen, iOS 11) and have yet to receive and response from the developer. The app has been woefully neglected for over 2 years and it seems they have no interest in fixing it. Too bad.
🦄
It is amazing and fun 😁😁😜!
The best game ever!
This game is awesome
Lots of fun and anyone can play
Great game
Fantastic game! So addicting
This is the only game I play at night. Thanks for creating this awesome game
Ads
monotonicity
on
10/15/2017
Paid for full ad free awhile ago. Played today. Ads. Ads. Ads. Everywhere. 1 Star. Deleted.
The best game ever
I love it
That you get treasure chests.
Thank you!
Fun
Super fun game love it!!!
Great game, silhouette fish glitch
Robotgabeman
on
9/16/2017
Great game, but after every round there is this weird glitchy fish silhouette. Please fix
Love The game
Very fun game very good😍
Just get it...
You won't be disappointed.
Biscuits and groovy
Love this app. I had a few years back and just recently downloaded it again. Seriously my favorite game.
Five star game.great game to play when your board plus it's a data free game too
Great great great game
Great game!
This game is so fun, I would love to see more updates and more fish.
Best game I've ever played. But...
It's seriously the best game I have ever owned. But halfbrick please stop trying to make me join a league. It's never going to happen.
AMAZING!!!
I love throwing the fish and seeing their unique personalities and throwing styles!! It is so cute and fun to see the judging and the characteristics and the power ups!! What a great game!
Ruined with ads, no longer kid friendly
This was a great game--I have a 3 year old who loved it. But now it's so riddled with ads we can't go a minute without the game breaking. Each intrusion has a different method to dismiss--a problem when the user can't even read. I just want my kid to be able to flick the fish, is that so much? Dumping the app since there's no IAP to make them go away (only to buy in game currency which I'll never do).
Great game
Fun game but all you do is throw the fish
How can a game be this fun???
Hammie Mammie
on
7/7/2017
I absolutely LOVE this game!! The characters in it are so cute and the backgrounds are so amazing! Not to mention the addictive game itself!
I AM IN LOVE WITH THIS GAME
When I was like 4 I played this game and I loved it and I deleted it by mistake I searched for the game for 6 years (I am now 10) And when I found it today (7/5/17) i was like OH MY GOSH I FINALLY FOUND IT!!! (I teared up a little bit) AND I DOWNLOADED IT RIGHT AWAY! I am never deleting this game because I love it (I might delete it someday obviously because I'm not gonna be 60 yrs old and playing this game.you get what I mean) BUT YEA I LOVE IT SO MUCH!!!😍😍🙏🏼❤️😄
Really boring
There's nothing much here. Can't believe this is all there is to it. Incredibly uninteresting and uninspired game. Not worth any money.
AMAZING!!!🐠🐟🐡🐬🐳
WARRIORCATFAN4
on
6/28/2017
No words for how great this is!!!!! I have no complaints except I think there should be more fish! But other than that, it's GREAT!!!
Fun
itouch lover
on
6/17/2017
I love it .It is a fun but hard game .My favorite fish is Finlay because he is cute
Love
We we mhjgib
on
5/29/2017
I love this game
Fun
Awesomest game ever made!
on
5/26/2017
Simply fun!
the Best
Dipdyed Directioner
on
5/20/2017
this game is so flippin pure istg ol finlay is the cutest thing ever immcrying i want to applaud the creators of this game like they all just sat down at a conference table and was like what should we do and some guy was just "I HAVE AN IDEA" and this game was made oh my god i want a squad like this i love them all so much micro is so cute theyre all so cute anyways good game
Good Game
I really like this game. I just wanted to say that there was grammar error in it that would make an eight-year-old embarrassed. I won't say what, it just has something to do with a Rockfish.
Reminds me of childhood
As a little kid I played this on my iPod 3 now I have a iPhone 6s that's how long I've been playing the game!!!
Love it!
This app is so much fun I play it all the time. It is a great game for all ages and it also includes learning throughout the game! If you are reading this get this app it is so much fun and you learn a lot about aquatic territory.
Amazing... please add more!!!
KiwiUnderoll
on
2/22/2017
I love this amazing relaxing game, it would be EVEN BETTER if you could add, a fish that is meant to go high up (so you could add rings up there mabey), more of the story book when you level up, more weather, and more missions and costumes. If you could get an update out that would be the BEST!!! So please for me and all the people who absolutely ADORE this AMAZING FANTASTIC BEAUTIFUL and RELAXING GAME. Thanks.
New Fish! but good
Kitty cat condo
on
2/18/2017
Love it! But needs a new fish!!! <3
Awesome Game
App User29er
on
1/22/2017
Awesome game, super fun!!!
This wasn't what I expected
Ocreeper9000
on
1/19/2017
When I played this game I thought it was similar to tiny wings
More characters please
Turtle lover 5000
on
1/11/2017
🐢🦑🦈🦐🐊🐙
Very simple and entertaining
Princess Jazmin
on
12/21/2016
It's addictive, a nice pass time
Simple game that calms my anxiety
Kerenortegaa
on
12/18/2016
Love it
Love it
Can't put it down love all the challenges
This game is amazing
Fish Out of Water is a simple but addicting game.I love all the fish <3.🔥🐬🐳🦀🐠🐟.
It's fun but…
It crashes a lot every time I try to play it, it crashes
So CUTE
Pinkey pie2007
on
11/20/2016
I love it
Fun game
p4nd0r4_0r_bu5t
on
11/19/2016
I wish the mission bar didn't collapse automatically. If I open it, I want it to stay open until I tap the collapse button.
Love it
This game is obsessing and I love it soooo much
Awesome game!
Dieselmedic
on
10/22/2016
It's great fun... The art and sound is wonderful. It's easy to play, a little hard to master....and something me and my little guy like playing together!
Great game
Outcastcoscine25
on
10/10/2016
Love it 👍🏻😉👌🏻👌🏻👌🏻
Fun
Mexican McGuyver
on
8/11/2016
Great time killer
Fact Sheet
Publisher:

Halfbrick

Category:

Games

Released:

Apr 18, 2013

Current Version Released:

Aug 26, 2015

Version:

1.2.8

Size:

72.7 MB

Compatibility:

Requires iOS 7.0 or later.

Recommended Age:

4+

Game Center Certified:

No

Supported Languages:

Arabic; English; French; German; Italian; Japanese; Korean; Portuguese; Russian; Chinese; Spanish; Castilian; Chinese; Turkish;