Screenshots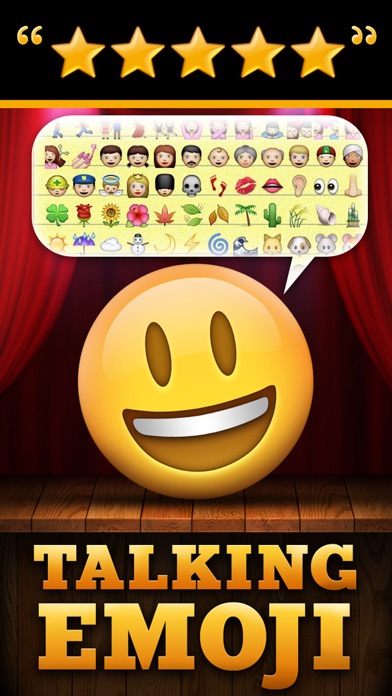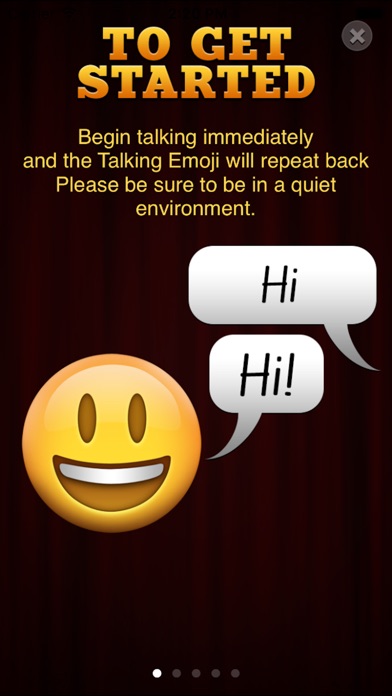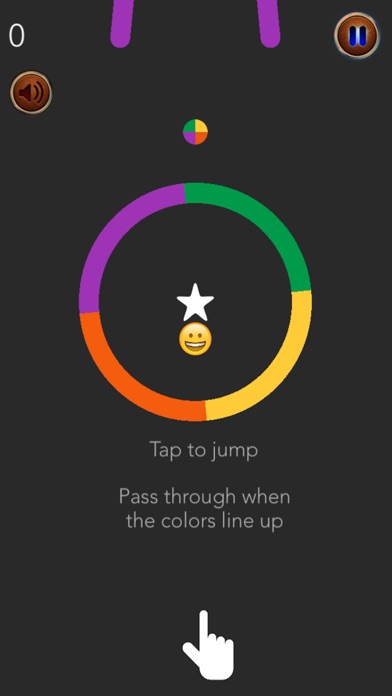 Description
Speak and the Talking Emoji will listen and talk back to you. Create your own funny Talking Emoji videos and share with friends. Also watch our help video to enable 841+ Emoji icons directly on your keyboard.

**Added Bonus***
Play the new Emoji color game and beat your high score. Share it with friends. Simple yet addictive included in this version.

No Ads in this Talking Emoji Pro version.

Impress your friends and express yourself with this fun and addictive Emoji app!

THANK YOU FOR SUPPORTING EMOJI!

***IMPORTANT*** If the Talking Emojis lock up after you update, please click on the '?' to Restore.
iPad Screenshots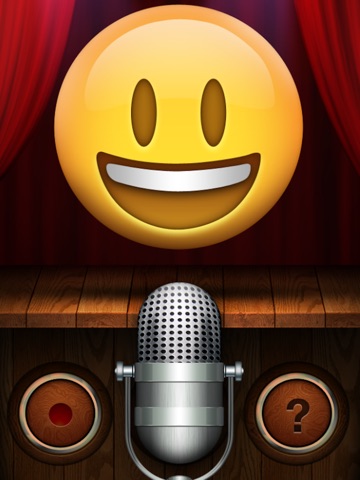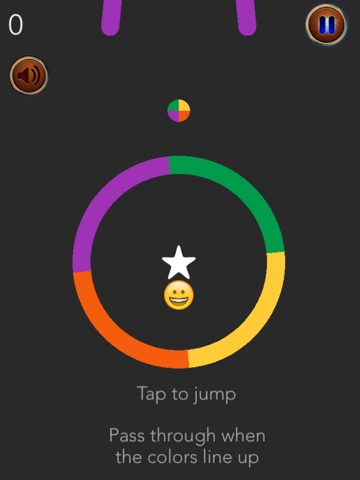 Reviews
Don't buy it!!!
To expensive it's not good don't buy it
Don't buy
Even if you pay 10 bucks you can't get rid of their ad....
MrMarcus
Revolving Rooster
on
8/9/2017
Awesome App
Don't waste your time!
TexasBoogeyman
on
8/6/2017
I usually give apps a higher review than what I actually think. I did so in this case also. After paying 10 dollars for the Pro version I still only have same I'm in I had with the free version I followed the instructions to add the keyboard the keyboard was not on the list to add. So I tried to send one then and appeared to work fine when sending to myself in a text, email and hangouts but when sending to another person although I could listen them just fine they would not work. Either I'm the village idiot and could not find the link for customer service or one does not exist. Either way I have a app that doesn't work and I'm out 10 bucks. Save your money and learn from my experience.
Emoji app
Awesome funny app, fun to use and will make someone laugh for sure, could use more emoji though
Need more emojis
Love the app but has limited emojis
Addicted
c͓̽h͓̽a͓̽s͓̽e͓̽y͓̽ⒼⒶⓜⒺⓇ
on
4/13/2017
I love this game so much! In the next update add more emojis.
Great app
Love this here app. I give it five stars, for I can send these in text messages for all special occasions. I would love to see more faces to use.
Will not work
Adam Polcyn 51
on
5/12/2016
i play it forever and it will not work with me talking i can only work on the video please it was not working right fix it or money back fix this immediately please
Immediately reimbursed requested
I dislike paid apps that insist on having their name plastered all over it. This one is no exception. The "download from ITunes" after I have paid is unclear for. Tech is no responsive and this report a problem on the store and trust it will be reimbursed ASAP!!!
Rip off app
A fool and his money are soon parted. I was a fool for buying this app. It doesn't work. It's a ripoff. DONT BUY IT!!!
Garbage
Minecrafter 0987654¡
on
12/2/2014
LIES all over the pro version you can get refunded on Apple website in your email for the receipt go to report a problem get your money back and then this will be us to the app owners 😂 ha no profit ITS BS tell the world tell your friends
Bait and Switch??
Bought the "pro" version after having tried out the free version, where I paid to unlock the emojis. I also fell for the extra "free" emojis also. But not only do you get the SAME EXACT app, just ad free, they make you pay to unlock emojis AGAIN! SO not worth investing another $5 when I can use what I already have! Uncool!
eewww
totallyrach
on
11/29/2014
This app is a lie! I paid for it snd it shows all these "free emjois" and u really just get three!! Its false adverstiment! If i can I would rate this a zero!
Ok
I bought the pro and on it it says free free free for the emojis and guess what it's not free free free!! So I would get the free one!! I would rate it 1 star, but I love it that it talks it's very cute if your reading this get the free one!! Cute app though!
STOP THE AUTO REC
Great and funny app to play with. Hate the auto record, make it with the button only. And make it able to save/send directly to text.
TERRIBLE
I can't even get it to work!?!? how do I get it to work if I click on the app....... IT STARTS TO LOAD THEN....... IM AT MY HOME PAGE!!!!! I PAID 2.00 ON THIS AND IM MAD!!!!!👎👎👎👎👎🔥🔥🔥🔥🔥🔥🔥😡😡😡😡😡😡😡😡😡😡😡😡😡💀💀💀💀💀💀💀💀💀💔💔💔💔💔💔💔💔😢😢😢😢😢😢😢😢😱😱😱😱😱😱😱😱😱DON'T GET THIS APP
Sad and happy
It's fun but only let me have 2 Hope Owner fix it :( Do not buy I want my money back
Worst ever
sundey dillberg
on
7/25/2013
It won't talk back to me like it said
Don't buy it
Idk what to pu
on
5/29/2013
This is the most stupid app ever don't even waste money like I did REFUND!!!!!!!!!!!! I wish i could rate it zero
I hate this!!
Hate hate hate!
on
5/5/2013
I don't like this, I don't like it cause it only lets me have 2 charicters And hopping u will not but this!:( Don't but this 😞
Won't save to camera roll
Trexschneider
on
5/2/2013
Fun just won't save should fix it
Sooo fun!
Talking poo... Hahaha. That is pure awesomeness. The app works well. Better when it's quiet.
Locked out
Science Muse
on
2/26/2013
I had so much fun with this application when I first got it and bought all of the talking emojis. Then they all got locked up and I couldn't contact anyone about it. I am so sad and would love to use the application again, but refuse to spend almost $10 on something that I have already paid for and will probably just lock up again. I also will never buy an application that I can't contact again. Thanks for the lesson.
Help
Help me! Locked out
on
2/15/2013
All my emojis are locked after I bought them all how do I unlock them again if it won't let me hit the ? Button to restore them!!!!!
Awesome!!!
CuteKitty 10
on
2/11/2013
I can actually talk 2 these little characters!!!!!!! Totally ⭐⭐⭐⭐⭐ Plz get it!!!!! It's FREE...4 now. They might change the price!!!!! So, by the way, there r about 15-28 faces. Even pandas, cats, dogs, devils, mad faces, great stuff!!! Plz get it!! LIKE👍👍👍😁😁😃😃😄😄😛😛😜😝😜😉😉😘😁😁😛😛😀😃😀😄😄😋😋😋😬😬😬😯😯😯😶😶😶😶😏😏😏😇😇😇😇😇😉😉😉😉
Fun but...
What's the point in paying for the app originally if you still have to buy the emoticons?!? Waste of money!
I hate it!
Vanessa grl.
on
1/29/2013
It wont let me go on it Every time i try to go on it goes back to the home screen Dont get the app
Talking Emoji
Great App, didn't hear any talking but can send faces on my e-mails-- So it's good for me and free too Oh Well😉-There you go! Amber087 Tue.
👍👍
Please go FOLLOW on Instagram : sam_and_cat_official_ PLEASE PLEASE PLEASE!!!!!
This was a waste because when I tried opening it, it would crash
Lalalalalalalalalaverybored
on
1/26/2013
EVERYTIME I OPENED IT,IT WOULD OUT ME BACK TO MY HOMESCREEN!!!!!!!!!! but I like the regular Emoji
What the heck
Patriotsgitl#1
on
1/25/2013
Every time I launch the app it exits
iPod crashes!
Every time i open it crashes in 2 seconds! I suggest not on iPod 👎💩📱
Cool
Pretty cool app! But, when I try to save in camera roll so I can send in an SMS, it doesn't send.
>:(
Sarah Ackerman
on
1/22/2013
This app is cool my friend has it on her iPhone but it's not working in my iPod touch and it's bugging me! Idk what's wrong with it cause when I try to run the app it closes the second I open it!
👏 Lolz
I'm sexy and I know it
Worst
Not a gd app!!!! Doesn't work at all it gives you 2 of them free that don't work n want you buy buy each additional one for 99 cent each not worth the free download deleted
I can't get in the app
Hamster and bunny lover55
on
1/20/2013
I don't know how it works because I can't get in the app!!!!
Fact Sheet
Publisher:

Emoji LLC

Category:

Shopping

Released:

Jan 19, 2013

Current Version Released:

Jun 05, 2016

Version:

2.18

Size:

77.5 MB

Compatibility:

Requires iOS 7.0 or later.

Recommended Age:

4+

Game Center Certified:

No

Supported Devices:

iPhone4-iPhone4, iPad2Wifi-iPad2Wifi, iPad23G-iPad23G, iPhone4S-iPhone4S, iPadThirdGen-iPadThirdGen, iPadThirdGen4G-iPadThirdGen4G, iPhone5-iPhone5, iPodTouchFifthGen-iPodTouchFifthGen, iPadFourthGen-iPadFourthGen, iPadFourthGen4G-iPadFourthGen4G, iPadMini-iPadMini, iPadMini4G-iPadMini4G, iPhone5c-iPhone5c, iPhone5s-iPhone5s, iPadAir-iPadAir, iPadAirCellular-iPadAirCellular, iPadMiniRetina-iPadMiniRetina, iPadMiniRetinaCellular-iPadMiniRetinaCellular, iPhone6-iPhone6, iPhone6Plus-iPhone6Plus, iPadAir2-iPadAir2, iPadAir2Cellular-iPadAir2Cellular, iPadMini3-iPadMini3, iPadMini3Cellular-iPadMini3Cellular, iPodTouchSixthGen-iPodTouchSixthGen, iPhone6s-iPhone6s, iPhone6sPlus-iPhone6sPlus, iPadMini4-iPadMini4, iPadMini4Cellular-iPadMini4Cellular, iPadPro-iPadPro, iPadProCellular-iPadProCellular, iPadPro97-iPadPro97, iPadPro97Cellular-iPadPro97Cellular, iPhoneSE-iPhoneSE, iPhone7-iPhone7, iPhone7Plus-iPhone7Plus, iPad611-iPad611, iPad612-iPad612, iPad71-iPad71, iPad72-iPad72, iPad73-iPad73, iPad74-iPad74, iPhone8-iPhone8, iPhone8Plus-iPhone8Plus, iPhoneX-iPhoneX,

Supported Languages:

English;