Screenshots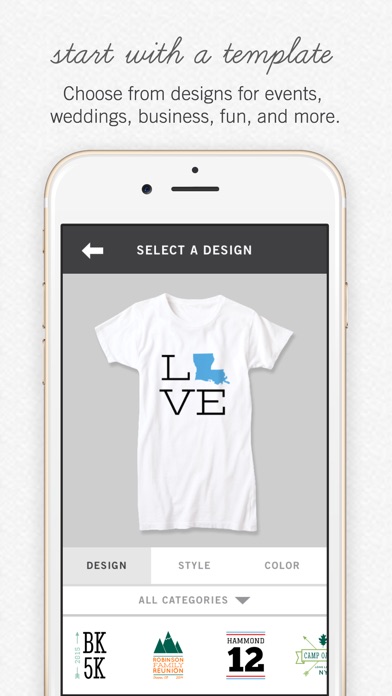 New in version 2.5
iOS 11 is here! We've made some adjustments to text editing, textures, and notifications to be compatible with Apple's new release. (And we squashed some hidden bugs we found along the way.) Cheers! - The Makr Team
Description
Be your own designer with Makr, a universal creativity app for designing and printing custom goods. Create amazing custom designs for business branding, weddings, events and more. Join the over one million who've discovered how Makr has made designing and branding easier, faster, and more fun than ever.

-"the mobile design studio of your dreams" – Brit + Co.
-named "Best of 2014" by Apple
-2016 Webby Nominee

FEATURES
• Create: Express yourself with custom cards, tees, logos, wedding invitations and save the dates plus much more.
• Customize: High-level customization makes it easier for you to make your ideas come to life.
• Design: Choose the template that's right for you and change the icons, fonts and colors.
• Upload: Import your own custom art and put them on any of your Makr projects or design templates.
• Export: Purchase and export custom logos as transparent PNG files.
• Print: Order to ship straight to your door, send to select Staples locations or print at home.
• Brand: Logo templates for businesses, weddings, personal branding and just for fun!
• Weddings and Events: Create the perfect stationery to match your unique event!

GET DIGITAL
• Express yourself with custom logos (available on iPhone & iPad)
• Purchase and export transparent PNG files of your personalized logo

SAY IT IN PRINT
• Create your very own professionally printed custom t-shirts, tote bags and temporary tattoos! (iPhone exclusive)
• Order custom printed business cards, postcards, invitations, tags, stickers, product labels, and more. (iPad exclusive)
• Design hi-res project PDFs (including Avery-compatible templates) for printing high-quality designs at home. (iPad exclusive)

GET INSPIRED
• Get access to original blog content for limitless creative inspiration.
• Let your friends see your designs! Share your work via Email, Facebook, Pinterest and Twitter.

A STAPLES PARTNER
• Makr is now powered by Staples, making it easier to make more happen.
• Pick up your prints in store at select Staples locations, we hope to roll out more soon!

----
What our Makrs are saying:

"It's fun, it's easy to use and you don't need to be a graphic designer to get a good result." - Alexi

"It was effortless to make my logo, loved it!" - Daron

"Easy to use and great templates!" - Tatiana

"I totally love it!" - Ryan

-----
Great design made simple. Download Makr today!

P.S. We hope you enjoy Makr as much as we love making it! Send feedback our way to support@makr.co or drop us a line at hi@makr.co. Happy Making!
iPad Screenshots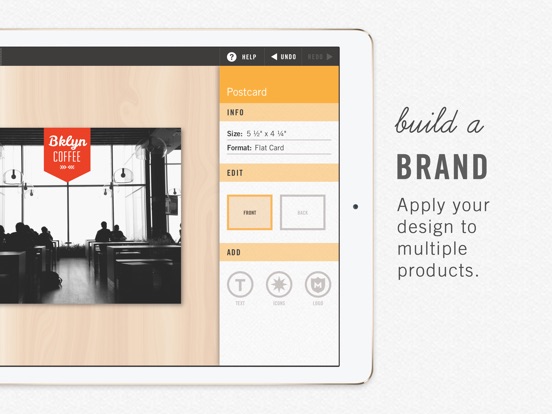 Reviews
Uploading issues
Tex-Man 526
on
11/25/2017
What am I supposed to do in order to upload my picture as 1500 px or more? It keeps saying that the pictures I keep uploading are not high enough resolution! What am I supposed to do? How am I supposed to make the app stop saying that?
Dont download
Bough a logo that said was only going to charge me 6.99$ and i ended up getting charged for 17+$. Dont do it. Worst decision ever.
Size matters
No 3x sizes we Americans so we fat lol but for real we need 3x and 3x tall shirts
Not linked to Makr website
If you purchase on iPhone or iPad you can't use your design or even your login on their website. You can't even import the ones you've already designed and paid for. You must purchase everything a second time. That's a pretty huge thing to leave out of the description.
Good design made easy
Made a great logo on my iPhone in about ten minutes for my book club. Another for a family event. Love them both. Thinking about t'shirts ... took back a star because, like other reviewers, would love undo and pinch to zoom.
I really enjoyed Makr!
californiadreamer+
on
10/9/2017
The experience is just perfect!!! Everything is thought out! I hope they will add a couple of more products. Something for houses interior design maybe
Lovely
Quick and easy, custom made in about 15 minutes. Thanks! #SatineLips
Absolutely infuriating.
RedRoseAlways
on
10/7/2017
I am a graphic designer and thought I would download this app to see what it was since it showed up on the top apps. It's very cute but how counterintuitive that there is NO UNDO BUTTON or PINCH TO ZOOM!!!!!!!! So you make this intricate design on your iPhone and you can't zoom in on the canvas to grab that scissor graphic you just added to your design to move it since you've resized it and you can't undo the fact that even though you've tapped on the very center of that scissor graphic it magically hits the delete X to your name in text beneath it that wasn't even highlighted/selected at the time. Probably the most maddening experience I've had in recent history. DELETE APP.
Easy
Very easy to use with my company logo- t shirts. I did not give it 5 because of a limited selection of shirt options and colors.
HUGE POS
Not at all intuitive. Worst APP UX ever. Waste of time
Why not allow all features?
I love this app on the iPad, but it is very limited on iPhone. Why not allow all features within the iPhone app?
I f'ing ❤️ this app!
jerrydaniels
on
8/18/2017
Makr is where I make all of my web site banners, business cards, and logos. It lets me think out loud. Makr's ability to kern and manipulate text is unparalleled. The images I get from Makr are so crisp! All this allows me to forget about my laptop and stay on my iPad. Try it. It's a no-brainer.
Very misleading. Just be honest with people.
Witness2Fitness
on
8/8/2017
Free to download but you can't make a single thing for free. Each design is 6.99 minimum. They don't tell you that because they want you to create an account so they can sell your email at the very least once you've realized it's not free and delete the app.
Great Design App!
I love it, it's simple and easy to use. Could use some more variations and images!
Easy to Use
This app is super easy to use. Please consider in the future to add more to the logo bank as this is a good starting point.
Super Great
motherofpearl22
on
7/7/2017
So easy to create my business logo! Many great fonts and symbols and colors to choose from, easy to edit sizes, and intuitive throughout. Great app.
Best Logo App
i35 bouquets
on
5/28/2017
I've tried many diy logo sites and hands down Makr is the best. I created my business logo, cards, business stationary, and thank you cards over the last year using this app. I even designed my own Christmas card for less than the popular diy card site and loved the quality. I'm a design nerd and this app is my fave!
Makr
I have used Makr to design several logos and used them in both digital and print with great success. Easy to use for the nonprofessional with professional looking results.
Love the customer service BUT
Having issues with the site. Have to do a lot of start over as in when checking out, you can't edit the quantity of items or go to previously orders and just reorder more. You have to start over. However, it IS SUPER fast and somewhat friendly to use. Not enough flexibility in maneuvering between orders or designs. It's actually almost too simple, like to see them step it up at little (at least from the mobile standpoint, my smart phone 6+ currently- just not quite there regarding the app!) that said, the shirts are SUPER SOFT very thin, so keeps me cooler now if we can get the thin cotton shorts to hold their color a little longer, I'd really be happy! It's my 3rd time to order so hoping to see some improvements 🙏 Nice job otherwise
Falsa propaganda
djb2790 Instagram
on
5/19/2017
Falsa propaganda, todo es pago.
Love it
think it's awesome don't like to pay but who does
Bestin iPad than in iPhone
Great fonts, textures, icons, ornaments. Good align to objects feature. Can't make bussines card in iPhone nor view the project I saved in iPad using my facebook account.
No output = useless
Business for All
on
2/10/2017
Such a shame. This could have been a great app, but it is rendered useless since any and all printing/export methods require payment. I believe this business model is a mistake.
Works sometimes
App crashes frequently on my iPad Air
7$ is NOT FREE
BELLY SETCHMU
on
1/21/2017
$7 ANY TIME YOU WANT TO EXPORT?! F*CK OFF MAKR
Love this app!!
It's so easy to use and the designs are great
Well
This app is great. It's very user-friendly and the designs are beautiful. I'm thinking of starting a small business and the ability to coordinate cards, flyers and labeling is incredibly useful
Custom stickers sent to you
Make your own stickers right from your phone. Nice and simple interface with many settings and functions to edit your stickers. Order them via the app and receive them right at your doorstep. Quick and easy.
Makr
LewinSArbajeJ
on
1/5/2017
It allows you to create almost anything you can think of, with little effort. This is the best kind of apps, the ones that dont put any blocks along the way. FIVE STARS!
Makr
ManuelRBatista
on
1/5/2017
Amazing new interface. New additions to provide with a lot of customization options and develop new and creative products
Makr
Its a five star app. The most recent version works amazingly and offers a whole set of options to its users. I live how i can make almost anything happen.
Great tool
Great tool to create awesome custom designs on the go
i don't like this app
deryuginarina
on
12/13/2016
just no as good as it's said
Useless
The man: J.clay
on
11/23/2016
Yeah... limited templates... $7 for 18 layouts that you can find anywhere on the internet... waste of space don't even bother... Awesome concept, awfully delivery/follow-thru
Ridiculous Paywall - avoid this app
soundorphan
on
11/23/2016
First force me to sign up - grrr okay. I guess i will sign up, I will just unsubscribe in my email in a few days. Second force me to pay at minimum $7 to even start to see anything?!?! I am not going to pay $7 to start designing something sight unseen. Third now I have wasted time to have to explain this to you in a review. Fourth. iTunes recommend this! Horrible experience.
Really impressive.
Weed Family
on
11/20/2016
If this app did everything stated in the description, it would be a great and useful app. However this app doesn't. It does more, and with a polished UI, and powerful tools and presets. This really is great.
Cool app
Jeanpaul1992
on
11/20/2016
It is a very easy to use and very useful to make our logos in the way that we like more. I recommend it
Great
It's a very cool and powerful app which lets you create and design products catalog, posters, t-shirt prints, logos, invitation etc. It's very user friendly and fun to use it's just like a mobile print shop. Nov 20: didn't notice any difference in performance, maybe the update is for the iPad Pro, so far so good.
Amazing App!
I love designing logos especially for my new company please visit polka dot sweets!
Great App, Product,Company, and Customer Service
Bmoore123456789
on
11/13/2016
Great and Easy to use! Best design app in the App Store with reasonably priced features. You can only email there support team- but once you finally talk to someone you realize why there app is so amazing. There one of the only companies I feel that still Gets It! Hope they keep it up!
Great app!
PascualinoMilazzo
on
11/12/2016
This app is just great! Starting from several easy to use templates, you can design logos, invitations, cards, tags and every stationery item you can imagine in no time. The results are visually simple, yet elegant. Yu can export your artworks at a reasonable resolution for printing (logos are 8x8 inches maximum). The app has super easy to use features and a easy to understand UI. You can even buy specially designed kits as in-app purchases. If you have good taste, but don't have Illustrator or Photoshop skills, this app is for you!
Not Very Useful
Limited templates and sparse design options... not very useful. Products overpriced. The whole app is not worth purchasing at all.
Great
Easy way to design logos, it has lots of features and stuff to create my own logo and make it look better.
Awesome
Excellent application for those designers believe fascinating designs for the different types of celebrations giving you the best touch custom. Excellent updates best design tools.
Ok
The New Smiley
on
10/19/2016
Seems to be pretty functional if you need the service. Works well. There are a lot of choices and it seems a good way of surprising someone with a neat object.
Good
Its very good design app. You can create your own logos. Many instruments and features to make this on high level.
Great app
It is a great app for customizing and making new design,logos, for different purposes,also the print is also good. The app is really simple to use. The new update is fantastic. The graphics looks better that ever. The app feels super smooth. The categorization of the title helps a lot.
Useful for business
ricardomaita96
on
9/28/2016
With this I can design personalized merch to sell. Boots my earnings so quickly and the best part is that everybody talks about it thanks to their funny logo. This app totally worth it!
Amazing App!
I can't even begin to explain the feels I have for this amazing app! Holy cow, has this been a big help to me and my families (who, I must say, throw the BEST parties out there). This app makes the parties even better! I've made tons of invitations and thank you cards from this app with just my iPad. It's made my MacBook Pro. collect dust! (Kay, not really). The only thing I wish it had was more fonts that are modern and more better-looking. I feel stuck in a box as it is limiting. Other than that, I LOVE this app.
Fact Sheet
Publisher:

Happy Studio LLC

Category:

Shopping

Released:

Nov 14, 2013

Current Version Released:

Sep 18, 2017

Version:

2.5

Size:

147.3 MB

Compatibility:

Requires iOS 9.0 or later.

Recommended Age:

4+

Game Center Certified:

No

Supported Devices:

iPad2Wifi-iPad2Wifi, iPad23G-iPad23G, iPhone4S-iPhone4S, iPadThirdGen-iPadThirdGen, iPadThirdGen4G-iPadThirdGen4G, iPhone5-iPhone5, iPodTouchFifthGen-iPodTouchFifthGen, iPadFourthGen-iPadFourthGen, iPadFourthGen4G-iPadFourthGen4G, iPadMini-iPadMini, iPadMini4G-iPadMini4G, iPhone5c-iPhone5c, iPhone5s-iPhone5s, iPadAir-iPadAir, iPadAirCellular-iPadAirCellular, iPadMiniRetina-iPadMiniRetina, iPadMiniRetinaCellular-iPadMiniRetinaCellular, iPhone6-iPhone6, iPhone6Plus-iPhone6Plus, iPadAir2-iPadAir2, iPadAir2Cellular-iPadAir2Cellular, iPadMini3-iPadMini3, iPadMini3Cellular-iPadMini3Cellular, iPodTouchSixthGen-iPodTouchSixthGen, iPhone6s-iPhone6s, iPhone6sPlus-iPhone6sPlus, iPadMini4-iPadMini4, iPadMini4Cellular-iPadMini4Cellular, iPadPro-iPadPro, iPadProCellular-iPadProCellular, iPadPro97-iPadPro97, iPadPro97Cellular-iPadPro97Cellular, iPhoneSE-iPhoneSE, iPhone7-iPhone7, iPhone7Plus-iPhone7Plus, iPad611-iPad611, iPad612-iPad612, iPad71-iPad71, iPad72-iPad72, iPad73-iPad73, iPad74-iPad74, iPhone8-iPhone8, iPhone8Plus-iPhone8Plus, iPhoneX-iPhoneX,

Supported Languages:

English;