Screenshots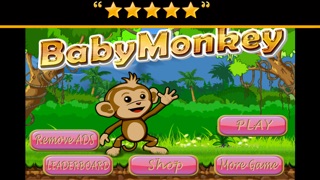 New in version 2.3
🙉🙈Check out this fun baby monkey run game!🙉🙈
Now with improved graphics (updated with iPhone 5 retina support).

Thanks to all our baby monkey fans!
Description
🙉🙈Check out this fun baby monkey run game!🙉🙈

Join baby monkey as you help him dodge obstacles and see how far you can make in in the jungle. Fun for all ages.

Try it out for free!
iPad Screenshots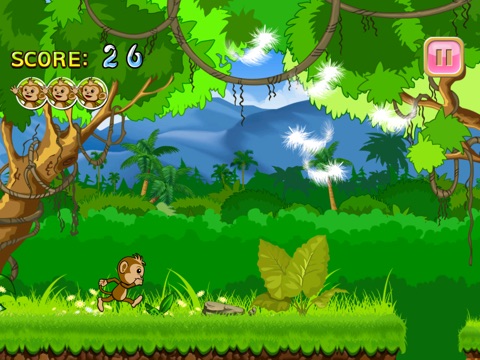 Reviews
5 Star
Kenzie maliea
on
11/14/2015
It is a good games for 5 two 1 year olds but for no ages up it would be two easy and boring but I give it a five star little kids would love it it's the perfect speed for them by Ella
Nskaka
This is the worst ******* game
Stupid
The game is pointless and adds pop up during play causing you to die.
horrible
way too many ads!! and all you do is jump and run... waste of time :/
😗🐵
It was fun, but too many adds💩! Too many! I just die n die! It's a cute game but plz REMOVE SOME OF THE ADDS AND ADD SOMETHINGS! Then ull get ur 2🌟s back.😮
Awesome
Bunnyman101
on
11/10/2013
This game is awesome
Worst game of century!
An eleven year old could of made this game . Boooo👎the most boring stupid waste of my time. I would rather smash my phone than play this game! DO NOT PLAY!!!😡
Too many adds thumb👎
JerryIsMine!69
on
4/14/2013
Way too manny adds and all u do is 🏃and jump so stupid wast of 🕝💩💩💩💩💩💩💩💩💩💩💩💩💩💩💩💩💩💩💩💩💩💩dumb 🙊🙈🙉game hate it don't download it 🙏😠😡👿😠😡👿
Way to many ADDS
Juj and precious
on
3/20/2013
When I was playing the game the adds just pop up!! It makes me lose the game. It is an awesome game but there's to many adds
Baby monkey
Baby monkey Chic
on
3/20/2013
Baby Monkey baby monkey riding backwards on a big baby monkey
Too many ads
Must eliminate 2-3 ads every time.
Some many ads
Arielscott10986
on
1/29/2013
Like the game I do but there are some many ads in the middle off the game there is an ads really and 0.99 just to remove the app please
Ads cover screen
Pitfall Harry himself
on
1/16/2013
This is ridiculous because ads constantly pop up and you can't see where you're going.
Game play hindered by ads
SmileyRiley0014
on
1/11/2013
Game starts off in go mode, but an ad takes over the screen before you have a chance to see what is going on, by the time you close out full screen ads, you're key baby has run into put and you are dead. Pointless game. Deleted immediately after retrying a couple times and ads kept covering gameplay with no auto pause.
Baby monkey
This is the best game really fun never get sleepy if you like this game you have to trie baby corn it is just like this game even throw there is a corn monster running after you and you have to trie temple run there are monsters running after you it is so fun want do you guys think of this game I miss having my i pad all the time I can't because I have to go to school but you have to do what you have to do I will miss my I pad to much come on cancel school
Super bad
This game stinks its like for 4 way tooooo easy.Dooooo not get!!!!!👎👎👎
Game
Sydneysuperstar
on
12/31/2012
This game stinks because I can't even play it because it won't download on my iPod
Won't open on my I phone
KerryAnne33
on
12/30/2012
For some reason I can't get the application to open on my IPhone .
play with
AshaFaragob
on
12/25/2012
i wan to play with the baby monkey
love the concept
i love the baby monkey
great game!
GeorgianaRother
on
12/25/2012
enjoying the game! the tune get stuck in my head easy though
love it
JenineBarley
on
12/25/2012
lots of un
hilarious
ShebaGraddy
on
12/25/2012
fun running game. good casual game
nice song
song stuck my head. i love the song
new favorite game
love this game
addicting, fun, awesome
FeliceGogga
on
12/25/2012
this games is addicting
Lots of fun
But driving me bananas... The monkey is soooo cute.
Awesome
SamSurvives
on
12/18/2012
Cool running game. Nice graphics!
super cute
coffeelover829
on
12/18/2012
love the baby monkey!
Fact Sheet
Publisher:

Emoji LLC

Category:

Games

Released:

Dec 19, 2012

Current Version Released:

Apr 08, 2013

Version:

2.3

Size:

36.3 MB

Compatibility:

Requires iOS 4.3 or later.

Recommended Age:

4+

Game Center Certified:

No

Supported Devices:

iPhone3GS-iPhone-3GS, iPadWifi-iPadWifi, iPad3G-iPad3G, iPodTouchThirdGen-iPodTouchThirdGen, iPhone4-iPhone4, iPodTouchFourthGen-iPodTouchFourthGen, iPad2Wifi-iPad2Wifi, iPad23G-iPad23G, iPhone4S-iPhone4S, iPadThirdGen-iPadThirdGen, iPadThirdGen4G-iPadThirdGen4G, iPhone5-iPhone5, iPodTouchFifthGen-iPodTouchFifthGen, iPadFourthGen-iPadFourthGen, iPadFourthGen4G-iPadFourthGen4G, iPadMini-iPadMini, iPadMini4G-iPadMini4G, iPhone5c-iPhone5c, iPhone5s-iPhone5s, iPadAir-iPadAir, iPadAirCellular-iPadAirCellular, iPadMiniRetina-iPadMiniRetina, iPadMiniRetinaCellular-iPadMiniRetinaCellular, iPhone6-iPhone6, iPhone6Plus-iPhone6Plus, iPadAir2-iPadAir2, iPadAir2Cellular-iPadAir2Cellular, iPadMini3-iPadMini3, iPadMini3Cellular-iPadMini3Cellular, iPodTouchSixthGen-iPodTouchSixthGen, iPhone6s-iPhone6s, iPhone6sPlus-iPhone6sPlus, iPadMini4-iPadMini4, iPadMini4Cellular-iPadMini4Cellular, iPadPro-iPadPro, iPadProCellular-iPadProCellular, iPadPro97-iPadPro97, iPadPro97Cellular-iPadPro97Cellular, iPhoneSE-iPhoneSE, iPhone7-iPhone7, iPhone7Plus-iPhone7Plus, iPad611-iPad611, iPad612-iPad612, iPad71-iPad71, iPad72-iPad72, iPad73-iPad73, iPad74-iPad74, iPhone8-iPhone8, iPhone8Plus-iPhone8Plus, iPhoneX-iPhoneX,

Supported Languages:

English; German;