This version of the app is not recommended
App last updated
Mar 12, 2018
Screenshots
New in version 18.2.1
• Performance improvements and bug fixes
Description
Create invoices, manage your expenses and cash flow, and view your profit and loss. Download QuickBooks Accounting and manage your small business with this easy to use accounting app!

You don't need to be an accounting expert to keep your small business bookkeeping organized. Easily create an invoice and keep track of it with our invoice management tools. Plus, you will always be able to see where your business stands with dozens of financial reports available.

Dashboard Business Insights.
• View your profit and loss to see what you are making and spending, and view your account balances
• Categorize your monthly expenses to make them easier to track.
• All your open and overdue invoices are displayed for easy cash flow management.

Create Invoices and Get Paid Faster!
• This invoice generator allows you to track invoices sent (in multiple currencies) so you always know who owes you and who has paid you.
• Get paid faster by credit card or bank transfer (requires activating QuickBooks Payments).

Manage Expenses, Track Sales and Customers On the Go!
• Get maximum tax savings by photographing your receipts and attaching them to your expenses.
• Take a closer look at your profit and loss, by connecting your bank accounts, to see where you are making and spending money.
• Review your bank transactions and add them to your accounting records.
• Easily add new customers and contact them on the go.

Do Even More with Online Accounting!
• Customize all your sales invoices and sales receipts with your logo and fields within minutes.
• Be better prepared for tax time and get all the necessary tax deductions by giving your accountant access to your account.
• Add additional features with over 80 partner apps, including inventory management and advanced crm, using apps.intuit.com
Get Started Easily!
• Already registered for QuickBooks Online? Then DOWNLOAD the best accounting app today, sign-in with your QuickBooks credentials and enjoy the QuickBooks Accounting app for FREE!
• New to using QuickBooks online? Simply download the app, create an account, and try it for FREE for 30 days! No credit card required, and no obligation to purchase.
• FREE trial includes unlimited access to QuickBooks on the web and your mobile devices.
Not compatible with QuickBooks Desktop for Windows or Mac.
?From INTUIT
Makers of: QuickBooks Online, GoPayment, QuickBooks Payroll, TurboTax, Quicken, & Mint.com
Visit:
• https://security.intuit.com/privacy to learn how Intuit protects your privacy.
• https://qbo.intuit.com/c1/Terms_Of_Service.html to read the Intuit terms of service.

Download today, and start managing your small business easily, on the go!!

SUBSCRIPTION INFORMATION
• Your iTunes account will be charged when you confirm the purchase.
• Your subscription will automatically renew unless you turn off auto-renew at least 24 hours before the end of the current period.
• Your iTunes account will be charged for renewal within 24 hours prior to the end of the current period.
• You can manage your subscription and turn off auto-renewal by going to your iTunes account settings after purchase. On your device, go to Settings > iTunes & App Store, tap your Apple ID, and tap Subscriptions.
• You'll give up any unused portion of a free trial period when you purchase a subscription.


DISCLAIMER: Getting paid 2X faster based on U.S. customers using QuickBooks Online invoice tracking & payment features from August 2016 to July 2017.
iPad Screenshots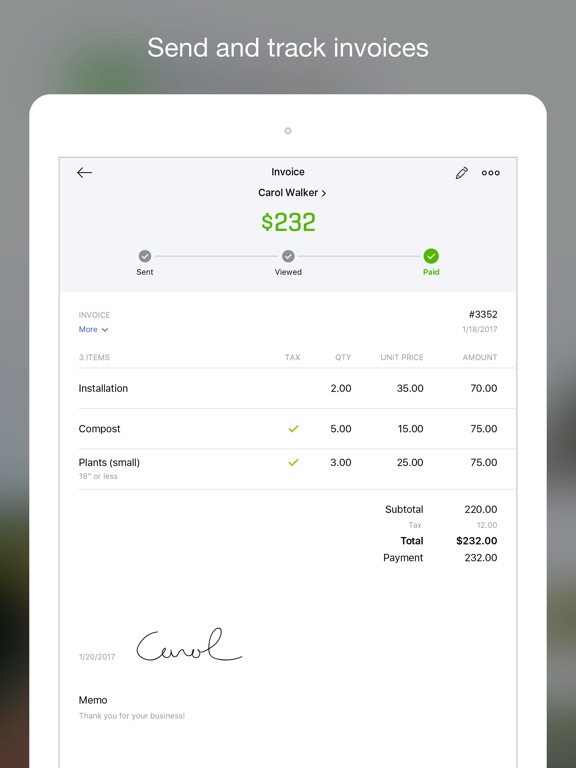 Reviews
Love the versatility
I love the fact that the system can be accessed by my employees that have clearance from any of their devices.
Works for me
Seattle Nick
on
3/13/2018
Helps me keep track of our finances while I'm unable to use my laptop. I'm not expecting the same functionality as online thru web browser
Hate QB
DO NOT use QuickBooks ACH payments by sending your customer invoices. They only use STRIPE Via QB on your bank statements and then customers can dispute it as it does not say your business name and they will take the money within 2 days yet it take a week for it to ever been deposited when they take a payment from the customer. They will then charge you $10.00 per transaction as a charge back. I have used QuickBooks for 19 years and have switched to another accounting software because of them being unprofessional. Was on the phone with them last week for an hour and twenty minutes. On the phone with them again today which currently at one hour and forty five minutes as I am typing this.
The mobile app is almost unusable
I have been a QBO user for more than a decade. It's very obvious to the world that Intuit has little or no care about being conscientious about their mobile apps. Normal every day tasks such as creating a Recurring Transaction are simply missing altogether. As a multibillion dollar company, and totally neglecting customers with zero tech support nights or weekends, tells the entire story of corporate distain for clients they carry. It really is time to support start up accounting systems, that will cater to the real world needs of their clients. The axiom of large corporations being totally dysfunctional is so true in the case of Intuit.
QBks App -> Less Than Half A Loaf
Having used QBks for 24 years in one guise or another, I have long since grudgingly accepted their inadequate technology chops. Be that as it may, I must let them (and you, dear reader) know that the iPad version is a HUGE frustration. In most regards the 12" iPad Pro that I use is the best. Most advanced technology I've ever been pleased to use. However, tech laggards like Intuit make it a trial. Anybody know how to cut a check from the iPad version? PLEASE tell me! Yeah. I didn't think so. OK, how about putting in a bill? No? These are BOOKKEEPING items, guys! I understand they have as much to do with accounting as data entry has to do with data analysis. Yeah, these tasks are peripheral but ESSENTIAL. Seemingly IMPOSSIBLE with QkBks for iPad. How in the name of all that's Holy can ANYone claim that this PoS (no, not Point Of Sale) allow small business management?!? JEEZum, Intuit!!! Splash out some of that Monopoly Money for some up-to-speed programming talent! And this time do it in the US of A, where there's a fair chance the tech staff will understand what you tell them to do. Please and Thank You. By ALL means, give me a reason to update this review with a higher number!!!
Site crashes more than a drunk 15 year old
I am really disappointed in it!!! I try to do my accounting before the day starts and between 5 and 7 am I lost all that I put in about nine times this morning alone. The customer support for the most part does not understand the American language!!!! I wish I never changed software☹️ I had a QB version about five years ago that I wish they would go back to. This version is slow crashes all the time and worse of all it's hard to navigate on a Mobil device. Don't get it if you like to keep calm. It will defiantly raise your blood pressure.
Needs mobile purchase order creation.
Needs to have option to write PO's on the go.
Makes everything easy
I would go back to working for a company if I didn't have QuickBooks!
Loving it
DS Project Management
on
3/3/2018
I have never done reviews but I started my own business 6 months ago and having access like what is given to do invoices and billing is awesome
iPad App
Happy Hairdesser
on
2/28/2018
Please update your App to be more like the desktop version...I can not track inventory received through the iPad app I purchased and iPad Pro hoping to do away with my laptop and so far its been seamless, except for this App not being able to track inventory received. I hope your developers can figure this out before my 8 year old laptop crashes! Thanks
Very Disappointed with Service and Customer Service
Big shot caller
on
2/27/2018
Unbelievably disappointed in the service thus far. I've used Freshbooks for my other business for 5 years and have never had the level of issues that I've had thus far in 90 days. I keep getting bombarded with YouTube ads. Even though I'm a paying user they are still targeting me and perpetuating a negative experience and wasting ad dollars. They flagged an invoice to check we had the revenue to pay it if it was fraudulent. Never had this happen before but when I get a call from Corporate the number they called me on and told me to call back fails, the dial by number directory fails and then when I call Intuit they take 45 minutes to get me through 4 departments to tell me there is "no reason it got flagged and nothing you can do to stop this from happening in the future" I'm not able to post a payment that's a check during all of this for another customer and extremely frustrated with them.
Server errors ALL THE TIME
Quickbooks online has been having consistent server errors that cause me to be unable to login. It started toward the end of January 2018 and it is now the very end of February and it is still not fixed. It is crumby timing as this is TAX SEASON and balancing my accounts is near impossible being I can not login half of the time do to a "Quickbooks Server not responding, please try again later" message 😕 And some may say "Well if the app isn't working try the computer.." Well I tried the computer also and that has the same message. 👎🏼 Fix your junk 🤕 because it is broken.
Could be better
Still no auto save. It's 2018 folks, time to wake up. Does not perform the same on my phone/tablet as my desktop. I.e automated emails on my desktop autofill my clients name, my phone does not. On my desktop I can switch the order of items on my invoices and estimates, on my phone I cannot. The simple editing features are extremely important on a device that smaller than my hand.
Convenient but you pay for it
This app is really handy but they jack the prices up on you once you've gone through all the hassle of inputting your info. They know you won't probably mess with changing programs once you've wasted all that time and energy. It is nice to use, however.
Awesome app
Quick books is really an awesome app. Links up to accounts quickbooks payments. I can access from all my devices. It's really versatile. You can make great estimates as well. Emailed invoices and estimates look very professional.
Why use the app when you it lacks the features of the website
s.kingdavid1
on
2/22/2018
You can't change the status of in invoice on the app and must be done online only. This is a major flaw in the app. Once I do my taxes I will no longer be using quick books, because of the enforced complexity the system is rendered mostly useless. The app needs to have complete functionality of the site.
Pretty good but, but no bill entry????
I have found this to be somewhat helpful for reviewing expenses, but it would be fantastic if I was able to pay bills on the go. I would love to be able to keep my business mobile by using the camera to "scan" invoices and submit them for payment right from the app. A core function that is surprisingly absent. This is a must for future development. Without it, the app just come up short...
Paid for subscription but no access
Apple says they sent the payment quickbooks says they never received it.... revolving door with neither party willing to help. Pay directly through quickbooks if your going to buy.
I love it.
I run three business on it. 1. Multi-specialty physician group. 2. Mechanical Electrical & Plumbing 3. Physician Sales & Service. I complete my payroll and carry out all accounting functions here.
It gets the job done
It's not a bad app. I can't find anything that will do everything I want & the problem with this is that I can't fully customize my estimate/invoice forms. They have preset forms that you can play with a little, but not enough for my satisfaction.
A changing life App
I'm new to the U.S and this app helps A LOT to get organized. Just love it.
Does most
App does most of things I need for my business. One thing I am requesting for is the ability to pay with a daily rate not just hourly. I have a home care agency and this is how we pay our employees in some cases. Lynn
Be Careful how you pay for your subscription
As many others have mentioned before, this app suffers from serious lack of usability when it comes to backup and restore. Let's start with some basics. The software itself is great. I very much enjoy it. But beware, they want to monopolize the subscription market so their online software DOES NOT work with their desktop software. So you're either paying monthly FOREVER or not able to make out an invoice or expense on mobile. BEWARE OF HOW YOU PAY FOR YOUR SUBSCRIPTION!!!! If you subscribe through a third party like Apple, you can never stop. My subscription expired and i clicked on the "renew" link that popped up in the app. When i did so, it took me to a renewal page where i put in my cc info and added payroll. Turns out, instead of renewing my existing company, they started a new one for me and were unable to transfer the payment info over because the existing company was LOCKED into third party payment processing. This started the process of having to backup my data and import it into the new company that had payroll attached. As mentioned before, you have to export your data using an archaic system in IE. Then most importantly, YOU CANT EVEN IMPORT THE SAME FILE THAT QBO EXPORTED AND USED TO BACKUP YOUR DATA IN THE FIRST PLACE!!! It forces you to download Quickbooks desktop and import the file there and then export it from desktop to QBO. You can't even download Quickbooks desktop for free. The trial link DOESNT WORK. So, in my example, i am currently stuck with a third party payment processor whose payment info i can't change (in other words i can't separate my personal and corporate business expenses on a recurring monthly basis) and a system that i can't transfer over. WORST PRODUCT SUPPORT EVER WORST INTEGRATION EVER WORST PAYMENT SYSTEM EVER
What a waste
After trying for over an hour to get pass login , it tells me that I don't have any services. Wasted my time. I'll just use the android version.
Just use your web browser
Just use your web browser and get the full version on your device.
No access to Purchase Orders
There's no access to POs which is 90% of my business. Why is EVERYTHING else in the all except purchase orders? It doesn't make any sense at all.
Sundown Pool Service
For the past 4 months i hate that i have to sign in every single time..... ughhhh such a pain
Robux
Just did this for robux lol
App lacks functionality
JPrecisionTint
on
2/8/2018
Info being offered isn't current 2018 information. Try looking up purchase orders per vendor and it displays old scattered information. Not very useful... This app is only good for sales invoices and viewing P&L reports. That's about it. And who's to say that stuff is even current without double checking with the online database from Your computer. Payments: Unreliable- looks like I'm sticking with the GoPayment app. To best serve your paying customers I recommend perfecting your products before releasing them to the public. It just makes intuit look incompetent. Dashboard doesn't display all information.
Changed my life
Very helpful and easy to use. Now I am my own accountant and I can keep close track on everything I do. I love this app!
Blair
christfollower12
on
2/7/2018
App is extremely unstable. Every time I need to get on it I have to force quit the app and re loggin. I have an iPhone X and it runs horrible on here. Hoping they fix this ASAP because I run my entire service company from the app
QuickBooks mobile
Can't print mobile.... on a mobile app. Still writing invoices and entering them later 2x the work and the price keeps going up.
It's 2018
It's 2018 and still no TurboTax integration or automated receipt scanning integration. You still have to manually enter all of the receipt data. If this is about "streamlining" small business time then make things streamlined. No new advances or major improvements in the past 2 years. Im in the market for a new system.
Crashes after I hit "Invoices"
Love the app when it works please let me know what the fix is-
Purchase orders
I have been asking them for years to add the ability to create and view purchase orders. This is all I use quickbooks for, and they won't let you do it from the APP!
Love it
NAVIGATOR ENT NYC
on
1/31/2018
It's such a great tool
Not worth the cost
App continues to be problematic at best. The constant need to log in every time I open the app is a huge PIA. App logs me out at any given time even when working in an invoice. After app automatically logs me out when I go to log back in it gives me this stupid error that says "oops something went wrong" I then need to go through the whole process of logging back in and waiting for my company data to load. Sometimes the app doesn't respond to my log in and I need to dump the app and start over. At $12.99 I can say to myself it doesn't cost much but at $34.99 I don't feel as if I'm getting my money's worth. I also know that writing this review is a huge waste of my time much like the app. Nobody reads these or follows up by contacting me. If I ran my business in this manner I'd have no customers. Intuit knows that once your company info is in their cloud it's hard to switch over to another app without losing some of your data. Thanks Intuit for selling me a product that is supposed to make my life easier only to make it harder and more frustrating. How do I get compensated for all of the time I waste babysitting this app.
Trouble with iPad app
Albert frias
on
1/28/2018
Hello, I have the app In my iPhone and it works great, but i have downloaded the app in the iPad and it tells me: looks like your account doesn't include access to the QuickBooks online mobile app... what I need to do to have access?. Please advice! Thanks
Awesome-EASY
I have no regrets buying this for my book keeping for my small business.
Great but very expensive $$$$
I've been using QuickBooks for a long time and I love their online features that all work the together seamlessly. But, as a sole proprietor, $50 per month is crazy expensive for an accounting tool. Especially when they raised the price so much from where it was at a year ago. I would have given it five stars if not for the cost.
Disappointed
I've been using the phone app for a year now. When the app works it is fine however it constantly freezes and my only option is to restart my phone. I have deleted and downloaded the app several times but it has not fixed the issues.
SO. SLOW.
williamtarrant
on
1/24/2018
This app functions ok, I guess but it runs SO SLOW! Taking a receipt picture to enter an expense, for example, should be a quick and easy fast but the app moves so slow and it takes too many taps to complete such a simple task.
Demoted from 5 stars to 4
DisappointedButNotSurprised
on
1/24/2018
Using the app on iPad and iPhone for more than 5 years. Dashboard has been unable to properly show invoice status for at least 3 months now. Version 17.9, at least 3 updates ago? No fix yet nor response from Intuit after feedback. While I'm not fond of frequent updates, one expects to have these kinds of obvious bugs fixed in the next update.
Almost Impossible to back up data
Beware... Intuit has made it almost impossible to back up your data. To back up on a windows machine (backup isn't possible with the app), you have to install internet explorer, which is now an outdated browser. Then you have to DISABLE ALL SECURITY on the browser and install an Active X control. Then you have to sign into QBO using this insecure browser and request a download. The first time I did this it took hours to get it to work right. The download kept going into a "virtual directory" that couldn't be accessed. I eventually learned that this is how windows protects you from sites that don't have up to date security (ahem... Intuit). This can only be "fixed" by disabling all security protections on the browser. So much for the "bank level security" that intuit promises. And each time I do a backup I have to reinstall the active x control through a laborious process involving completely uninstalling the QBO program. Since QBO has a near monopoly in accounting they really have no incentive to make their products work properly. They don't want you to have your data and can't be bothered to create a modern download process. The thing that can be done with a click on your bank's website requires hours of frustration with QBO. Come on Intuit get this fixed!
Amazing
ApplePieMaids
on
1/24/2018
This product is an amazing on the go addition to your business!
Rarely works
The QuickBooks app worked great for awhile. Now with the last update, nothing refreshes. I'm always receiving messages that it can't "update at this time. Try again later." Very disappointing
I was using quickBooks desktop
I really like using QuickBooks online, especially like the synching, capabilities; it is much more convenient to login with any device.
Effective
We love the fact that our company can work together from distant / separate computers. We really appreciate that QuickBooks continues to upgrade and modify their program.the initial ( 4years ago drove our bookkeeper a little crazy) but each update makes sense and increases speed of system.
Fact Sheet
Publisher:

Intuit Inc.

Category:

Business

Released:

Feb 13, 2013

Current Version Released:

Mar 12, 2018

Version:

18.2.1

Size:

202.8 MB

Compatibility:

Requires iOS 9.3 or later.

Recommended Age:

4+

Game Center Certified:

No

Supported Languages:

English; French; Portuguese; Spanish; Castilian;