Screenshots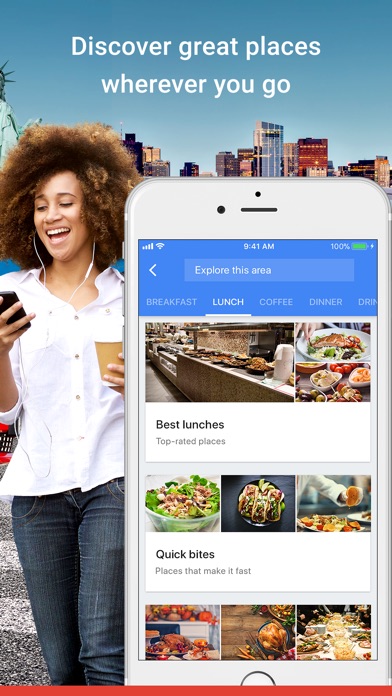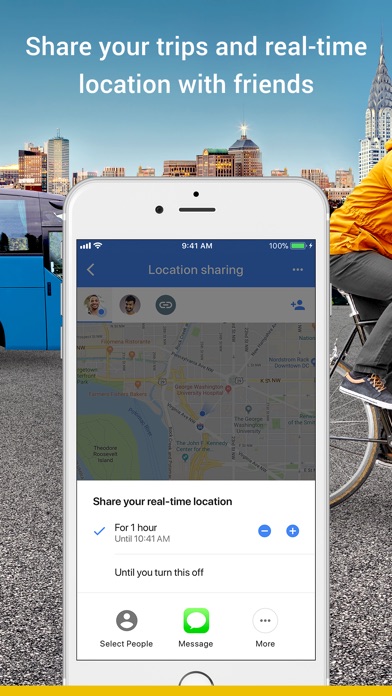 New in version 4.42
Thanks for using Google Maps! This release brings:
- A beautiful redesign of our map featuring updated colors and styling
- An easier way to view the impact of your reviews in the contributions tab
- The ability to filter by trains or buses in the Transit Departures widget
Update to the latest version to see all the available Google Map features.
Description
Google Maps makes navigating your world faster and easier. Find the best places in town and the information you need to get there.

Get there faster with real-time updates
• Beat traffic with real-time ETAs and traffic conditions
• Catch your bus, train, or ride-share with real-time transit info
• Save time with automatic re-routing based on live traffic, incidents, and road closures
• Don't miss a turn or exit with lane guidance
• Find pit stops along your route like gas stations and coffee spots

Discover places and explore like a local
• Find top-rated restaurants and local businesses, wherever you are
• Decide on the best places to go with reviews, ratings, and pictures of foods and interiors
• Plan your visit and see menus, make reservations, and find when places are typically busiest
• Help others discover the best places by sharing reviews, photos and more
• Save places you want to or often visit, and quickly find them later from any computer or device

Experience the Google Maps difference
• Offline maps to search and navigate without an internet connection
• Street View and indoor imagery for restaurants, shops, museums and more
• Indoor maps to quickly find your way inside big places like airports, malls and stadiums
• Comprehensive, accurate maps in 220 countries and territories
• Transit schedules and maps for over 15,000 cities
• Detailed business information on over 100 million places

* Some features not available in all countries
**Continued use of GPS running in the background can dramatically decrease battery life.
iPad Screenshots
Reviews
App is getting worse
It used to be very good. But lately seeing lot of issues.
Good map
Recently started turn by turn directions in Mongolia.
Epic Fail iphone X Design
The whole swipe up is totally non usable in navigation mode
Loading speed
Is anyone else having a problem with the speed that Google maps loads? In checking it against the Apple version, Apple loads and I'm still waiting for Google. I have an iPad mini, completely up-to-date wrt iOS and updates!
Nav voice has left the building.
I can't hear the navigation voice no matter what I do, despite its turned on and all the settings are correct. The maps and the turning are accurate, but for some reason I only hear beeps instead of a voice instructing me... Goes to show how much I rely on the voice. I thought maybe it was my phone, so I tossed my 6 Plus and got an 8 Plus and still the result was the same. Was this an update I maybe wasn't aware of some months ago? If not, please assist.
Latest App Version Ruined Google Maps Appeal for Me
IPhone 6S User Review 1) The latest version of Google Maps increased the city/street/advertising font size and makes it much harder to see the background Sat Image. Fix = Give user ability to choose Small/Med/Lg Font sizes. Also remove intense bold/shadowing effect. The way it's been the past decade was fine. If certain users wanted bigger font, it should have been a selectable option, not a whole-scale replacement. 2) The Gold Star icon for Saved Locations has been replaced with a much-to-large emblem that obstructively blocks the view when zooming out/in. Fix = Allow user to go back to using the small Gold Star 3) Locations of menu buttons have shifted, so if you could navigate the toolbar by reflex before, think again. Fix = Change back to former Locations for selection fields/buttons, and simply add new options in spaces that weren't used before. 4) Bottom Banner AI intelligence is poor and doesn't fade away easily when scrolling. Fix = Improve AI...or go back to old Banner 5) Pictures that load up are larger, which requires more decompression and longer to get an overview of a location/restaurant/venue you were investigating. Fix = Give user ability to customize picture sizes. 6) there is not enough contrast between colors on the standard non-satellite image view. Areas look washed out and blend together with other areas. When a Park, Mall, and Government facility all look nearly indistinguishable from each other, it appears a color-blind programmer was given this task on the new App version. Fix = increase color contrast options so areas on the Standard screen background can be more discernible. I used to use Google Maps multiple times every day, it was my favorite App (much better than the preloaded Apple Maps or Bing). It was one of the last apps I felt had elegantly improved gracefully throughout the past decade iPhone era; but this latest update of Google Maps truly ruined my experience and moreover my entire smartphone utility/functionality. Sincerely, Very Disappointed User. Generic Question: Why are OS's and Apps dumbing down graphics to singular 16-bit colors. Have coders gotten so lazy that they have to simplify their colors because they don't know how to streamline their code? Or is it we as a society are regressing back to more primitive/childish acceptance norms of what we consider a quality product?
Good
This app is great, however recently it has acting up. It does not register my location and it gets all jacked up.
Love it! So useful! Helps me plan where to go
bloombergsorbet
on
12/12/2017
My favorite is the Busyness Level feature. It helps me plan what coffee shops to go to and when so as to avoid places that are too crowded. It's really a lifesaver in a city like Austin that is having growing pains in regard to the service industry.
Hi
jenya hostyeva
on
12/12/2017
Hi
Great service
We had our yearly service of the work Ohio Basement Systems has done for us. Andrew was the technician and he did an excellent job. He was very polite, professional and knowledgeable about our super sump pump. I watched him as he worked and he explained why it was important that each item had to be addressed. Along with great service, he educated me more about the product. Andrew is an outstanding asset to Ohio Basement Systems.
A+
Hookedonponics
on
12/12/2017
Ran out of juice on vacation and upon entering a employee asked if I needed helped. Was great. Selection wasn't fully up my alley but they had something that fit my needs. Nice shop with decent prices.
Nbjgjhbhjg
jhhgvmhhgghyj
on
12/12/2017
Hvngvhgchgchgvyhvj
No special order!!!!!
Wanted a breast and thigh combo! Was told they couldn't do it! Told me it would be cheaper if I ordered a half chicken combo! When I go to pollo loco they substitute a thigh for a wing without question! Wasn't a good first impression!
Top Notch
They offer a large selection of men's big and tall clothing. The staff are professional and knowledgeable. They also have a great return/exchange policy if your big and/or tall guy is picky like mine is.
Has to be the dumbest feature ever added
When you get close to the destination, google maps flips everything around. Whoever thought of this and who ever thought it was a good idea should be working for a coloring map book. It's so stupid. I switched to waze because of this.
Best app by far.
I like the details.
Great Cuts at Adelina's Salon
Little Redds
on
12/12/2017
I have been going to Adelina for the past 2 years. The staff is great. Mario is great in reminding customers of their appointments. Adelina and Faith are quite talented. They are never pushy and always give great advice. I love the relaxing wash. Loyal Customer-Louise
The best
The others are still way behind.
بريد الممتاز
alialqhtani
on
12/12/2017
لستلام البريد
Old version was better
After the recent update it lags and sometimes doesn't even catch up until I uninstall and reinstall it hoping for a fix soon
Hmm
MoneyMagnet124
on
12/12/2017
Got me lost few times but to be fair so did Siri oh and when I went to West Covina area it didn't know all the dang freeway entrances were closed
Still inferior to Waze
Like Waze better
Fun and great prices!
Great atmosphere and Heather is a sweetheart!!! Great prices too!!!
First iPhone X implementation has problems
Uggh. While Google Maps has been my GoTo maps app for years, the first iPhone X version screwed up the new gestures. When you open Google Maps and start navigating, you can't swipe up to go back to home. You can't swipe right across the bottom to move to a different app. Once you start navigating, you can't leave the app without using Siri. Sheesh.
Late
I was lost for about 8 minutes because maps took me down the wrong complex. So I turned off my maps and had to remind myself that I could find my way around without some lady confusing me and telling me the wrong way to go. And yes I did type in the correct address.
Flawed
What a flawed app off late. Used to trust this over Apple Maps but reroutes every minute, chooses longer path ( with more traffic) and drains juice
Yul Berry
yugie Berry
on
12/12/2017
I love it thank you Google
Good but flawed
When zoomed out all the way the app crashes , does not respond to you touches.
م
Httvjivferjo
on
12/12/2017
برنامج بططططل :) Mj Al amri
Really great!
Babbette La Fong
on
12/11/2017
It is much better than regular Google maps.
Support for iPhone X
It finally has iPhone X support!
What happened?!?
This was perfect until the most recent update...now the app can't find me (thought I was in the middle of a field when I was on I-70), wouldn't travel with me (thought I was still at the location I started), and when it did find me on occasion, it was off the road I was on and would not straighten. Please fix this!!! I use this every day mostly to watch traffic as I get to and from work.
Review 12/11/2017
I've been on your forum for most things and a good half of the time they're fixed. It's still has a lot of unanswered questions but as of late they been answered under decently but close to a too long of a wait. Recently maps update adjusted the way the arrow follows when on compass mode , before it point it the direction ur facing and it helped with accuracy as to where ur going and the street ur on and it trace the upcoming street u need to be on in a straight blue line it guide on. Now it's a flat landscape format where u follow through a birds eye view sort of look and it's so much worse when u need to follow directions and ur using a hand free device. As it uses a birds view of the landscape and u have to really focus on the direction and guesstimate the turns since it's not in direct focus of the street ur on. For that I'm going to give u a two stars because u literally made it that much harder to use maps I think this is why waze is coming back from the dark.
Google Maps
Skyline Chatt
on
12/11/2017
Ease of navigation!
Grazie google map
graziegooglemap
on
12/11/2017
La mejor app de mapas grazie!!!
F plus
Doesn't work when I really need it
Google Maps Is Better Than My Wife
Feli "Pogi"
on
12/11/2017
Every time my wife and I travels, without map or navigator, we get lost. But, with google maps ready in my phone, every place we go are well travelled without being lost. Thanks Google for the very dependable maps.
Map centering bug
There's a bug that causes the car to center at the top of the screen rather than towards the bottom
Great app
Terrific app!!!!
Not supporting Apple Watch
theoutcast1
on
12/11/2017
I rely on Google Map, even when I'm overseas. What baffles me is why it doesn't support Apple Watch.
More ads than what you search for
Search for TD bank and you see all sorts of mortgage lender but not the bank you are looking for. You have to zoom meaning you guessthat it exists within the vicinity but won't show up immediately.
Stop controlling users!!!
Cannot switch between apps while driving
I DO NOT UNDERSTAND HOW YOU THINK.
Why when you add a stop does it not clearly show you total miles? If I do just a start and a destination I get total miles. Suddenly when you add a stop? GONE! Or at least hidden. Knowing you crazy SOBs it's probably a hidden feature someplace. Stop working on self driving cars and all your other BS and fix the obvious. FIX IT!
Great app
Great penfed app
on
12/11/2017
Can't live without this app especially in Chicago!!!!
Travel times widget not working after update
App was fine until the update. I've tried hard closing and restarting to no avail. The travel times just read "-" for work and home - they won't update. Please fix or tell me what to do to fix
Anticipation
Does not provide audible guidance about when turn is very near (say, 100 feet or so. Therefore I have missed turns when signage was small or absent.
Fact Sheet
Publisher:

Google, Inc.

Category:

Navigation

Released:

Dec 12, 2012

Current Version Released:

Dec 13, 2017

Version:

4.42

Size:

140.3 MB

Compatibility:

Requires iOS 9.0 or later.

Recommended Age:

4+

Game Center Certified:

No

Supported Devices:

iPad2Wifi-iPad2Wifi, iPad23G-iPad23G, iPhone4S-iPhone4S, iPadThirdGen-iPadThirdGen, iPadThirdGen4G-iPadThirdGen4G, iPhone5-iPhone5, iPodTouchFifthGen-iPodTouchFifthGen, iPadFourthGen-iPadFourthGen, iPadFourthGen4G-iPadFourthGen4G, iPadMini-iPadMini, iPadMini4G-iPadMini4G, iPhone5c-iPhone5c, iPhone5s-iPhone5s, iPadAir-iPadAir, iPadAirCellular-iPadAirCellular, iPadMiniRetina-iPadMiniRetina, iPadMiniRetinaCellular-iPadMiniRetinaCellular, iPhone6-iPhone6, iPhone6Plus-iPhone6Plus, iPadAir2-iPadAir2, iPadAir2Cellular-iPadAir2Cellular, iPadMini3-iPadMini3, iPadMini3Cellular-iPadMini3Cellular, iPodTouchSixthGen-iPodTouchSixthGen, iPhone6s-iPhone6s, iPhone6sPlus-iPhone6sPlus, iPadMini4-iPadMini4, iPadMini4Cellular-iPadMini4Cellular, iPadPro-iPadPro, iPadProCellular-iPadProCellular, iPadPro97-iPadPro97, iPadPro97Cellular-iPadPro97Cellular, iPhoneSE-iPhoneSE, iPhone7-iPhone7, iPhone7Plus-iPhone7Plus, iPad611-iPad611, iPad612-iPad612, iPad71-iPad71, iPad72-iPad72, iPad73-iPad73, iPad74-iPad74, iPhone8-iPhone8, iPhone8Plus-iPhone8Plus, iPhoneX-iPhoneX,

Supported Languages:

Arabic; Catalan; Valencian; Chinese; Croatian; Czech; Danish; Dutch; Flemish; English; Finnish; French; German; Greek; Hebrew; Hindi; Hungarian; Indonesian; Italian; Japanese; Korean; Malay; Bokmål, Norwegian; Norwegian Bokmål; Polish; Portuguese; Romanian; Moldavian; Russian; Chinese; Slovak; Spanish; Castilian; Swedish; Thai; Chinese; Turkish; Ukrainian; Vietnamese;