Screenshots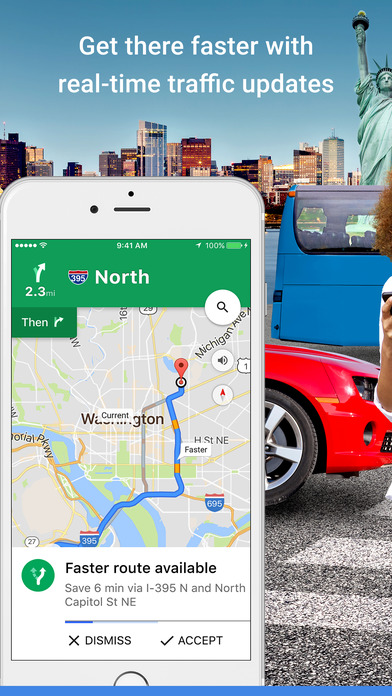 New in version 4.35
Thanks for using Google Maps! This release brings bug fixes that improve our product to help you discover new places and navigate to them.
Description
Google Maps makes navigating your world faster and easier. Find the best places in town and the information you need to get there.

Get there faster with real-time updates
• Beat traffic with real-time ETAs and traffic conditions
• Catch your bus, train, or ride-share with real-time transit info
• Save time with automatic re-routing based on live traffic, incidents, and road closures
• Don't miss a turn or exit with lane guidance
• Find pit stops along your route like gas stations and coffee spots

Discover places and explore like a local
• Find top-rated restaurants and local businesses, wherever you are
• Decide on the best places to go with reviews, ratings, and pictures of foods and interiors
• Plan your visit and see menus, make reservations, and find when places are typically busiest
• Help others discover the best places by sharing reviews, photos and more
• Save places you want to or often visit, and quickly find them later from any computer or device

Experience the Google Maps difference
• Offline maps to search and navigate without an internet connection
• Street View and indoor imagery for restaurants, shops, museums and more
• Indoor maps to quickly find your way inside big places like airports, malls and stadiums
• Comprehensive, accurate maps in 220 countries and territories
• Transit schedules and maps for over 15,000 cities
• Detailed business information on over 100 million places

* Some features not available in all countries
**Continued use of GPS running in the background can dramatically decrease battery life.
iPad Screenshots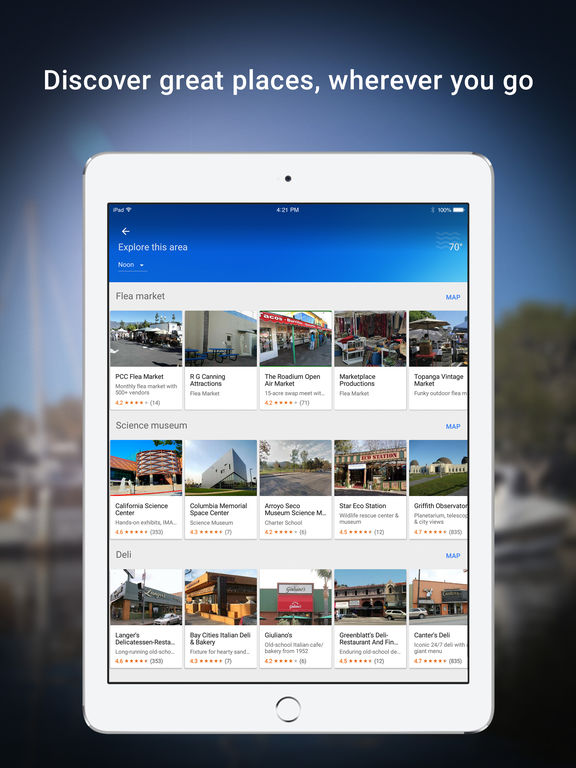 Reviews
Excellent working off line
Excellent tool!!!
Cast of Thousands
For No Reason
on
8/21/2017
Keith and Estelle are awesome! They have taken pictures of our family three times and I'm sure there will be more!! We have had family pictures taken, as well as two senior pictures shoots. They are the best!
Best Map for the Smartphone
squatchystone
on
8/21/2017
Hands down the best map and gps system for your smartphone. Google is 99% of the time the most up to date on the roads.
Great app;
hurjhuiwbhivfhjk
on
8/21/2017
This is a great must- have app. Very helpful when traveling .
Rural road
Seem fine on interstate but a little confusing on rural routes.
Great for traffic updates
We love the features that Google map offers. Keeps you updated to the latest traffic slow downs.
VERY annoying glitch since new update
Ever since the new update there is now an issue using the voice search within the app on my iPhone. Even though my microphone IS enabled for google maps I keep receiving a prompt to go into my settings to enable microphone in order to "start using voice search" every single time I try to use it. PLEASE FIX. It is so terribly annoying to have to close out this prompt each and every time I wish to use voice search. And the microphone symbol remains strangely enlarged in the upper right hand corner even after closing out prompt. Clearly something wrong with update. Have tried uninstalling & reinstalling to no avail. PLEASE FIX.
Google maps
In a nutshell: EXCELLENT! I'm sure millions of people will, and do agree. Anthony S.
Indispensable app!
I depend on Google maps to tell me what traffic conditions are ahead on my route. Now traffic backups are not a surprise.
Latest app doesn't work with microphone
Latest app doesn't recognize microphone settings already set in privacy, and keeps asking every time. Very frustrating.
Was good, now can't trust
Google maps used to be great, but since late June it has been giving me incorrect navigation sometimes and the UX has been getting worse. Sometimes the search textbox takes multiple taps to select (this iPhone is 2 weeks old), and sometimes it doesn't remember a search that I just typed in (like if a friend tells me an address and then I search for something else, it doesn't remember the first query). The navigation has sometimes given me alternate routes (or changes my initial route) that take much longer or retrace my route and have added 20-80ish minutes to my drive that I would've wasted if I hadn't looked ahead.
Very happy with the app
The app is a game changer. Could be better but still a game changer. I'd like to see some features simplified. I know the cops r using wayz and I hate that. This feature should be in the app as a toggle. So much more could be done.
I've blocked all google
Hsbsbsjsodbsnwi
on
8/20/2017
Junk, shove your monopoly.
A mess
A struggling delivery driver
on
8/20/2017
This app is great however it loads rather slowly. In addition the app will take one on very indirect routes including directions that will have you heading in the complete opposite direction of which you had started. Also the app is pretty inaccurate in leading people to their address.
?
JacobSteed123
on
8/20/2017
I can't even use the app because it won't update
You need this app
I was using my Garmin GPS most of the time now I am using google maps more and more.
MULTIPLE STOPS!!!
A free map app that actually allows you to enter multiple stops. Great turn by turn, and very accurate. Best map out there that doesn't cost an arm and a leg.
Best navigation app
Best navigation app hands down but one thing I recommend is that the widget needs to remember my settings such as no tolls etc because when I try to go home from the widget it uses tolls when I have my settings set to avoid tolls.
Current Version Not Working Well
Sometimes it works and sometimes it doesn't. It used to be more consistent. I have to get directions from another app when this won't load and the other app works fine so it shouldn't be a connection issue.
Great for navigation
I've been using it a lot for navigation and it works great!
eh
lxkvjokackvgldoaovj
on
8/20/2017
maps barely works on iphone
Penske Chevrolet of Cerritos
Thank you Rey Torres from Penske Chevrolet Cerritos. We are pleased with services we received from this car dealer. We were treated with respect and Mr. Torres was very patient. Thank you Penske & Mr. Torres for an amazing experience. Our car purchase was a wonderful one. The Vasquez-Avelar Family
Far better than iOS maps and waze!
Always room for improvement, but otherwise head and shoulders above the current navigation apps available.
The Best!!!
Simple the best accurate and reliable!! I love google maps, especially the Offline feature.
Five stars
It is an awesome app better then buying a gps
Awesome app!
Margarita's I-Pod
on
8/20/2017
Use google maps every time I need to! Love it!
السعودية
البرنامج جداً ممتاز ومع التطور والتقيمات اصبح برنامج اجمل بكثير ، ولكن التحديث الجديد هنالك مشكلة ارجو حلها وهي عدم المسار الصحيح للسهم وشكراً
ok here's my review
first time in 4 years i've taken the time to review an app. just wanted to express my appreciation. google maps is the single best application for navigation, allowing you to drag and drop multiple stops, calculating your entire trip time accurately, showing you where you're headed on the map rather than just blindly following a moving dot , and free offline maps too?! google maps developers, thank you for this free service. it means a lot to a young broke delivery driver:)
Google maps hands down
Is the most mappy happy app Hands down Thumbs up
Google maps
EngagingLoopyTime2
on
8/20/2017
Love this app!
Sticky
Why doesn't this update tell me what side the destination is on? Also I need the map to KEEP NAVIGATING until arrive, and not stop too early. Oh, and the constant rerouting, just at the moment before an important direction is cause enough to delete the app.
Even better than the default maps app for apple.
Beat app on the market. Even better than the default maps app for apple. I will use Google maps over any other app anytime.
Bad re route
It starts on one route then switches to a slower route
Y
Sansa's lover
on
8/19/2017
Yeah by by then. V g in Highn
Amazing App!
Today I was driving on I-75 and there was a major accident in northern Ohio. This app told me there was an accident and re-routed me down rural backstreets and put me back on the freeway about 50 yards beyond the accident traffic. Only problem is sometimes it routes me through dangerous neighborhoods and that's not cool when I am with my son or my elderly Aunt. Still gets five stars, though!
Finally figured out how to change it so it's not set to keep north autistically up
I love this app. I've found that Google maps and Apple maps are pretty similar as far as user friendliness is concerned, but Google Maps can actually find my house and other locations I like to go to (my street was built about 4 years ago, but apple maps still can't find my house) For the longest time I could not figure out how to change the settings so the map wouldn't automatically point north. I hated that feature.
Google Maps
I think this app is great 👍 I just follow the directions and I am there.
Awesome
Very accurate, just wished you guys had an Iwatch app
The best
Easy, light and clea.
Saves me from getting lost every day!
Best app ever!
To complacated
This app is to tight and complicated for iPhone. The new update has taken control of my search/ find need. MyActivityFeed is a nightmare. I am now one of those who whine "bring back the previous version".
Upside down
Boomer Miles
on
8/19/2017
When i type in my destination and go my view of everything is upside down, needs to be fixed
Add places to Timeline ?!!
Guys what happened to the "add places to your timeline" feature??! It has disappeared in the new version!!
Google Maps
App works great! Doesn't slow down or lag, and provides better information on traffic etc. than Apple Maps!
Worked great
MatthewStorkel
on
8/19/2017
This app worked really good for me
Better
This map service is much better than the maps already installed on my phone. I find corrections all the time between the two.
Heavy bug in current release - please fix asap
Chris Slamjam
on
8/19/2017
When I enter a route (from "my location" to some destination), maps doesn't calculate the route from where I am (btw: the blue dot is exactly right about where I am), but from another totally unrelated location (home or previously looked up address). When I start navigation, maps starts re-calculating the route, but doesn't finish (I have killed the app after some minutes). Very frustrating experience due to my heavy reliance on the app, please fix the bug asap. Thank you!
Works without wifi
Love this app!
Fact Sheet
Publisher:

Google, Inc.

Category:

Navigation

Released:

Dec 12, 2012

Current Version Released:

Aug 14, 2017

Version:

4.35

Size:

126.5 MB

Compatibility:

Requires iOS 9.0 or later.

Recommended Age:

4+

Game Center Certified:

No

Supported Devices:

iPad2Wifi-iPad2Wifi, iPad23G-iPad23G, iPhone4S-iPhone4S, iPadThirdGen-iPadThirdGen, iPadThirdGen4G-iPadThirdGen4G, iPhone5-iPhone5, iPodTouchFifthGen-iPodTouchFifthGen, iPadFourthGen-iPadFourthGen, iPadFourthGen4G-iPadFourthGen4G, iPadMini-iPadMini, iPadMini4G-iPadMini4G, iPhone5c-iPhone5c, iPhone5s-iPhone5s, iPadAir-iPadAir, iPadAirCellular-iPadAirCellular, iPadMiniRetina-iPadMiniRetina, iPadMiniRetinaCellular-iPadMiniRetinaCellular, iPhone6-iPhone6, iPhone6Plus-iPhone6Plus, iPadAir2-iPadAir2, iPadAir2Cellular-iPadAir2Cellular, iPadMini3-iPadMini3, iPadMini3Cellular-iPadMini3Cellular, iPodTouchSixthGen-iPodTouchSixthGen, iPhone6s-iPhone6s, iPhone6sPlus-iPhone6sPlus, iPadMini4-iPadMini4, iPadMini4Cellular-iPadMini4Cellular, iPadPro-iPadPro, iPadProCellular-iPadProCellular, iPadPro97-iPadPro97, iPadPro97Cellular-iPadPro97Cellular, iPhoneSE-iPhoneSE, iPhone7-iPhone7, iPhone7Plus-iPhone7Plus, iPad611-iPad611, iPad612-iPad612, iPad71-iPad71, iPad72-iPad72, iPad73-iPad73, iPad74-iPad74,

Supported Languages:

Arabic; Catalan; Valencian; Chinese; Croatian; Czech; Danish; Dutch; Flemish; English; Finnish; French; German; Greek; Hebrew; Hindi; Hungarian; Indonesian; Italian; Japanese; Korean; Malay; Bokmål, Norwegian; Norwegian Bokmål; Polish; Portuguese; Romanian; Moldavian; Russian; Chinese; Slovak; Spanish; Castilian; Swedish; Thai; Chinese; Turkish; Ukrainian; Vietnamese;