This version of the app is not recommended
App last updated
Jan 22, 2018
Screenshots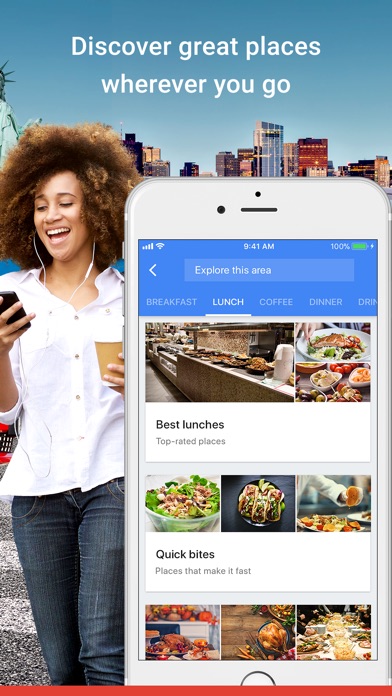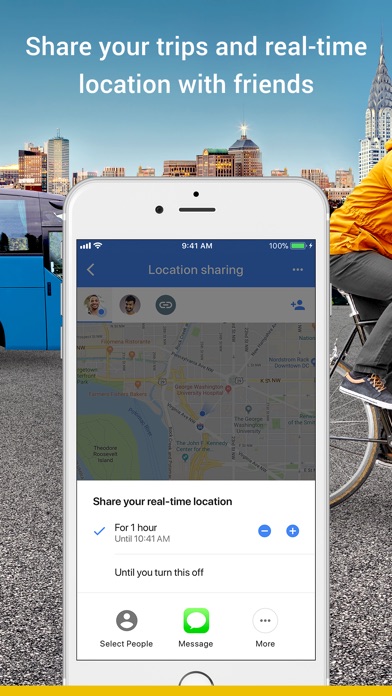 New in version 4.44
Thanks for using Google Maps! With this release, you can now add additional shortcuts to the Travel Times widget (e.g. school, daycare, gym, etc). It also contains bug fixes that improve our product to help you discover new places and navigate to them.
Description
Google Maps makes navigating your world faster and easier. Find the best places in town and the information you need to get there.

Get there faster with real-time updates
• Beat traffic with real-time ETAs and traffic conditions
• Catch your bus, train, or ride-share with real-time transit info
• Save time with automatic re-routing based on live traffic, incidents, and road closures
• Don't miss a turn or exit with lane guidance
• Find pit stops along your route like gas stations and coffee spots

Discover places and explore like a local
• Find top-rated restaurants and local businesses, wherever you are
• Decide on the best places to go with reviews, ratings, and pictures of foods and interiors
• Plan your visit and see menus, make reservations, and find when places are typically busiest
• Help others discover the best places by sharing reviews, photos and more
• Save places you want to or often visit, and quickly find them later from any computer or device

Experience the Google Maps difference
• Offline maps to search and navigate without an internet connection
• Street View and indoor imagery for restaurants, shops, museums and more
• Indoor maps to quickly find your way inside big places like airports, malls and stadiums
• Comprehensive, accurate maps in 220 countries and territories
• Transit schedules and maps for over 15,000 cities
• Detailed business information on over 100 million places

* Some features not available in all countries
**Continued use of GPS running in the background can dramatically decrease battery life.
iPad Screenshots
Reviews
TRUCK ROUTES
Is there an option for a TRUCK Route for us truck drivers. Some city and town road we are unable to travel often leading to delay of transportation due to drivers struggling to find a truck route. Thanks G!
Location services lingers for several seconds after exiting app
App continues to track location services a few seconds after app close resulting in visible hollow location services arrow being shown. Old version would close immediately and help to save battery life.
جوجل مابز
Khaled albazz
on
1/23/2018
برنامج مميز لايستغنى عنه
Cant start navigation, "go" button can't be pressed!!
"GO" button doesn't work all the time to start navigation after update!!
Lefty
Just great45678
on
1/23/2018
Great app very helpful and accurate.
Braces
I️ have been coming here since March and I️t has been nothing less than a great experience. I️ got my braces March 2nd and everything is going well.
I use google maps over maps
I use google maps even though I have iPhone. But it's odd or even stupid that it will take me in a circle going the opposite direction to get to my location instead of just having me turn left. For example this last time it wanted me to go up a road turn right, then right gain, then right again, then left to be back on the road my destination was on(where I started from) for me to then turn right to turn into parking lot. When I could have just turned left and been there...so it wanted me to go in a complete circle for wasted time... lucky I saw my destination
ALWAYS WRONG
Penny & Stank
on
1/23/2018
Always wrong! Always demanding U-Turns where not permitted! Always losing signal while downtown Chicago and on Wacker Drive! Upper and lower! Always rerouting!
Mystic-awesome
Great friendly staff. Couldn't ask for more helpful and experienced staff! A+ in my book!!
Google matters
Don't you just love Google is always here for me I love you
A great app
I love the app, very useful
😺😺😺
Himmylovesbijou
on
1/23/2018
I just took my cat there to get groomed. What an awesome little shop. The owner was very patient and gentle with my kitty. Reasonable prices too. I would definitely recommend this place! I will be taking my dog there next.
Good maps Update Not Responding when tapped
I see developers just updated about 18 hours ago. I tapped on it to do the update I was notified about. It's not updating in fact it doesn't respond just sits there... yes I waited but nothing. If the developers could look into this it seems stuck ? Ok then. I'll keep an eye out until then it's not updating.. does nothing it is not responding.
Mala señal
Escribo una dirección y no la encuentra
👎🏻
Jim Pittaluga
on
1/23/2018
STILL lacking "without traffic" times. And SPEED LIMITS. Who would have thought Apple would beat Google to it.
G Maps
Golfcartlover
on
1/23/2018
i highly recommend this app if you travel or need navigation a lot. it blows all other map navigation apps completely out of the water.
Speed
They should add a speed meter and show the current speed. and Red light cameras, and speed cameras.
Better Right than Sorry
I have used GM for the last 7-8 years. Accurate, fast and intuitive in all aspects of navigation. I have a 2005 Dodge RAM truck, with Google Maps it becomes my Bentley on the road. Thanks Google that makes a great solution. One thing I would like to see is printing a map of my journey for my business reports and customer portfolio's. I don't want all the directions just a clear map to and from my location to theirs I can easily print. Thanks. Bob
Best public transit mapping & predictor
Sybil.Disobedience
on
1/23/2018
I can't say if their public transportation mapping and predictions are the best in every major city, but I can attest to the San Francisco Bay Area, which is not very easy to navigate, so let a native save you a lot of trouble. Forget all the other apps because they're never as accurate nor as intuitive. Google has more resources to notify within seconds of schedule changes, quicker than the respective government agency where the delay may be (ie Muni accidents might not show up for 20 mins on predictions, yet Google Maps will immediately notify you and offer reroute)So no matter where you are traveling from, forget Muni app, or 511, or BART, etc., just coordinate your schedule through Google Maps. I also recommend getting a Clipper Card. Easiest way to keep track of transit passes and if you're not sure your schedule you can just load cash which is redeemable on all transportation systems (though obviously passes are your best value).
Great!
Google map is the greatest for finding directions with ease!
The best hands down
Super great and getting better..
Police Maps
Great..you ever wonder why when you use google maps your driving direction changes suddenly and your driving down a different street than normal no traffic no reason to change to a different street.. Then bam you realize that the sudden change took you to a street where there's police cars.. Sorry google some smells fishy.. Can't be a coincidence it's happened too many times..
Why is it messing up!
I've used google maps for a while and have had no problems. Now when ever I try to get directions it shows me the route for two seconds then disappears. So frustrating! Especially because I have recently moved to another country and this has been my main way of getting around. Has this happened to any one else? Is it going to be fixed anytime soon?
Google Traffic Widget no longer working - FIXED, Finally!
I like Google Maps, though I mostly use Waze while actually driving. This was fixed in the latest update: The Google Traffic Widget for iOS 11 stopped working the other day. It constantly says, "Unable to load".
?????
Saucyasslili
on
1/22/2018
Used to work perfectly fine until the last update. Now, when I list the directions, it doesn't update in real time. I have to go back to the navigation screen and go back into my list in order to get an up to date list! Map also goes completely blue at times. And the sliding on the street view is terrible. Come on google.
Almost perfect (almost)
Gregory Lerner
on
1/22/2018
For the vast majority of usage, this app has been flawless. The traffic is accurate, the routing is good, and the user interface is simple and easy to use. However, I have found some things to be quite annoying. For one, I have found that sometimes when I am in the far left lane on the highway, the app will think I am on the wrong side of the road causing it to constantly reroute me (this mostly happens in HOV lanes and high speed ezpass lanes). Another issue is that if I purposely choose a slower route because it is fewer miles the app will constantly tell me it found a faster route (I know there is a faster way, but I purposefully chose the longer timed route!) this is very frustrating, and on my last 2 hour drive it told me 5 times that there was a faster way and I had to take my hand off the wheel to cancel the change. Finally, my last complaint is that there aren't more alternate routes given. I'm lucky if the app gives me 3 options, whereas online you can drag the route to any road and it will find a route. Other than these issues though, the app is very well implemented.
Love the update!
Nice job google the latest update is great
Need
Need to update surrounding and pictures
Enable turn by turn navigation
why i can not turn by turn navigation
I'm Goo Goo over all things Google
I'm a Google Local Guide and love all things Google. Google rules the world and enhances everyone's world. Thanks
App crashing all the time on iOS11 iPhone X
Please fix asap!!! Life is hard without this app working.
Regrettably
I'm a new Llyf driver, and I don't have audio when I respond to riders who want to be transported to and fro. I'm really at a loss as to how to remedy this particular problem. Any suggestions?
Farhad Sharafi
farhad.sharafi
on
1/22/2018
Tehran
Awesome App
reedsorenson
on
1/22/2018
Awesome Google maps 5 star
Needs to be worked on
MahinTheQueen
on
1/22/2018
Google Maps was really good when I first downloaded it, but it keeps relocating and re-centering while I'm driving. One minute I have 35 miles to drive, and the next I have to take a random exit. Overall it has taken me to the right locations, but always after it has strayed from the original route. It's frustrating, and I end up driving more than I intended to via unknown backroads.
Speed limit and widget bug
Needs to show the speed limit and an Apple Watch app. Also needs to remember my driving settings such as no tolls from the widget when you 3D Touch on the app. I would love to use the 3D Touch feature to quickly get directions but it never remembers my settings so I have to go into the app then type in my frequent location to get no tolls.
" Go " problem
Hi When I updated to last version I cannot use "Go" feature. When I choose my location and destination it doesn't show me the ways on the map. Please check fix it soon because it's a necessary application for people. Thanks so much.
Please Support Apple Watch Again
Make humans life easier by re-supporting the best maps on Apple smart watch! I bike a lot and it is difficult to keep getting my phone out of my pocket at almost every junction to see the directions "sorry, I cannot depend only on sound"!
Speed Limit
Please ad a speed thang so I know how fast I'm going and what the speed limits are. Thanks
Love it!
Best GPS, simple as that. 😀
Not what it used to be
Had been such a reliable app, but in the past few months it has had some major problems on my Apple 7s. The projected time for a trip can be off by hours, the mileage is often off and does not send me the quickest way first, and it gets totally confused when it has to recalculate a route. I find myself pulling off the road and just looking at the map on this to figure out the route myself.
موقع خرة
مقع زي الخرة
on
1/22/2018
زبالة
Office visit
Icons graphics.com
on
1/22/2018
Great folks very friendly
Where are my stars!
I can't see my mark place since I updated!!!
Good food
Nice place to dine-in. The food was fresh and the service was fast. Not greasy, but very flavorful. I definitely recommend for lunch or dinner.
The best.
Taithesamurai
on
1/22/2018
The best free app ever even if my data is used to make the service better.
Google Maps:
Outstanding!!!
Lost with Google
I had to look over my route before I start driving because it stops working and freezing It stops almost 2 miles from where I'm supposed to be exiting I've deleted it retried checked settings it knows where I am when I start but loses me after maybe 5-10 minutes of driving now it's permanently deleted I'm back with Apple Maps
Recent change causing issues
This has been my go-to guidance app for years. Always rated it a 5. Recently, the "start directions" button is now followed by "start gps" before it will navigate, for some reason. It has introduced slower processing speed, particularly in urban areas. So much slower in quick turns with tall buildings around that it lags and I miss the turn. Noted same issue another reviewer complained about. The "heads up" has also gotten quirky and the arrow representing my auto is often turned 90 degrees/sideways. Confusing. I'm going to try something else. Would love to hear from the developer in what's up with this gps addition.
My personal assistant!!!
Siennabella1010
on
1/22/2018
I used the app everywhere I go !! Awesome !!!!!!! Thanks Google.
Fact Sheet
Publisher:

Google, Inc.

Category:

Navigation

Released:

Dec 12, 2012

Current Version Released:

Jan 22, 2018

Version:

4.44

Size:

142.8 MB

Compatibility:

Requires iOS 9.0 or later.

Recommended Age:

4+

Game Center Certified:

No

Supported Languages:

Arabic; Catalan; Valencian; Chinese; Croatian; Czech; Danish; Dutch; Flemish; English; Finnish; French; German; Greek; Hebrew; Hindi; Hungarian; Indonesian; Italian; Japanese; Korean; Malay; Bokmål, Norwegian; Norwegian Bokmål; Polish; Portuguese; Romanian; Moldavian; Russian; Chinese; Slovak; Spanish; Castilian; Swedish; Thai; Chinese; Turkish; Ukrainian; Vietnamese;