TapNova doesn't recommend this version of the app.
New in version 4.32.1
Description
Google Maps makes navigating your world faster and easier. Find the best places in town and the information you need to get there.

Get there faster with real-time updates
• Beat traffic with real-time ETAs and traffic conditions
• Catch your bus, train, or ride-share with real-time transit info
• Save time with automatic re-routing based on live traffic, incidents, and road closures
• Don't miss a turn or exit with lane guidance
• Find pit stops along your route like gas stations and coffee spots

Discover places and explore like a local
• Find top-rated restaurants and local businesses, wherever you are
• Decide on the best places to go with reviews, ratings, and pictures of foods and interiors
• Plan your visit and see menus, make reservations, and find when places are typically busiest
• Help others discover the best places by sharing reviews, photos and more
• Save places you want to or often visit, and quickly find them later from any computer or device

Experience the Google Maps difference
• Offline maps to search and navigate without an internet connection
• Street View and indoor imagery for restaurants, shops, museums and more
• Indoor maps to quickly find your way inside big places like airports, malls and stadiums
• Comprehensive, accurate maps in 220 countries and territories
• Transit schedules and maps for over 15,000 cities
• Detailed business information on over 100 million places

* Some features not available in all countries
**Continued use of GPS running in the background can dramatically decrease battery life.
iPad Screenshots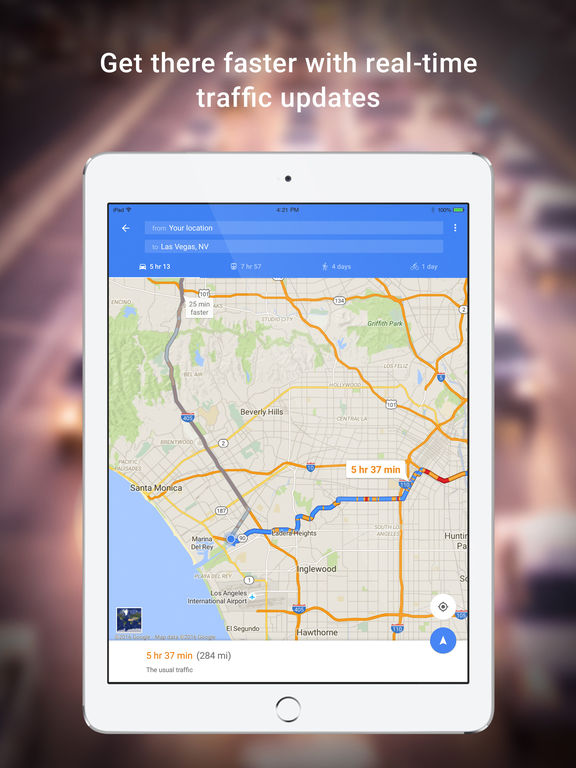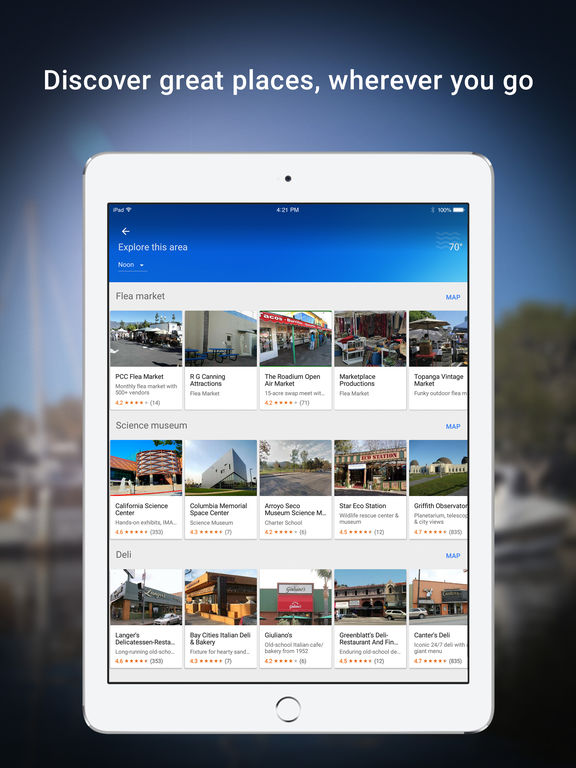 Reviews
GPS shows my car not in true location, had to use a real map for a trip!
App used to work perfectly on my iPhone 6. Now it only lists the directions when I enter in my route from A to B, which I screen shot to follow because the GPS has my car driving off the route. If I'm on a highway, it shows my car on streets running next to it. My car has even appeared to drive on water when clearly I'm on a road. This is only good for highway driving, forget about once you get off & are on regular streets, you'll be shown on the map as a block or two away from your actual location. Confusing when your someplace new, trying to find a specific address.
Great!!
Love it, works great!!!
Great
Way better than the apple map which keeps getting me lost.
Google Map is the best specially in Iran.
Google Map is the best specially in Iran.
The update turned a good thing into a bad thing
I have used this app for years & was EXTREMELY pleased that it offered the ability to swipe the direction bar at the top of the screen to allow a preview of the upcoming directions thus improving the drive. I found this to be EXTREMELY USEFUL. SINCE UPDATE, UNFORTUNATELY this feature is no longer available. INSTEAD you get small written directions listed which simply IS NOT USEFUL IF ONE IS DRIVING. WHO HAS TIME TO READ WHEN DRIVING. Most appreciated if this feature was lost & the swipe method returned. If it wasn't broke, why fix it.
Lots of issues
My GPS coordinates are always off by a little bit saying I'm traveling on the street next to me even though I'm moving Street and The direction that I travel is constantly changing
Recent update
Suman gogada
on
6/25/2017
I took the recent update and i was about to start for a long journey and i see the google maps is not working on mobile data .... very much dissapointed..
4 stars
I'll give it 5 stars after I use it more on my iPhone 7. I used google maps on all of my Samsung phones and it let me down a couple times with bad directions
Only Map I always use
I've been using google map right after I ditched MapQuest years ago. Even though I own iPhones I still use Google Maps.
Find places fastest
I love this app only wish I had speed limits on this app
Time to leave not working
My go to app for navigation. I am having two issues... #1 Time to leave alerts are not working, even when set in Google Maps with location available to Google Maps Always. #2 Better Apple Watch integration is needed.
Used to be better
This app no longer show google reviews when I search for "restaurant" etc in my area unless I click on each listing. What's the point of reviews if consumers can't easily use them to choose a place? Probably one more thing they want people to pay for or something.
Great Apple Maps replacement but...
Colin Steinberg
on
6/25/2017
I wish there was 3D Maps in Google Maps. :(
Awesome sauce
Google maps WILL take you where you want to go it's the only GPS I use anymore except Waze which is also owned by Google.
Do not ask me to login again
Enough google I do not want to sign in to any if your products ever! I don't understand how this is consider a 4.5star app. Only if you compare to others but still not good
Never a problem with Google Maps
keithchristian
on
6/25/2017
I find it to be helpful every day and really enjoyed the timeline feature.
Annoying Alerts and Needs Apple Watch Compatibility
The amount of times it tells me to either turn on a certain road when I am already on it or it tells me to go straight, is very annoying. No need for it, fix that. Next, you need Apple Watch integration just like Apple Maps. That's what'll bring this app up to speed. Otherwise, daily user.
Great
X x Legos x X
on
6/25/2017
Use it every time and it so good
No correct time
Miche11310v3
on
6/25/2017
It's not giving me the correct time that the bus will pass. I put that I will depart at 9 am and it says that the bus will arrive at 4.
Switching back to Waze
I have been a long time Google Maps fan and have persistently used it as opposed to anything else. However, on my recent vacation the app didn't tell me where to go on the freeway in a large city. I ended up going the complete opposite direction and my family was completely lost in a city we had never been to before. Additionally, while driving lately, the app has been switching courses randomly while I'm driving. I'll be on course to go a certain way and then the navigation will completely change and take me a different way without me selecting a different path. Overall, very frustrated with this app and will not be using it again. The lack of efficiency and overall incompetence of this app was apparent when I needed it most.
Again ?
Really , are you trying to kill us ? To see next turn you hide the map and show next turn and touch it to see what it is ? That 5 second if your vision is 20/20 Who's idea is it ? Fire him lol Simplicity people . Don't forget we should have eyes on the road . Did anyone notice the voice sound getting lower and then a little higher . Please fix this problem.
Great.
Tyler D. Anderson
on
6/25/2017
Works great.
I have a suggestion
Thank you for making the option for remembering the route settings like avoiding tolls, but can you make it work please? I'm having an issue where even though I check the box, it doesn't remember to avoid tolls. When you're on the road and have to input directions on the fly, it erases the setting and I ended up on the toll road. I would have just re-routed myself to avoid it, but I had just spent a week with a bunch of crabby teenagers and wanted to get home. Re-routing would have added 45 min to the trip that I didn't want to spend in a van with those people. Please fix this issue and make it permanently remember the settings.
Safari to G-Maps
My man my son
on
6/25/2017
From the safari browser the directions link will not open and paste link in the google maps app.
On offline map ?
Thanks for the new updates, but I'm facing a problem that in offline mood only the car root can be saved but the walking and train maps can't be saved!! Hope you fix this soon 👌🏻👌🏻
Best nav
Blargateyomama568
on
6/25/2017
Way better than apple maps....
It freezes sometimes
Nobullshitreview100
on
6/25/2017
On ios 10.3.2 somtikes it freezes and I need to close and reopen the app it's actually annoying
Love google maps
There is so much detail in this app that most map apps miss.
baobabfr
I strongly agree with vsqd that removing the ability to swipe ahead on the top bar to preview upcoming turns MAKES NO SENSE and creates dangerous situations. Please restore this feature!!
Very Good
Thegamer dude
on
6/25/2017
Yes... Very good app
Broken navigation!!!
When driving, the blue arrow will point in the completely opposite direction! Very bad!
Was a great app before this update
This version is awful! Please go back to the previous version. I don't want to see boxes where houses are. I'm so upset I downloaded this version. Wish I could get the previous one back! I feel like crying! 1 star because it's a map!
It's ok but..
The maps and navigation are decent, however using the app (tapping/swiping) is frustrating. The app misinterprets taps for double taps to zoom in/out a lot, so it's always zooming in and out rather than panning. I get that this is for one handed use, but it's twitchy and jittery. If there was an option to turn that off, it'd make it better.
Great
Pretty Smile
on
6/24/2017
Great
Awesome
This is a very useful app!
Great
katson griffins
on
6/24/2017
I think it is great
Used to be good
Google map was among my favorite navigation applications until the recent update. Recently, the estimation times have been incredibly inaccurate, and the routes are no longer optimized for saving time.
Don't do it
Don't trust fast route
on
6/24/2017
Sent us a longer way even though it said it would be faster the way it took us kept adding time. We were supposed to get there at 7 and didn't get there until close to 8 because the way this map took us. So angry not using this app anymore and don't trust when it says they have a faster route for you
Beats Apple Maps!
So much better than apple map and way more accurate!
Great Maps Application
I finally got it right.Works great!!
It's Good!
One of the better Apps to use when you're traveling!
so helpful!!!
Is being so good this apps
Update ruined it. No longer shows directions
Can't get directions to anywhere. Just links to websites etc. Awful.
Motorhome Ken....
motorhome Ken
on
6/24/2017
This map is old and the satellite map has not been updated in 2 or more years
Fact Sheet
Publisher: Google, Inc.
Category: Navigation
Released: Dec 12, 2012
Current Version Released: Jun 12, 2017
Version: 4.32.1
Size: 150.4 MB
Compatibility: Requires iOS 9.0 or later.
Recommended Age: 4+
Game Center Certified: No
Supported Devices: iPad2Wifi-iPad2Wifi, iPad23G-iPad23G, iPhone4S-iPhone4S, iPadThirdGen-iPadThirdGen, iPadThirdGen4G-iPadThirdGen4G, iPhone5-iPhone5, iPodTouchFifthGen-iPodTouchFifthGen, iPadFourthGen-iPadFourthGen, iPadFourthGen4G-iPadFourthGen4G, iPadMini-iPadMini, iPadMini4G-iPadMini4G, iPhone5c-iPhone5c, iPhone5s-iPhone5s, iPadAir-iPadAir, iPadAirCellular-iPadAirCellular, iPadMiniRetina-iPadMiniRetina, iPadMiniRetinaCellular-iPadMiniRetinaCellular, iPhone6-iPhone6, iPhone6Plus-iPhone6Plus, iPadAir2-iPadAir2, iPadAir2Cellular-iPadAir2Cellular, iPadMini3-iPadMini3, iPadMini3Cellular-iPadMini3Cellular, iPodTouchSixthGen-iPodTouchSixthGen, iPhone6s-iPhone6s, iPhone6sPlus-iPhone6sPlus, iPadMini4-iPadMini4, iPadMini4Cellular-iPadMini4Cellular, iPadPro-iPadPro, iPadProCellular-iPadProCellular, iPadPro97-iPadPro97, iPadPro97Cellular-iPadPro97Cellular, iPhoneSE-iPhoneSE, iPhone7-iPhone7, iPhone7Plus-iPhone7Plus, iPad611-iPad611, iPad612-iPad612, iPad71-iPad71, iPad72-iPad72, iPad73-iPad73, iPad74-iPad74,
Supported Languages: Arabic; Catalan; Valencian; Chinese; Croatian; Czech; Danish; Dutch; Flemish; English; Finnish; French; German; Greek; Hebrew; Hindi; Hungarian; Indonesian; Italian; Japanese; Korean; Malay; Bokmål, Norwegian; Norwegian Bokmål; Polish; Portuguese; Romanian; Moldavian; Russian; Chinese; Slovak; Spanish; Castilian; Swedish; Thai; Chinese; Turkish; Ukrainian; Vietnamese;