Screenshots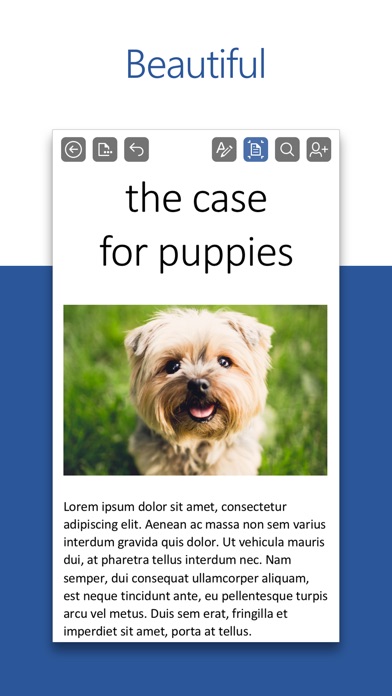 New in version 2.7
Thank you for using Word.

We regularly release updates to the app, which include great new features, as well as improvements for speed and reliability.

Did you know that with an Office 365 subscription, you can unlock the full power of Office across all of your devices? Find special offers in the app.
Description
*** Word is ready for iPad Pro and looks amazing on the 12.9-inch screen. Read Word documents on iPad Pro for free. To create and edit docs, you need a qualifying Office 365 subscription. Try it for free for 30 days. ***
The real Microsoft Word app designed for iPad, iPhone and iPod touch.
Now Word documents look better than ever on your tablet and phone. When you edit or create documents, you can be confident they will look exactly how you want across PC, Mac, tablet and phone. Word has the familiar Office look and feel along with an intuitive touch experience, so you'll be up and running in no time.
On iPhone, iPad Air, and iPad mini, the core Word experience, including viewing, creating, and editing documents, is free. Or unlock the full Word experience with a qualifying Office 365 subscription. On iPad Pro, you need Office 365 to create and edit documents.

WORD DOCUMENTS LOOK BEAUTIFUL
•Images, tables, charts, SmartArt, footnotes, equations are all there, nicely formatted.
•On your phone, choose between the real document layout or an easy-to-read layout.
•View email attachments and access Word documents from OneDrive, Dropbox, iCloud, OneDrive for Business, or SharePoint.
•Print Word documents to an AirPrint printer, with or without markup.

CREATE AND EDIT WITH CONFIDENCE
•When you edit a document, your content and formatting are maintained across all your devices – PC, Mac, tablet and phone.
•Express your ideas exactly the way you want, with rich formatting including fonts, pictures, tables, charts, textboxes, shapes, footnotes, page layout and more.
•Track changes, add comments and work simultaneously with others on the same document.
•Get tasks done faster, with multitasking. Run Word for iPad side by side with other apps (requires iOS 9).


REQUIREMENTS

iPad Pro: To create or edit documents, you need a qualifying Office 365 subscription* , which also gives you access to the full Office experience.

iPad, iPhone, iPod Touch: To create or edit documents, sign in with a free Microsoft account. To unlock the full Office experience and to access and save documents in OneDrive for Business or on SharePoint, you need a qualifying Office 365 subscription* .

*To make an in-app purchase of an Office 365 Home or Personal subscription, open the app. In the document picker screen, tap Upgrade. Subscriptions begin at from $6.99 a month in the US, and can vary by region. With an Office 365 subscription, you get access to all features in Word, Excel, and PowerPoint on iPad, iPhone, and iPod touch, and you can install Word, Excel, PowerPoint, Outlook, and OneNote on PCs or Macs.

Office 365 subscriptions purchased from the app will be charged to your iTunes account and will automatically renew within 24 hours prior to the end of the current subscription period, unless auto-renewal is disabled beforehand. To manage your subscriptions or to disable auto-renewal, after purchase, go to your iTunes account settings. A subscription cannot be cancelled during the active subscription period.

Privacy Policy: http://go.microsoft.com/fwlink/?LinkID=507539. Terms of Use: http://go.microsoft.com/fwlink/?LinkID=390698.
iPad Screenshots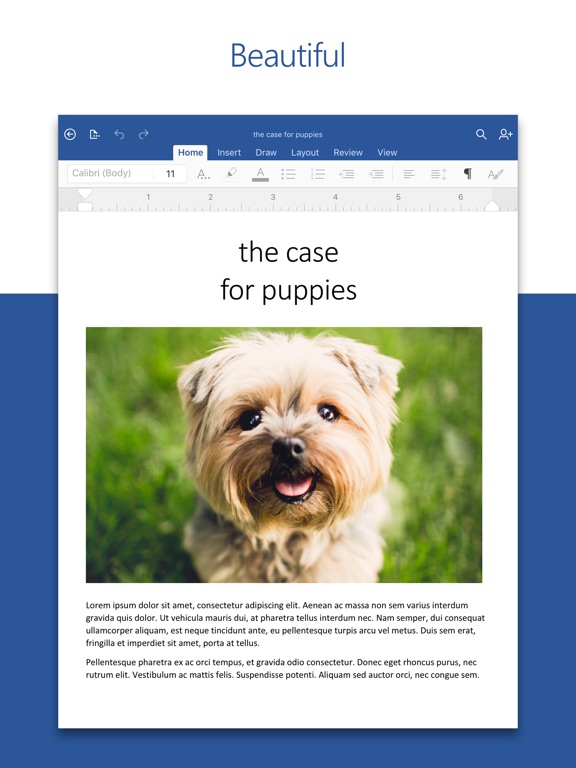 Reviews
This is Amazimg
Word is a cool app because you get to do many things and you can let out your feeling and just find your passion with writing and you can enter a whole new world of things that you actually like.
Not Stable and Not iCloud Compatible
On latest version of iOS and iPad Pro with an Office 365 subscription. Word DOES NOT AUTOMATICALLY SAVE FILES TO ICLOUD. You, know, the way every other app automatically backs things up so if you have to reinstall the app or change devices all of your data will still be available. It's a GREAT feature that Apple provides to developers but Microsoft has deliberately chosen to not build that into Word for iOS. So you can save things to Microsoft's Cloud storage or a dozen of other services, but no iCloud for you. Why does this matter? If you want to work on files offline, you want them on your iPad. BUT if you leave them on your iPad, then they will not be backed up. That's a bunch of garbage. This become a major problem when, as has happened to me and many others based on online support forum comments, the software develops bugs and needs to be reinstalled. Microsoft doesn't ask you to wait for a fix — they assumed the problem was with Apple — they just tell you to reinstall. Repeatedly. And the kicker is that when I called Microsoft for support they did that thing that they do with PC software — they told me to call Apple. One of the greatest things about iOS is that when there's a bug in an app, the developer and Apple figure it out. But Microsoft-land, which I have re-entered (though I wonder how much more of this I can take) they just point fingers at Apple and provide useless support. Apple can solve my problems, but they require Microsoft to fix their buggy app.
Fits my needs
Fits what I need perfectly. Cool fonts, saves automatically, easy to use. Some minor random glitches with fonts and extras but easily resolved itself when I signed out n signed back in. 👍🏼
Great app with broken functions
Ever since an update a few weeks back many formatting function (bold, italic, styles) and even copy/paste cease to work once the app is put in the background once. Has to be reopened to reenable these functions. Please fix.
Awesomeness
Maybe add a night mode, or an option to switch between lighting options for writing in the dark.
Savvy way to complete or work on Word Documents on the go.
It is limited compared to a conventional method using Word through a laptop, however if you can acclimate quickly to editing documents on the go.
UGH
HATE IT! Used it successfully for loads of work but suddenly over the last 6 months it refuses to function. Will not allow me to center headings, add or delete info to lists--in general, I have just given up! I find my Panasonic electric typewriter works sooooo much better and "I" control it.
Great
Bobry\Toddry
on
11/15/2017
It has been great I became an author because of this app
TERRIBLE APP! I ABSOLUTELY HATE IT!!!
jermiburchett
on
11/15/2017
I was writing something very important on here and I was almost finished with it and all of a sudden, it vanished!!!
Microsoft Office/Word for iOS, IPhone/IPad
Diana and I both have an iPhone and an ipad1. I have iOS Moffice on both my iPhone and my iPad. Licensed copies that I pay for. My question is how much to add the same to my wife's iPhone and iPad?
Clumsy, Buggy, Frustrating
—CMD+Shift+Arrow keys to highlight is broken —Undo doesn't work half the time you're editing in track changes —File picker doesn't even sync with OneDrive, and you can't save files to iCloud —No support for saving a file offline and uploading to cloud later. If your internet connection is down and you try to save or go back to the file picker, MS Word hangs forever. —If you import a document, you have to save it before you can change it. The default selection for saving is something called "Recent Folders," which only populates with your recent folders from OneDrive.
I wish redline feature didn't require payment.
Title says all.
use google docs for multi-language use
arbok_charmer
on
11/14/2017
I take clases in german and spanish. so it's much easier to use the international us keyboard layout. word on desktop works fine but microsoft could care less about it's users that use multiple languages at once for ios. google docs works flawlessly where as word's spellcheck breaks as soon as you try to switch languages. their brilliant answer is to change the language of the os every single time you want to work in other languages. I am going to stick to google docs and cancel my subscription to office 365. besides that the app is alright.
I'm sorry to say this but...
ColorfulArtist86
on
11/14/2017
I truly believe that this Office 360 subscription is unnecessary and unfair for some iPad Pro users whom cannot afford it monthly. I am not going to use the month free trial again: I don't think that they would let you have another month free when you already used once before. As long you have Microsoft account to sign in and its cloud computing, don't you think that it is actually more enough to use this app? Please, at least try and let people have the halfway basics or even better have an In-App purchase choices to use the Word app.
Doesn't work with user fonts anymore
D from DC121
on
11/14/2017
Very disappointed in this app post- iOS 11. It stopped working with user-installed fonts; now whenever I open a document with one of my user fonts, it says insufficient memory and closes the doc. I've reported the bug on the Microsoft forums but it has been weeks and no fix has been forthcoming.
Waste of Time.
TakingOutTheGarbage
on
11/14/2017
I am constantly blown away by how terrible Microsoft Office products are on the iPad. I would love a world where Apple and Microsoft Products got along. I have lost countless lab reports and papers to the garbage OS of this app. Thanks for the time waste, Microsoft. Good job.
A few more tools
Ranger Mike
on
11/14/2017
Where is "select all" to copy and paste. This would be useful. Or have I been too dumb to find it?
Great
I have word on every tablet, computer, and use it in my store. The finest word processing program but only scratches the surface. Sign, flyers, and labels just mention a few more. Great!!!
1 star for not being transparent
amnesia-kei
on
11/14/2017
If you don't tell me what you've changed in updates, you get 1 star
Isds
nathan_1987_doan
on
11/13/2017
The best word isds
The Right Template
Sweetnatura
on
11/13/2017
When I have to type a letter I can rest assured I will find the right template to fit any of my needs.
Speaker
Can now create on y pc and speak from my IPad.
Enables me have my office in my pocket
SusieTwinkles
on
11/13/2017
This app is not perfect . However , it is the best means for me to carry my office with me in my pocket . I have written front page news stories for the media using this app on my iPhone 6+ I think this is pretty darn FANTASTIC !!!!! Wish there were more instructions on usage . I've been using the app by trial & error . I do love this app. Thank you !!! Now , I pretty use this app on the go , instead of going to my desk top ! Thank you , Microsoft !!!
Why No Offline Option?
I was really glad to get this app in my iPad. I was a little disappointed that I wasn't able to save my new documents without being online. I feel that it would help if there was an online save option, because some people aren't always able to be online... just a thought, you know?
GLITCHES
It glitches too much and then it kicks me out
Force to Quit and Reopen - Needs to be Fixed
Using my IOS 11 iPad Pro to access Word, I am having a significant issue that requires me to close out a document, close the Word and and then reopen Word and the document I am working on. This occurs while I use the track change feature of Word. I am working with documents of 20 pages or more and making significant edits. Suddently and continually, features like footnotes and track changes will stop working property (in particular, you can only view a track change document in the mode that only highlights the change with a horizontal line in the margin and not in the mode that shows the changes to the actual text; you can not alter any of the track change features). So I can not make edits and I am forced to close the document. If I reopen the document, the problem persists. It is only when I close both the document and exit Word and then open the app and the document that I am able to continue editing the documnent. This is not an isolated problem, as I have had this problem for a while and with different documents. This needs to be fixed, otherwise, this Word app is unreliable, especially in a work environment. Also, I'd like to see Word changed so that you can alter the way tracked changes appears (right now it only shows changes in black text as underlined). The standard in the business I'm in it to show changes in different colors without underlining. Finally, it should be updated to allow for dragging and dropping with other IOS apps as provided by IOS 11. Pretty disappointing for what purports to be the industry standard robust word processing app for mobile (Apple) devices.
i Love word
caitlyn breen
on
11/13/2017
Word is fun because you do so much stuff on it and you can edit documents and stuff
Pretty good, just need Files integration
Works good, let's you open and edit all Word files I've thrown at it. On the iPad it's even better. The only real complaint I have is it doesn't integrate with the Files app, and as I don't use OneDrive (use Dropbox) I have a subpar experience moving between directories, I'm unable to set favourites, etc. This really needs to be worked on.
Abosulte garbage
Sorta fun but where's the fatality
on
11/12/2017
It's just is, can't say how many times I have lost progress while trying a paper.
Suddenly cannot edit and safe
Ultimatesupporter
on
11/12/2017
I have trouble log in and edit my document. No matter how many times i tapped "activate", it just kept loading for five minutes+ and i had to refresh the app and start it over again. I still can creat any new files and access my old ones. How could this happen? Does that mean I have lost all my documents? Plz help
Keeps crashing
Captain Wingtip
on
11/12/2017
Typically a fan of MS Word, but lately it closes unexpectedly and repeatedly on both iPhone and iPad.
Keeps Crashing
This would be an awesome a app if it would stop crashing every time I edit a doc.
Subscription
Jack Sparrow rocks
on
11/12/2017
It's really lame that I've bought Word on three computers and I can access and edit my documents on a regular iPad and my iPhone but if I have an iPad Pro I can do anything but view with without a subscription.
Very good app but I don't like it not exactly word document.
Jacke1the5sake
on
11/12/2017
I wish the app on my iPad would be better like on my dell laptop.
I LOVE MICROSOFT WORD
Microsoft word is amazing I highly recommend it.
Every month
I use it every month for my Meds schedule. Great tool. Bigly !
Microsoft Word Mobile App
So far I've been able to accomplish every task I've needed to complete. The only problem is the lag time between selections and displays. Either way it's very convenient to have available on the go and it's saved me in times of need when I don't have a laptop available.
Fails to open in iOS11.1
Does not open with latest iOS11 update👎🏻
iOS 11 support SLOW COMING!?!?!?!
Microsoft has not updated their apps for iOS 11. No drag and drop, etc. I pay the monthly subscription - when can I expect to see this update?
I ❤️IT
gabe waszay
on
11/11/2017
I love this app. You could make documentaries, you could make homework, homework passes, it's so amazing. PLZ rate 5.
No network
Not able to connect to home network drives for saving and opening documents.
Muy bien
Pqno chiicaniito
on
11/10/2017
Me gusta, es muy útil
Sending
Aldermanbob
on
11/10/2017
Won't send word document with other email formats when using cellular service.
Great app! But one thing...
I've been using MS for school but the thing that pisses me off is the fact that you need access for legit EVERYTHING. I understand it's for a worthy cause but some people over here like me kinda think it's retarded.. If you can at LEAST make more colors to my use, that would be amazing for the most... thanks.
Crashes and Siri issues
sandimascharvel
on
11/10/2017
The app has been crashing constantly. As soon as I highlight text it crashes and doesn't always save the changes when that happens. It crashed eight times within one minute. The long-time issue of text not appearing properly after dictating with Siri still hasn't been fixed. I wish those problems with get taken care of because it is otherwise nice having the availability of this app on the go. The last time I posted a review, Microsoft contacted me via email which was nice but they left me no way to reply directly to them.
Perfect and convenient
Follow me @_diynotebook_
on
11/10/2017
It does the job quite well. Similart to the one on the computer
Help me with school
I really like word because it helps me in seventh grade
The microphone
I have a hard time actually talking in my microphone because it misinterprets very words I actually say
Excellent
Make my job more easier
Office is the best!
Redstone Creepers
on
11/10/2017
And so is OneDrive
Fact Sheet
Publisher:

Microsoft Corporation

Category:

Productivity

Released:

Mar 27, 2014

Current Version Released:

Nov 13, 2017

Version:

2.7

Size:

349 MB

Compatibility:

Requires iOS 10.0 or later.

Recommended Age:

4+

Game Center Certified:

No

Supported Devices:

iPhone5-iPhone5, iPadFourthGen-iPadFourthGen, iPadFourthGen4G-iPadFourthGen4G, iPhone5c-iPhone5c, iPhone5s-iPhone5s, iPadAir-iPadAir, iPadAirCellular-iPadAirCellular, iPadMiniRetina-iPadMiniRetina, iPadMiniRetinaCellular-iPadMiniRetinaCellular, iPhone6-iPhone6, iPhone6Plus-iPhone6Plus, iPadAir2-iPadAir2, iPadAir2Cellular-iPadAir2Cellular, iPadMini3-iPadMini3, iPadMini3Cellular-iPadMini3Cellular, iPodTouchSixthGen-iPodTouchSixthGen, iPhone6s-iPhone6s, iPhone6sPlus-iPhone6sPlus, iPadMini4-iPadMini4, iPadMini4Cellular-iPadMini4Cellular, iPadPro-iPadPro, iPadProCellular-iPadProCellular, iPadPro97-iPadPro97, iPadPro97Cellular-iPadPro97Cellular, iPhoneSE-iPhoneSE, iPhone7-iPhone7, iPhone7Plus-iPhone7Plus, iPad611-iPad611, iPad612-iPad612, iPad71-iPad71, iPad72-iPad72, iPad73-iPad73, iPad74-iPad74, iPhone8-iPhone8, iPhone8Plus-iPhone8Plus, iPhoneX-iPhoneX,

Supported Languages:

Arabic; Catalan; Valencian; Croatian; Czech; Danish; Dutch; Flemish; English; Finnish; French; German; Greek; Hebrew; Hindi; Hungarian; Indonesian; Italian; Japanese; Korean; Malay; Norwegian; Polish; Portuguese; Romanian; Moldavian; Russian; Chinese; Slovak; Spanish; Castilian; Swedish; Thai; Chinese; Turkish; Ukrainian; Vietnamese;