Screenshots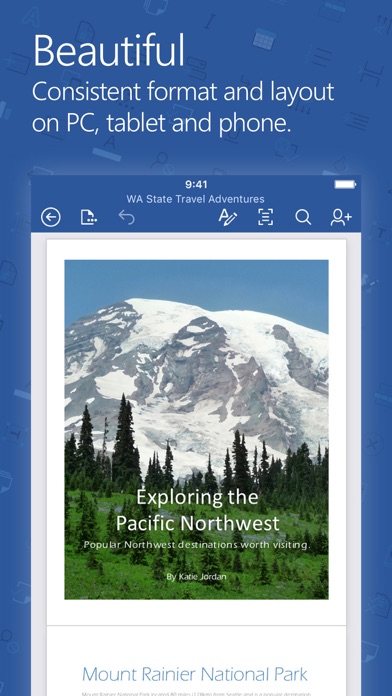 New in version 2.5
Thank you for using Word.

We regularly release updates to the app, which include great new features, as well as improvements for speed and reliability.

Did you know that with an Office 365 subscription, you can unlock the full power of Office across all of your devices? Find special offers in the app.
Description
*** Word is ready for iPad Pro and looks amazing on the 12.9-inch screen. Read Word documents on iPad Pro for free. To create and edit docs, you need a qualifying Office 365 subscription. Try it for free for 30 days. ***
The real Microsoft Word app designed for iPad, iPhone and iPod touch.
Now Word documents look better than ever on your tablet and phone. When you edit or create documents, you can be confident they will look exactly how you want across PC, Mac, tablet and phone. Word has the familiar Office look and feel along with an intuitive touch experience, so you'll be up and running in no time.
On iPhone, iPad Air, and iPad mini, the core Word experience, including viewing, creating, and editing documents, is free. Or unlock the full Word experience with a qualifying Office 365 subscription. On iPad Pro, you need Office 365 to create and edit documents.

WORD DOCUMENTS LOOK BEAUTIFUL
•Images, tables, charts, SmartArt, footnotes, equations are all there, nicely formatted.
•On your phone, choose between the real document layout or an easy-to-read layout.
•View email attachments and access Word documents from OneDrive, Dropbox, iCloud, OneDrive for Business, or SharePoint.
•Print Word documents to an AirPrint printer, with or without markup.

CREATE AND EDIT WITH CONFIDENCE
•When you edit a document, your content and formatting are maintained across all your devices – PC, Mac, tablet and phone.
•Express your ideas exactly the way you want, with rich formatting including fonts, pictures, tables, charts, textboxes, shapes, footnotes, page layout and more.
•Track changes, add comments and work simultaneously with others on the same document.
•Get tasks done faster, with multitasking. Run Word for iPad side by side with other apps (requires iOS 9).


REQUIREMENTS

iPad Pro: To create or edit documents, you need a qualifying Office 365 subscription* , which also gives you access to the full Office experience.

iPad, iPhone, iPod Touch: To create or edit documents, sign in with a free Microsoft account. To unlock the full Office experience and to access and save documents in OneDrive for Business or on SharePoint, you need a qualifying Office 365 subscription* .

*To make an in-app purchase of an Office 365 Home or Personal subscription, open the app. In the document picker screen, tap Upgrade. Subscriptions begin at from $6.99 a month in the US, and can vary by region. With an Office 365 subscription, you get access to all features in Word, Excel, and PowerPoint on iPad, iPhone, and iPod touch, and you can install Word, Excel, PowerPoint, Outlook, and OneNote on PCs or Macs.

Office 365 subscriptions purchased from the app will be charged to your iTunes account and will automatically renew within 24 hours prior to the end of the current subscription period, unless auto-renewal is disabled beforehand. To manage your subscriptions or to disable auto-renewal, after purchase, go to your iTunes account settings. A subscription cannot be cancelled during the active subscription period.

Privacy Policy: http://go.microsoft.com/fwlink/?LinkID=507539. Terms of Use: http://go.microsoft.com/fwlink/?LinkID=390698.
iPad Screenshots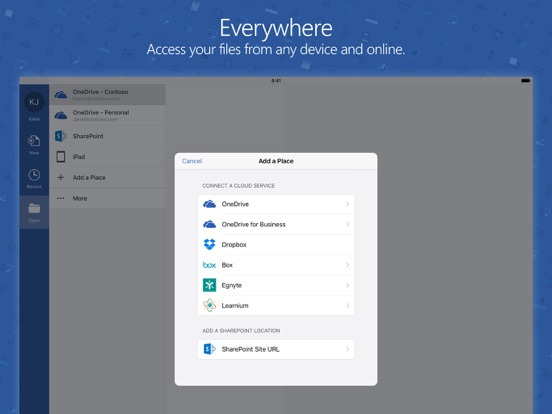 Reviews
Great for students
I use my iPads a lot , I love the fact that I can write a paper any t8me and any place. It is very convenient
It good
Omg this is the dear ever
Great word app
Dragonslayer+9
on
9/25/2017
Latest updates provide seamless sync between PC and iPad.
This is great!
Works like desktop version, love it!!!
need local folders
need local folders
word problems
The main problem is deleting old unwanted Word files. Sometimes it goes away easy, sometimes not and return back on the list of files again Once I deleted a file with hope it will be in. Trash can and be able to recover it, but not. This needs improvement or explanation. May be there is some method to file management do better ? Regards, Andrew Kent
iOS 11 problems
D from DC121
on
9/25/2017
This app worked great until iOS 11. Now, whenever I open documents using custom/user-installed fonts, I get an error message and my document quits. Please fix ASAP!
Physician
Arya in Chicago
on
9/25/2017
Crap app. Sign in does not work. No "code" received to my email. My techy husband also tried ... without success. My husband's response: "This is why I use Apple".
Great!
I wish you could change what color tracked changes made, but that's a minor nitpick. Making something as necessary for professional life like MS word is a bold move, and this app is pretty dang useful if all you want to do is write essays or something.
Finicky
On the exactness of the finger selections and auto correct methods
This is the wrost scam I have found yet on iTunes.
east coast radio
on
9/24/2017
I spent good money to have Microsoft word and power point for college papers and for writing reports at work. I use the macbook pro at home for some reports but 99% for college papers. I used an ipad AIr mostly for reports at work for work related material. I finally purchased an ipad pro 12.9 and a Logitech keyboard case thinking this was going to be a huge upgrade having a seperate keyboard. It turns out the Microsoft technicaial support isn't very helpful and even worse than that, They want me to pay 9.99 a month for the rest of forever to use it. I am very angry having alerady paid for the use of word on a device now they want me to pay for another device. I will not. They have lost a customer forever. I rate this app a zero even though I had to pick one star.
👍👍👍👍
This app is a life saver
Two novels
I've written a good deal of two full-length novels in my iPhone using this app. Works in almost every way I'd want and expect. Any weaknesses compared to the full-size computer version are minimal and not compromising.
Almost Perfect
...the only thing it's missing is compatibility with iCloud Drive/Files app. It's INCREDIBLY inconvenient
IPad Pro 12.9" = a $$$ Soaking
The "free" Word is USELESS on the iPad Pro 12.9". Unlike every other iPad, where you can just sign into Microsoft and edit word documents; on the 12.9" you can't edit documents without paying MONTHLY FOREVER..... I got the 12.9" as a laptop replacement. Microsoft seems to be making sure you start re-thinking switching to a Surface. Deleting
Grateful!!
Shoulder injuries prevented me from using a keyboard. With this version of Word, I can dictate into the phone, answer emails in word, and copy them over. I love to write, so this was such a blessing for me to be able to continue my writing. Thank you. I would like a undo button.
Great word document processor.
I love this processor and working with my iPad is just a super plus.
Good
mellow rider
on
9/24/2017
Very convenient
I love the integration with Dropbox!
This is the best iOS APP. we the customers want whatever is good and we want integration. We wanted bigger iPhone screen; you delivered, keep it up. Also, please share your apps and products in the find a doctors ratings website, DrSocial, in the healthcare apps forum, thanks! I am using this app right now to gather keywords on vitiligo and to organize them because there was an interesting question in the ask a doctor website: DrSocial, regarding sudden graying of the beard. I like how Microsoft word's replace feature can switch new paragraph key for a comma, it makes switching between vertical lists of medical terms and comma-separated lists of medical terms a breeze & saves me countless hours.
What am I missing
Pasionate Preacher
on
9/24/2017
iPad Pro my computer of Choice. I do the Microsoft Products function on it as the traditional computer? Why am I missing?
lost spacing
I no longer have the ability to double space, triple space, etc. Very frustrating.
More Menu templates
This app has gotten terrible. iPhone 6 Plus ios11. Every time I save my document no matter where I save it Dropbox or Drive etc., I'm unable to view the document. It saves with no issue but never opens for viewing. Please fix
Best of best, particularly in Apple pad pro, exciting APP.
Always the same, best of best software for business documents. Great and wonderful experiences to see Word files at iPad. Evolved and well adapted to touch interface. Further, with pen, now more powerful than ever.
Great
LinxCORETheRogue
on
9/23/2017
This is pretty great, but could you add a real-time edit appearance and comment so I don't have to close out each time someone has made a change?
Experiencing errors on iPad mini 2
just_call_me_uncle
on
9/23/2017
When I first downloaded the app, I thought it was perfectly fine. But, over the past few months, I've been having more and more trouble with it. It has difficulty saving to my device, it has stopped allowing me to do certain things if I try to select text in documents, and several other problems. It's so troublesome I almost don't want to use it anymore, even though I need it.
Very Useful
Love having this app at my fingertips!
Some bugs never get fixed
Recently, which is to say the past few months, certain bugs have appeared across all my iOS devices. For example, even though I have turned off automatic corrections, or even Word's own spell checking, it stubbornly insists in "correcting" certain words: It turns nearly all i's into capital I's, whether or not they are at a beginning of a sentence. If you write "it is" for example, you find that it does not like that, and turns it to "It Is." It looks much more better. A word like "always" is made to hiss at the end, and "corrected" to alwayss". I assume it finds this more pleasing to the eye as well as to the ear because it adds an extra "s" to many more words ending with a single one. It also does not like the normal spelling of "which" and converts it to "whichh". There are many other examples, which I am not going to enumerate in detail. But I have the same problem both on iphone and ipad. It has made it terribly annoying to write anything using them now. I don't see these issues addressed anywhere, and asking in forums will only get responses suggesting you do this thing or that thing, all of which I have already done. It seems no one has a clue what it going on. So, I'll leave this three-star review here until someone figures out a way to fix this.
Word on iPad
I can only give a four star to word for iPad. I do editing and some of the functions do not work on the iPad. Otherwise I love word
Not user friendly
I think it's crap that not only do I need to give you an email address just to use your app but also a phone number. Why? So I can constantly receive phone calls and junk mail? Thanks but no thanks I'll figure something else out.
VS PAGES OR ADOBE
I started using Pages when Word seemed to be somewhat incomplete when Mico 360 first started. Adobe used to be easy enough to create a DOC OR PDF using the MOBILE APP where ever I was. Then Adobe instead of increasing the amount of tools to edit a document on IPHONE OR IPAD, they decreased the tools. Pages was easy, but still problematic when saving it iCloud and then iCloud Drive became confusing. Word listened to everyone's problems. Not ONLY IS IT SIMPLE, IT HAS COMPLICATED TOOL FEATURES USUALLY A PC WOULD GIVE, and it simple in the way it is saved. 5 years from now Microsoft will be worth more than Apple due to their curve from the Xbox One and actually implementing things CONSUMERS WANT.
It works as well as the PC version!
Howie Diddit
on
9/23/2017
I'm writing an autobiography I have nearly a hundred pages written. If I query grammar it takes about 20 seconds to identify problems. If I query spelling it takes less then 20 seconds. All the pagination options are available, search and replace, change fonts and size. All the features that make Word a great program are in my iPhone. Which is where I chose to write my book! Thank you
Easy
So easy to use and so professional . Very happy with it
Word
Annieunraveled
on
9/23/2017
Using this app is effortless, user friendly, and a real pleasure.
A respectable app with familiar Tools
It is a Toole that works. Like a waterwheel under a waterfall.
Bad update!
Buggier than before, freezes, tools won't work Won't copy file, tells me to try later. Really?
Love it!!!
I love the convenience of having Microsoft Word on my iPad. I can access it from anywhere. It's been a life saver.
Quite useful.
I like it. It does what I need, at a very low cost. Dan
Word is great
Masters Law Student
on
9/22/2017
The only complaint I have is that I can't save a document on my iPad and upload it .It is really inconvenient.
Not the WORD I used to love...
It used to be so easy to search my entire hard drive for a document; not so anymore. I want to consolidate documents into specific files, because I write for different publications, but I just can't do it anymore.
Doesn't work on iPad Pro
I'm unable to type anything on an iPad Pro. What is the use of this?
Back in School!
Excellent choice for my assignments on the go!
Love this app.
Used in conjunction with Word for Windows for the heavy lifting, and Scrivener for IPad, it's a perfect set of tools for me.
Would not recommend for iPad users
Capt. Sandine
on
9/22/2017
This app is full of bugs and frustrations that hinder the simple task of writing a text document. The formatting and highlighting abilities stop working after a few minutes of opening a document. The ability to type text and edit slows to a frustrating crawl once a block of text gets longer than four lines. I am currently unable to bring a document into the app from an email due to the apps (current... momentary... ?) inability to save a copy of the document, which is the only way to continue adding text to it.
Things to improve on
I think having more characters and symbols on Microsoft Word will be a nice thing like square root, cube , raised to power of a number, x factorial etcetera. Thank you
Good I guess
It is word. Nothing too special, nothing too bad. I have been using word for years now, and nothing has been changed too much. Good app, 👏👏 for Microsoft. A few problems sometimes, still good though!
Review Microsoft Word
I've been using this program to document anything from journal entries to speeches. I like that I can use any of my devices and can pull up my documents because it's saved in the Microsoft program.
Great app!!! I use it for my business!!
I love the word app it's amazing I send all my company contracts in PDF format to my customers and it's free!!! Love love love it
Great app
Why Excel those not have a search icon?
Lost and found
I was so lost without word - now having Word document on my iPhone is incredibly handy !. I have found the ease if composing letters or lists with ease of Print !. It's great!
Really like the app
Berryberry70
on
9/22/2017
I really like that Microsoft came out with this app. It has came in handy for my daily life and business without it things would be chaotic. One thing I dislike is that the app do not work with back up like box or documents because I don't have Microsoft 360
Fact Sheet
Publisher:

Microsoft Corporation

Category:

Productivity

Released:

Mar 27, 2014

Current Version Released:

Sep 10, 2017

Version:

2.5

Size:

345.1 MB

Compatibility:

Requires iOS 9.0 or later.

Recommended Age:

4+

Game Center Certified:

No

Supported Devices:

iPad2Wifi-iPad2Wifi, iPad23G-iPad23G, iPhone4S-iPhone4S, iPadThirdGen-iPadThirdGen, iPadThirdGen4G-iPadThirdGen4G, iPhone5-iPhone5, iPodTouchFifthGen-iPodTouchFifthGen, iPadFourthGen-iPadFourthGen, iPadFourthGen4G-iPadFourthGen4G, iPadMini-iPadMini, iPadMini4G-iPadMini4G, iPhone5c-iPhone5c, iPhone5s-iPhone5s, iPadAir-iPadAir, iPadAirCellular-iPadAirCellular, iPadMiniRetina-iPadMiniRetina, iPadMiniRetinaCellular-iPadMiniRetinaCellular, iPhone6-iPhone6, iPhone6Plus-iPhone6Plus, iPadAir2-iPadAir2, iPadAir2Cellular-iPadAir2Cellular, iPadMini3-iPadMini3, iPadMini3Cellular-iPadMini3Cellular, iPodTouchSixthGen-iPodTouchSixthGen, iPhone6s-iPhone6s, iPhone6sPlus-iPhone6sPlus, iPadMini4-iPadMini4, iPadMini4Cellular-iPadMini4Cellular, iPadPro-iPadPro, iPadProCellular-iPadProCellular, iPadPro97-iPadPro97, iPadPro97Cellular-iPadPro97Cellular, iPhoneSE-iPhoneSE, iPhone7-iPhone7, iPhone7Plus-iPhone7Plus, iPad611-iPad611, iPad612-iPad612, iPad71-iPad71, iPad72-iPad72, iPad73-iPad73, iPad74-iPad74,

Supported Languages:

Arabic; Catalan; Valencian; Croatian; Czech; Danish; Dutch; Flemish; English; Finnish; French; German; Greek; Hebrew; Hindi; Hungarian; Indonesian; Italian; Japanese; Korean; Malay; Norwegian; Polish; Portuguese; Romanian; Moldavian; Russian; Chinese; Slovak; Spanish; Castilian; Swedish; Thai; Chinese; Turkish; Ukrainian; Vietnamese;