TapNova recommends this app!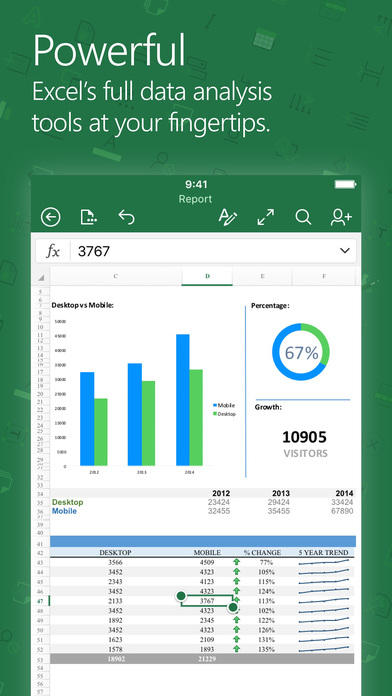 New in version 2.3
Thank you for using Excel.

We regularly release updates to the app, which include great new features, as well as improvements for speed and reliability.

Did you know that with an Office 365 subscription, you can unlock the full power of Office across all of your devices? Find special offers in the app.
Description
*** Excel is ready for iPad Pro and looks amazing on the 12.9-inch screen. View Excel spreadsheets on iPad Pro for free. Or create and edit spreadsheets with a qualifying Office 365 subscription. Try it for free for 30 days. ***
The real Microsoft Excel app designed for iPad, iPhone and iPod touch.
Now your Excel spreadsheets look better than ever on your tablet and phone. When you edit or create spreadsheets, you can be confident they will look exactly how you want across PC, Mac, tablet and phone. Excel has the familiar Office look and feel along with an intuitive touch experience, so you'll be up and running in no time.
On iPhone, iPad Air, and iPad mini, the core Excel experience, including viewing, creating, and editing spreadsheets, is free. Or unlock the full Excel experience with a qualifying Office 365 subscription. On iPad Pro, you need Office 365 to create and edit spreadsheets.

EXCEL SPREADSHEETS PROVIDE INSIGHT
•Formulas, tables, charts, comments, PivotTables, sparklines, conditional formatting are all there, so you see the whole picture.
•View email attachments and access all your Excel spreadsheets from OneDrive, Dropbox, iCloud, OneDrive for Business, or SharePoint.
•Print an entire Excel workbook, a worksheet or a selected range to an AirPrint printer.

CREATE AND EDIT WITH CONFIDENCE
•When you edit a spreadsheet, your content and formatting are maintained across all your devices – PC, Mac, tablet and phone.
•Turn numbers into insights, with support for formulas, charts, tables, sorting, filtering, and more.
•A special formula keyboard lets you add numbers and formulas rapidly – much easier than with the standard touch keyboard.
•Get tasks done faster, with multitasking. Run Excel for iPad side by side with other apps (requires iOS 9).

REQUIREMENTS
iPad Pro: To create or edit documents, you need a qualifying Office 365 subscription*, which also gives you access to the full Office experience.

iPad, iPhone, iPod Touch: To create or edit documents, sign in with a free Microsoft account. To unlock the full Office experience and to access and save documents in OneDrive for Business or on SharePoint, you need a qualifying Office 365 subscription* .

*To make an in-app purchase of an Office 365 Home or Personal subscription, open the app. In the document picker screen, tap Upgrade. Subscriptions begin at from $6.99 a month in the US, and can vary by region. With an Office 365 subscription, you get access to all features in Word, Excel, and PowerPoint on iPad, iPhone, and iPod touch, and you can install Word, Excel, PowerPoint, Outlook, and OneNote on PCs or Macs.

Office 365 subscriptions purchased from the app will be charged to your iTunes account and will automatically renew within 24 hours prior to the end of the current subscription period, unless auto-renewal is disabled beforehand. To manage your subscriptions or to disable auto-renewal, after purchase, go to your iTunes account settings. A subscription cannot be cancelled during the active subscription period.

Privacy Policy: http://go.microsoft.com/fwlink/?LinkID=507539. Terms of Use: http://go.microsoft.com/fwlink/?LinkID=390698.
iPad Screenshots
Reviews
Great for an app
Does everything I want it to do with my less complicated spreadsheets.
Great app
True American
on
7/23/2017
Great work for you not against you thank you
Works well
It would be nice to have a "tab" to assist with inputting dat
Does not work without subscription.......is not free on iPad
Does not work.
Great app
Must have app for record keeping
one of my favorite apps
Jim's iPhone 6+
on
7/23/2017
For 95% of the simple analyses I do as a retiree, the Excel app on my iPhone 6+ is wonderful. For the other 5% I do the setup on my laptop but can see it later in the app and do minor adjustments and add data.
Good one
Candy@discovery
on
7/23/2017
Easy to use , easy to transfer from mobile to pc , all in one app Very good to have if you have to work all the time
Free on iPhone and up to 9.7 iPad
Erwin in America
on
7/22/2017
Works for me!
Best App Ever !!!
GLOBAL VENTURE GROUP is a huge fan of the outfit. Keep up the top notch updates & feel free to lob in a call in order discuss how we can refer business to each other.(415) 606 - 2740. Thx!
Works great!
CNBC daily user
on
7/22/2017
Works great!
Excel on the Cloud
Stop-robo-call
on
7/22/2017
Excel on the iPhone has improved a lot since it started. Use the actual document created on your personal computer any where in the world even when offline. Uploads could be done when wifi or internet connections are available. Even able to add and modify cell comments commonly used in excel. Learning curve very short to be operational.
I find this release less useful to me now
I am a heavy user of Excel and love the convenience of this mobile app but now my worksheets with DDE links will not open. I presume the change was made to increase security but it is limiting me. Further, I tried using OneDrive to view my spreadsheets but the preview mode does not capture my full worksheet. The size is less than 7 MB. I wish I had a solution to this dilemma. Otherwise I still like the product. Thanks.
Perfect Numbers Programs
Excellent app.
Love it
I love the connectivity with my excel on my computer highly recommended it.
Needs Improvements
Paste Special is cumbersome when you can get it. Fill takes getting used to. Otherwise is a good replacement in a pinch.
Great- works awesome
Airtyme Charlotte
on
7/21/2017
Excel ninjas beware, your not going to be executing vlookup's but for mobile this is pretty sophisticated
Gets worse with every update.
Seemingly gets worse with every update. It often doesn't properly save files and you aren't aware of this until you go to open the file and find that it gives you an error saying it could not save correctly and you must either copy the file or discard the previous changes.
Perfect for my needs
Faithinthelord
on
7/21/2017
I'm very happy with this app. It's wonderful to be able to use this tool without carrying a laptop around.
Great App for what I need.
This app allowed me to do what I have to do with my work. Very convenient
Make Excel More Affordable to Users
I, like many other users, cannot afford the fee to have the FULL VERSION of MS Excel. This then limits my capabilities to use Excel to the fullest. The App Store should find a way to bring down this expense. And it should be a one time fee. Not a reoccurring expense. Many of us who Excel on the iPad do so sparingly. Now, if I want the complete Excel program, I have to rely on my computer versus iPad, unfortunately.
Works well
WORKS WELL FOR EVERYTHING I NEED IT FOR.
Great app!
Shiftworker23456
on
7/21/2017
Use this app a lot, no problems!
So convenient
Everything plus more. No more large lap tops. Very pleased
Great app i love it ...5 STAR...
👍👍👍
Great!
Perfectly and seamlessly integrated into Excel on my Mac😊😊
Awesome!
Priscilla0819
on
7/20/2017
Just awesome! No complaints! Automatically saves if you close out the app. Reloads instantly.
Great App!
As a mobile technician, this app is great. I can use it from my iphone and send in to my office. Before I needed a computer and an air card. This is so much more convenient.
Excel on iPhone. Enough said!
Love everything about the app. Great with Microsoft!
Way better than any other.
This is still the best spreadsheet application by far. I use it to log job hours, materials, payroll, etc. I can access, view, and/or modify the same spreadsheet on my laptop, cell phone, or iPad. Talk about being convenient! It takes a while to figure out new key functions, but once you do, everything I'm used to is there.
.
I would like it more if all the options were in one place like the desktop version, rather than only some appearing when the keyboard is open. It can be confusing
Love
Angierivera85
on
7/19/2017
This is a great app I love it
So easy to use
Love how it is so easy to use across all my devices!!! I have my files everywhere I go and can work anytime!!
Killer app
The only reason i constantly use an iPad Pro. Long live MicroSoft Excel (sorry Numbers).
Key App on My iPhone and iPad, Mac and PC
I use Excel for all types of things, from calculation worksheets, to goal planning. With Onedrive, I am then able use the files I create across all of my devices. Everything works smoothly. I find that also with Microsoft Word. I would also use Outlook on iPad and iPhone but I need Microsoft to include tasks/reminder features. These are definitely five star products. Thank you, Microsoft.
It's OK
It is sometimes slow to get the keyboard up to enter data. It is nice to have a spreadsheet I can enter data on the phone and work with on the Mac.
It's excel!
Achilles The Invincible
on
7/19/2017
As awesome as it ever was. Not much of a learning curve for newbies either. Pretty awesome app like it's always been!
Ms. A
This app is great, downloaded on my iPad, I can work anywhere
Love it!!
bloomfield43
on
7/18/2017
I love using this program! Use it for work all the time!
Works great!
Not another nickname......
on
7/18/2017
Couldn't be happier with this app
Love it!
Great app. I'm happy I can use this app on my iPhone.
Exactly what I needed on the go.
John Becerril
on
7/18/2017
Great product!
Great!
Mommy wannabe
on
7/18/2017
I love it and the updates.
Best spreadsheet by far for IPhone
This is the easiest to use and best working spreadsheet for mobile devices. MS really put a lot of effort into doing the IOS version right.
Disappointed
I have read reviews that have stated this app was usable without a paid subscription only to find it false. I will find a comparable app where I can edit at my leisure. I purchased the iPad Pro because it is my main source and a replacement for the laptop. I saw all the advertising for the iPad Pro and Microsoft and have even found through searching the internet that some say it is free and no monthly subscription. I do use excel but nowhere near enough to pay for a subscription. So unless the options change then I will look for a different app that meets my needs.
Easy to use
Good stuff, works well
Subscription NO!
LTC (loves to cook)
on
7/17/2017
I don't want a spreadsheet that I never stop paying for, simple as that. As good as Excel is, I'm not going to pay for it forever.
Fair warning
It would have been reasonable to expect similar access to, and editing capabilities for existing excel spreadsheets after upgrading from an iPad mini to an iPad Pro. Caveat emptor...
Making my live easier. I love this app
John Jeremih
on
7/17/2017
Now I don't have to go to the computer to do my excel proyects.
Fact Sheet
Publisher: Microsoft Corporation
Category: Productivity
Released: Mar 27, 2014
Current Version Released: Jul 09, 2017
Version: 2.3
Size: 330.2 MB
Compatibility: Requires iOS 9.0 or later.
Recommended Age: 4+
Game Center Certified: No
Supported Devices: iPad2Wifi-iPad2Wifi, iPad23G-iPad23G, iPhone4S-iPhone4S, iPadThirdGen-iPadThirdGen, iPadThirdGen4G-iPadThirdGen4G, iPhone5-iPhone5, iPodTouchFifthGen-iPodTouchFifthGen, iPadFourthGen-iPadFourthGen, iPadFourthGen4G-iPadFourthGen4G, iPadMini-iPadMini, iPadMini4G-iPadMini4G, iPhone5c-iPhone5c, iPhone5s-iPhone5s, iPadAir-iPadAir, iPadAirCellular-iPadAirCellular, iPadMiniRetina-iPadMiniRetina, iPadMiniRetinaCellular-iPadMiniRetinaCellular, iPhone6-iPhone6, iPhone6Plus-iPhone6Plus, iPadAir2-iPadAir2, iPadAir2Cellular-iPadAir2Cellular, iPadMini3-iPadMini3, iPadMini3Cellular-iPadMini3Cellular, iPodTouchSixthGen-iPodTouchSixthGen, iPhone6s-iPhone6s, iPhone6sPlus-iPhone6sPlus, iPadMini4-iPadMini4, iPadMini4Cellular-iPadMini4Cellular, iPadPro-iPadPro, iPadProCellular-iPadProCellular, iPadPro97-iPadPro97, iPadPro97Cellular-iPadPro97Cellular, iPhoneSE-iPhoneSE, iPhone7-iPhone7, iPhone7Plus-iPhone7Plus, iPad611-iPad611, iPad612-iPad612, iPad71-iPad71, iPad72-iPad72, iPad73-iPad73, iPad74-iPad74,
Supported Languages: Arabic; Catalan; Valencian; Croatian; Czech; Danish; Dutch; Flemish; English; Finnish; French; German; Greek; Hebrew; Hindi; Hungarian; Indonesian; Italian; Japanese; Korean; Malay; Norwegian; Polish; Portuguese; Romanian; Moldavian; Russian; Chinese; Slovak; Spanish; Castilian; Swedish; Thai; Chinese; Turkish; Ukrainian; Vietnamese;