TapNova recommends this app!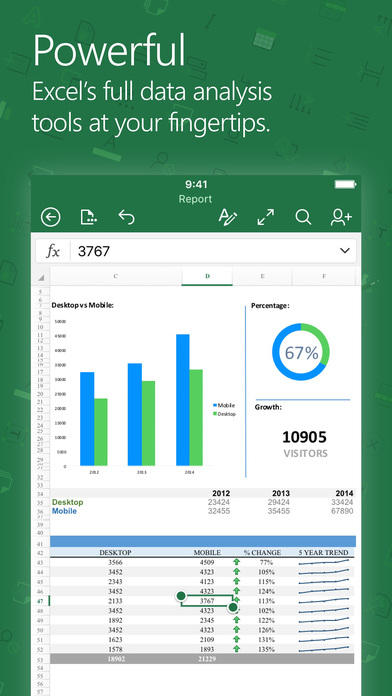 New in version 2.2.1
Thank you for using Excel.

We regularly release updates to the app, which include great new features, as well as improvements for speed and reliability.

Did you know that with an Office 365 subscription, you can unlock the full power of Office across all of your devices? Find special offers in the app.
Description
*** Excel is ready for iPad Pro and looks amazing on the 12.9-inch screen. View Excel spreadsheets on iPad Pro for free. Or create and edit spreadsheets with a qualifying Office 365 subscription. Try it for free for 30 days. ***
The real Microsoft Excel app designed for iPad, iPhone and iPod touch.
Now your Excel spreadsheets look better than ever on your tablet and phone. When you edit or create spreadsheets, you can be confident they will look exactly how you want across PC, Mac, tablet and phone. Excel has the familiar Office look and feel along with an intuitive touch experience, so you'll be up and running in no time.
On iPhone, iPad Air, and iPad mini, the core Excel experience, including viewing, creating, and editing spreadsheets, is free. Or unlock the full Excel experience with a qualifying Office 365 subscription. On iPad Pro, you need Office 365 to create and edit spreadsheets.

EXCEL SPREADSHEETS PROVIDE INSIGHT
•Formulas, tables, charts, comments, PivotTables, sparklines, conditional formatting are all there, so you see the whole picture.
•View email attachments and access all your Excel spreadsheets from OneDrive, Dropbox, iCloud, OneDrive for Business, or SharePoint.
•Print an entire Excel workbook, a worksheet or a selected range to an AirPrint printer.

CREATE AND EDIT WITH CONFIDENCE
•When you edit a spreadsheet, your content and formatting are maintained across all your devices – PC, Mac, tablet and phone.
•Turn numbers into insights, with support for formulas, charts, tables, sorting, filtering, and more.
•A special formula keyboard lets you add numbers and formulas rapidly – much easier than with the standard touch keyboard.
•Get tasks done faster, with multitasking. Run Excel for iPad side by side with other apps (requires iOS 9).

REQUIREMENTS
iPad Pro: To create or edit documents, you need a qualifying Office 365 subscription*, which also gives you access to the full Office experience.

iPad, iPhone, iPod Touch: To create or edit documents, sign in with a free Microsoft account. To unlock the full Office experience and to access and save documents in OneDrive for Business or on SharePoint, you need a qualifying Office 365 subscription* .

*To make an in-app purchase of an Office 365 Home or Personal subscription, open the app. In the document picker screen, tap Upgrade. Subscriptions begin at from $6.99 a month in the US, and can vary by region. With an Office 365 subscription, you get access to all features in Word, Excel, and PowerPoint on iPad, iPhone, and iPod touch, and you can install Word, Excel, PowerPoint, Outlook, and OneNote on PCs or Macs.

Office 365 subscriptions purchased from the app will be charged to your iTunes account and will automatically renew within 24 hours prior to the end of the current subscription period, unless auto-renewal is disabled beforehand. To manage your subscriptions or to disable auto-renewal, after purchase, go to your iTunes account settings. A subscription cannot be cancelled during the active subscription period.

Privacy Policy: http://go.microsoft.com/fwlink/?LinkID=507539. Terms of Use: http://go.microsoft.com/fwlink/?LinkID=390698.
iPad Screenshots
Reviews
So convenient
It's very handy to have my spreadsheet on my iPhone! Thanks!!
Great app
Mister Chhom
on
6/22/2017
5 stars
Love it!
Stonegroove87
on
6/22/2017
Love having Excel on my phone so I can work on the go! Works great!
Very strong tool
It saves me so much time.
Love it but still lacks full functionality
Love using Excel App on iPad Pro but would love if it had the same functionalities as if using on the Laptop.
Great on the go app!
This app has be great when info is needed especially on the go. Still need practice using it but has been great.
Awesome tool
Great tool on the run. I'm able to view and edit all my excel docs
Top notch spread sheets
Have always loved this program.
Excel is amazing!!
This is one of the easiest and nicest apps to use!! Would definitely recommend it!
Very usefull!
Helps me keep my finances in order and updated. Very simple to use. Thanks
Lo e this App
AwlAmericanDawg
on
6/20/2017
Use it every day 👌🏼
Finally
Take it everywhere!!!!!
Good needs some improvement
There have been times when what I import has corrupted formulas when I open the spreadsheet in the app.
Perfect!
I use both excel and numbers for my spreadsheet needs. I love them both. Some tasks are done better in excel and some are more appropriate for numbers. The app itself has been stable with no problems so far. Well done!
Needs iPad Pro keyboard mouse functionality.
Really liking this on my 12.9" iPad Pro but it would be way handier if my keyboard mouse worked. It also has some quirky format deals going on.
Useless without a subscription
Doesn't even allow you to re-calculate formulas in a spreadsheet without a subscription. Bogusness.
EDIT 2.03- DISAPPOINTED me AGAIN, but I can't post 1 star review
There is no INSERT ABOVE anymore to Copy rows with formula, WHY? 1 month without my favorite and most useful apps! Are you going to move it to 1.31 quality EDIT 2.03-NOTHING was improved for Ipad: I am so DISAPPOINTED, the new updates move one of the best apps to the bottom, WHY YOU DIDN'T TEST IT BEFORE MOVE IT TO THE USERS Copy a row with formula and when paste it - there is only numbers - the formula is LOST, WHY is not fixed? There is no INSERT ABOVE anymore to Copy rows with formula, WHY? Copy-Paste must paste the same cells on the same place, with the same content (including formulas), instead if you have some blanc cells in the copied rows, when paste there is no blank cells in the pasted row and the pasted data is changed in cells in other column - WHY??? From my previous review: Comma and point in the number key are exchanged that slowed typing, good to be back 1.31 ! Left and right arrows not working as TAB anymore so if you want to change column tap on it, good to be back 1.31 ! Please tell us when you are going to return ECXEL to functions before 2.0 update! Now if I can not use copy/paste formulas, EXCEL is not better than any apps with Table.
Tnx
Arash13591313
on
6/20/2017
That is great. Thank you.
Great App
Kristoff1720
on
6/19/2017
I like all the different functions. Syncing from iPhone to iPad from iMac and windows. I like authentication security, Touch ID option and tech support.
Works the best.
I use it mainly for mileage logs. Works for me. Thanks.
Great App
Have used Excel for many things and find it easy to use and yet it will handle complicated computations.
Just Like It's Big Brother
Been working with spreadsheets since the 1980s. Made the shift to Excel in the 1990s. Haven't found anything in the full-sized version that doesn't work here.
Handy
This app is very handy for my career in sales. Able to keep track of all my sales and is user friendly.
Great App 👍👍
therealmikeprom
on
6/19/2017
Great app
Great app for iPad
LavenderR0SE
on
6/19/2017
I use this almost exclusively on the iPad. I can do almost everything that I can from my laptop. I update my workbooks throughout the day and everything is on my laptop version instantly.
Perfect!
Works great with One Drive!
Problems with update installed 6/16/17
BertaSebecLake
on
6/18/2017
App keeps crashing. Can't open any of my spreadsheets. Can't even see them. I need help because these DB are unique info (medical info, etc) that I didn't think I needed to back up via an email to myself.
Director of Respiratory Care Services
ConnieKisses
on
6/18/2017
Simply AmazeBalls 🤗🤗🤗
It was a great app! What happened?
Melissa_0826
on
6/18/2017
I am trying to add information to my spreadsheet and when double tapping on a cell it only gives me the options to cut or copy. Did something change when the app got updated? It also keeps asking me to sign in to an account when it didn't do that in the past. I really liked the app before but not anymore. Please help!
A
ابولين الاحمري
on
6/18/2017
Aaaa
Works well with OneNote
One small issue is that the spreadsheet now looks blurry when I save it to one note.
Good for job
Good for job
My job
Classic_Mann
on
6/18/2017
Really help when I download my spreadsheet to my phone in the field. Awesome.
Now it killer app
It is much easier to log in now.
Excellent
I love it and I use it every single day. Thanks Microsoft
Perfect for budgeting
Never lets me down
Cannot in-app review
Caleb Jacob Michael
on
6/17/2017
I cannot Review in the app and it is a bug which is a bad bug
Good stuff!!
The ease of access and ease of use is awesome!! Switching from device to another device makes everything simple by using one drive.
It's Excel
nmuwildcat65
on
6/17/2017
I don't use it to enter much data, no issues.
Very Helpful On the Go
Grateful User
on
6/17/2017
This app has been helpful to me for on-the-go work. It has saved me much time and made life a bit simpler.
Great capability on phone
I use for small spreadsheets on my phone. By saving to cloud I can also view on laptop. Heavier editing is easier on laptop. Phone access is handy for data entry while away from home or office.
Used to be great
TDInspections
on
6/17/2017
I would use this in the field to print reports. It now that it requires internet to print its pointless. I know if I had cellular or wifi available it would work but it was perfect before, now I've gone back to numbers because of this
Love Excel
Just the best!! This app saves me soooo much time. I love having some of my spreadsheets on my IPhone where I can refer to my data anywhere. Incredibly handy.
It does what I need
Still learning more than the basics. It works well for what I need.
Fact Sheet
Publisher: Microsoft Corporation
Category: Productivity
Released: Mar 27, 2014
Current Version Released: Jun 15, 2017
Version: 2.2.1
Size: 325.6 MB
Compatibility: Requires iOS 9.0 or later.
Recommended Age: 4+
Game Center Certified: No
Supported Devices: iPad2Wifi-iPad2Wifi, iPad23G-iPad23G, iPhone4S-iPhone4S, iPadThirdGen-iPadThirdGen, iPadThirdGen4G-iPadThirdGen4G, iPhone5-iPhone5, iPodTouchFifthGen-iPodTouchFifthGen, iPadFourthGen-iPadFourthGen, iPadFourthGen4G-iPadFourthGen4G, iPadMini-iPadMini, iPadMini4G-iPadMini4G, iPhone5c-iPhone5c, iPhone5s-iPhone5s, iPadAir-iPadAir, iPadAirCellular-iPadAirCellular, iPadMiniRetina-iPadMiniRetina, iPadMiniRetinaCellular-iPadMiniRetinaCellular, iPhone6-iPhone6, iPhone6Plus-iPhone6Plus, iPadAir2-iPadAir2, iPadAir2Cellular-iPadAir2Cellular, iPadMini3-iPadMini3, iPadMini3Cellular-iPadMini3Cellular, iPodTouchSixthGen-iPodTouchSixthGen, iPhone6s-iPhone6s, iPhone6sPlus-iPhone6sPlus, iPadMini4-iPadMini4, iPadMini4Cellular-iPadMini4Cellular, iPadPro-iPadPro, iPadProCellular-iPadProCellular, iPadPro97-iPadPro97, iPadPro97Cellular-iPadPro97Cellular, iPhoneSE-iPhoneSE, iPhone7-iPhone7, iPhone7Plus-iPhone7Plus, iPad611-iPad611, iPad612-iPad612, iPad71-iPad71, iPad72-iPad72, iPad73-iPad73, iPad74-iPad74,
Supported Languages: Arabic; Catalan; Valencian; Croatian; Czech; Danish; Dutch; Flemish; English; Finnish; French; German; Greek; Hebrew; Hindi; Hungarian; Indonesian; Italian; Japanese; Korean; Malay; Norwegian; Polish; Portuguese; Romanian; Moldavian; Russian; Chinese; Slovak; Spanish; Castilian; Swedish; Thai; Chinese; Turkish; Ukrainian; Vietnamese;