Screenshots
Description
"Best music streaming app out there. - Fast, easy to use, it's perfect! A must download if you like streaming music" - Mirka95

"Best music experience I have used on the App Store to date!" - Lupini66444

"LOVE LOVE LOVE LOVE LOVE THIS APP SO MUCH I WANT TO MARRY IT AND HAVE ITS BABIES" - Paxton_43

Musi lets you stream and organize music directly from YouTube, build playlists, share music with friends, and more. Musi can also stream onto any AirPlay enabled device. Best of all? IT'S FREE!

Here's a brief overview of Musi's features:

- Stream any song from YouTube
- Stream music to any AirPlay enabled device
- Create infinite playlists and organize your music
- Control Musi through your car, stereo, and more

With over 100 million songs streamed, it's clear that Musi is the best music experience on the App Store. Download it now!
iPad Screenshots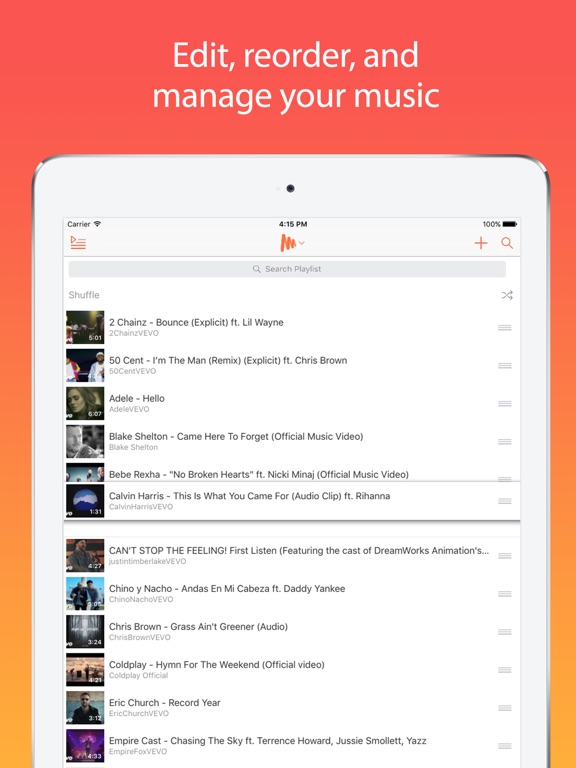 Reviews
Best music app bitch❕❕😫
karinaac.z✔️🙄
on
9/25/2017
🤤😭
Great App
Leisa No Pizza Sike!
on
9/25/2017
Great for iPhones!
Wow!
Trey g********
on
9/25/2017
It is pretty good haven't noticed any problems yet. I've been looking for an like this where I can listen to songs for free, and multi-task and this is definitely the app to go to!
I really like it
It's one of the best apps! I love the fact that you can exist the page and the music will still play !
Great
Hanna Husainat
on
9/25/2017
Everything is good but you should add a download button for offline
Amazing
This is better than Pandora, SoundCloud, Spotify,etc in terms of song variety. Why is this not famous?
Bug Issue
Whenever I play a song over and over, sometimes the song won't play. It's really frustrating cuz I luv this app but I can't even play it without going to the app and tapping the music to play over and over.
Awesome
Amazing I have no complaints
Great
It's a great app. The music is quality it doesn't take much battery and it's works very well, very pleased!!!
Great App
Extreme xQueen
on
9/25/2017
Please bring this app to Android and Samsung and more
🙂
Pandora who ?? This app fyeee 👏🏻
Love it !!!
Brina **** Houston ****
on
9/25/2017
The Best Music App !!
Love it
I love this app a lot
Love the app
I can find any video that is on YouTube and watch it without an advertisement. Also, I like that advertisements only pop up every 30 minutes. This is a WONDERFUL app!
Pair with Shazam??
ForgetfulFriend
on
9/25/2017
Great app! If my Shazams showed up in Musi and I could make playlists from that list, that would be amazing ✨✨✨ (recently found out Spotify does this, and its epic).
AWESOME SAUCE
UrMom.Com128740
on
9/25/2017
Like Apple Music but free and for da poor lolololol jk it's great tho perfect for working out Still awesome
THIS IS THE BEST MUSIC APP!💖💖💖
I've been looking for an app that lets me download music straight off from YouTube! It's just the best!
Simple n Free
I'm in love with this app
musi
Liddo.Robert
on
9/25/2017
when i'm listening to music and go to my control center i can't pause it. i have to go to the app and pause. i'm on ios 11 please fix
Amazing
123456789010121314
on
9/25/2017
Amazing
Wym?
Fye you can listen to music from YouTube and get on other apps
Great app for music
Melissa Sanders
on
9/24/2017
I haven't experienced any problems with Musi. It's a good app for listening to music, and it's easy to download playlists from YouTube (which I find helpful since other music apps I used were very complicated"
Too good
Carreño10toocool4U
on
9/24/2017
Recommended 100%
Really amazing music app
An amazing music app that doesn't require a payed subscription! I'm in love!!!
Best music streamin: Musi :)
Good job
Musi
scar_the_lion
on
9/24/2017
I love this app so much I am 10
It's pretty good
/ethanisawesome/
on
9/24/2017
For me it's pretty good, listen to the songs you want to listen to😉
Yessssss
If your looking for an app that is better than if you listen to YouTube then musi is perfect for you! You can listen to every song and you are able to go to different apps! I love it!
Too good amazing
Kobe the beast 436
on
9/24/2017
10 out of 10
Amazing
Awesome dragon99
on
9/24/2017
Amazing
Music app
Best music app by far, no video adds so your music won't get interrupted and you can play any song you want any time u want! Forgot Spotify!!
Love it
Best music app ever I use YouTube cuz it makes my play list but I hated the to be able to leasing to music your screen have to be on but not anymore!!
This app is so cool
It works and no adds and no payments its awesome
Very good
The best free music app I've found so far!
I love it
tigerishmule143
on
9/24/2017
It's like having free music the only downside is it takes data but it doesn't recommend songs like Spotify and it's free so it's good to listen to at your house
Free
I LOVE HOW ITS FREE MISIC I had one app with free music but it made me pay every month 🙄
Pretty Amazing tbh
Andrew Lavette Anne
on
9/24/2017
This app is for those songs you can't find on Spotify sound cloud etc. just wish they had an offline feature but other than that amazing
BEST MUSIC APP EVER
nadia austin
on
9/24/2017
10/10! I can get on music from youtube and apple!
It's BITCHIN
I love it so much. My fav app for music 😭❣️
Uses Location Services Without Permission
yellowlightbulb
on
9/24/2017
This app is using location services despite selecting "Never" under Privacy > Location Services. In addition, the app never asks for permission to use location services. It is on by default. Opting out requires the user to manually navigate to privacy settings to select "Never." The issue is repeatable. iOS 11; iPhone 6+; Musi version 5.8.6.
Thanks !
Thanks for fixing the play pause button on iOS 11!
amazing
i made playlist without ad interruptions so good
Literally the best song app IMO
I saw this guy on reddit say he made this app. Sooo good. Ive been using it for about two months and its just great. If i hear a song i like in the radio i can ask siri what it is, screenshot, and add it to my library. I dont like spotify so this is awesome for me
Nice music app
Freddiemac22
on
9/23/2017
Can find just about any music you can think of but but gotta redownload a lot to of music after a while just stop playing
Great ❤️❤️❤️❤️
I loved this App 😍😍
Fact Sheet
Publisher:

Musi Inc.

Category:

Music

Released:

Jan 11, 2013

Current Version Released:

Sep 18, 2017

Version:

5.8.6

Size:

20.1 MB

Compatibility:

Requires iOS 9.0 or later.

Recommended Age:

17+

Game Center Certified:

No

Supported Devices:

iPad2Wifi-iPad2Wifi, iPad23G-iPad23G, iPhone4S-iPhone4S, iPadThirdGen-iPadThirdGen, iPadThirdGen4G-iPadThirdGen4G, iPhone5-iPhone5, iPodTouchFifthGen-iPodTouchFifthGen, iPadFourthGen-iPadFourthGen, iPadFourthGen4G-iPadFourthGen4G, iPadMini-iPadMini, iPadMini4G-iPadMini4G, iPhone5c-iPhone5c, iPhone5s-iPhone5s, iPadAir-iPadAir, iPadAirCellular-iPadAirCellular, iPadMiniRetina-iPadMiniRetina, iPadMiniRetinaCellular-iPadMiniRetinaCellular, iPhone6-iPhone6, iPhone6Plus-iPhone6Plus, iPadAir2-iPadAir2, iPadAir2Cellular-iPadAir2Cellular, iPadMini3-iPadMini3, iPadMini3Cellular-iPadMini3Cellular, iPodTouchSixthGen-iPodTouchSixthGen, iPhone6s-iPhone6s, iPhone6sPlus-iPhone6sPlus, iPadMini4-iPadMini4, iPadMini4Cellular-iPadMini4Cellular, iPadPro-iPadPro, iPadProCellular-iPadProCellular, iPadPro97-iPadPro97, iPadPro97Cellular-iPadPro97Cellular, iPhoneSE-iPhoneSE, iPhone7-iPhone7, iPhone7Plus-iPhone7Plus, iPad611-iPad611, iPad612-iPad612, iPad71-iPad71, iPad72-iPad72, iPad73-iPad73, iPad74-iPad74,

Supported Languages:

English; Spanish; Castilian;

Parental Advisory:

Unrestricted Web Access;