Screenshots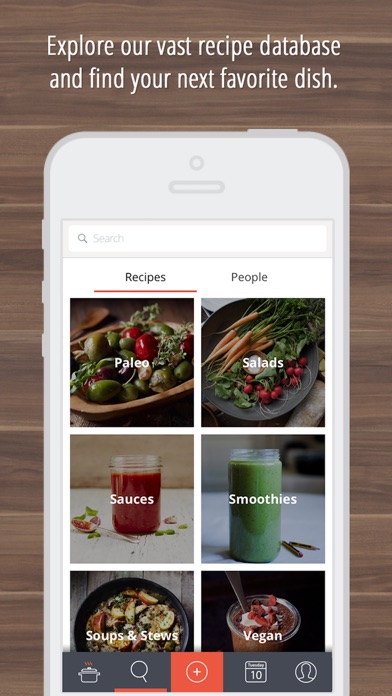 Description
Recipe Cloud is the best Recipe Organizer and Recipes Management application for home cooks and professional chefs. Use it to Discover, Cook, Share, Organize, Plan, and Shop with your favorite recipes. Save recipes from your favorite websites or add your own, use the meal planner* to plan your meals for the week and grocery shop using our brand new smart grocery list feature. Recipe Clouds social feeds allow you to share your recipes and cookbooks with your friends, family or other home chefs. PRO Members can now choose which recipes and recipe books are public or private.

Discover Recipes
Explore our vast recipe database of nearly 200,000 recipes and discover your next favorite dish. Find your friends, or follow your favorite chef to share recipes and find new cooking inspiration. You can browse popular dishes, search for specific ingredients, or checkout our recipe categories.

Meal Planner
The All-New Meal planner for PRO Members helps you plan your meals for the week or month. You can add as many recipes as you like to your schedule and categorize them for Breakfast, Lunch, or Dinner. Once you have your plan together, simply send the ingredients to your shopping list.

Grocery Shopping List
The all-new smart shopping list is also now available for PRO Members. You can add ingredients from any recipe to your shopping list and organize your list by grocery store aisle (Example: Bakery, Beverages, Condiments and Seasonings, Dairy, Frozen, Meat, Produce, Snacks & Cereal…)

Save Your Favorite Recipes
Save all of your favorite recipes to one secure location. Recipe Cloud provides several ways to import your recipe content. You can save recipes from friends, family or chefs directly from within the app. Add your own custom recipes, or save recipes right from your favorite websites or food blogs. Recipe Cloud beautifully formats all of your recipe content, into a clean, uniform and easy-to-read format. With the all-new improved web importer, you can now import most recipes from the web with a single click.

Private Recipes and Digital Cookbooks
Many recipes can be personal to us, maybe they were passed down through your family, or maybe you have a secret recipes that you're not ready to share with the world yet. For those reasons, we now allow PRO members to set their individual recipes to private. Private recipes will not be visible to anyone other then you. And if you are working on a super secret cookbook, we also allow you to create private cookbooks as well.

Organize Your Recipes Into Your Own Custom Cookbooks
Make your own digital cookbooks with RecipeClouds social cookbook features. With books you can create collections of your favorite recipes. Such as themes, favorite chefs, easy meals, family recipes and more. LITE Accounts come with a default 3 digital books to organize your recipes. PRO members can create and keep as many digital books as you desire.

All in the Cloud
Recipe Cloud was made with cloud technology built-in, so you can access your content anywhere. Your recipes and recipe books are available on iPhone, iPad, iPod Touch and online for desktop or on any other mobile device using our responsive website. Simply download the free app and login. No syncing or purchasing additional applications.

* Available to PRO members

RecipeCloud Pro Terms:
- Pricing: $0.99/month or $9.99/year
- Payment will be charged to iTunes Account at confirmation of purchase
- Subscription automatically renews unless auto-renew is turned off at least 24-hours before the end of the current period
- Account will be charged for renewal within 24-hours prior to the end of the current period,
and identify the cost of the renewal
- Subscriptions may be managed by the user and auto-renewal may be turned off by going to the user's Account Settings after purchase
- No cancellation of the current subscription is allowed during active subscription period
- Terms Of Use: http://www.recipecloudapp.com/terms.php
iPad Screenshots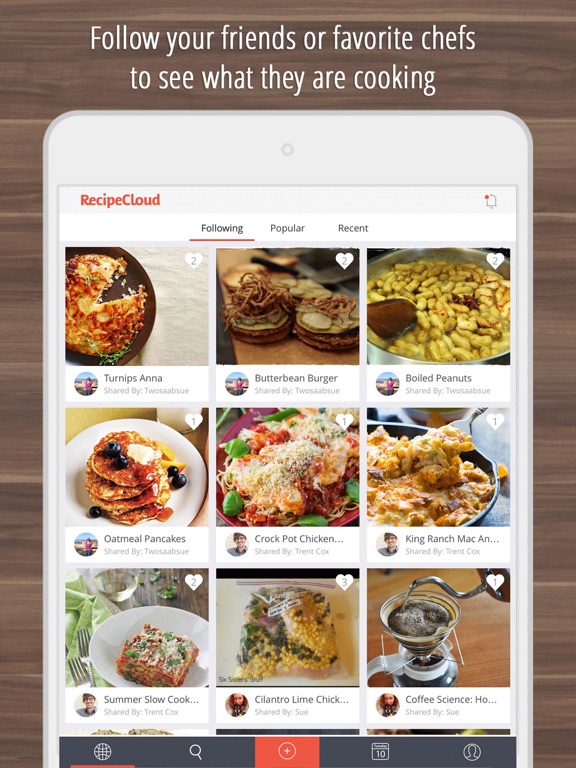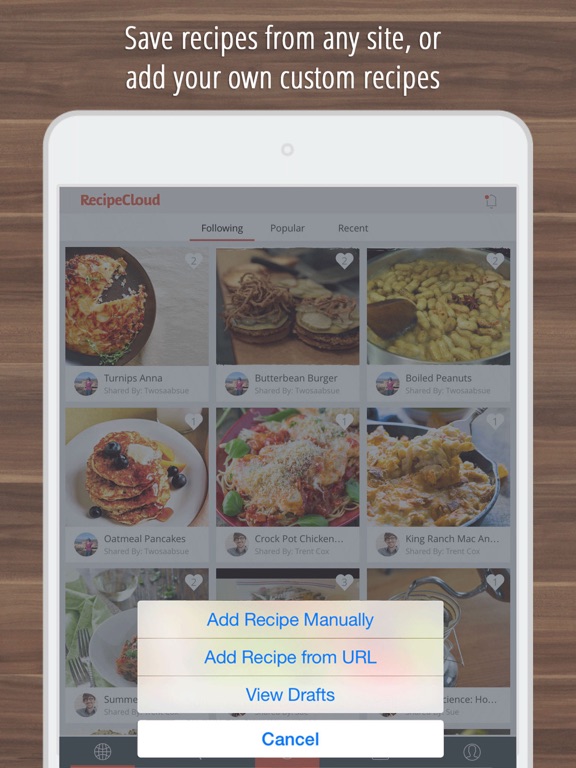 Reviews
Fix Crashes!
I'm so bummed! I'm normally not the type to do a review on anything but the only app I thought was going to work has been crashing on me. Ugh! Every time I try to save a recipe from online and copy and paste it crashes. What a bummer. It's such a great app without that happening. Please FIX IT. Overall a good app and simple to use.
Fantastic!
I love this app! It makes it so easy to save recipes and make grocery lists for the recipes I've saved! Highly recommend! Hats off to the devs for this brilliant and easy to use app! :)
Great app
I was really excited to find this app after searching for a long time. I have used a few great recipe apps that all seem to have lost support for, but this one has all the great pieces of all of them. It's a gorgeous app. The recipe sharing and browsing is something I didn't even realize I wanted and it is awesome! I do wish there was something that measured how many people tried and recommended a recipe. The import from a website feature works exactly how I want it to. Great implementation of that feature. The menu planner is so much better than other apps I've tried solely devoted to menu planning. I hate subscription model in-app purchases (I would much rather pay a higher flat fee for it) but I ended up paying for the $1 a month plan and I'm not disappointed. Excited for the export recipes feature that is supposedly coming soon, but all in all a well done app.
Stores only 10 recipes for free & subscription based
I was so excited to use this app and I actually sat down and invested a bit of time thinking about recipes, searching for recipes, and entering them into the app only to find that I could only store up to 10 recipes for free. It then prompted me to pay for a subscription to continue add more recipes. This is a beautiful and well-made app but personally, it isn't worth it for me to pay $0.99/month when there are other apps out there that do the same thing and will only charge a one time price ranging from $1.99 to $4.99.
Free app that is not free anymore
This was a good app to keep all of my recipes organized and it was free to start! Now that I updated the app I have to pay a monthly or yearly subscription! So irritating! I understand having to pay for the app but I do not want to pay monthly or yearly!
Wonky - but fixed now
Update: I am updating my review because of the great customer service I received. After sending a note to the developer, he immediately replied and worked on my account. It was updated and repaired within 24 hours. I do not have use FB to log in either. All without any loss to my recipe books. Everything is working fine again, and Recipe Cloud is my go to 'clip and save' recipe organizer again. I have used this app for a couple of years now and it has been my go to "clip and save" recipe organizer for a while. However, lately there are a lot of issues with it, such as: -can only use the app if Facebook is active. Even though there is a user name and password you can't log in if you deactivate FB. I went through several cycles of re-setting my password and nothing work until I turned on FB and agreed to share my friends list. - keep getting error message that my email is wrong, (which it's not since they sent me the password rest to it), so I can see my recipes but can't edit or save new ones - supposed to be in app purchase for PRO version, either .99 or 9.99 but don't see any description of what these will do. Overall this was a great app that has gotten progressively more unstable and difficult to use (sigh). Hoping it gets fixed but I don't think I want to rely on it anymore.
Fraud traffic acquisition
App overrides Facebook somehow, when I press context to Facebook in other app I get a prompt to open Recipe Cloud. Apple should ban this app.
Awesome App
I absolutely love this app! I've been looking for an app like this to keep all my recipes in one place. The fact that you can copy the link and add the entire recipe including a picture without going to an actual website makes it worth my while. I don't have to keep up with recipes that I've cut out of magazines or written down from years ago. Thank you to the creators for also making it FREE!
RECIPE CLOUD APP HAS NO SECURITY
THIS APP HAS NO SECURITY. Although you can make your recipe "Books" private, any other user can find them and repost them. Not an app I'm going to continue to use!!!
Bring back the old layout
I miss the old lay out!!
Great Recipe App
Love it. Very easy to use.
Great idea!
Dreamergrlhere
on
1/3/2015
Poorly executed!
Please fix!
I love the design of this app, but it crashes CONSTANTLY! Please fix this problem.
Doesn't work
Tried to add a recipe by URL and wouldn't save it. Does not work
JUNK!! Doesn't work, even for Free
Liam donohue
on
11/10/2014
Adding a recipe your suppose to select the title, ingredients, etc. there's an option to save ("save title") that doesn't work. This is useless garbage. Doesn't work at all.
Awesome
Aimelivelsburger
on
10/11/2014
I just wish I could print the book I made out in real life but for making your own recipe e-book it's awesome
Awesome!
Super easy to add a recipe from websites and you can organize them in folders like appetizers, entrees, etc. I love it and more people should try it out!
What a JOKE
LeighWhitney
on
5/14/2014
Looks sleek from preview photos, but I wouldn't know as the app never worked. I got nothing but a black screen. Waste of time and money.
Serious?
JessicaJaneSmith
on
4/23/2014
It DID work, but after updating it a few months back all I get is a black screen when I load the app. Tried uninstalling, manual delete, closing the app, everything. I kind of just want my recipes and money back..
Recipe Cloud
This is a one-stop-recipe-app. So much more convenient than having to track my recipes down in Pinterest, drop box, cookbooks, etc... I also love that I can see the picture of the recipe in my album. Hoping for an update that will allow me to save a recipe in more than one album. Overall, two thumbs up!
My favorite Cookbook App A+++
This app has come a long way since it was originally released. I love where I can search for recipes and add them to my books for later viewing, sharing or printing them. The majority of the recipes have pictures and step by step guides on how to make your favorite dish. The app is well worth the money. I love being able to follow other people and ther cultures. Check the app out you won't be sorry.
Love it!
This is exactly what I was looking for! I kept finding recipes online and wanted a way to sort and save them in one place and this app does just that!
Great app!!
This app is just getting better and better. now with meal planning great!! Store your recipes in one place from any sources you can find or write your own. Like any app give it a few days to get use to it , then you will take off with it using it all the time!!
Amazing product
mattpaolucci
on
11/24/2013
Couldn't be happier. Developer is responsive to feedback and once your recipes start to build this becomes a must have in the kitchen.
Fantastic Recipe Organizer!
Lovin' it1234
on
11/17/2013
This app has allowed me to take all my recipes from the far reaches of the Internet and have them all in one place! It is incredibly easy to save recipes from basically every website, including all my random blogs. And when I repost people's recipes, they become part of my recipe book, and I can see the full recipe without going to the website. It's basically my new favorite thing!!
The perfect recipe app!
GiaDiakakis
on
11/16/2013
I have tried endless recipe apps and this one is my far the best!!!
black screen
i havent even been able to use this app all i getis a black screen
My new recipe source
This app is fantastic! I can find new recipes, store all my favorites, and share with friends and family. Love it!
Has potential
Food is Hope
on
11/6/2013
Has potential to be a great place for cooks to connect if it catches on! I hope it continues to grow. Easy app and features.
Worthless
Not user friendly, doesn't do what it suggest it can. Deleted within 5 minutes.
Just enough options
There are a lot of recipe apps that do well, but this one has the right balance of options available.
Awesome!
I love this app! The ability to up load from the web and organize your recipes is great. I love that you can share with others!
Only recipe app you need.
Chef Bwoy-R-Dee
on
10/11/2013
My one stop for all recipe needs. Allows me to keep my favorites with me in one place and it's a great way to discover and share recipes with my friends, family, and random strangers.
Very easy, delicious, and Simply one of the best!!!
I looked and looked and I have finally found my recipe go to place! Recipe cloud recipes are easy to follow and the outcome is wonderful. I have cooked several dishes and i'm happily surprise each time....im not a cook and if my kid can eat (and ask for more) for the food that i prepare from this app, its a good thing! I generally don't write reviews on food websites or apps, but this one is too good to pass up. Thank you!
Nothing like this app!
CourtInTheKitch
on
10/7/2013
This app is truly unique. I've done my share of googling random meal ideas, but this is a cool way to share recipes with my friends and family. Love it!
Simple and solid
This app is the Facebook for foodies! Great to store recipes in one place, see what other friends/randoms are cooking, and overall good recipe sharing experience.
Great recipe book application!
First time I have used an on-line recipe application. Love looking through the recipes for things to try and love the ability to search for particular types of dishes I might be interested in. Also taking advantage of ability to put copies in my own "cook book" where I can find them when I am ready to try them and share with others. Learning to add my recipes as well so I can have all my recipes in one place! Easy to use. Definitely recommend to others.
Crashed almost immediately
But you get what you pay for.
Great app!
Easy to use and fun to find new ideas. I like that you can add your own recipes or find them on the Internet. The new update is perfect with the iOS update. Great app and you should get it!
Food
Just getting started, I'm new but love to try all kinds of receipts !
Promising
This app looks amazing and well put together, I love being able to follow people or be followed.
My raiting
I like it. Fairly easy to use
App? All I see is a blue screen and then it crashes...
I don't give it zero stars because I can't. Sounded like a great app... If only it worked. It took all my login info and then it never went past the blue screen with the little cloud. Awesome app! :-/. I'm uninstalling it and looking for something that actually works. Glad I didn't upgrade to the paid version...
Doesn't store manual recipes
I spent half hour adding my favorite recipes, next day they were gone! Frustrating!
This app is awesome !
Hama1947289191
on
6/5/2013
helpful for a beginning cook like me. I can't wait to start using all the recipes !
Wouldn't work!
Tried to download this app but it wouldn't work. At all.
Crashed
Tittle says it all. Was looking for a good app that stores my stuff but this app crashed as soon as I opened it. Lame.
Fun and useful!
This app is such a great way to store and access recipes! The sharing features are an excellent feature that I haven't seen anywhere else. Crossing off steps and ingredients as you cook is a cute bonus. Highly recommended!
Only Selected Sites
You can only use certain sites...Try adding from a non preferred site it is way too complicated you can add a pic but that is it.
2nd Base
Nickname27473846
on
4/20/2013
I love the feature to capture online recipes. However, the Meal Planner feature is useless. It does nothing but list the recipes you'll use on a particular date. No shopping list or sharing of said list. Useless for my needs.
Fact Sheet
Publisher:

Jacob Hull

Category:

Food & Drink

Released:

Jan 26, 2013

Current Version Released:

Feb 10, 2017

Version:

3.1.5

Size:

49.3 MB

Compatibility:

Requires iOS 7.0 or later.

Recommended Age:

4+

Game Center Certified:

No

Supported Devices:

iPhone4-iPhone4, iPad2Wifi-iPad2Wifi, iPad23G-iPad23G, iPhone4S-iPhone4S, iPadThirdGen-iPadThirdGen, iPadThirdGen4G-iPadThirdGen4G, iPhone5-iPhone5, iPodTouchFifthGen-iPodTouchFifthGen, iPadFourthGen-iPadFourthGen, iPadFourthGen4G-iPadFourthGen4G, iPadMini-iPadMini, iPadMini4G-iPadMini4G, iPhone5c-iPhone5c, iPhone5s-iPhone5s, iPadAir-iPadAir, iPadAirCellular-iPadAirCellular, iPadMiniRetina-iPadMiniRetina, iPadMiniRetinaCellular-iPadMiniRetinaCellular, iPhone6-iPhone6, iPhone6Plus-iPhone6Plus, iPadAir2-iPadAir2, iPadAir2Cellular-iPadAir2Cellular, iPadMini3-iPadMini3, iPadMini3Cellular-iPadMini3Cellular, iPodTouchSixthGen-iPodTouchSixthGen, iPhone6s-iPhone6s, iPhone6sPlus-iPhone6sPlus, iPadMini4-iPadMini4, iPadMini4Cellular-iPadMini4Cellular, iPadPro-iPadPro, iPadProCellular-iPadProCellular, iPadPro97-iPadPro97, iPadPro97Cellular-iPadPro97Cellular, iPhoneSE-iPhoneSE, iPhone7-iPhone7, iPhone7Plus-iPhone7Plus, iPad611-iPad611, iPad612-iPad612, iPad71-iPad71, iPad72-iPad72, iPad73-iPad73, iPad74-iPad74, iPhone8-iPhone8, iPhone8Plus-iPhone8Plus, iPhoneX-iPhoneX,

Supported Languages:

English;