Lifestyle
Social Networking
This version of the app is not recommended
App last updated
Feb 06, 2018
Screenshots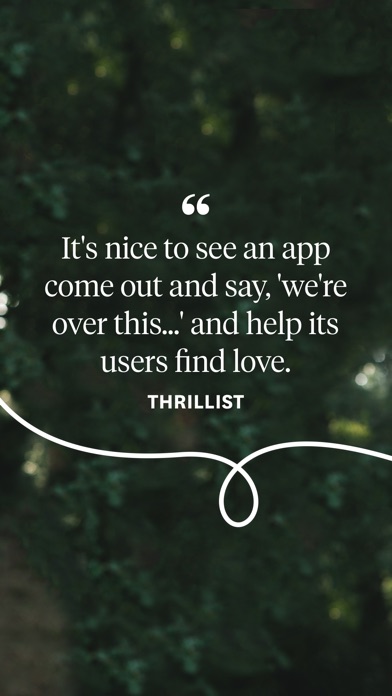 New in version 5.6.4
CHAT UPDATES
"Sent" confirmations - Don't worry, no read receipts.
Updated designs - Matching the rest of the app.
Improved performance - Faster, more reliable.
Description
If you're ready to escape the dating app games and find something real, this is the community for you. Welcome to a brand new Hinge, the app completely rebuilt and redesigned for relationships.

BUZZ ABOUT HINGE
- "this new version is really going to change things" - Elite Daily
- "a great option for those fed up with temporary love." - TheNextWeb
- "Hinge ditches swiping... to be Match.com for millennials" - New York Magazine
- "this could be the solution to the Dating Apocalypse" - TechCrunch
- "it's like a Match for Tinder graduates" - Bustle


PRIVACY
We will never post on your Facebook Timeline without your permission. We will never share your information with unknown parties.

SUBSCRIPTION OPTIONS
1 month: $12.99 / month
3 months: $6.99 / month
6 months: $4.99 / month

ITUNES SUBSCRIPTION INFO
– Payment will be charged to iTunes Account at confirmation of purchase
– Subscription automatically renews unless auto-renew is turned off at least 24-hours before the end of the current period
– Account will be charged for renewal within 24-hours prior to the end of the current period
– Subscriptions may be managed and auto-renewal may be turned off by going to Account Settings after purchase


Support: hello@hinge.co
Terms of Service: https://hinge.co/terms/
Privacy Policy: https://hinge.co/privacy/
Reviews
Best dating app by far
Hinge is great because the design of the app really allows for a great experience. The other apps feel janky in comparison. The profile page is cool because it lets you like either a photo or a fact about a person, which usually ends up being a great conversation starter. I also think the quality of folk on Hinge are better - not sure if it's the supply or just that they're killing it on their matching algorithms. Anyway, keep up the great work, Hinge! I'll sway all my Tinder friends eventually.
Would be great app if:
This looked like it would be really cool, but it doesn't pull the right job data from FB and doesn't give me the option to correct it, and I am proud of reaching my career so using this app is a nope.
Must have Facebook
If you don't have a Facebook account, you can't join. How outdated, most people don't even use Facebook anymore.
Another dead app
Nobody uses this app, no surprise
very buggy
disconnects you randomly. you have to go back to fb to reconnect. worse is that you would see message notifications but it won't show in the message history. can totally loose connections because of this bug. the most recent glitch is that suddenly all past connections become 'unread'. plus anything you type in the chat doesn't go thru. very frustrating
Missing a key feature - pause-deactivate
I love Hinge. But it's unusable due to missing a key feature. On Bumble, I can deactivate my profile. This allows me to actually have conversations with people and go on dates without being bombarded. On Hinge, if I have a couple of good things going there's no way to pause new matches so I can meet people. This means I have to delete my profile every time I make a couple of matches. This makes it pretty much unusable. Obviously in it for people to keep swiping instead of meeting. Does this feature exist and I'm not seeing it?
Bar-None Best Dating App
Dave Hates Snapchat
on
2/18/2018
I found my wonderful partner in life thanks to this app❤️
Great twist on dating apps, much less superficial
JohnnyP123iphone
on
2/17/2018
This app has a great feature that allows you to like any aspect of a users profile, as a result you get more interesting connections and often talking points that help break the ice. It's less surface level than other swipe based dating apps. Great work Hinge!
Can't see photos!
Two stars! I can't see any photos for about 1 out of every 5 guys! 👎
Fresh fun vibes for a Dating App
Tevan Michelle
on
2/17/2018
I really love this app. It's really different from just swiping left or right. You can see more of someone's personality with Hinge. I love that you can comment on answers they leave to questions, or leave a comment on a photo. It's like dating app and Facebook had a baby lol. Well done guys!
Format good, otherwise worthless
I had a premium membership for a month. I had fewer than 5 likes on my profile during that time and it started showing me people way outside my preferred radius (more than 50 miles away; one was 130 miles away), and I live in a major metropolitan area so that shouldn't be necessary. Of those 5 likes, I only chatted with one, made arrangements to meet up, and then he ghosted. 🤷🏻‍♀️ Meanwhile, I sent somewhere close to 50 or 75 likes and didn't get responses from any of those likes. It only ever showed 3 or 4 of my facebook friends as common links, so I think there are barriers maybe if your friends don't make their friend lists available publicly... not sure. Overall, definitely a waste of my money. Go with Bumble.
Fix please!
I keep getting notifications that I have a message but it isn't showing up. I have restarted my phone. I have the current update. Please fix!
Notifications are Annoying
I should not be forced to respond to a message to make the notification go away! This is enough of an annoyance for me to give this app only 2 stars. Make it so that reading a message takes away the notification.
Too many bugs, preferences doesn't work and on and on
This app us full of bugs. Preferences is always giving me an error message, it says I do not have the native email app to contact tech support (which I do in fact have), messages disappear and the same matches come up as if they are new. I just wasted my money on crapola. Have contacted support several times and nothing has been resolved. I keep getting the same canned responses to contact support which I have done several times.
Extortion
Owen T Brown
on
2/15/2018
Today I filled out a survey for them, told them I was generally happy with their service, and 2 hrs later, did the first time, they extorted me into paying a million fee. I guess I made the mistake of actually filling out their survey. No good deed goes unpunished.
Broken promises
I've been matched with people over 130 miles away when I specifically asked to be shown people 25 or less. I've received no matches, no messages, no views and I used the app for 5 days. I hate that you only get limited likes. Most of the men and women I saw didn't follow most of the dealbreakers I had.
Finally a dating app with real people
And people that (seemingly) have their lives together!
Deleted the app
I tried the app for over 2 weeks and never got a single match or chat request so I deleted it. It need MAJOR work too!
Seems like Robots
Seems like most people are automated there artificial intelligence like a robot because they all say the same thing. It's basically use to help keep guys interested in the app but in fact there's probably not many women on here to begin with.
Hidden charges
Downloaded this app & after a month was charged a monthly fee which I was not informed of & cant get a refund on. App is trash anyway. Don't waste your time or get your money taken.
Still a swiping game
Cash grab swiping game Not a single match
Decent App, Horrid Support
seriousmusicfan
on
2/9/2018
I downloaded the app and had a decent time matching with some women and having conversations with them. Then all of a sudden my conversations disappeared and I couldn't send any messages. As a result, I tried contacting support and got one generic response about making sure my app was up to date, which it was. After several attempts at following up, I have received no response. Quite disappointed with this aspect.
Concept good, application lacking
The idea of this app is great, but it's a ghost town. Do I have to pay to see likes or matches? I'm confused as to how this works. No one seems to be on it.
Dull & shallow
This offers pictures and short video with little else. Few questions which lead anyone to offer in depth answers about who they are. Write someone first, they have to "like" you, and then you get a response to start the conversation.... which you've already done. The only good thing is seeing which friends you have in common. This is a shallow waste of time. OKC and Match are much better - at least they offer the ability to get to know someone.
Doesn't know the difference between Christian and Catholic
It's a good app but I wish he knew the difference between Christian and Catholic you do know there's a difference right Hinge? It may be confusing Christian Catholic or not same they might be under the same umbrella but different branch completely. Do a basic google search if you don't know the difference between Protestant Christian and Catholic Christian lol. I wish the app would only recommend Protestant Christians and not mix Catholics in there. My filter is set only to Christians but it keeps throwing Catholics in there.
Horrible
All fat girls. Why should I upgrade to premium to see the what I want?
Works as expected
But I don't see the fb influence.
Makes breaking the ice easy
Upsetfan222222
on
2/8/2018
I really like this system of commenting on people's answers to random and interesting questions. It makes this feel much more casual. My first match and I ended up actually having a good conversation, which is rare on these things. However, my biggest complaint would be that you can't tell whether or not a person you're seeing is currently active. Part of me feels like there are a large number of dead accounts sitting around, since I'll often see some where the images just don't load or show signs that they haven't been updated in some time.
It isn't following my settings
It's a nice app, but it's showing me people that are way older than my age settings or people that are in states across the country when I'm listing my settings as 20 miles or so away. It's very annoying
Login Error
I keep trying to login with my Facebook and it keeps telling me there's a login error with no explanation or anything. I've tried deleting and re-downloading the app multiple times and it still keeps giving me the same error message. Very frustrating.
Doesn't work
Either this app is broken or literally no one is active on it. I've had my profile for a couple years now and haven't received a single match or message. I've messaged and liked people and get nothing back nor any matches. So either everyone has abandoned this app leaving inactive profiles or this app is completely broken. Also many profiles do not load. I got a motivation tonight saying they had a recommendation only to open it and every photo is blank only text is viewable. Tried restarting the app, no change. It would be a great concept if it actually worked.
Right off the bat I get a bad vibe
Does algorithm put more attractive people near the front of my cue and less attractive people near the back? Bumble does this, and I think I'm seeing it here too. Major issues with this tactic.
Great app with lots of great features!
Love how user friendly it is and the people are pretty great. Better option than Tinder.
Met my fiancé through this app 2.5 years ago
When I used the app 2.5 years ago, it was great - it may have changed since then, but I'm very fortunate that the app connected me with my now fiancé. She's incredible and our paths wouldn't have crossed if it weren't for this app. Thank you!
Meh
There is not a lot of male selection on this app for females in the SD area. 😢 I still have 3 months left on my subscription but I'm over it.
No support or fix to message issue! I've contacted them multiple times
Back support for this app is non existent
Love
Wayyyy better than bumble, tinder (who still uses that) and CMB (which is absolutely the worst and most frustrating thing with the most unattractive people who write boring one word or one line generic answers) Hinge gives you a variety of questions that are unique and some really make you think! So right away based on the answers given by your potential match you get to see a little bit of their personality and how they think. I love that. Hinge is great if you're doing the whole dating app thing.
Doesn't work without Facebook
This could be a great app, but I'll never know because I don't have Facebook. How about sign in with phone number instead? Hmmmmmmmm??? Get off the FB Kool aid please.
Great concept but no one is on it!
The selection of people is much more appealing, diverse, higher quality. BUT I'm convinced no one uses it. Compared to other dating apps the activity from men is almost non existent. I can switch over to Clover or Bumble & have dozens of likes/or matches/messages. On Hinge almost zero activity or responses. Bummer because there was some nice options of men on there. I don't know if they are fake profiles or just inactive. Either way I feel like it's an "empty auditorium". I like the simplicity, honest, & modern approach. I just wish others actually used it.
Fake accounts?
lexmikhailov
on
1/30/2018
It feels like I've just wasted $12 on a useless subscription... seems that all those people are fakes? I don't think that I'am vain person, but how that could be that there is NO response from other people? Useless app and waste of money... I'm regretting about spending $12 in nowhere...
Overall pretty good
Make New Yorker X
on
1/30/2018
They could probably add additional surveys for better matching, but in general it's pretty good
Friendly
It's friendlier than other apps
Decent but messaging issues
I like this site so far, but HUGE issue is that if you're in the middle of the conversation, you may want to verify things on said persons page, if you accidentally hit the back button it erases everything. The app should be like bumble or texting, when you go back it's still there
Horrible doesn't work
Unhappynav'r
on
1/23/2018
App is horrible and doesn't work. Frequented refund and they ignore request.
Response from Customer Service
I downloaded the App to try Hinge to potentially meet someone. I was given the option to deny Hinge to have access to my friends list on Facebook. Initially I agreed to do so as it was not made clear I would not be able to use the App without giving them this access. I received a message access denied contact Hinge customer service. I am willing to allow friends access to Hinge but they have not responded to my multiple customer service requests yet my Facebook account still has it as a third party App. The response the developer gave regarding not going through Facebook is irrelevant because I went through Facebook, they have not responded to resetting my account. Update:FYI, I received a response as to why the App isn't working. I need to have at least 10 Facebook friends to use the App. I'm not a fan of Facebook & I'm not going to muster up 10 people to join a dating App so there goes my possibility of using Hinge.
Better than Tinder
There Will Be Snacks
on
1/21/2018
Definitively better than Tinder.
Did not feel safe
Awful app. Full of creeps. And the app gives your first and last name as soon as you match. As a female this is so NOT cool. I'd like to be able to control when I feel comfortable giving my identifying information out. And then even worse you can't even delete your profile? They're "working on it"? It can't be that hard. Maybe they just want to pad their numbers but keeping people stuck on.
"You've seen everyone"
Just downloaded and complete my profile and the app isn't showing me anything. Something up with my settings? ETA - issue corrected itself on its own. The app is still flooded with instagram models, but it's already a far better experience than apps like bumble.
Weird people
Anita10015445
on
1/18/2018
Met a real weirdo on here who wanted me to meet become friends with his daughter after talking to me for a day. He also talked like someone reciting a poem
Great app for real interactions
Jericho_shklfrd
on
1/18/2018
Better than most. And great UX.
Fact Sheet
Publisher:

Hinge, Inc.

Category:

Lifestyle

Released:

Feb 05, 2013

Current Version Released:

Feb 06, 2018

Version:

5.6.4

Size:

93 MB

Compatibility:

Requires iOS 9.0 or later.

Recommended Age:

17+

Game Center Certified:

No

Supported Languages:

English;

Parental Advisory:

Mild Sexual Content and Nudity; Mild Alcohol, Tobacco, or Drug Use or References; Mild Profanity or Crude Humor; Suggestive Themes;