Screenshots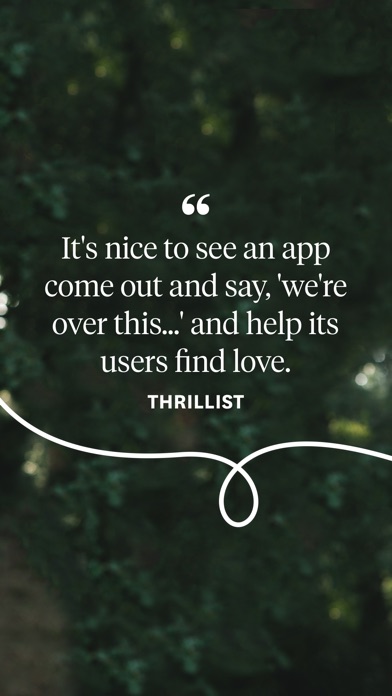 New in version 5.6.0
HIDE MATCHES
Focus on the conversations that matter the most!
Description
If you're ready to escape the dating app games and find something real, this is the community for you. Welcome to a brand new Hinge, the app completely rebuilt and redesigned for relationships.

BUZZ ABOUT HINGE
- "this new version is really going to change things" - Elite Daily
- "a great option for those fed up with temporary love." - TheNextWeb
- "Hinge ditches swiping... to be Match.com for millennials" - New York Magazine
- "this could be the solution to the Dating Apocalypse" - TechCrunch
- "it's like a Match for Tinder graduates" - Bustle


PRIVACY
We will never post on your Facebook Timeline without your permission. We will never share your information with unknown parties.

SUBSCRIPTION OPTIONS
1 month: $12.99 / month
3 months: $6.99 / month
6 months: $4.99 / month

ITUNES SUBSCRIPTION INFO
– Payment will be charged to iTunes Account at confirmation of purchase
– Subscription automatically renews unless auto-renew is turned off at least 24-hours before the end of the current period
– Account will be charged for renewal within 24-hours prior to the end of the current period
– Subscriptions may be managed and auto-renewal may be turned off by going to Account Settings after purchase


Support: hello@hinge.co
Terms of Service: https://hinge.co/terms/
Privacy Policy: https://hinge.co/privacy/
Reviews
Safety issues
Without my consent, I used only my first name but I found out that pulled full name off Facebook I had some one contact me...it was another hinge member that let me know my full name showed
Suggestion box
SamuelMYoon
on
12/10/2017
Hinge should remove the "Likes you" part of the app and only show it when people actually match. It takes away the anticipation that makes dating (online or otherwise) that needs to be there to make it fun/exciting. There has to be an excitement of knowing whether or not they'll like you back ya know? Also there's a distinct disadvantage to making the first move so the fact that it shows up kinda of discourages people from wanting to send the first like. My opinion. Otherwise the app is really nice. Much better and different from other apps.
Decent
Geoff MacDonald
on
12/10/2017
Notifications lag behind like 10 hrs. I love my chat messages being sent to me 10 hrs later. Love it
Super glitchy
Crashes all the time and freezes.
So many bugs
The image cropping tool on iPhone X doesn't work, I can't log into Instagram because after I auth it just logs me into Instagram instead of taking me back to hinge, and the text editing tool is so broken it doesn't let me copy and paste anything. It's like they didn't QA at all.
Waste of time
Do you enjoy sending messages to profiles that haven't been active in over a year? Do you enjoy having to reject the same profiles over and over? Do you enjoy paying for the filtering feature only to have it ignore your "dealbreaker" preferences? Then this app is for you! Also, I strongly suspect this app uses fake profiles to try to get users to stay. Before I even completed my profile I got a Like on a photo with no message. I sent a reply and never got a response. This is the only Like I have received so far. I can't prove it was a fake, but it seems like exactly how a fake would behave.
Decent service. Photo selection feature is horrible.
Bumble Blows
on
12/7/2017
The app works fine as a dating tool. But their photo selection issues with Facebook are awful. You can't remove pictures it forces you to use, so it unearths and displays old Facebook photos without your permission. Users have been complaining about this problem for over six months. Fix it already. Update: crashes all the time. Horribly unstable. Update : their new design creates vapid meaningless profiles where people share useless info about themselves. Not a good app for finding a relationship. It's like an extended version of bumble. Coffee meets bagel is better for relationships.
Suggestions
It would be nice if you could look through all that had liked you before decided to give them an X or chat
How to make hinge better?
Telly la la la
on
12/5/2017
Not sure. It's better than before, when it was only fb friends. However, it seems human behaviour hasn't caught up to online dating. Nobody messages. Or, the fellas who have liked my photos have been unappealing almost every time. When I get frustrated enough - nearly there!- I will quit. Again. And try not to rejoin for a longer period of time than the last time. Five months. It's not a boredom tool for me. I'm using it to meet people. Which, I haven't. Most people seem to be just filling their time. I'm busy, like most of NYC. maybe there's something in that concept for you to explore.
I like the set up!
Rustic Barbie
on
12/5/2017
I like how it's set up to where you send messages based on something of their profile. I don't like how I have to read it and then at the bottom it'll say that they are interested in hookups/casual/fun. So no one in my area worked out bc no mutual likes and 90% weren't what I was looking for. Love the concept tho
Poor
It's like any other dating app. Been on it for 2 months and no luck. Most people don't even reply to you or just purely want a hook up.
keeps logging me out and forcing me to log back in with facebook
annoying, who's QAing this? and don't ever turn off facebook info, it deletes every match you had and you've lost contact with them forever. they won't restore for you. horrible UX the last month. before that it was 3stars.
Last name visibility is dangerous & reckless
A man was sending me increasingly concerning messages which became threatening. I blocked/reported him, only to have him locate me on Facebook and start messaging me there. Plenty of apps use Facebook as a method for connecting people without disclosing their last name, and an earlier review has now freaked me out as I realize that this man can easily find my address. I've deleted the app and am encouraging my friends to do the same for their own safety.
Has Been Great, But Now Won't Open
I'm guessing this is an iPhone X-related bug, but I am now unable to sign into Hinge - I get the welcome screen, click 'Continue with Facebook' and the screen goes white. Have tried deleting, re-downloading. Same problem every time. Opening links on Twitter does the same, so again, guessing this is Apple-related due to forced updates.
Best of the Non-Hookup Apps
Tinder, Bumble, Match and others. Don't waste your time with these apps. Oh and "the league". Although the league is a tad bit better than the aforementioned. I found my ex girlfriend on Hinge, nuff said. I couldn't find a girl on any of these other mentioned apps to save my life. I hope I will find my next real girlfriend on this app, or in real life, or through some other avenue. But at least this app isn't trying to keep you single for it's own profit. And they also follow up with both parties if you for whatever reason lose touch with the other person after noticing you've had a dialogue with them. What other app does that? That's right, no other of the above. So give it a try, you might find someone too
Latest Update Major Glitches
Comrade Sergei
on
12/3/2017
Latest update works terrible with iOS 11.2. App consistently crashes/cannot text/l messages in likes/frequently repeats the same person to you. Most importantly, it drains your battery way too quickly even in the background when the app isn't being used. My phone's battery says this app is taking 25% of my battery power.
Quality people
Love the fact you have to make your decision before you can see the next person. More serious dating app with quality people.
Just downloaded
This app is really awesome! It has a better design than any dating app I've seen, and the ability to caption pictures AND VIDEOS makes it the best on the market in my opinion. I really hope it catches on!
So few users repeats same ones you've said no to
Terrible logic to serve up the same people every day even though you've said no to them. They do this so it appears there's users but it's the same ones over and over. What if it's an ex you don't want to keep seeing everyday? Deleting this app.
Notifications count is wrong.
For some reason the badge count for notifications on my app multiplies the real number by 3. If had two new messages, the badge says 6 until I open it and it drops to two. Same thing happened a second ago. I have a new match, and two new messages yet the badge says 9 new notifications. When I opened it and went back to the home screen it reset to 3. Weird.
Why do I️ need this
If you have Facebook, which you need for this, then why do I need this??? Exactly Uninstalling now
Poor Connection
The app is horrible. I am only able to look at it when I am on wifi. I thought it was maybe my phone but I have since gotten a new phone and the problem still exists. Also, I have men contacting me who don't live anywhere close to me!
Messaging doesn't work
My messages send and then appear as if the other party sent them. Then always shows "failed to load messages" so don't think I can view messages I've received
Login
It won't let me connect through Facebook, keeps saying error. I know my Facebook password, so I shouldn't be getting error.
Needed other option to sign in
I used this app for few days and liked it. Then I realized that my last name is shown on the account and random strangers started adding me on Facebook . I use many other dating apps and not one showed my last name. With my full name disclosed anybody can pay and look up my address online and match me with pictures and show up at my door. I think it's DANGEROUS!!!! And besides all that you do not even know your full name is disclosed, I found out asking the guys I was chatting with. My friends who were on the site didn't know either!!!
Met current boyfriend on this app!
Nickers and Names
on
11/25/2017
Title says it all - I'm so happy I downloaded it and spent the time to create a profile. Only app I feel could have worked for me. Some glitches to work out - re-seeing ppl you've already X-ed for example
Stuck in a loop
I can't even use the app. I mistyped my Facebook password trying to log in and now when I go to try again, it brings me to a page saying my password is incorrect. No way to back up and actually try again.
Skip this app
Sheenak8666
on
11/24/2017
For the first thing. It freezes and glitches more than that new IPhone. It's a very slow app for trying to have a conversation. You only get to see one profile at a time. Through their browse "yes or no" feature if you want to see more than ten single persons out there in 24 hours you will have to pay. I would like to connect not be walled off by this, especially when they're not at all my type. There's 6 million people in my city, I'd have to use this app for an extended period of time to get anywhere and sorry but I'd loose interest way too fast for that.
Does. Not. Work. Updated!
Bug has been fixed, but this app should be called "Tease" rather than Hinge. I'd say at least half of the users in my extremely large city are accounts that are inactive. I'm tired of going through profiles where answers involve 2016 New Years Resolutions, photos memorialize the Paris attacks of 2+ years ago, and instagram feeds of girls who are dating someone or even engaged.
Date of the week
I've been waiting since Monday for the recommended date of the week and have received nothing!
No Facebook = No Hinge
I can understand and appreciate the necessity of verifying user identities—it's a must for any kind of app like this. But there must be another way to acquire new users without forcing them to sign up through Facebook. I don't use Facebook, but would still love to use this app. Can we please find a way to create Hinge accounts without forcing users to use Facebook? Thanks!
Buggy
It keeps telling me I have multiple connections/alerts and when I login nothing is there. Waste.
Almost there
I like the approach. The people on here are definitely more serious and I've had matches and dates. My only gripe is that whatever algorithms or software that's being used isn't up to par. The majority (almost all) of people I see are repeats to whom I've said no to and rarely do I see new faces. I'll swipe no to the same person maybe 2-3 times in one day. I live and work in SF, so I know there are tons more people using this app.
Legit dating app
msdoctorgirl
on
11/20/2017
Finally, an app where i can emphasize deal breakers and find quality people!
Not enough users. Great filter tools.
This platform needs a lot more publicity because nobody has ever heard of it. The alternatives like Tinder and Bumble don't offer any filtering or 'matching' options. Maybe they should link up their user communities, or tie it in tighter to Facebook or something to that effect.
Scammers all over the place
Be careful of scammers here. Specially "military guys". That is the only thing you get on this app. Everything looks fake with all these accounts. I tried to keep with the game with one to see how far they will go and they kept asking for gift cards. In the most subtle way. Don't rely on this app and be careful. I saved all my conversations to check how far it was going and what they were gonna ask. They will always ask you for gift cards and they are on duty outside the country. If you fell for it, escalate this and try to contact their support center, but honestly not worthy this app.
Underwhelming, disappointed....
WastdTimzX3
on
11/18/2017
Three days in a row I'm getting mostly the same group over and over again, what's the point of the app if it doesn't have a very big group? UPDATE: "developers" reached out to me but the pr-blew remains, seems like it's worse. For both women liked or Xed, I'm getting several repeat women per day, very few new women, not very useful and not at all recommended.
Yikes!
CityEatsFan
on
11/17/2017
The newest update makes the answers uncomfortably large and cheesy. I prefer seeing the photos and getting to know a person through conversation and the questions I ask on my own. The hokey questions Hinge feeds are a turnoff. I don't need to see "How your parents met" in 36pt font.
Not working?
jusder13579
on
11/16/2017
I decided to come back after some time off, but now I am unable to login! I tried on two iPhones, both didn't work. I tried on my Android and it worked without issue. I've deleted the Facebook integration and app twice, no difference. --- Update: Must have been a temporary issue as I tried again today and it worked without issue! Already meeting someone tomorrow!
Problems x10
gabrielastars
on
11/16/2017
Similar to Ghost Town's review above. I noticed within a few days problems with the messaging. Customer service was terrible and I asked for a refund, given the issues within 2-3 days. After that, I noticed that most people that showed up were also people I had passed on. I purposely reached out to as many men as possible and maybe one response when the app wasn't acting buggy. I too, am not homely and assumed because this appeared to be a reputable site, there would be more interaction. In fact, the only suggested matches I ever received from Hinge were clearly outside of the preferences I indicated - on all levels. Rather odd. Again, the customer service is not helpful and I'm convinced this is a scam since I reached out to someone I know- and never heard back! Oh well! Good luck to all!
I enjoy it but it's buggy as hell
girlphilosopher
on
11/15/2017
Notifications don't show up, questions and answers are paired incorrectly (e.g. "describe yourself in three emojis" "going to Spain in the spring!"), it will freeze up. But overall for dating apps it's my favorite.
Poorly made
StayinSpooky24-7
on
11/14/2017
Strange way of liking others, 10 likes per day, and no way to edit your profile from what's displayed on Facebook. No thanks
iPhone X
So far I enjoy it. Interface could use some work, but it's a good app.
All Fake Profiles
celestial turtle
on
11/9/2017
realized this is a gimmick within 5 minutes of using the app. Don't waste your time
If only it worked...
A Guy in the City
on
11/9/2017
I very much want to like this app, but its messaging so glitchy it makes it almost impossible. I constantly receive notifications saying I've gotten messages only to open it and have the message not shown (occasionally this happens even when I'm able to preview the message before opening). At this point, I've actually lost more connections due to glitches than had actual conversations. I've reached out to support several times but their response time is very delayed and often provides no solution to the problem. I'm sure the app will be good when it works but until then...
I'm not going to finish registering my profile if I don't get to choose my photos.
Yelnik McWawa
on
11/7/2017
I can't upload from my iCloud photos and the app chose pictures from my Facebook and only allows me to replace them from one album. I'd like to try it, but I don't have the time required to move all my Facebook photos around.
Don't waste your time
For some reason I decided to try Hinge again. It's still buggy, and now it seems to completely ignore all my preferences. Only offering me people ridiculously younger than me, farther away than is realistic, and over a foot shorter than me.
Overall good app
A lot of scammers...
Hinge is awesome
It really is
Review
There are more fake profiles on hinge than any other dating app.
Fact Sheet
Publisher:

Hinge, Inc.

Category:

Lifestyle

Released:

Feb 06, 2013

Current Version Released:

Dec 05, 2017

Version:

5.6.0

Size:

85.1 MB

Compatibility:

Requires iOS 9.0 or later.

Recommended Age:

17+

Game Center Certified:

No

Supported Devices:

iPad2Wifi-iPad2Wifi, iPad23G-iPad23G, iPhone4S-iPhone4S, iPadThirdGen-iPadThirdGen, iPadThirdGen4G-iPadThirdGen4G, iPhone5-iPhone5, iPodTouchFifthGen-iPodTouchFifthGen, iPadFourthGen-iPadFourthGen, iPadFourthGen4G-iPadFourthGen4G, iPadMini-iPadMini, iPadMini4G-iPadMini4G, iPhone5c-iPhone5c, iPhone5s-iPhone5s, iPadAir-iPadAir, iPadAirCellular-iPadAirCellular, iPadMiniRetina-iPadMiniRetina, iPadMiniRetinaCellular-iPadMiniRetinaCellular, iPhone6-iPhone6, iPhone6Plus-iPhone6Plus, iPadAir2-iPadAir2, iPadAir2Cellular-iPadAir2Cellular, iPadMini3-iPadMini3, iPadMini3Cellular-iPadMini3Cellular, iPodTouchSixthGen-iPodTouchSixthGen, iPhone6s-iPhone6s, iPhone6sPlus-iPhone6sPlus, iPadMini4-iPadMini4, iPadMini4Cellular-iPadMini4Cellular, iPadPro-iPadPro, iPadProCellular-iPadProCellular, iPadPro97-iPadPro97, iPadPro97Cellular-iPadPro97Cellular, iPhoneSE-iPhoneSE, iPhone7-iPhone7, iPhone7Plus-iPhone7Plus, iPad611-iPad611, iPad612-iPad612, iPad71-iPad71, iPad72-iPad72, iPad73-iPad73, iPad74-iPad74, iPhone8-iPhone8, iPhone8Plus-iPhone8Plus, iPhoneX-iPhoneX,

Supported Languages:

English;

Parental Advisory:

Suggestive Themes; Mild Alcohol, Tobacco, or Drug Use or References; Mild Profanity or Crude Humor; Mild Sexual Content and Nudity;