Screenshots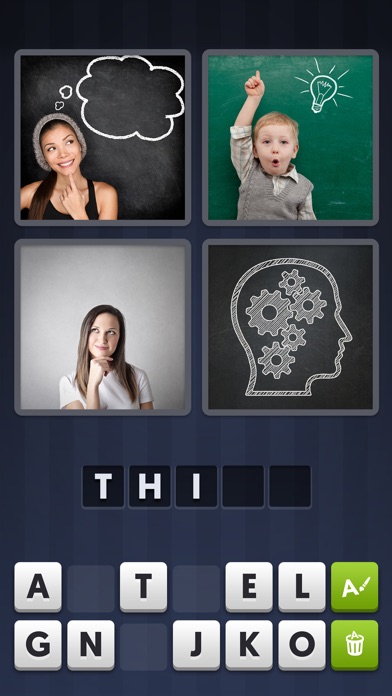 New in version 7.6.0
Thank you so much for your support in making 4 Pics 1 Word a success! Your feedback and reviews help us to make the game even better and bring you great new games too!

What's new?
- We've come up with new 4 Pics 1 Word puzzles to keep the fun going! (Downloaded automatically once finished those on your device)
- Bug fixes and performance improvements
Description
THE #1 HIT WITH OVER 220,000,000 PLAYERS WORLDWIDE!
4 pictures that have 1 word in common – what is it?
Find out why everyone loves this game and JOIN THE FUN NOW!

*ENDLESS FUN WITH NEW PUZZLES!*
Can you guess the words and unlock the levels? Countless puzzles from easy to tricky are waiting for you! New puzzles are added continuously for endless word fun!

*PURE, INSTANT FUN*
No registration, no complicated rules. Just start playing and have fun!

*SIMPLE AND HIGHLY ADDICTIVE GAMEPLAY*
Which word are we looking for? Look at the four pictures; find out what they have in common. Win!

*THE MOST ADDICTIVE BRAINTEASER IN THE WORLD!*
There are over 220,000,000 4 Pics 1 Word enthusiasts playing across the globe in 8 languages. Join them!
iPad Screenshots
Reviews
Ads
Too many advertisements
It widens your observational and associative skills.
GiGi Lolobriggetta
on
10/15/2017
Challenging at times. But it must be making more creases in the gray matter. When you >>deliberately<< practice this kind of association, as you do in this app, you are doing it in a no pressure setting .. but, over time, practicing this will refine your attention to detail and hopefully improve your ability to see commonalities in things and situations that, in every day life, seem to be unassociated but actually carry a theme. This kind of skill is invaluable - in business, in life .. seeing beyond the obvious and discovering threads of commonality -- or conversely, disassociating things that you have previous seen as possessing a common string. I will put a reminder in my calendar to check back in in 4 weeks and report if I have climbed some abstract mountain or conquered or refined my capabilities in these sorts of affairs. Beside, it is fun - play it together with someone - either 2 person team vs 2 person team -- add a timer for an edge. Or play as a group to see who gets it right first. Or just 2 of you - plainly finding that you end up giggling at 3 am from the things you have to say about it.
Tired of starting over!
If I purchased the premium version, will I be able to keep my coins and score when I change to a new device? I'm tired of losing everything and starting over every time I get a new phone!
I love this app
It's definitively entertaining. It helps me go through the day when I'm bored.
Save Progress
This is a very lovely game it deserves a 5 Star rating but I'm taking one out because of a draw back I've noticed. Over time I have used about 6 or more iPhones, I loose some and upgrade some. Anytime I change my device I have to start from the begining😤😤😤, this can be very frustrating. First time I got the app, I had to wait for the next update to continue cos I had finished all. Just imagine getting there then starting all over again😤😤😤 bcos I had to upgrade my device!!! This made me loose interest completely. Secondly, what's with the link to the app when we're asking a friend for help? It was easier before, now we have to screenshot it! Developers, Please find a way so we can store our progress, probably link it to fb, an email, or we could also create an account with your app too. Please and please
Too many ads
Not a bad game, but unless you pay you get annoying ads every 3 moves. I actually paid for the game over a year ago, buy mow that i tried it again I get the ads. Doubt if I'll be on long.
Fun and challenging
So far this game has been nothing but easy and challenging I couldn't ask for a better one
Upset!!!
I switch to a new phone and now all my progress is lost and I cannot get it back. Very annoyed. I've been playing this game for 3 years and now I'm back to square one.
KIDS
will really enjoy this-little too easy for teens and older unless you have spare time and want to feel smart!
RIP Ken
Kudos to 4Pics1 Word! My 85 year old father passed last Sunday morning. On Friday night he finished the last puzzle you had issued at that time. He loved this game and was the best at it in our family. Thank you for all of the hours of entertainment and mental exercise you gave him!!!!!!
Fun
Cathy F in CA
on
10/7/2017
Challenging! A fun way to keep your mind sharp!
Four pictures one word
A good game to play and keep the mind working out.
10 second ads every three questions
It's a really fun game, but this app crosses the line from an acceptable amount of ads (which is understandable, it is a free game) to a greedy developer who created something that contains more ads than gameplay.
Best game
Metalbender1
on
10/4/2017
It's so fun and challenging every body should play it 😀👌🏻👍🏻😃
Anti-Dementia Game
intrepidusa2012
on
10/4/2017
Very helpful in fighting Altzheimer's
Been playing this for years
LOVE this game gets harder as you go but LOVE this game ...
Ads Ads and more Ads
If you like Ads between every game, I mean between every single puzzle then this is the game for you. Otherwise, don't waste your time.
Just starting out
I just loaded this game with the hope it would give my mind a workout and I can say it is definitely challenging but doable. I'm finding it hard to stop playing and with the multiplayer game I've invited a friend to play along with me. I have not heard back so cannot report on if playing with another player is just as fun or more fun.
:)
Victor Ariel
on
9/30/2017
4 imágenes 1 palabra 👍👍
Helps with my spelling
However forevermore
on
9/30/2017
It has helped improve my spelling. And hero my mind sharp.
simple game
Mrs. Graham💍
on
9/28/2017
This game is nice but the words can be a bit TOO simple. Then again, the target age does say 12+ so I can't be upset being that I am 16. Maybe I can just look for a similar game with greater difficulty.
4 Pics 1 Word
Super fun. I could play it for hours.
One word 4 pics
Fun game. Almost adictive
4 pics 1 word
Zennagirlisawesome
on
9/26/2017
It keeps your mind working
Comment
This game is awesome!! Makes you really stop and think.
Multiplayer
They like to cheat on this game
I love this game!
This game makes me want to think a lot and I love spelling but sometimes it takes a lot of effort to spell the words I love the pictures that gives you a clue. If you are new at this then I hope you do good. Because when I did it it was really fun to play this game. I think this is one if my favorite games. I see this game a lot and I am like I want this game so bad and my dad is always deleting this same game and I keep getting it back so I can play on it!!😍👍❤️😎💕😘👅
Good for short break
Good
Ytown
I enjoy this game but I think you should get more than four points for solving a puzzle and use less than sixty coins to get a single letter clue.
Great for the brain!
I love this app. It's exercise for the brain.
Fun
This is educational and fun.
Love the game
It would be nice if you could add a scramble button so you can rearrange the letters to get ideas. I get most pretty easily, but I when I get stuck, it would be helpful!
4 pics 1 word
Interesting!
4 pics1 word
Addicting!!!!
Knope!!
I spent more time pressing Xs out of advertisements than playing the game. It got old quick and I uninstalled it after a few minutes.
It rules!!
This game is so funand really makes my brain work.
So remedial
I thought this would be fun and challenging but you'd have to be really dumb or a 5 year old to find this challenging. Snore.
Great brain work!
Tiffster the Taurus
on
9/4/2017
Addictive and mentally refreshing
Great for your brain
Fun to play and good for your brain, too.
Like it
It keeps me busy from being bored
Great Game
Rainbow smiles
on
9/2/2017
Awesome game! It's really fun. You can just do a couple puzzles here and there when you have down time. I would recommend it.
Mind Energizer
A great way to keep your mind active and always thinking. Try it you'll love it😀👍🏻
Heavenly
I love guessing the picture some are easy but then I do one that is challenging love it
Fun game
Makes you think. Sometimes the obvious is the hardest. Fun to play.
Fun but...
This game is fun and challenging/addicting but every three puzzles you solve there is an ad... it gets annoying!!!
What Happened???
We were enjoying playing the game, but then for weeks it says it needed to add more puzzles. Still no new puzzles???? Only play daily and league. WHAT HAPPENED??? When are you going to have New puzzles??
Great fun!
The game is creative, fun, and addictive. The ability to play against others is also challenging. Thank you very much.
Sad☹️☹️☹️
I turn my phone the other day and the game was gone. So disappointed I was up to 1000 in words. If I download it again I have to start at the beginning..
Fact Sheet
Publisher:

LOTUM GmbH

Category:

Games

Released:

Feb 04, 2013

Current Version Released:

Oct 03, 2017

Version:

7.6.0

Size:

141.7 MB

Compatibility:

Requires iOS 9.0 or later.

Recommended Age:

12+

Game Center Certified:

No

Supported Devices:

iPad2Wifi-iPad2Wifi, iPad23G-iPad23G, iPhone4S-iPhone4S, iPadThirdGen-iPadThirdGen, iPadThirdGen4G-iPadThirdGen4G, iPhone5-iPhone5, iPodTouchFifthGen-iPodTouchFifthGen, iPadFourthGen-iPadFourthGen, iPadFourthGen4G-iPadFourthGen4G, iPadMini-iPadMini, iPadMini4G-iPadMini4G, iPhone5c-iPhone5c, iPhone5s-iPhone5s, iPadAir-iPadAir, iPadAirCellular-iPadAirCellular, iPadMiniRetina-iPadMiniRetina, iPadMiniRetinaCellular-iPadMiniRetinaCellular, iPhone6-iPhone6, iPhone6Plus-iPhone6Plus, iPadAir2-iPadAir2, iPadAir2Cellular-iPadAir2Cellular, iPadMini3-iPadMini3, iPadMini3Cellular-iPadMini3Cellular, iPodTouchSixthGen-iPodTouchSixthGen, iPhone6s-iPhone6s, iPhone6sPlus-iPhone6sPlus, iPadMini4-iPadMini4, iPadMini4Cellular-iPadMini4Cellular, iPadPro-iPadPro, iPadProCellular-iPadProCellular, iPadPro97-iPadPro97, iPadPro97Cellular-iPadPro97Cellular, iPhoneSE-iPhoneSE, iPhone7-iPhone7, iPhone7Plus-iPhone7Plus, iPad611-iPad611, iPad612-iPad612, iPad71-iPad71, iPad72-iPad72, iPad73-iPad73, iPad74-iPad74, iPhone8-iPhone8, iPhone8Plus-iPhone8Plus, iPhoneX-iPhoneX,

Supported Languages:

English;

Parental Advisory:

Mild Realistic Violence; Fear Themes; Mild Sexual Content and Nudity; Mild Profanity or Crude Humor; Mild Alcohol, Tobacco, or Drug Use or References; Suggestive Themes;