Recommended app!
App last updated
Dec 29, 2017
Screenshots
New in version 7.12.27
Bug fixes and performance improvements. Happy new year!


Version 7.12.27

= Fixed =

• Minor bug fixes and performance improvements


Version 7.12.22

= NEW =

• A brand-new Ad-free experience
- Added an in-app purchase item (remove ad)
- Once purchased, all ads within the app on this device will be removed, forever.


If you have any questions please go to More > Send Feedback to contact us. Thanks!
Description
Send Anywhere: Easy, quick, and unlimited file sharing

Send your photos and videos in original size to your PC, share them with your friends, transfer your music files to your iPhone. You can send to anywhere you want instantly, for free. No login or registration required.

• 6-Digit Key
A security key that lets you send and receive files on Send Anywhere. It will be generated after selecting files. When the key is entered on the receiving device, files will be sent instantly.

• Share Link
You can generate a link and share with multiple people. Links are valid for 48 hours.

• To Device
Send a notification to receiving devices, allowing them to receive files without having to enter a key.

• Play Music
Received music files can be played right in the app! You can even make a music playlist of your own and send the file to your friends.

• Play Video
Received Video files can be played in Send Anywhere's simple video player! Even multi-language subtitles are supported! Free your iPhone from iTunes.

Feedback is always welcome. Please message using 'Send Feedback' menu, or email support.ios@estmob.com with any issues or suggestions.
iPad Screenshots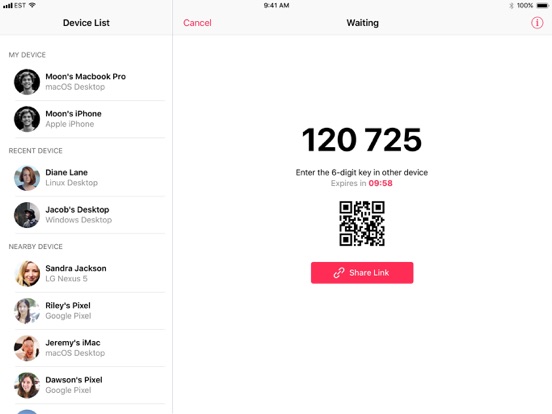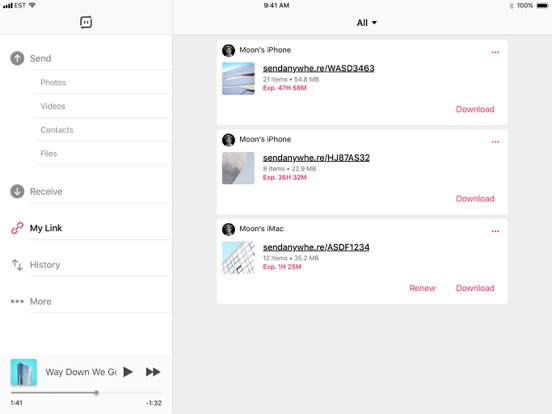 Reviews
Finally something that works!
After trying 5-6 apps I tried this one and was finally able to transfer large video files off my 8+ to my PC. Even trying from the lightning cable didn't work.
Fast and So Easy
The fastest and easiest way to share anything between all of my devices!
Video Downloader
From one or two photos to batches and even videos. Great for transferring from a PC to iPod! The only way i have found for transferring videos from my PC to iPod.
Makes it easy to transfer everything!
It makes sending things from surface pro 3 to my iPhone a breeze.
Amazing app
This app has helped me So Much whenever I had to transfer data through phones! It deserves 5 stars! It's so easy and effortless, one of my favorite apps of all time
Amazing App
Bajan_Shoppa
on
1/16/2018
I really appreciate this app everyone should have it!
Shareapp best easy
AldilaDisney
on
1/16/2018
So simple for 2 diffrent device
This one's a winner
Fast and so easy to use. No need to pay for another app. This one's the best!
Veasna
Awesome app, really loved it
Ứng dụng hay
Vietdung_ls2112
on
1/10/2018
Truyền dữ liệu nhanh, dễ sử dụng
Nice File Transfer
Always Works as expected, others hire and miss.
Amazing
Incredible app. I love it!!!
Great app
LostAngel213
on
12/31/2017
Transfer multiple items at ones would make it better for iPhone use...
great app!
All technology should work like this. Send Anywhere is quick, easy, and reliable. A great program for easily transferring files.
truely
Yes Yes it is
on
12/28/2017
there are few instances when sending is not delightful. dare not send 1080i video to an iphone, rejection will set upon you. however 1080p is brought with gladness.
Really really good up
Get this app it's so good you should get this right now because if you want to send files it's great I do with my computer to my phone so great I recommend it
How f*ck@ng hard is it?
Give us an "Open In" that's easier to access. Idiots...
Wow
Nathantheperson
on
12/25/2017
It's super simple and works perfect
Best Transfer App!
Gjdkrjskdntifjdksisndjdjjdnens
on
12/23/2017
This app is very useful, it works in every situation I've ever used it for! I use it to send files from my phone to a computer at school using their website, and vice versa, and I also use it as an alternative to iTunes to transfer pictures because it is way simpler. You can also send using links and I prefer this to Dropbox. I love this app!
Amazing
Danny819933
on
12/21/2017
This app is great works for all my devices Apple and android also windows What's the best app I've ever used for transferring apps files pictures contacts for music Microsoft Word document literally anything you can send to believe you but is it links to
Amazing app
Does exactly what I need. Transferring movies and music to my 8plus without having to use ITunes. So easy to use. Nate Hawaii
This app is horrible
Hello
Easy File Transfer
The Creative Team
on
12/17/2017
If you're looking for a way to send and receive files from your iPhone to a Mac, this amazing App takes it to new levels. Take it from a church that uses our phones to capture HD video, the speed in transfer rates is almost cosmic.
Awesome
Love it a must download.
Just great
Used it to transfer some data from ios to android. Simple, clean. Just great 😊👍
The best, bar none.
Easily the best app for cross-platform data transfer. Period. iOS/Android/macOS/Windows... You're sorted.
Almost perfection
Kataangimon
on
12/12/2017
A fantastic service that could only be better if it had a select all option for each category.
Intuitive file transfer
Easy to use. Great for photos!
Simply awesome
Using this app to transfer photos and videos from iPhone to android devices.. the transfer is lightening fast., no degradation of pic quality. Outstanding
Hands down, the best.
Okay, so I'm not the type to write reviews, but this App deserves it 100%. I tried everything- EVERYTHING. I got a new IPad and I wanted to send all my dear videos from IPod to Ipad. iCloud sucked, for some reason I couldn't message them to myself (which I've done before for other things), I tried a couple of different Transfer Apps and this one hands down is the best. It was simple, easy, and FAST. I have crappy internet service, so when I saw this App work like the speed of light I was impressed. It's also fast with MULTIPLE sends. I did all videos. 10-12 and was just as fast as sending one. You want to transfer photos, videos, etc? GET. THIS. APP.
Transfer between Android & iOS
VigorousVigors
on
11/26/2017
This is the simplest method I've found to transfer files between iOS and Android devices in either direction.
Fantastically Fast!
Exactly what I needed and not only was it lightning fast it was super easy. Genius!
Simplest app to transfer picture
I had searched for an app to be able to easily transfer pictures between devices. Send Anywhere is seamless and takes seconds. Best app I have used in a long time. Ads are not annoying and it definitely lives up to its promises. Highly recommended.
Doesn't Work
Batmanfreak
on
11/16/2017
Doesn't work with iPad and MacBook. App crashes before even opening it on MacBook. Opens on iPad but without anything to link it to.
11/15/17: Questionable Privacy Practices
GladIdidn'tpay$
on
11/15/2017
They want ALL ACCESS—ALL the TIME—to ALL your CONTACTS! They want ALL ACCESS—ALL the TIME—to ALL your PHOTOS! Understand your risks. APPS & Websites—Really SHOULDN'T have that LEVEL of ACCESS! SERIOUSLY—Think DELETE🤔
Fast easy anywhere
This is a great app for transferring files like pics and vids between media like phones tablets or pc's. Really fast, I mean really fast and easy to select what you want. Pic or folders...
Excellent
Trying it out. Looks very promising.
Superior to AirDrop
Hightechdude
on
11/12/2017
I have this app loaded on all of my iOS and android devices. It allows me to transfer files effortlessly. It should be standard equipment on all mobile devices.
iPhone to android pics
I got new iPhone and get all pics from android. Very nice app. Very fast.
Fantastic!
It's so easy to use and devices don't have to be on the same network.
Best
CreateAnotherNicknameItsTaken
on
11/8/2017
When infinit died I was sad. This app is even better.
It's BETTER than AWESOME OVER 9,000
Angel The Death Star
on
11/7/2017
It's awesome!!!! Adds are not over loaded. And it's just AMAZINGN!!!
My last reveiw was too harsh
Minus - Support never, in my experience, respond to anything so why bother offer support in the first instance? Plus - the app, usually, works very well.
Great app!!!
Send pictures in a blink of an eye!
So far so good.
Love this app so far, will give it a five star after a few more try's.
Fact Sheet
Publisher:

ESTmob Inc.

Category:

Productivity

Released:

Jan 31, 2013

Current Version Released:

Dec 29, 2017

Version:

7.12.27

Size:

102.2 MB

Compatibility:

Requires iOS 9.0 or later.

Recommended Age:

4+

Game Center Certified:

No

Supported Languages:

Danish; Dutch; Flemish; English; French; German; Indonesian; Italian; Japanese; Korean; Malay; Portuguese; Russian; Chinese; Spanish; Castilian; Thai; Chinese; Turkish; Vietnamese;