Screenshots
New in version 7.11.16
Quickly fixed the App Crash when you play music on iPhone X.


Version 7.11.16

= Fixed =

• Fixed the app crashing when playing music on iPhone X


Version 7.11.1

= New =

• Support Files app (iOS 11 or later)
- In the iPhone's Files app, things saved in 'Files' tab can be checked and managed.
- Changes made in Files app also affect 'Files' tab in Send Anywhere app. When changing the names of a file or folder, use the Files app!

• New key generation alert
- If you create a 6-digit key or a link In the other logged in devices, you'll receive an alert.
- Long press the notification and select 'Receive' to download it right away.


For more questions, please go to More > Send Feedback. Thanks!
Description
Send Anywhere: Easy, quick, and unlimited file sharing

Send your photos and videos in original size to your PC, share them with your friends, transfer your music files to your iPhone. You can send to anywhere you want instantly, for free. No login or registration required.

• 6-Digit Key
A security key that lets you send and receive files on Send Anywhere. It will be generated after selecting files. When the key is entered on the receiving device, files will be sent instantly.

• Share Link
You can generate a link and share with multiple people. Links are valid for 48 hours.

• To Device
Send a notification to receiving devices, allowing them to receive files without having to enter a key.

• Play Music
Received music files can be played right in the app! You can even make a music playlist of your own and send the file to your friends.

• Play Video
Received Video files can be played in Send Anywhere's simple video player! Even multi-language subtitles are supported! Free your iPhone from iTunes.

Feedback is always welcome. Please message using 'Send Feedback' menu, or email support.ios@estmob.com with any issues or suggestions.
iPad Screenshots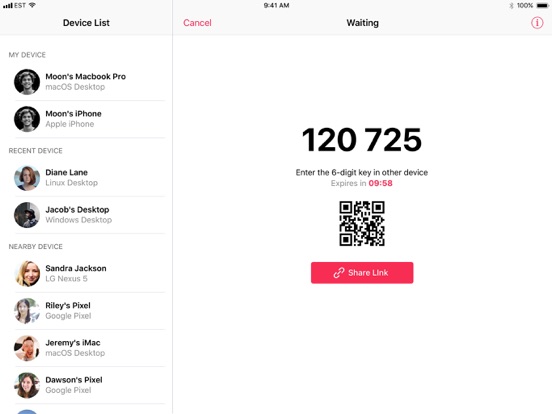 Reviews
Doesn't Work
Batmanfreak
on
11/16/2017
Doesn't work with iPad and MacBook. App crashes before even opening it on MacBook. Opens on iPad but without anything to link it to.
11/15/17: Questionable Privacy Practices
GladIdidn'tpay$
on
11/15/2017
They want ALL ACCESS—ALL the TIME—to ALL your CONTACTS! They want ALL ACCESS—ALL the TIME—to ALL your PHOTOS! Understand your risks. APPS & Websites—Really SHOULDN'T have that LEVEL of ACCESS! SERIOUSLY—Think DELETE🤔
Fast easy anywhere
This is a great app for transferring files like pics and vids between media like phones tablets or pc's. Really fast, I mean really fast and easy to select what you want. Pic or folders...
Excellent
Trying it out. Looks very promising.
Superior to AirDrop
Hightechdude
on
11/12/2017
I have this app loaded on all of my iOS and android devices. It allows me to transfer files effortlessly. It should be standard equipment on all mobile devices.
iPhone to android pics
I got new iPhone and get all pics from android. Very nice app. Very fast.
Fantastic!
It's so easy to use and devices don't have to be on the same network.
Best
CreateAnotherNicknameItsTaken
on
11/8/2017
When infinit died I was sad. This app is even better.
It's BETTER than AWESOME OVER 9,000
Angel The Death Star
on
11/7/2017
It's awesome!!!! Adds are not over loaded. And it's just AMAZINGN!!!
My last reveiw was too harsh
Minus - Support never, in my experience, respond to anything so why bother offer support in the first instance? Plus - the app, usually, works very well.
Great app!!!
Send pictures in a blink of an eye!
So far so good.
Love this app so far, will give it a five star after a few more try's.
Terrible
What do you even do here??
USED TO BE 5 STARS
I love this app, truly but you can no longer select all and delete your history you have to do it one by one which is annoying and takes up too much time.
Finally!
I tried several apps to send files. Send Anywhere was easy to setup and worked very well... Thanks!!
Amazing transfer
I've just spent 3 hours trying to figure out how to transfer files from android to IPhone (I'm just trying it out a few days to see if I can tolerate a switch after 15 yrs of Android). I spoke with both Apple and Verizon tech support with nothing accomplished. Then Remembered the SEND ANY WHERE app. In literally only took moments and I had several gig of data in 9 audio files transferred. Hallelujah!!
Favorite app!
AppleSucks293000
on
10/28/2017
This is my favorite app. You can easily transfer data. I use it to transfer pics from my iPhone to my MacBook I can even transfer songs from my MacBook to my iPhone and play them in the app! How cool is that!
Love Send Anywhere
BillieGirlyGirl
on
10/28/2017
Love it, it's so easy to transfer from my phone to laptop or external drive.
Not your photos anymore...
Brandon Ruhalnd
on
10/27/2017
Sooo, I give this 2 stars because it is a amazing file transfer app, but they have access to your photos anytime they want them. From now on, I am just going to use google drive. DON'T SHARE STUFF ON THIS APP THAT YOU MIGHT SELL IN THE FUTURE!
The Only Transfer App You Need!
Easily transfers full-format, original files between devices in seconds. No signup needed or anything!
Great
hells yes <3
on
10/17/2017
Needed an app to quickly transfer photos between devices and this did the job. Bravo.
Freakin great!
Bopsterjazz
on
10/13/2017
Airdrop doesn't work on my computer anymore. This app is the perfect replacement! "It just works!"
Love it
Augero boys
on
10/13/2017
Can u please add a feature or something that allows me to move the files to iTunes music app! Thanks
I wish..
Precious Abegail
on
10/9/2017
I wish that we can send apps because on my iPad... I wanted an app in my iPhone but I can't find the app I wanted in my iPhone because it was only for iPad. So I downloaded this app because I thought you can send apps to other devices. Back then.. I remembered that you can send apps but I guess there's an update. To be honest... I don't like the update
I LOVE THIS APP!!!!!
Always peaceful AP
on
10/8/2017
very easy, organized, quick, efficient, I like the set-up of it and the way it's laid out for you. defiantly my favorite one, the only one I use. Comes in handy! Thank You!!!!
Works good for me
Handy to have, works well to transfer files between iPad and Android phone
New Jersey roofing maintenance
Love this app makes transferring projects images from our drone easy and fast
Simple and quick high quality photo/video sending
Very useful and reliable, must try for people loves sending photos with high quality
This app is a life saver!
Queen RedruM
on
10/2/2017
For those that know the pain of trying to transfer photos from an iPhone to any other phone, this app is the answer to your problems!
Housein Taravati
It's an excellent app which I see in entire Of my life.
Great App
Mattie Lombax
on
10/1/2017
Easy to use and works well
SEARCHING 4EVER
I've literally been searching for an application that I can transfer my large files that are over 2 HOURZ LONG!!! Thank u thank u thank u!! nuff love and respect for making this app.
No title
Keep having trouble downloading and sending files.
Love it
Utalkin2me..Utalkin2me
on
9/29/2017
Great app
So far so good....
Works in a simplistic nature; which is what I wanted.
Send Anywhere is AMAZING!
Efficient Diva
on
9/26/2017
Talk about technology advancing. Send anywhere is amazing. No hassle or problems using it. I am able to send photos and videos of any size to computers or other phones by using their apps. You don't even have to be in the same room to send. If they put a price tag on this app I'd buy it because it just takes away all stress for sending image files!! Thank you Send Anywhere App!
App hay
Ứng dụng hoạt động ổn định.
My files and photos can be shared across all my digital widgets!
Thanks to send anywhere and throughout these years the software keeps evolution and it's so good to use!
Such a gem!
I am so glad that I stumbled upon this App! I was looking for an easy way to transfer photos and videos to and from my phone to my computer without using the crappy iTunes software. After trying countless apps that ultimately had a catch in them to fork over cash for added features, I finally found this one and it works brilliantly...and no hidden nickel and diming! It is so reliable and so easy to use that I would consider supporting this App. Try it, promise you won't be disappointed!
Muy buena App
Juan Diego Vareles Tascón
on
9/24/2017
Me gusta mucho. Es muy práctica. Es una forma fácil y rápidas de transferir archivos entre diversos dispositivos, celular-a-celular, celular-a-PC, PC-a-PC, etc.
I'm so happy to meet this
Thank you very much app-makers
Easy transfers
Always struggled transferring Bluetooth files between Mac and Android.This app solved that problem.
Nice app
Does what it says
Super App
Easy to use and very fast for transferring pics. I'm sure it will work the same for documents, etc. JimS
Great transportation
SoTotallySAO
on
9/16/2017
I use this to send my art to myself when the files are too big to email, works like a charm right away. I've never had a problem with it. I really love it... like really man ;)
Can't send music with this
This is bs you cannot transfer music files. There's no option to do such.
Works good to PC!
Tested this app out for transferring video files from iPad to my PC.
جميل
أبو حامد ظفار
on
9/7/2017
تطبيق جميل 🌹🌹
Fact Sheet
Publisher:

ESTmob Inc.

Category:

Productivity

Released:

Jan 31, 2013

Current Version Released:

Nov 16, 2017

Version:

7.11.16

Size:

100.4 MB

Compatibility:

Requires iOS 9.0 or later.

Recommended Age:

4+

Game Center Certified:

No

Supported Devices:

iPad2Wifi-iPad2Wifi, iPad23G-iPad23G, iPhone4S-iPhone4S, iPadThirdGen-iPadThirdGen, iPadThirdGen4G-iPadThirdGen4G, iPhone5-iPhone5, iPodTouchFifthGen-iPodTouchFifthGen, iPadFourthGen-iPadFourthGen, iPadFourthGen4G-iPadFourthGen4G, iPadMini-iPadMini, iPadMini4G-iPadMini4G, iPhone5c-iPhone5c, iPhone5s-iPhone5s, iPadAir-iPadAir, iPadAirCellular-iPadAirCellular, iPadMiniRetina-iPadMiniRetina, iPadMiniRetinaCellular-iPadMiniRetinaCellular, iPhone6-iPhone6, iPhone6Plus-iPhone6Plus, iPadAir2-iPadAir2, iPadAir2Cellular-iPadAir2Cellular, iPadMini3-iPadMini3, iPadMini3Cellular-iPadMini3Cellular, iPodTouchSixthGen-iPodTouchSixthGen, iPhone6s-iPhone6s, iPhone6sPlus-iPhone6sPlus, iPadMini4-iPadMini4, iPadMini4Cellular-iPadMini4Cellular, iPadPro-iPadPro, iPadProCellular-iPadProCellular, iPadPro97-iPadPro97, iPadPro97Cellular-iPadPro97Cellular, iPhoneSE-iPhoneSE, iPhone7-iPhone7, iPhone7Plus-iPhone7Plus, iPad611-iPad611, iPad612-iPad612, iPad71-iPad71, iPad72-iPad72, iPad73-iPad73, iPad74-iPad74, iPhone8-iPhone8, iPhone8Plus-iPhone8Plus, iPhoneX-iPhoneX,

Supported Languages:

Danish; Dutch; Flemish; English; French; German; Indonesian; Italian; Japanese; Korean; Malay; Portuguese; Russian; Chinese; Spanish; Castilian; Thai; Chinese; Turkish; Vietnamese;