Screenshots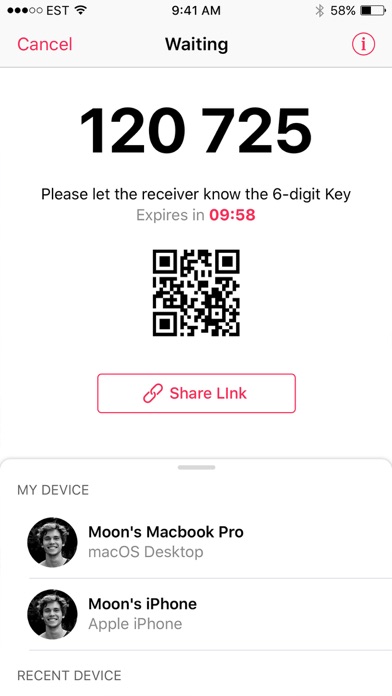 New in version 7.8.29
We've fixed some bugs and improved overall functionalities in a long time!


Version 7.8.29

= Fixed =

• Fixed minor bugs and improved features


Version 7.7.19

= Improved =

• Video player
- You can now sync the subtitles.
- Subtitle settings are now integrated into one menu.


Thanks for using Send Anywhere. If you want to let us know on something, please go to More > Send Feedback to contact us!
Description
Send Anywhere: Easy, quick, and unlimited file sharing

Send your photos and videos in original size to your PC, share them with your friends, transfer your music files to your iPhone. You can send to anywhere you want instantly, for free. No login or registration required.

• 6-Digit Key
A security key that lets you send and receive files on Send Anywhere. It will be generated after selecting files. When the key is entered on the receiving device, files will be sent instantly.

• Share Link
You can generate a link and share with multiple people. Links are valid for 48 hours.

• To Device
Send a notification to receiving devices, allowing them to receive files without having to enter a key.

• Play Music
Received music files can be played right in the app! You can even make a music playlist of your own and send the file to your friends.

• Play Video
Received Video files can be played in Send Anywhere's simple video player! Even multi-language subtitles are supported! Free your iPhone from iTunes.

Feedback is always welcome. Please message using 'Send Feedback' menu, or email support.ios@estmob.com with any issues or suggestions.
iPad Screenshots
Reviews
My files and photos can be shared across all my digital widgets!
Thanks to send anywhere and throughout these years the software keeps evolution and it's so good to use!
Such a gem!
I am so glad that I stumbled upon this App! I was looking for an easy way to transfer photos and videos to and from my phone to my computer without using the crappy iTunes software. After trying countless apps that ultimately had a catch in them to fork over cash for added features, I finally found this one and it works brilliantly...and no hidden nickel and diming! It is so reliable and so easy to use that I would consider supporting this App. Try it, promise you won't be disappointed!
Muy buena App
Juan Diego Vareles Tascón
on
9/24/2017
Me gusta mucho. Es muy práctica. Es una forma fácil y rápidas de transferir archivos entre diversos dispositivos, celular-a-celular, celular-a-PC, PC-a-PC, etc.
I'm so happy to meet this
Thank you very much app-makers
Easy transfers
Always struggled transferring Bluetooth files between Mac and Android.This app solved that problem.
Nice app
Does what it says
Super App
Easy to use and very fast for transferring pics. I'm sure it will work the same for documents, etc. JimS
Great transportation
SoTotallySAO
on
9/16/2017
I use this to send my art to myself when the files are too big to email, works like a charm right away. I've never had a problem with it. I really love it... like really man ;)
Can't send music with this
This is bs you cannot transfer music files. There's no option to do such.
Works good to PC!
Tested this app out for transferring video files from iPad to my PC.
جميل
أبو حامد ظفار
on
9/7/2017
تطبيق جميل 🌹🌹
Speed
Naked sidebar be
on
9/6/2017
Very fast
Awesome
So easy. Love love love it
Works like it's supposed to
Now if only any MP3 and m4a files that get recieved on the iOS automatically get downloaded onto the music app.
Sendanywhere
It's an awesome app, however I tried to send a picture to the moon and it failed to be delivered.
Quick solution
Never thought file transfer could be so easy. Very fast
Best saved info plus transfer
IsThat Hussain
on
8/30/2017
Perfect not just sends files but the speed is fast plus it saves all ur info whenever you need it back
Best file transfer app I've found
AlexTangoFuego
on
8/28/2017
I've tried several...iPad/iPhone to PC transfer...others were unreliable or worse...several didn't even show my photos, nor albums... This is the best one I've found and use it regularly...
Amazing app
This is simply the best app to share photos among all the platforms. I love it
Makes Sending Large Files Easy
Mr. Bill (8-o
on
8/26/2017
Great app. Easy to use. My only complaint and the reason for three stars rather than four is the short time frame for retrieval. 24 hours would be more reasonable since everyone (e.g., me) doesn't read their email multiple times a day.
iPhone MUST HAVE APP!!!!
Downloads mp3 files from your desktop to your iPhone or iPad - up to 10GB! And the app plays your tunes as well. Can't get much better than this. Smart app by smart people. I've only had this for a week and love it already.
Awesome app!
I love this app. Click the files to send, choose the device to send to and Boom! It's done. No fussing about. It's universal, it's simple, it's straightforward. And that's the secret to its success. Stop scrolling through the comments and download this app now.
Slow with large files!
iPad_dle Down the River
on
8/24/2017
Slow transfer speeds with larger files.
Foook this app is proper good
I would like to thank everyone who made this app possible. From the programmers to the engineers to the graphic designers. If I believed in a higher power I would thank him or her or it as well. Long live send anywhere.
Storm
StormsOfThunder
on
8/22/2017
This is the best, it can't get better
Stella
Best app on the market
Amazing app
This app has helped me So Much whenever I had to transfer data through phones! It deserves 5 stars! It's so easy and effortless, one of my favorite apps of all time
Perfect
Just what I needed. I was overwhelmed cable after cable.
YES!!!
I highly recommend, especially for transferring larger files that email and text do not allow.
Really send anywhere
Fantastic
Really works
I use this because it's the only way I can get videos off my phone (thanks to crappy iTunes)
Easy
Gfiergstwrjhydug
on
8/14/2017
It is so easy to send my pictures from my iPhone to my iPad.
FANTASTIC TRANSFER APP!!
Very easy to use !! Transfers pics fast & so far all the pictures look great !!! Thanks to the creators for sharing such their great app !!
Love this app!!!
Katiepatater
on
8/12/2017
My boyfriend has an Android and I have an iPhone so sending pictures and videos is very difficult. This app makes it a breeze! We are able to send the pictures with ease and without distorting the image. I'm even more impressed with the videos, you wouldn't even know that we sent them to each other because the quality is so good! The app fails on me once in awhile but I honestly don't care too much because it works almost always and does such a fantastic job sending the pictures, videos, and files. Love! Love! Love! 😊
This is worthless
This is a peace of crap site
Fantastic App
This is the most amazing app being able to transfer from phone to notepad, it is so fast and easy I love it........
Happy
dvdmdavovodayzer
on
8/9/2017
The best app ever Keep up the Good work guys
It works.
Former tanker
on
8/7/2017
Free ,cross platform ,mobile and desktop!
Intermittent performance
Transferring from iPhone to Android was lightning fast and wonderful. Sent hundreds of pictures. Transferring from the same Android back to the iPhone was so slow as to be completely unusable. Tried for 45 minutes and was unsuccessful transferring a single picture, gave up. All transfers attempted with 6 digit code. No documentation to help us out.
Where have you been??!
Einstein Wrong
on
8/4/2017
Useful as hell. With people today needing to send videos and photos from and to their phones and computers, THIS APP IS INVALUABLE. And so easy to use it's ridiculous! Where have you been?
Keeps failing on upload
Nickname tanker--------
on
8/3/2017
This app failed no less than 10 times when attempting to transfer 337Mb of data. 😡 describes my feelings.
Love this app!
Vickymars1997
on
8/3/2017
This app is quick and has never failed me regardless of file size!
Useful app just click what I want get it done!
Like it!
Don't waste your time!
Couldn't even send a video
⭐️⭐️⭐️⭐️⭐️
ParisianMime
on
7/30/2017
Great app!!!
Ugly
ImaButtPotato
on
7/30/2017
Ugly ugly ugly like a plastic bag, but even more uglier. 🤢🤢🤢🤢🤢🤢🤧🤧🤧🤢🤢🤢🤢
Great
Perfect simple tool to send every type of file 100% useful
Fact Sheet
Publisher:

ESTmob Inc.

Category:

Productivity

Released:

Jan 31, 2013

Current Version Released:

Aug 29, 2017

Version:

7.8.29

Size:

86.5 MB

Compatibility:

Requires iOS 8.0 or later.

Recommended Age:

4+

Game Center Certified:

No

Supported Devices:

iPad2Wifi-iPad2Wifi, iPad23G-iPad23G, iPhone4S-iPhone4S, iPadThirdGen-iPadThirdGen, iPadThirdGen4G-iPadThirdGen4G, iPhone5-iPhone5, iPodTouchFifthGen-iPodTouchFifthGen, iPadFourthGen-iPadFourthGen, iPadFourthGen4G-iPadFourthGen4G, iPadMini-iPadMini, iPadMini4G-iPadMini4G, iPhone5c-iPhone5c, iPhone5s-iPhone5s, iPadAir-iPadAir, iPadAirCellular-iPadAirCellular, iPadMiniRetina-iPadMiniRetina, iPadMiniRetinaCellular-iPadMiniRetinaCellular, iPhone6-iPhone6, iPhone6Plus-iPhone6Plus, iPadAir2-iPadAir2, iPadAir2Cellular-iPadAir2Cellular, iPadMini3-iPadMini3, iPadMini3Cellular-iPadMini3Cellular, iPodTouchSixthGen-iPodTouchSixthGen, iPhone6s-iPhone6s, iPhone6sPlus-iPhone6sPlus, iPadMini4-iPadMini4, iPadMini4Cellular-iPadMini4Cellular, iPadPro-iPadPro, iPadProCellular-iPadProCellular, iPadPro97-iPadPro97, iPadPro97Cellular-iPadPro97Cellular, iPhoneSE-iPhoneSE, iPhone7-iPhone7, iPhone7Plus-iPhone7Plus, iPad611-iPad611, iPad612-iPad612, iPad71-iPad71, iPad72-iPad72, iPad73-iPad73, iPad74-iPad74,

Supported Languages:

Danish; Dutch; Flemish; English; French; German; Indonesian; Italian; Japanese; Korean; Malay; Portuguese; Russian; Chinese; Spanish; Castilian; Thai; Chinese; Turkish; Vietnamese;