Screenshots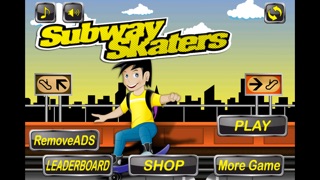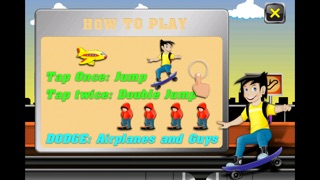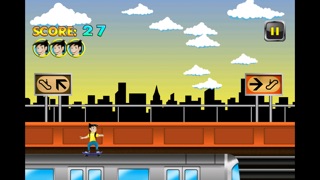 Description
Check out this fun and addictive skateboard racing game.

Skater boy needs to get away from the bullies. Help him escape by avoiding them. Tap on the screen to dodge obstacles. Watch out for airplanes and don't fall.

Try it out for free!
iPad Screenshots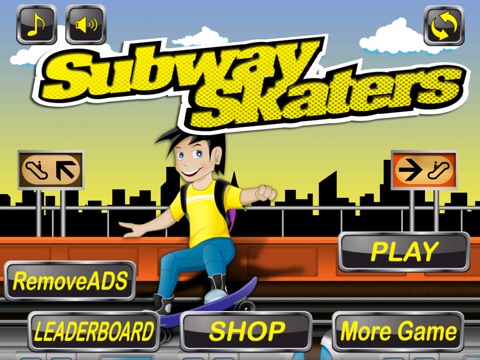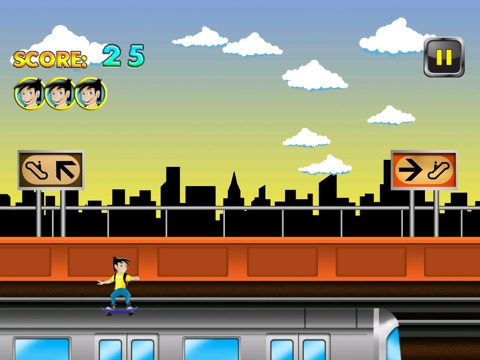 Reviews
Ug
It takes FOREVER to load......I haven't even got to play the game yet
Boo
Brandon Conover
on
3/22/2015
It never loads
Does not open!!!!!
You open the app and it stays stuck on loading and doesn't do anything. I have tried uninstalling and installing and nothing.
So so bad
The game has so many ads
Umm it's okay😒
WAY WAY TO MANY ADDS!!!!!!!!!!!😡😡😡😡😡😡😡
Ok
It's ok but the other subway surf is better
Horrible
's challenge group 4000
on
3/1/2014
When I played it ...horrible even my friends didn't challenge me
Eh
Hdydhdcgdhxchfpposa
on
8/21/2013
Game has too many ads so I deleted it
Bad ads
Caroline Burns
on
8/19/2013
The games great but you can never finish the game because the ads interrupt your game playing :-( :-( :-( :-(
Hard
Fhhhghgjgjgjgjghgjg
on
8/17/2013
It's to hard
Horrible
To much add to much adds to slow for a elder !!!!!!!! Hate hate it do not play I mean it! I wish I could give it 0 stars!!!!!!!!!!!!!!!!!!!!!!!!!!!!!!!!!!!!!!!!!!!!!!!!!!!!!!!!!!
Not working
This stinks!!!!!
on
8/6/2013
I down loaded it and it won't open and says its installing but it's been installing for an hour or two please fix 👎👎😠😡
Horribly Gay
Graphics .... Music .... Sound Effects - Gay & Cheesy. Don't waste your time.
B.S.
Slayer 45 87
on
7/27/2013
This app is total bull crap. Waste of my time downloading it.
Mrs
Absolutely horrible. 3 ads pop up every time you die, I mean it's fun but totally not worth it!
Horrible
Efwaefejawkeafwjk
on
7/20/2013
HI PEOPLE MY NAME IS MASON ZALLIES
Doest work
Midnight musher
on
7/8/2013
IT DOESN'T WORK!!! ITS A WASTE OF SPACE!!!
Adds
There r to many adds I deleted two seconds after I started to play it don't get it at all just awaits of space
It's ok
This would be a good game if they wouldn't have the ads every two seconds of the day! We want to play he game not look at some ads. I thought you wanted me to play your game, not theirs!!!!!!😒😒😒
Subway Skaters - Run Against Racers and Planes and Skaters
This game could be a very fun game. But it isn't. I wasn't fifteen seconds into the game when a bunch of pop-up ads interrupt my game. I wasn't two minutes into the game when I deleted this. It seems I spend more time dodging and avoiding ads then I do playing the actual game. And it looks as if I'm not the only one who has noticed this. Then again - who couldn't notice this?
Ads
Too many ads. They even pop up while I'm playing. Fun game though.
Worst game eveeeeeer
Its just a rip off
Terrible
Mr. Nooooodles
on
5/17/2013
Bombards you with ads :-(
Irritating
It'd so much better if ads weren't aloud to interrupt game play. I couldn't get more than 15 seconds into the game because ad after ad interrupted & I fell into the holes.
lame
Music_Lover 2008
on
4/5/2013
THIS APP IS SO LAME! ALL U DO IS JUMP! LIKE FLYNN SAID ON SHAKE IT UP " This is a great game, if u couldn't fall asleep @ night "
Terrible Game
Dolphinlover512
on
4/1/2013
This game is terrible! When you get to the red guys you lose a life and when you try to jump over the red guys, there comes a plane so you lose another life! DO NOT GET! unbelievably hard and the ads appear like every time you finish a round! Which is like every 30 seconds
Copyer
This game is so boring and it copies subway surfers witch is way better then this boring game😡
Adds
DO NOT DOWNLOAD. Adds are like every 10 seconds
Hhhooorrriiiibbbblllleeee
Funfunfunfunfunfunfunfunmmmeee
on
3/11/2013
Worst game ever if you play look out for your LIFE!!!!! Please look at the pictures
Horrible
Horrible please do not play
on
3/11/2013
Please don't play all what you do is jump and hit planes and people and there is ads like every 30 seconds
Stupid
Never play this game
trash game
don't download it
4 thumbs down
Terrible. Too many commercial pop-ups. Don't download.
ads
i spend more time dodging ads then i do airplanes the graphics are terrible also if you want a good game try subway surfers
Boringest game ever
I think it's really boring don't download it!!
ohh wow
Giovanii Moreno
on
2/23/2013
this game is really stupid i h8 it its a peice of s#%t i would tots not get it
Love the game Mallorie
I love the game you should get the game
Good but
It's great but u can't jump high enough to jump over the guys I would not recommend it all u do is jump and run It is really boring I would give. It zero stars
Cool Game
Stinky Cheese Logan
on
2/15/2013
This is a pretty neat game and is a bit like Subway Surfers only worse it is still not that bad ... A little cheesy but i like it
Horrible Game.
There are too many ads and you can't jump far enough to doge the guys. This game is stupid and I recommend you don't get this game. This will save a lot of wasted time.
Just so freaking stupid.
PLEASE READ THIS. DO NOT GET THIS GAME. IT'S JUST CRAP.
It stinks
It is stupid and retarted
Boo
Floridachameleon
on
2/5/2013
It is a bad game don't get it
Adds
Eric/Lynn BEAR ROCKS
on
2/4/2013
Way too many adds every new game there is two Waste
Why?!?!
Pretty much the worst game ever.
Fact Sheet
Publisher:

Emoji LLC

Category:

Games

Released:

Feb 02, 2013

Current Version Released:

Feb 23, 2013

Version:

2.2

Size:

23 MB

Compatibility:

Requires iOS 4.3 or later.

Recommended Age:

4+

Game Center Certified:

No

Supported Devices:

iPhone3GS-iPhone-3GS, iPadWifi-iPadWifi, iPad3G-iPad3G, iPodTouchThirdGen-iPodTouchThirdGen, iPhone4-iPhone4, iPodTouchFourthGen-iPodTouchFourthGen, iPad2Wifi-iPad2Wifi, iPad23G-iPad23G, iPhone4S-iPhone4S, iPadThirdGen-iPadThirdGen, iPadThirdGen4G-iPadThirdGen4G, iPhone5-iPhone5, iPodTouchFifthGen-iPodTouchFifthGen, iPadFourthGen-iPadFourthGen, iPadFourthGen4G-iPadFourthGen4G, iPadMini-iPadMini, iPadMini4G-iPadMini4G, iPhone5c-iPhone5c, iPhone5s-iPhone5s, iPadAir-iPadAir, iPadAirCellular-iPadAirCellular, iPadMiniRetina-iPadMiniRetina, iPadMiniRetinaCellular-iPadMiniRetinaCellular, iPhone6-iPhone6, iPhone6Plus-iPhone6Plus, iPadAir2-iPadAir2, iPadAir2Cellular-iPadAir2Cellular, iPadMini3-iPadMini3, iPadMini3Cellular-iPadMini3Cellular, iPodTouchSixthGen-iPodTouchSixthGen, iPhone6s-iPhone6s, iPhone6sPlus-iPhone6sPlus, iPadMini4-iPadMini4, iPadMini4Cellular-iPadMini4Cellular, iPadPro-iPadPro, iPadProCellular-iPadProCellular, iPadPro97-iPadPro97, iPadPro97Cellular-iPadPro97Cellular, iPhoneSE-iPhoneSE, iPhone7-iPhone7, iPhone7Plus-iPhone7Plus, iPad611-iPad611, iPad612-iPad612, iPad71-iPad71, iPad72-iPad72, iPad73-iPad73, iPad74-iPad74, iPhone8-iPhone8, iPhone8Plus-iPhone8Plus, iPhoneX-iPhoneX,

Supported Languages:

English; German;