Screenshots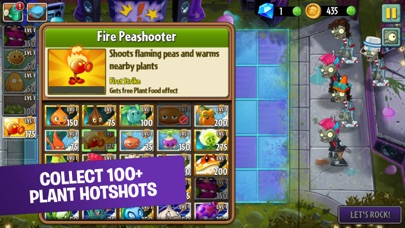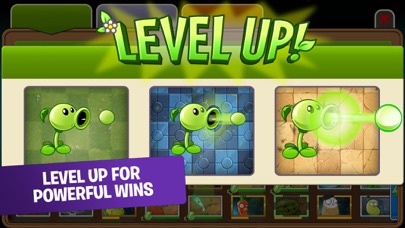 New in version 6.5.1
Bundle up for the Feastivus holiday event, December 5 – January 2! You'll find tons of frostbitten fun, like:

· A Very Yeti Feastivus super quest event
· Holly Barrier, the all-new protective premium plant
· Two premium plant unvaults: sticky Sap-fling and merry Missile Toe
·Jolly new Premium Epic Quests and Inzanity Quests bursting with seed packets

Stay cool, PvZ 2 fans! Be sure to rate us after each update.
Description
"As beautifully presented as it is absorbing to play: 8.7 out of 10." – ign.com

Play the award-winning hit action-strategy adventure where you meet, greet, and defeat legions of hilarious zombies from the dawn of time, to the end of days. Amass an army of amazing plants, supercharge them with Plant Food, and devise the ultimate plan to protect your brain.

100 Million Downloads – This app has received more than 100 million overall downloads.

Winner: Best Mobile Game at E3 – Game Informer
Winner: Best Mobile Game 2013 – Mashable
Winner: Game of the Year 2013 – Slide to Play

DISCOVER HUNDREDS OF PLANTS AND ZOMBIES
Collect your favorite lawn legends, like Sunflower and Peashooter, along with hundreds of other horticultural hotshots, including creative bloomers like Lava Guava and Laser Bean. Go toe-to-missing-toe with a massive array of zombies at every turn, like Jetpack Zombie and Mermaid Imp – you'll even have to protect your brain from rampant Zombie Chickens!

GROW POWERFUL PLANTS
Earn Seed Packets as you play and use them to fuel your plants like never before. Power up attacks, double-down defenses, speed up planting time, and even gain entirely new abilities. Boost your plants to ensure those zombies are lawn-gone!

JOURNEY THROUGH SPACE AND TIME
Battle across 11 crazy worlds, from Ancient Egypt to the Far Future, and beyond. With more than 300 levels, ultra-challenging endless zones, fun mini-games, and daily Piñata Party events, there's always a new challenge to complete. Plus, ready your best defenses – Dr. Zomboss is waiting to take you on at the end of every world!

EXPLORE MORE WITH THE TRAVEL LOG
Stumped about where to go next? Consult your Travel Log to embark on exciting Quests created just for you. Complete Scheduled Quests before time runs out, or take on a series of Epic Quests and earn special rewards.

Terms of Service: http://www.ea.com/terms-of-service
Privacy and Cookie Policy: http://www.ea.com/privacy-policy
Visit https://help.ea.com/ for assistance or inquires.
EA may retire online features and services after 30 days' notice posted on www.ea.com/1/service-updates.
iPad Screenshots
Reviews
Pvz2 rocks
Littest game ever
on
12/16/2017
This game is so fun it is so nice and colorful with endless animals.
Yazzz
Matthew4305
on
12/16/2017
Awzum sauz
All around good but ONE WAY THAT really BUGS ME
lukegaming360yt
on
12/16/2017
It's good in all ways except all premium plants cost REAL MONEY my mom does not AT ALL allow me to use money on apps other than that it's pretty good!
EA picking our pockets
banderson83
on
12/16/2017
To many micro transactions
Stop scamming me
Awesomeness328
on
12/16/2017
So first I bought a $9.99 gem pack it said the purchase was successful but I never got the gems and today I used 10 more dollars on the electric blue berry and the grape thing and I didn't get those plants either so I need my money back or give me the things I bought
I Love It
Yankee Gaming 26 YT
on
12/16/2017
The Zombies Are Bomb!!!😜😆😁😂
Pop cap games pvz2
Pretty good but could make it more fun and stuff
Are costumes playing hide-and-seek
This game is one of the best games ever.Cool plants leveling up, it's all so cool.Well...except when you guys hid all the costumes. I had so many good costumes for my plants but an update came along and deleted them. They were so fun to get and cool to wear.I would change costumes every level and look at the hilarious costumes. So please get costumes back, they let us be...well us.So please bring back costumes, that would be awesome if the next update had them back. Also, what's with the crack in the space time continuum.
I Love this game😃!
KarateBoogs
on
12/16/2017
I love it
Great game
It's my favorite!
Great game
Rolling Sky Player
on
12/16/2017
Fun game I never get bored. I love how they add twists to the levels to make the game more interesting.
Please Read..
EthTheBeatBoxer
on
12/16/2017
I Am a 4th grader and I am just getting frustrated because the difficulty is incredibly annoying because what happens if a little kid gets mad then never plays YOUR game. Huh! Think about it PopCap or whoever made this.Also make some of the premium plants free like make the user playing the game Pick 6 premium plants half the plants are premium make the difficulty easier I raged on Level 12 in the pirate seas because those barrel zombies literally take a bite of a plant then POOF! Their gone. WHY DIFFICULTY WHO MADE THAT DECISION. So please Creators of PVZ 2 please make whatever I said in this paragraph true it would mean the most to me I even drew some plants so it would mean the most to me if you would update this game and put whatever I said in this long paragraph.It looks fun but is it fun PopCap? You might lose a player if you don't update this game! Would you like that? I guess not. So please update it and put whatever I said in this paragraph true it would mean the most to me.Well Well Well.... Guess Who's Back!!!!Im stuck on level 14 because you have to get 3000 sun WHAT THE HECK. Now I can't Even Get my favorite plant because of you!Lower it down to 2000 instead of 3000 It's Stupid because what Kid can do that!!!!
Stress relief
Bantam master
on
12/16/2017
Enjoying
Immobilized my game in recent update
iloveinstag
on
12/16/2017
It try to load my screen but it immobilized and then crash my game!?!?
Pay to play
Luvstospoog
on
12/15/2017
Here is the death of a great video game
Advertisements?
Master Tate
on
12/15/2017
When in China, the Chinese advertisements are all messed up whenever they show during the game. They are enlarged to where you can't exit out of them. The only way to get them to go away is to click on them and go to the actual site and then to return to the app. Is a complete waste of time. And I like the game, however I can only play one level at a time or maybe two just because of how annoyed I am because of the advertisements. So fix this.
One of the best games
There are many differing kinds of worlds.
App crashing
The app crashes each time I open the festivus challenge
PvZ2
I is the best game ever try it out it's nice I am really good so try and buy PvZ2 plz it is SUPEr FUN I am true so try it out today!!!!!!!! Best game ever!!!
Game
Verflucht618
on
12/14/2017
I recently got a new phone and have lost every ounce of my progress. I would like my progress back until then I will not support you
Bring back plants vs zombies adventures
Plz bring back plants vs zombies adventures pop cap good game for me and good jokes plz bring it back or I sue u
Good game
Good game you make
I love neon mixtape but I really want a part 2 and 12th world
I completed neon mixtape it's my fave world but I really want a part 2 and could you bring back...who was it yeah some plants and zombies from the 1st like plant example cattail so you have to plant it on lily pad old cost 225 special shoots thorns in different lanes. Zombie example catapult zombie special shoots basketballs weakness umbrella leaf blocks basketballs. Now I just completed dark ages so please add more levels and add 12th world please don't hate this game best game ever(besides plants vs zombies garden warfare 2) fave plant-fire peashooter fave zombie-all-star cause I love football.
If you like commercials, I've got a game for you
Waite No More
on
12/13/2017
After doing anything in the game you're forced to watch commercials. Want a cool plant, but it. EA strikes again
🌹💋💋💋💋😘💋😘the bast game
Alexlovexxx
on
12/12/2017
I love this game it's so fun
Yet another pay to win game
Don't waste your time. The game gets to the point where you can't win without paying. It's a waste of time.
Bug with free coins and gems for watching videos
There has been a bug for over a week and a half that when viewing the videos for free coins or jams it freezes up and doesn't reward you with jams or coin. I tried to report this bug in game and on their web, but game support with plants ver zombies 2 is not allowing me to report this bug. This bug has been shorting me on Gems and coin many times and has become very frustrating. I'm going to take a break from the game until they start fixing the bugs in game. Be prepared to spend more coin and gems in the game than listed price in game pricing says due to the bags in game eating your coin and gems
Plz read Popcap
I am a big fan of PvZ the plants are great and also the jokes within the plants, but why does the Chinese have more plants, worlds, zombies, and all plants need to be unlocked in game. The Chinese version looks like a full game compared to what we have. They even have plants like Cattail, Cob Cannon, and more. They also have new plants, so hopefully you get this message Popcap. Plz Update.
Plant Suggestion
How about a "Chocobean" plant that is a cocoa bean plant that chokes the zombies when eaten? You could offer it for 100 gems. Love the game! Regards, Sydney M.
Great game. But...
Mariobros270
on
12/12/2017
I really like this game but we need a new experience. We need a plants vs zombies 3 game or at least a expansion to this game. This game is awesome over all but it isn't as fun as before. We need something new to experience.
Good but few bugs
The video freezes
on
12/12/2017
It is a good game but when I kill all the zombies in Pirate Seas the game dose not stop.The game goes on forever and I have to restart
Non stop crashing
Jeff8638383
on
12/11/2017
Great game wish there was a change to the leveling up characteristic though but since 2 days ago I haven't been able to get in to the game it loads the EA pot and then crashes don't know why but please fix it ASAP
Ad Blitz
CourtoJester
on
12/11/2017
I love this game. But, there are too many ads in between every screen. Win a level... a 5 second ad appears. Move from one screen to another... ooops another ad. It's very aggravating!
Keeps crashing
Love this game series but it keeps crashing when I open it
To pop cap
Hi when I was 7 years old I loved the game but there wasn't new levels for me yet but then I was 8 and there was modern day and jurassic levels etc. And I was trying to watch videos to see if they had proof so I found a video and when I got in there was nothing ! 🤨🤨🤨 But now they don't have new themes but they only have levels that are the same theme so I like the game but plz make new themes like a Rome theme or something like that or World War II or Indian theme etc. 5 Stars ⭐️⭐️⭐️⭐️⭐️. Good luck with the game pop cap ! Sincerely, TJ
Best game ever
Very addicting. The designers have done a great job with this game
This is awesome
I think this is way better than plants verse Zombies 1
LOOOOVES IT
I love it sooooooo muchhhh! I have been playing this game for years and I love it form the bottom of my heart. 😍‼️ But I keep deleting it on accident so I have to keep restarting. 😂😭😓 But I'll gladly put more and more time into one of my favorite games ever!!
Plans vs zombies
This is an awesome game. 👍🌹😘
Wow!
This game was way better than the first one. This game is now my life.
Ok
Maddison12345678910
on
12/10/2017
It's a fun game but it takes way too long to load it is so annoying please update it
I love it but one thing
Not to bad but needs work
on
12/10/2017
I love this game it is amazing! Bit when I try to delete 1 account it won't delete. It is very annoying! But apart from that the game is awesome
😔😔
Solodragon 🐴
on
12/10/2017
No more world.I am boring!
You don't have to spend money on this app.
oolindaroo96
on
12/10/2017
The games takes so long to load that sometimes I just give up. So far I've found it a big disappointment compared to the first game. It inundates you with ads. The game freezes up constantly. The games are fun if you can play them and I like the Pinata Party and Yeti games. You don't have to buy plants to win. I've not spent a dime on this app and have easily played every level. I would be willing to spend money if it would stop the excessive ads, but if I have to watch ads then don't ask me to spend money. Overall I find it disappointing and wouldn't recommend. UPDATE: 12/9/17. Game won't open half the time. Gets to the first screen and freezes.
Still enjoying it after all these years
Agitated long time customer
on
12/10/2017
I will say I have been playing since it first came out as an iOS exclusive and to this day I still log on here and there to do some endless zones. That says a lot about a game, I get why people are mad about premiums being priced the way they are but I didn't mind when I was playing a ton and even logging in less now I still don't mind. I just bought the new holiday plant to support the developer. There are many games with micro transactions now and this one is fine compared to others out there. So keep the game going,at leastI know when you are done supporting it I can still play it compared to others I can't. And yes I have all the premiums throughout the years. Happy holidays :)
Missing Aloe quest Popcap
Supercraze64
on
12/9/2017
Plants Vs Zombies is a great game and all but they didn't really keep two plants Aloe and Electric Current. They didn't give new players a chance to unlock them, I got a new phone not too long ago and was upset that I couldn't play quest to unlock the two plants. I loved them a lot and if they add them back please make it a quest, we don't like to spend money and if you Popcap are reading this, please please add them back with the quest to unlock them again. I really miss them and would really appreciate your work Popcap. The game for me is a 10/10 ign. Rating but please add them back.😥 and please. Make them all free.
Cool, but one problem...
No shoppie exclusives
on
12/9/2017
I honestly love this game, but I have a question. Can you please delete the explorer zombies? There's this sos level I'm unable to pass because of them. Anyways, have a nice day!
Very fun
You should play its very fun
Garden warfare
purple9dragon743
on
12/9/2017
Will there be a garden warfare
Takes a little getting used to
It's a little complicated compared to the simplicity of PvZ
Fact Sheet
Publisher:

PopCap

Category:

Games

Released:

Aug 14, 2013

Current Version Released:

Nov 21, 2017

Version:

6.5.1

Size:

100.1 MB

Compatibility:

Requires iOS 8.0 or later.

Recommended Age:

9+

Game Center Certified:

No

Supported Devices:

iPad2Wifi-iPad2Wifi, iPad23G-iPad23G, iPhone4S-iPhone4S, iPadThirdGen-iPadThirdGen, iPadThirdGen4G-iPadThirdGen4G, iPhone5-iPhone5, iPodTouchFifthGen-iPodTouchFifthGen, iPadFourthGen-iPadFourthGen, iPadFourthGen4G-iPadFourthGen4G, iPadMini-iPadMini, iPadMini4G-iPadMini4G, iPhone5c-iPhone5c, iPhone5s-iPhone5s, iPadAir-iPadAir, iPadAirCellular-iPadAirCellular, iPadMiniRetina-iPadMiniRetina, iPadMiniRetinaCellular-iPadMiniRetinaCellular, iPhone6-iPhone6, iPhone6Plus-iPhone6Plus, iPadAir2-iPadAir2, iPadAir2Cellular-iPadAir2Cellular, iPadMini3-iPadMini3, iPadMini3Cellular-iPadMini3Cellular, iPodTouchSixthGen-iPodTouchSixthGen, iPhone6s-iPhone6s, iPhone6sPlus-iPhone6sPlus, iPadMini4-iPadMini4, iPadMini4Cellular-iPadMini4Cellular, iPadPro-iPadPro, iPadProCellular-iPadProCellular, iPadPro97-iPadPro97, iPadPro97Cellular-iPadPro97Cellular, iPhoneSE-iPhoneSE, iPhone7-iPhone7, iPhone7Plus-iPhone7Plus, iPad611-iPad611, iPad612-iPad612, iPad71-iPad71, iPad72-iPad72, iPad73-iPad73, iPad74-iPad74, iPhone8-iPhone8, iPhone8Plus-iPhone8Plus, iPhoneX-iPhoneX,

Supported Languages:

English; French; German; Italian; Portuguese; Spanish; Castilian;

Parental Advisory:

Fear Themes; Mild Cartoon or Fantasy Violence;