TapNova recommends this app!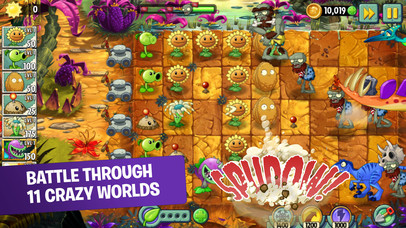 New in version 6.1.1
Get balmy and relaxed —though also agile and alert— with our Summer Nights event, June 27 through July 7! The update includes:

•Electric Peashooter, the courageously charged premium plant
•Voracious new Jurassic Marsh zombies and humblingly hard levels
•Extra coin awards throughout Summer Nights
•Zombies adorned in silly summer outfits
•Quests, quests, quests, including Premium Plant Epic Quests, Leveled-up Plant Quests, and fresh quests with craaazy objectives

Thanks for playing, soil survivors! Be sure to rate us after each update.
Description
"As beautifully presented as it is absorbing to play: 8.7 out of 10." – ign.com

Play the award-winning hit action-strategy adventure where you meet, greet, and defeat legions of hilarious zombies from the dawn of time, to the end of days. Amass an army of amazing plants, supercharge them with Plant Food, and devise the ultimate plan to protect your brain.

100 Million Downloads – This app has received more than 100 million overall downloads.

Winner: Best Mobile Game at E3 – Game Informer
Winner: Best Mobile Game 2013 – Mashable
Winner: Game of the Year 2013 – Slide to Play

DISCOVER HUNDREDS OF PLANTS AND ZOMBIES
Collect your favorite lawn legends, like Sunflower and Peashooter, along with hundreds of other horticultural hotshots, including creative bloomers like Lava Guava and Laser Bean. Go toe-to-missing-toe with a massive array of zombies at every turn, like Jetpack Zombie and Mermaid Imp – you'll even have to protect your brain from rampant Zombie Chickens!

GROW POWERFUL PLANTS
Earn Seed Packets as you play and use them to fuel your plants like never before. Power up attacks, double-down defenses, speed up planting time, and even gain entirely new abilities. Boost your plants to ensure those zombies are lawn-gone!

JOURNEY THROUGH SPACE AND TIME
Battle across 11 crazy worlds, from Ancient Egypt to the Far Future, and beyond. With more than 300 levels, ultra-challenging endless zones, fun mini-games, and daily Piñata Party events, there's always a new challenge to complete. Plus, ready your best defenses – Dr. Zomboss is waiting to take you on at the end of every world!

EXPLORE MORE WITH THE TRAVEL LOG
Stumped about where to go next? Consult your Travel Log to embark on exciting Quests created just for you. Complete Scheduled Quests before time runs out, or take on a series of Epic Quests and earn special rewards.

Terms of Service: http://www.ea.com/terms-of-service
Privacy and Cookie Policy: http://www.ea.com/privacy-policy
Visit https://help.ea.com/ for assistance or inquires.
EA may retire online features and services after 30 days' notice posted on www.ea.com/1/service-updates.
iPad Screenshots
Reviews
Why won't you give me the things I purchased
I have purchased the electric peashooter and you took my money and did not give me my plant so either you give me my money back or give me the plant
I love Zombie and plants
PandaAlyssa🐼
on
6/26/2017
I love love love it
Love it 😍
I love this game I can't complain there is nothing bad about this game I would recommend it to anyone
My favorite game ruined :(
Nooo my favorite game been ruined.. There are so many glitches they need to fix plants vs zombie 2... Whenever I complete a level it freezes won't drop anything and won't take me back to the worlds. No more gems drop no more coin drop.. How the heck are we suppose to win or buy gem related plants..oh wait they forcing us to use our real money to buy to win...zero star if I could.. Once the glitches are fix I'm giving it a zero I mean 1star..
Missing Costumes?
TheAngelYasmin
on
6/26/2017
I wanna know what happened to the costumes and costume changer?
Best one yet
Agree with me plz
on
6/26/2017
This game I I I just can't say anything this game is so good
Used to be better
MynameisMerf
on
6/26/2017
When they added the functionality to level up plants, the game took a nose dive.
Give me my plants
Enderking1114
on
6/25/2017
So I recently bought an iTunes card to buy some premium plants and I had enough money to buy at least three plants. But when I bought the frozen peas hooter the game reset and sent me to the home screen. I thought it was a glitch or something so I went back to the store to see if my purchase of the plant went through. Luckily it did but the game never gave me my plant and I basically spent my money for nothing. Every time I press the button to buy it, it says I already bought that plant and it was going to restore my purchase for free. But the game freezes and never actually gives me my plant. And to make it worse it does this with most of the other premium plants like the chomper and the electric peashooter. Come on pvz you need to work on these bugs and give me my plants
AWESOME
Yolo fam Fav Game
on
6/25/2017
Get the game it's so fun!!! Seriously it's the best game ever! I'd rate this game 1000000 stars if so! And pop cap plz make gw3 I know it takes HARD WORK to create a game but plz do if not it's fine bc we have p vs z heroes!! YES POP CAP ROCKS
It's good but...
Snaketail 96
on
6/25/2017
I love how the travel log sometimes gives you ten gems but i really want to get costumes for the plants again. Either that or more of a chance to get gems. Also please make piñata party's more easier please! Other then that I'm pretty happy
Amazing
I love this game.It is so much fun especially with the new worlds mechanic and all the new plants 🌲🌳🌱🌵🎄🌿🍃🍀🌳🌲☘️🎍🌾💐
Love
Me and my 5 year old love to play this for hours together !
I LOVE THIS GAME
It's really fun and time passing I really like this game and think you should definitely try it 👌👌👌👌👌👌👌👌👌👌👌👌👌
Electric Peashooter mising
In june 17 i bye electric peashooter byt his is missing.
Fix it please
Cheeseburgerparadise
on
6/24/2017
Could you make level 15 of big wave beach less impossible I always make it to low tide and a zombie appears right in front of the endangered potato mine and i lose no way to prevent it
Great for kids
I love playing this game with my 5 year old.
My favorite game! add some Easter eggs?
Loveeee P vs Z 2 Worth every penny and then some! I would love to see lots of fun "easter eggs" tucked into the game (maybe there are some I don't know- but things like brain squish sound after losing the game & accidently tapping it, or I really love the bee that swipes arm to not be bothered/awoken if you touch too soon 💞Interactive buttons like that) Maybe between worlds out in space tap objects & they spin or react with visuals or certain sounds??? Also would love it if you could collect 🍃 plant power-ups beyond 4 slots..when you earn an extra one & already have 4, log extra as worth something like coins & gems or something else creative? Thanks for my favorite game!! 👏💞
Keep it up
Overall great! You are my favorite game period. Opportunity to improve: Mistake to (1)lose the random gems and (2)not include costume with new plant - I'm sad about these losses-pls bring back!(3) new event with yeti- I rarely see him anymore. Keep up the good work 😃
Complaint
Fantastic fell
on
6/24/2017
This game is great and all but electric boogaloo is way too hard
Great Game 👍🏻👍🏻👍🏻👍🏻
Plants vs zombies is a amazing game to play I always play it in my free time you will love it
Yeah
Awesome that's it just awesome
Amazing!
MarekRulez123
on
6/23/2017
I Started Playing It After I Saw ZachScottGames Play It Because It Looked Fun! And It Is! You Should Definitely Try It Out
How long?
How long it takes when you buy something to be free at the app? I bought the electric plant about a week and still don't have it
So good, back brought down by the updates
The game is really good don't get me wrong, it's only the pay to win perspective of it, there are some levels where you need to buy something to beat it. The leveling system was interesting but not needed, just another way for PopCap to get money from their players. You don't have to pay for anything, but you'll be missing a lot if you don't, would give more stars if they fixed the game.
Addicting
Nickstarboy360
on
6/23/2017
This game got me addicted to PvZ everything
WHY SO MANY EXPENSIVE PLANTS!
With in app purchases comes spending money, but if most of the plants are $5.00 and that's to expensive for a plant.And there is no agreement when you make another copy and pasted peashooter(Looking at you electric peashooter).I love the normal plants and having to get them all equals $102.00 just to get all of them including the electric peashooter which at this time is $7.00.My favorite plant is the parsnip and I spent money on that plant when I should only be worth about $3.00,as I said earlier each plant is $5.00.I know it is a form of getting money quicker but I miss where plants actually had thought out prices.I love this game but it's because of the amount of money I have to give it a four star.
Planet and zombies
Plz make it easier 💔
Love the game but the glitches
eggsinsoysauce
on
6/22/2017
You made a really good game but there are some glitches that do not let me play the game. There is this one glitch were rite when I go in the app it loads and then it crashes. It happens every time I go in the app even when I power off my device.
Not working after last update
This is a great game. But I couldn't get into the game after last update. All I see is the EA logo and then I am kicked out from the game.
PVZ2 is awesome!
minecraftTrajan
on
6/22/2017
I could play this game for weeks if I wanted to!
Meh not bad
Good I played it on my iPad and it was not bad until the music
Way to play to win!
Croosyroad4life
on
6/22/2017
Don't get me wrong I love this game no matter how pay to win it is. But you had to make leveling up a thing?! Come on PopCap I expected more from you but now I don't like this game near as much. This is a tower defense game with very short levels you should not have leveling plants up as a thing it makes the game less fun and more pay to play! I know you can't remove it now and I know I'm the only one who hates this update but I just can't stand it! I beat the game with no premium plants( not including the new severe levels) but the severe levels I completed with all level 1 plants! This game can be won without spending a dime! But the worst part about this new update is I don't get coin bags anymore so it's VERY hard to grind now, maybe add back coin bags or make coins a more common reward in the travel log but PLEASE make this game a little less PAY TO PLAY! Give us back the nostalgic feel of the first PVZ we're you didn't have to buy coins in order to do anything! Another thing is PREMIUM PLANTS! There are only a few premium plants in the game that cost gems, I think all of them should have a separate choice. Example: Electric Peashooter costs $6.99, you could buy it with money or with gems like make it 300 gems! That would be awesome! But bring back coin and gem drops and bags of coins and I will be happy!
Current update
Need to bring back coins and gems!
Fun game
Fun gam with interesting gameplay. I love the plants.
Update
bzzs in a trap
on
6/22/2017
It keeps kicking me out when I'm about to finish the quest!
Some level are impossible to pass like the quest to get free plant
I spend over 2 dollar on coin to pass it but I think I have a better chance for dr zombozz in mondern day
My plants are losing their fashion
FlashingDragons
on
6/21/2017
This game is great. I love the new electric peashooter. But something strange is happening. Every time I finish a piñata party, I only get 4000 coins, and no costume. I don't get costumes from the gifts either, only coins which I have no need for. Please fix this. I don't know if I have been banned from this, or if it's just a bug. Please fix this my plants are getting cold, except for iceberg lettuce, he's doing fine.
Great game but "trample flower" levels are insane.
C.O.B.R.A Monkey
on
6/21/2017
The game is great. I had fun playing the levels and skipped some worlds to get the cooler plants. The reason why I rate this 3 stars is because of the flower levels. When you have to not let the zombies trample the flowers, it seems like a great idea. I can beat the earlier flower levels but as the worlds go by they get harder. The specific level I am talking about is the level before you get the spore Shroom. The level is great but the zombie selection is bad. I have the right plants and the best plants I need but since I have almost no gold, gems, and a great strategy, I cannot beat the level. Please change the zombie selection.
I hate it
Awesome Tuber28
on
6/21/2017
I played for years and I had a bunch of plants so I bought a 4.99 plant and it didn't give it to me I pressed return purchases and it deletes all my progress
Some things you should add/fix
Buttercarsen01
on
6/21/2017
Hey! I love your great and amazing game and I think it is one of the best games out there! But there are a few things that need changing. 1.Make it a little easier to level up plants. 2. Fix the bug that makes chicken zombie's chickens disappear. 3.ya know, actually that's about it.
Absolutely love it!
Shadowtrooper67
on
6/21/2017
I love the new update I love how it adds Premium Seed Packets inside the Piñatas it really helps us speed up the leveling process with Premium Plants the Premium Plants Epic Quests appearing every week is also very fun, nice, challenging and it makes me motivated to keep trying to level up my plants, you guys are really going in the right direction!
My opinion
Natalie716278
on
6/21/2017
This game is AWSOME that's right crazy Dave ITS ABOUT TIME LITERALLY
Make changes please
EpicLucario506
on
6/21/2017
Can you drop coins and gems again also don't put a lot of ads but just the ads where you watch an ad for coins and gems and there is hard levels I can't beat, can you make them a little bit easier please, can you make a new plant called the "plasma Peashooter" for gems and can we unlock the plants that we buy for money Thank you
Most addictive game I've found!
Very funny game of strategy and fun, challenging and all around legit game!
Pay for play
$$$$$$$$$$$$$$
Easy...UNTIL THE DARK AGE!
CHOCOLATEDONUTS:D
on
6/19/2017
I like this game a lot, but at the beginning it's sort of easy. And then once you get to the Dark Ages YOU REALLY GET PUMPED UP! I haven't gone to the other stage after the Dark Ages though
Fact Sheet
Publisher: PopCap
Category: Games
Released: Aug 14, 2013
Current Version Released: Jun 06, 2017
Version: 6.1.1
Size: 97.5 MB
Compatibility: Requires iOS 8.0 or later.
Recommended Age: 9+
Game Center Certified: No
Supported Devices: iPad2Wifi-iPad2Wifi, iPad23G-iPad23G, iPhone4S-iPhone4S, iPadThirdGen-iPadThirdGen, iPadThirdGen4G-iPadThirdGen4G, iPhone5-iPhone5, iPodTouchFifthGen-iPodTouchFifthGen, iPadFourthGen-iPadFourthGen, iPadFourthGen4G-iPadFourthGen4G, iPadMini-iPadMini, iPadMini4G-iPadMini4G, iPhone5c-iPhone5c, iPhone5s-iPhone5s, iPadAir-iPadAir, iPadAirCellular-iPadAirCellular, iPadMiniRetina-iPadMiniRetina, iPadMiniRetinaCellular-iPadMiniRetinaCellular, iPhone6-iPhone6, iPhone6Plus-iPhone6Plus, iPadAir2-iPadAir2, iPadAir2Cellular-iPadAir2Cellular, iPadMini3-iPadMini3, iPadMini3Cellular-iPadMini3Cellular, iPodTouchSixthGen-iPodTouchSixthGen, iPhone6s-iPhone6s, iPhone6sPlus-iPhone6sPlus, iPadMini4-iPadMini4, iPadMini4Cellular-iPadMini4Cellular, iPadPro-iPadPro, iPadProCellular-iPadProCellular, iPadPro97-iPadPro97, iPadPro97Cellular-iPadPro97Cellular, iPhoneSE-iPhoneSE, iPhone7-iPhone7, iPhone7Plus-iPhone7Plus, iPad611-iPad611, iPad612-iPad612, iPad71-iPad71, iPad72-iPad72, iPad73-iPad73, iPad74-iPad74,
Supported Languages: English; French; German; Italian; Portuguese; Spanish; Castilian;
Parental Advisory: Fear Themes; Mild Cartoon or Fantasy Violence;