Screenshots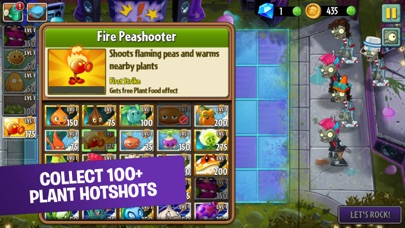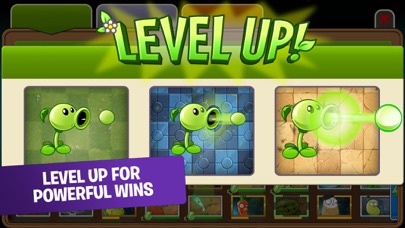 New in version 6.4.1
Get haunted and hungry in new Lawn of Doom and Food Fight events! This update includes:

· Lawn of Doom, Oct. 17 – Nov. 2, with spooky spirits and chomping chills
· Food Fight, Nov. 14 – 30, with brainy feasts and tasty costumes
· Fan-favorites Ghost Pepper, Jack O' Lantern, and Sweet Potato – unvaulted for a limited time
· Big seed packet payouts in Premium Plant Epic Quests
· Even more Inzanity Quests with rewards galore

Thanks for playing!
Description
"As beautifully presented as it is absorbing to play: 8.7 out of 10." – ign.com

Play the award-winning hit action-strategy adventure where you meet, greet, and defeat legions of hilarious zombies from the dawn of time, to the end of days. Amass an army of amazing plants, supercharge them with Plant Food, and devise the ultimate plan to protect your brain.

100 Million Downloads – This app has received more than 100 million overall downloads.

Winner: Best Mobile Game at E3 – Game Informer
Winner: Best Mobile Game 2013 – Mashable
Winner: Game of the Year 2013 – Slide to Play

DISCOVER HUNDREDS OF PLANTS AND ZOMBIES
Collect your favorite lawn legends, like Sunflower and Peashooter, along with hundreds of other horticultural hotshots, including creative bloomers like Lava Guava and Laser Bean. Go toe-to-missing-toe with a massive array of zombies at every turn, like Jetpack Zombie and Mermaid Imp – you'll even have to protect your brain from rampant Zombie Chickens!

GROW POWERFUL PLANTS
Earn Seed Packets as you play and use them to fuel your plants like never before. Power up attacks, double-down defenses, speed up planting time, and even gain entirely new abilities. Boost your plants to ensure those zombies are lawn-gone!

JOURNEY THROUGH SPACE AND TIME
Battle across 11 crazy worlds, from Ancient Egypt to the Far Future, and beyond. With more than 300 levels, ultra-challenging endless zones, fun mini-games, and daily Piñata Party events, there's always a new challenge to complete. Plus, ready your best defenses – Dr. Zomboss is waiting to take you on at the end of every world!

EXPLORE MORE WITH THE TRAVEL LOG
Stumped about where to go next? Consult your Travel Log to embark on exciting Quests created just for you. Complete Scheduled Quests before time runs out, or take on a series of Epic Quests and earn special rewards.

Terms of Service: http://www.ea.com/terms-of-service
Privacy and Cookie Policy: http://www.ea.com/privacy-policy
Visit https://help.ea.com/ for assistance or inquires.
EA may retire online features and services after 30 days' notice posted on www.ea.com/1/service-updates.
iPad Screenshots
Reviews
Nice
Slicer_Slime
on
10/18/2017
Nice game
Plz Help me
I Bought the Witch Hazel and Jack O Lantern but I didn't give me plz help me :(
Popcap is so greedy
popcapisgreedy
on
10/17/2017
They put ghost pepper in a bundle for 25 bucks . WHY
Missing Ghost pepper
LegoGamerBoy512
on
10/17/2017
So is ghost pepper coming back individually or do you have to buy the bundle or what?
Definitely a 5 star 👌😊
Team Panda Gaming
on
10/17/2017
Love this game! I love all of the plants you can use and all the worlds. Better than the original version. The only thing is that a lot of the worlds are really hard but that ok.
It used to be great. Now it costs $200+ to win.
This game started off very fun, and if you used the right strategies, you never needed to spend money. $20 would go a long way. Now, the difficulty has been significantly ramped up to the point where your only chance to do well, is to spend lots of money. Now, as I write this review, guess how much it costs to upgrade everything to the way it was before... $230. Now, guess how much it costs to upgrade everything to its full potential... over $2,000. Yes, to experience everything the game has to offer and all its content, it'll cost you two thousand. That just blows my mind, how about yours?
App keeps crashing
I love this game but the latest version has been crashing at start up. Very frustrating!
It's alright, but not free.
Drummerthe1st
on
10/16/2017
For those of you who are wondering, they're not gonna bring you any more eras, but they'll probably bring more epic quests in the game. They will also most likely not bring any more of the plants from pvz 1 because THIS IS SUPPOSED TO BE A SEQUEL, PEOPLE! I think they brought plenty of the old stuff from the first game. I love doing the piñata parties every day because they're all so different from each other. I'm almost done with the game, with only big wave beach, neon mixtape tour, and modern day left on the list. I might want to make another file and start all over again. I think it's that good. This is possibly my favorite free-to-play game on the App Store. Edit: there are way too many premium plants.
THE BEST :0 XD
FanOfSomePeople 🐺🐉
on
10/16/2017
This game is one of the best games I have ever played. For me, there is no flaws to it..some people might have 'problems' but I don't. Once you start to get the concept of the game, and have good coordination, you'll probably get really good at the game. I also recommend Plants Vs Zombies 1 (Just called Plants Vs Zombies, no 1) and Plants Vs Zombies: Heroes! :D
Too many ads
Shitassgames
on
10/16/2017
Not sure which is worse, the required micro transactions to beat certain levels, or the constant bombardment of ads.
Justice leagu
justice leagu
on
10/16/2017
Free stuff pls
Keep finding ways to charge more money!
ManoloHerce
on
10/16/2017
There are levels that cannot be completed without paying for upgrades !
Plants versus zombies
SpaceJimbo39
on
10/16/2017
The game is amazing graphics are credible
Nicholas
AWSOME!!!!!👍👍👍👍👍👍👍👍👍
Gud
Brayden miner
on
10/16/2017
this game is very good
Make it easier to power up normal plants
DaveyTheDuck(josh)
on
10/16/2017
It's a great game, just make it easier to power up normal plants
love it!
Derpina😻😻😻😻😻😻😻😻
on
10/16/2017
love this game so much l, divorced my wife, left her with our kids, i quit my job.i now live on the streets, right next to a Starbucks, for free wifi, and just religiously devoted my time in playing this game!
Perfect
papangpruds
on
10/15/2017
Love it. My father loves it. My whole family loves it
Unfair & Overpriced but still good
Minecraftfightergaming
on
10/15/2017
I love Plants vs. Zombies,but I see what you guys do to your modern games,you make it to be IMPOSSIBLE so we buy every add on. DO YOU THINK PEOPLE HAVE THE MONEY TO DO THAT! Keep in mind I still love the game but PLEASE make the game more fair & less overpriced,do what you did with your old games.
Plants vs zombies 2
I like this game because of the plant food and the power up throw the power up throw is so cool because YOU CAN THROW ZOMBIES
SOUNDTRACK PROBLEMS!!!!
PLEASE restore the second and third tracks to each world! It gets monotonous when the same song plays every level!
4 Stars
I really like the app. A lot of people are saying it's a rip off of the original but I really enjoy this. It's cool how there is different maps you can play. There is quite a bit of in app purchases but most of them don't affect the game. Another cool thing is instead of the suns being worth 25 they are worth 50. Over all I recommend the app if you are looking for something to do.
PvZ☠️🙂🎉
AduritePlayzYT
on
10/15/2017
PvZ was a awesome experience and awesome game
PvZ
This game is awesome u should play it if u don't
It's great but hard really Ike it!
mysterioussuperaidan
on
10/15/2017
That all
PvZ
This game is the best app ever!
Premium plants
I think this is one of the best iPhone games you can play but I don't really like how the premium plant system is handled (not the gem locked ones) I think that there should be another way to get them like a super quest or something or make it so there's a special sale every once in a while to unlock them with gems. Also I would like to see the endless mode be built upon especially with the new seed packets
Make your own plants vs zombies
Dudemar time
on
10/14/2017
It would be the best game ever if added a make your own plants vs zombie like make a level and set the difficulty to what ever you want!!!!!!!! Please😇😇😇😇😇
I Love Plants vs zombies
I think this is super fun to play!
Boooooo
At first I was thrilled that the new version of my favorite game in the world came out. After awhile I realized what a ripoff the game is. Totally rigged to make you spend money. Better to be an honest prostitute at least they ask for money up front. That's all I have to say. Very disappointed guys. Worked up to level 258 on Pyramid of Doom. Then game froze. . No one answers. So now I'm stuck there.
Good game!
I'd like to see pay-with-gem plants offered more often! I've saved up a thousand gems for whenever gem plants are offered and it's been a long time now since we've had any. The outfits are cute I guess but I would never spend money on them and they're really disappointing to get as prizes. The game never gets boring! New stuff is added all the time.
BEST GAME EVER
Yurimonster
on
10/14/2017
I had previously heard of PVZ but never tried it. I tried this game and get off the game.
Thank you for fixing for iOS 11!!!
Arcane Zero
on
10/14/2017
I love this game! Unlike most other games out, I can play at my leisure and not be punished for forgetting to play it one day. Even if I have already finished every level, there's the twice-daily piñatas I can get, the daily piñata level, and all the endless levels! Very well put-together game! I have read other reviews where people claim this game is a cash cow and that it can't be beat or even enjoyed without spending money. I can't disagree more. I have been playing this game since its release and haven't spent any money on it. I have beat every level. Never needed a premium plant. The ones that complain clearly have little skill in tower defense games (that's really what this game is, if you take away the bells and whistles) and can't manipulate the in-game mechanics to play successfully. Yes, premium plants would make the levels easier but it is certainly not impossible to win without premium plants. Thanks!
I like pvsz2
This game is so cool
Crashing
Sarah bee152
on
10/14/2017
My game has done nothing but crash since the update. I can't get it to stay open for then 5 seconds.
Please fix for iOS 11 update
Amsaw8675309
on
10/14/2017
Game is great and I'd love to play it... but it won't load now that I've updated my iOS.
I love this game
Esxesxesxesxesxesxesxesx
on
10/14/2017
I love this game
Fun but too many adds
tunasandwichxo
on
10/14/2017
I've always loved the plants versus zombies games but seriously too many adds... it's very frustrating.
Great game
Best version of plants vs zombies definitely a must play for any mobile gamer
BEST GAME EVER!!!!👊😎😀
It's all in the title.😎😀😀😀😀😁😁🙂🙂💩👍👍👍😸🙀😸
Help
After the latest upgrade the app won't open. When I click it just goes back to The home screen
Update Issue
MyrtleGater
on
10/13/2017
Will not open after most recent update
Brains
Brains but rating
on
10/13/2017
This game is glitching out when I try to get on it it takes me off right away😭😭😭😭😭😭😭😭😭😭😭😭😭😭😭😭😭😭😭😭😭😭😭😭😭😭😭😭😭😭😭😭😭😭😭😭😭😭😭😭😭😭😭😭😭😭😭😭😭😭😭😭
Thumbs up!
Great game, have been playing for years now and they never let it get old. Took off one star for the ever increasing number of annoying ads that you're forced to sit through. Almost took another star off for that.
Awesome
MrSwagFeline
on
10/13/2017
I love this game it gets kinda hard but there is always a way with out spending money
Poor update for a great game!
Love the ability to level plants, the new content regularly released and the new regular feature - epic quests weekly! However, the new update takes away a massive number of quests making it impossible to level up plants beyond a middle level. Horribly imbalanced now, hope they fix this quickly!!!
So good
no robucks?!?!
on
10/13/2017
So good I can't get enough but it gets so hard! I just need practice 💚💚🖤🖤
Fact Sheet
Publisher:

PopCap

Category:

Games

Released:

Aug 14, 2013

Current Version Released:

Oct 10, 2017

Version:

6.4.1

Size:

98.3 MB

Compatibility:

Requires iOS 8.0 or later.

Recommended Age:

9+

Game Center Certified:

No

Supported Devices:

iPad2Wifi-iPad2Wifi, iPad23G-iPad23G, iPhone4S-iPhone4S, iPadThirdGen-iPadThirdGen, iPadThirdGen4G-iPadThirdGen4G, iPhone5-iPhone5, iPodTouchFifthGen-iPodTouchFifthGen, iPadFourthGen-iPadFourthGen, iPadFourthGen4G-iPadFourthGen4G, iPadMini-iPadMini, iPadMini4G-iPadMini4G, iPhone5c-iPhone5c, iPhone5s-iPhone5s, iPadAir-iPadAir, iPadAirCellular-iPadAirCellular, iPadMiniRetina-iPadMiniRetina, iPadMiniRetinaCellular-iPadMiniRetinaCellular, iPhone6-iPhone6, iPhone6Plus-iPhone6Plus, iPadAir2-iPadAir2, iPadAir2Cellular-iPadAir2Cellular, iPadMini3-iPadMini3, iPadMini3Cellular-iPadMini3Cellular, iPodTouchSixthGen-iPodTouchSixthGen, iPhone6s-iPhone6s, iPhone6sPlus-iPhone6sPlus, iPadMini4-iPadMini4, iPadMini4Cellular-iPadMini4Cellular, iPadPro-iPadPro, iPadProCellular-iPadProCellular, iPadPro97-iPadPro97, iPadPro97Cellular-iPadPro97Cellular, iPhoneSE-iPhoneSE, iPhone7-iPhone7, iPhone7Plus-iPhone7Plus, iPad611-iPad611, iPad612-iPad612, iPad71-iPad71, iPad72-iPad72, iPad73-iPad73, iPad74-iPad74, iPhone8-iPhone8, iPhone8Plus-iPhone8Plus, iPhoneX-iPhoneX,

Supported Languages:

English; French; German; Italian; Portuguese; Spanish; Castilian;

Parental Advisory:

Mild Cartoon or Fantasy Violence; Fear Themes;