Screenshots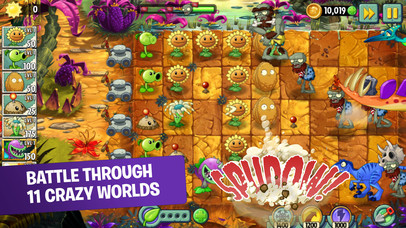 New in version 6.2.1
Hey, PvZ 2 fans! A host of special events and more are shambling your way, including:

•Plant-swapping goodness in Beghouled Beyond, Jul 31 – Aug 6
•Time Twister, featuring spicy Wasabi Whip, Aug 14 – 23
•Giant swollen heads in Big Brainz, Aug 24 – Sep 4
•More rootin'-tootin' Wild West zombies in extra-tricky levels
•Plus, all-new Premium Plant Epic Quests, Leveled-up Plant Quests, and Wild West Epic Quests

Thanks for playing!
Description
"As beautifully presented as it is absorbing to play: 8.7 out of 10." – ign.com

Play the award-winning hit action-strategy adventure where you meet, greet, and defeat legions of hilarious zombies from the dawn of time, to the end of days. Amass an army of amazing plants, supercharge them with Plant Food, and devise the ultimate plan to protect your brain.

100 Million Downloads – This app has received more than 100 million overall downloads.

Winner: Best Mobile Game at E3 – Game Informer
Winner: Best Mobile Game 2013 – Mashable
Winner: Game of the Year 2013 – Slide to Play

DISCOVER HUNDREDS OF PLANTS AND ZOMBIES
Collect your favorite lawn legends, like Sunflower and Peashooter, along with hundreds of other horticultural hotshots, including creative bloomers like Lava Guava and Laser Bean. Go toe-to-missing-toe with a massive array of zombies at every turn, like Jetpack Zombie and Mermaid Imp – you'll even have to protect your brain from rampant Zombie Chickens!

GROW POWERFUL PLANTS
Earn Seed Packets as you play and use them to fuel your plants like never before. Power up attacks, double-down defenses, speed up planting time, and even gain entirely new abilities. Boost your plants to ensure those zombies are lawn-gone!

JOURNEY THROUGH SPACE AND TIME
Battle across 11 crazy worlds, from Ancient Egypt to the Far Future, and beyond. With more than 300 levels, ultra-challenging endless zones, fun mini-games, and daily Piñata Party events, there's always a new challenge to complete. Plus, ready your best defenses – Dr. Zomboss is waiting to take you on at the end of every world!

EXPLORE MORE WITH THE TRAVEL LOG
Stumped about where to go next? Consult your Travel Log to embark on exciting Quests created just for you. Complete Scheduled Quests before time runs out, or take on a series of Epic Quests and earn special rewards.

Terms of Service: http://www.ea.com/terms-of-service
Privacy and Cookie Policy: http://www.ea.com/privacy-policy
Visit https://help.ea.com/ for assistance or inquires.
EA may retire online features and services after 30 days' notice posted on www.ea.com/1/service-updates.
iPad Screenshots
Reviews
Its a good game but the costs are not
bru 22222222
on
8/21/2017
I love the game in general but the costs are just not good
Amazing
Games super fun who ever hasn't downloaded it yet do it right now because this game is so amazing
Please Read This.. (Broke? 😪😤)
I was playing on Pirate Seas Day 19 I did it all but I was missing a sun so I got some coins and got some sun from my sun shroom and it said "Produce 7150 Sun" (or however much that was) and then I raged so bad, anyways please fix this glitch for other amazing players
Ads ruined it for me
I played this game many times before, no ads. Now I can barely get through it without a stupid ad. Good bye plants vs zombies. You used to be fun. Now you're annoying.
Not as good as the original
I didn't get to finish the PvZ 2 but I have seen a couple of videos of it and like some people have said the mechanics are a bit annoying and complicated. The original was a lot more simpler and better than this one I just wanted to point out that the original PvZ is better than this one. Now this game has been awesome and I'm really enjoying this game and I have not even finished the game. I'm still on Ancient Egypt and I'm one of those guys that go in order like once I defeat Dr. Zomboss Ancient Egypt I would go the Pirate Time (again I'm on Ancient Egypt can you blame me for not knowing.) and beat Dr. Zomboss there. Then to the next one and so one. Anyways so the new mechanics are fun but I get confused with them sometimes. So what I'm saying is PvZ 2 is good but it not as good as the original
One of yhe best apps ever
Rich(drummer)
on
8/20/2017
So fun everthing is unique and theres always something to do!!
So fun
mynsmaszajeff
on
8/19/2017
Super fun but micro transactions kinda ruin it but still something to try out
Love this game
Love this game
So many ads
Kevin3333333
on
8/19/2017
I like this game but there are so many long ads you have to watch. I understand some ads. But I'm watching minutes of dove commercials ore than I'm playing! Really disappointed.
Is good
Jshdgshjxvshxh
on
8/19/2017
Yup is good
The English edition is great than Chinese edition
In this version, you must pay money to have more fun, and you can play fun without paying too. But also see Chinese edition! In Chinese, you can't clear a level or play well without paying! The two editions have same levels, but the Chinese edition is difficult than this edition!
Always fun
Wish they'd add a new world already tho. !!!
UGH! Lost everything for the second time.
Love the game but for the second time all coins, gems & games wipe out and restart at the beginning. WTH??? This time it happened on two different devices on the same day & they are not on the cloud. Lost over 200,000 coin & 1400 gems no to mention add'l items which were either earned or paid for. Let me finish by adding, no updates were done to cause this. Went to bed, all was good. Woke up, all was wiped clean and back to zero. I'm not happy. Today it's one star. Give me back lost coins, gems & plants and it'll be five stars again.
👍🏻
I ❤️ pvz2 i give it 5 stars.It might not be appropriate for little ones but preteens and adults play away!!!You get over 40 plants FREE and a free 400 levels!If you see this download PVZ2 and save a lot of space this game will keep you entertained for ages it's better than candy crush or angry birds any day!
Suggestions
Hey these might benefit to pvz2 Papaya -------- fill blanks w/ anything anyway it will do massive damage very slow recharge and 3x3 area for 450 sun Fire fetacini and Fire so it does moderate damage 2 tiles fast recharge and for 125 sun
Colored Girls Rock....
Biggest Eyes
on
8/17/2017
Love It....
I got scammed!!!
Someone that got scammed
on
8/17/2017
When I got the power lily it said purchase successful but I didn't get it I want my money back now!!!!!!!!!!!!!!!!!!!!!!!!!!!!!!!!!!!!!!!!!!!!!!!!!!!!!!!!
Stick with the Original
Funnypony1856
on
8/17/2017
In all honesty, the art in Plants vs Zombies 2 looks as I would imagine a precursor to the original would. I would recommend you stick to the first version game, because it's pay once. You will end up spending a lot more money on this version because of the large amount of in-app purchases. The feature of levelling up your plants creates an unnecessary complication that reduces the amount of pleasure that can be taken from the game, in this sense I also prefer the original. So don't waste your time and money, just go back to the original Plants vs Zombies, where you can log loads of hours of play time, packed full of fun, for one small payment.
Great game but...
Admiral Sigma
on
8/17/2017
First let me say I love the pvz series of games from the original to garden warfare. I also love this version. However, there is one major issue that I just cannot excuse. In between levels with the mandatory ads and when I watch ads to get bonus coins or gems the app frequently freezes, forcing a restart. Now, I understand that the ad revenue is necessary to keep the doors open at EA; however, if I have taken the time to watch the ad, I better get the bonus items I was promised and not have the game freeze, thereby forcing a restart and losing that bonus. I usually replay the pinata party level every day, but 25% of the time the app crashes after the ad and I lose my replay. This really annoys me. I know of no other ad based game that does this, so get off your thumbs and fix the code. Or hire me and I will do it for you. 😊
I use to love this game
I'm still a it fan of this game but those commercials are sooooooo annoying, after every single level, SERIOUSLY.......???disappointing....
Suave!
I love this game, but making me me watch looooong Suave commercials over and over again has made me HATE Suave. I will NEVER buy Suave, ever.
Hate it
DarkBlackFoxy99
on
8/16/2017
I hate your game the level you made is too impossible I'm never playing this game again!
Ads are out of control
The game is fun, but the ads are so freaking common, long, and annoying that I can't seriously recommend PvZ2. A for-money option to buy a version of the game without ads would probably bring me back. I just can't put up with it anymore.
Did enjoy
I loved plants vs. zombies and was excited to download this. The prices to unlock new plants are way too much. If it was $.99 I might do it but you can play without the extra plants if you are patient. Lately though I am not liking it anymore because they always make me watch this same suave advertisement! Developers if I have to see it one more time the game will be getting deleted!!!!
Constant play but slow progress
I like that you can keep playing constantly. You don't run out of lives and have to wait to play later. But I feel like I have to replay boards multiple times to build up my plants enough to get through the higher levels. I don't plan to spend any money in the game and am succeeding so far. I did find another pretty good game by watching ads.
paying for things that don't appear
it's crashes a lot. and i paid $4.99 for a plant and every time i try to add it the app times out.
Seriously?!
FuzzyBear playz기찬
on
8/16/2017
I was so happy I was in the fricken final world in this game. My sister deleted the app and then everything was gone. I backed everything up to the iCloud but all it gave me was the plant I purchased. All that stress and work I put into this game was for nothing. Can you help me recover my accounts they were, iron wolf, ice wolf, and your mom please help me.
Amazing in all ways
I love this game, LOVE IT! It's so fun addictive! The game is so intense in some of the wave and I have rage quit a few times in the past and I wouldn't say I'm a noob but I am kinda good at it! The game is thrilling and the graphics are great.... in the first one...😑 The second one is ok... but a little more soft if you know what I mean.... I wish the peashooters looked the same😞. OTHER wise the game is 😉! Perfecto! 👌 The worlds are so fun and cool, Oh! That reminds me... one little change, they give you 8 keys to unlock ALL the worlds which ruins the whole point of the levels and boss fights why don't they give you 3 or 4, so you have to do some on your own. 😘😋😍🤗🤣 Great game!
I love it :00
Pvz2 is so good! I love it :D
Enjoy game, don't love it
Original plants vs zombies was a blast. Was able to play through the levels and challenges without. Spending actual money, makes game not fun.
Your Game Is Awsome
THEMASTER987
on
8/15/2017
Penny And Crazy Dave Are my favorite. My favorite plant for now is Corn Launcher. But when I get electric fire and snow pea pea shooters the pea shooters will be my favorite plant
4.5/5 would zombie again
TheVeryGenericUsername
on
8/15/2017
Long time fan of PvZ and personally love the original. My only problem with this game is that it is pay to win and it places a paywall between you and the original cast + new recruits. Would like to see a key that unlocks a payed character though. Great job!
BEST PvZ EVER
The game has so many eras, and so many plants to create your plant army.
Good But Surely Hard
arcaneTechnologist
on
8/15/2017
It's A Great Game With Amazing Gameplay And Challenging Levels, But I Feel As Though You Should Be Able To Sell Unwanted Plant Sprouts. I Have Hundreds That I Have Next To No Need For. Other Then That tiny Annoyance, The Game zips Great! Recent Updates Have Helped To Improve Gameplay And Progression Making It Far Easier To Progress, While Still Providing Challenge.
Love it but
I love this game. The plot is simple. You gather plants by beating levels filled with evil zombies and you get more plants along the way. But everything in the shop is WAYY to overpriced. I payed $4.99 for a Wasabi Whip maybe that was the most reasonable. But everything (I'm talking about the bundles specifically) are just way to expensive. Paying $50.00 for a free game is crazy. Thank you for reading this. Maybe lower the prices by at least 50% or so?
Crashing Continuously
For the last few days, the app has been crashing over and over. At first it was just during gem and coin ads. Now it's in the middle of levels. I've had the game for a few years.
I give it 4 stars
Plant vs zombies 2 is really great game other than paying for the chomper other plants are available new ones two and you can get plants with diamonds the first one is a WHOLE lot better
Old plants
I really think game play if you would ad in all of the old mushrooms like the ice and doom shroom
Ok
This game can be very stressful and fun
please fix bug in PVZ 1 and paying in PVZ 2
Geralds big world
on
8/13/2017
Please focus on the FIRST plants vs zombies game and fix the problem where on iOS 10 Portal Combat crashes when the portals relocate. The fact that you have to pay for almost everything required to be able to do 99% of levels ruins plants vs. zombies 2 for me.
Best game ever!
Awesome game for free!
Great game
nikolaspeiffer
on
8/13/2017
Great time killer and game
You don't need to spend money to win
People have overrated the need for money in this game. The levels are difficult, but beatable if you are a good player with good strats.
Great game - too many in app purchase options
Anderson iTunes
on
8/13/2017
This game is tons of fun, but there are too many in app purchase. Seems like every scree you click on has options to spend money. Hopefully, that won't impact play later in the game.
I still miss random gems
The game is fun and challenging but the upgrades seem so focused on getting people to spend money. The premium plants are way too expensive - I'd but them if they ever went on sale for $1 or $2 like they used to, but $5 does not feel like a sale. Also, the forced ads should really go away if you spend enough money on the game (and that should be advertised) - I would absolutely spend money on that. Thanks for bringing back the randomly dropped coins during gameplay, but I still miss the random gems.
LOADS FOREVER!!!
Hehawowo2309
on
8/13/2017
This app doesn't even work. I have the iPad mini and it just keeps loading and loading and loading and loading! I tried to reload the app and close it and whatever but it still DOESNT WORK please please update it and fix this app
Love the game, hate the cost
I've played this game for years and love it, but I hate all of the added expenses in the form of in-app purchases. The game designers keep trying to force players to spend money on features and upgrades instead of earning them through game play. And while there are some things that can be bought with the game coins, there are fewer ways to earn coins than before! Leveling up plants costs thousands of coins, but players can no longer earn coins by growing plants in their garden and certainly earn less coins during game play. I don't spend real money to buy coins and gems, so I often find myself unable to level my plants up until I can watch some ads for coins. I would much prefer unlocking new plants by playing, and earning coins and gems. Paying isn't rewarding and also frustrating. The game creators had a great thing going and then spoiled it with the in-app purchases. Frankly, they're being greedy.
DO NOT DOWNLOAD
buywitnessonitunes
on
8/13/2017
Trash........
Fact Sheet
Publisher:

PopCap

Category:

Games

Released:

Aug 14, 2013

Current Version Released:

Jul 18, 2017

Version:

6.2.1

Size:

96.8 MB

Compatibility:

Requires iOS 8.0 or later.

Recommended Age:

9+

Game Center Certified:

No

Supported Devices:

iPad2Wifi-iPad2Wifi, iPad23G-iPad23G, iPhone4S-iPhone4S, iPadThirdGen-iPadThirdGen, iPadThirdGen4G-iPadThirdGen4G, iPhone5-iPhone5, iPodTouchFifthGen-iPodTouchFifthGen, iPadFourthGen-iPadFourthGen, iPadFourthGen4G-iPadFourthGen4G, iPadMini-iPadMini, iPadMini4G-iPadMini4G, iPhone5c-iPhone5c, iPhone5s-iPhone5s, iPadAir-iPadAir, iPadAirCellular-iPadAirCellular, iPadMiniRetina-iPadMiniRetina, iPadMiniRetinaCellular-iPadMiniRetinaCellular, iPhone6-iPhone6, iPhone6Plus-iPhone6Plus, iPadAir2-iPadAir2, iPadAir2Cellular-iPadAir2Cellular, iPadMini3-iPadMini3, iPadMini3Cellular-iPadMini3Cellular, iPodTouchSixthGen-iPodTouchSixthGen, iPhone6s-iPhone6s, iPhone6sPlus-iPhone6sPlus, iPadMini4-iPadMini4, iPadMini4Cellular-iPadMini4Cellular, iPadPro-iPadPro, iPadProCellular-iPadProCellular, iPadPro97-iPadPro97, iPadPro97Cellular-iPadPro97Cellular, iPhoneSE-iPhoneSE, iPhone7-iPhone7, iPhone7Plus-iPhone7Plus, iPad611-iPad611, iPad612-iPad612, iPad71-iPad71, iPad72-iPad72, iPad73-iPad73, iPad74-iPad74,

Supported Languages:

English; French; German; Italian; Portuguese; Spanish; Castilian;

Parental Advisory:

Mild Cartoon or Fantasy Violence; Fear Themes;